Combine two of your favorite Thanksgiving dishes into one with this Stuffed Turkey Breast recipe. Stuffing and turkey are a match made in heaven!
Turkey Roll
This is actually a stuffing stuffed turkey breast, but that is a mouth full, so stuffed turkey breast it is!
Are you having a low-key Thanksgiving? Or just tired of roasting a whole Thanksgiving turkey? This is a great alternative.
It is fabulous not just at Thanksgiving, but any day of the year! Make this turkey breast recipe year round to fulfill your Thanksgiving cravings. Turkey and stuffing, all in one.
How to Make Stuffed Turkey Breast
To start, you will want to preheat the oven to 350 degrees. While the oven is preheating, butterfly the breast so that it is thinner. This will ensure it cooks a little quicker and more even.
Turkey is a protein that does need to be cooked all the way through to an internal temperature of 165 degrees. Use a digital thermometer to check it.
Then on a cutting board, cover the turkey breast with plastic wrap and tenderize until it is about 1/4 inch thick using the flat side of your meat mallet. You want it to be thin enough to roll, but not so thin that it starts falling apart.
Next, spread the cooked stuffing over the entire breast and pack down tightly. From the long end, roll the turkey up into a tight roll.
Using kitchen twine, tie the roll together in several areas so that it stays together. This makes sure the stuffing stays inside the stuffed turkey breast.
In a small bowl, mix together the seasoning: garlic powder, paprika, sea salt and pepper. If you want a really Thanksgiving-y turkey flavor use my Turkey Seasoning instead.
Slather the stuffed turkey breast with the softened butter, then sprinkle with the seasoning mixture.
Put it into the oven with a cooking time of 60-75 minutes. Every 15-20 minutes, baste with butter and the pan drippings. Make sure to use a thermometer to make sure the turkey is cooked all the way through.
Serving
After the stuffed turkey breast registers at 165 degrees, remove from the oven and allow it to rest for about 5-10 minutes. Don't skip the resting period. Then you can slice, serve and enjoy!
Now, although I am a huge proponent of homemade stuffing, for this recipe, I usually just grab the store bought box. It is easy and takes about 10 minutes to make.
To make the store bought stuffing have a little more flavor and character, I substitute chicken or vegetable broth for water and add 1-2 tablespoons cooked, crumbled bacon. Both are optional.
You can also make a nice turkey gravy from the drippings or buy premade gravy. You can certainly eat it without gravy, too. It is moist and flavorful on its own.
With that said, if you are a "crispy stuffing" person, this stuffed turkey breast might not be your favorite recipe. Since the stuffing is inside the turkey, it stays a little moist and never gets the crunchy bits so many people like.
Not to say this isn't a delicious recipe, I just don't want you to be disappointed. With that said, I am a "crispy stuffing person" and I actually loved it, so give it a whirl and try it for yourself!
Storage & Freezing
This recipe is best eaten fresh, so I don't recommend making it ahead of time. You can, however, prep the turkey rolls, tie them and then place them in the fridge until you are ready to cook.
Store in the refirgerator in an airtight container for up to 3 days. Leftovers can be heated in the microwave or oven.
Stuffed turkey breast can be frozen after being cooked. Freeze in an airtight container for up to 3 months. Allow to defrost at room temperature before heating in the oven at 350 degrees for about 10-15 minutes.
Chicken
Can I use chicken instead? This recipe would be delightful with chicken, but a turkey breast is WAY larger than a chicken breast.
If you do use chicken, you'll likely need to make each one on a smaller scale, probably 2 tablespoons of stuffing per breast, and make about 4 breasts. You can use poultry seasoning or the spice blend listed.
Cooking time will also reduce greatly, probably about 40 minutes, but use a digital thermometer to check the doneness at 165 degrees.
Dry Brine for Turkey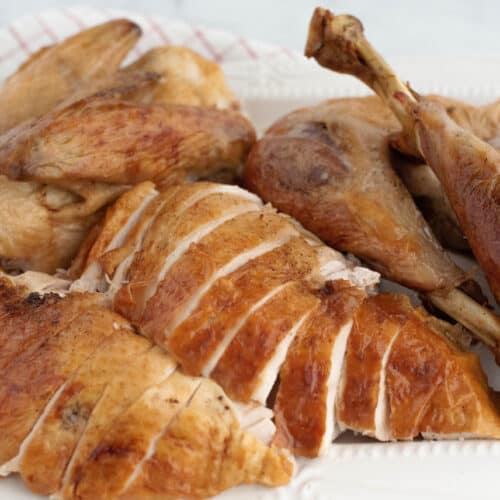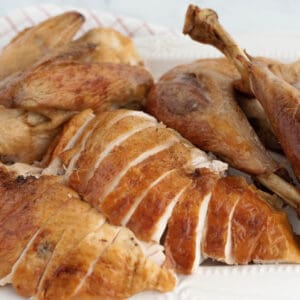 All your dry brining questions answered! How to dry brine a turkey to add flavor and get perfectly seasoned and succulent turkey everytime.
Butter Cheesecloth Turkey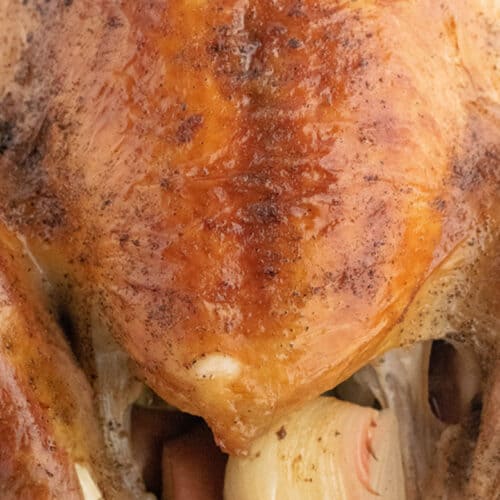 Butter Cheesecloth Turkey is an easy and foolproof way to cook a succulent and flavorful bird. Your guests will be begging you for the recipe. 
Honey Herb Brined Turkey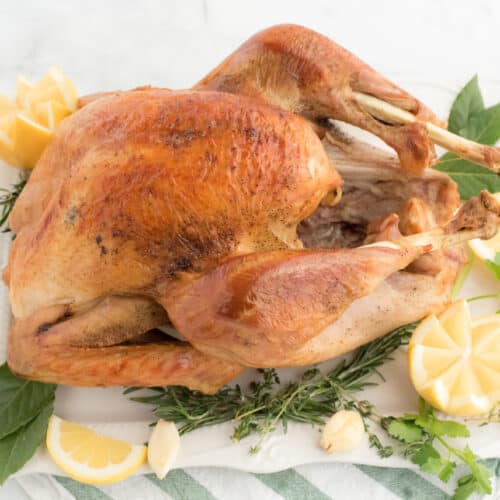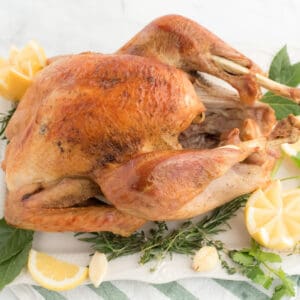 Honey Herb Brined Turkey is a wow-worthy recipe that will give you a tender turkey have your guests asking you what your secret is.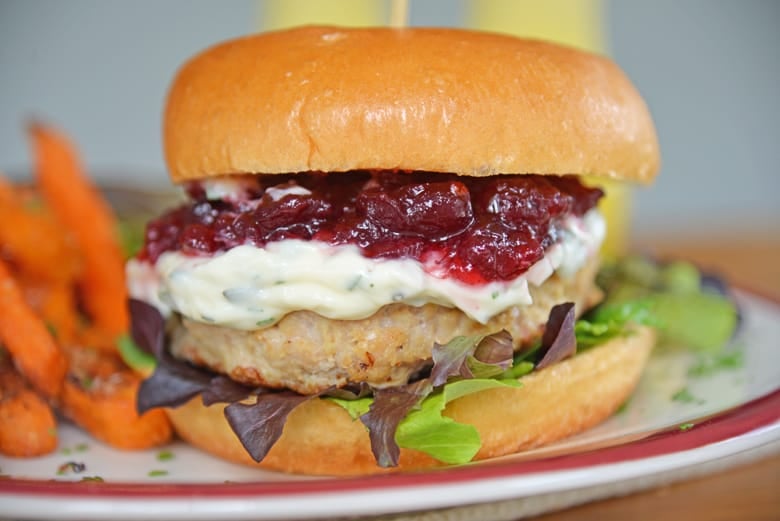 Tools you'll need to make roast turkey breast:
Wood cutting board – wood won't dull your knives like plastic and if treated properly, has natural antimicrobial properties.
Good knife – Global is my favorite! They are worth the price, I promise. I am kind of obsessed with them and store them tucked away so no one else can use them. Including hubby. Hands off my good stuff!
Square Glass Baking Dish– I prefer glass to metal any day of the week. It looks nicer longer and usually comes with a lid.
Meat Thermometer– Every home kitchen should have a meat thermometer. Never take a guess as to if something is done again!
Meat Mallet- You can try to butterfly the breast super thin, but it will never get as uniformly thin as it will using a meat tenderizer.
CONNECT WITH SAVORY EXPERIMENTS!

Be sure to follow me on social media, so you never miss a post!

Facebook | Twitter | Youtube
Pinterest | Instagram
Get our FREE 8 Day E-Course on How to Be a Better Home Cook. Sign up HERE!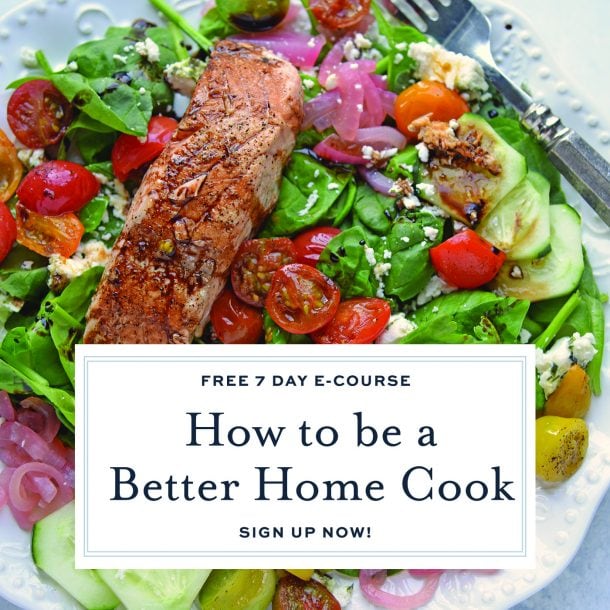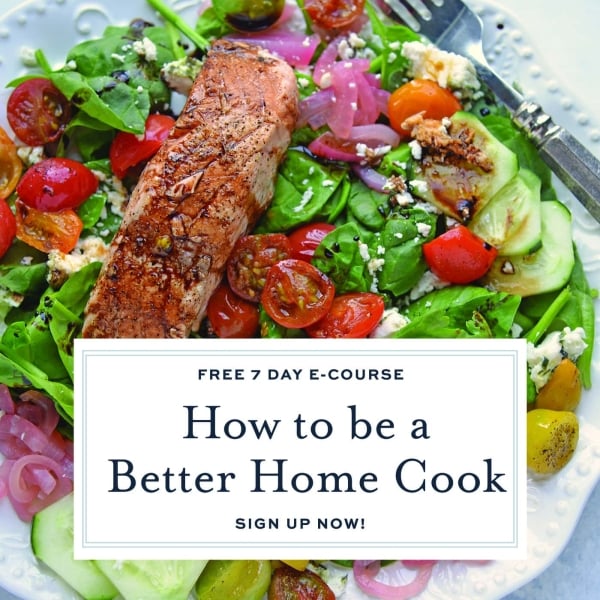 Stuffed Turkey Breast
Oven roasted turkey breast doesn't get any better than this Stuffed Turkey Breast! Perfect for any weeknight, not just Thanksgiving!Oven roasted turkey breast doesn't get any better than this Stuffed Turkey Breast! Perfect for any weeknight, not just Thanksgiving!
Instructions
Preheat oven to 350 degrees.

Butterfly turkey breast so it is thinner.

On a cutting board, cover turkey breast with plastic wrap and tenderize until about ¼ inch thick. It needs to be thin enough to roll, but thick enough to not be totally pulverized.

Spread cooked stuffing on the entire area, patting down tight.

From the long end, roll turkey breast up tight.

Using cooking twine, tie in several areas so it stays together.

Slather top with softened butter, then season with garlic powder, paprika, fine sea salt and ground black pepper.

Bake for 60-75 minutes, basting every 15-20 minutes with butter and browned bits. The actual cooking time with vary based on the thickness of your turkey roll.

Bake until the center registers at 165 degrees.

Remove and allow to sit for 5-10 minutes before slicing.

Serve with gravy, if desired.

If you've tried this recipe, come back and let us know how it was!
Notes
*packages usually come with a pack of 2, so cut them apart and freeze one or make both, but double the stuffing and butter topping.
Nutrition
Calories:
390
kcal
|
Carbohydrates:
8
g
|
Protein:
57
g
|
Fat:
15
g
|
Saturated Fat:
6
g
|
Cholesterol:
160
mg
|
Sodium:
956
mg
|
Potassium:
654
mg
|
Fiber:
1
g
|
Sugar:
1
g
|
Vitamin A:
472
IU
|
Calcium:
47
mg
|
Iron:
2
mg