This yellow squash recipe is quick and easy to make for those long summer nights. You won't be disappointed with how delicious these turn out, you'll be serving yourself more!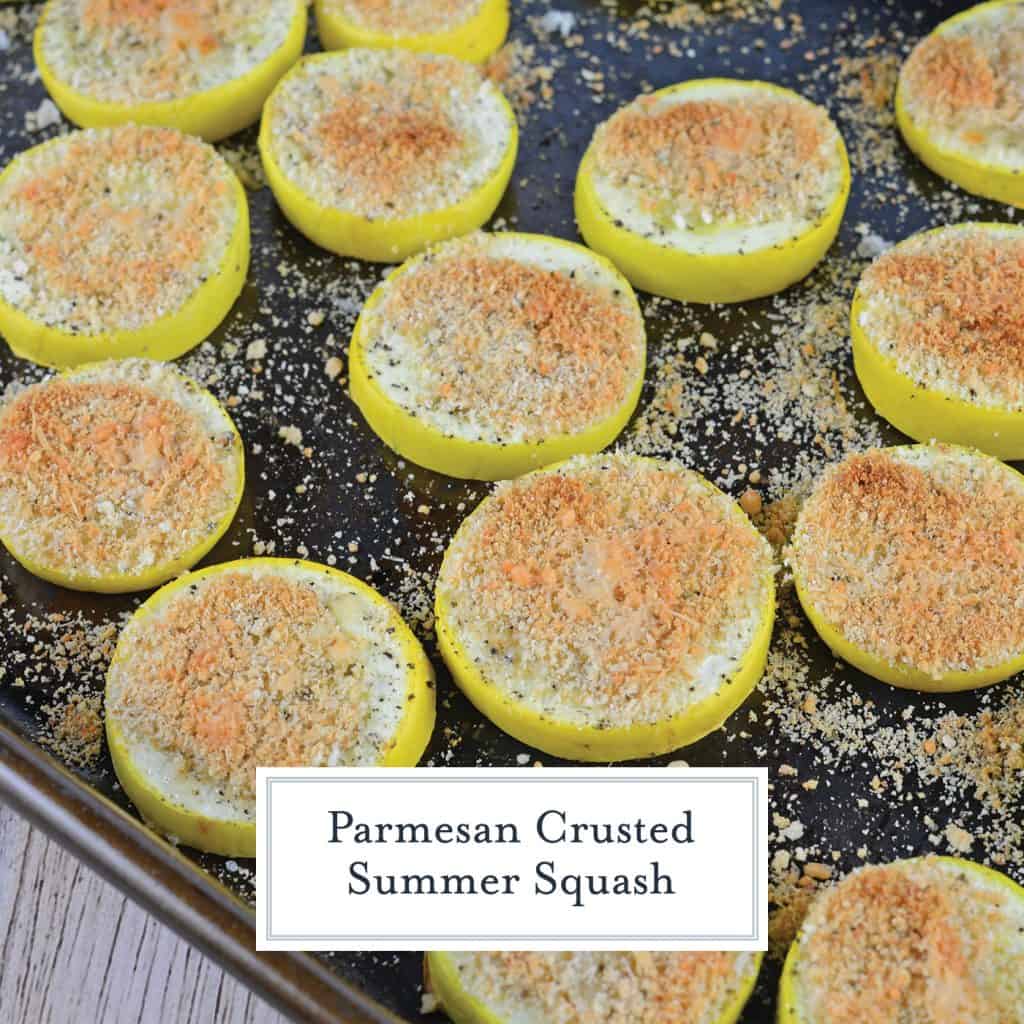 My squash plants seem to produce more squash than my husband and I can eat, so I started to experiment with new recipes. This Parmesan Crusted Yellow Squash recipe turned out to be the winning recipe!
Whether we had one, two or even ten squash, this recipe was easy and adaptable to the yield of harvest, but also to so many different recipes.
I love having my own garden where I can just go outside and grab a fresh vegetable to cook with. It doesn't get much better than that! If you don't have your own garden then finding yellow squash shouldn't be hard during the summer.
They seem to be easy to find in a grocery store or at a market.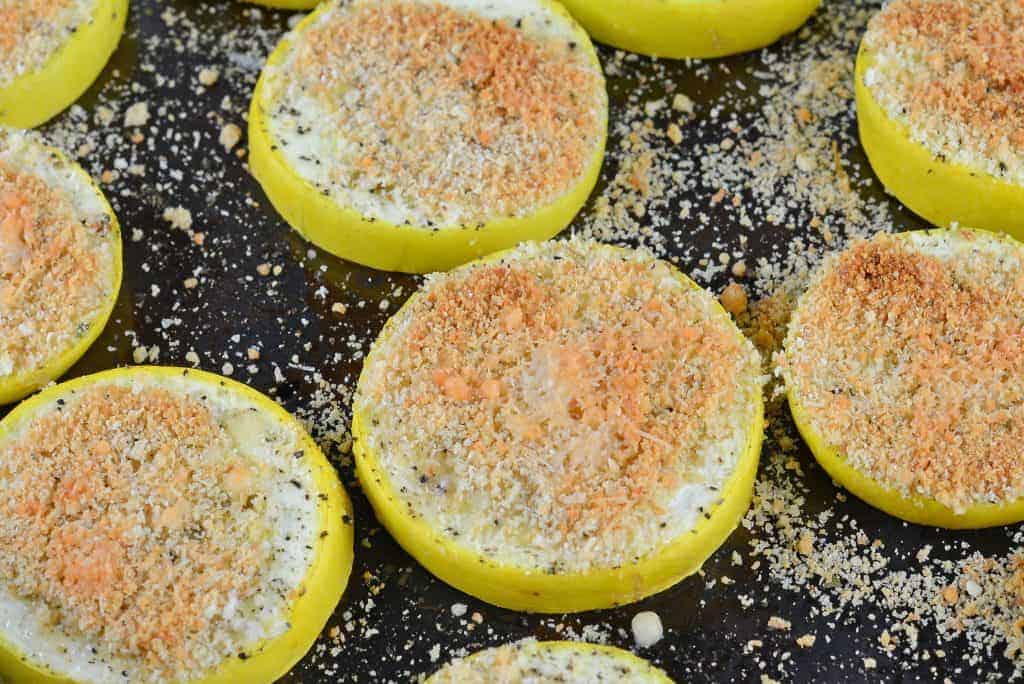 Yellow Squash is an easy vegetable to work with and is great for a lot of different recipes, but it's great to slice up and throw in the oven to bake. That's what makes this Parmesan Crusted Yellow Squash Recipe so great.
PRO TIP: You can even use a chayote for a fun twist!
Just cut into thin slices, bake until the squash is soft, then top with Parmesan cheese and breadcrumbs. I used seasoned Italian breadcrumbs, but you can also use panko.
PRO TIP: Use parchment paper for a quick clean up!
Parmesan cheese can also be switched out for another type of cheese, however only Parmesan really bakes up nice and crisp. It wouldn't be parmesan crusted yellow squash without the parmesan now would it?
You can eat this easy recipe as a side dish with chicken, steak, seafood, or whatever you choose. You can even chop it up and throw it into some pasta if you want.
However you choose to eat it I'm sure you'll love it! I hope you enjoy this recipe and the rest of your summer!
Ranch Roasted Potatoes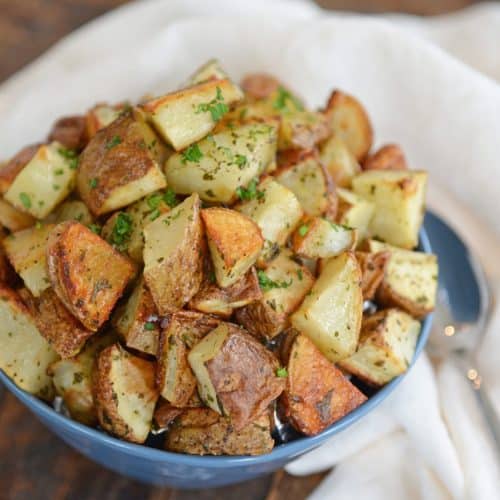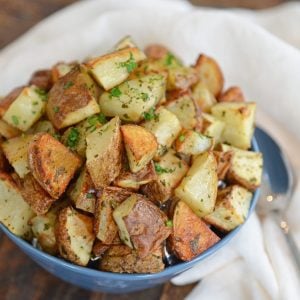 Looking for an easy side dish? These Roasted Ranch Potatoes are the BEST! And you only need 3 ingredients to make them!
Sherry Green Beans
If you're in need of an easy green bean recipe, look no further than these Sherry Green Beans! Steamed green beans have never been so good!
Crunchy Broccoli Slaw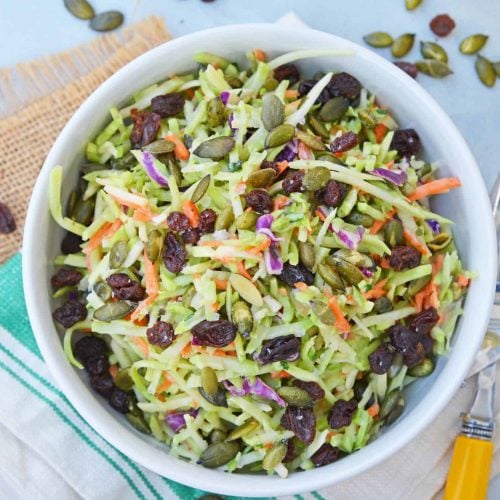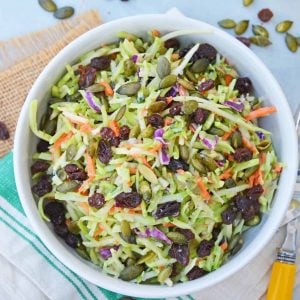 This Crunchy Broccoli Slaw Salad is made with a bagged broccoli slaw and a few extra ingredients for a quick, easy and tasty side salad!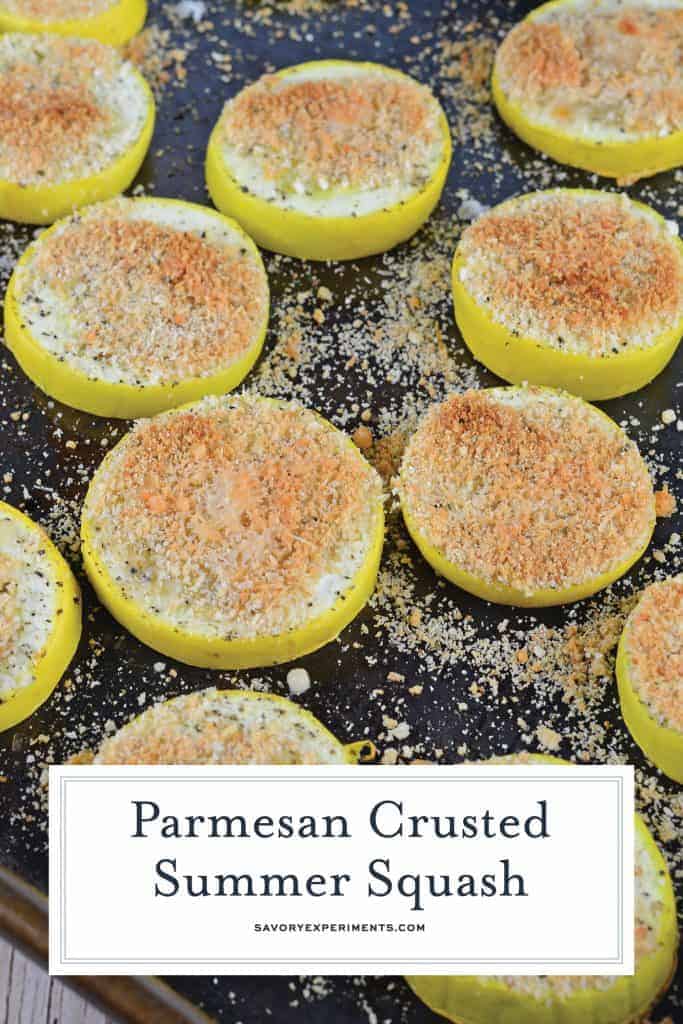 Tools for making Parmesan Crusted Yellow Squash:
Rimmed Baking Sheet– another kitchen staple! You'll use this for prep work, roasting and much more. I have 7 at my house.
Wood cutting board – wood won't dull your knives like plastic and if treated properly, has natural antimicrobial properties.
Good knife – Global is my favorite! They are worth the price, I promise. I am kind of obsessed with them and store them tucked away so no one else can use them. Including hubby. Hands off my good stuff!
Good Extra Virgin Olive Oil– A good olive oil will taste like, well, olives, while a poorly made one will taste like vegetable oil. Gross. While people tend to favor Italian and Greek olive oils, I prefer to buy mine domestically.
There are some great ones out there from all over the world, but the reporting of ingredients isn't always the same and you could find that your super expensive olive oil was actually cut with vegetable oil.
CONNECT WITH SAVORY EXPERIMENTS!

Be sure to follow me on social media, so you never miss a post!

Facebook | Twitter | Youtube
Pinterest | Instagram
Get our FREE 8 Day E-Course on How to Be a Better Home Cook. Sign up HERE!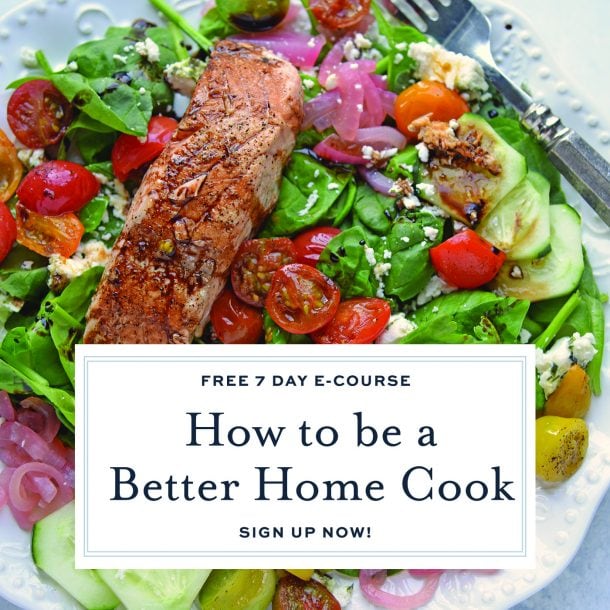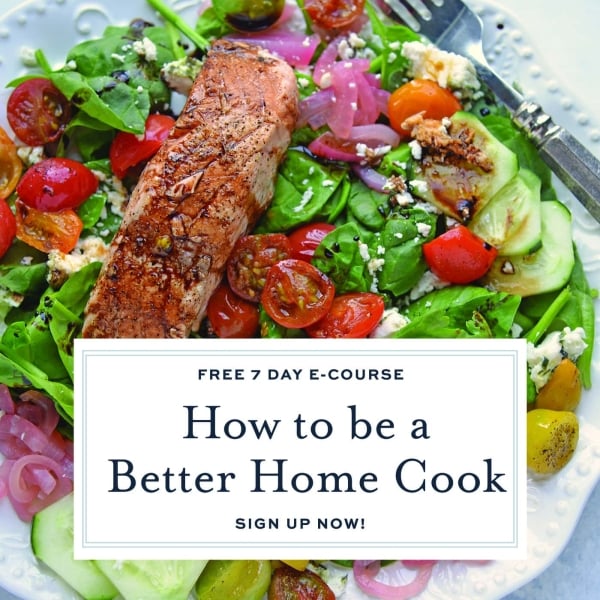 Parmesan Crusted Yellow Squash
This Parmesan Crusted Yellow Squash recipe is baked and topped with parmesan cheese and bread crumbs. It'll become your new favorite summer squash recipe side dish!
Instructions
Preheat oven to 350 degrees. Lightly coat a baking sheet with cooking spray.

Toss yellow squash with light extra virgin olive oil in a medium mixing bowl.

In a small mixing bowl, combine fin seas salt, ground black pepper, garlic powder, onion powder, Parmesan cheese and bread crumbs.

Arrange yellow squash in a single layer on prepared baking sheet. Spoon bread crumb mixture evenly over each squash round, pressing down lightly on each one.

Bake for 15 minutes, or until squash is soft, but not mushy.
Nutrition
Calories:
111
kcal
|
Carbohydrates:
9
g
|
Protein:
5
g
|
Fat:
6
g
|
Saturated Fat:
1
g
|
Cholesterol:
5
mg
|
Sodium:
336
mg
|
Potassium:
271
mg
|
Fiber:
1
g
|
Sugar:
2
g
|
Vitamin A:
260
IU
|
Vitamin C:
16.7
mg
|
Calcium:
127
mg
|
Iron:
0.8
mg