If you've ever enjoyed fried squash, you'll know why I was on a mission to make something similar but without the frying. Crunchy exterior with a super soft and tasty inside. Perfection.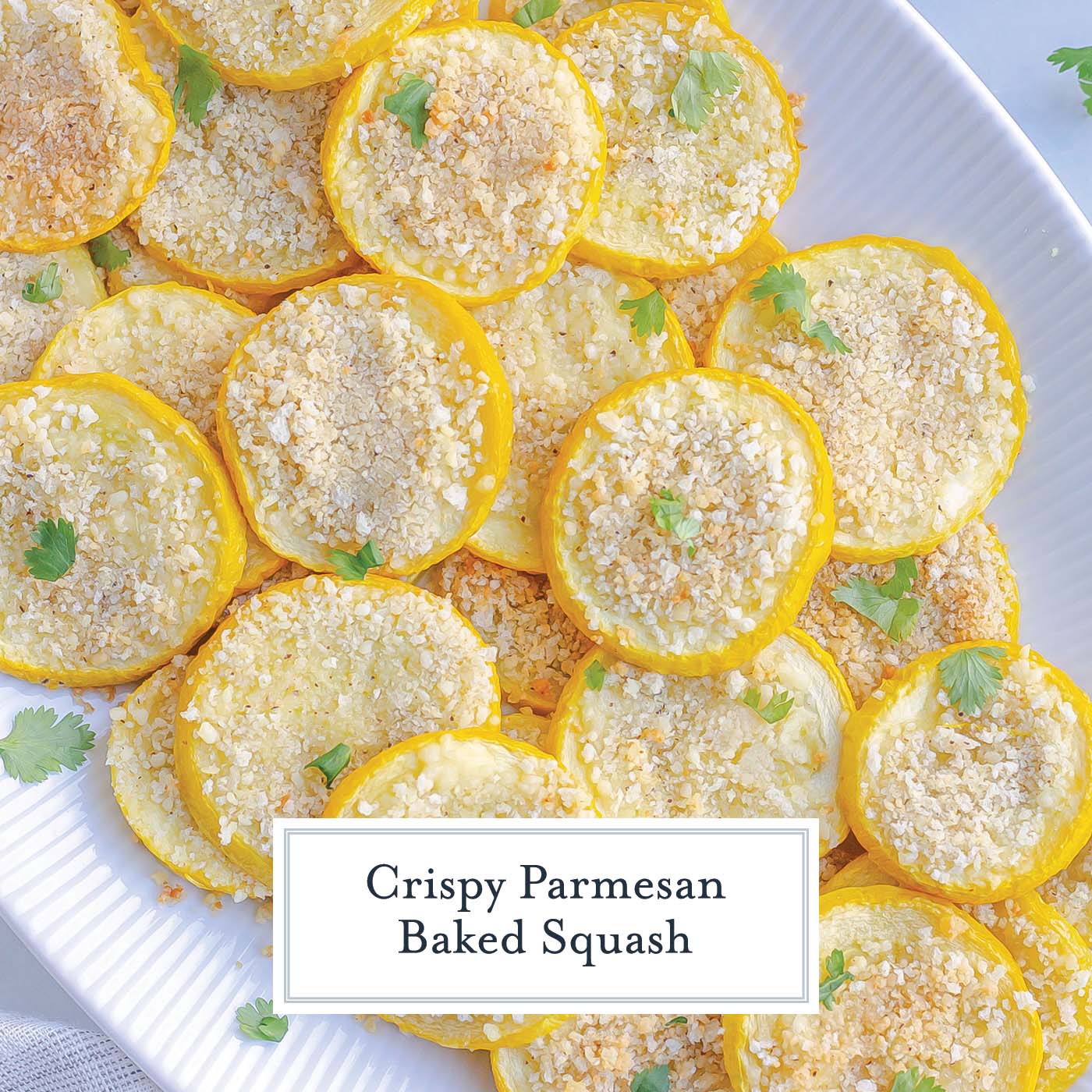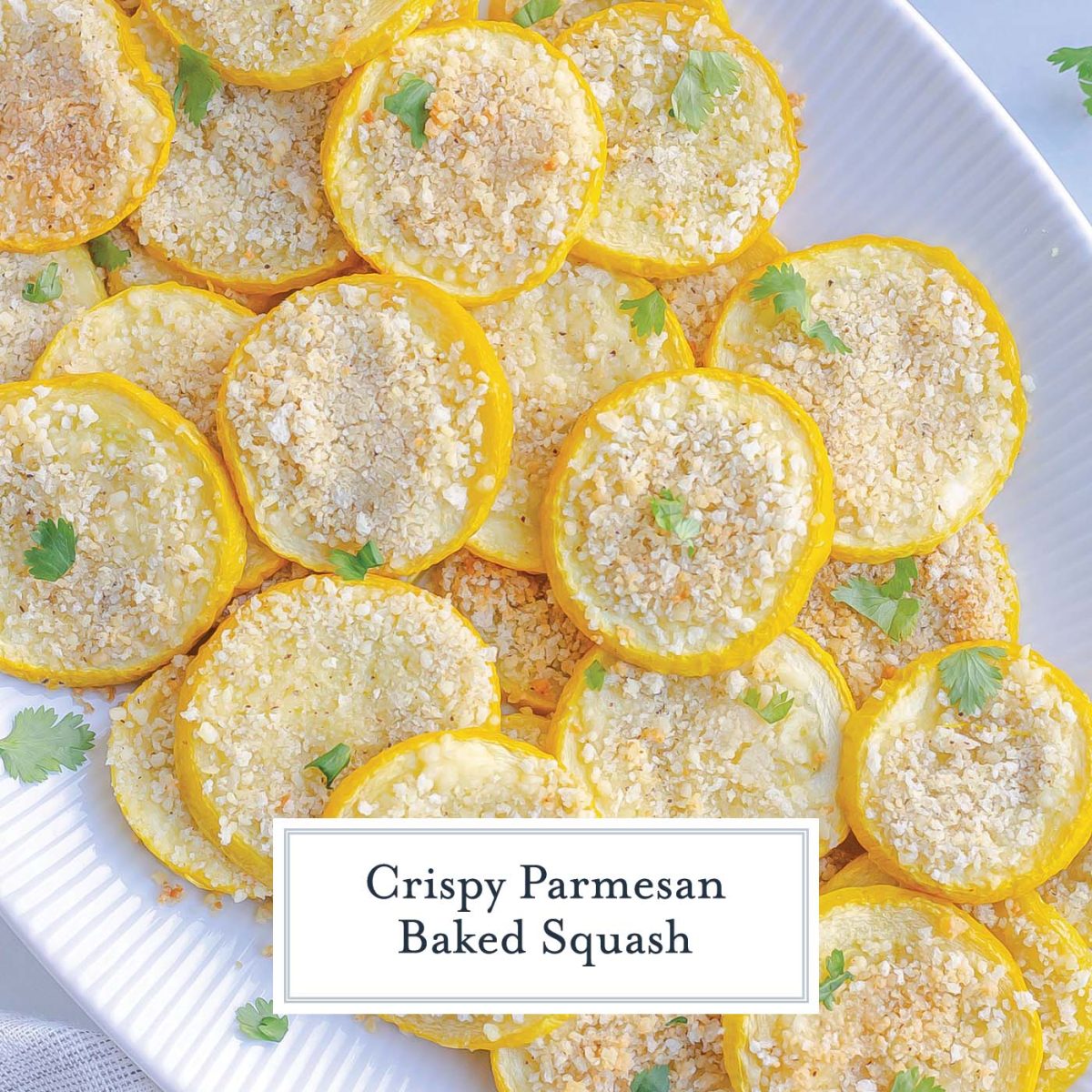 My squash plants seem to produce more squash than my husband and I can eat, so we had a lot to experiment with. I'm pretty sure after I created my own America's Test Kitchen, this is the best you can get without actually frying. I needed a delicious and easy recipe.
Many recipes are loaded down with brown sugar, maple syrup and other sugary toppings, but honestly, the easiest way to prepare squash is with simple ingredients and spices.
Baked Yellow Squash
Squash, especially yellow, is typically found in casseroles due to the higher water content. They tend to have thicker skins and high moisture flesh. This is also why you don't want to roast squash, which would be a longer cook time under high temperatures, and merely make the center into pulp. Other varieties ike spaghetti squash, butternut squash, acorn squash and are better for roasting.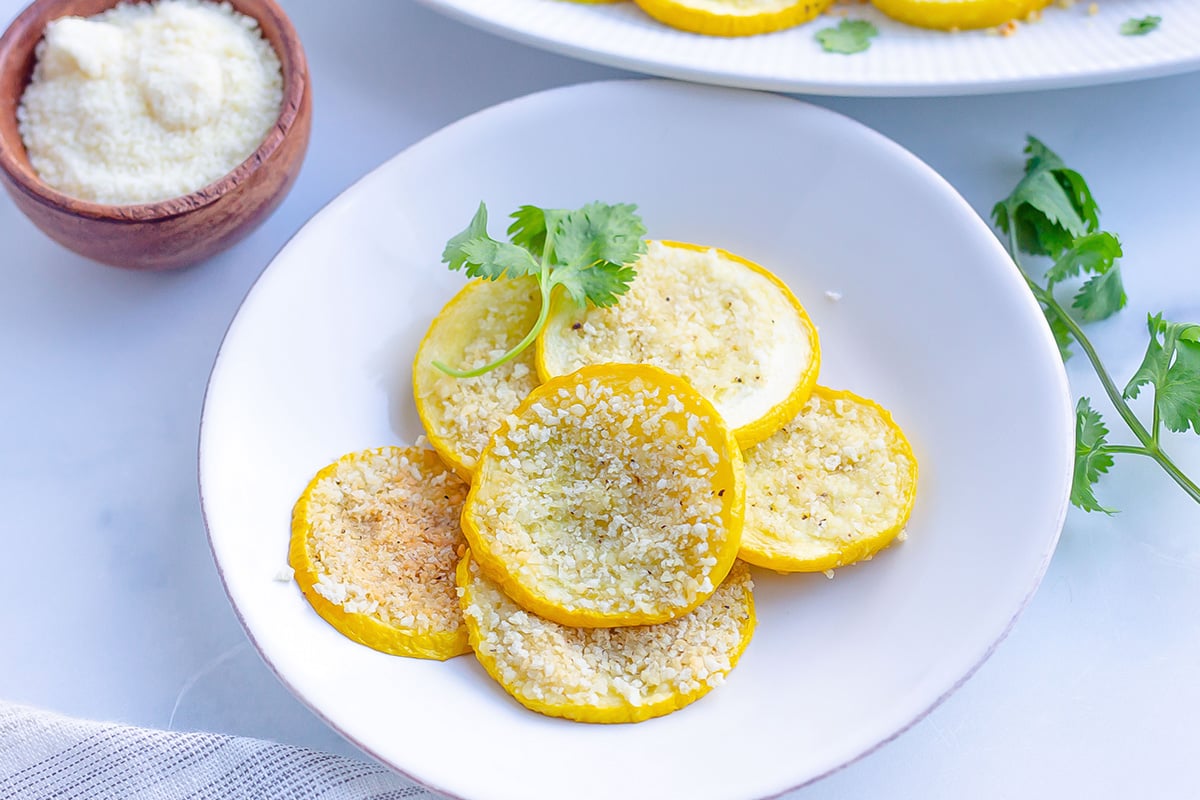 This simple recipe couples fairly high baking temperatures and a seasoned bread crumb topping with a quick blitz in the oven to make a crispy topping versus a crispy piece of squash.
Ingredients
Other than the squash, the ingredient list is short and full of pantry staples.
Yellow Squash– Sometimes called summer squash, you can use other types of squash too, like green, but make sure to cut them into fairly slender disks.
Light virgin olive oil- I did opt for light olive oil so it gave the lubrication and fats we needed, but without a distinct flavor. Light olive oils are commonly used in cooking, while first press is best for dressings and finishing.
Fine sea salt & black pepper– Sea salt gives the best clean salt flavors. Freshly cracked black pepper packs the most punch.
Garlic Powder & Onion Powder- I like the blend, but use one or the other too. Make sure you've purchased them within 6 months, otherwise the flavors tend to mute.
Parmesan Cheese– This is a hard cheese, so it melts up crispy instead of releasing water. Please use freshly shredded cheese and not the "shaker cheese". Alternatives would be asiago, romano or omitting it altogether.
Bread crumbs– Plain or seasoned are fine. Swap this out for cracker crumbs like Ritz or saltine, but be mindful of the added salt on crackers and omit seasoning with salt in the rest of the recipe.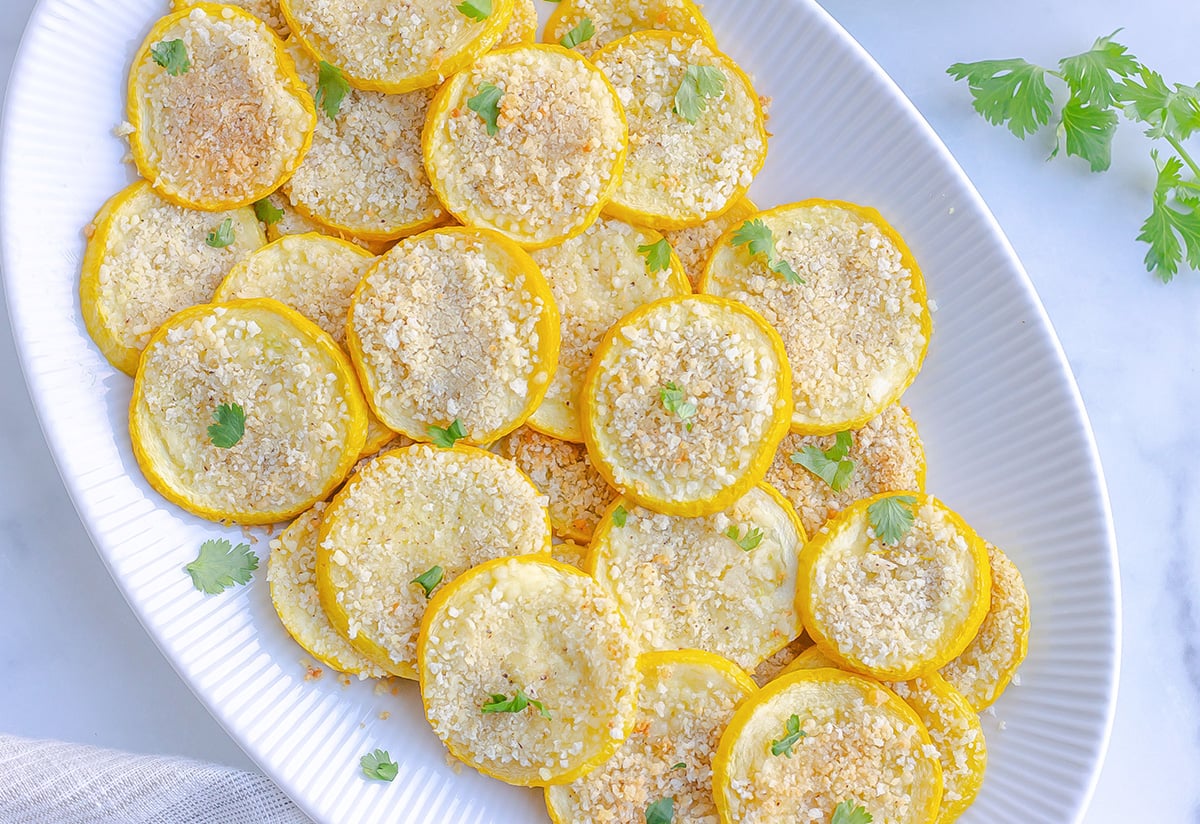 Variations include swapping the seasonings for 1-2 teaspoons of cajun seasonings, Italian seasonings, fresh herbs, crushed red pepper flakes or taco seasoning. Rich flavors do well with this mild base.
How to Bake Squash
On a cutting board, prepare the squash by slicing into rounds about 1/2 inch thick. Don't go too thick or too thin, otherwise the cooking times will be off. No need to peel them, the beauty of yellow squash is that the skin becomes soft and easily edible when cooked.
Preheat the oven and get out a large baking sheet. No need to spray with cooking spray because the squash will be coated in olive oil. Use a tray that is larger than you think you'll need so each round has space. You can use parchment paper for easy clean up.
Toss the sliced squash with light extra virgin olive oil in a medium mixing bowl. Arrange each disk on the baking sheet in a single layer, leaving room between each. If they are too close together, the releasing water will steam them preventing the bread crumbs from crisping and instead resulting in mush. Set aside.
In a small mixing bowl, combine the rest of the seasonings, parmesan cheese and bread crumbs.
Spoon the bread crumb mixture evenly over each slice, pressing down lightly to adhere.

Bake in the preheated oven for 15 minutes, or until squash is soft, but not mushy and tops are golden brown.
Serve while hot. Some folks like to dip it in plain Greek yogurt or sour cream, but that is optional and I usually do without.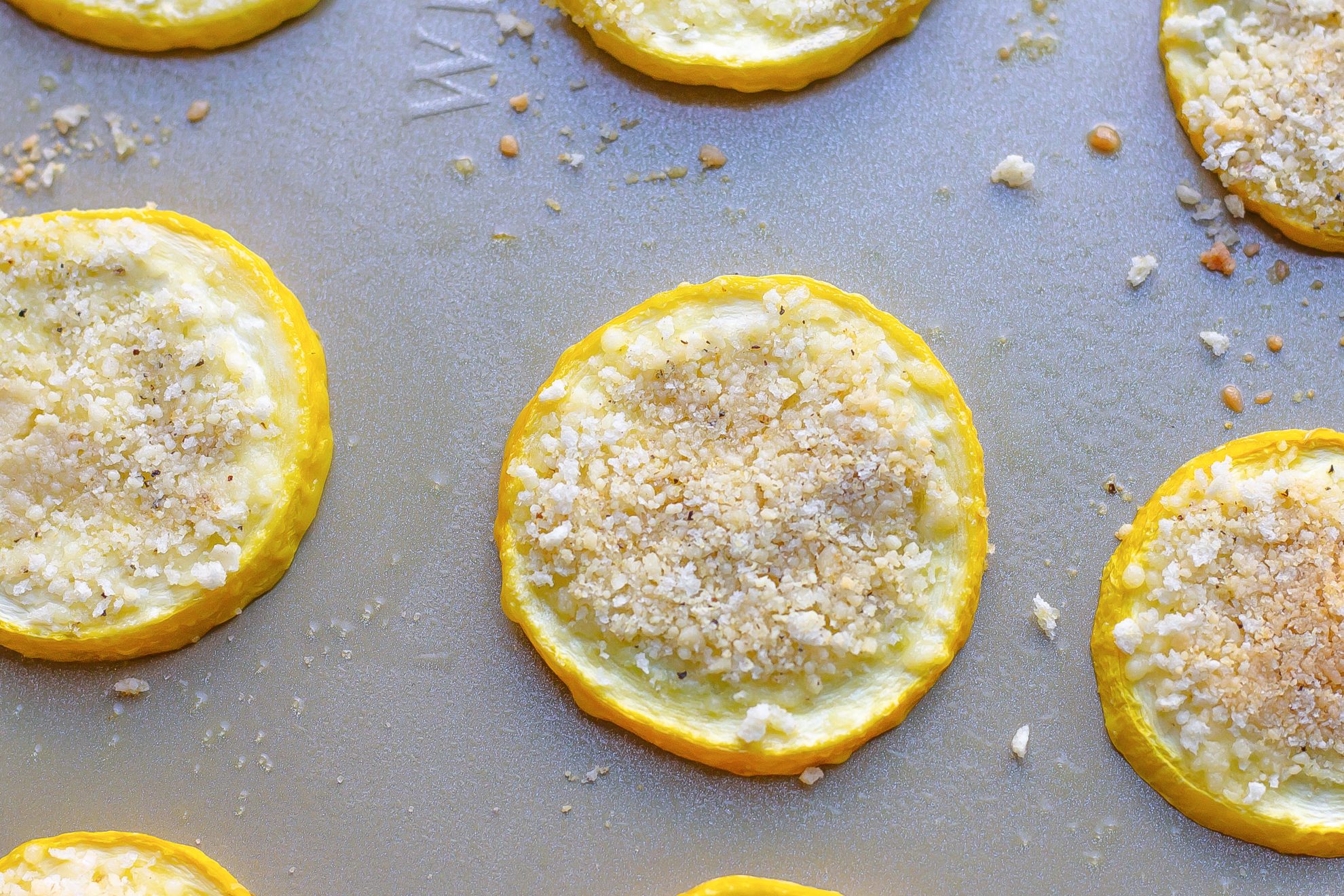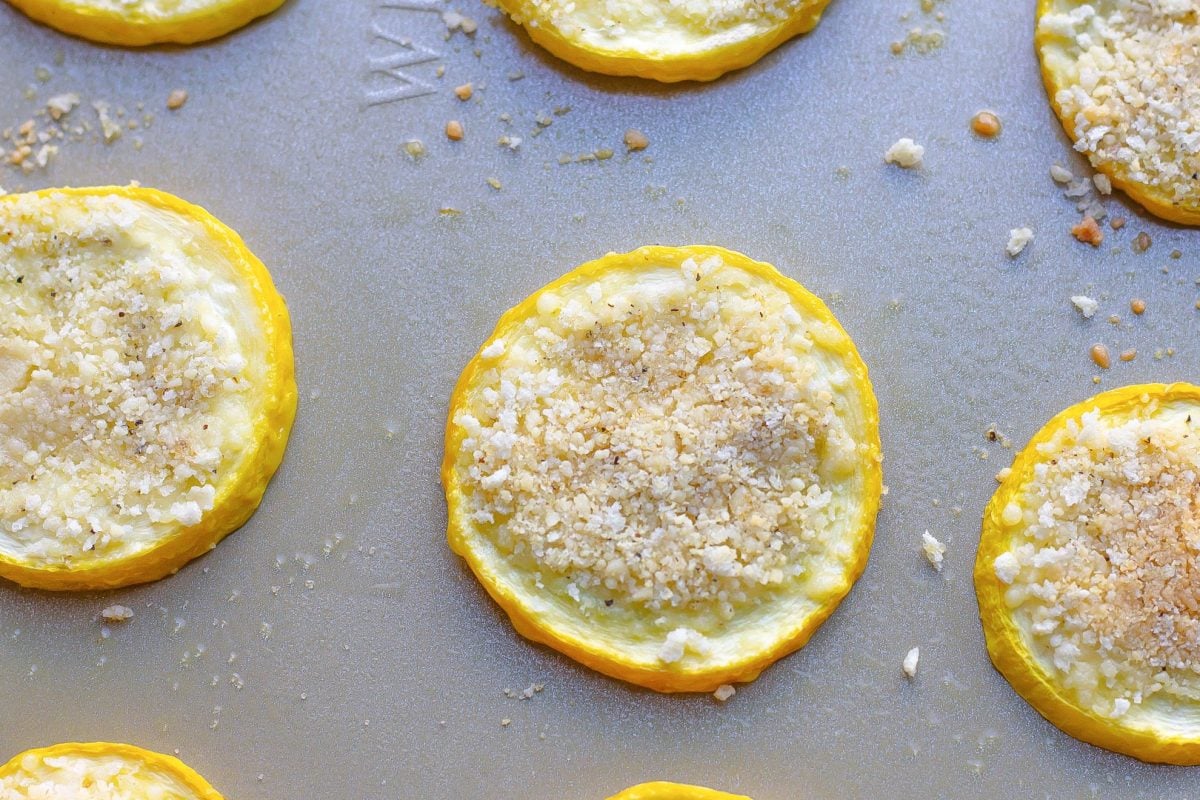 What to Serve it With
This is such a neutral recipe, it can really be served alongside any entree. I sometimes make it alongside roasted broccolini for more color. Also serve with a fish fry, mostaccioli, cube steak or brined chicken.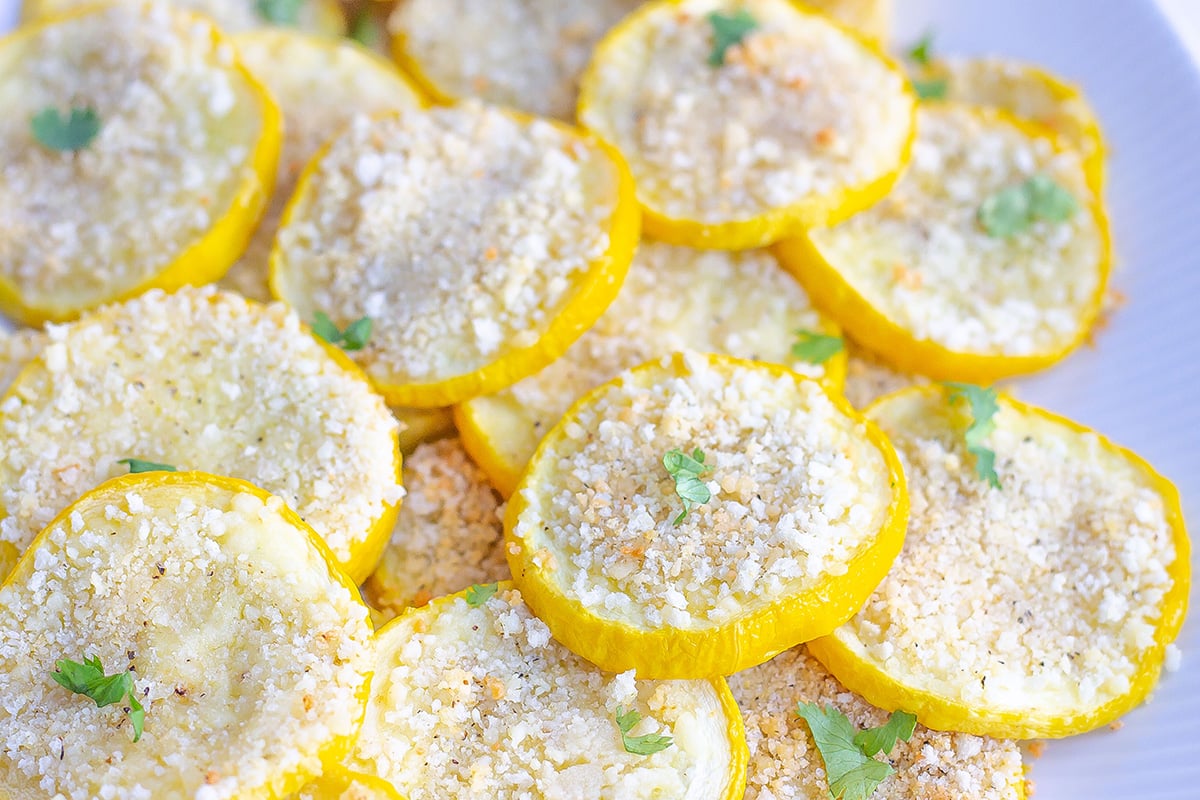 Leftovers & Freezing
For the best flavor, eat while freshly cooked and hot. Store in an airtight container in the refrigerator. Reheat leftovers in the oven on 300°F for 4-5 minutes or under the broiler for 1-2 minutes to recrisp. Unfortunately, these tend to get mushy in the microwave.
Squash, in general, does not freeze and thaw well due to having such a high water content. It can be done, but won't be the same.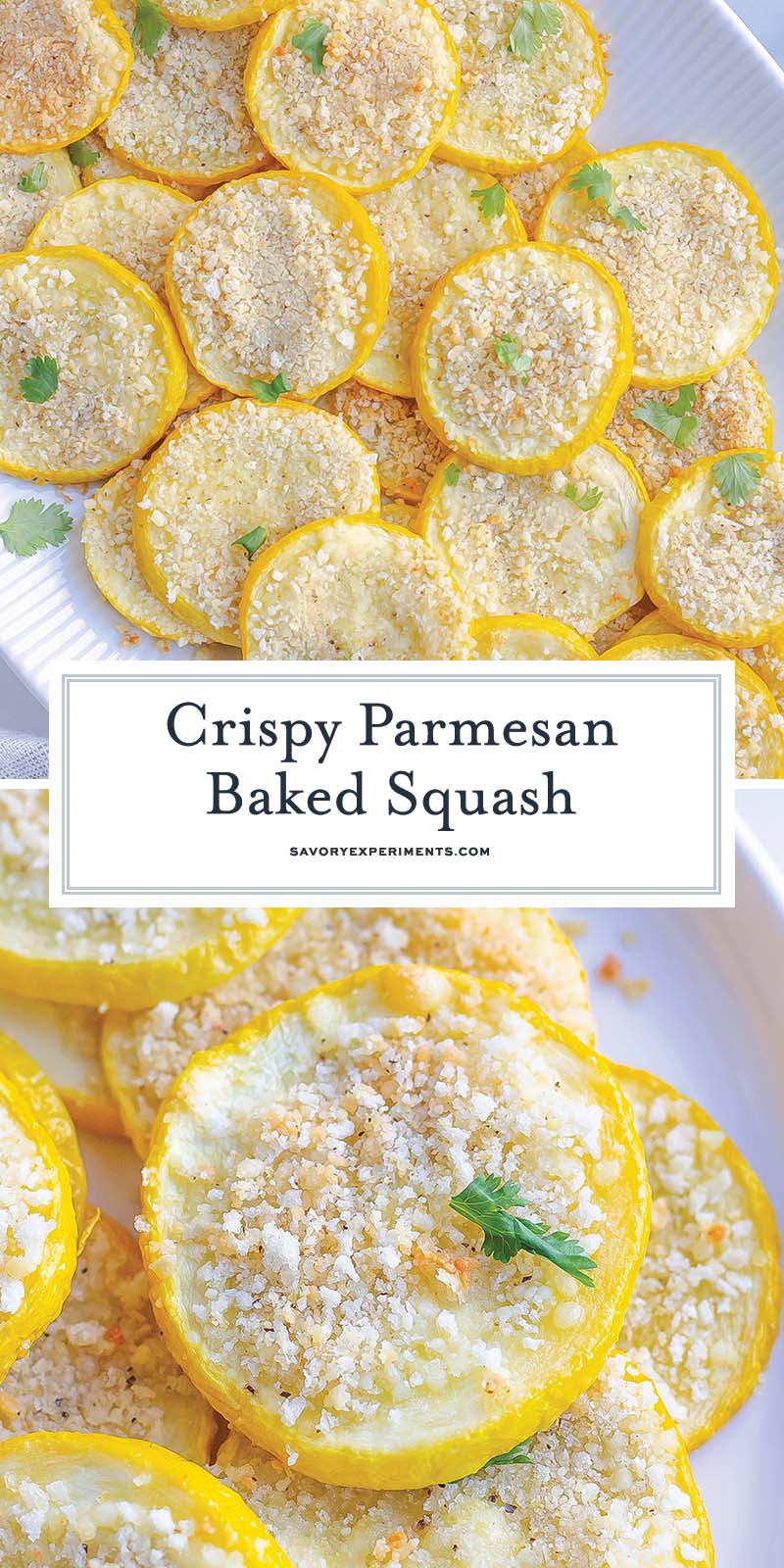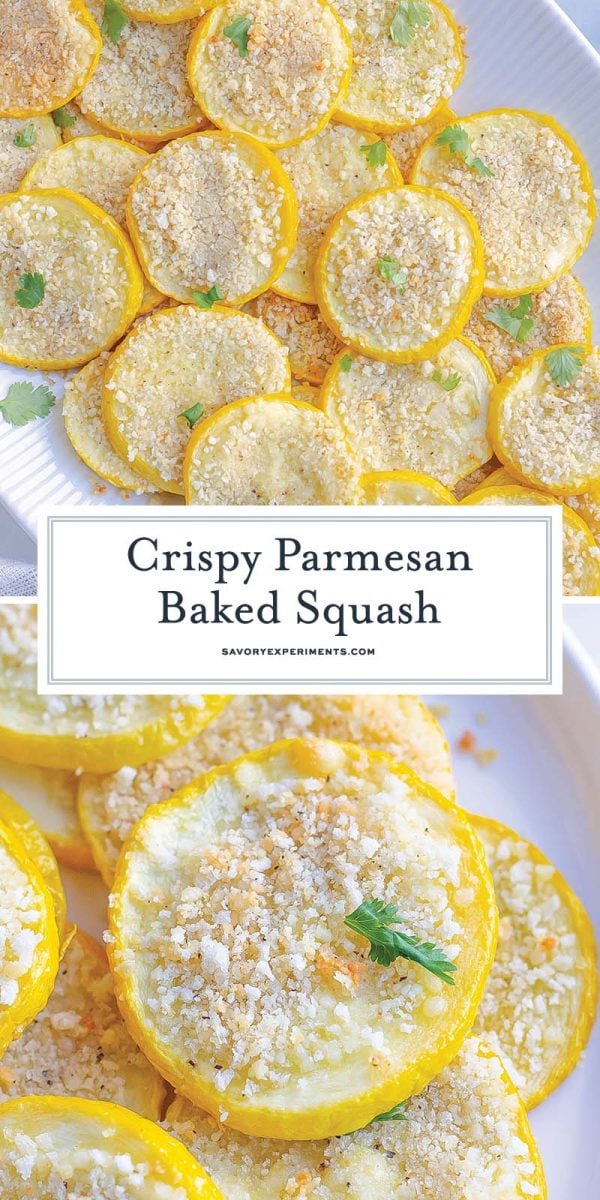 More Squash Recipes: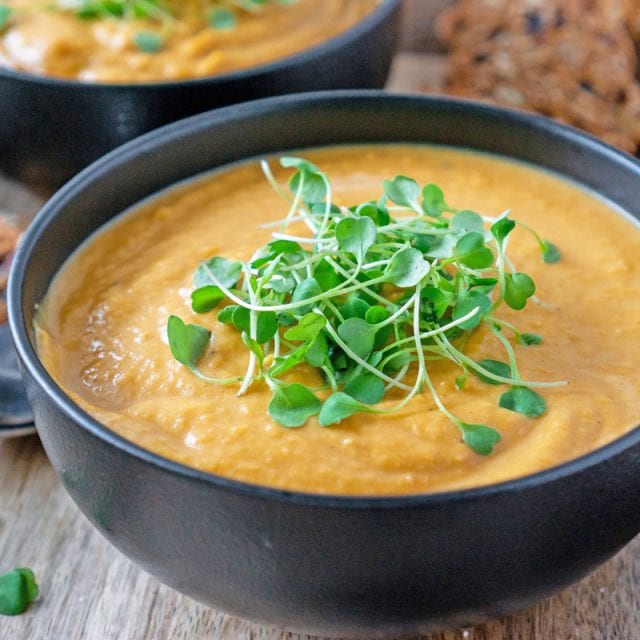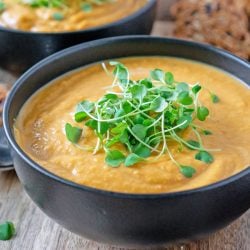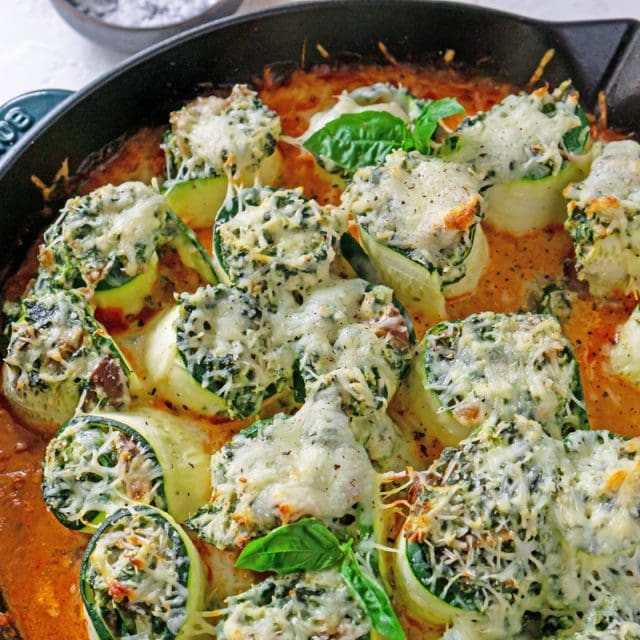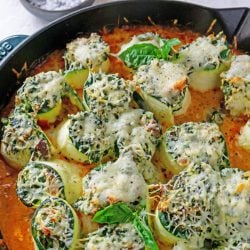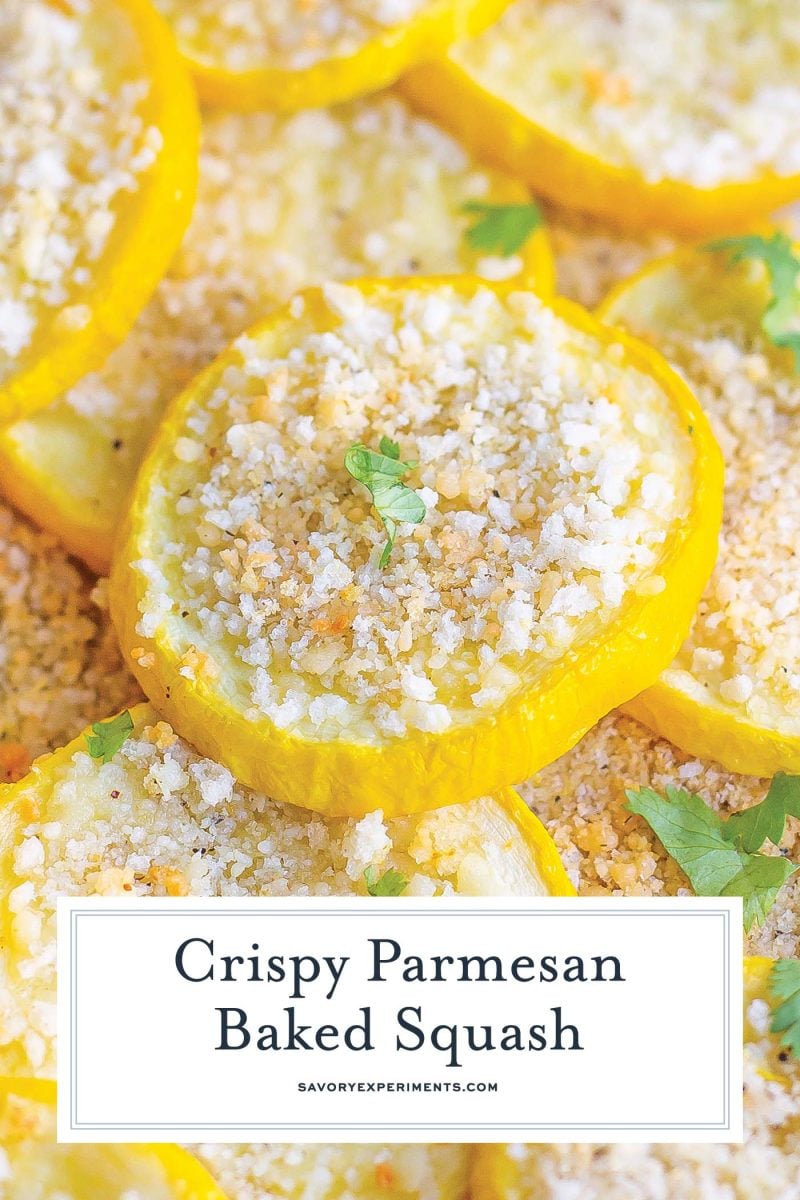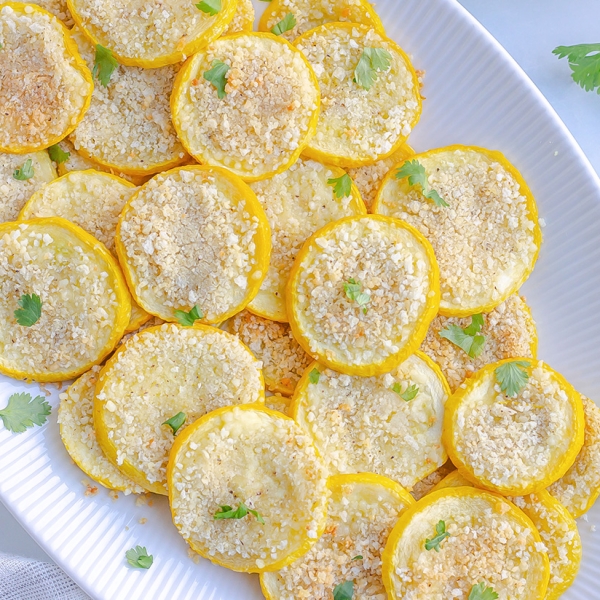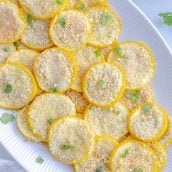 Crispy Parmesan Baked Squash Recipe
Sliced squash topped with seasoned bread crumbs and parmesan cheese. The perfect easy summer side dish for nearly any meal.
Instructions
Toss the cut squash with the oil in a medium mixing bowl. Take each round out, tapping off excess oil, and place them in a single layer on a large baking sheet being mindful to leave a little space between each.

In a small mixing bowl, combine the parmesan cheese, bread crumbs, garlic powder, onion powder, salt and pepper.

Spoon bread crumb mixture evenly over each squash round, pressing down lightly on each one.

Bake for 15 minutes, or until squash is soft, but not mushy. Remove and serve.

If you've tried this recipe, come back and let us know how it was in the comments or ratings!
Nutrition
Calories:
111
kcal
,
Carbohydrates:
9
g
,
Protein:
5
g
,
Fat:
6
g
,
Saturated Fat:
1
g
,
Cholesterol:
5
mg
,
Sodium:
336
mg
,
Potassium:
271
mg
,
Fiber:
1
g
,
Sugar:
2
g
,
Vitamin A:
260
IU
,
Vitamin C:
16.7
mg
,
Calcium:
127
mg
,
Iron:
0.8
mg