Tired of that ho-hum, lackluster bird that usually hits the table around the holidays? Yeah, me too. This recipe will give you the tools to avoid that exact scenario when it is your turn to host.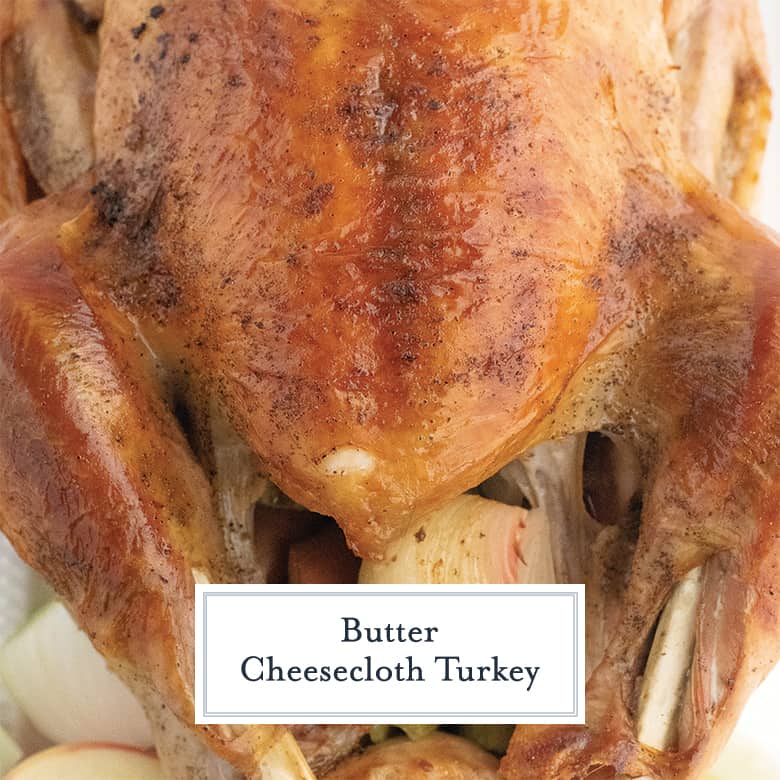 Butter Cheesecloth Turkey is an easy and foolproof way to cook a succulent and flavorful bird. Your guests will be begging you for the recipe.
Hello, holiday season. We meet again.
I am very honest about the fact, that turkey is low on my list of holiday traditions, but alas some people would riot it if it wasn't on the table. I made a list of my "must-haves" and built a recipe around it. If I am going to eat turkey (and more importantly, enjoy it), it needs three things.
One. It must be moist.
I'm so sorry, I know that work can be considered offensive in this day and age.
All too often turkey is served so dry that it needs a side of water just to get a bite down. There are no two ways about it, in my opinion, the best way to combat that chalky, desert-like texture, is to brine your bird.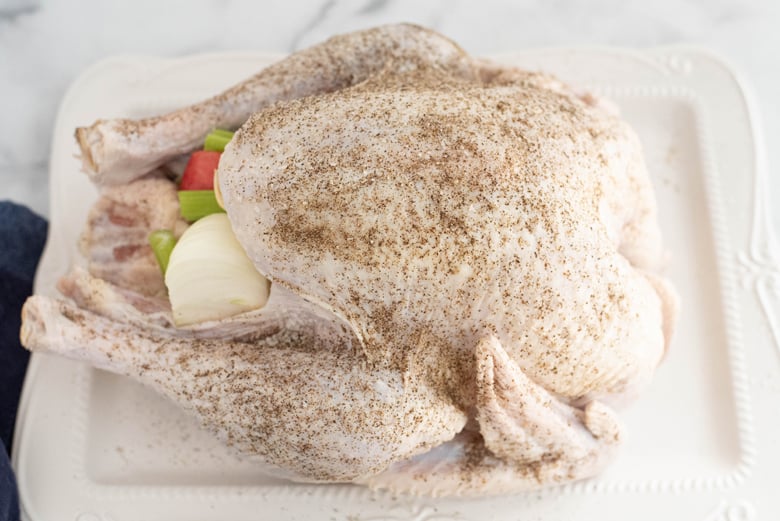 You can dry brine if you are short on time and need a faster and less involved process. This involves creating a flavorful salty dry mix that is rubbed all over the skin of the turkey. It essentially locks in the moisture and creates a barrier that prevents it from leaching out during the cook.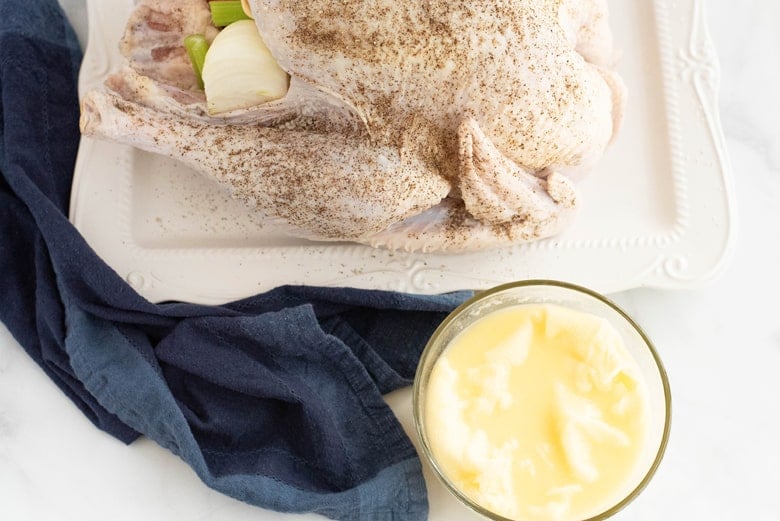 Personally, I am partial to the wet brine method where you make a flavored salted water solution and allow the turkey to sit in it overnight. This tactic lets it soak up the water to add more moisture to the meat as well as the salt, to season it from the inside out.
TWO. It must be tasty.
Problem number two with turkey during the holidays is that it is devoid of flavor. How? I don't know. If you are brining your bird (and I highly suggest you do,) you are already taking a step in the right direction, but you can do so much more.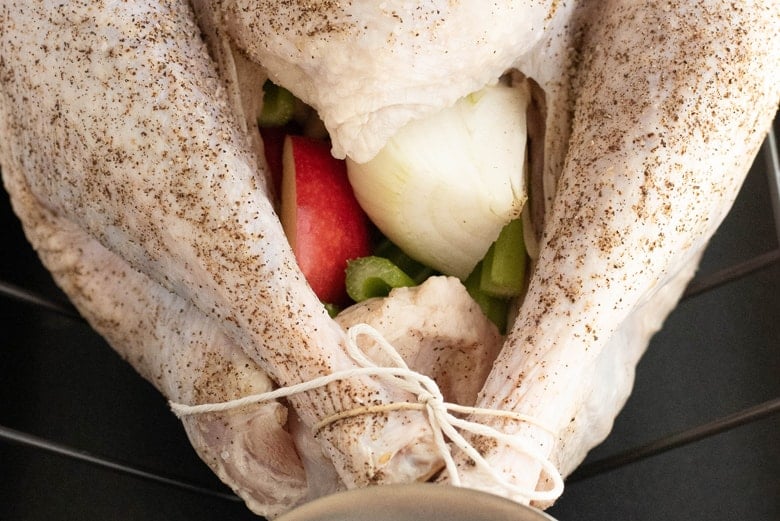 Stuffing the cavity is a great way to up the ante. This recipe has one version that includes some fruit and veg, but if you are partial to a stuffing, by all means, go with that.
Just be sure it has reached an internal temp of 165F since it has touched raw turkey.
THREE. It must be golden. 
There is nothing sadder than a pale bird. Not only from a visual standpoint but from a flavor and texture standpoint as well.
That's where butter, wine, and a piece of cheesecloth come into the mix. I like to think of this as the warm blanket method.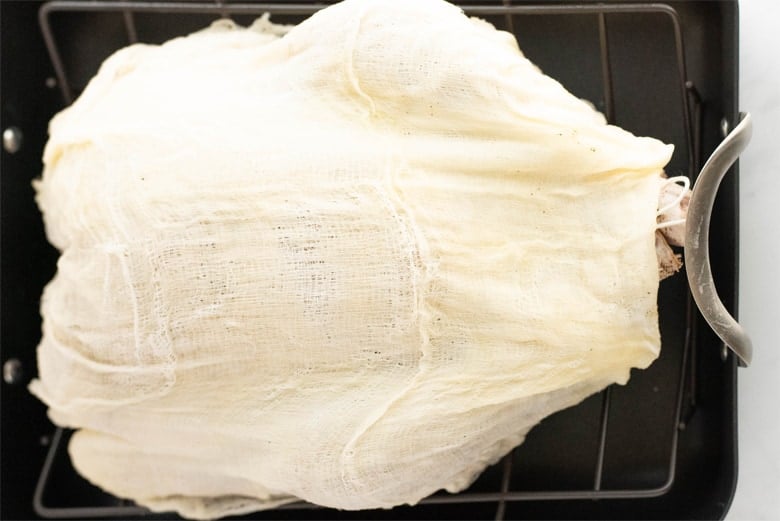 By dunking and soaking the cheesecloth in fat and flavor and draping it over your bird, you are essentially tucking it in all snug for the oven. The cheesecloth ensures that every inch of skin is protected and, more importantly, that every inch of skin has contact with moisture.
Essentially, it is basting when you are there to baste. A true self-basting turkey.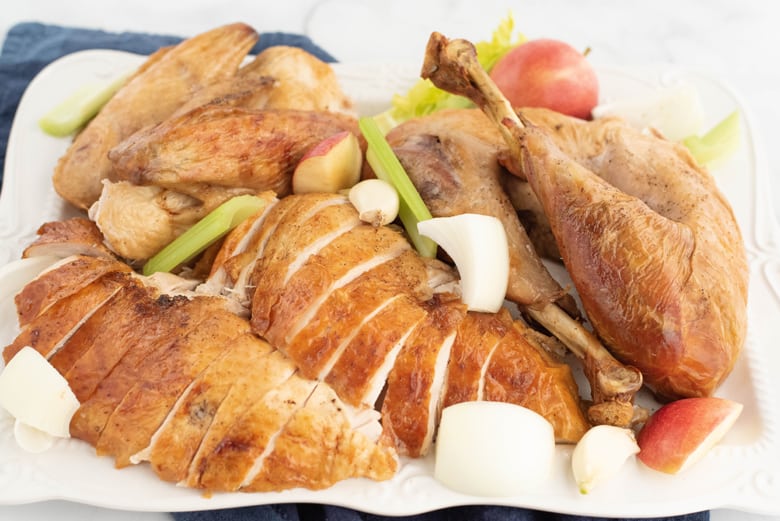 With this method, you will still have to baste, but It is one of the only ways I have found to make sure the butter stays where it needs to be (on the bird) and doesn't immediately melt into the base of the pan.
Basting can be done with a pastry brush or a traditional baster to re-up the cheesecloth. 
Another tip to make sure it stays golden – rotate that bird. Your oven isn't a calibrated to have an even temp everywhere and by rotating the roasting pan, you are accounting for those hot and cold spots.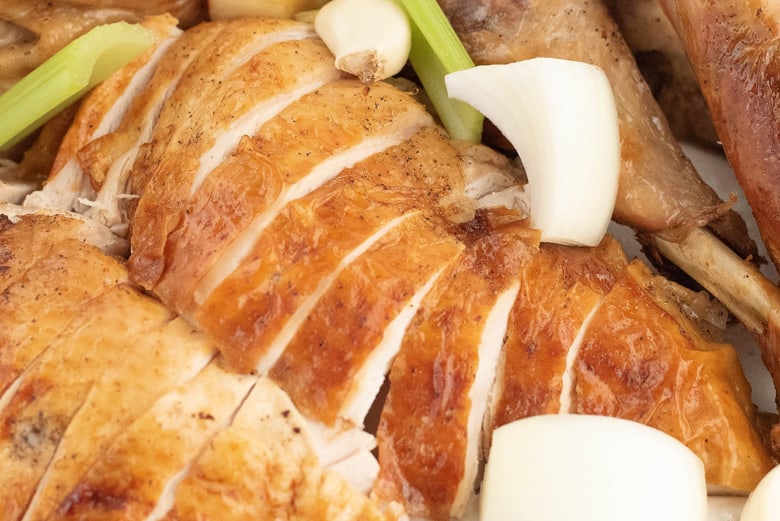 If you feel like adding herbs or to your wine and butter mix or using a compound butter, by all means! Sage, thyme, rosemary, thyme, and garlic are all good choices or you can mimic what is being used in your stuffing recipe if you are going that route. 
Now that you have a delicious bird, pair it with our favorite Thanksgiving side dishes and desserts!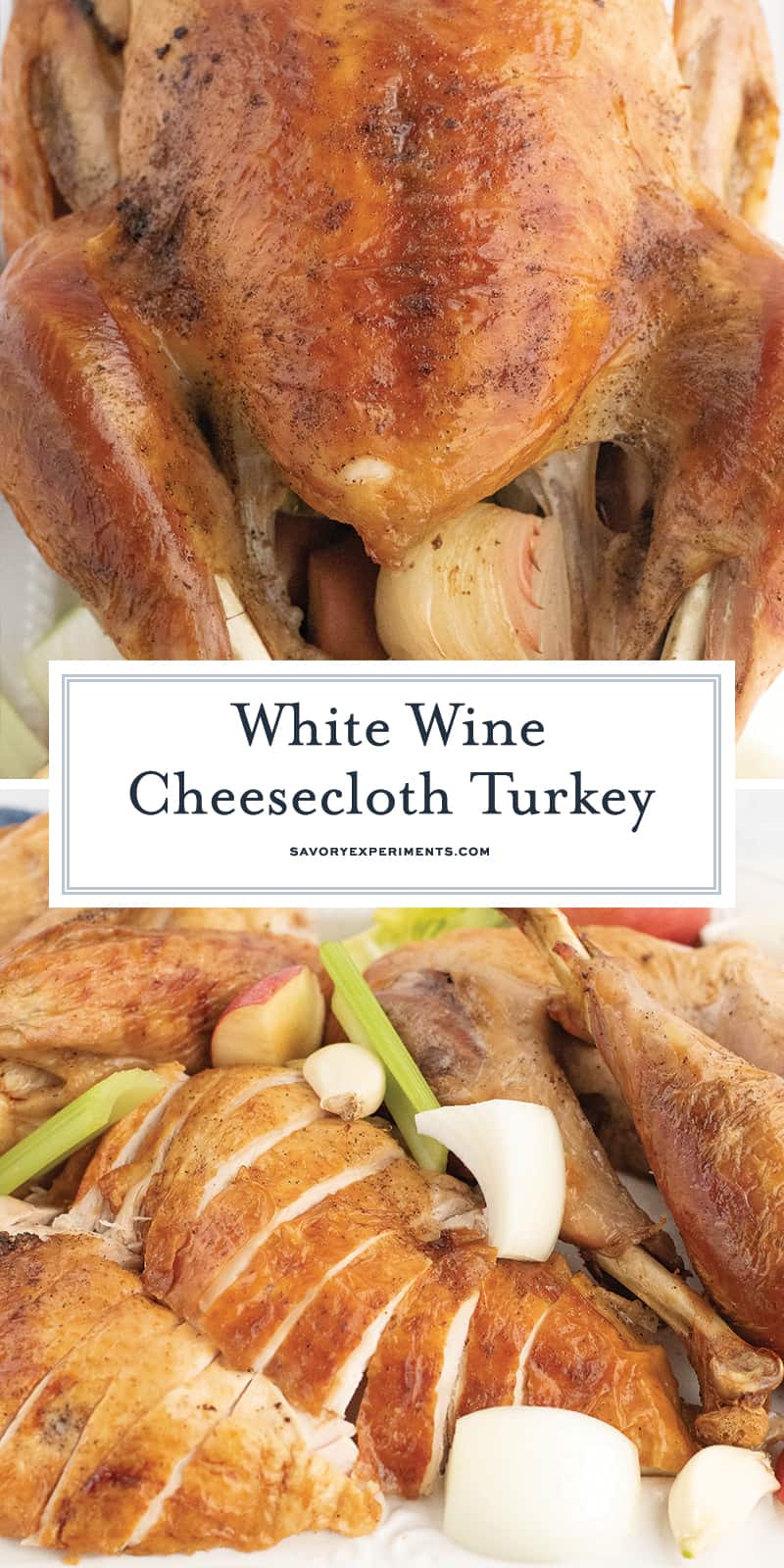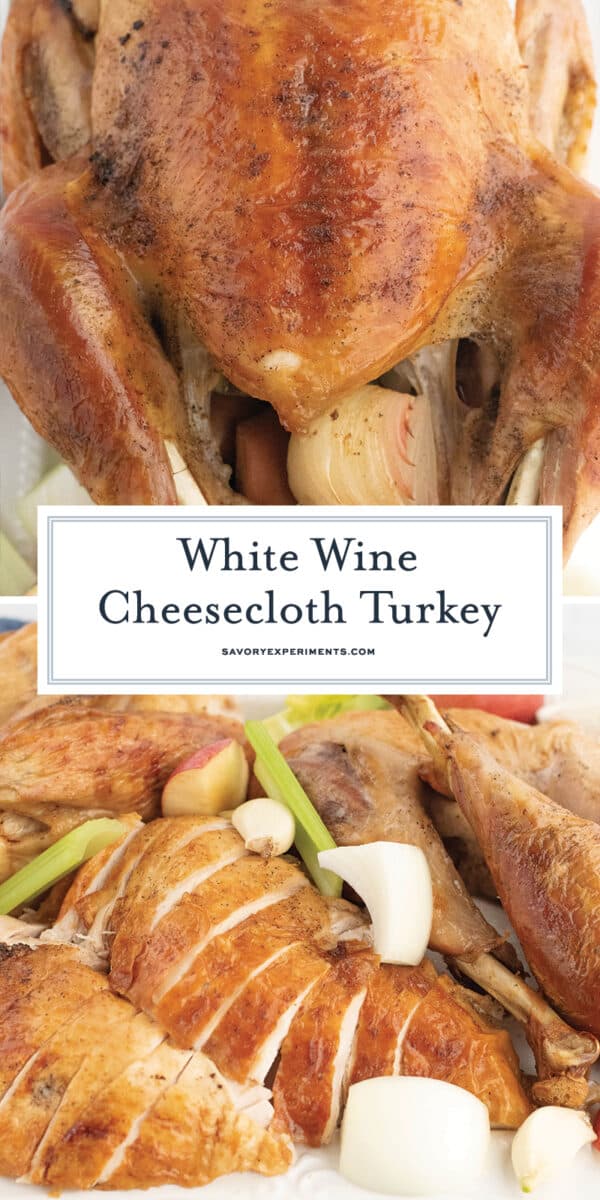 And here are more turkey recipes in case we haven't sold you on this one: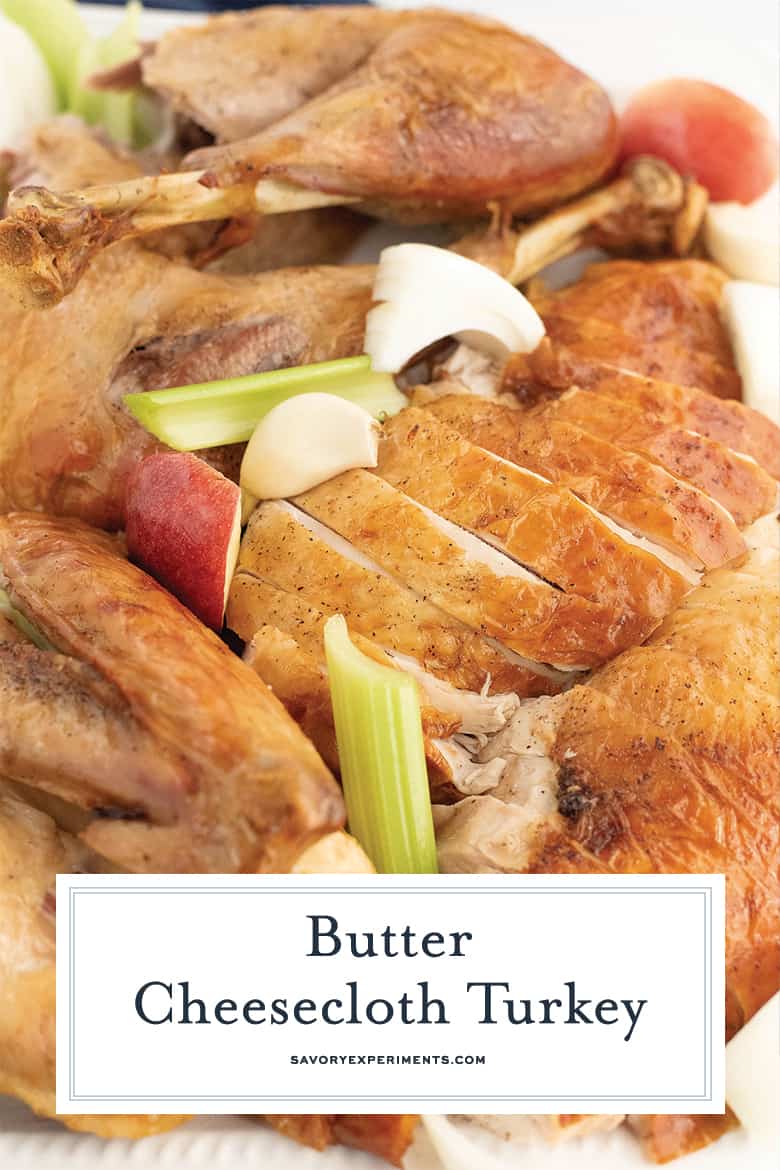 CONNECT WITH SAVORY EXPERIMENTS!

Be sure to follow me on social media, so you never miss a post!

Facebook | Twitter | Youtube
Pinterest | Instagram

Get our FREE 8 Day E-Course on How to Be a Better Home Cook. Sign up HERE!