Couscous is probably the easiest of all side dishes. It takes 10 minutes (sometimes less) to make and is a blank canvas for flavor. My Toasted Couscous is anything but average.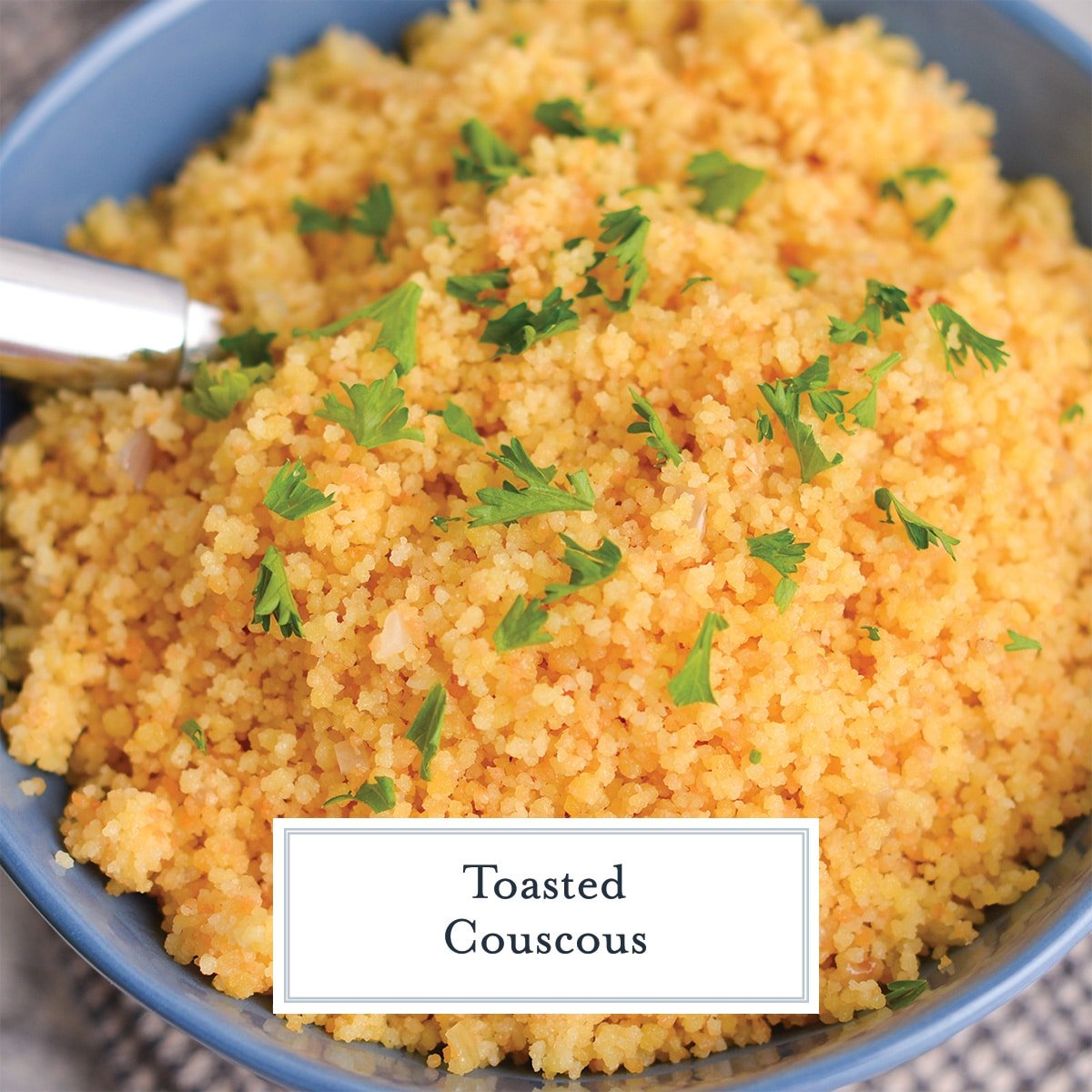 Like most families, we are busy, so we need easy weeknight meals and couscous is one of them. It doesn't need to be fancy, but it does need to be tasty. With just 5 ingredients, you get a flavorful dish that pairs with nearly anything.
What Is Couscous?
The number one question I get is "what is couscous"? Is it a grain? Is it a pasta? Is it rice?
Couscous is actually a very small pasta, but many people confuse it as a rice. It was actually the first "one dish pasta" if you will, only adding enough liquid to cook the pasta without any excess and draining, like most pasta dishes are prepared.
Couscous can come in a variety of sizes. For my toasted couscous recipe, I like the smallest size. It sticks together like a sticky rice, but still absorbs sauce and has a unique texture.
For other recipes, like a stew or salad, a larger Israeli Couscous is ideal. To see this, check out my Italian Seafood Stew!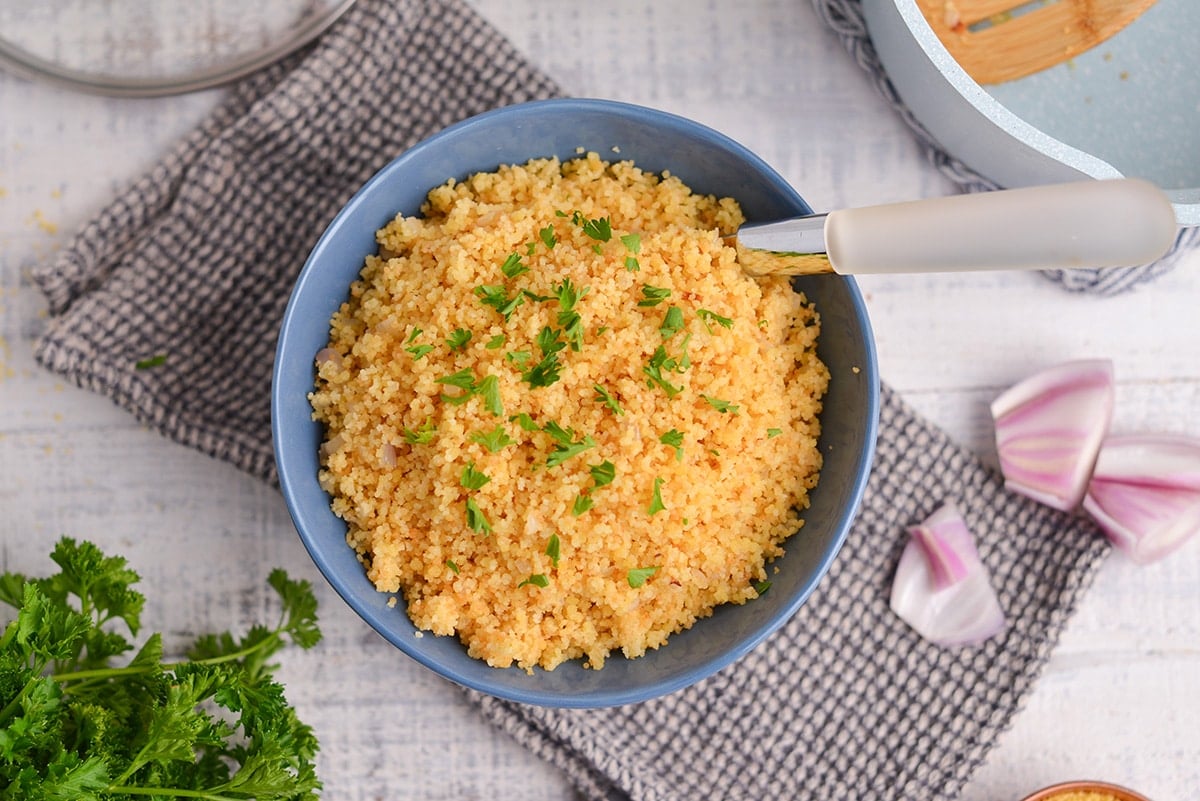 Toasting And Broth
Like most pasta, the palate is fairly bland so it is up to you to add flavor. The first thing I do is toast the dry pasta. Doing this creates a different taste altogether, adding depth and sophistication, much like browning meat brings out its natural acidity.
Shallots add a mild onion essence to the nutty, lightly toasted couscous. Cooking it with chicken broth and olive oil also gives it more flavor, but leaves it versatile enough to pair with nearly any meal. Sometimes I even swap out some of the broth for white wine.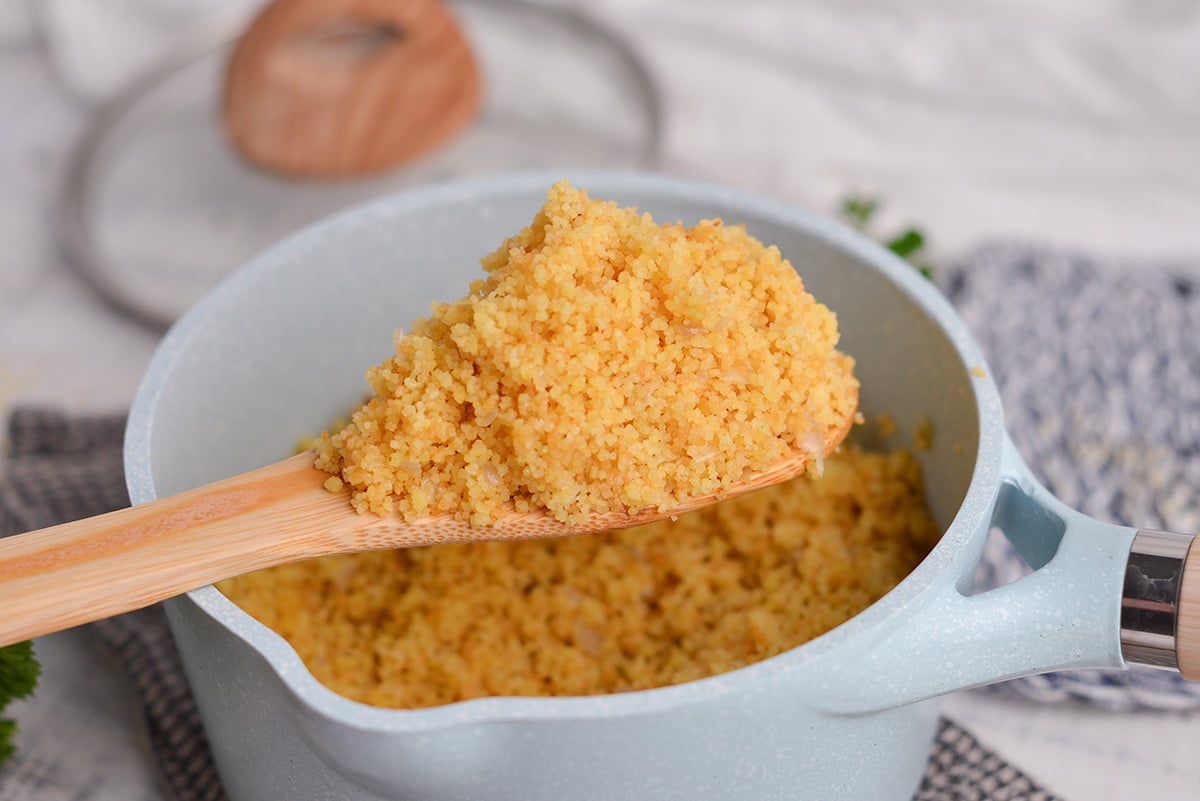 What You'll Need
Shallots– A mild onion flavor, I just use one, but any type of onion can be substituted or omitted altogether.
Olive oil– Used to build flavor, lubricate the pasta and also add flavor. Use a good quality oil for this dish since it is one of the main ingredients.
Couscous- Use the smallest grain for this dish (opposed to Moroccan couscous or Israeli couscous). I use a heaping cup because I like mine to be al dente and a little toothy. The general rule for how much liquid to use for small couscous is a 1:1 ratio.
Low Sodium Chicken Broth– I always use a low sodium broth so I can control the salt levels. If you don't use low sodium, omit the additional salt.
Coarse Kosher Salt– Helps to season and brighten natural flavors in the dish.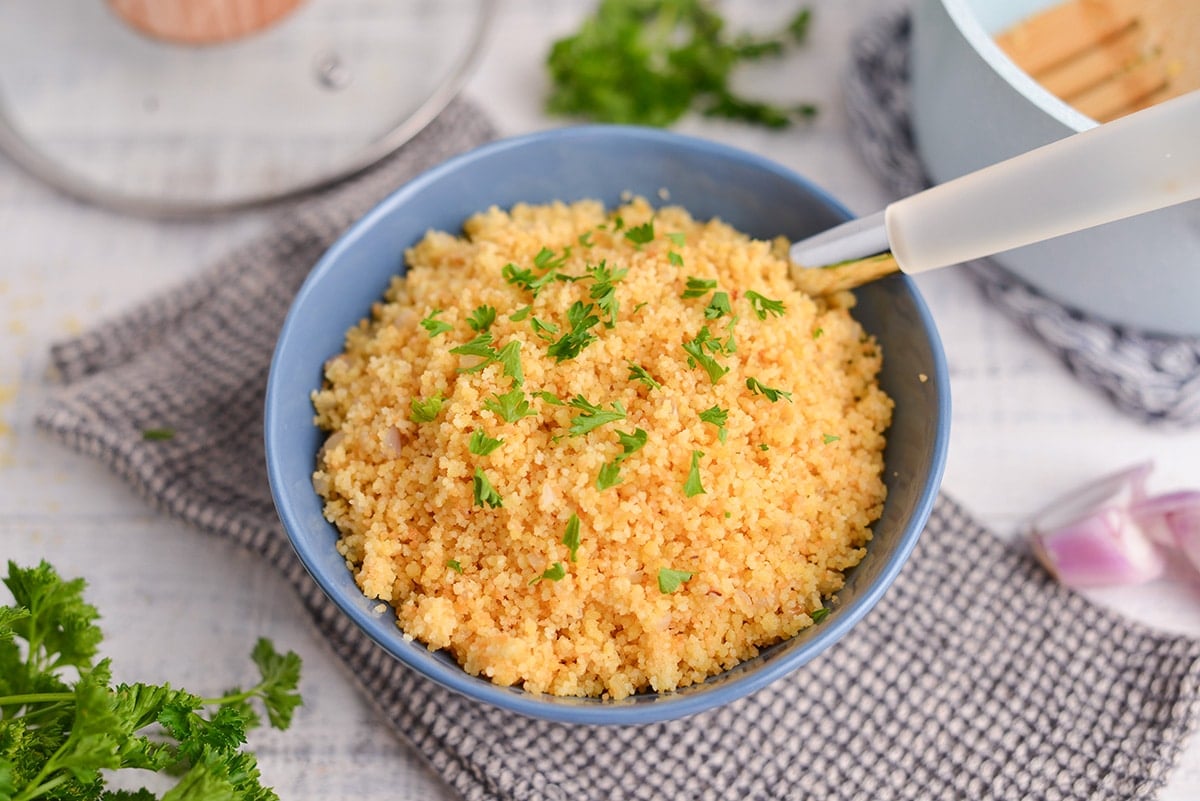 How to Make Couscous
Heat the olive oil in a medium saucepan over medium heat. Add the shallots and saute for 3 minutes, until they start to soften.
Add the dry couscous, stirring to toast, for 3-4 minutes, until it becomes fragrant.
Add the chicken broth and salt, fluffing with a fork. Place the lid on the saucepan for 1-2 minutes, fluff again. If it sticks, add 1-2 teaspoons more olive oil and serve.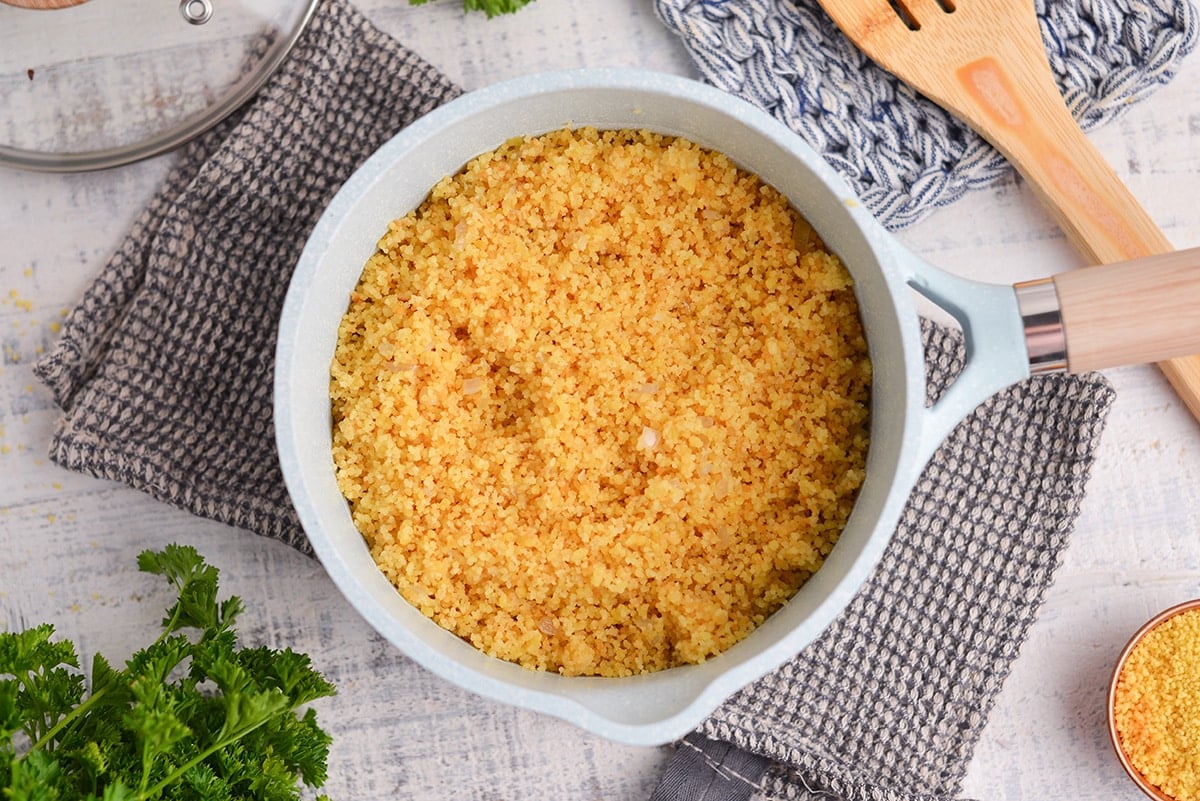 Variations
The ways to customize this dish are endless, but here are a few of my favorites.
Swap half of the broth with white wine, so 1/2 cup chicken broth, 1/2 cup white wine. As long as you follow the general rule of the 1:1 ratio of couscous to liquid, you'll be fine.
Add cooked vegetables after cooked. Carrots, broccoli, cauliflower, peas, bell pepper and roasted garlic are my favorite.
Add fresh herbs.
Stir in 1-2 tablespoons of infused olive oils or aioli.
Add 1/2 teaspoon of crushed red pepper flakes or aleppo peppers for a spicy blend.
Add cooked protein, like shredded chicken or browned ground beef.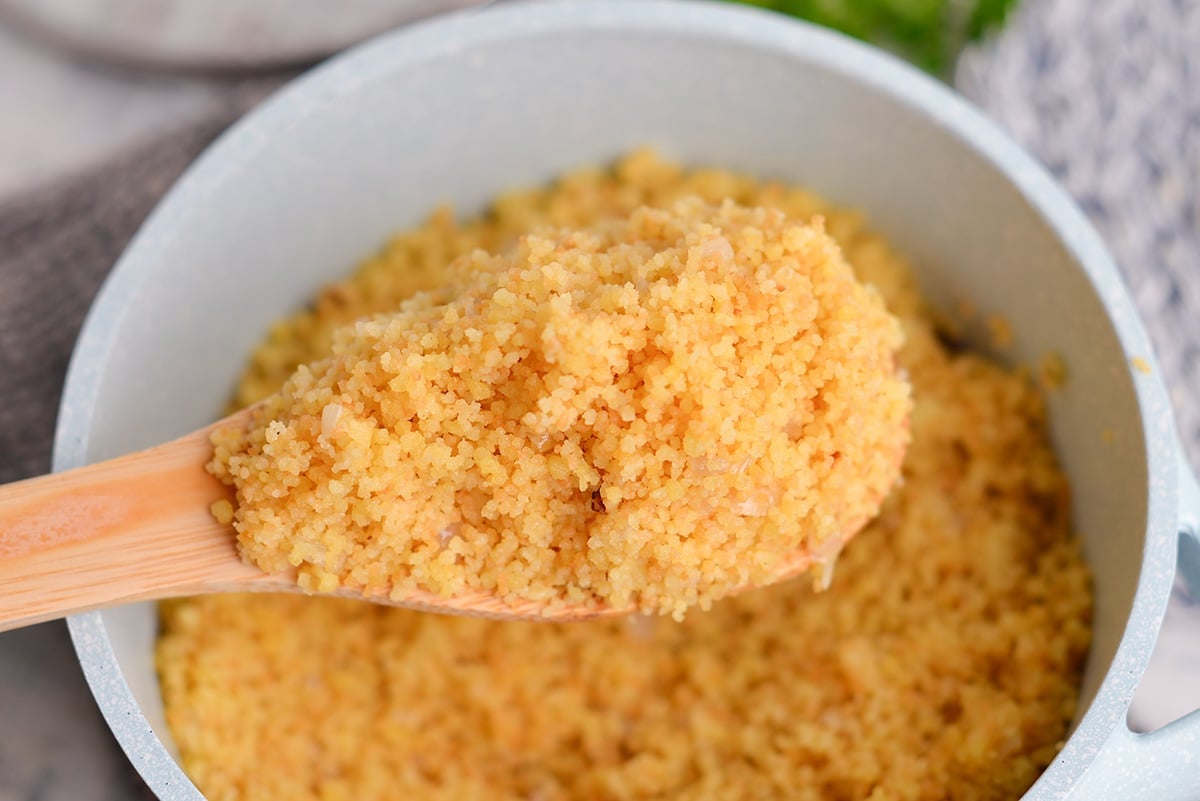 Storage
Make Ahead & Storage: This dish can be made ahead of time and reheated in the microwave or in a saucepan. I like to add a splash of liquid and after it is heated, toss with a small amount of oil. Store leftovers in an airtight container for up to 1 week.
Freezing- I do not recommend freezing this dish. It thaws with a very different texture.