This Turkey Noodle Soup recipe is the perfect recipe to warm you up on a cold day. Use leftover turkey or boil a quick turkey breast for soul warming soup.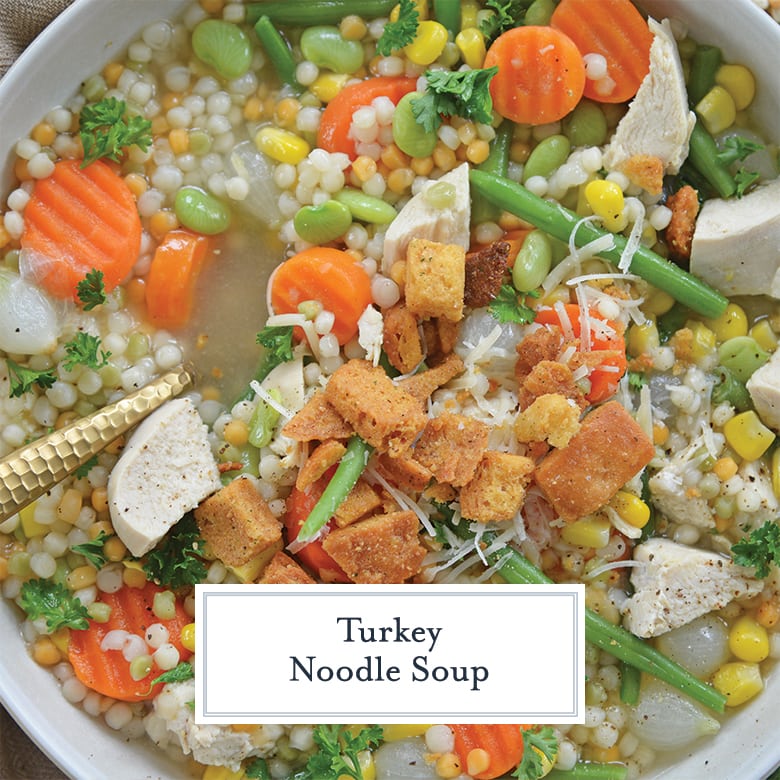 Leftover Turkey Soup
The winter months are upon us and I crave a warm bowl of soup when the chill hits. Leftover turkey noodle soup is the perfect (and quick) way to warm your soul. Full of veggies, savory broth, tender turkey and pearls of pasta.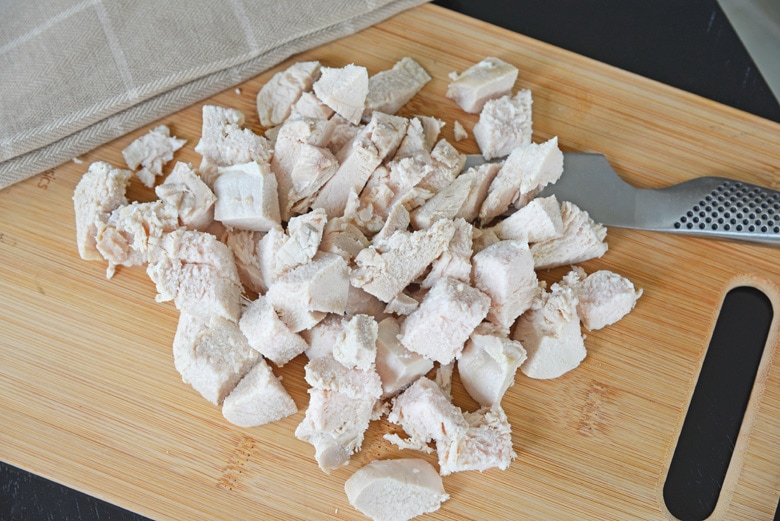 Most people think of chicken noodle soup as the "food for the soul" but turkey noodle soup is just as good!
Turkey
You can choose to use leftover homemade turkey or grab a large turkey breast at the store. Even though I wouldn't suggest this on the regular, boiling it is the best way to go.
Trim excess fat, cut into large chunks and boil until cooked. You can also use cooked turkey or rotisserie chicken from the store, although now it is chicken soup.
Broth
While very similar, I substituted turkey broth, turkey (clearly) and pearl couscous for egg noodles.
Another bonus? My version has such a thick and robust turkey stock, that the actual soup only takes 20 minutes to prepare! If you don't feel like making your own, grab some at the store.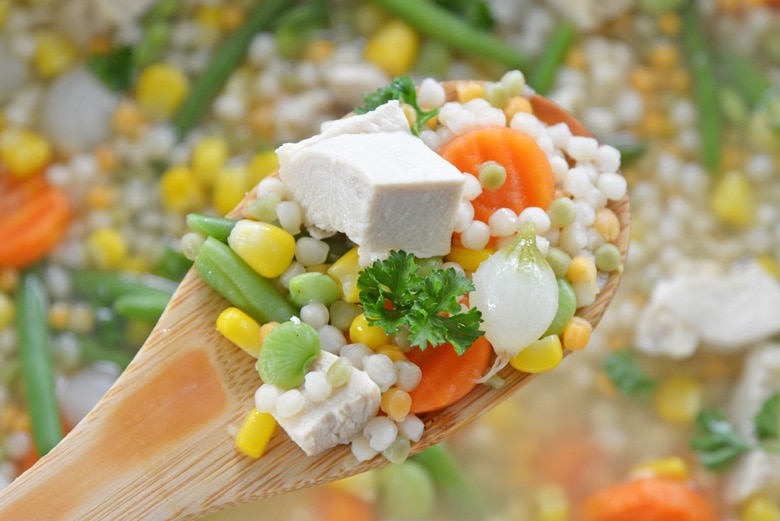 Chicken or vegetable stock/broth is a good substitute as well.
Vegetables
To make this soup super easy and fast, I use frozen vegetables. While many folks look at me like I am crazy, frozen veggies are actually the way to go.
Frozen vegetables are flash frozen right after harvesting which means they retain vitamins and minerals. Potentially even more than the fresh ones at the store.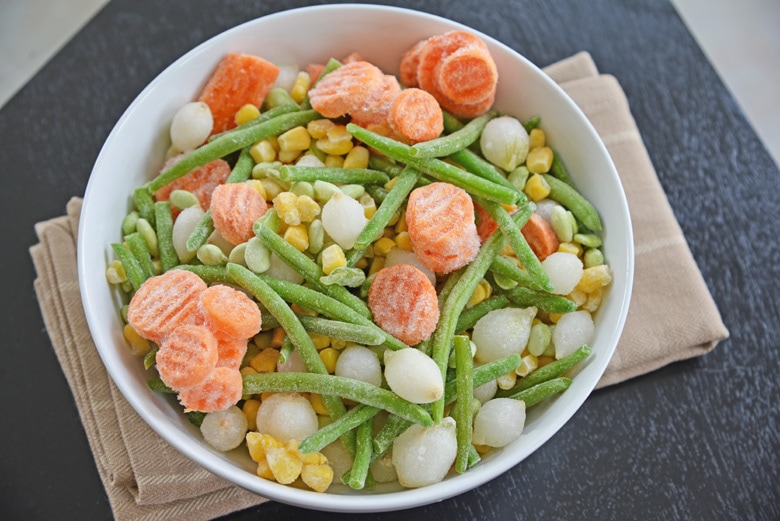 They are already prepped, chopped and ready to go so you won't have to cook the soup longer to get them soft.
After you add them, they will defrost in about 3-4 minutes, but also take down the overall temperature of the soup since you are essentially dropping in several cups of ice cubes. Give it all a minute to come up to piping hot again and you'll be ready to serve.
Snappy veggies, flavorful broth and virtually zero prep time.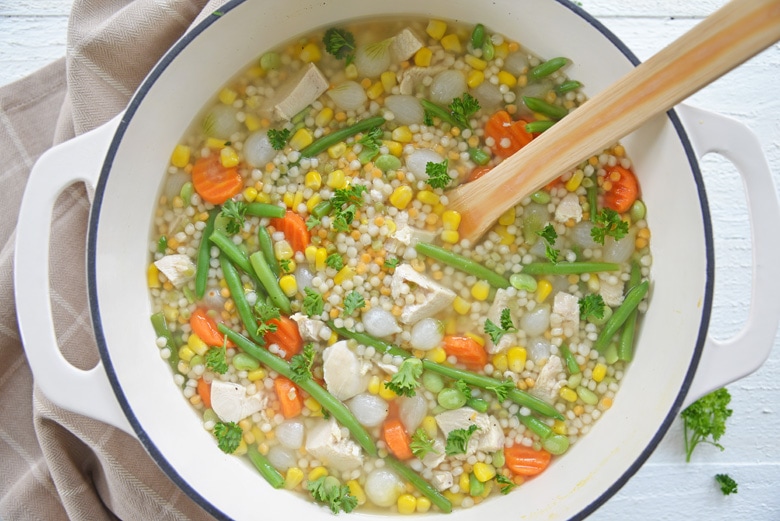 What if I want to use fresh vegetables? Go for it! Use the same 3 cups of chopped fresh vegetables instead of frozen.
Rutabaga, parsnip and turnips are all great in additional to the regular crew. But instead of adding the vegetables after couscous, add them before and simmer until soft, but still taunt. Then add couscous for 5 minutes.
Pasta
Most noodle soups use wide egg noodles or small pasta shapes like ditalini. I wanted to be a little different and after using larger couscous in Italian Seafood Stew, I figured I've give them a whirl in turkey soup too.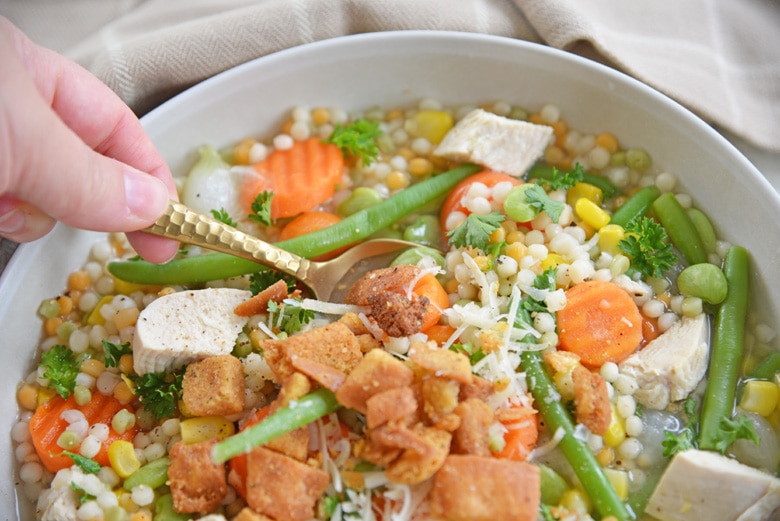 Pearl couscous, also known as Israeli couscous, are larger balls of pasta about the size of a pearl. These are tri-colored so they add gorgeous hues to an already bright pasta.
I prefer them because instead of eating a slurpy, messy pasta, you get a nice dainty bite. You can, of course, still use any pasta of choice. Adjust cooking times based on your pick.
Secret Ingredient
You'll notice that my version of turkey noodle soup doesn't have much seasoning and I'll tell you why.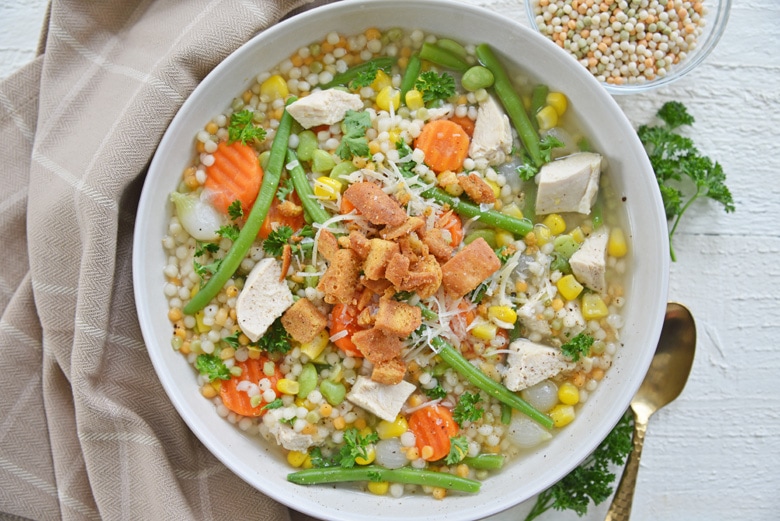 Most of the time, I use leftover turkey and the turkey has already been seasoned, so it doesn't require much more flavor. But it is also due to my secret ingredient that adds pizazz to any soup.
Just 2-3 tablespoons, a generous splash, of something acidic like lemon juice or vinegar, will brighten any soup broth. I used apple cider vinegar for mine.
The crouton topping also lends flavor and textural variety although with salt and pepper, of course.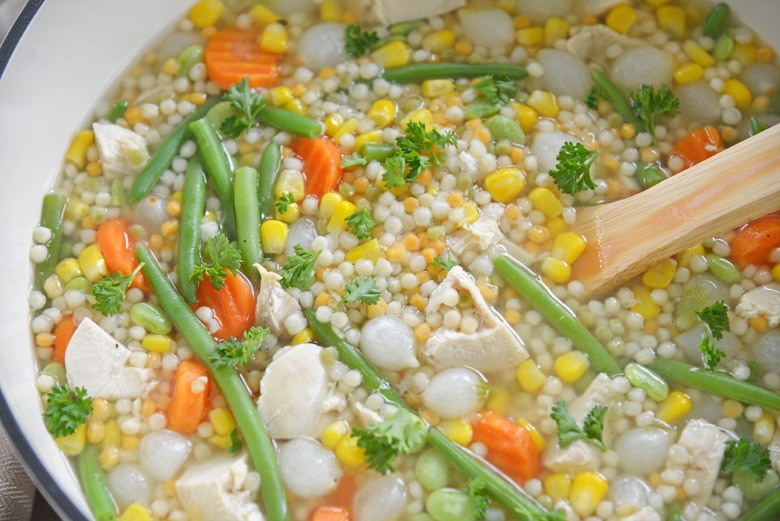 But if you want even more, try adding 1 tablespoon of basil pesto or even hummus. A shake of aleppo or crushed red pepper flakes will give you a nice heat too. These can be served on the side.
One bay leave while simmering gives a little lunch too. Flavored olive oil can be drizzled on top while plating.
Toppings
While soup is delicious without any additional toppings, I like to have some texture in mine so I used croutons.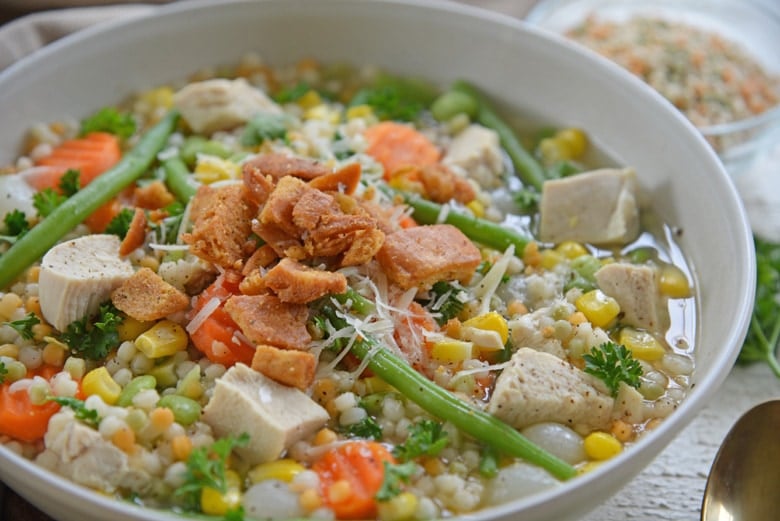 Grab store bought in your favorite flavors like ranch or garlic. My leftover hot dog bun croutons are a good pick, but so are garlic dill oyster crackers and ranch oyster crackers.
Parmesan cheese is my go-to, but I just tried this soup with feta and is was pretty amazing too. You can also omit the cheese altogether.
Storage & Freezing
If you are making ahead, put together the broth, turkey and veggies, but wait to add pasta. Pasta tends to absorb even more of the broth and get a little soggy. Or you can cook the pasta separate and then just combine when ready to serve.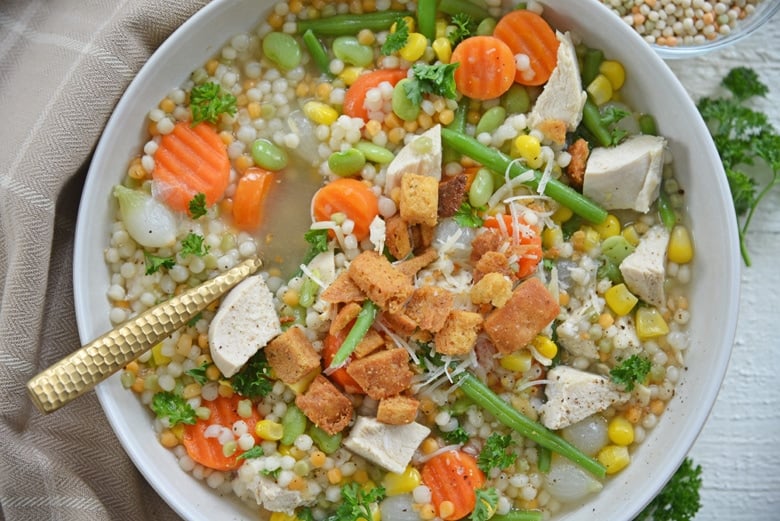 Make sure you place any leftovers in an oversized container because they continue to swell and get even larger!
If you are planning to make your own turkey stock, prepare it the day before and make sure to read my tips for how to make stock. Otherwise, use a store bought stock or broth, either chicken or turkey will do.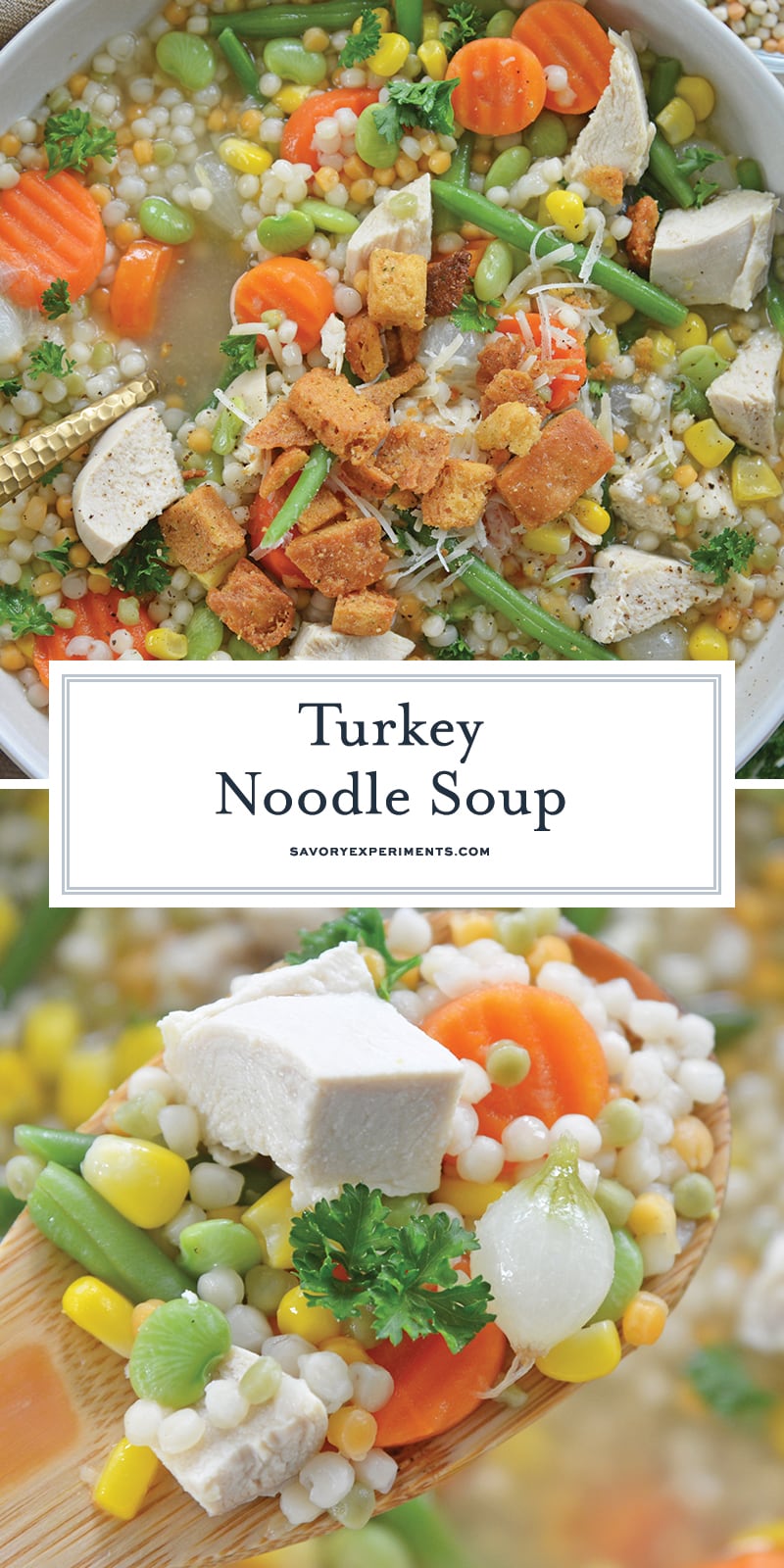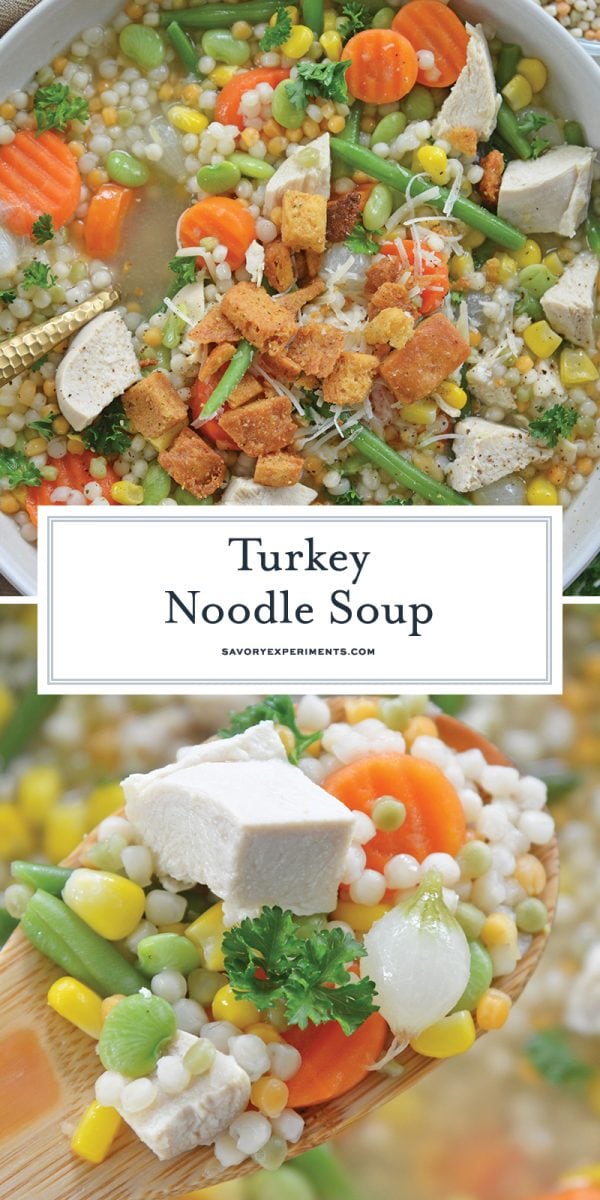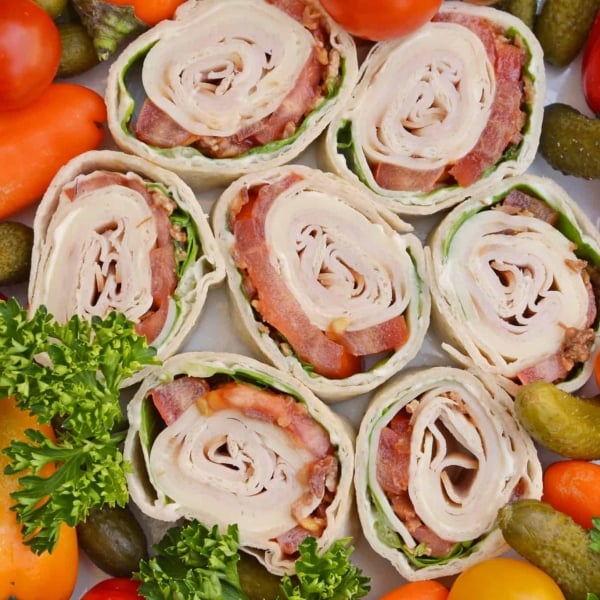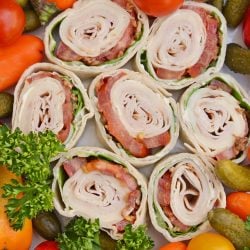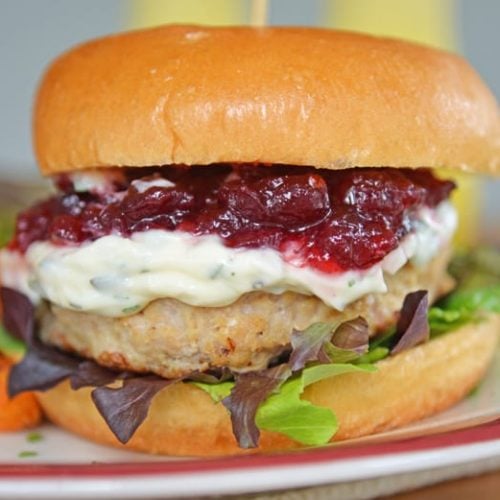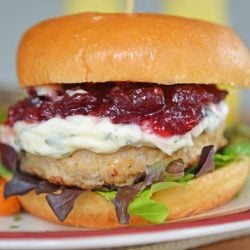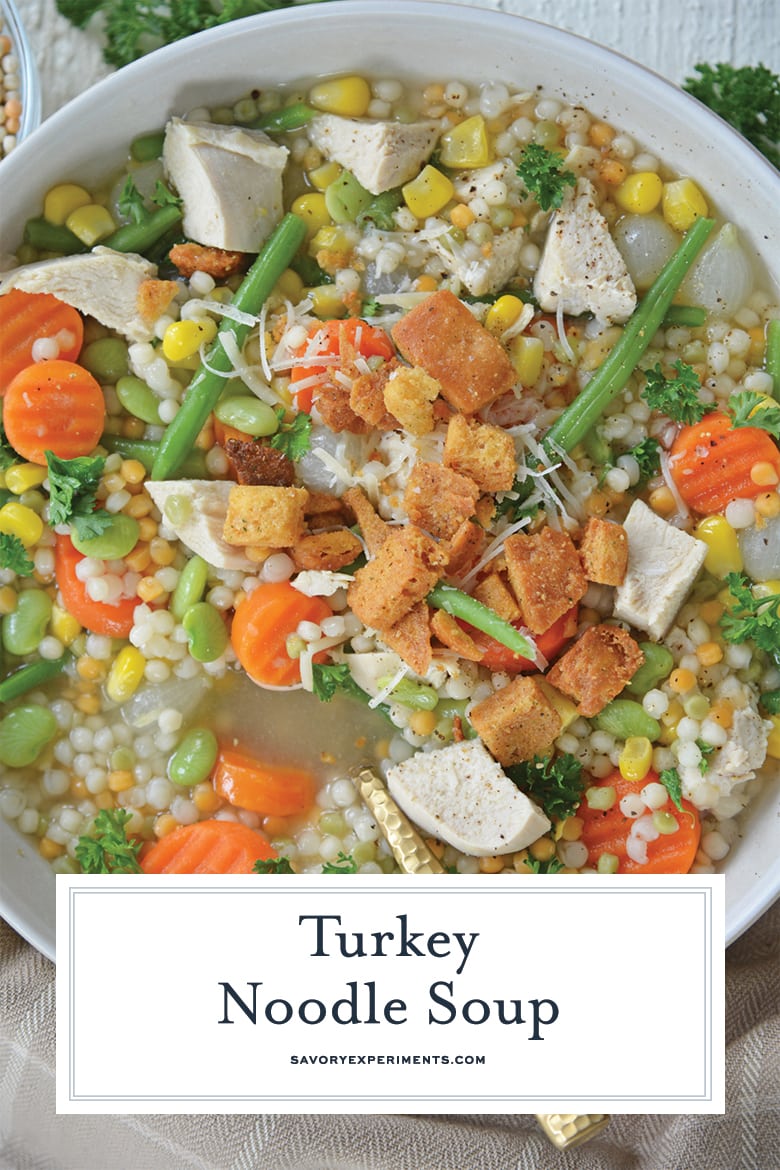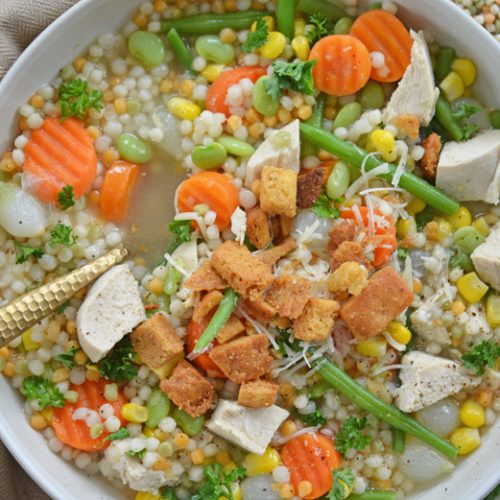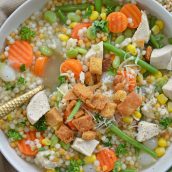 Turkey Noodle Soup
Turkey Noodle Soup is a warm and comforting classic filled with savory broth, tender turkey, lots of vegetables and a crunchy topping.
Instructions
Heat turkey stock with turkey in a large Dutch oven over medium heat for approximately 10 minutes, or when it arrives at a simmer.

Add pearl couscous, cooking for 5 minutes. Add frozen vegetables, ground black pepper and Kosher salt. Cook an additional 5 minutes.

Right before serving, add apple cider vinegar.

Ladle into bowls and top with croutons and parmesan cheese.

If you've tried this recipe, come back and let us know how it was in the comments or ratings.
Notes
*My frozen veggie mix included pearl onions, carrots, corn, lima beans and green beans.
Nutrition
Calories:
461
kcal
,
Carbohydrates:
65
g
,
Protein:
29
g
,
Fat:
7
g
,
Saturated Fat:
2
g
,
Cholesterol:
47
mg
,
Sodium:
1013
mg
,
Potassium:
635
mg
,
Fiber:
3
g
,
Sugar:
6
g
,
Vitamin A:
40
IU
,
Vitamin C:
0.8
mg
,
Calcium:
33
mg
,
Iron:
2
mg