On the weekends I'm happy to spend tons of time in the kitchen but on weeknights I try to make it speedy but I still want dinner to be delicious. These creamed onions help me make that happen.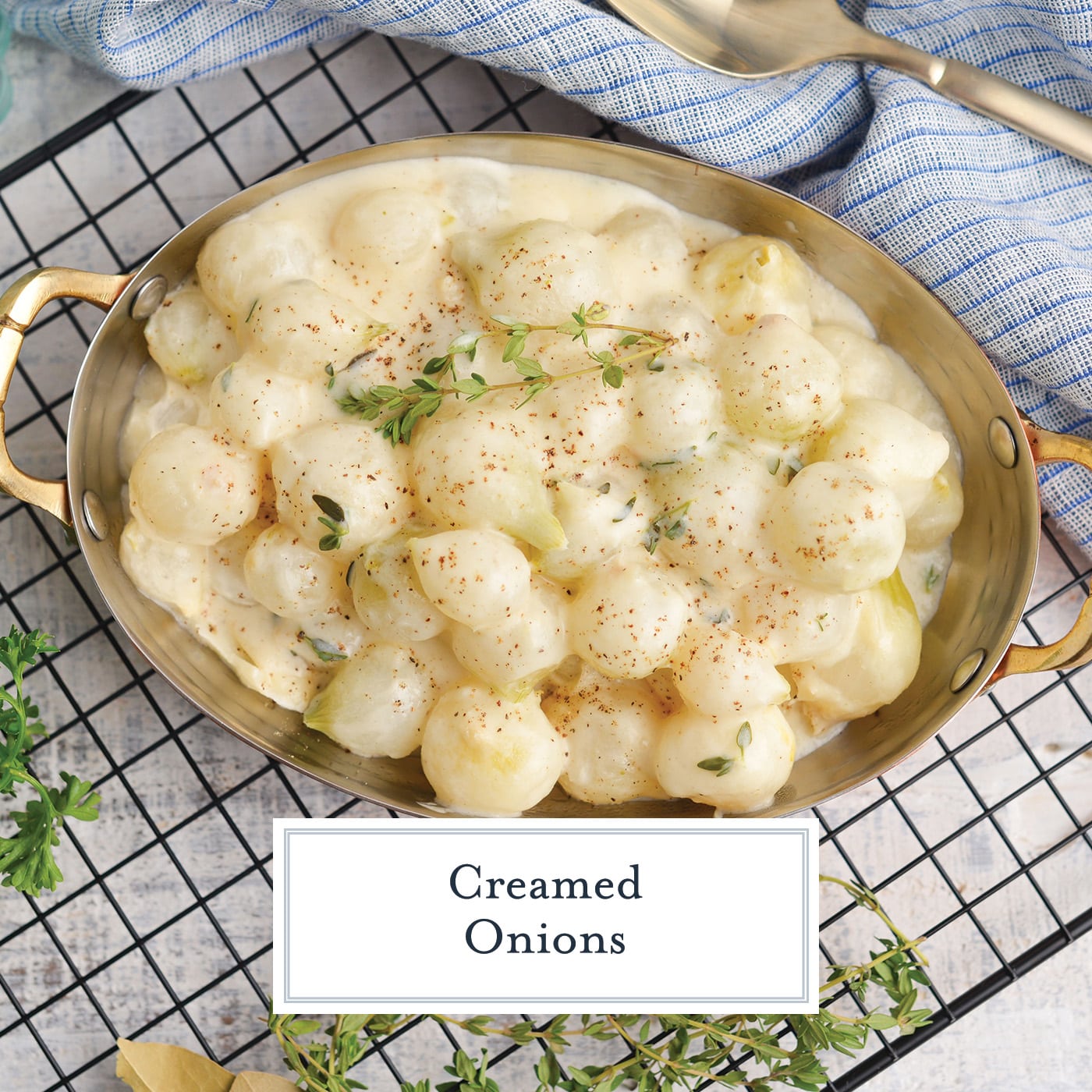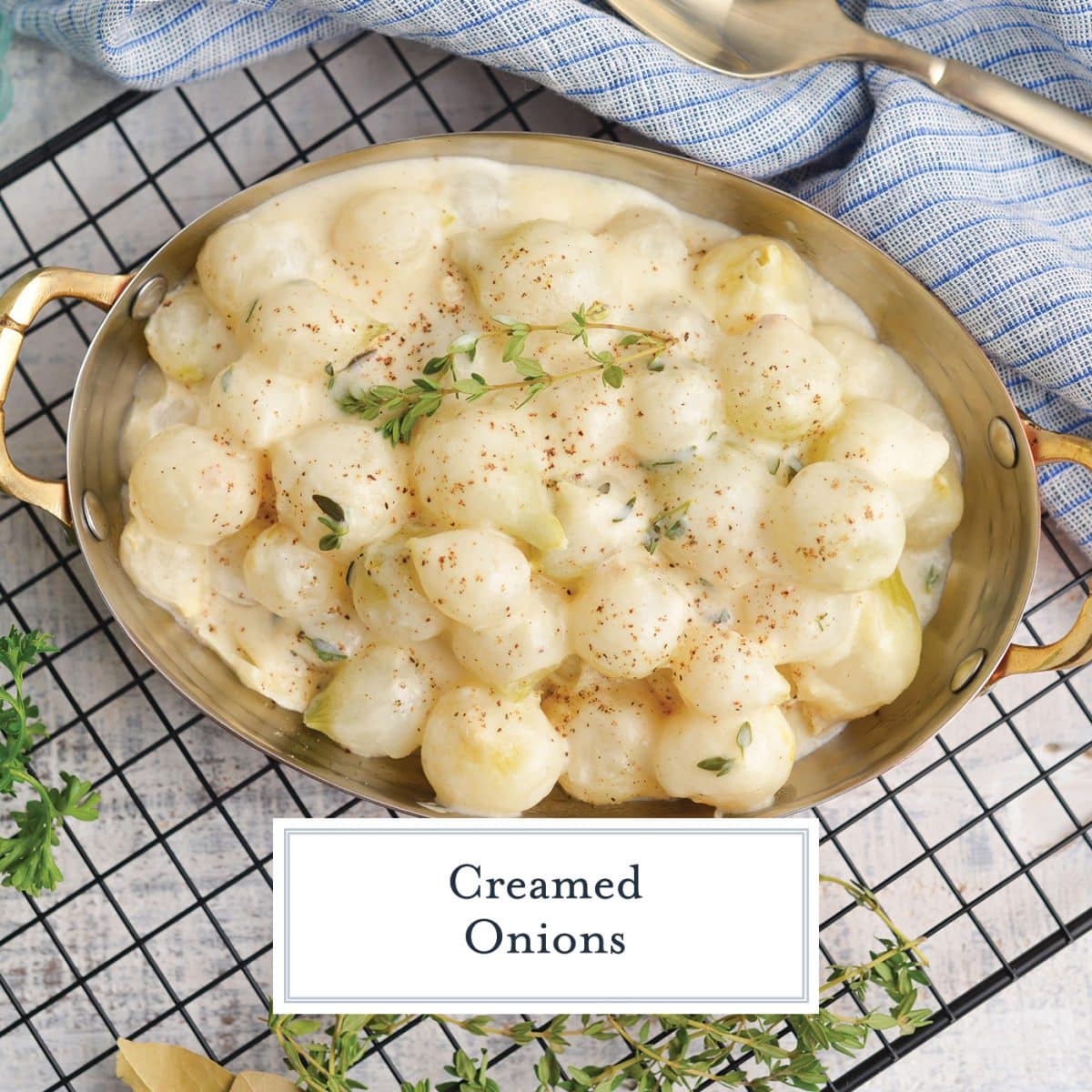 We have some type of meat with most of our weeknight meals and I'm always looking for ways to make it interesting. I love spooning this creamy sauce over grilled or roasted beef or chicken or even wild game when we have it — or even just having it as a tasty side dish.
What makes this sauce special is its creamy consistency that's dotted with the pretty pearl onions. It's so simple but elegant enough that you could serve it at your next dinner party.
The next time you're looking for an easy recipe that will kick your meal up a notch, try this creamed pearl onions recipe.
Why You'll Love Creamed Onions
There are tons of reasons to love these creamy onions. They elevate nearly any dish from being dull to seeming decadent.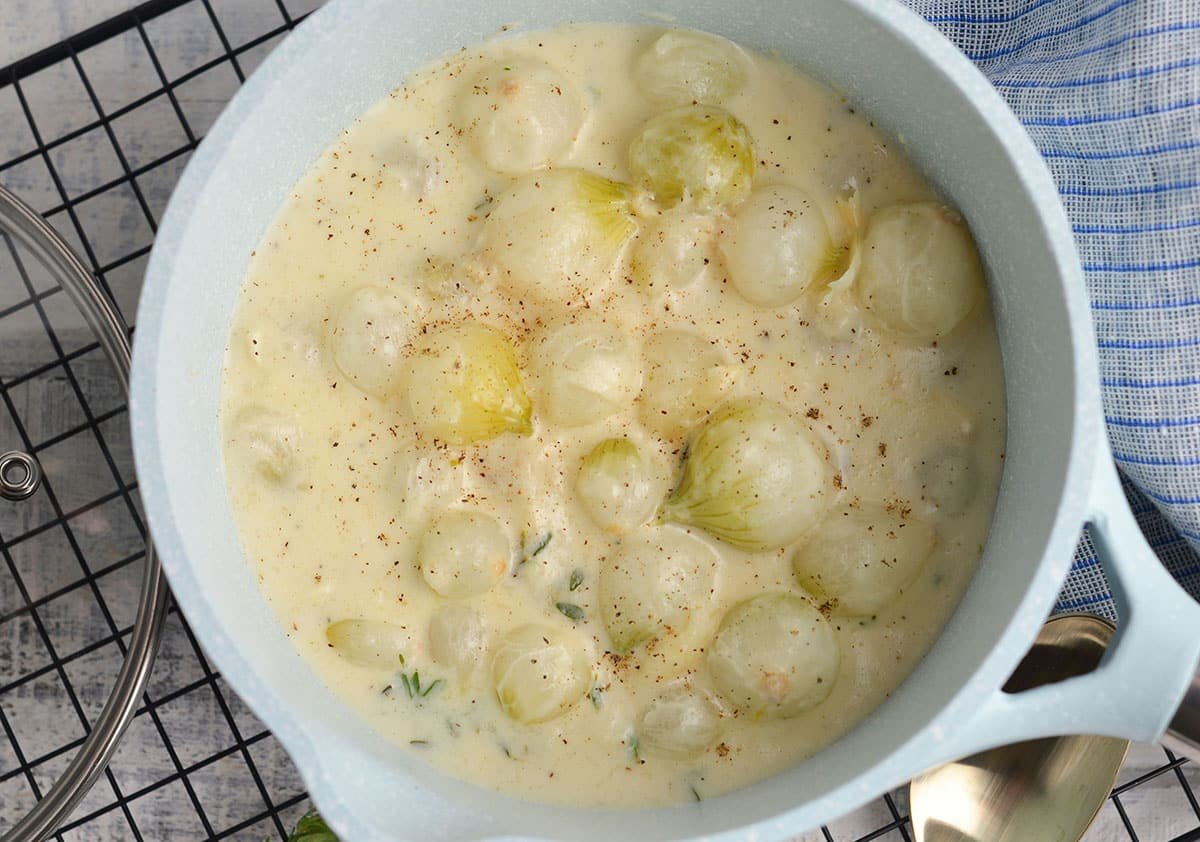 What are Pearl Onions?
The pearl onion is a small white onion with many names, some depending on geographic location. Other names are button onions, baby onions, creamers and in French, oignon grelot.
Popular in soups and stews, these little onions have a milder flavor profile more reminiscent of a leek. When cooked they release their flavors and softens lightly so the outside is tender but the inside has a little tooth to it.
White Pearl onions are crunchy and mild with firm, juicy, and crisp flesh. Perfect for an onion-centric dish. This is a purely glazed pearl onion recipe.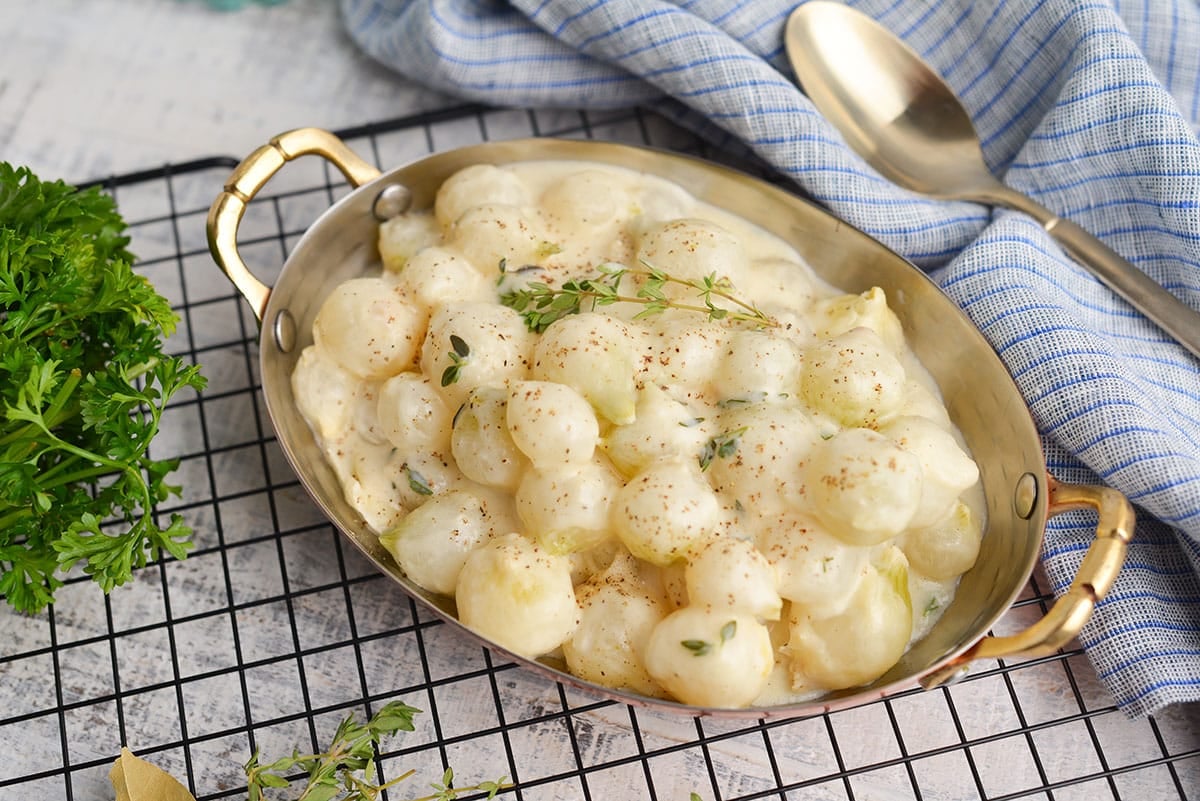 Fresh vs. Frozen
I am generally all about fresh foods… unless we are talking about fresh pearl onions. I've bought fresh before to make Beef Bourguignon and let me tell you- they are a pain in the butt to peel!
Little cuts under my nails from the papery skin and it burned. Ugh. You can't cut off the tops and bottoms like you would to peel a regular onion because then they just fall apart. What a mess. So for these glazed pearl onions, I use frozen.
So now I buy the frozen white pearl onions. Don't diss frozen veggies! If frozen correctly, they actually retain nutrients really well. And here, they save you oodles of time. You can also use quartered white onions.
If you are using fresh onions, cut them at the stem end and the root end and then use a paring knife peel the outer layers.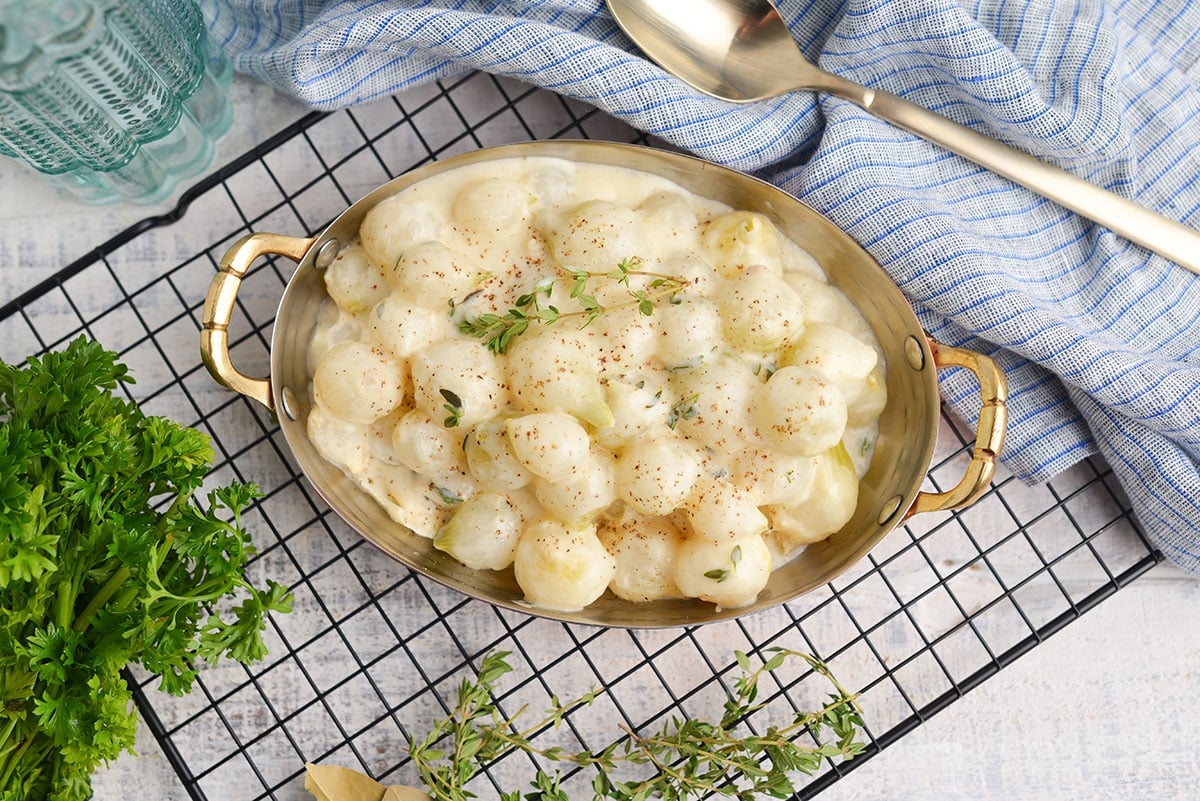 What to Serve Creamed Onions With
This is a great side dish for nearly any meal, but here are a few of my favorite dinner ideas and of course, they are very popular to serve with a holiday meal like Thanksgiving dinner or Christmas dinner.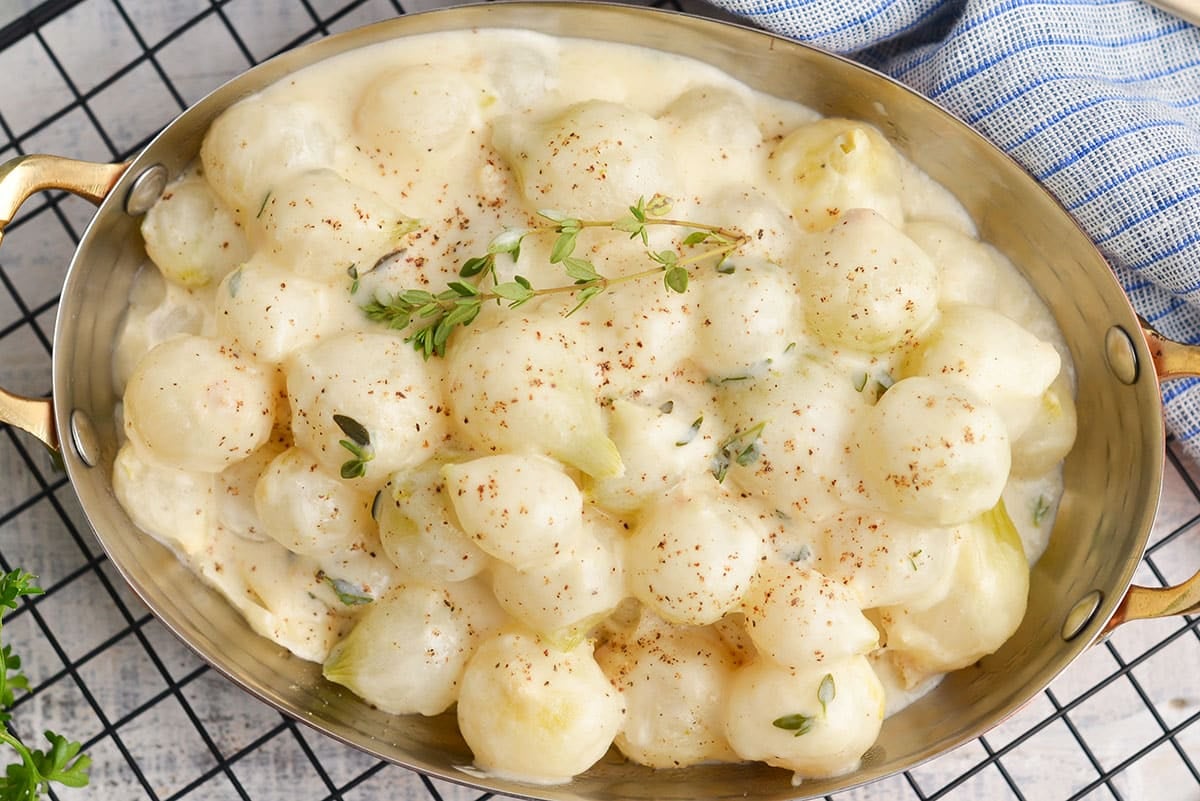 Ingredients
Most of these ingredients are likely in your kitchen but you can easily find them at your local grocery store (or your own garden) too.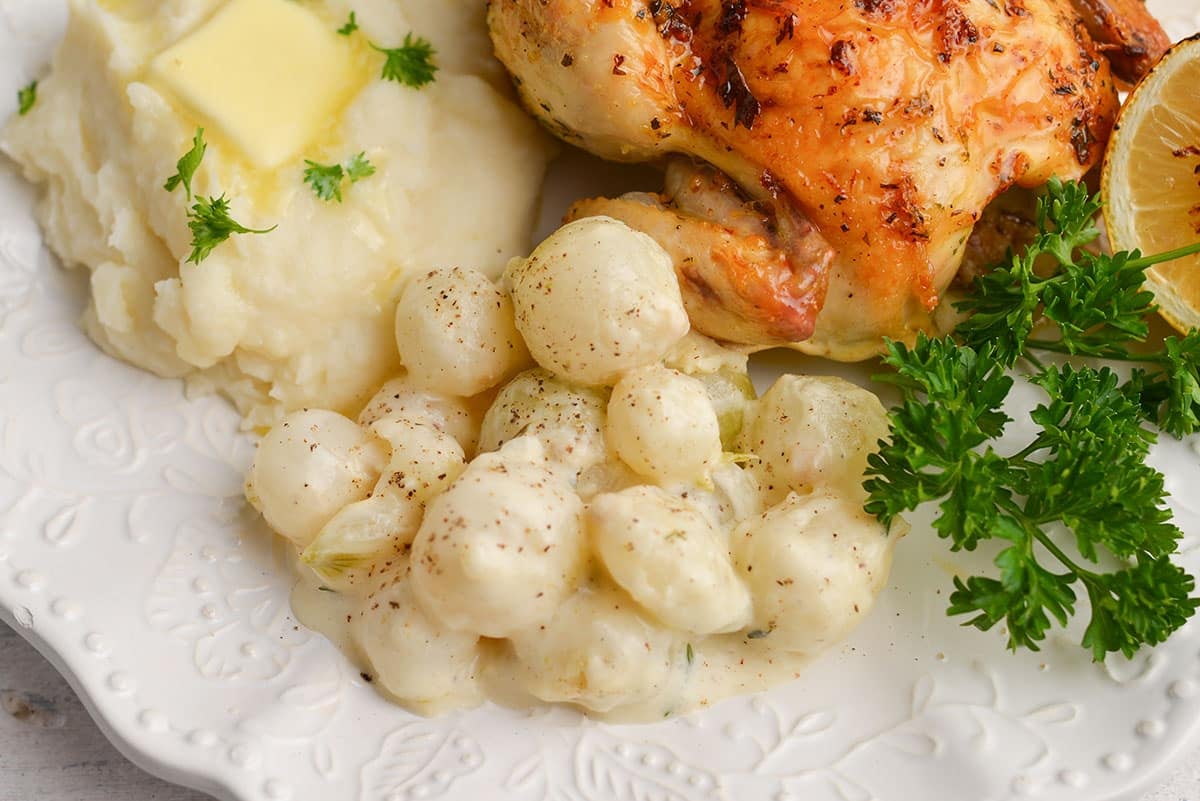 How To Make Creamed Onions
You are going to be pleasantly surprised at just how easy this entire dish is to make.
Combine ingredients. Combine the frozen pearl onions, chicken broth, sherry, bay leaf and thyme leaves in a large saucepan that has already been warmed on low.
Boil. Allow the mixture to come to a gentle boil, thawing the onions. It's not necessary to stir the ingredients constantly, but do stir occasionally.
Whisk cream and flour. While the ingredients on the stove heat, add the heavy cream and flour to a small bowl. Whisk together the cream and flour until they are completely combined.
Add cream mixture to onions. Next, add the cream and flour mixture to the onions, broth, thyme, and bay leaf.
Stir until smooth. Stir the ingredients together until the mixture becomes silky smooth and streak-free.
Cook until thickened. Allow the completely combined mixture to continue to cook at the barest simmer. When ready, the sauce should be the consistency of thick gravy. Finally, remove from the pan from the heat.
Remove bay leaf and season. Remove and discard bay leaf using a slotted spoon. Sprinkle in the salt and pepper.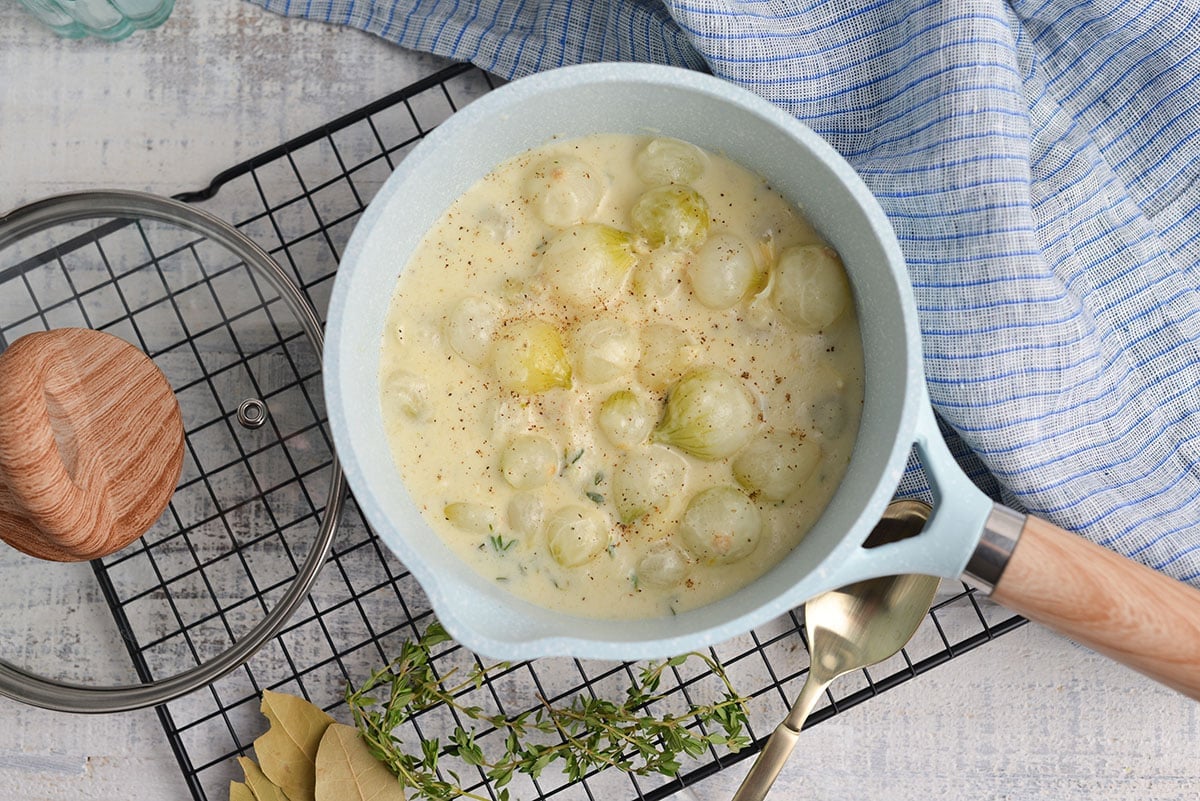 Creamed Onions Variations
This recipe is a standard one that you can completely customize with flavors that you love.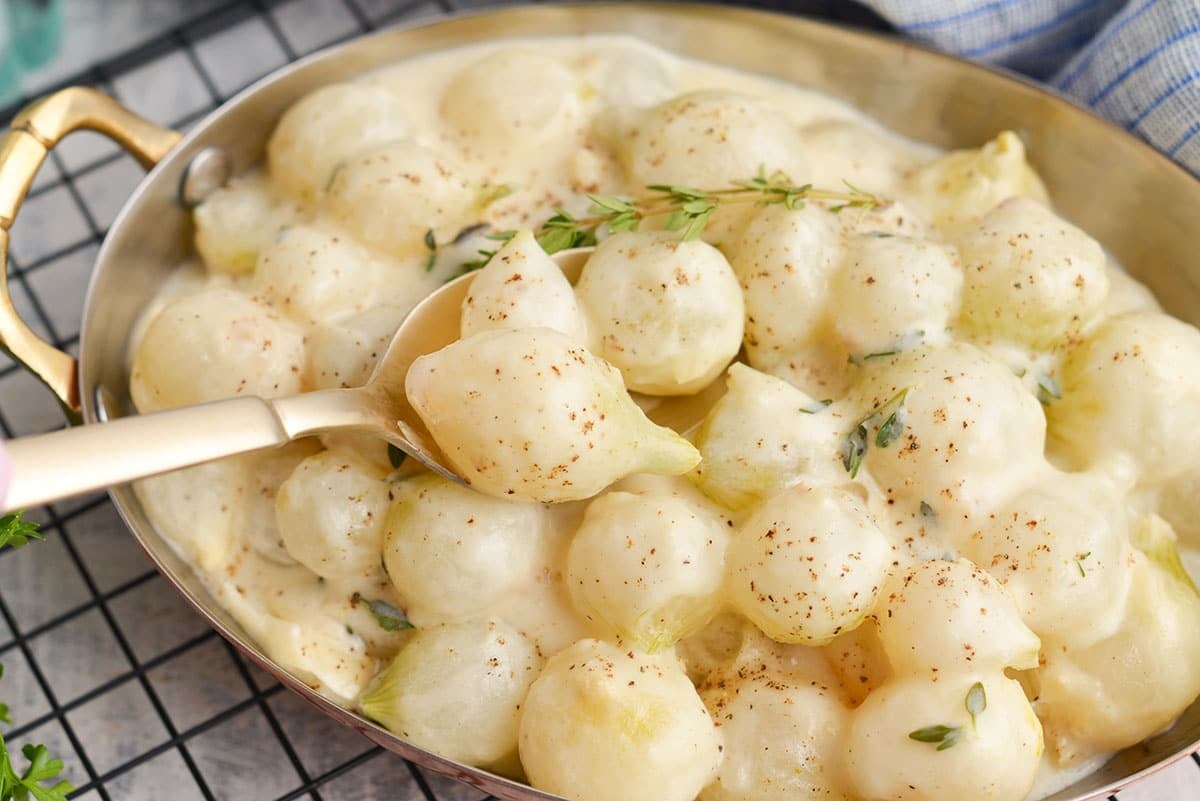 Storage
You can store creamed onions in an airtight container for up to 7 days. Reheat on the stovetop or in the microwave. If the consistency has thickened more than you'd like, you can add a bit of heavy cream or milk.
Make-Ahead: If you're prepping meals for the week, or you're having guests over, you can make these onions ahead of time. They will probably be at their freshest for a couple days, but they will last up to a week.
Freezer: Store these in the freezer in a tightly sealed ziploc bag or a freezer safe storage container for up to 3 months.
Frequently Asked Questions
Are pearl onions just baby onions?
The short answer is yes, they are one in the same. They are small, sweet and perfect for adding to other dishes.
Where did creamed onions come from?
They originated in England, but have also been popular in places like Ireland and France. They are meant to complement meals that are very meat and potato heavy.
How do you peel onions for creamed onions?
If you buy them frozen like this recipe calls for, they will already be peeled and you won't have to peel them yourself.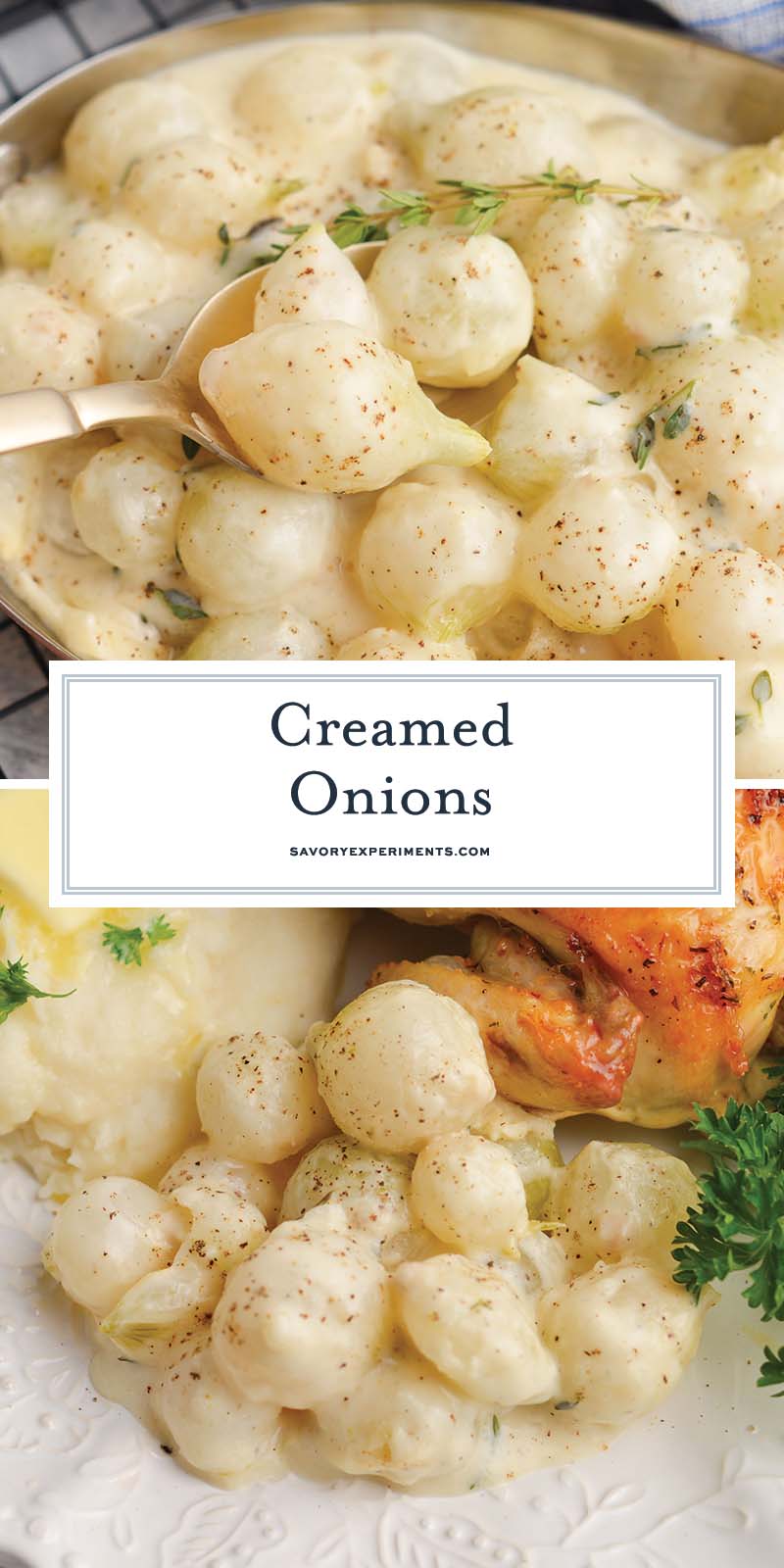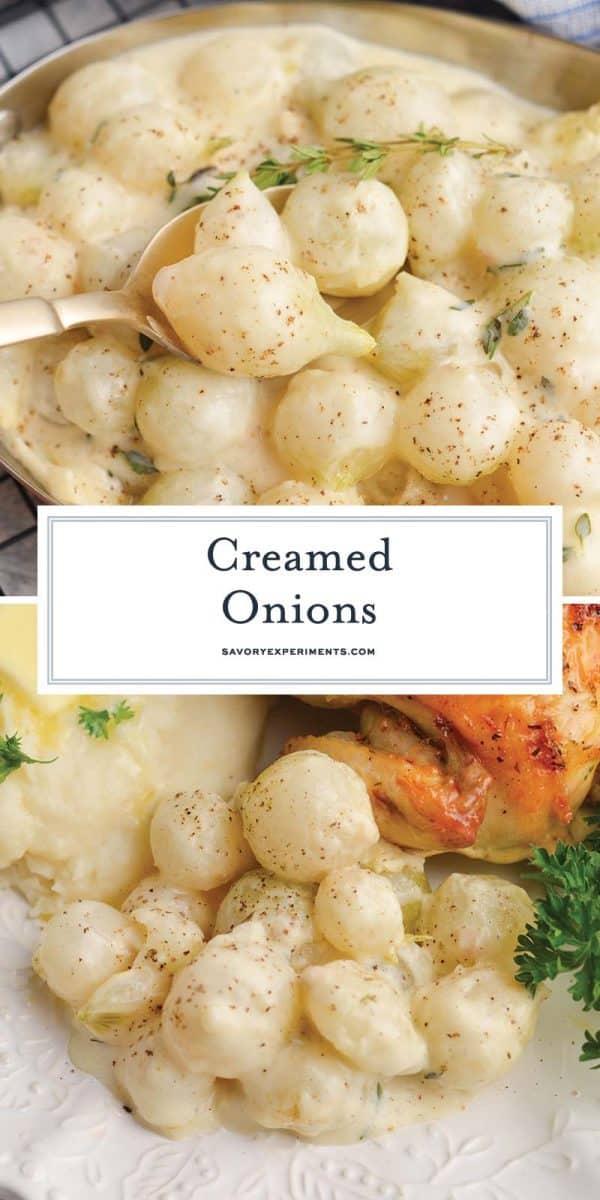 More Vegetables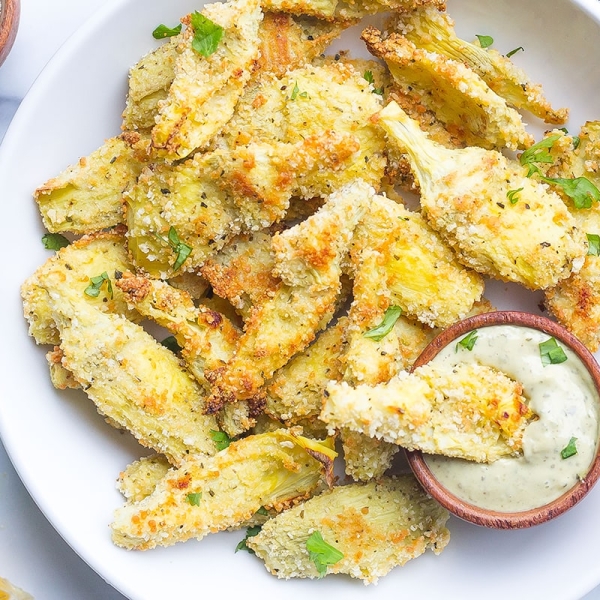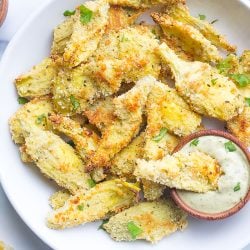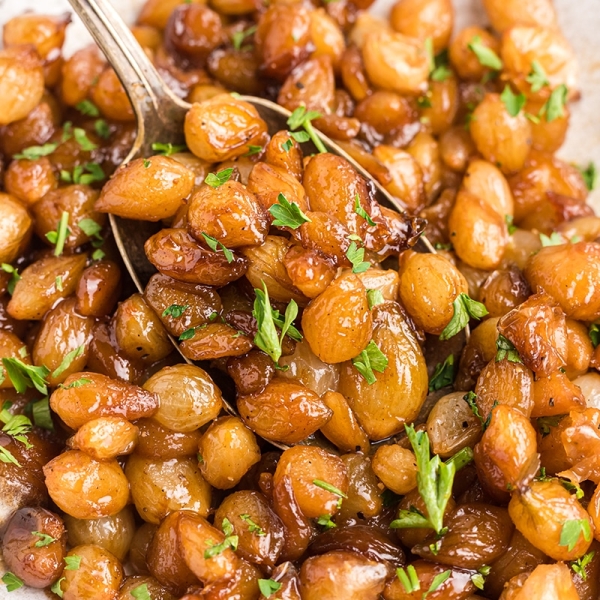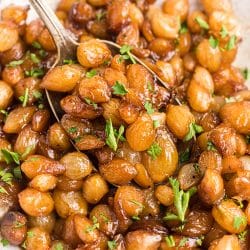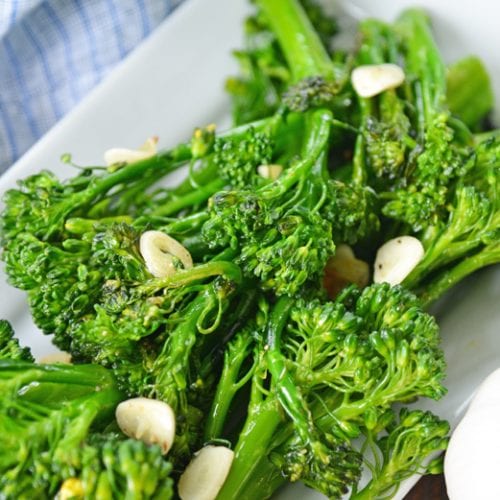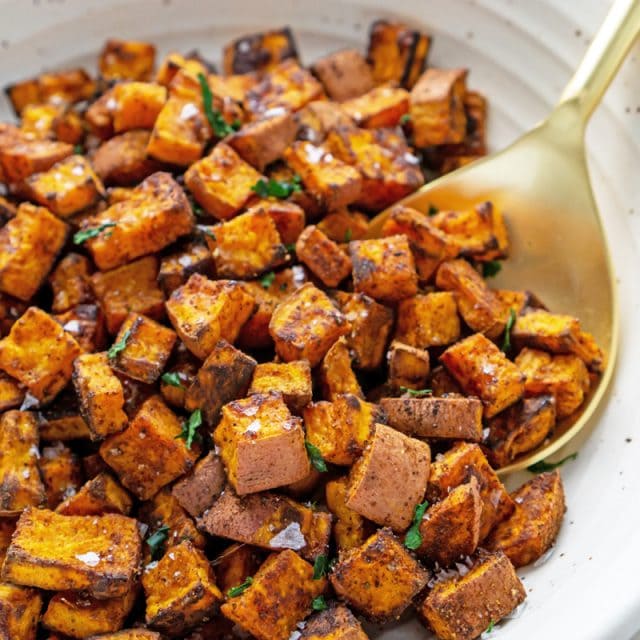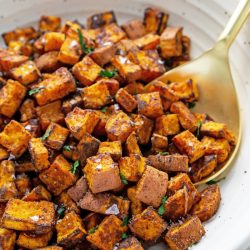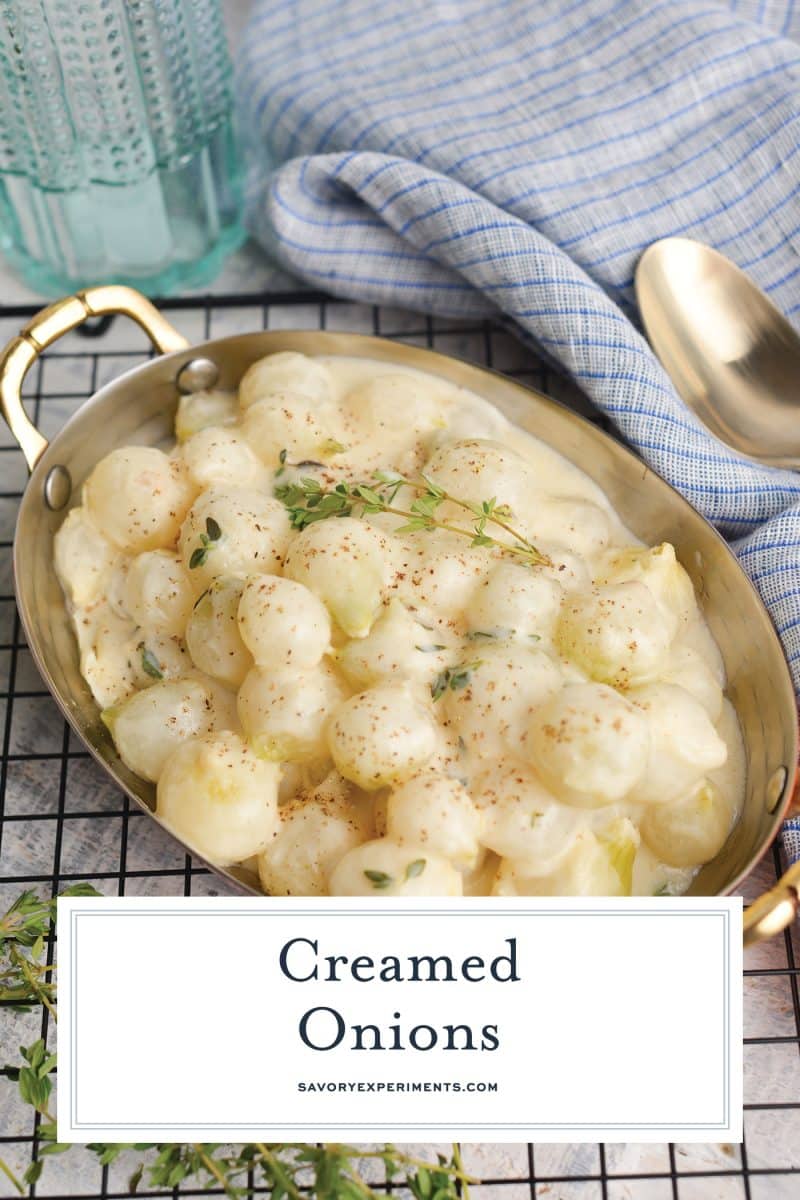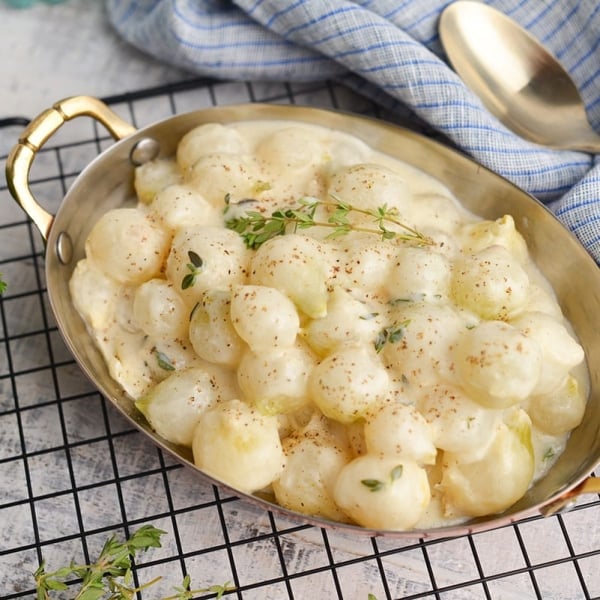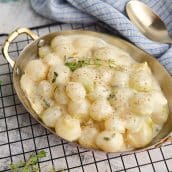 Creamed Onion Recipe
If you're looking for an easy side dish or a sauce to elevate your meats and vegetables, this creamed onions recipe does just that.
Instructions
In a small saucepan over low heat, combine the frozen pearl onions, chicken broth, sherry, bay leaf and thyme leaves. Bring to a low simmer and allow onions to thaw, approximately 5-6 minutes. Stir occasionally.

In a small bowl, whisk together the heavy and cream and flour. Combine with the onions mixture, stirring until no streaks are left.

Continue to simmer on low heat for 3-4 minutes.

Remove from the heat and stir in the salt and pepper. Remove and discard the bay leaf.

If you've tried this recipe, come back and let us know how it was in the comments or star ratings!
Nutrition
Calories:
509
kcal
,
Carbohydrates:
50
g
,
Protein:
10
g
,
Fat:
30
g
,
Saturated Fat:
19
g
,
Polyunsaturated Fat:
2
g
,
Monounsaturated Fat:
8
g
,
Cholesterol:
90
mg
,
Sodium:
1238
mg
,
Potassium:
834
mg
,
Fiber:
8
g
,
Sugar:
20
g
,
Vitamin A:
1373
IU
,
Vitamin C:
37
mg
,
Calcium:
175
mg
,
Iron:
2
mg