Simple brine for chicken can be as easy as dissolving salt in water or as complicated as a two-day process of an herb infused brine and then allowing for an air dry for the perfect, crispy chicken skin.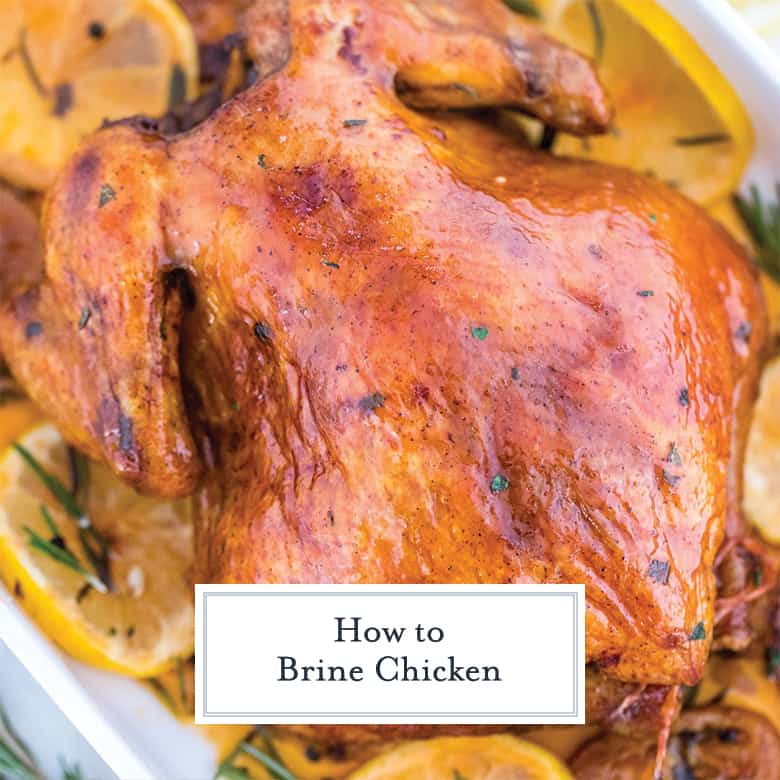 Is it just me, or did brining not become a "thing" until a few years ago? It started with brining turkey for Thanksgiving and has since become trendy for other meats like chicken and pork.
Brining has been a chef's trick for years and for good reason. It adds so much flavor to the lean meat, and makes for a juicy tender chicken. The brining process does take while, so it's great for special occasions when you want to impress.
Just like with your Thanksgiving turkey, the extra step of brining yields the best result for a flavorful chicken. It's a hands off, simple way to take your flavorful roast chicken to a whole new level.
This article will give you the basic tools on how to brine chicken, the best chicken brine recipe and tips for brining a chicken regardless of what recipe you use.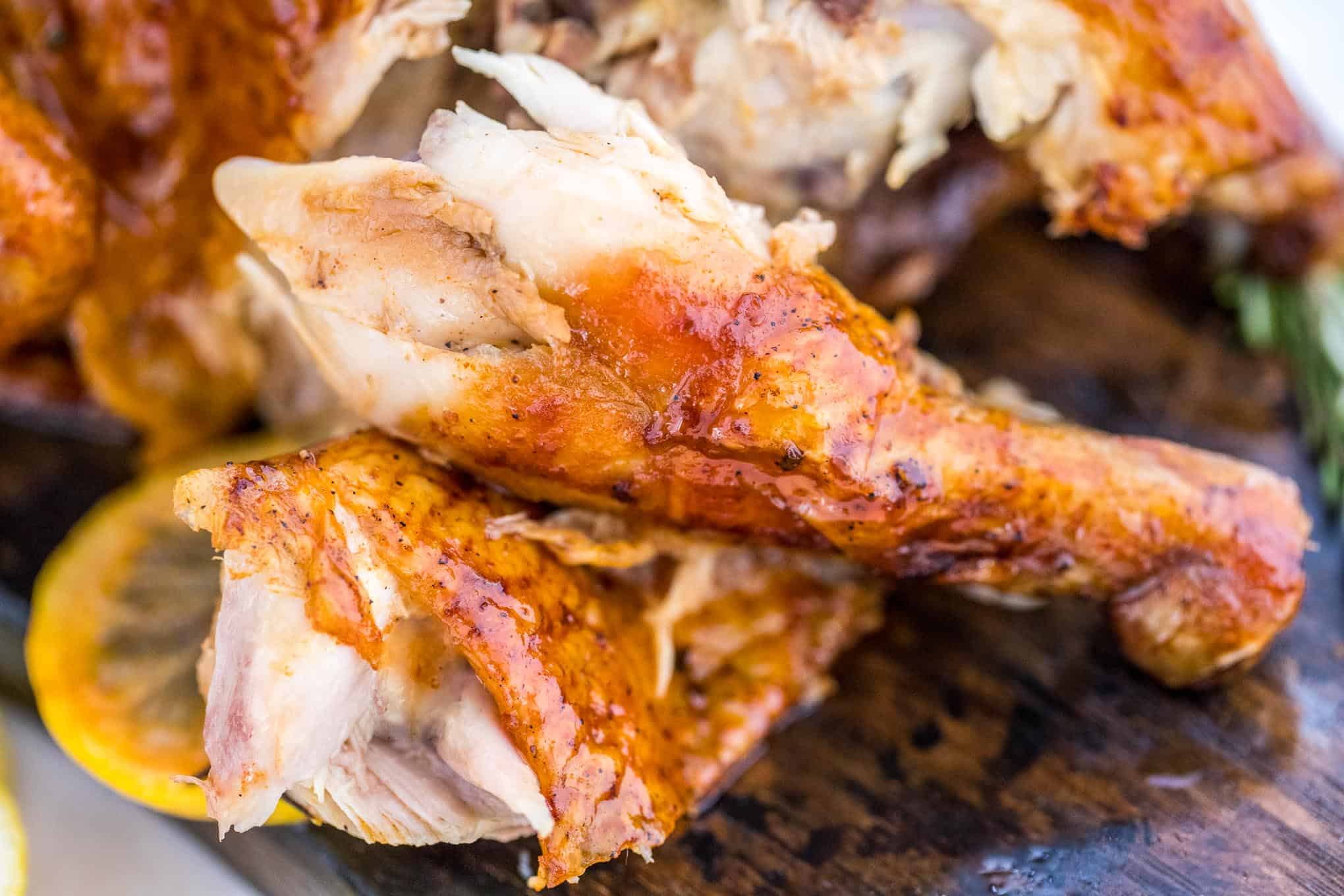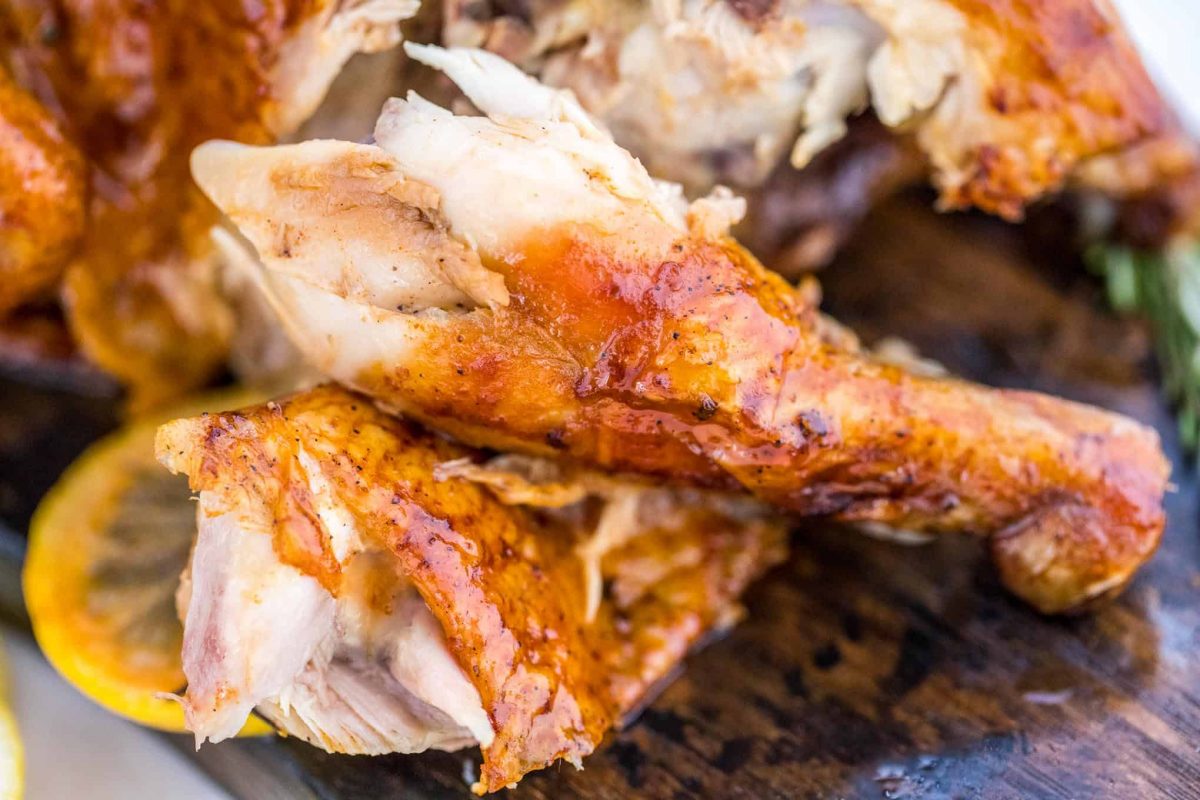 Benefits of Chicken Brine
ONE. Brining adds moisture– While the protein is sitting in the brining mixture, it's slowly absorbing the water, a process called osmosis.
Now it will have more moisture available when the heat starts to draw it out. More moisture from the start = more moisture after cooking.
TWO. Denatured Proteins – Um, what did you say? That sounds way too much like science. Well, it is!
The brining mixture helps to swell and unwind muscle fibers, assist them in binding with water and prevents them from rebonding, which can create chewy meat.
THREE. Flavor– All of that brining liquid is chalk full of flavors. Even if you just use a basic salt and water combination, salt helps to bring out natural flavors.
Add aromatics, citrus or other flavors and all of those will also infuse into the fibers of your protein. Sugar helps to caramelize and get that lovely browned skin.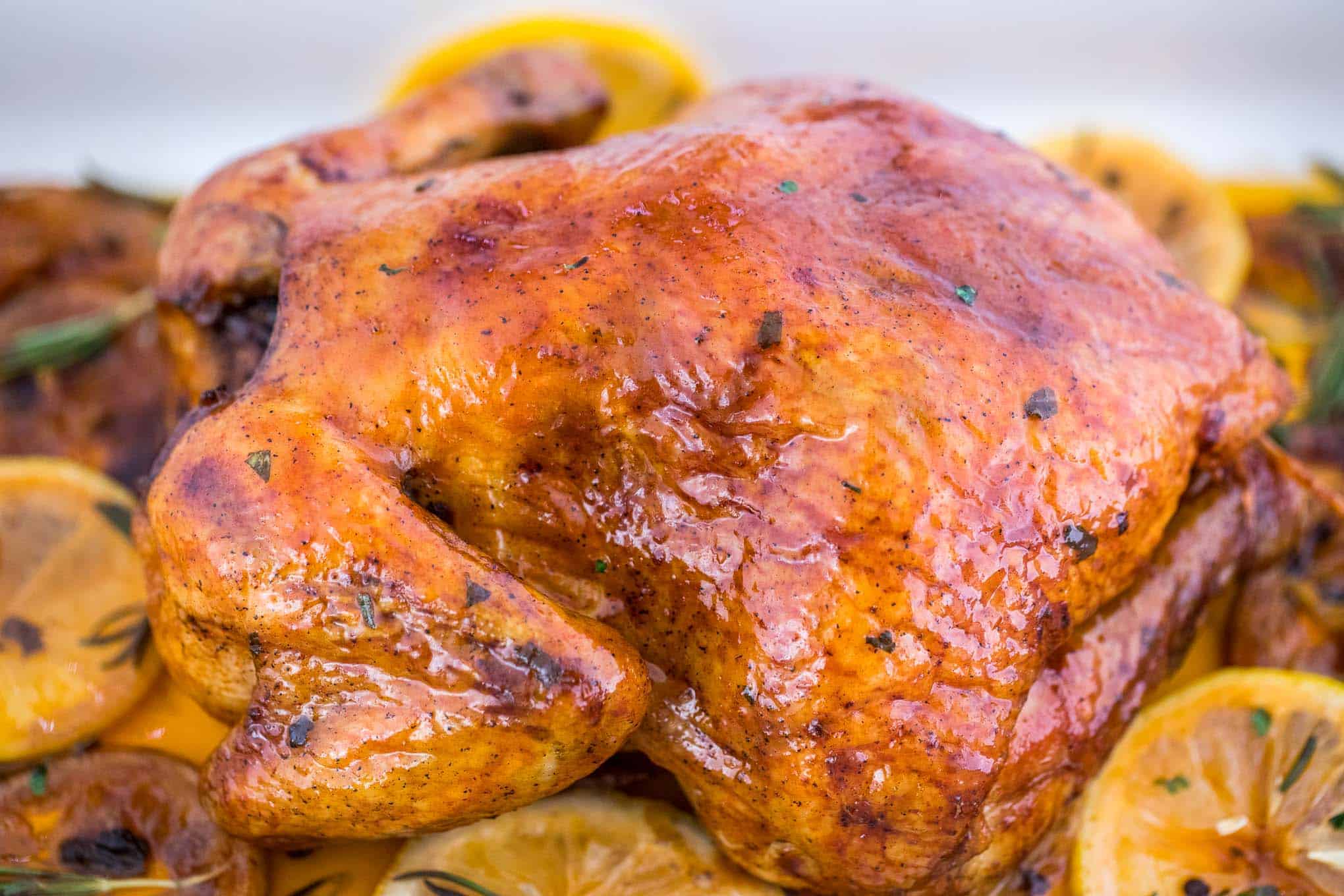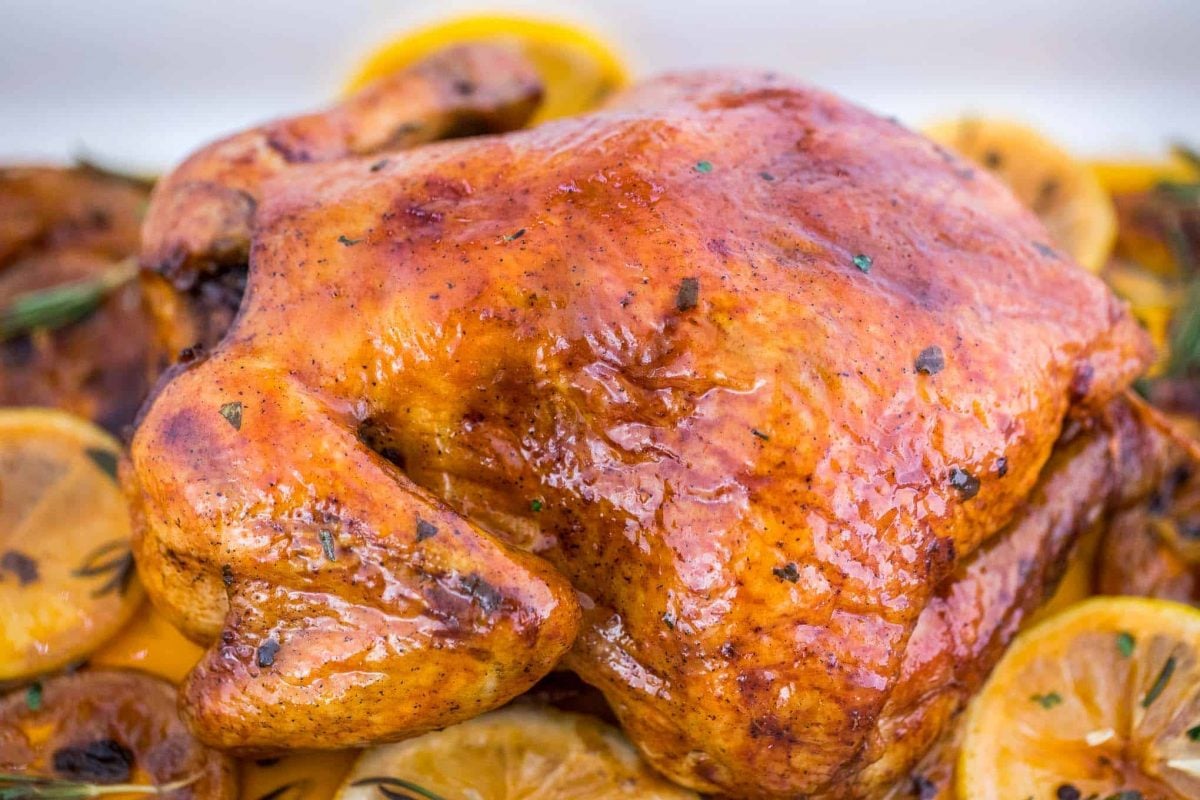 Because there are so many benefits, I set out to find the best brine recipe for the juiciest chicken. Here it is, I am teaching YOU how to brine chicken with these easy brining tips and tricks.
Make sure to scroll down to get the full recipe.
You can use this simple brine recipe for turkey, chicken or pork and can be used before any other full recipe to add moisture. It works as a brine on chicken breasts, a whole chicken, chicken wings or even thighs.
And after brining, you can roast, pressure cook, grill, fry or bake. It is truly all-purpose. They will all be tender and juicy!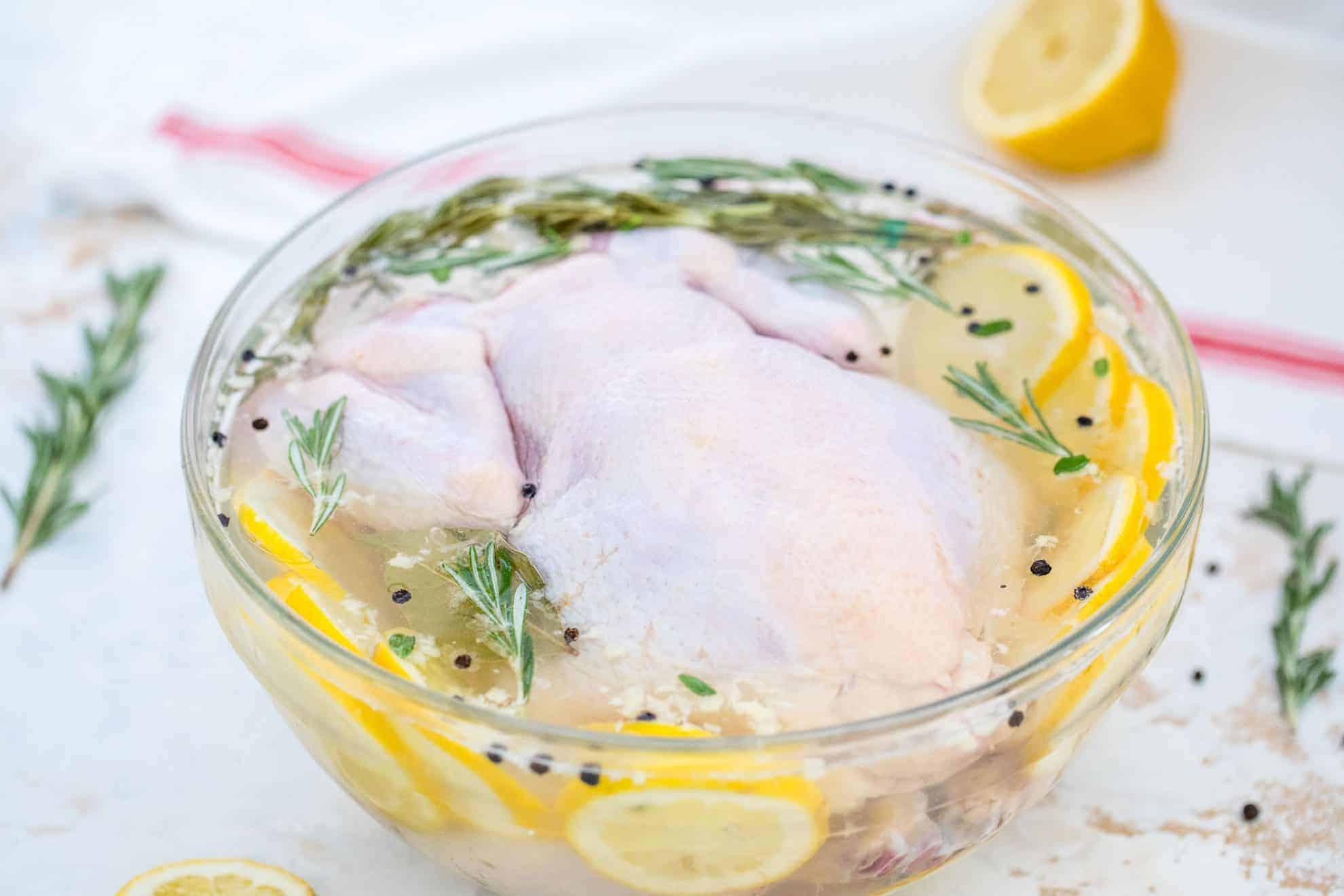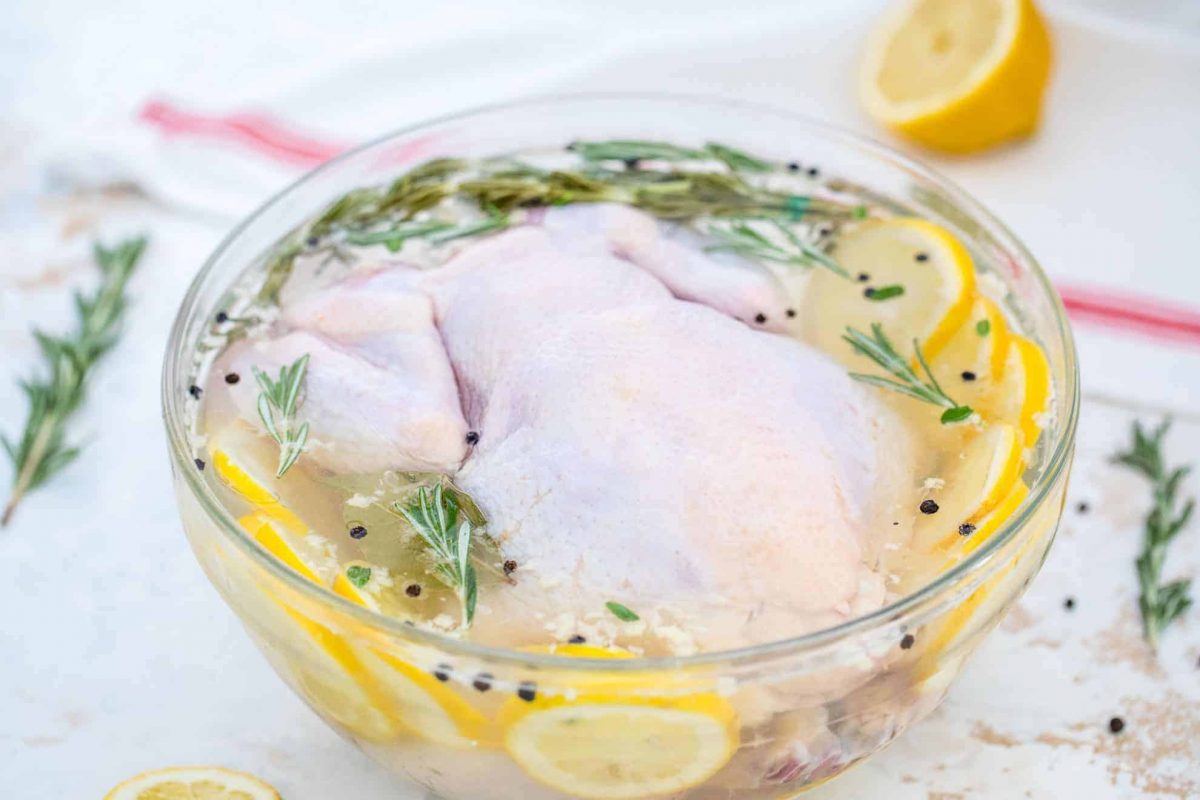 Chicken Brine Recipe ingredients
Water- The base of any brine, osmosis is how the infused salt water will penetrate the meat. We use 1 gallon, which equals 16 cups.
Coarse kosher salt- Quick to dissolve and the least salty of the bunch, coarse Kosher is the best way to go. If using a fine sea salt, reduce the volume by at least half.
Sugar- Sugar helps to balance the savory flavors but will also settle on the skin and just under, helping it to brown and caramelize while cooking.
Dried bay leaves- With an earthy and peppery flavor, these provide subtle herby notes.
Garlic- Using lightly smashed cloves will provide some garlic flavor without being too garlicky. For intense garlic flavors, chop, mince, press or grate the cloves.
Whole black peppercorns- We like whole here because they are easier to remove and won't stay put on the chicken.
Fresh Herbs- Rosemary and thyme are my usual picks, but any fresh herbs can be used like parsley, cilantro, sage or mint.
Lemons- Citrus and poultry always play well together. For even more infused lemony brightness, also zest the lemons before adding.
Whole Chicken- Sometimes labeled a "roaster chicken", this just means a whole bird.
How to Brine Chicken
It is relatively hard to hurt a chicken, but you can brine for too long. The result will be a tougher and salty bird. I recommend only 24 hours or less for an average size chicken.
If you are brining chicken parts like chicken thighs, you need even less time, closer to 12 hours.
Do not reuse your brine. This is raw chicken and a marinade just like others. The brine can be easily contaminated and contaminate your food. Discard chicken brine after one use.
You want your chicken to be as thawed as possible. If it is frozen, the brine doesn't have a way to penetrate into the chicken.
It is a little frozen, it is ok, but remember the ice left inside that still needs to thaw will dilute the brine, so compensate by adding a little more salt.
How long to brine Chicken
Ideally aim for 24 hours or at least overnight (12-24 hours) for a 4-5 pound bird, but past that the meat can start to get tough and rubbery. A larger bird (like turkey) will need even longer.
If you don't plan to cook it right away, that is fine. Just take it out of the brine, rinse it to get extra salt off the surface, pat it dry and place it in the fridge until you are ready to finish preparing it.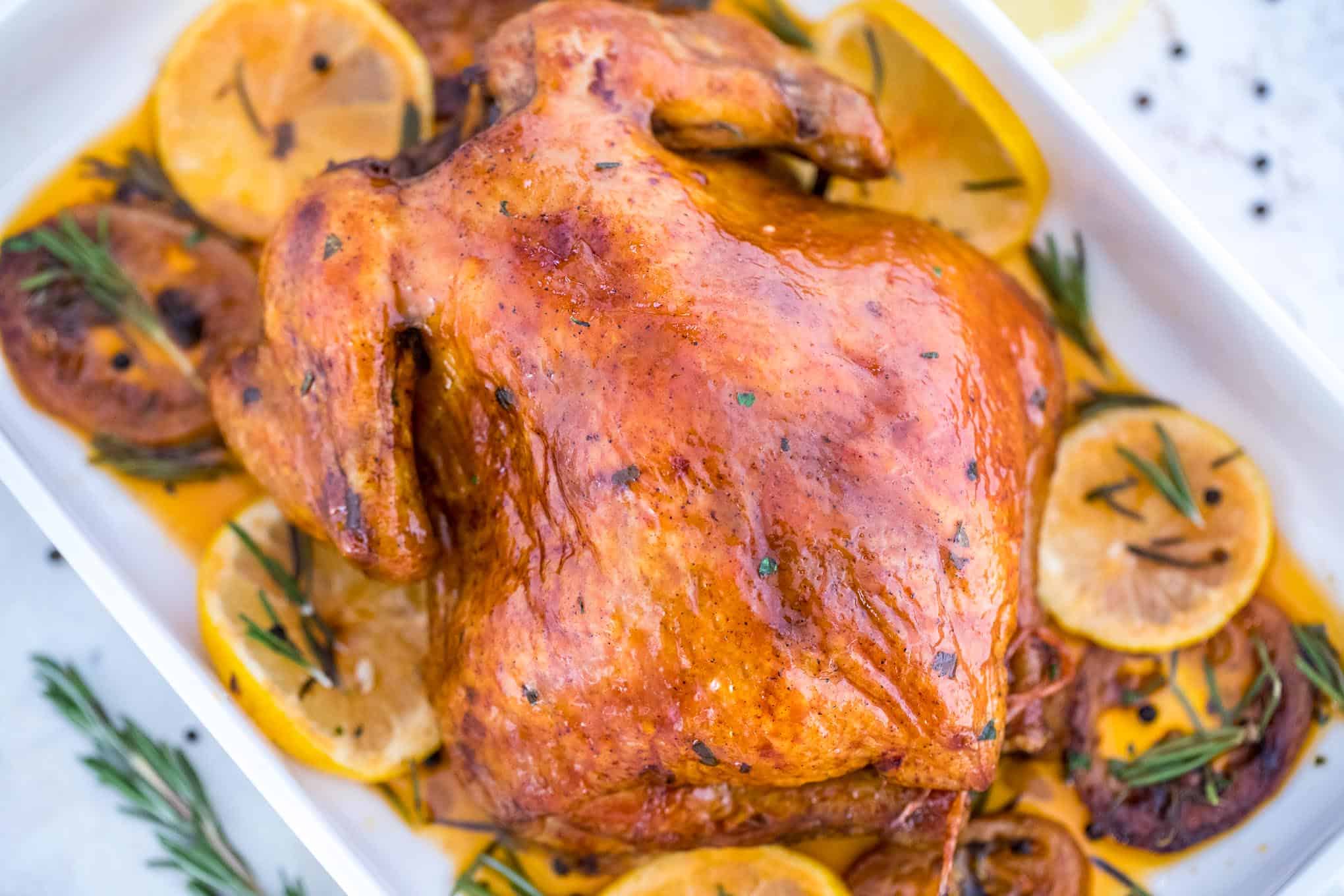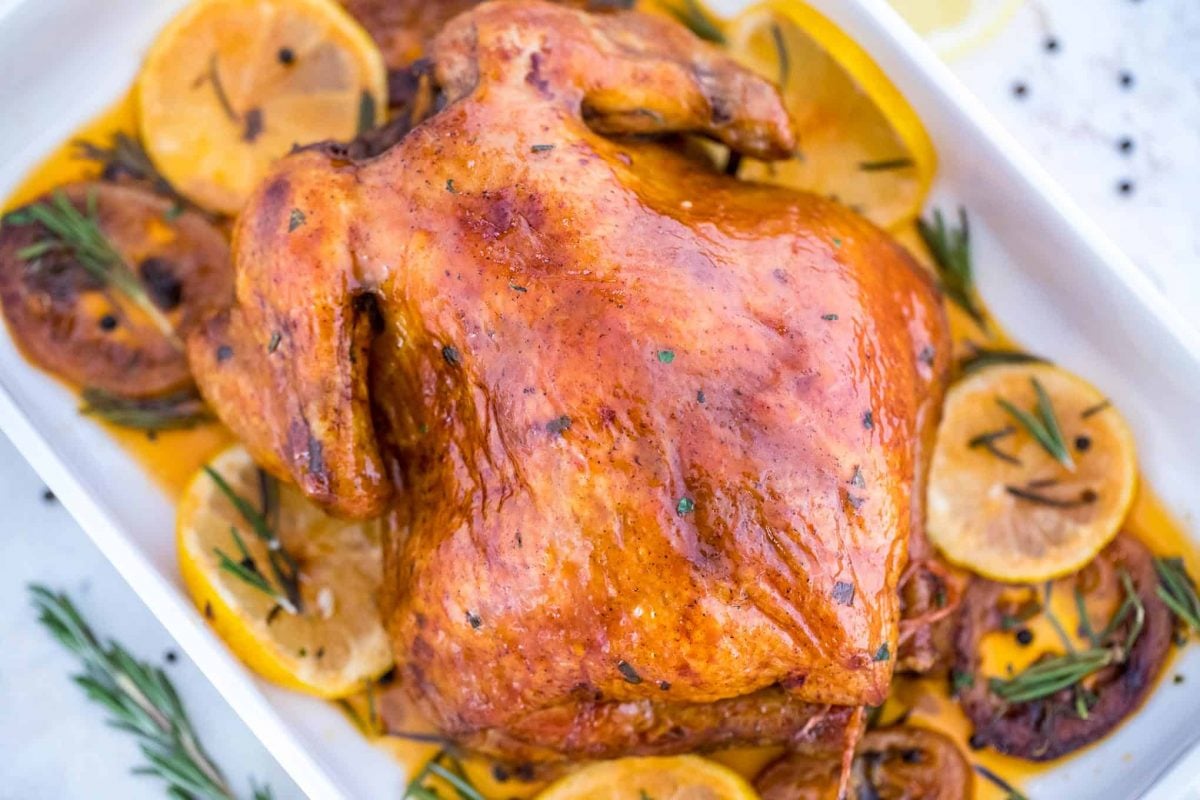 Tips for Brining Chicken
Wet Brine – This technique is called wet brining. If you've ever wondered how to keep chicken from drying out, wet brining is the answer and will result in the juiciest chicken ever! Wet brining adds moisture to your chicken.
A dry brine uses all the salt, but no liquids.
The only downfall to wet brining is not getting crispy skin. But don't worry, I have a solution so you can have a juicy chicken and browned, crispy turkey skin.
Use Coarse Kosher Salt- Not all salt is created equal. Salts have different flavor profiles, chemical structures, shapes, ability to dissolve (although they all will eventually) and sizes, resulting in varying density.
One tablespoon of coarse Kosher salt is not the same as one tablespoon of table salt. Make sure to use Kosher salt with larger crystals to get the correct salt to water ratio for brine, which is 1 heaping tablespoon of kosher salt for every cup of water.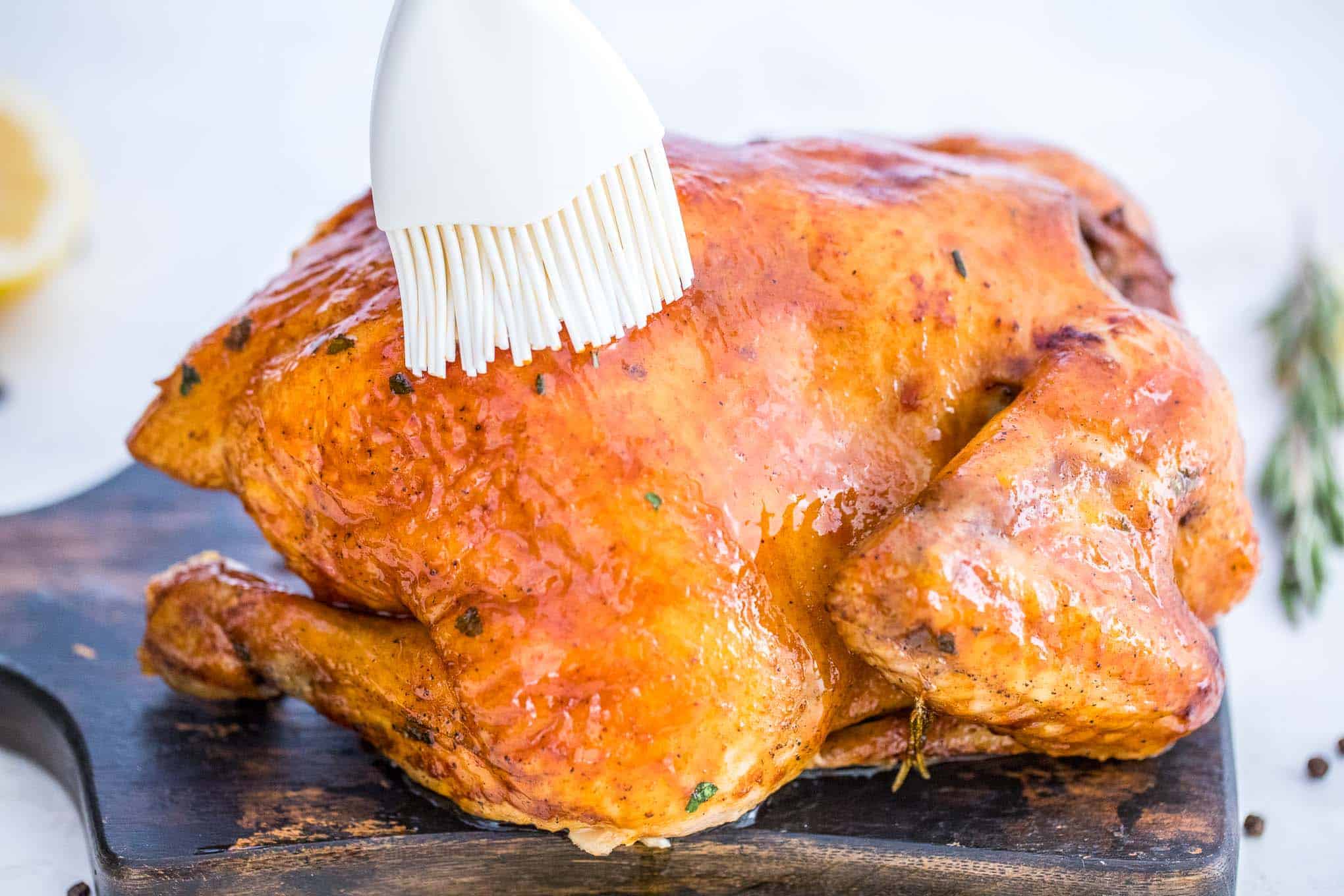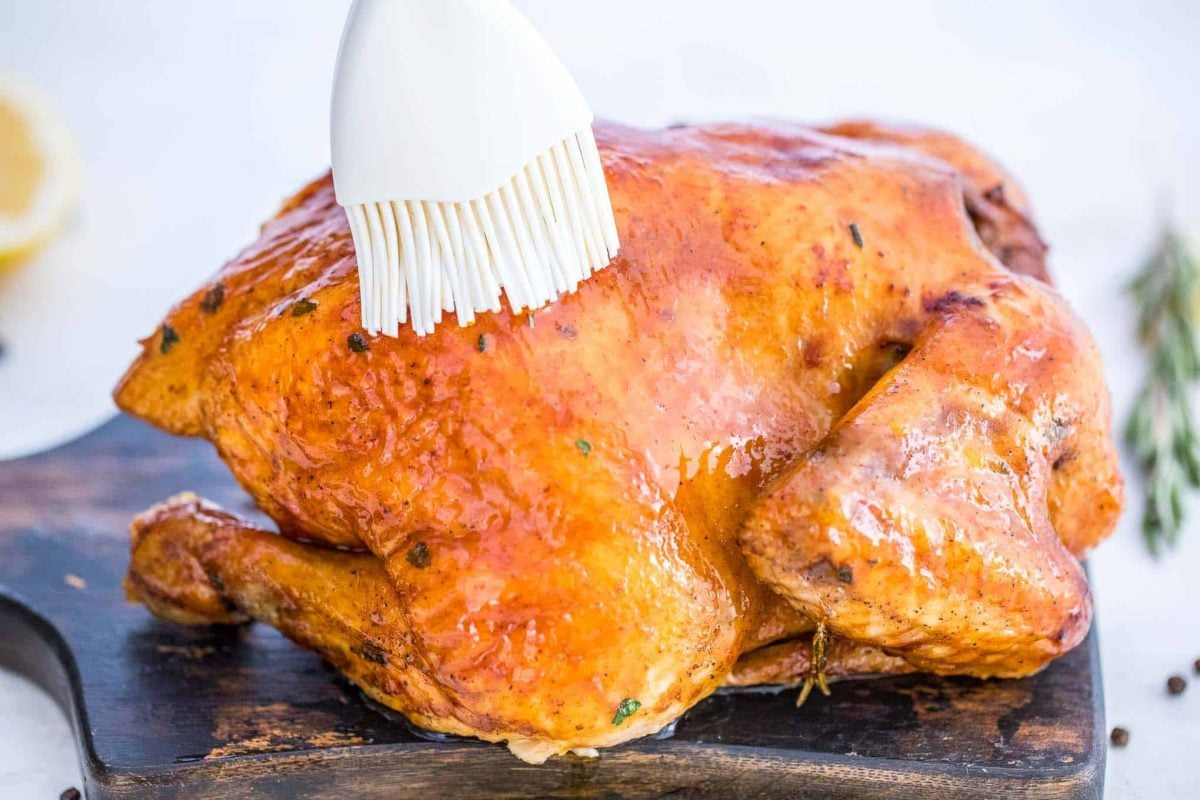 PRO TIP: You can use dried herbs instead of fresh herbs. The ratio is generally 1 tablespoon of fresh herbs for every teaspoon of dried herbs.
Add flavor- The types of flavor you can add to your brine are endless. For a simple brine recipe using just salt and water, there is no need to boil because the salt will dissolve regardless, but for more flavor, boiling is ideal to infuse water.
How Make the Crispiest Chicken Skin– Because brining adds to much moisture and flavor, it also makes the skin super wet and prevents browned, crispy skin.
Pro Tip: Brining works best on less fatty meats that need the extra moisture.
To get the best of both worlds, brine your chicken for 24 hours, then remove from brine and allow to dry out, uncovered, in the refrigerator for an additional 24 hours.
You can also brine a spatchcocked chicken!
What is the best Chicken Brine Ratio?
The general ratio of water to salt is 4 tablespoons of coarse kosher salt to every 4 cups of water, although this isn't a hard rule and can be adjusted based on personal preference. Some salt is needed for the magic of brining to be effective.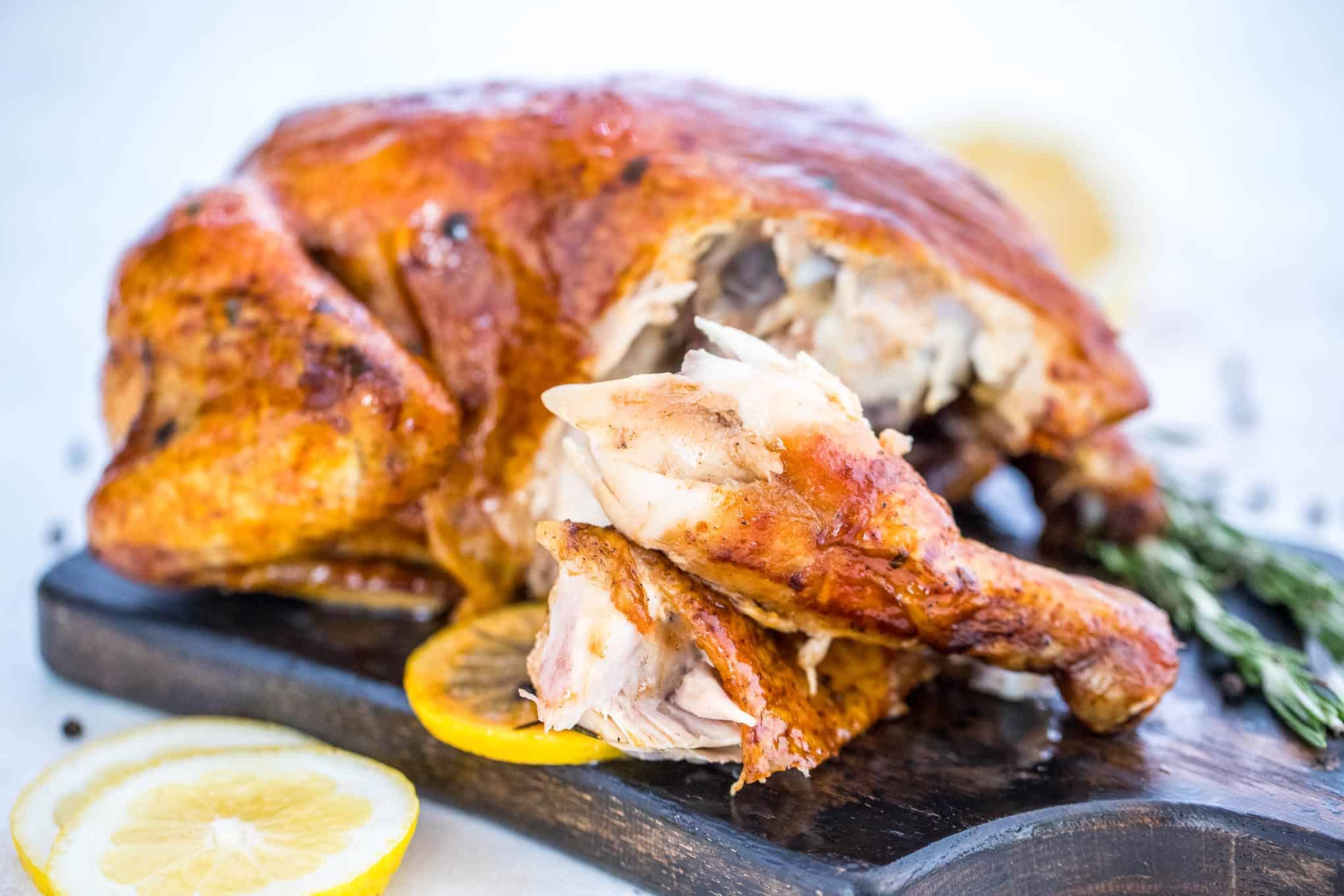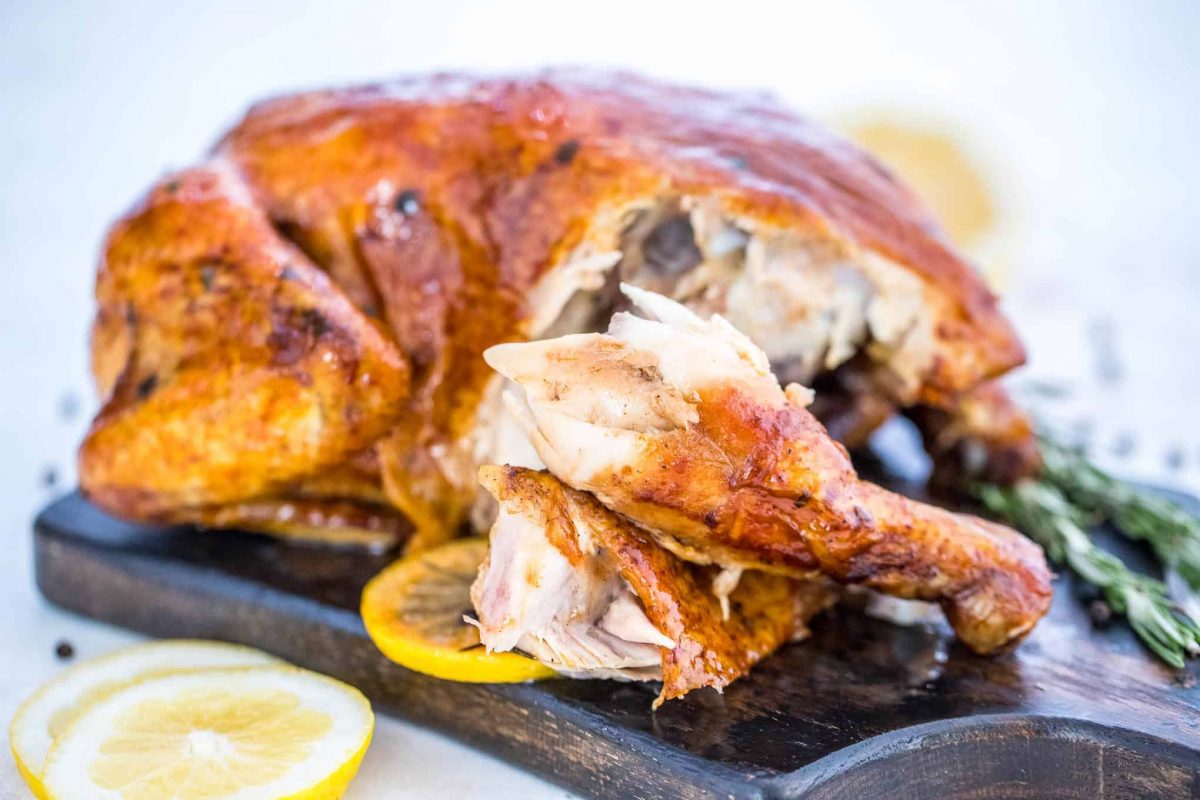 How to Cook Brined Chicken
For smoking a chicken, you brine the same way you would for roasting! Use this same recipe and then follow your smoked chicken recipe.
To fry, follow the brine instructions. Just make sure you pat the excess liquid off really well. Wet skin causes problems in a fryer. The flavor and juiciness is locked deep within.
You can brine any chicken pieces including wings, boneless skinless chicken breasts, thighs and even drumsticks. If you are only using a small amount, you can cut the recipe in half.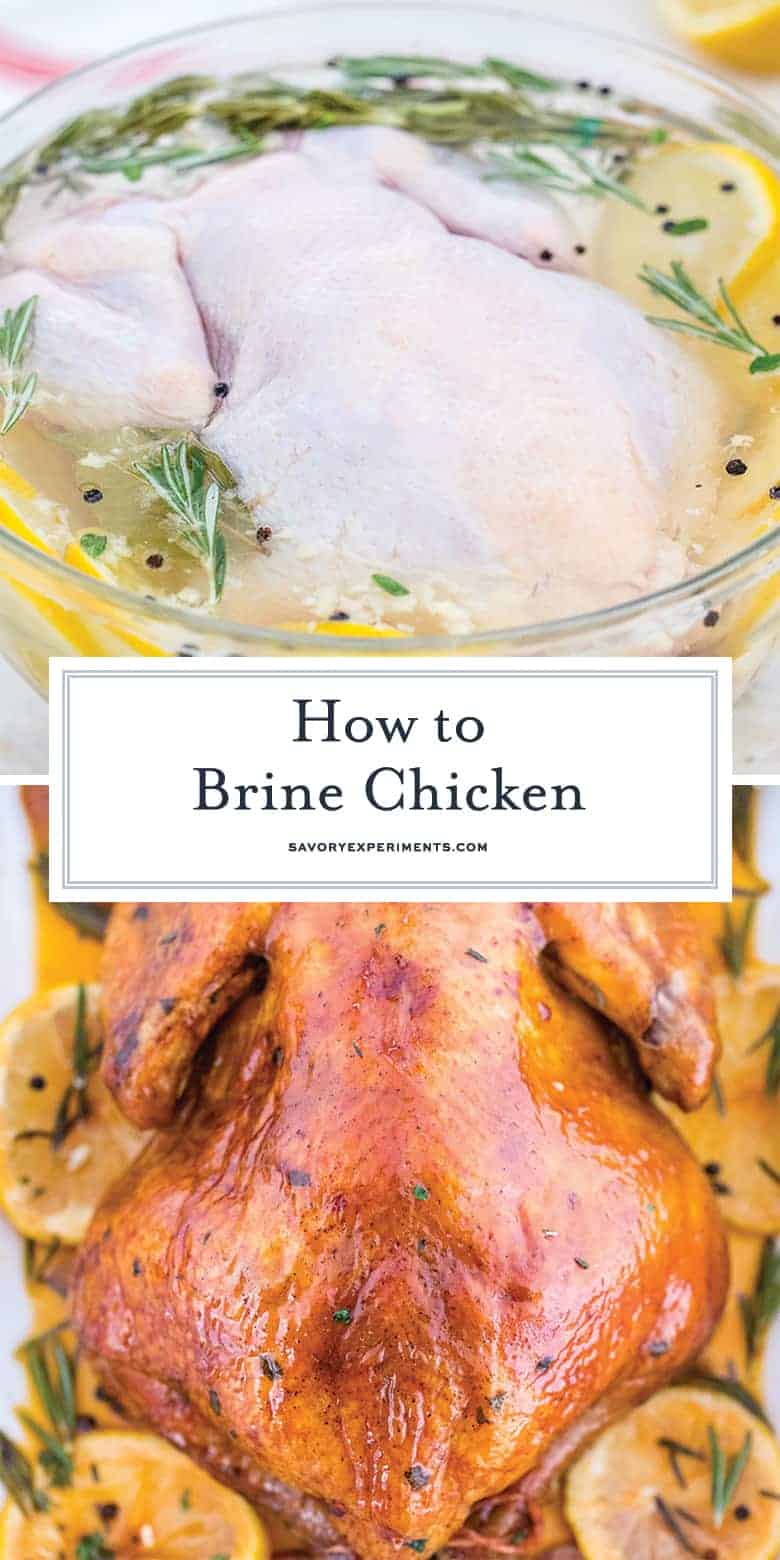 Where do I Brine Chicken?
You can most likely have some something to brine chicken in at home. There are three main ways people use: a brining bags, a stock pot, large pot or a cooler.
Brining bags can be found online or at the store, although they can sometimes be hard to find outside of Thanksgiving.
Is this Brine for Chicken Kosher?
I had a reader ask this question and it was such a good one, I decided to add it to the post for others. The question: "What about a Kosher chicken? Won't it be too salty after going through the Kosher process?"
Kosher chicken is rinsed in clean water and then salted, but only for about 60-90 minutes, just enough time to bring out any blood/impurities, but not long enough for the chemical process of brining to take place. It is like a short dry brine.
The chicken is rinsed before being packaged and sold. If done properly, the chicken won't have any salty flavor at all. For a dry brine to work for the purpose of juiciness and flavor, it takes many more hours. So to answer your question, no, it shouldn't make it too salty.
As you would with any chicken, make sure to rinse it after brining to get rid of excess salt residue on the exterior of the bird.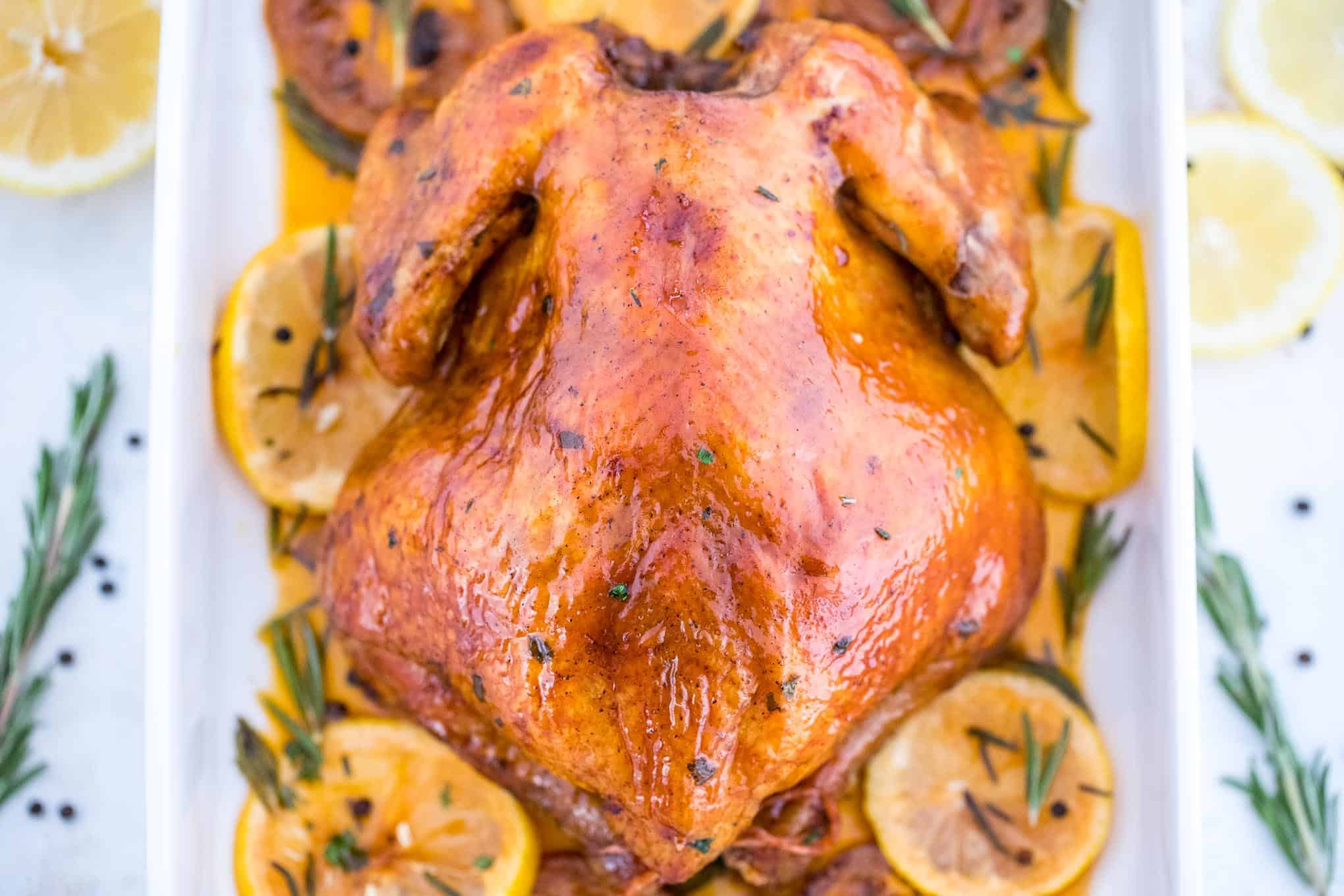 Chicken Brine FAQs
What does brining chicken do?
Brining infuses chicken with flavor, but also keeps the meat moist and juicy while cooking.
How long can you brine chicken?
Do not brine a 4-5 pound chicken for longer than 24 hours. It starts to have the opposite effect and become rubbery and tough.
Can you brine frozen chicken?
While not ideal, you can put a frozen chicken into brine and thaw while brining, but reduce the amount of water by 2 cups because it will release water as it thaws. The process of osmosis can only take place if the chicken meat is thawed so you might not get the full impact.
The chicken might not be fully defrosted after 24 hours, so account for an additional 6-12 hours in the fridge after being removed from the brine to finish defrosting.
Other Ways to Use This Brine Recipe For Chicken
You can brine just about anything you'd like. I've even seen folks brine produce like carrots and potatoes, however most brines are meant for proteins like:
Chicken
Pork chops
Turkey
Ribs
More Chicken Recipes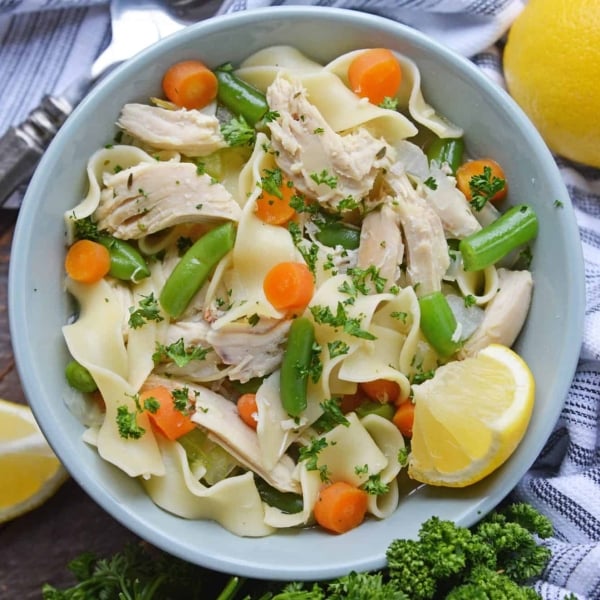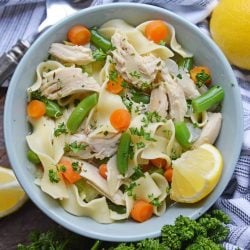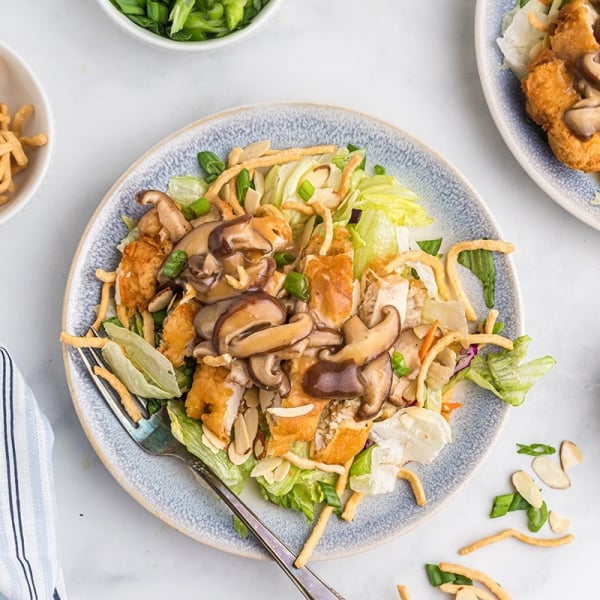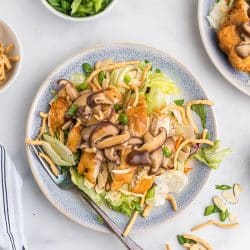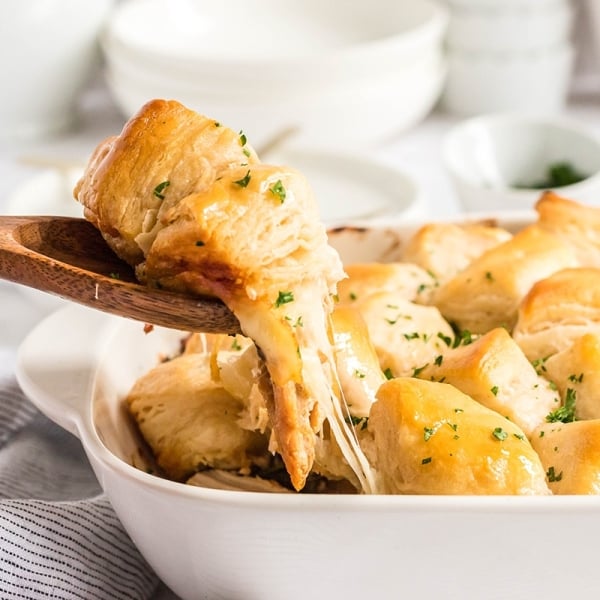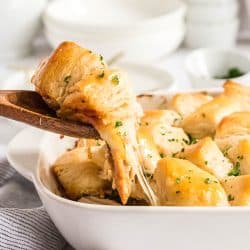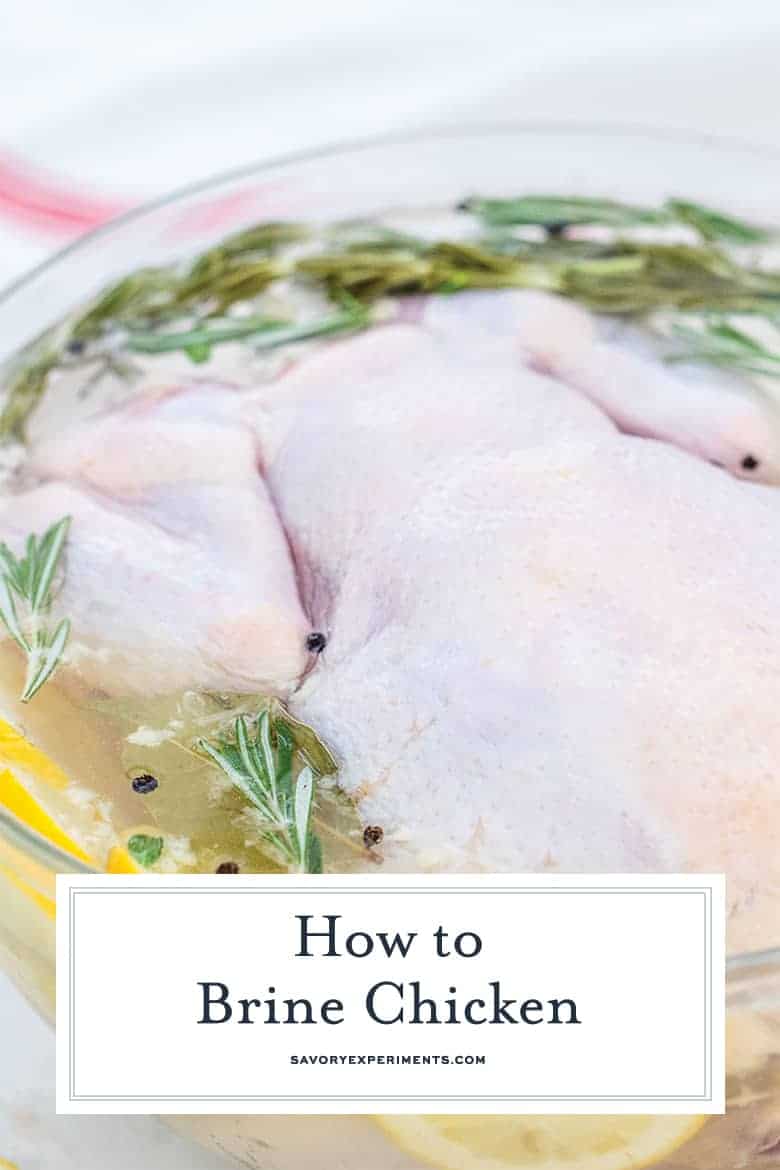 More Favorites from Savory Experiments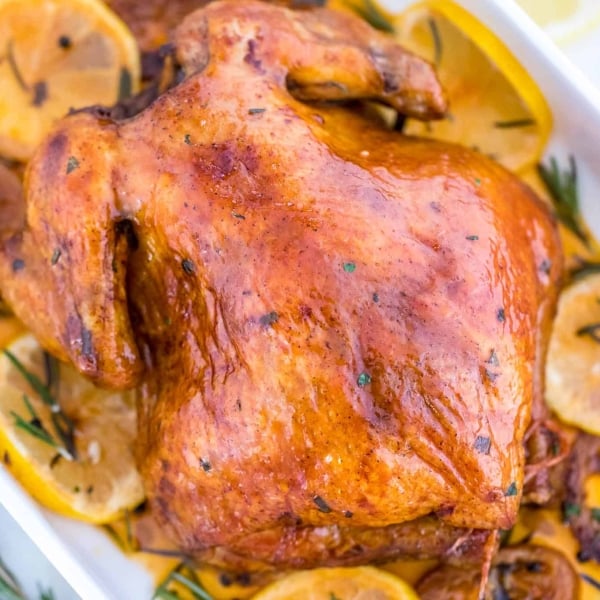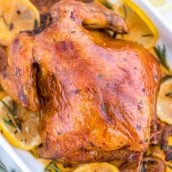 Brine Recipe for Chicken
This step-by-step guide will show you how to brine chicken, tips for a juicy chicken, how to get crispy chicken skin and, of course, the best chicken brine recipe!
Ingredients
Chicken Brine:
1

gallon

water

3/4

cup

coarse kosher salt*

2/3

cup

sugar

5

cloves

garlic

, peeled and smashed

1

tablespoon

whole black peppercorns

3

sprigs fresh rosemary

3

lemons

, sliced

4-5

pound

roaster chicken
Instructions
To Brine Chicken:
In a large stock pot or Dutch oven, combine water, Kosher salt, sugar, bay leaves, smashed garlic cloves, black peppercorns, rosemary, thyme and slices lemons.

Bring to a low simmer, stirring until salt and sugar have dissolved. Remove from heat and allow to cool fully.

Add the chicken to the cooled brine. If there is room, you can add to the stock pot, just make sure it is fully submerged in liquid. If you need to add 1-2 additional cups of water to make this happen, go for it! You can also use a brining bag.

Cover, if you using a pot, and refrigerate for 8-24 hours. Do not over brine, as meat can start to turn rubbery if brined for too long.

Remove chicken from the brine and rinse with cold water. Continue with your favorite chicken recipe.

Discard brine.
To Cook Brined Chicken:
Preheat oven to 400 degrees.In a small bowl, combine butter, herbs, Kosher salt and ground black pepper.

Loosen skin from meat and rub butter under the skin evenly. Use your fingers to loosen skin from the meat and for hard to reach places, you can use the back of a spoon to get down in there with the butter. If there is extra butter, just place it in the cavity.

Place the chicken breast side down. Truss the chicken by loosely tying the legs together using cooking twine.

Roast the chicken for 30 minutes, remove from oven. Stick a pair of tongs inside the cavity of the chicken to flip the bird to breast side up.

Continue roasting the chicken breast side up for another 30-40 minutes or until a digital thermometer registers at 165 degrees when inserted into the thigh.

Remove the chicken from the oven. Allow to rest for 10 minutes before carving or serving.If you've tried this recipe, come back and let us know how it was!
Nutrition
Calories:
372
kcal
,
Carbohydrates:
45
g
,
Protein:
2
g
,
Fat:
23
g
,
Saturated Fat:
15
g
,
Cholesterol:
61
mg
,
Sodium:
22055
mg
,
Potassium:
176
mg
,
Fiber:
3
g
,
Sugar:
35
g
,
Vitamin A:
745
IU
,
Vitamin C:
44.1
mg
,
Calcium:
93
mg
,
Iron:
1.1
mg