A rice dressing with ground beef that has been passed down through generations of my husband's family, it is easy to make and easily transitions year round as a side dish instead of just a Thanksgiving staple.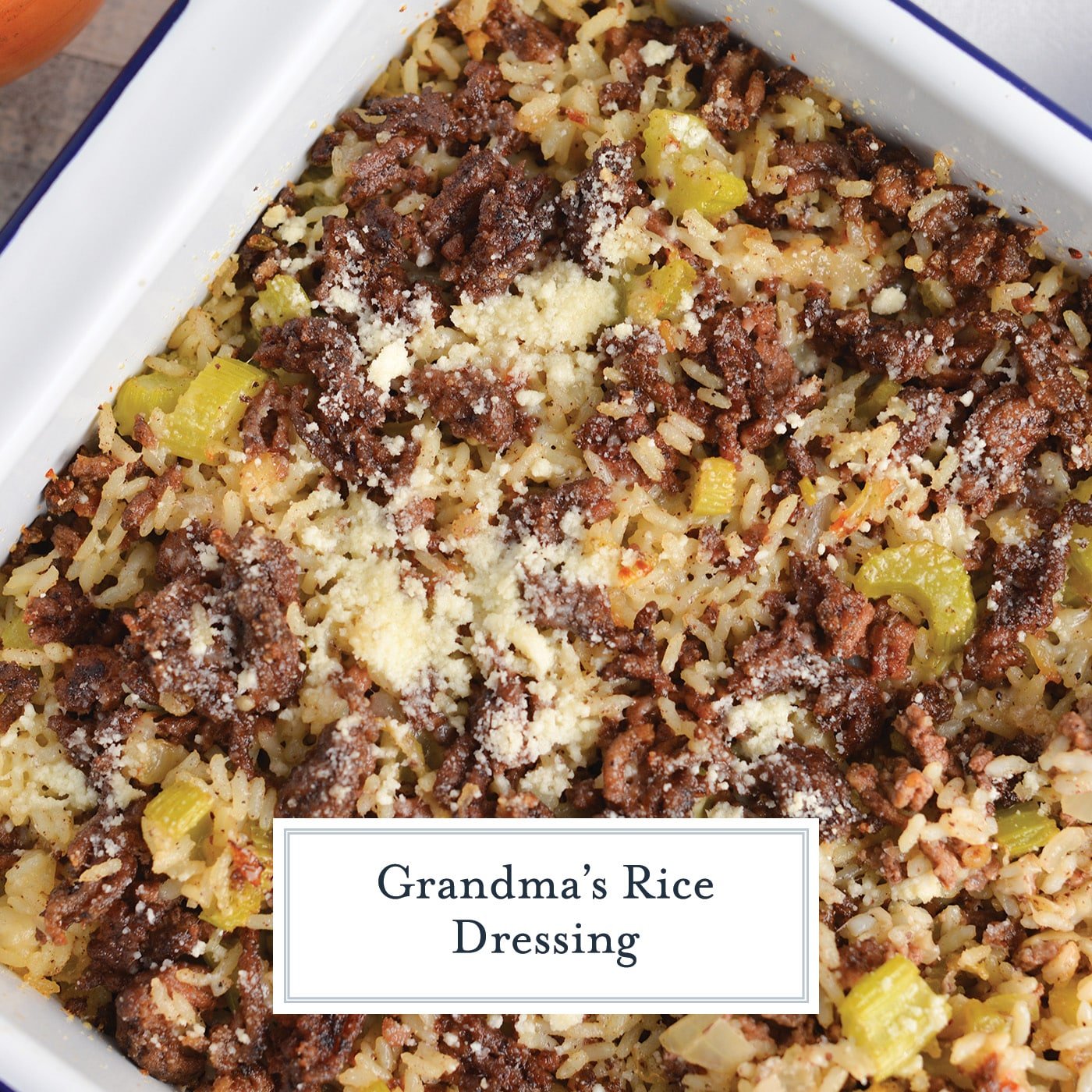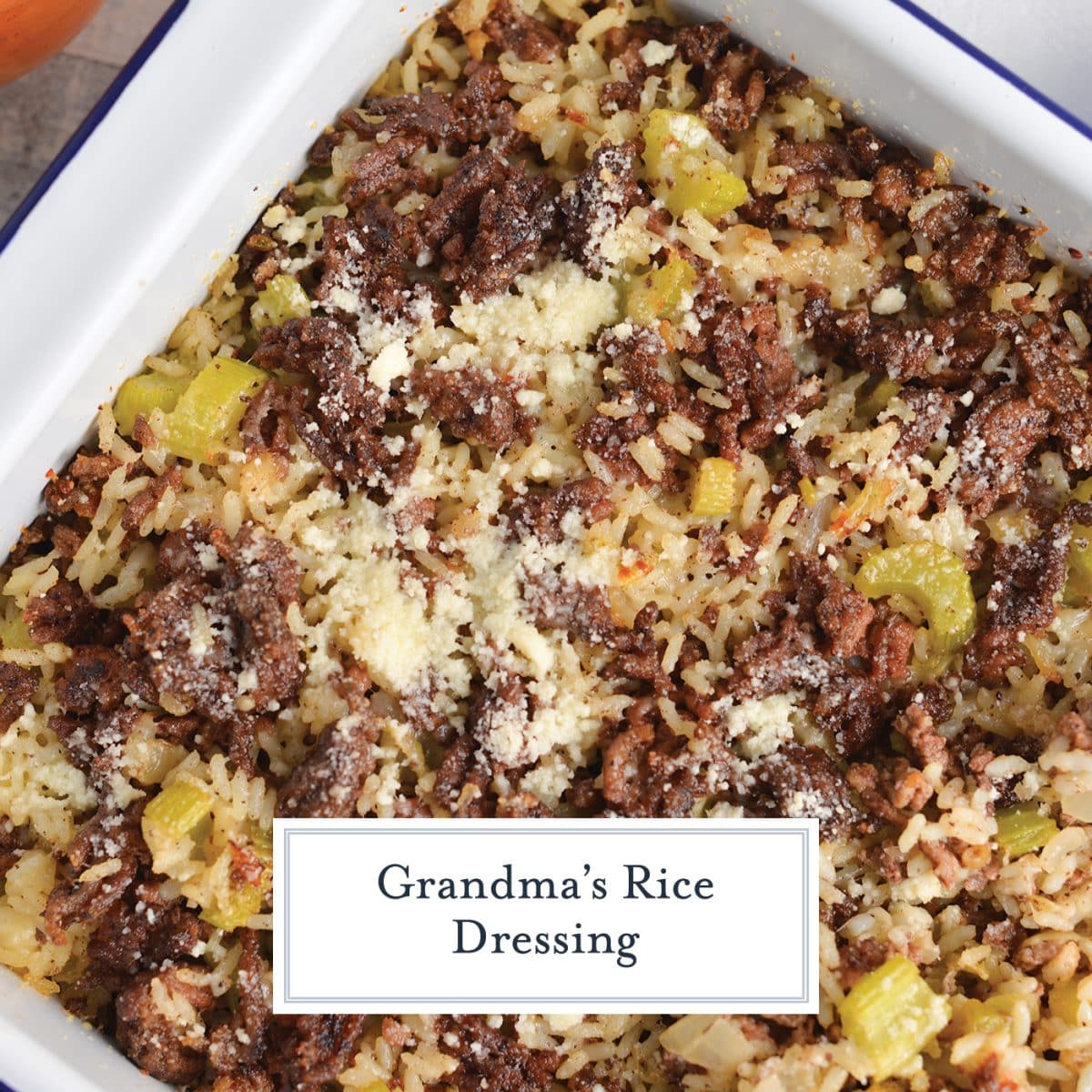 Made with browned ground beef, rice, onion, celery, cheese and butter, how can you go wrong, right? I inherited this recipe from my husband's side of the family via his great grandmother. Her daughter, my husband's grandmother is affectionately known as "Grandma Turkey" because she cooked turkey for all events and holidays.
Family Recipe
The recipe reads something like this: "lots of celery, one onion, tons of butter" and comes in handwritten cursive on a note card. The kind you stored in a wooden box labeled "recipes" next to the stove. The old fashioned Pinterest.
I've decided to give a little makeover, just in writing and amounts, so generations to come can continue to enjoy it without the guesswork of "a handful of that".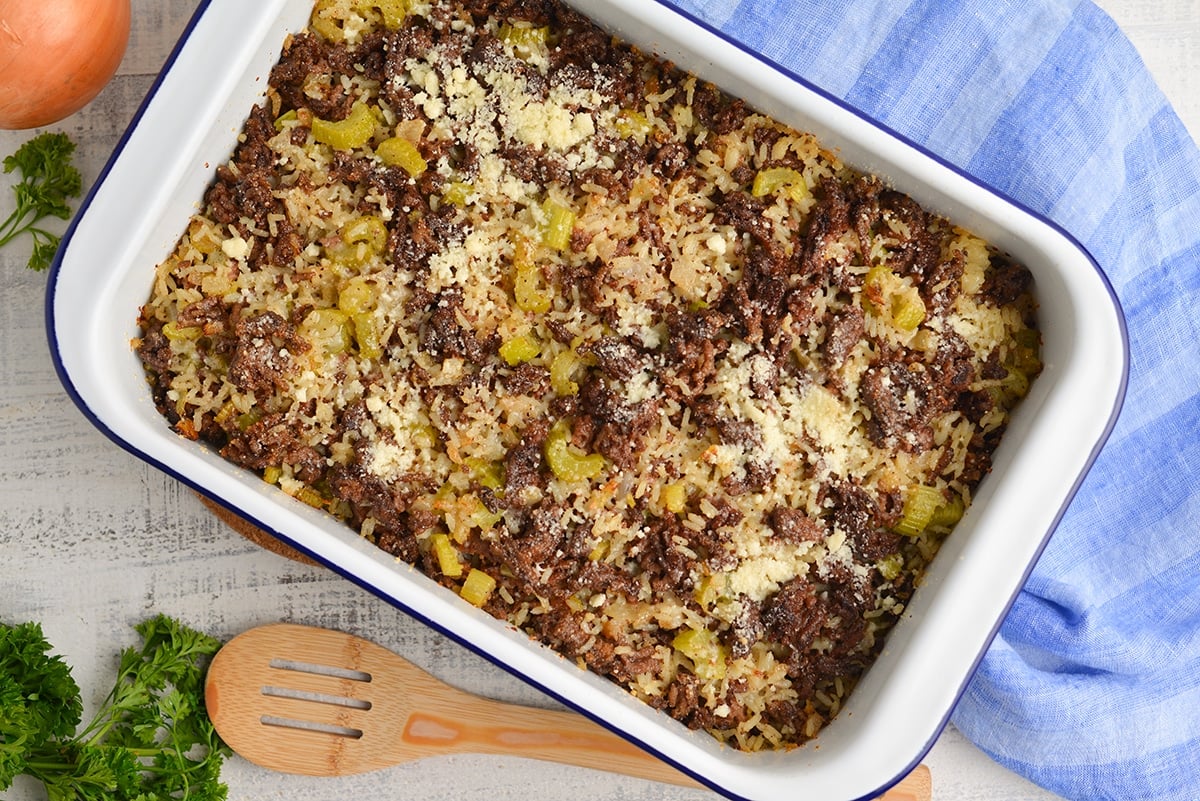 Gluten-Free Stuffing
If you had asked grandma about gluten, she probably would have had a pretty colorful response. In fact, she might not even know what gluten is!
But this recipe is a gem because it doesn't even need to be modified to be gluten-free and still satisfies the gluten-full population. A win-win during the holidays when you are trying to cook a million different things for a million different lifestyles.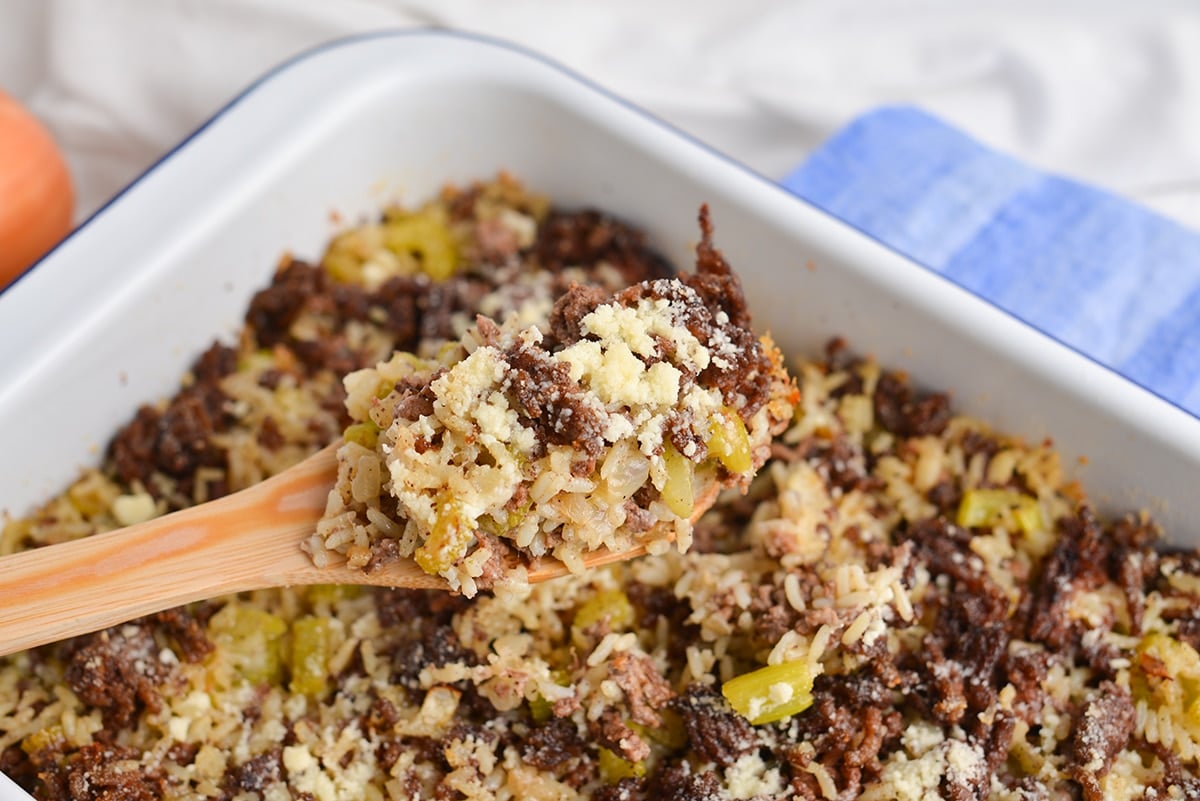 Stuffing vs Dressing
The age old debate of stuffing versus dressing! While I like to say that stuffing is stuffed inside of chicken or turkey and dressing is served on the side, some folks would disagree and say it doesn't really matter.
This recipe, because it is fully cooked can be used as either a dressing or a stuffing. My husband still prefers it as a side dish smothered with homemade gravy.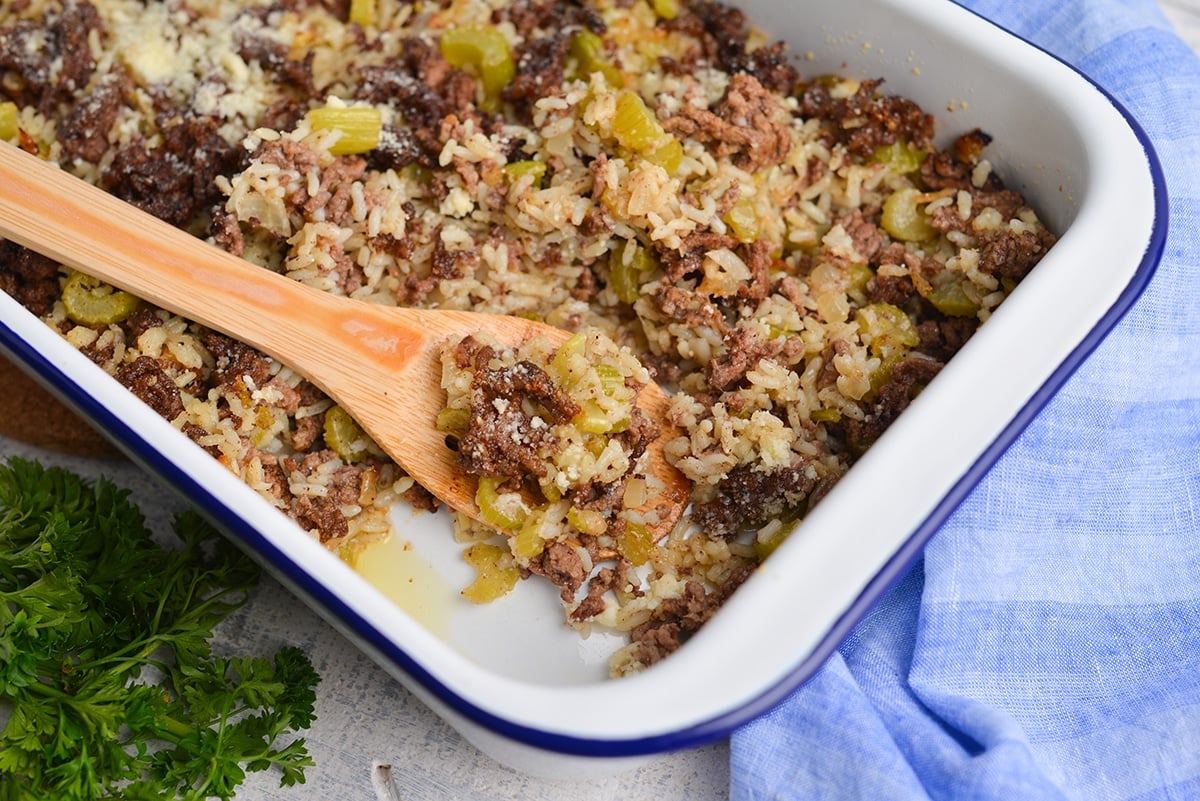 Ingredients
The ingredient list is pretty short and I'm shocked it doesn't include garlic, but I didn't want to mess with perfection.
Ground beef– I used an 80/20 blend, but you can also use a lower fat content or a different type of protein.
Long grain white rice– I made my rice from scratch so I could use chicken broth, but feel free to buy a few bags of the 90-second rice and call it a day. You'll need a total of 3 cups, give or take a little.
Low Sodium Chicken Broth– I always use low-sodium so I can control the salt levels. Using chicken broth instead of water for rice liquid gives it more flavor and depth. Water can still be used, as can low-sodium vegetable broth. I generally don't use beef broth because it is too flavorful.
Unsalted butter– In all honesty, grandma probably used even more butter! But I'm capping mine at 1/2 cup. Unsalted is the way to go so you can control the saltiness.
Celery- "Lots of celery" translate to about 1 bunch, which after trimming and chopping is approximately 2 1/2 cups. Feel free to use a little more or a little less.
White onion– This amount is approximate volume of a medium white onion. This can also be a little more or a little less.
Parmesan romano cheese– Straight parmesan can also be used, but we are looking for a nutty, hard cheese to be the glue that holds it all together. Finely grated is best for even tossing.
Coarse kosher salt & freshly ground black pepper– For seasoning. Of course the original just read "s&p to taste" so I've adding amount, feel free to adjust these to personal preference.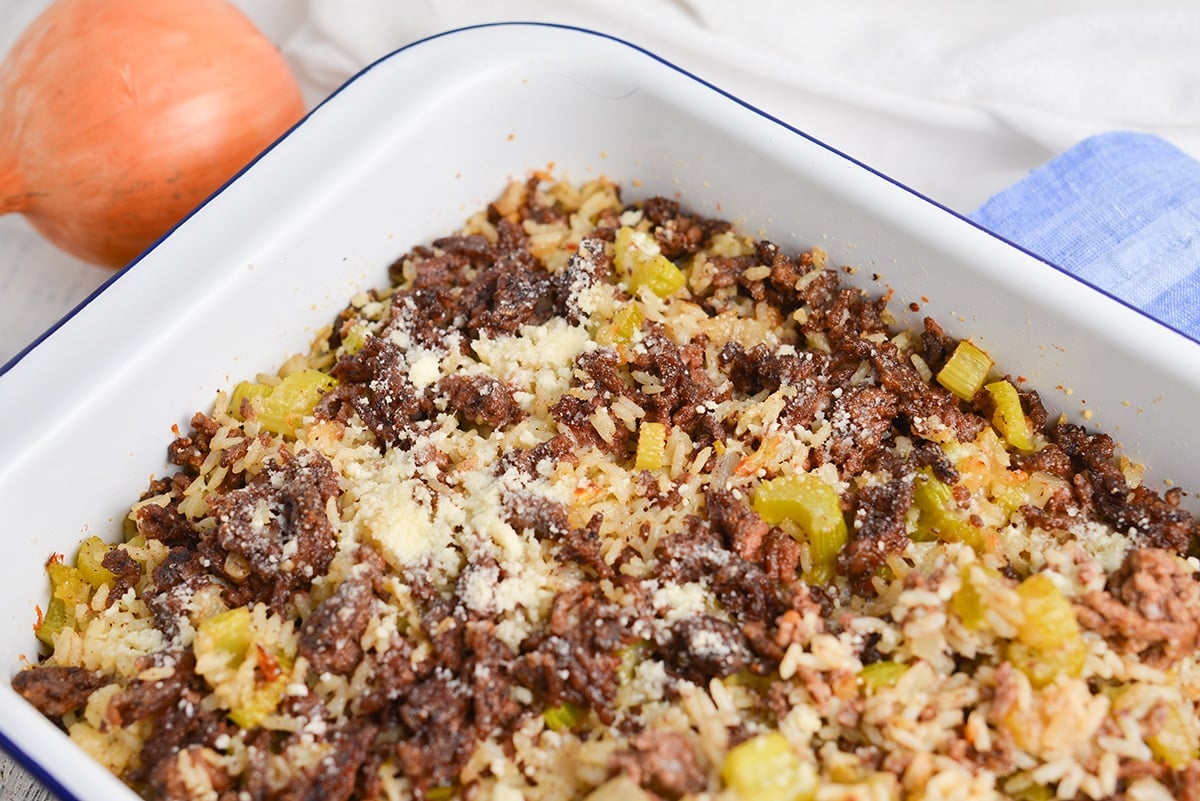 How to Make Rice Stuffing
Yes, the instructions for this rice dressing look long, but they are basically just prepping all the ingredients for the casserole. Doing this in one pan takes a while, but cuts down on dishes, however doing it in 2 skillets and a saucepan will shorten the prep time considerably leaving you plenty of time to do the dishes. You can't win here…. Here is the condensed version of the instructions.
Prepare the rice with the chicken broth or water. Cook and set aside to cool. I highly suggest rinsing the rice well first to get rid of residual starch.
Brown and crumble the beef and saute the celery and onions in butter. Set aside to cool slightly. These might need to be done in batches depending on the size of your skillet.
Combine the cooked beef, cooked rice, onion, celery, cheese, salt and pepper in a large mixing bowl. Toss well and then transfer to a large casserole dish coated with cooking spray.
Bake until cheese has melted. Remove and allow to rest before fluffing and serving.

Variations
This is a pretty basic recipe, but that leaves the door wide open for possibilities on how to customize. Here are a few ideas.
Veggies– I found it a little odd that it didn't include the holy trinity of stuffing recipes, carrots! Feel free to add carrots, bell peppers, mushrooms, peas, roasted tomatoes or any other vegetable you enjoy. Just make sure the total volume still equals 4 1/2 cups raw and all items are sauteed in butter.
Proteins– Ground sausage, chicken or turkey can be used. In fact, venison was popular on my husband's side and Thanksgiving falls during hunting season.
Cheese– We like to use a hard cheese, but melty cheese can also be swapped. Mozzarella, white cheddar, asiago and provolone would be delicious.
Go nuts! A little crunch adds textural variety. Add a handful of chopped walnuts or almonds.
Rice type– Long grain white rice is the most basic, but long grain wild rice, brown rice or even other grains like quinoa or barley can be used. Cook to al dente whatever type you cheese.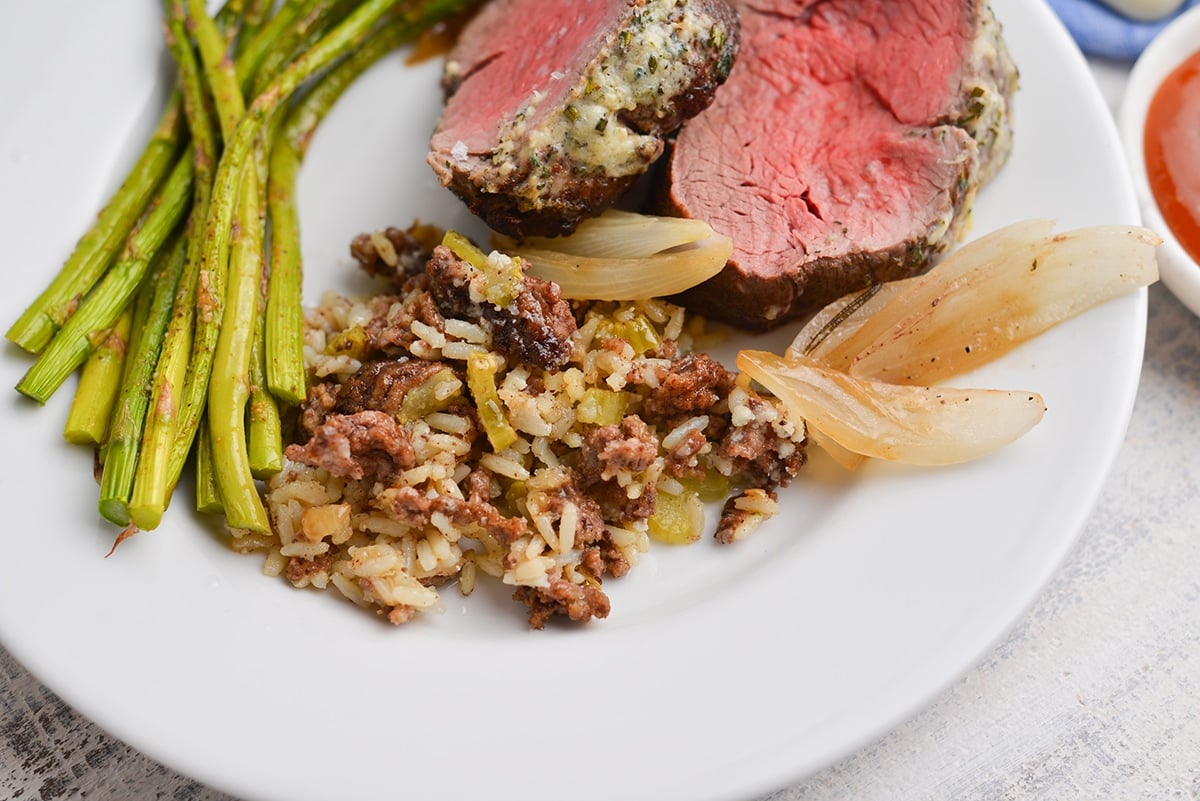 Make-Ahead, Storage & Freezing
Make-Ahead: This rice casserole can be made up to two days in advance up to the point of baking. Make it all and store covered in the casserole dish until you are ready to cook. Since it will be cold, add 5 minutes to the baking time.
Leftovers: This makes a lot, so you might have leftovers. They can be stored in an airtight container for up to 5 days. Reheat in the microwave or oven. They can also be frozen in large batches or single-serving.
Freezer-Friendly: Follow my instructions for how to freeze a whole casserole. Otherwise, store smaller portions of rice dressing in airtight containers or plastic bags, pushing out as much air as possible. Freeze for up to 3 months. Defrost in the fridge overnight and reheat in the oven. I usually give it a fresh sprinkling of cheese.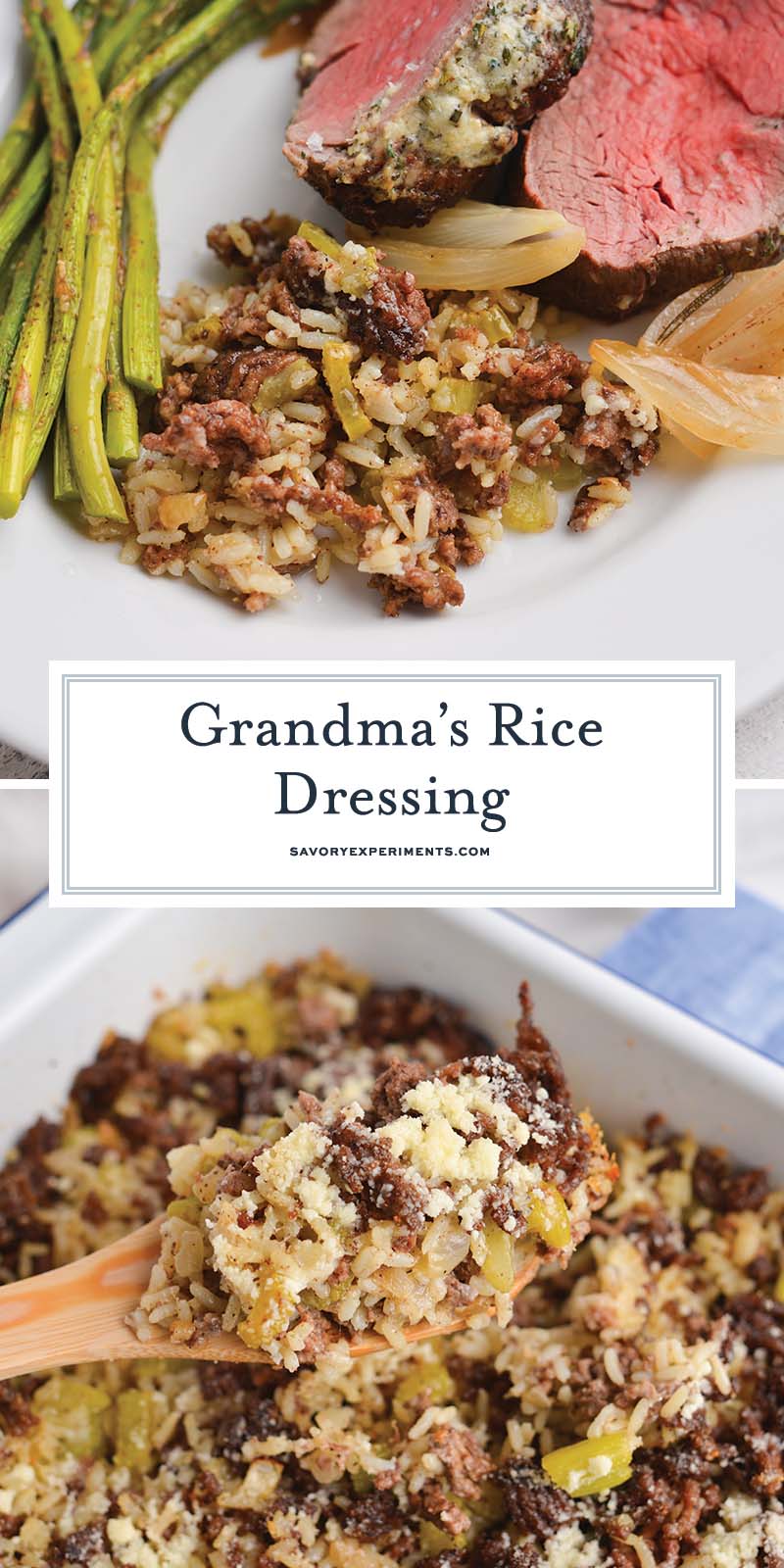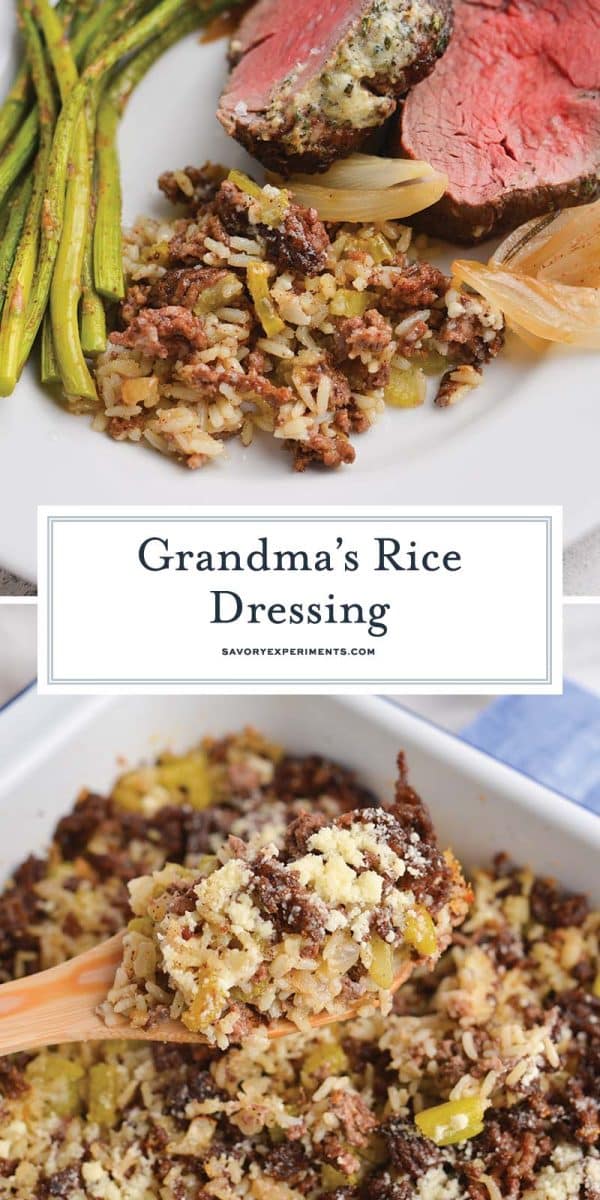 More Holiday Side Recipes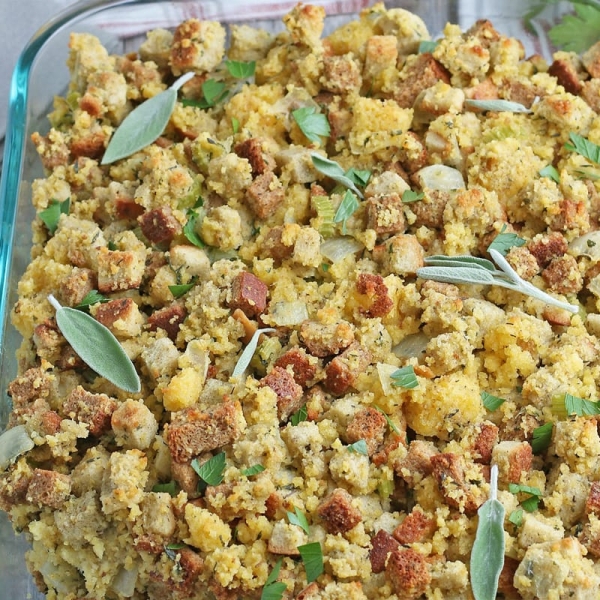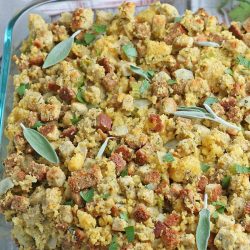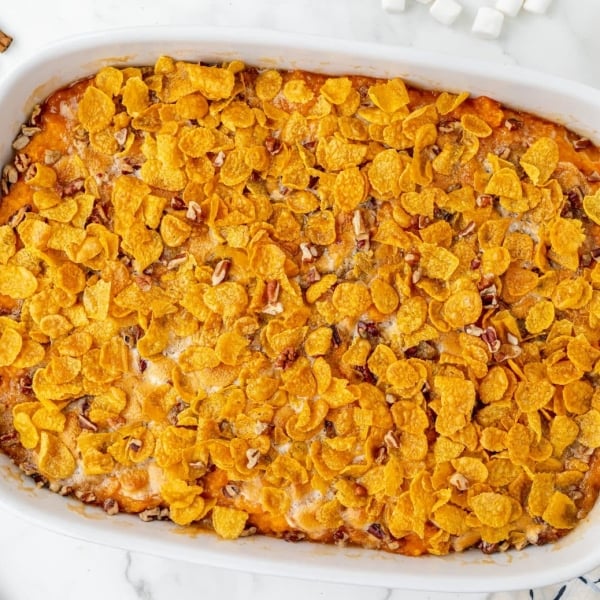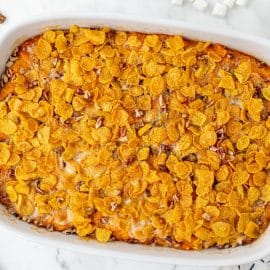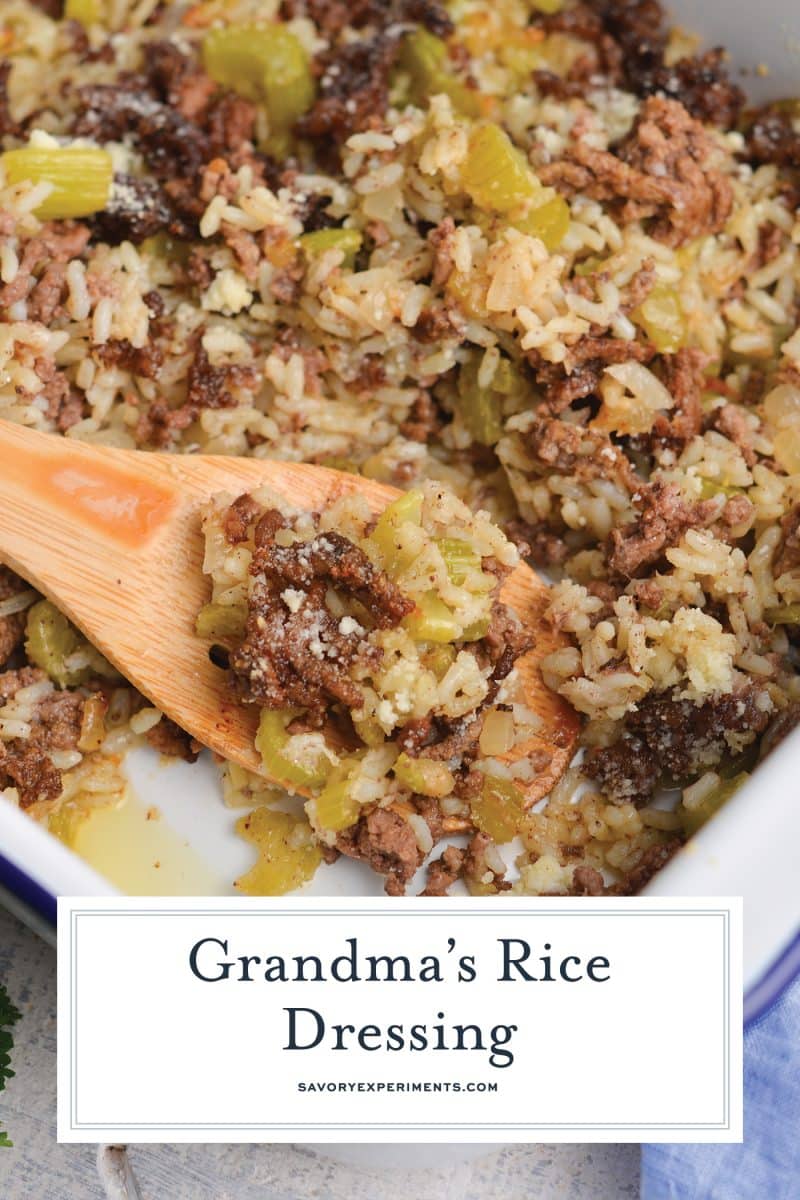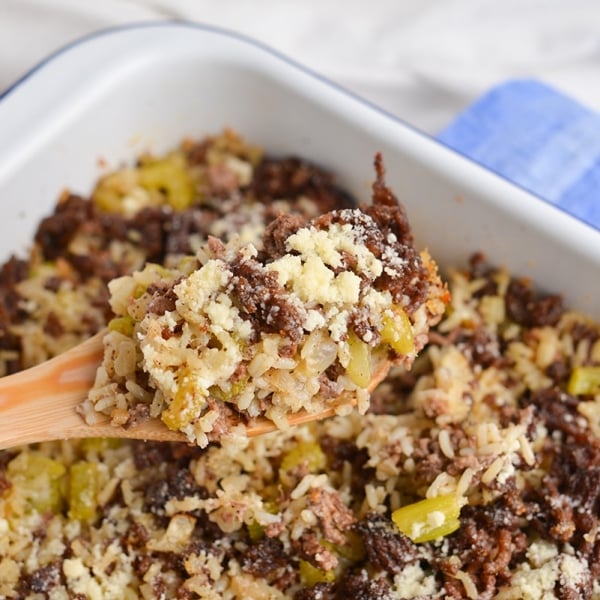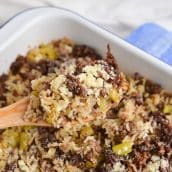 Grandma Chiavetta's Rice Dressing
A homemade dressing recipe made with rice, ground beef, celery, onions and grated cheese. Perfect for the holidays or a weeknight and naturally gluten-free!
Instructions
In a medium saucepan over high heat, bring the chicken broth and rice to a boil. As soon as it boils, reduce heat to low and cover. Cook for 20 minutes until soft and fluffy. Set aside to cool.

Heat a large frying pan or cast iron skillet over medium high heat. Brown ground beef until fully cooked, breaking apart as it cooks. Due to the volume, I suggest doing this in two batches. Drain and set aside.

In the same frying pan, lower the heat to medium-low and melt 4 tablespoons of the butter (half a stick). Add the celery, sauteing until soft. Remove to the same bowl as the cooked beef.

Return the same pan to the stove over medium-low heat and melt the remaining 4 tablespoons of the butter. Add the onions, sauteing until soft and fragrant.

Remove these, and any melted butter, to the large mixing bowl with the beef and celery. Allow to cool slightly before tossing with the cheese, salt and pepper.

When all of the elements are prepared and cooled slightly, preheat the oven to 350°F and coat a large casserole dish with cooking spray. Set aside.

Transfer the mixture to the prepared large casserole dish and bake for 30 minutes. Remove and allow to rest for 10 minutes before fluffing and serving.

If you've tried this recipe, please come back and let us know how it was in the comments or star ratings.
Notes
To save time, the ground beef, onions and celery can be sauteed at the same time in different skillets. I just like to save on dishes if I can!
This dish can easily be halved for weeknight meals. I'm usually making it for a large crowd. However, it is freezer friendly.
Nutrition
Calories:
4831
kcal
,
Carbohydrates:
281
g
,
Protein:
226
g
,
Fat:
308
g
,
Saturated Fat:
145
g
,
Polyunsaturated Fat:
11
g
,
Monounsaturated Fat:
112
g
,
Trans Fat:
15
g
,
Cholesterol:
975
mg
,
Sodium:
5137
mg
,
Potassium:
4726
mg
,
Fiber:
13
g
,
Sugar:
18
g
,
Vitamin A:
4847
IU
,
Vitamin C:
32
mg
,
Calcium:
1361
mg
,
Iron:
23
mg