When it comes to roasting a turkey, it can be a little daunting. There is always the worry that it turn out drier than the desert. There is only one foolproof method to avoid this. Brine that bird!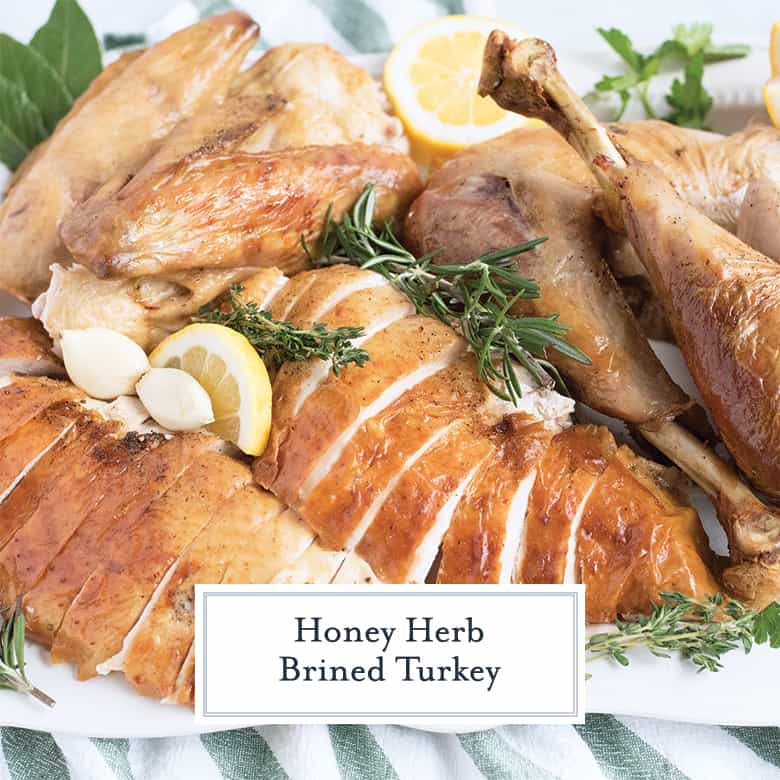 Honey Herb Brined Turkey is a wow-worthy recipe that will give you a tender turkey have your guests asking you what your secret is.
Between family plans, jugging schedules, and inevitable travel, the holiday season tacks on one more task to my docket, cooking. Now I love cooking, but the last thing I want to do is worry about the main dish.
This technique is a bonafide, 100% amazing, GAME CHANGER. I am an outspoken "disliker" of all things turkey, but this made me see the light. Not only was the bird tender and juicy, but it was also packed with so much flavor my tastebuds couldn't handle it.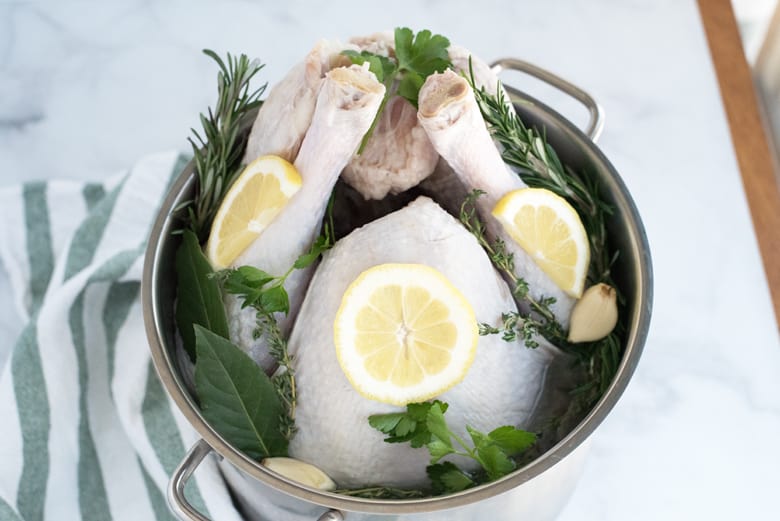 Whether you are a newbie or a seasoned pro this method is just the ticket you need for a perfect bird every time.
It took a while for me to jump on the brining bandwagon. These holiday meals are hard enough to pull off and adding another step to the process was the last thing that I wanted to do. Finally, I caved and had to see what the fuss was about.
Let's walk through the basics.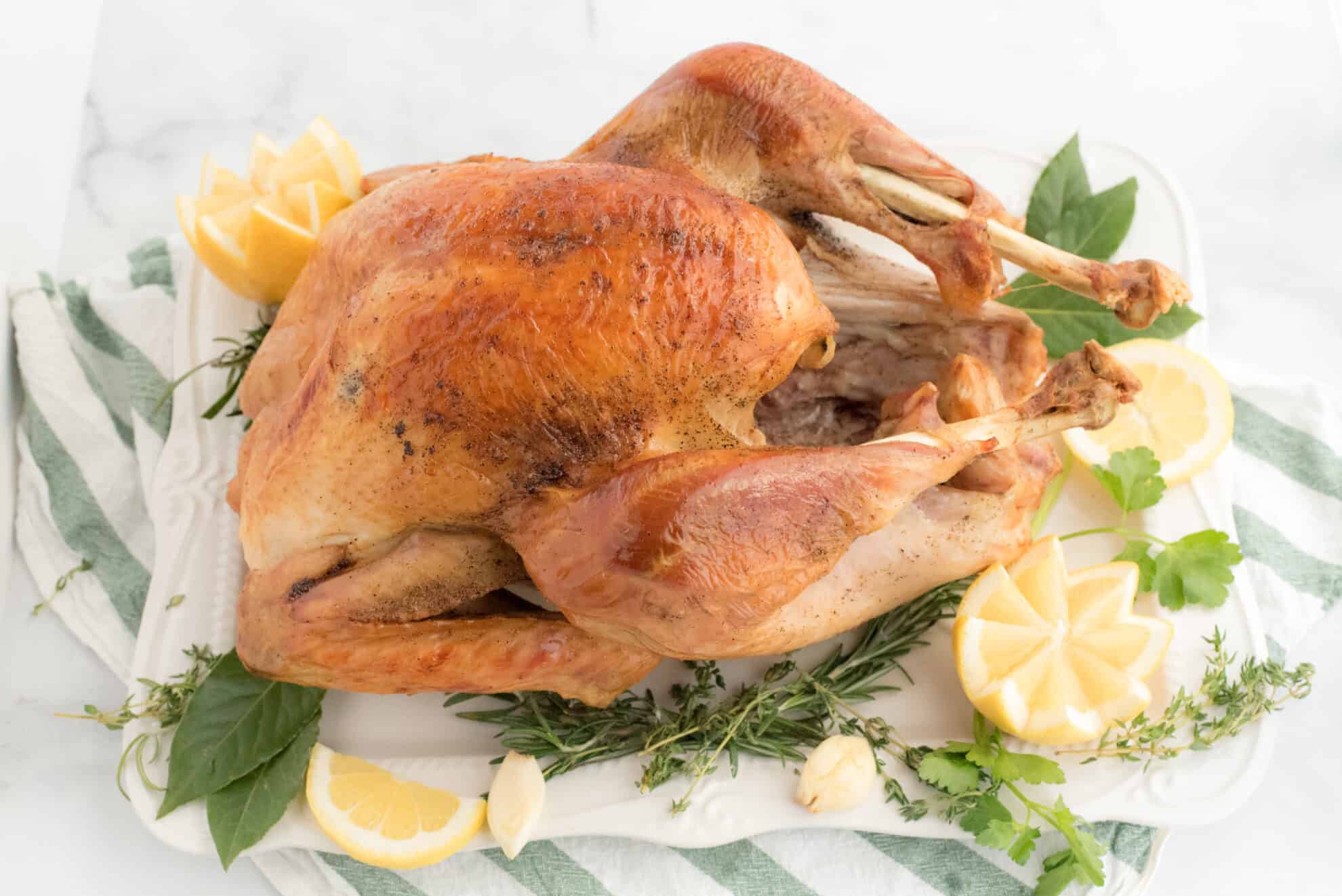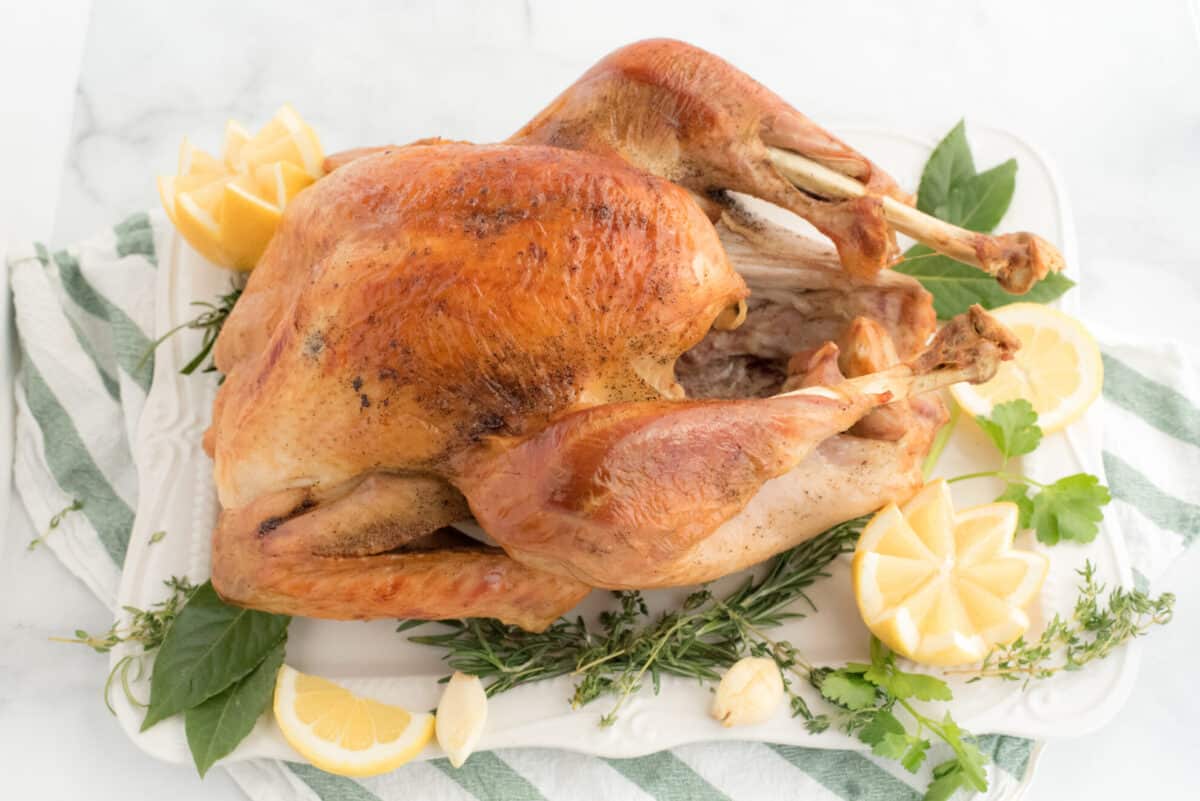 Why brine?
For meats that are relatively lean and low in fat (think turkey, chicken, quail if you are all fancy), you run the risk of them drying out during the cooking process.
Without getting too technical, by brining, you are coaxing moisture and seasoning (aka salt), into the meat and locking it there. You are seasoning it from the inside out.
Brines are often flavored with herbs and aromatics for that added the benefit of flavor. There are two methods of brining. You can do a wet brine or a dry brine.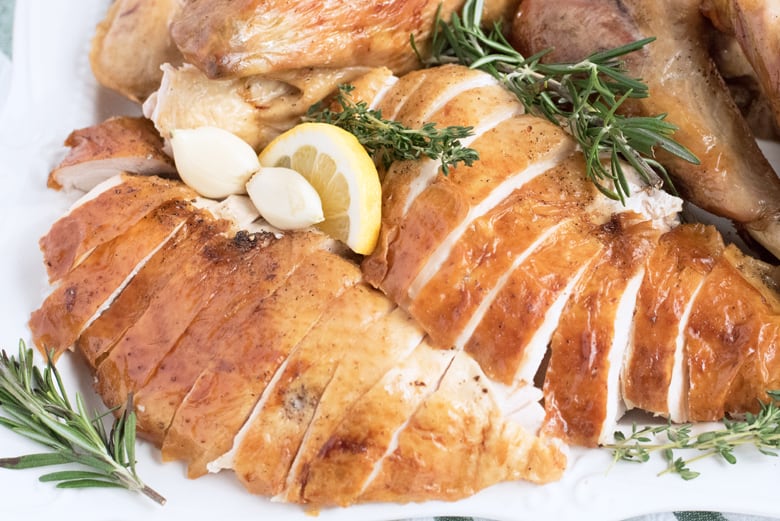 What is a wet brine?
The recipe below is an example of a wet brine. You are essentially creating a really salty solution to submerge your turkey in.
The bird then sits in this overnight (or longer) all the while soaking up the salty liquid and flavors. You rinse it the next day before roasting, but it holds onto all the juicy flavorful goodness.
What is a dry brine?
A dry brine is the same basic idea – add moisture to the meat – only without the water. Here a salt mixture is made and rubbed on the turkey. As it sits in the salty blend, moisture is drawn out, it then mixes with the salt, and is finally reabsorbed into the bird.
I prefer the wet brine to the dry brine because I can really get a lot of flavor into the meat. Plus the sugar in the honey will caramelize as the turkey roasts and help get that perfect golden skin.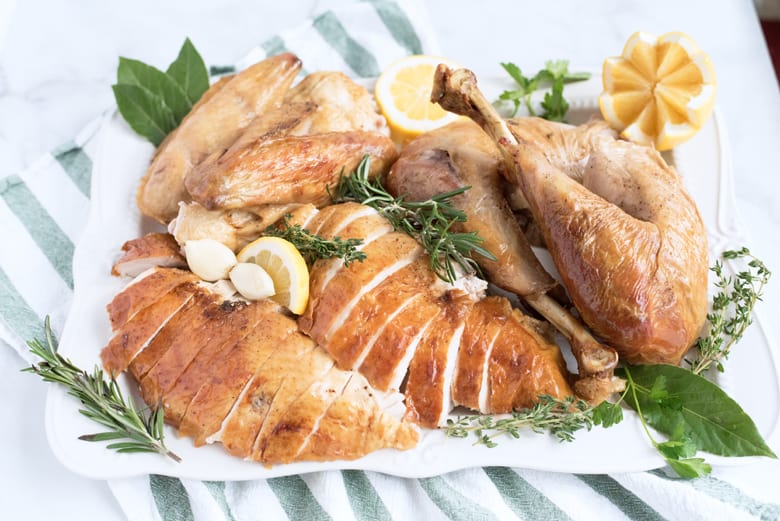 No matter your favorite method of roasting or stuffing your holiday showpiece, you should, without fail, add this step to your process. The difference between a brined bird and one that has not been brined is staggering.
Think of it as eating in black and white and eating in Technicolor. You will do it once and never look back.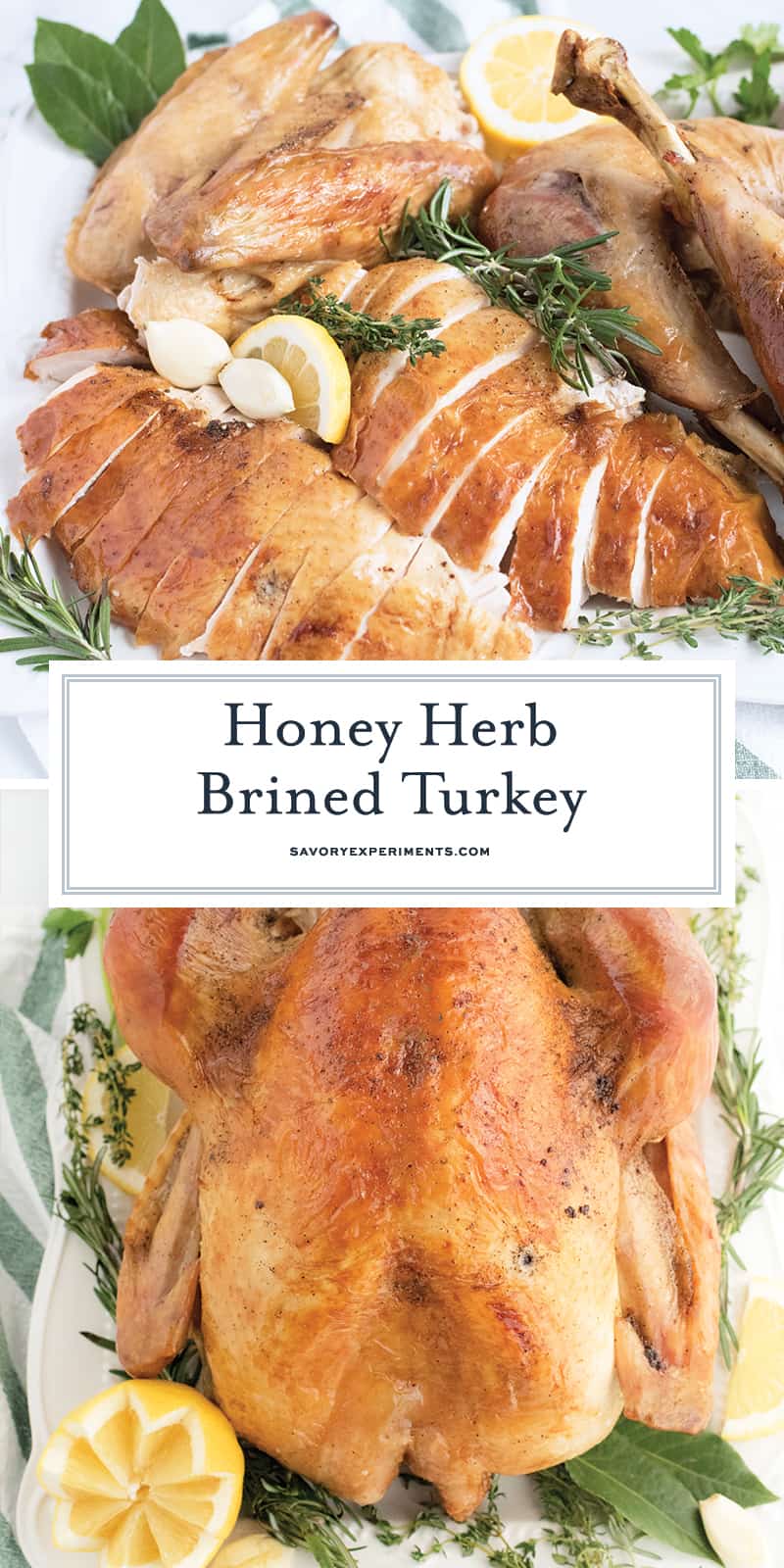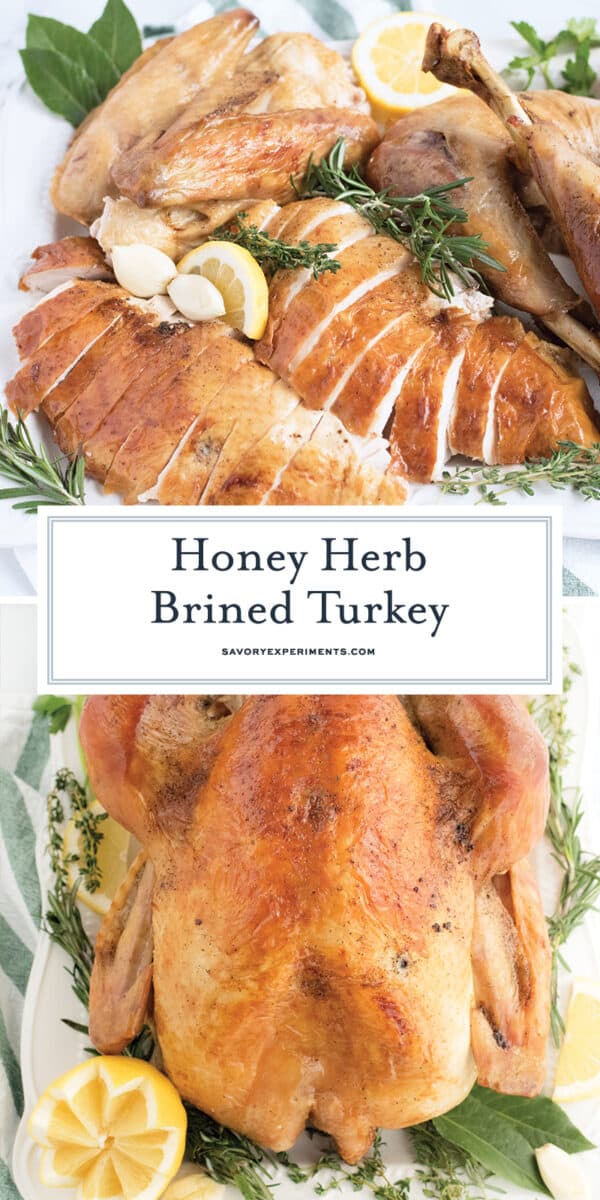 Also check out our favorite Thanksgiving side dish recipes and holiday desserts!