The illusive perfect meatball. Not all meatballs are created equal and not all are made the same way.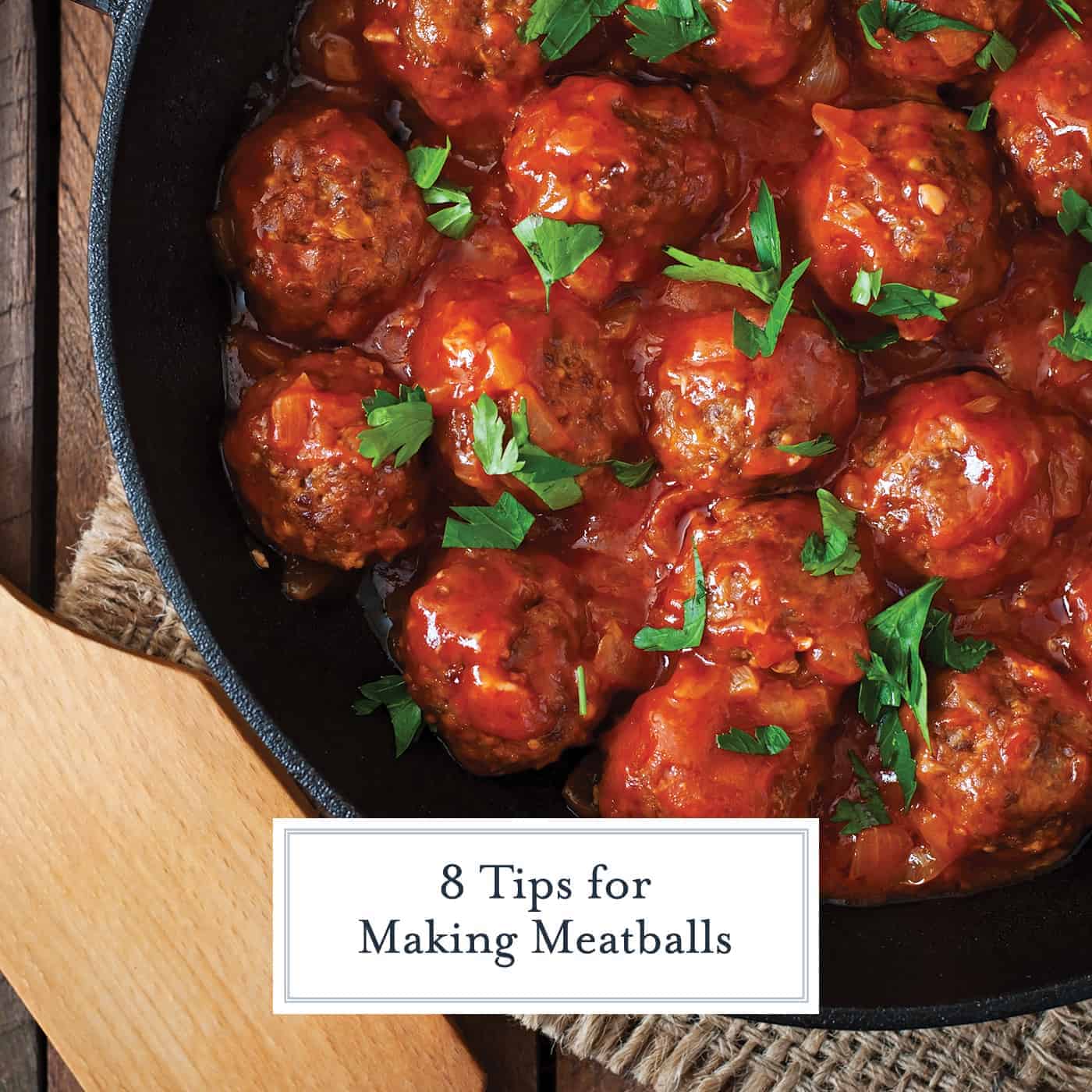 Read my 8 tips for making meatballs that can be applied to any meatball recipes, plus my secret Italian meatball recipe!
A Swedish meatball is a little more dense, as is a cocktail meatball. Those that are stuffed need more binder to ensure no ingredients seep out, but an Italian meatball should be moist, juicy, flavorful and oh, so smooth.
Here are my tips for perfect meatballs!
Bread
It is essential for binding and many recipes call for breadcrumbs. Breadcrumbs can create a dense meatball because they are dry, and therefore little moisture sucking bombs. For Italian Meatballs, I use fresh white bread soaked in a liquid, this is called a panade.
It is used to keep many ground meats tender during long cooking processes and is ideal for meatballs. You can vary your flavor based on the type of bread (or starch) and liquid.
For Italian Meatballs, you want the flavors to shine through, so I use a plain white sandwich bread and my secret weapon as a liquid, read on to see what it is!
For other recipes, try brioche, sour dough, saltine crackers or other other herbed breads.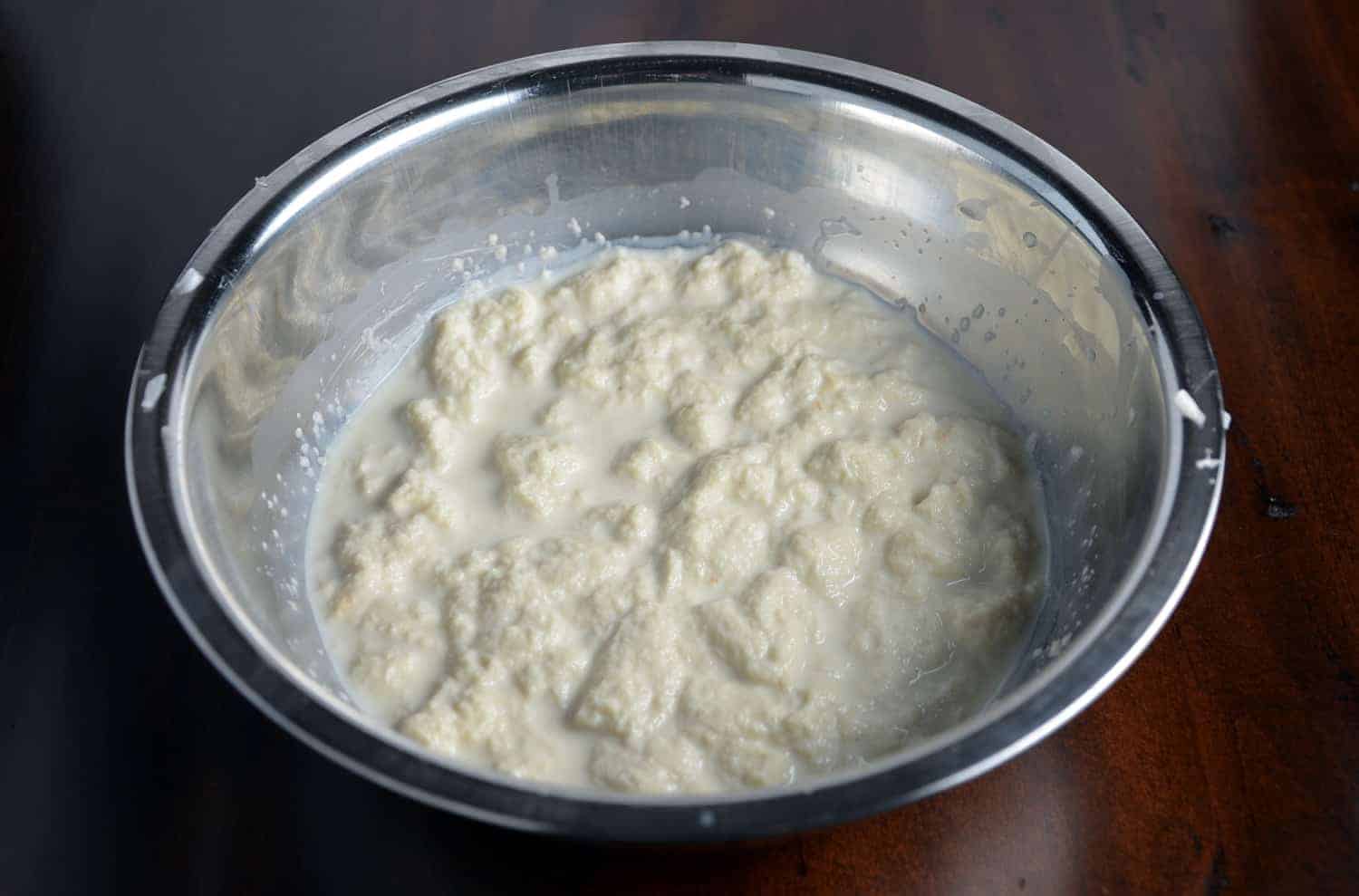 Liquid
You will need some liquid, but not too much. My mother always used milk, which works well, but I've found that evaporated milk works even better.
I've seen some use buttermilk, but this turns out a little sour, and red wine sounds delicious, but is often too bitter. Beef stock can always be used in a pinch, but is a little too watery and evaporates fast.
Meat
Just like meatloaf, equal parts ground beef, pork and veal lends to the best meatball. The combination of flavors and fat creates the ideal texture. You can omit one and choose just two or just one based on availability and price.
One this is for sure, fat is important in making meatballs. Do not opt for the super lean (and super expensive) beef blends. Aim for an 80/20 mix or more.
Mixing
Do not over mix! Over mixing makes for chewy and tough meatballs. Use your hands, versus an electric mixer, and toss instead of blend.
I blend all of my binders and herbs before adding the meat(s) and then break all of my meats into smaller pieces before adding. Then I gently toss until incorporated.
Herbs & Flavor
They are essential for a great Italian Meatball. You can use dried herbs, but they will not bind as well, resulting in cracked or crumbling meatballs. They will also suck moisture. Onion and garlic are always necessary for flavor.
Instead of dicing, mince or grate these ingredients so they are super fine. You can even throw them in the food processor. Grating onion and garlic will also release more moisture that has oodles of flavor.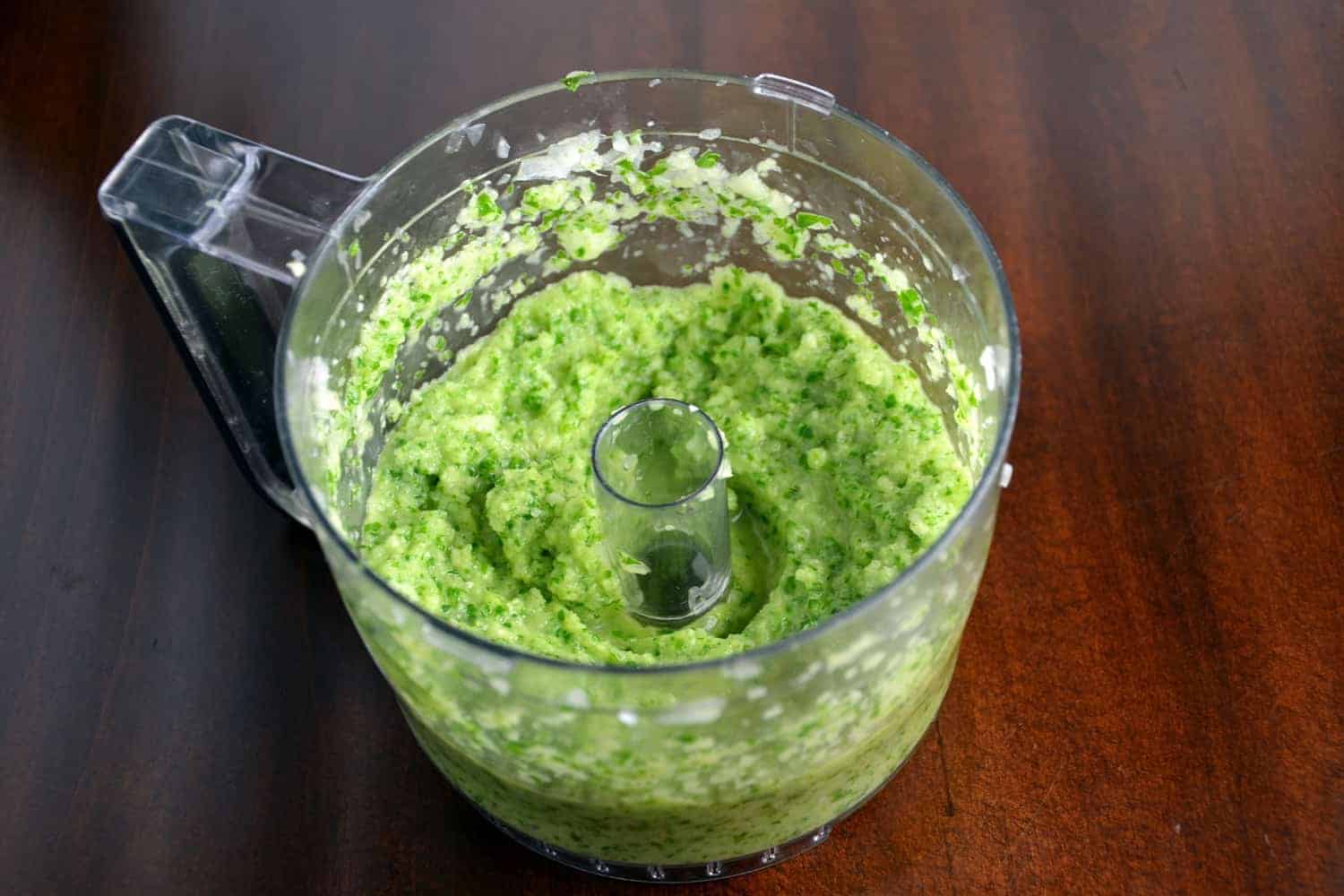 I also like to add a small amount of beef bullion granules to heighten the flavor. Since I don't source my meat from the same place all the time, I can't guarantee that the flavor will always be the same, so I give it a leg up. A
Also, add salt, but not too much! Salt accentuates flavor, but too much becomes just plain salty. I prefer using a mild Maldon, coarse sea or Kosher salt.
Forming
This is a place where the meat can be over handled. Take small portions and toss them from one hand to another to pack it in instead of rolling or kneading.
Browning
Oh, this is a big debate! Some will cook their raw meatballs directly in the sauce and others swear that browning for flavor is necessary. I fall some place in the middle.
I like to brown the outside in the oven on a broiler pan. This allows heat to circulate around each meatball, sealing in all the juices, but allowing for excess fat to drip off and not end up pooled in my sauce. The centers will still be pink, if not raw, but simmering in the sauce will complete the cooking process.
Browning will change the flavor profile of the meat and actually create acidity. There isn't a right or a wrong, simply a "what do you prefer?"
Simmering
Which brings me to the next important piece. Again, there is a big debate. Some believe that simmering in sauce will lead to overcooked meatballs. Some say that the sauce keeps meatballs moist.
Others say you will lose flavor to the sauce and then people like me, know that you need to lose some of the flavor to sauce to make a great sauce! I don't find they end up overcooked as long as the hours of simmering are on a super low temperature and the meatballs aren't overcooked before entering the sauce.
Here are all of my delicious meatball recipes:
Ranch Meatballs
With simple ingredients and 35 minutes, you can make these delicious EASY Ranch Meatballs for dinner! A great way to spice up your spaghetti and meatballs!
Homemade Spaghetti and Meatballs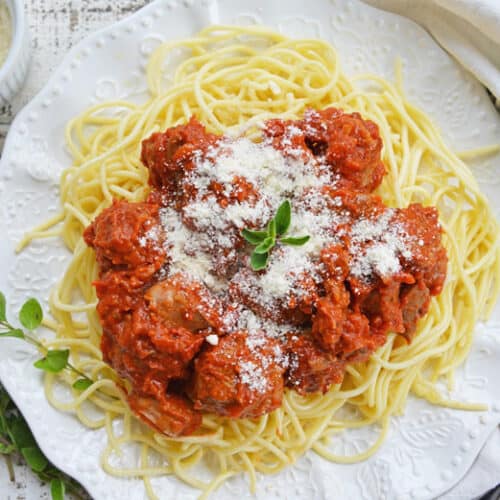 Homemade Spaghetti and Meatballs just the way mom makes them. Just a handful of ingredients makes the perfect sauce.
Instant Pot Cranberry Meatballs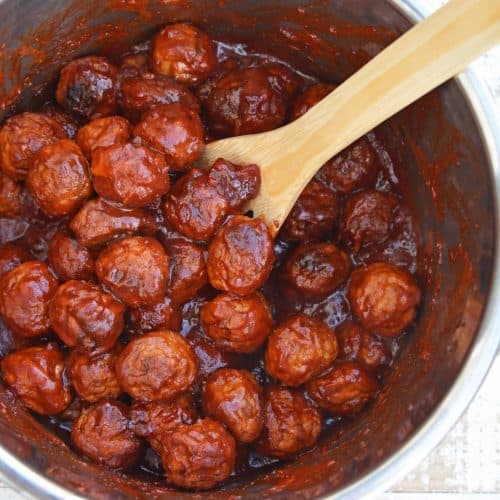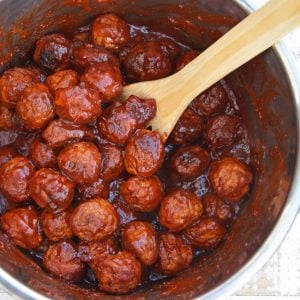 Cranberry Chili Meatballs are always a party appetizer favorite, especially around the holidays. Party meatballs don't get easier than these Instant Pot meatballs made with cranberry sauce and sweet chili sauce. Yum!
Cheesy Garlic Meatball Bombs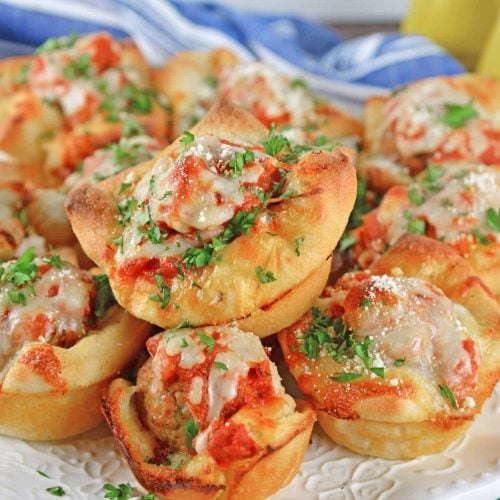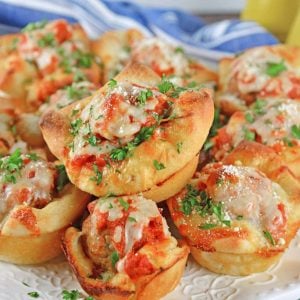 Cheesy Meatball Bombs are easy little meatballs bites covered in marinara sauce, mozzarella cheese and wrapped in pizza dough.
Best Italian Meatball Recipe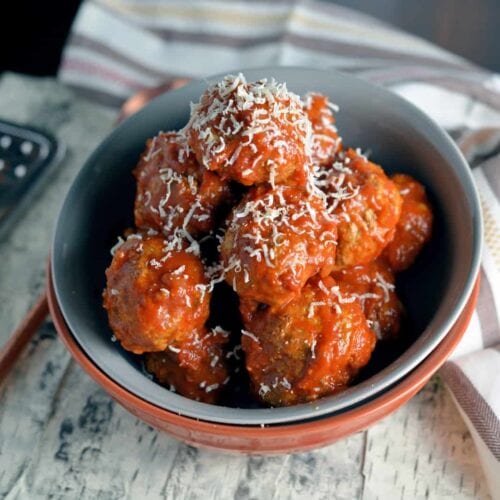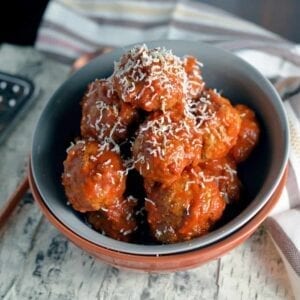 Best Italian Meatballs uses a blend of meat, spices and one special ingredient to make the tastiest, fork-tender meatballs you've ever seen!
Grape Jelly Meatballs
Grape Jelly Meatballs are easy to make with only THREE ingredients! Perfect for throwing into the crockpot as a party appetizer!