Classic Minestrone Soup comes with a long list of ingredients. What if I told you I can cut down the list and add even more flavor and a super-rich, robust broth by using just one secret ingredient?
This post is sponsored by Prego®, however all thoughts and opinions are 100% my own. #sponsored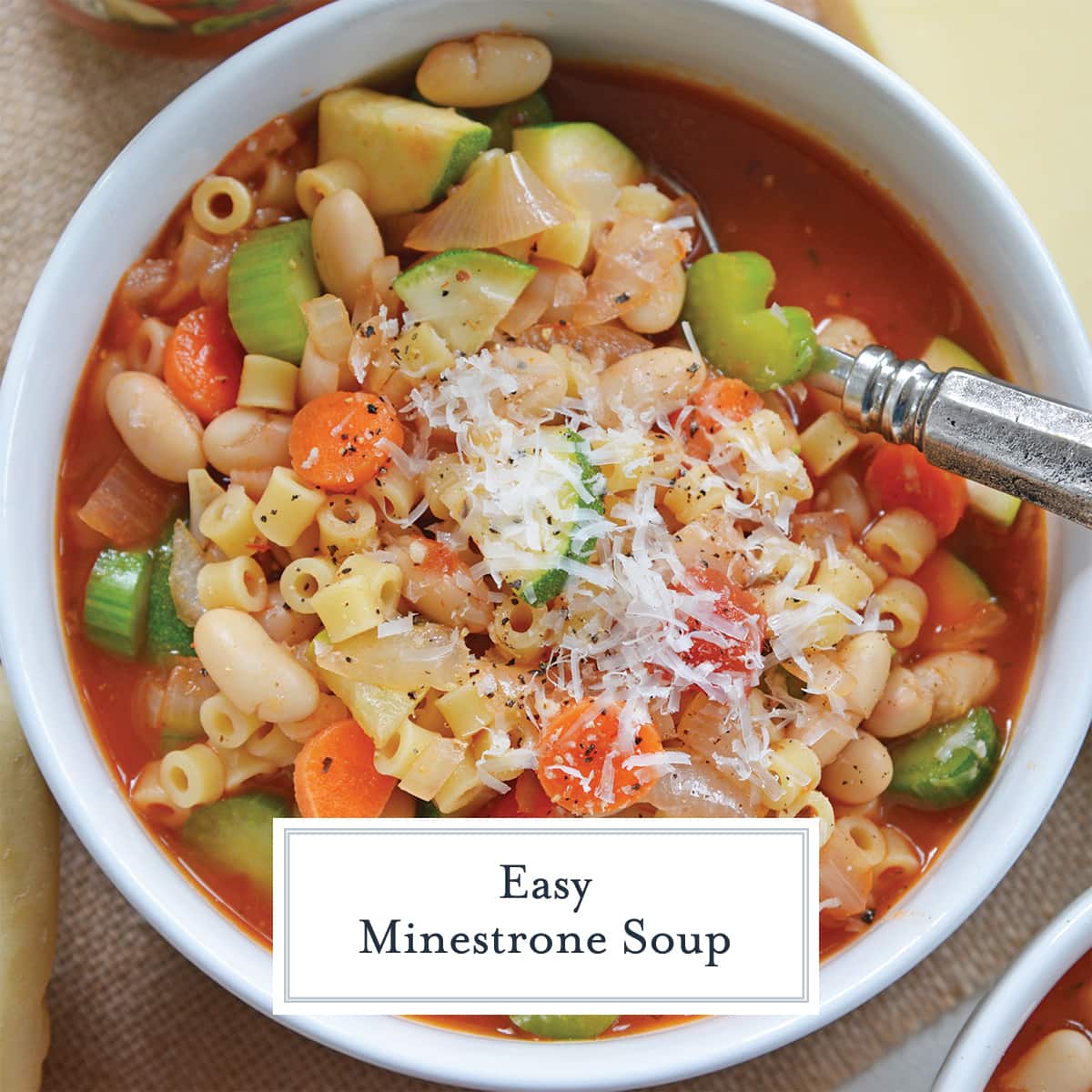 Secret Ingredient
The secret ingredient is Prego Traditional Pasta Sauce. Minestrone Soup recipes include tomato broth or fresh tomatoes along with a host of fresh Italian herbs, garlic and onion.
However, Prego includes ALL these ingredients in one jar, saving you time and effort in the kitchen but still offering outstanding results. No chopping or adding a long list of fresh or dried herbs and spices.
Prego Traditional is gluten free and uses vine-ripened tomatoes for the perfect balance of sweet tomato taste. A true pantry staple.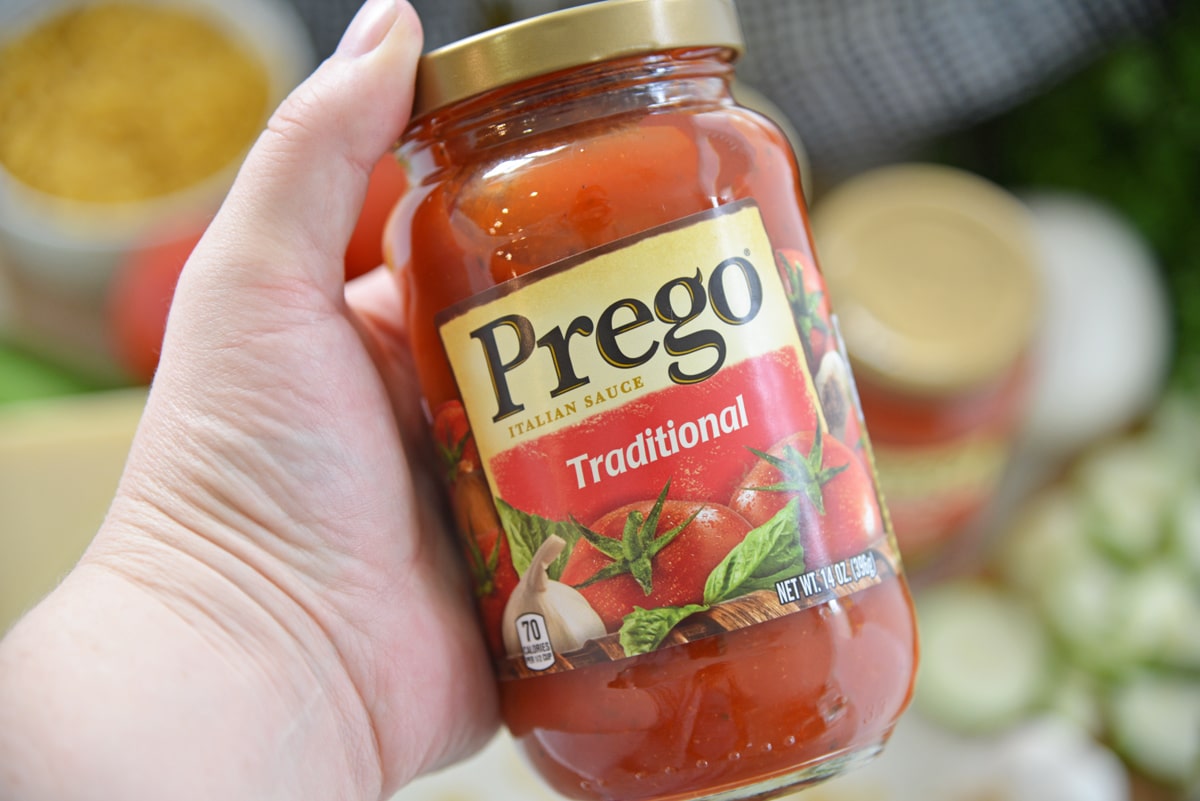 Minestrone Soup Ingredients
The word "minestrone" means thick vegetable soup, so there is a little prep and chopping to pack in all those veggies. But the soup broth is a breeze when using Prego since it already has rich flavors and thick texture built right in.
Small pasta and beans are the other two elements to make this soup a standout whether you are serving it as a light entrée, with a salad or for an appetizer.
Olive Oil – Extra virgin olive oil is always the best and more robust for soup bases.
Fresh Vegetables– Onion, garlic, carrots, celery and zucchini make up the perfect blend of flavors. Chop in a variety of shapes to vary textures.
Cannellini Beans – Any white, buttery bean will do.
Broth – Vegetable broth keeps this a vegetarian soup recipe, but if you want to use chicken, be my guest. And honestly, the tomato sauce has enough flavor on its own that if you just wanted to use water, you'd still have a fully flavorful soup.
Pasta – Small, bite-size pasta shapes are generally used, such as ditalini. If making it for kids, try one of the ABC pastas to make it more fun.
Parmesan Cheese – Adding Parmesan makes the broth creamy and thick enough to coat the back of a spoon. I also like to add a little more on top of each serving. The parmesan rind has a more pungent flavor.
Salt & Pepper – Season to taste, freshly ground pepper and coarse sea salt are always my top picks. You can throw in a little italian seasoning if you'd like too.
Lemon – I learned this tip from a chef long ago and now I apply it to every single soup I make: a splash of something acidic right before serving brightens the broth. In this case, I used lemon, but apple cider vinegar is another swap.
Pasta sauce – This is my secret ingredient. It removes the need for having to use tomato paste and also has so much flavor.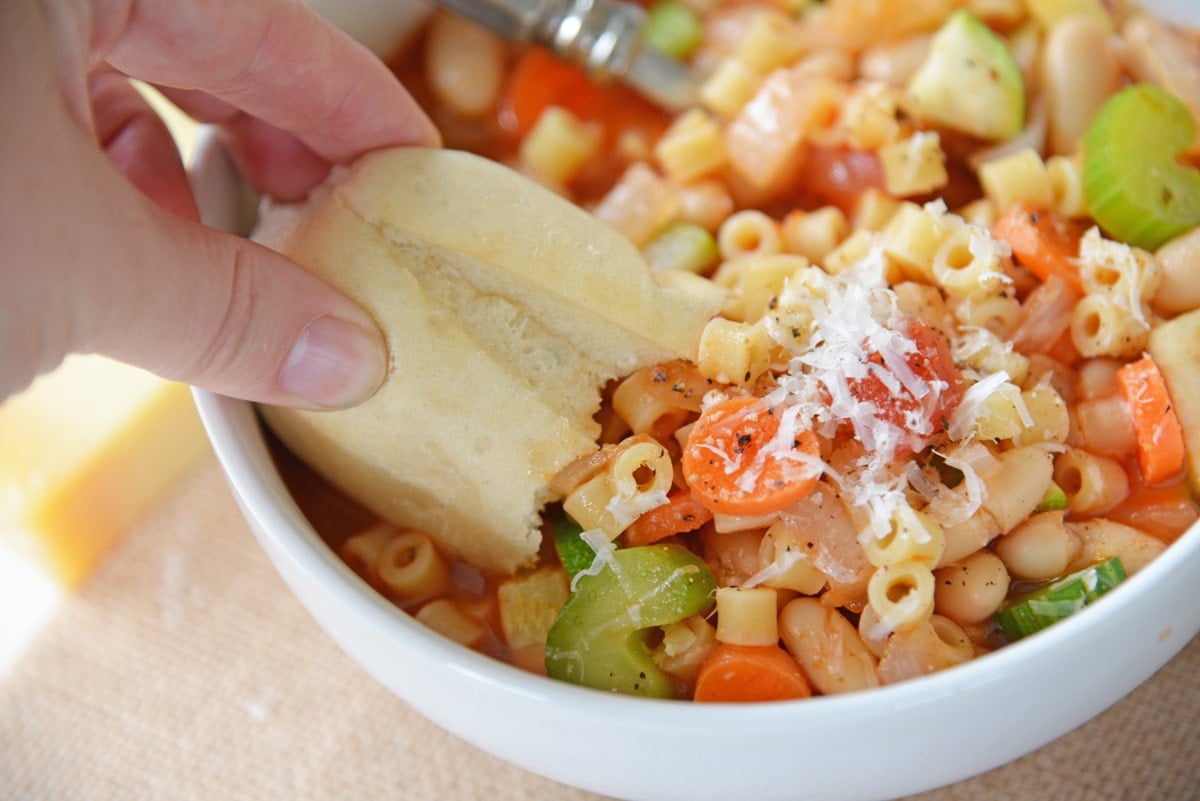 How to Make Minestrone Soup
Making the soup is easy and since Prego Traditional is already packed with highly developed and sophisticated flavor, you won't need to let it simmer for hours on end.
Sauté garlic and onion, allowing them to soften, then add other vegetables. I like to soften just slightly to leave a toothy texture, but if you prefer softer, sauté for an additional 3-4 minutes.
Add Prego Traditional Sauce to the mix, blending with your choice of liquid, vegetable or chicken broth or water so it comes to a soup-like consistency.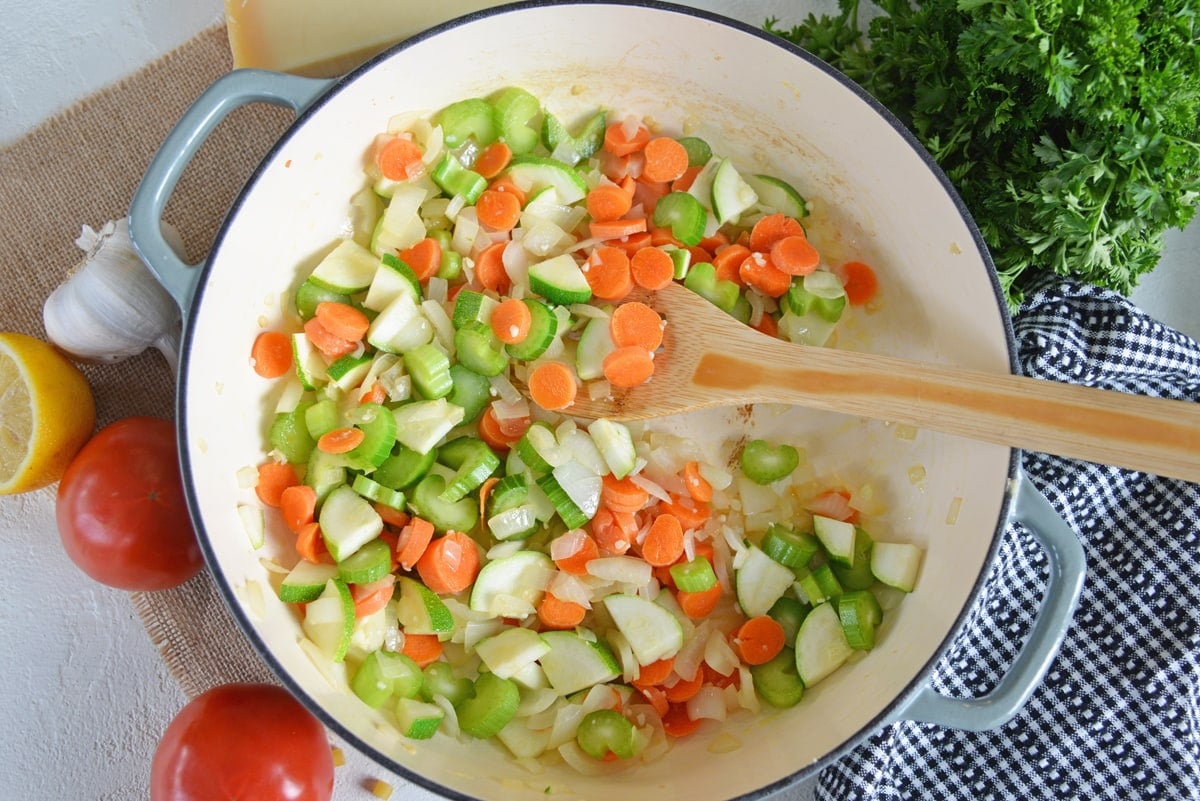 Stir in cooked pasta, cannellini beans and Parmesan cheese. Allow to heat thoroughly, about 3-4 minutes.
Right before serving, add a splash of fresh lemon juice and season with freshly ground pepper and salt.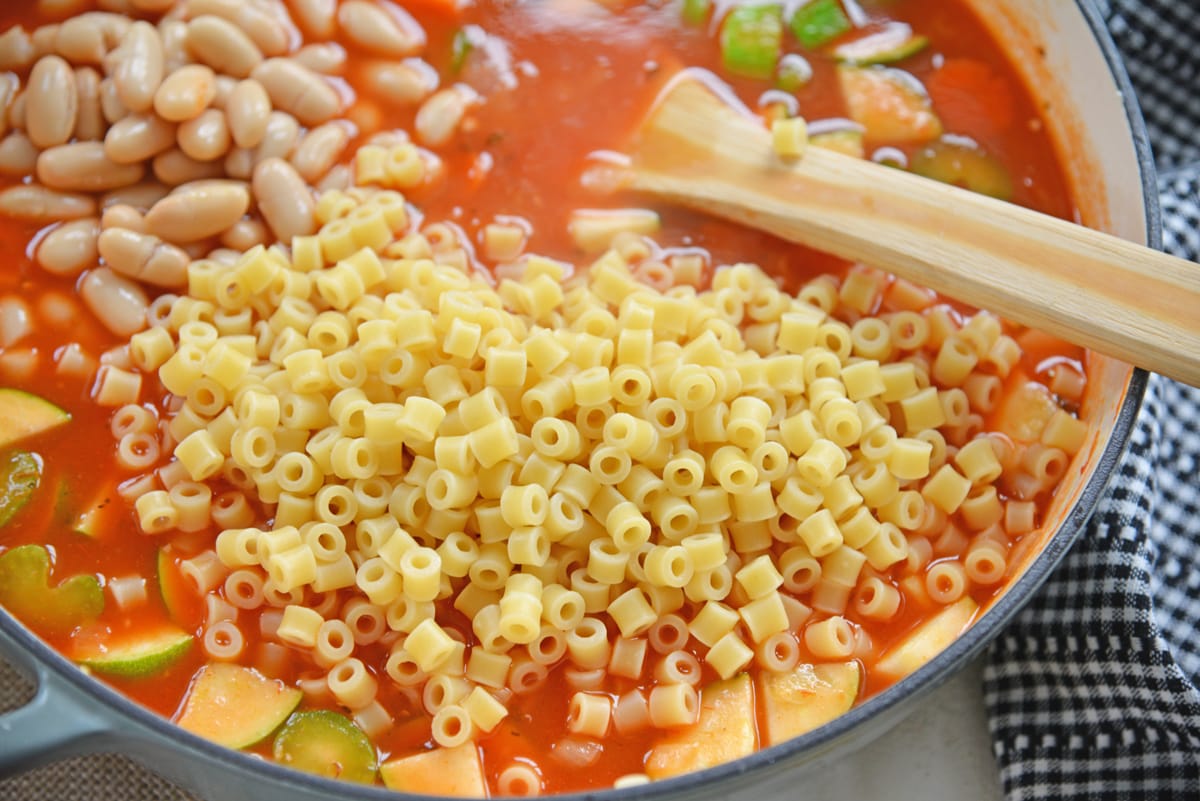 What to Serve With Minestrone Soup
Because Italian minestrone soup is made with a variety of vegetables, it can really be a whole meal in and of itself. However here are a few suggestions on what to serve with it.
Crusty bread – I personally like to use garlic bread, but any crusty bread will do. You can sop up the broth and add a little crunch to your meal.
As a side – You can serve this soup as an addition to any Italian meal. I would recommend serving with something like chicken parmesan or beef braciole.
As an appetizer – You can also use this traditional minestrone soup recipe as a starter to any meal.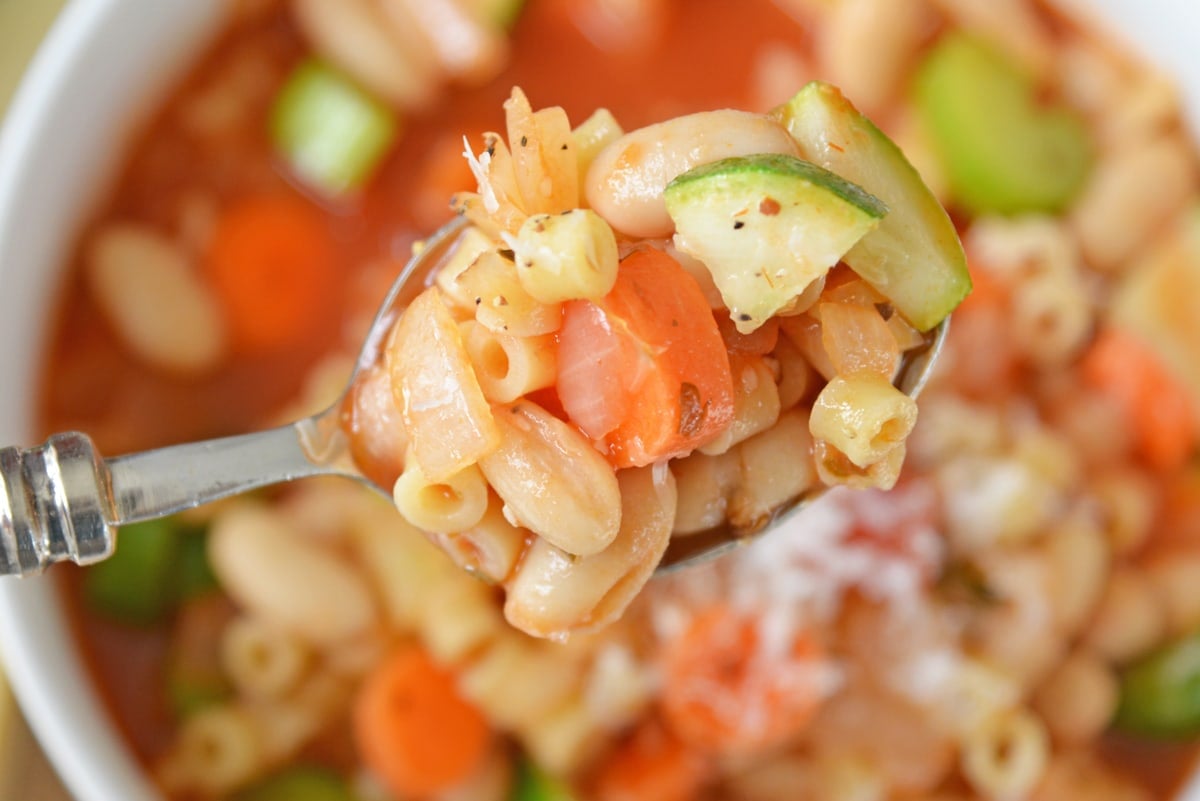 Variations
Vegetables – You can really use any mix of fresh vegetables that you'd like. Some other great options include green beans, white beans, red kidney beans, yellow squash, red beans or butternut squash. If you find yourself at a farmers market with fresh veggies, grab some seasonal vegetables to really make the perfect soup.
Protein – If you want to make this an extra hearty soup, consider adding some protein. I would suggest either ground beef, ground chicken or even ground turkey.
Make it spicy – Want to add a little heat to this minestrone recipe? Add a sprinkle of red pepper flakes, or even a dash of hot sauce.
Pasta noodles – The type of pasta you use is based on personal preference. I like to use small pasta shapes to better fit on the spoon. The small shells are a great option, but you could also swap it out for wild rice if you'd like.
Seasoning – Fresh herbs are always a good way to add a little extra something to a hearty italian soup. some suggestions would be a bay leaf, fresh basil or oregano.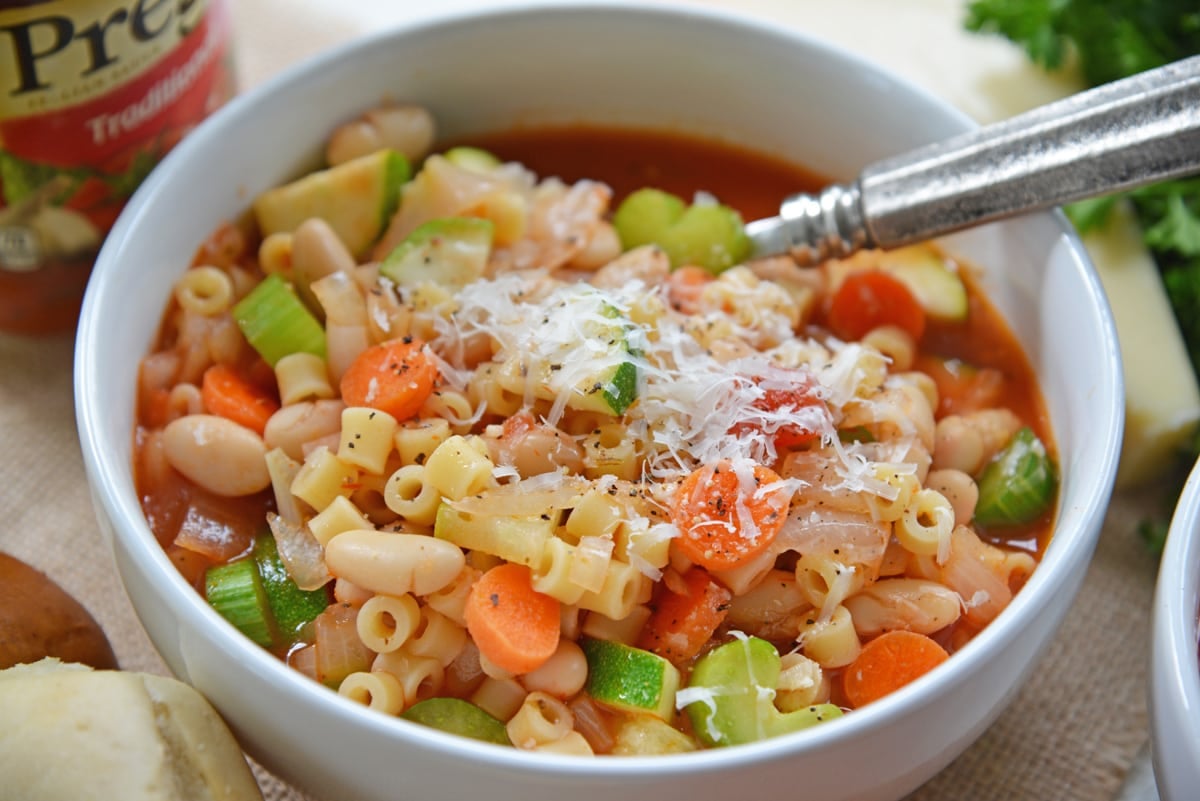 Storage, Make Ahead and Freezing
Storage: Store any leftovers in an airtight container in the refrigerator for up to three days.
Make ahead: If you want to make this soup ahead, prepare all the broth with the exception of lemon juice and cooked pasta. Cook the pasta, but store it separately. When you are ready to serve combine them all in a saucepan and heat.
Freezing: This easy minestrone soup is freezer friendly before the addition of pasta. Just add it to a freezer-safe container before you add the pasta. It will stay for up to three months.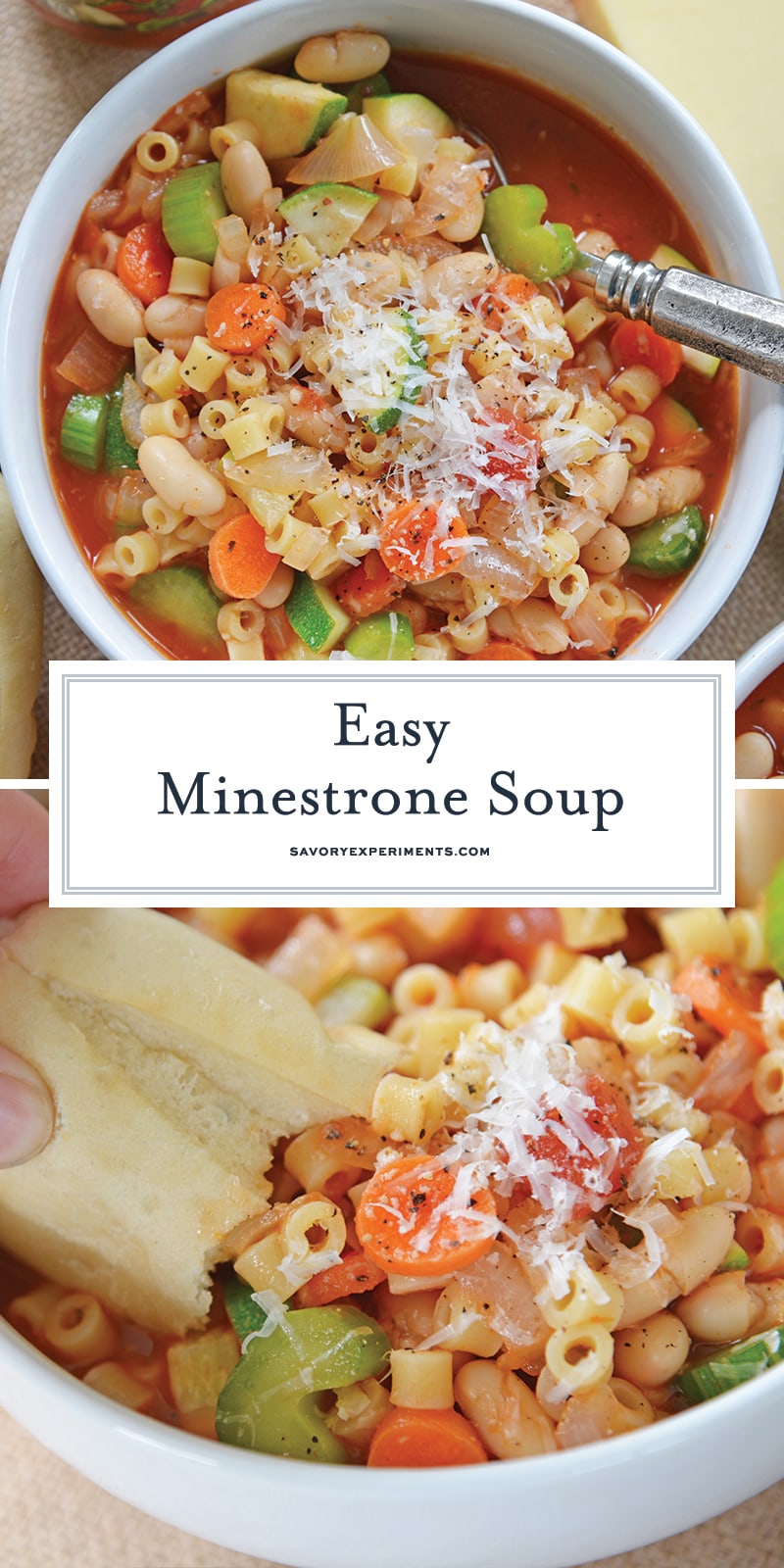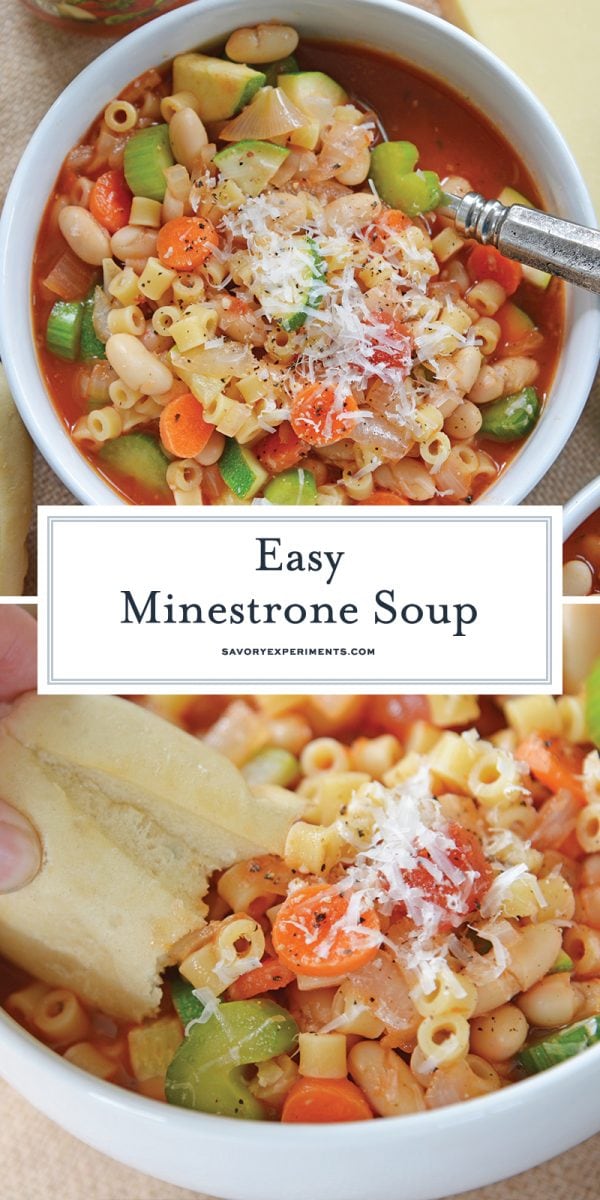 More Easy Soup Recipes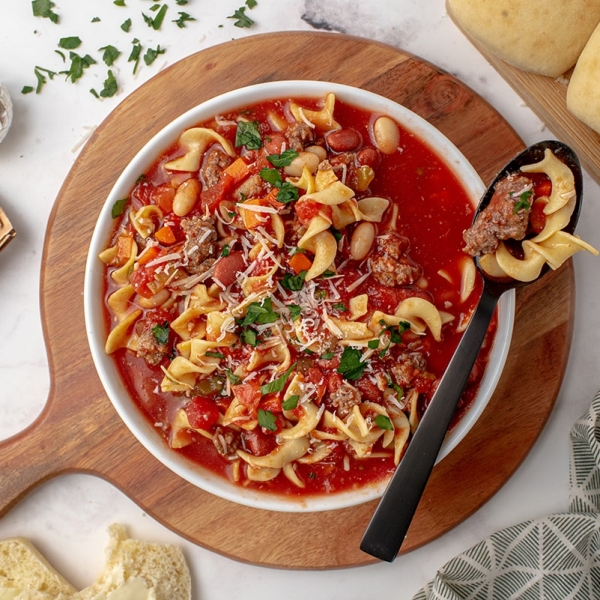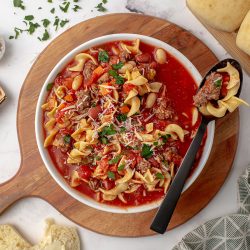 Pasta e Fagioli Soup
Whether you call it Pasta e Fagioli or Pasta Fagioli, this EASY soup recipe is hearty and delicious. Full of authentic Italian flavors in just 30 minutes!
See The Recipe!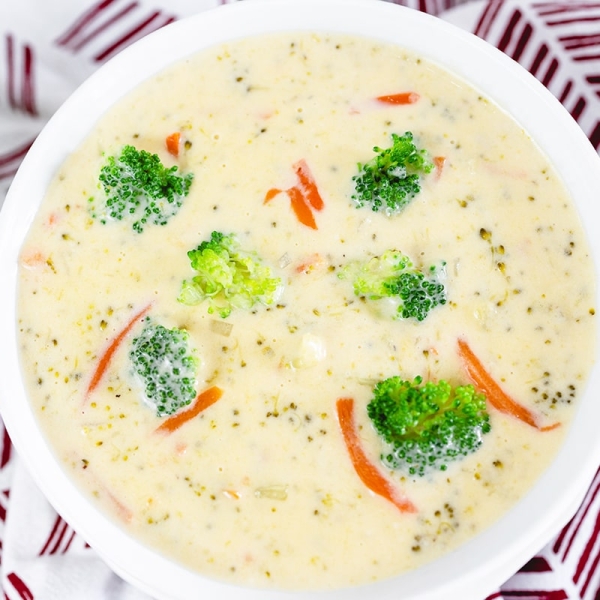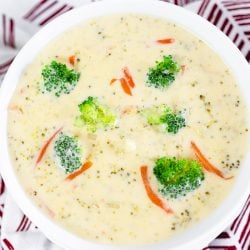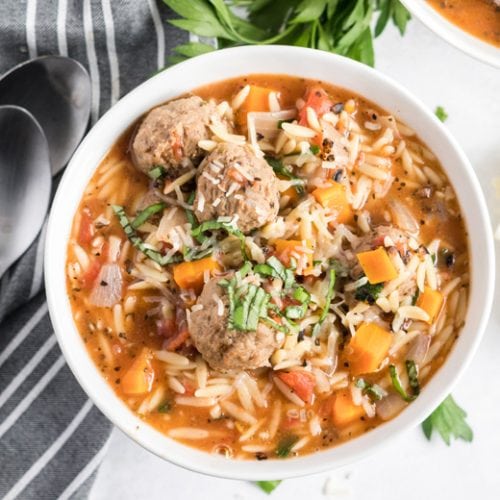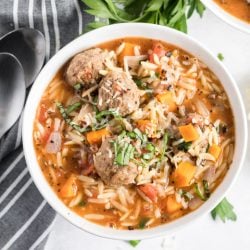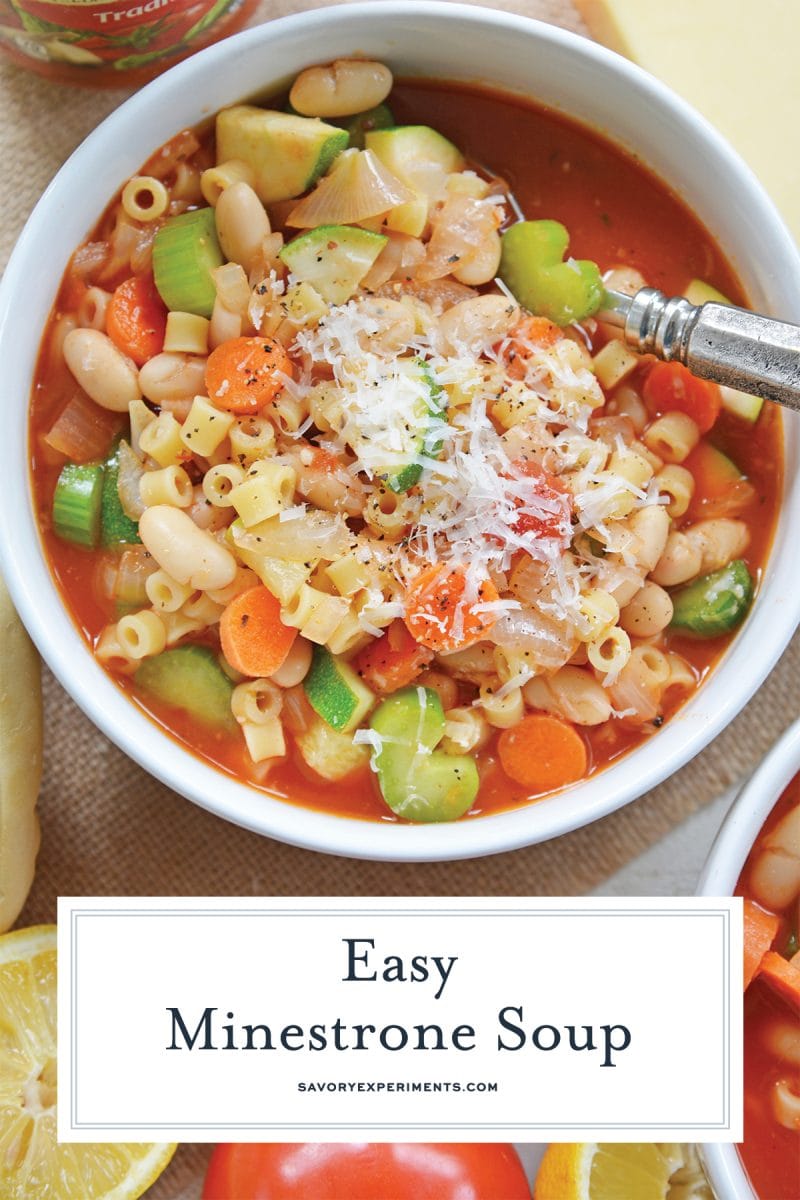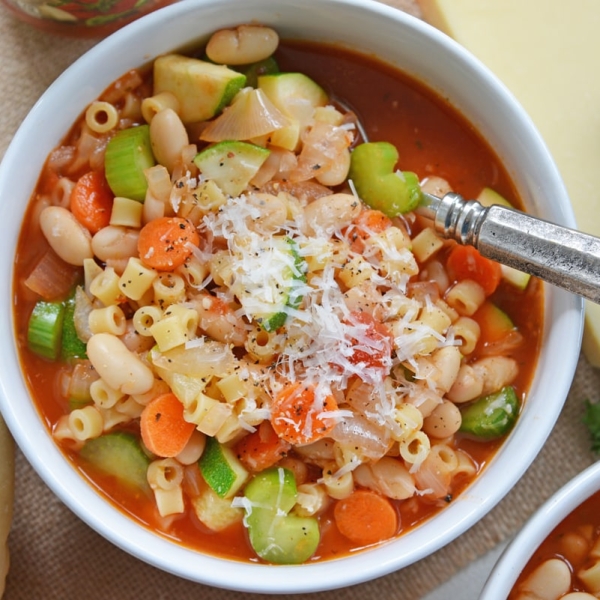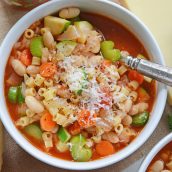 Rich Minestrone Soup
Thick, rich and delicious Minestrone Soup that uses one secret ingredient that cuts your prep, chop and cook time in HALF! You'll put this on the weekly menu.
Ingredients
2

tablespoons

olive oil

¾

cup

white onion

, chopped, about 1 medium onion

2

cloves

garlic

, minced

¾

cup

carrot

, sliced, about 2 medium carrots

¾

cup

celery

, sliced, about 3 ribs

¾

cup

green zucchini

, chopped, about 1 medium zucchini

14

ounce

jar Prego® Traditional Pasta Sauce

2

cups

vegetable broth

15

ounces

canned cannellini beans

, rinsed and drained

2

cups

ditalini pasta

, cooked to al dente according to package directions

2

tablespoons

Parmesan cheese

, finely shredded

1

tablespoon

fresh lemon juice

Freshly ground black pepper & coarse salt

, to taste
Instructions
In a large saucepan or Dutch oven, heat the olive oil over medium heat. Add the onion and garlic, cooking until soft, about 3-4 minutes.

About 10 minutes before serving, add the cannellini beans, cooked al dente pasta and Parmesan cheese.

Allow to heat thoroughly.

Add the lemon juice and correct seasoning with salt and pepper right before serving.

Top with additional Parmesan cheese, seasonings and serve with crusty rolls or bread.

If you've tried this recipe, come back and let us know how it was in the comments or ratings.
Nutrition
Calories:
389
kcal
,
Carbohydrates:
69
g
,
Protein:
15
g
,
Fat:
6
g
,
Saturated Fat:
1
g
,
Cholesterol:
1
mg
,
Sodium:
965
mg
,
Potassium:
976
mg
,
Fiber:
8
g
,
Sugar:
10
g
,
Vitamin A:
3432
IU
,
Vitamin C:
15
mg
,
Calcium:
117
mg
,
Iron:
4
mg