Satisfy your craving for Italian with this amazing low-carb Vegetarian Zucchini Lasagna. It's comfort food minus the carbs. Tonight, we are going to manga bene (eat good)!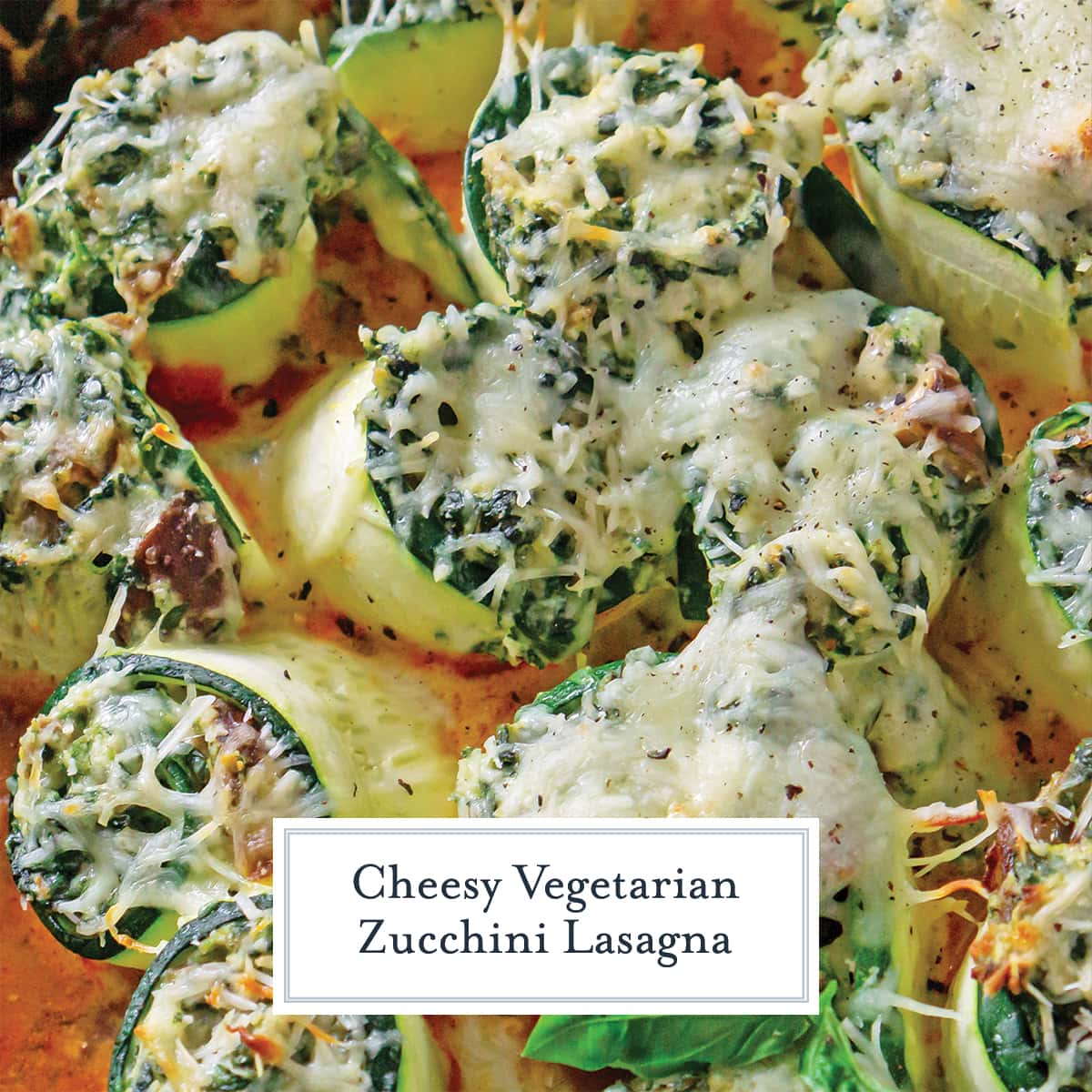 This vegetarian lasagna recipe is here to please. It's easy to make, packed with flavor, nutritious, and hearty. That's right ladies…the men in your life won't have time to miss the meat or the regular lasagna.
I love this lasagna recipe because it is perfect for any time of year. When you are craving Italian in the summer, this is a great recipe for all those fresh veggies. Looking for comfort food in the winter? It's got you covered.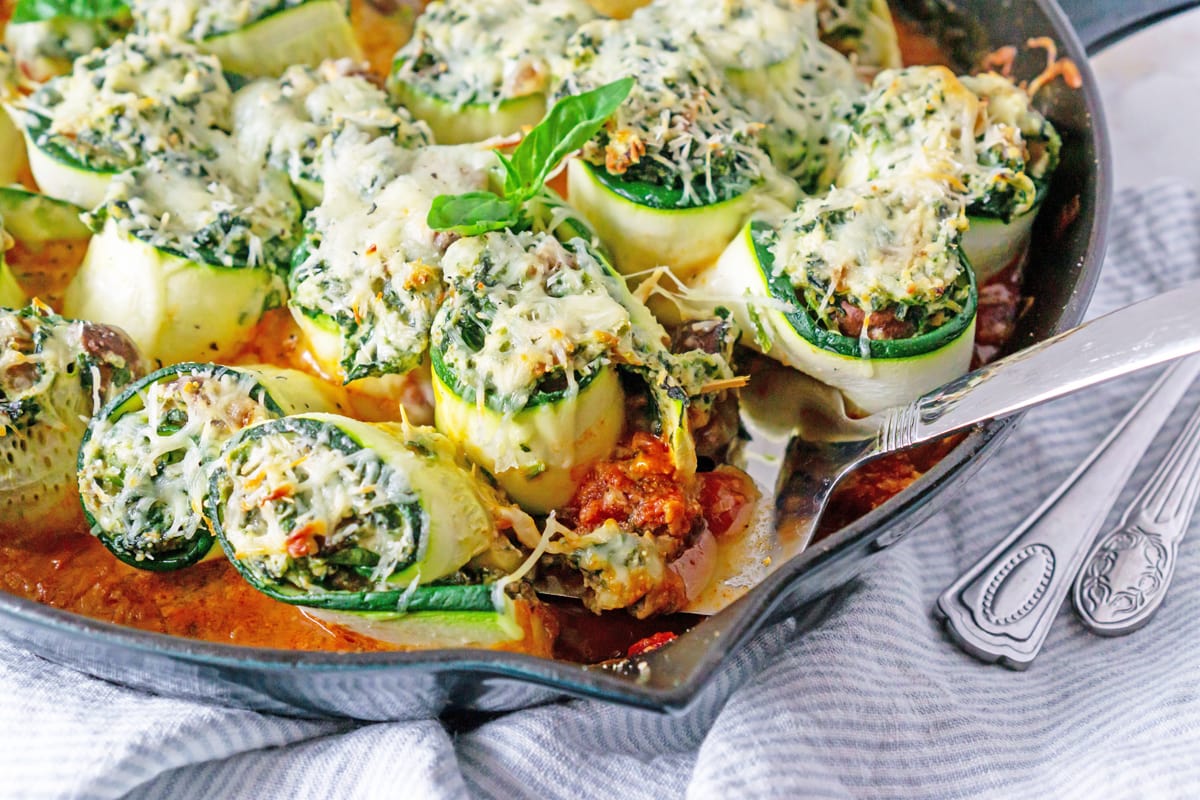 Vegetarian Zucchini Lasagna Recipe
Forget pasta! In just under an hour you can make an incredibly delicious (and hearty) lasagna!
This dish is perfect on its own if you aren't looking to prepare a feast. However, if you are like me…I love a good side dish…this vegetable lasagna pairs perfectly with:
Ingredients
Vegetables: Grab everything from your garden (or fridge), we are going to need zucchini, mushrooms, and spinach.
Dairy: I wholeheartedly believe one of the best parts of lasagna is the layers of cheese! To make those layers in this recipe you will need to use full fat ricotta cheese, mozzarella cheese, and parmesan cheese.
Wet ingredients: I used white cooking wine, however you can use a dry white wine if that is what you have handy, marinara sauce, and an egg.
Spices: To pull those Italian flavors we all know and love, you will need to use onion, garlic, fresh basil, and some salt and pepper to taste.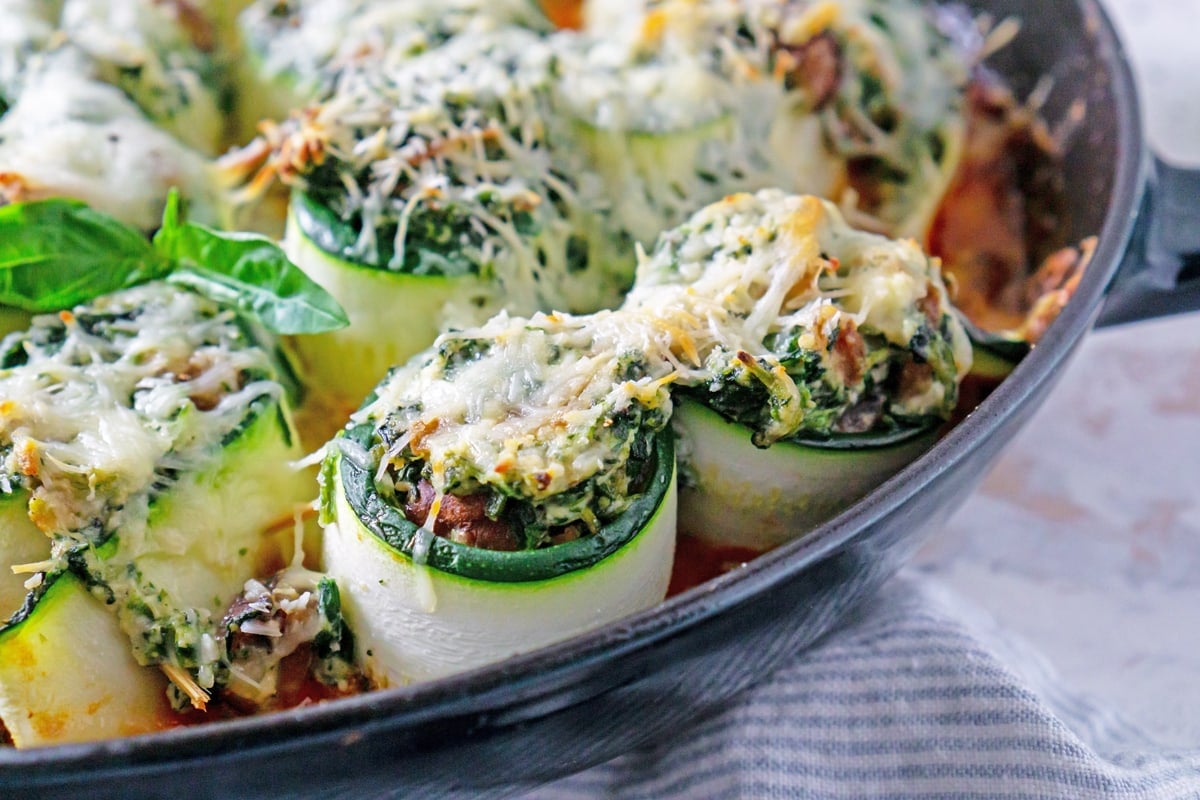 And if your folks absolutely, positively need meat… you can still add them to a few or all of the lasagna rolls. You'll only need about 1/2 cup of cooked and drained ground beef or ground pork sausage.
How to Make Zucchini Lasagna
Slice the zucchini. Slice zucchini 1/8″ thick on a mandoline or using a sharp knife. Lay sliced zucchini on a cutting board that is covered with a kitchen towel or paper towels.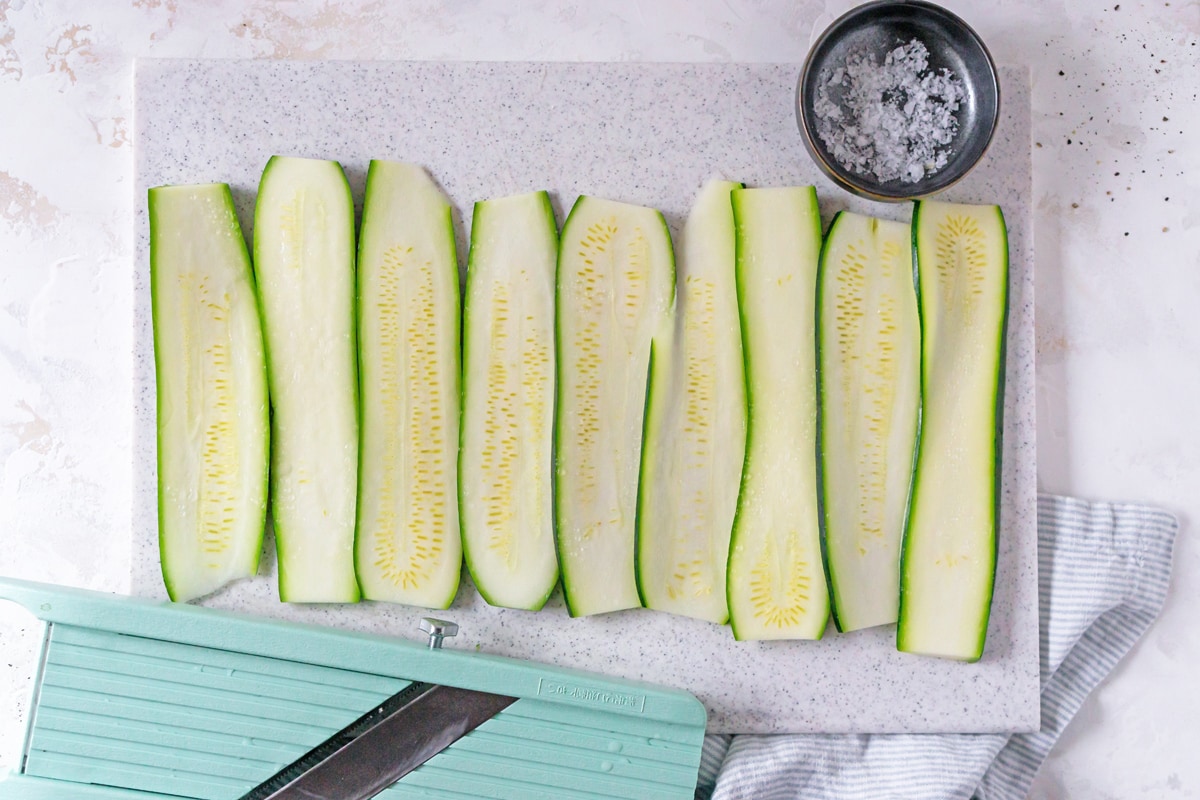 Sprinkle each slice with a pinch of salt and let them sit, this helps it release some of the water. Pat each zucchini slice off.
Make the filling. Heat oil in a large cast iron skillet (you'll use this pan later to bake the lasagna rolls). Sauté the mushrooms, onions, and garlic together until browned.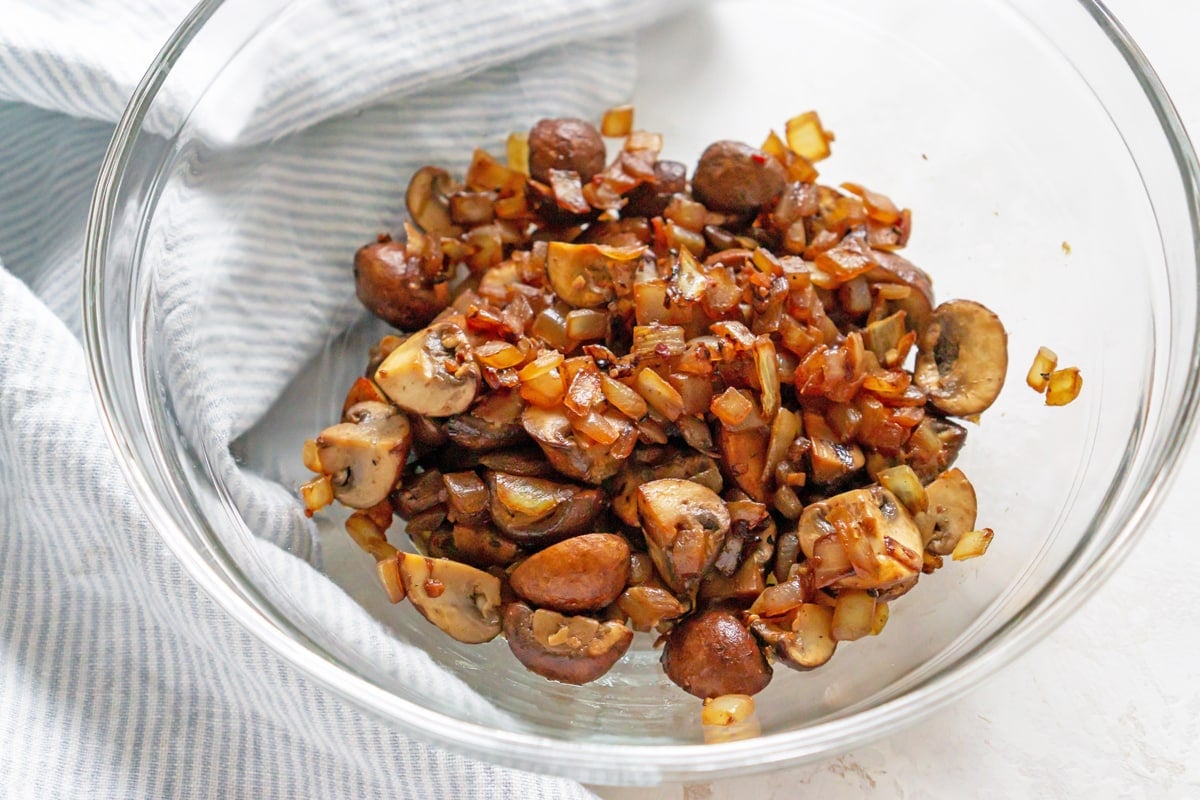 Pour in white wine, stir, scraping brown bits off the bottom of the pan. Remove pan from heat and allow to cool almost completely.
Combine the zucchini lasagna filling. In a medium sized mixing bowl, use a fork to combine the mushroom mixture with the ricotta cheese, egg, spinach, salt, and pepper.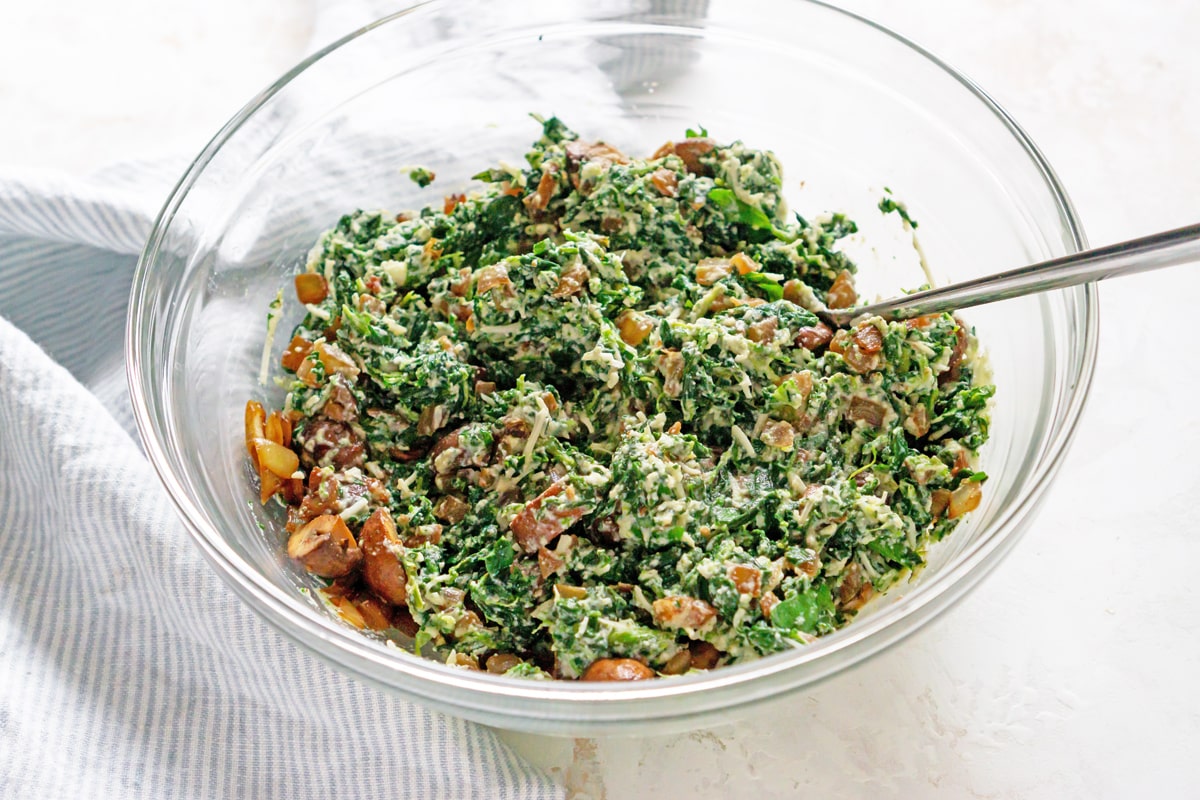 Then stir in chopped basil and shredded cheeses.
Assemble the lasagna. Spread part of the marinara sauce into the bottom of the skillet. Then begin assembling the zucchini rolls by spreading about a tablespoon of the cheese mixture on each piece of zucchini.
Roll tightly. Place each roll on top of marinara sauce in a baking dish so it's standing upwards. Repeat with the rest of zucchini. If you have extra filling, spread on top of zucchini rolls.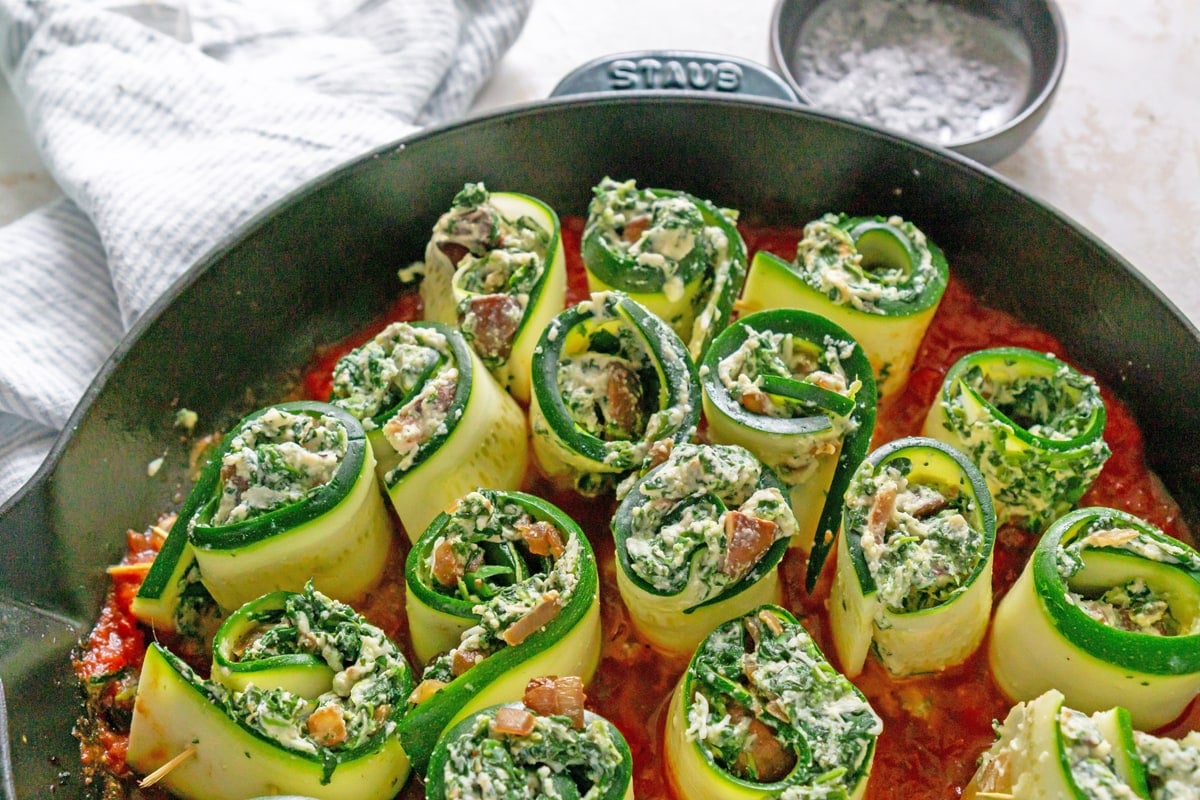 Pour the rest of marinara sauce on top and sprinkle with more mozzarella cheese and parmesan cheese.
Bake the lasagna. Place skillet in oven and bake until cheese begins to brown. Top with more fresh basil (or cheese) if desired.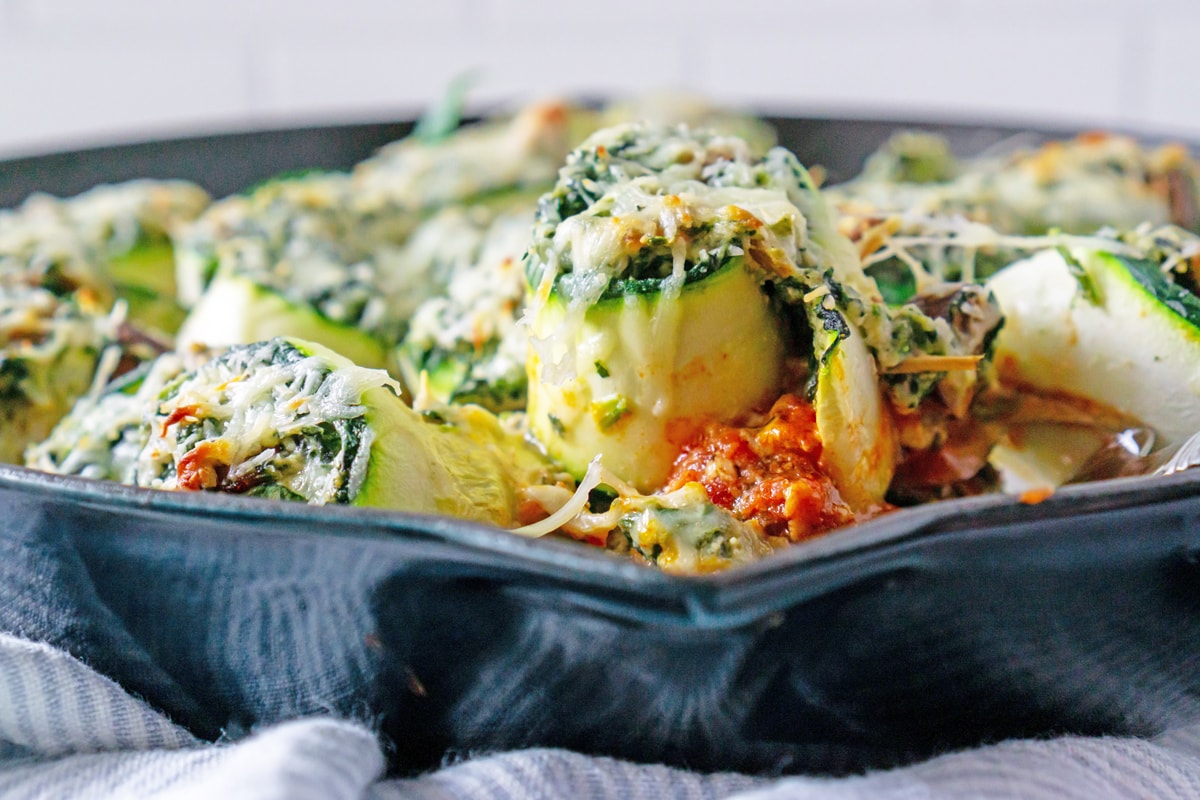 What do you use to cut zucchini for lasagna?
The best way to cut zucchini for lasagna is to use a mandoline. However, if you don't have one, it is not the end of the world…or this recipe, you can use a sharp knife.
Slice zucchini 1/8″ thick on a mandoline or using a sharp knife. Whatever you use, be careful! Sharp knives are actually safer than dull knives and always use the safety guards when using a mandoline.
Too watery?
Great zucchini lasagna has a pretty sturdy structure for it being food. So, the last thing you want is runny or watery lasagna making it impossible to cut and serve. Below are a few tips I've learned over the years:
Do not add extra water to your recipe or to your sauce. Marinara sauce is meant to be thick and baking it will further reduce the water so you get a rich thick, sauce.
Do not slice your zucchini any less than 1/8 inch, then it reduces to paper thin pieces and doesn't have the toothy texture of being pasta.
Zucchini is a watery vegetable, so you want to make sure you salt it. Salting your zucchini will soak up some moisture (make sure to let it sit for a few minutes).
After salting and before cooking blot your zucchini with a paper towel, this will pull up any additional moisture and the extra salt.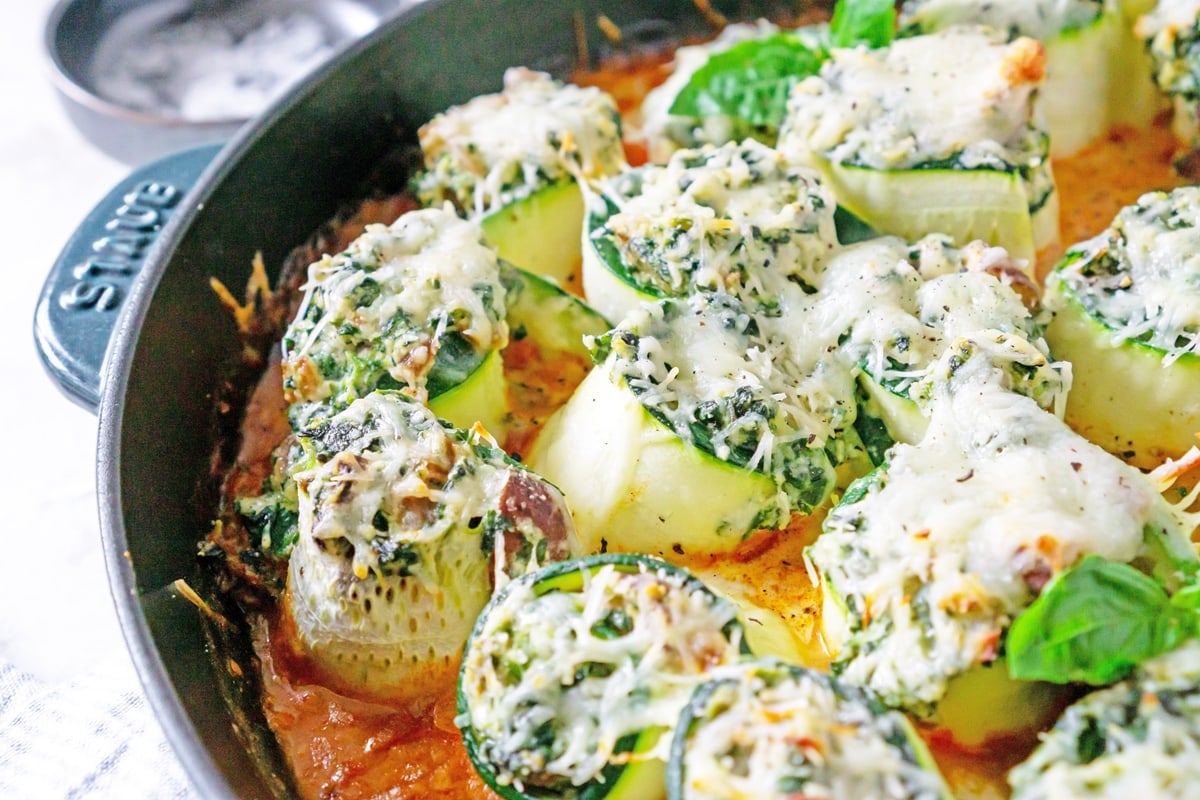 Storage & Freezing
Zucchini lasagna can be stored in the fridge for up to 5 days in an airtight container.
If you are planning to make it ahead, assemble everything right up until baking the whole dish. Place it in the fridge until you are ready to make it.
This dish can also be frozen in an airtight container for about 8 weeks. The trick here is that it is best reheated from frozen rather than allowing it to thaw. This prevents it from getting too watery and soggy.
This also means you'll need to freeze it in a container that you can throw in the oven and this takes up a good amount of space.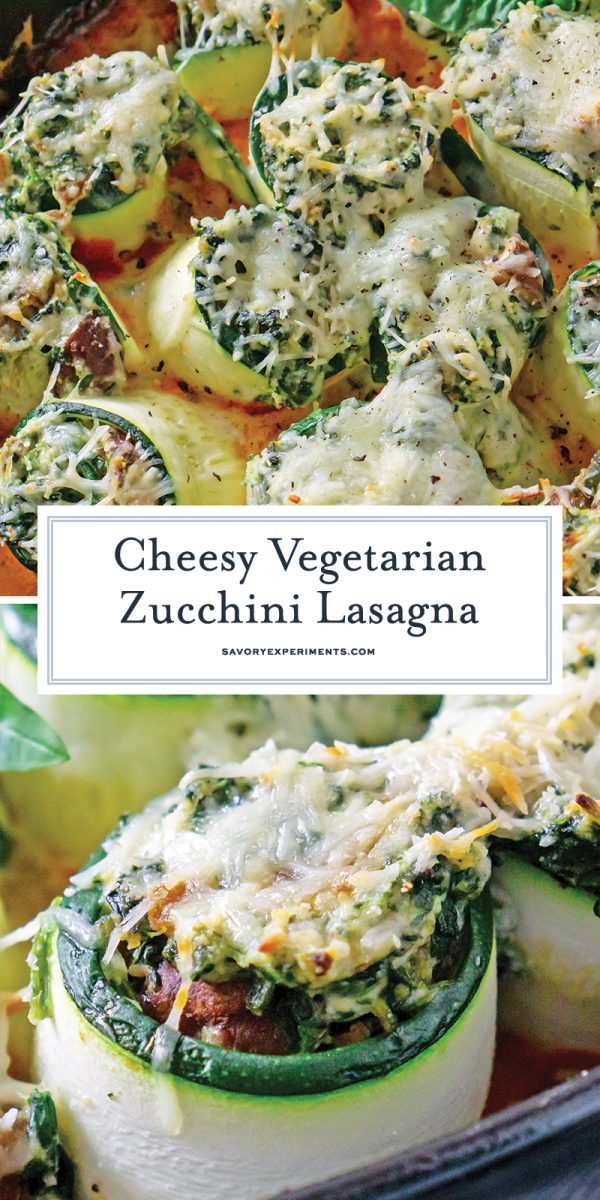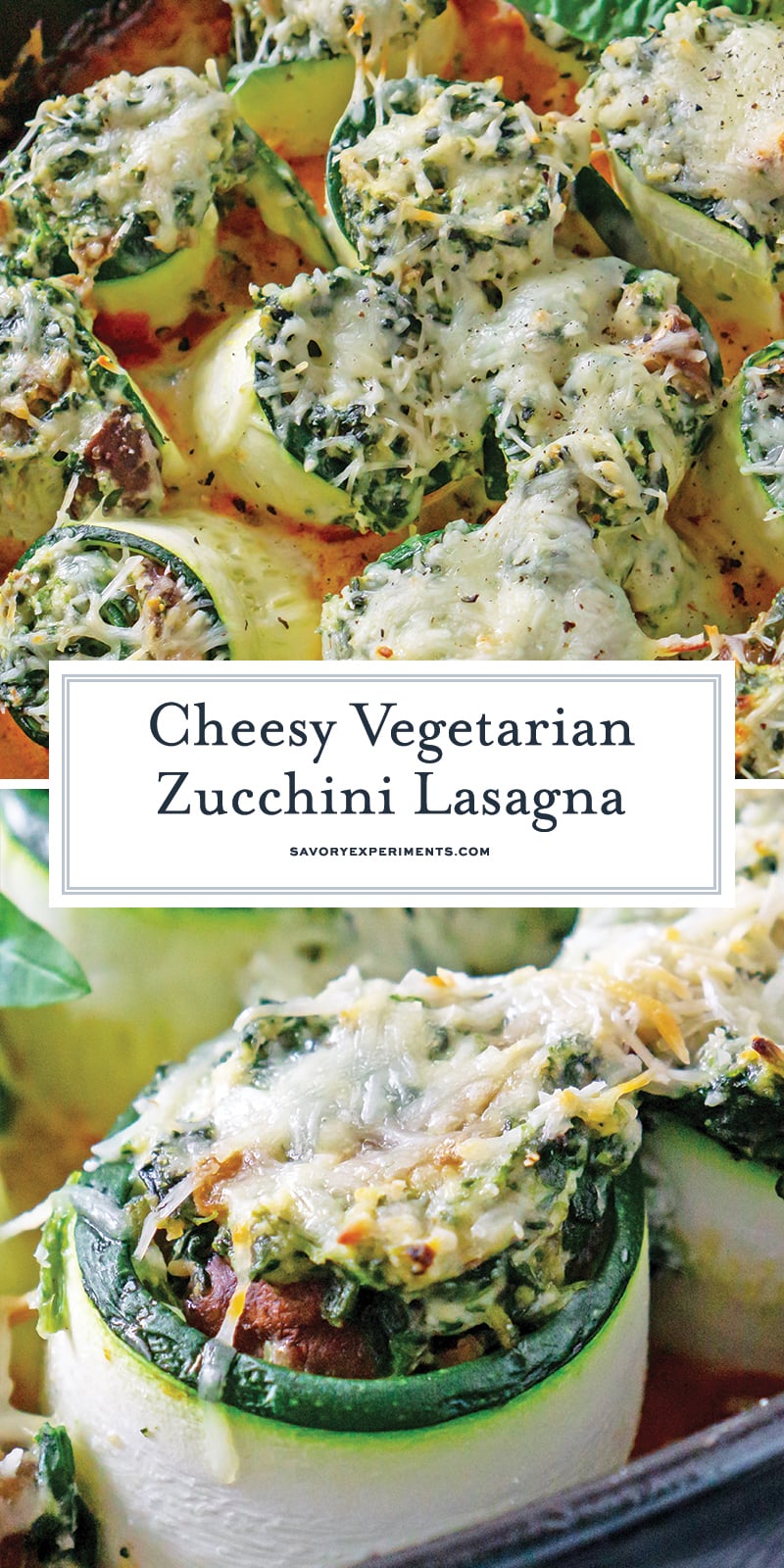 More delicious lasagna recipes: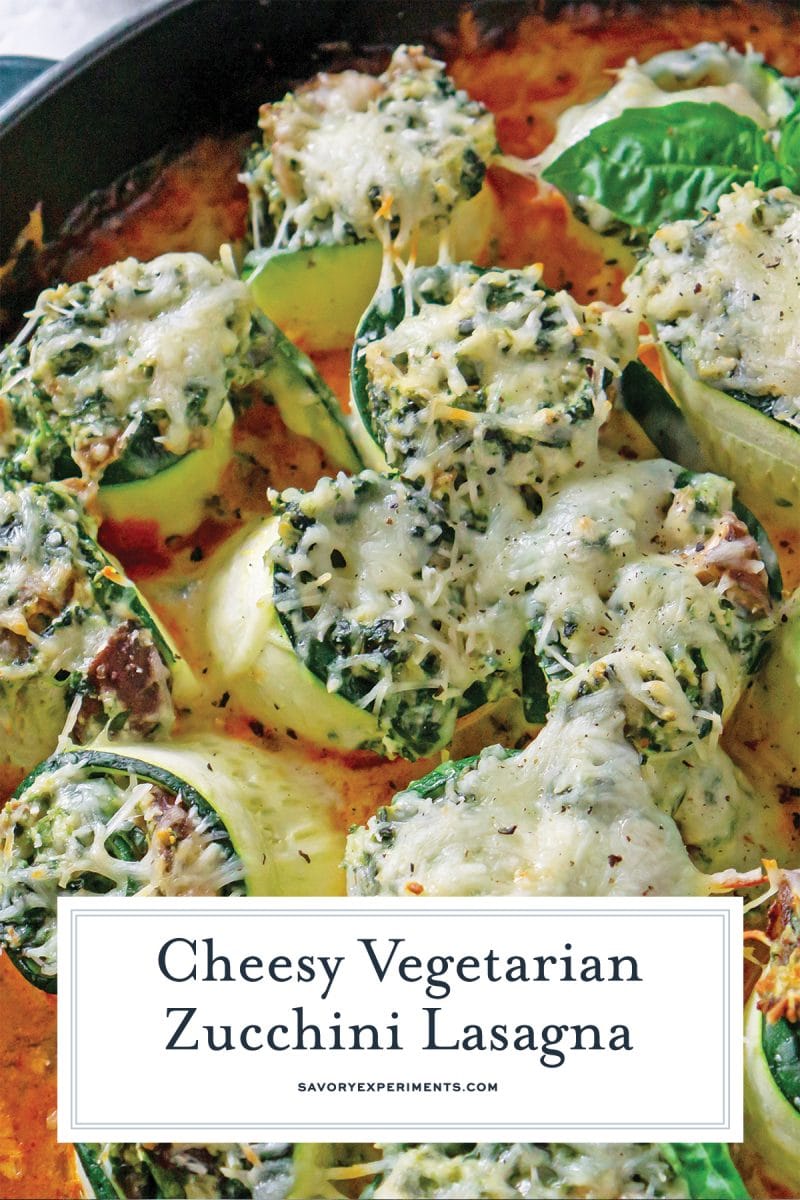 CONNECT WITH SAVORY EXPERIMENTS!

Be sure to follow me on social media, so you never miss a post!

Facebook | Twitter | Youtube
Pinterest | Instagram

Get our FREE 8 Day E-Course on How to Be a Better Home Cook. Sign up HERE!