This easy skillet lasagna recipe brings together herbs and savory beef with bright tomatoes and creamy, melty cheese, all with tender lasagna noodles. It's the most delicious and quick rendition on lasagna that you've seen.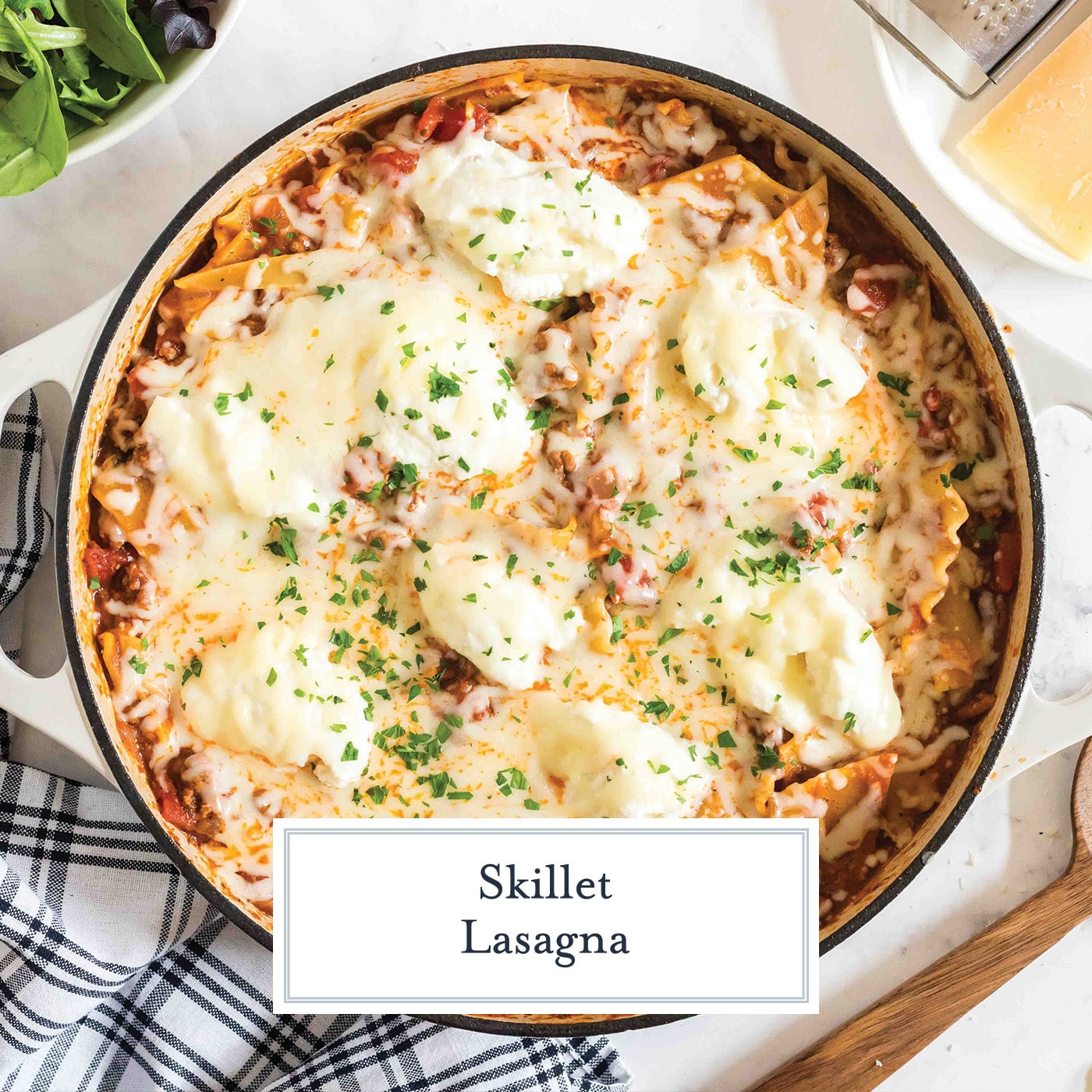 If you love lasagna but don't enjoy the labor of love that it is to make it, this is the easiest way to whip it up with so much less time and exponentially less work.
This skillet lasagna is a one-pot pasta recipe that delivers all of the delicious flavors and textures of lasagna without all of the work. Whether it's soccer night, there's too much homework, or you just want to skip pizza night for a bit healthier alternative, this recipe has you covered.
The next time you want an Italian-style meal that comes together quickly and requires nearly no clean up, this is the way to go!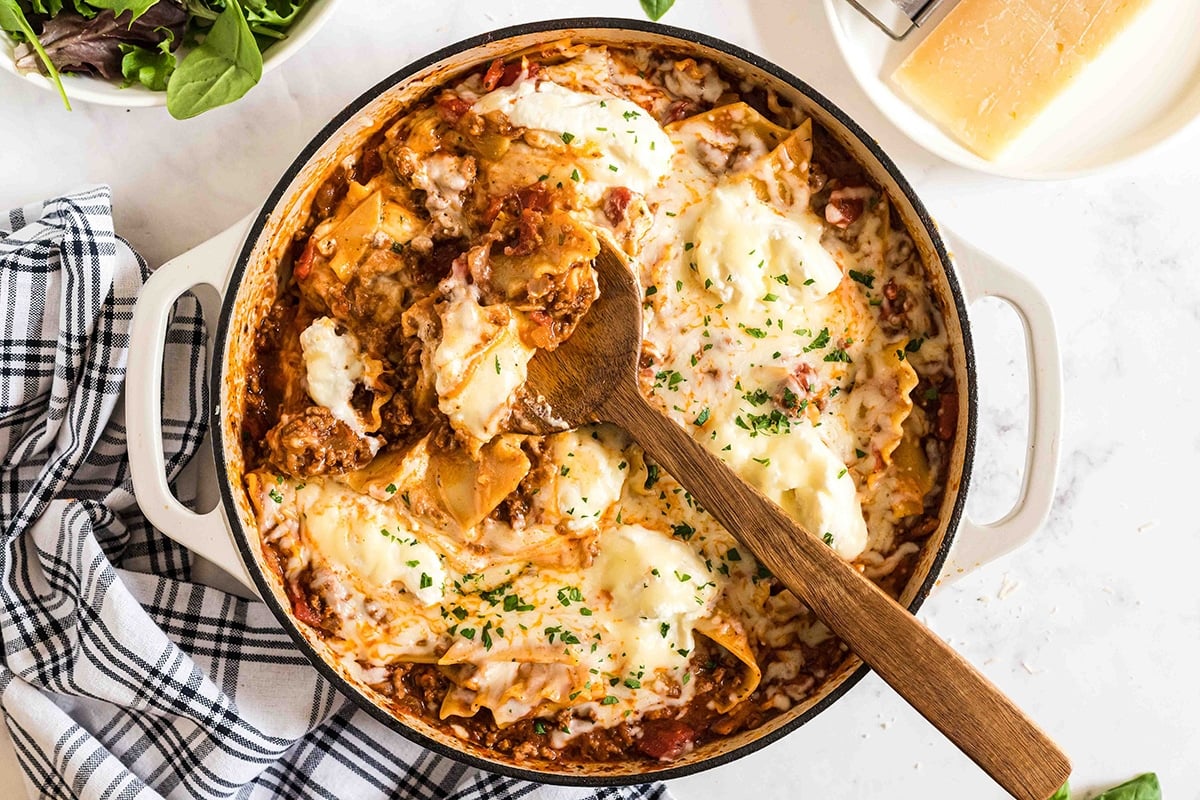 Why You'll Love Skillet Lasagna
What's not to love about a version of lasagna that takes a fraction of the time to make?
Easy – There's no boiling of noodles or layering ahead of time with this easy recipe. Just heat these ingredients — the stove does most of the work.
Convenient – When you need an easy dinner on busy weeknights (or any night of the week), this is the dish for you.
Affordable – From canned ingredients to spices you likely have on your rack, this is a cost effective dinner that will feed the whole family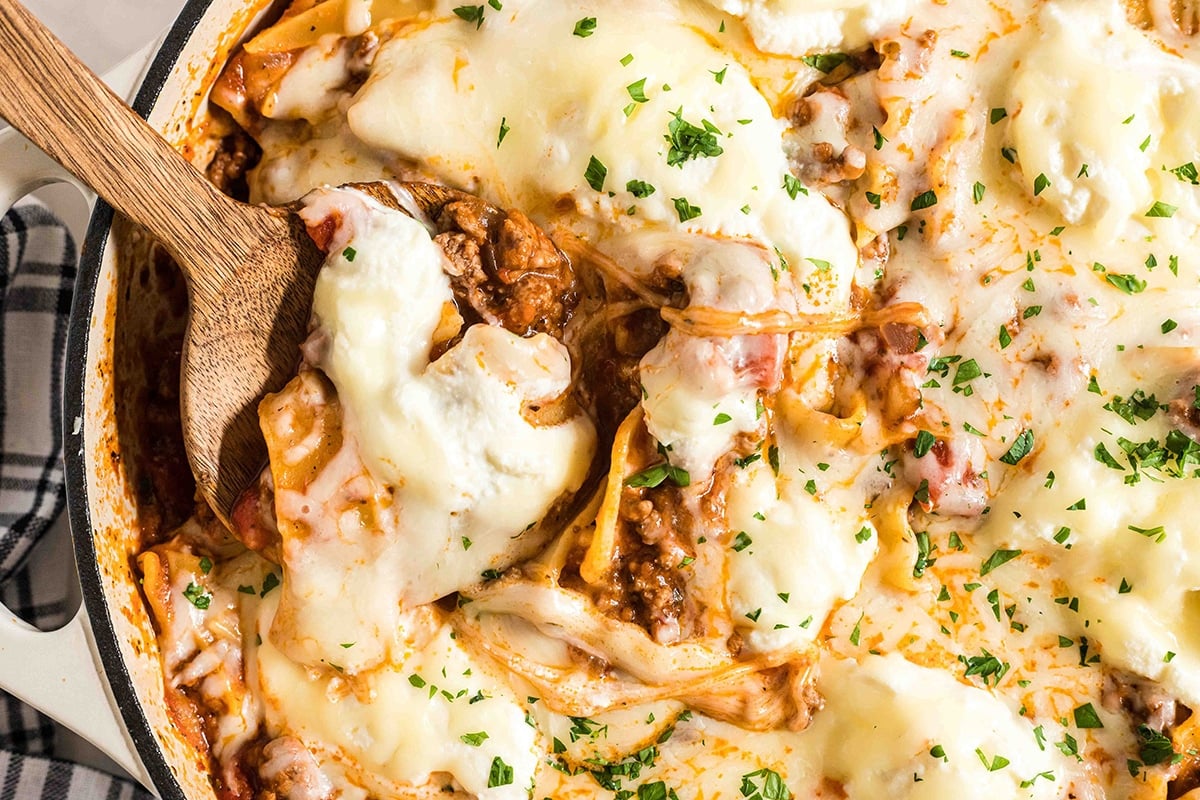 Ingredients
This may seem like a long list but most of the ingredients are either super easy to source or already in your kitchen.
Olive oil – This simple, delicious oil is the best way to start this dish off.
Lean ground beef – You can use other varieties, but I prefer the way that a lean cut works with this recipe.
Sweet onion – Dice the onion evenly so that it cooks uniformly.
Garlic cloves – Mince the garlic so that it is in small pieces and cooks perfectly. If you don't have fresh garlic handy, try using garlic powder.
Italian seasoning – This will help to perfectly season your lasagna.
Fresh basil – Chop fresh basil so that it is fine.
Salt – Use any variety that you like from your table shaker to sea salt or another variety.
Black pepper – Grind it fresh or shake it from the shaker on your table.
Tomato sauce – You can use your own sauce or a canned variety. You can also choose your favorite marinara sauce.
Diced tomatoes – Make sure to include the juice from the can to add moisture to the mixture.
Water – Just a little is necessary to add a bit more moisture.
Lasagna noodles – Break regular lasagna noodles up for this. Avoid using the no-boil or other easy-to-cook varieties.
Ricotta cheese – I prefer full-fat, but you can use lower fat versions if you like.
Mozzarella cheese – Shred your own or buy the packages of shredded mozzarella if you're short on time.
Fresh parsley or fresh basil – Either of these make a colorful garnish.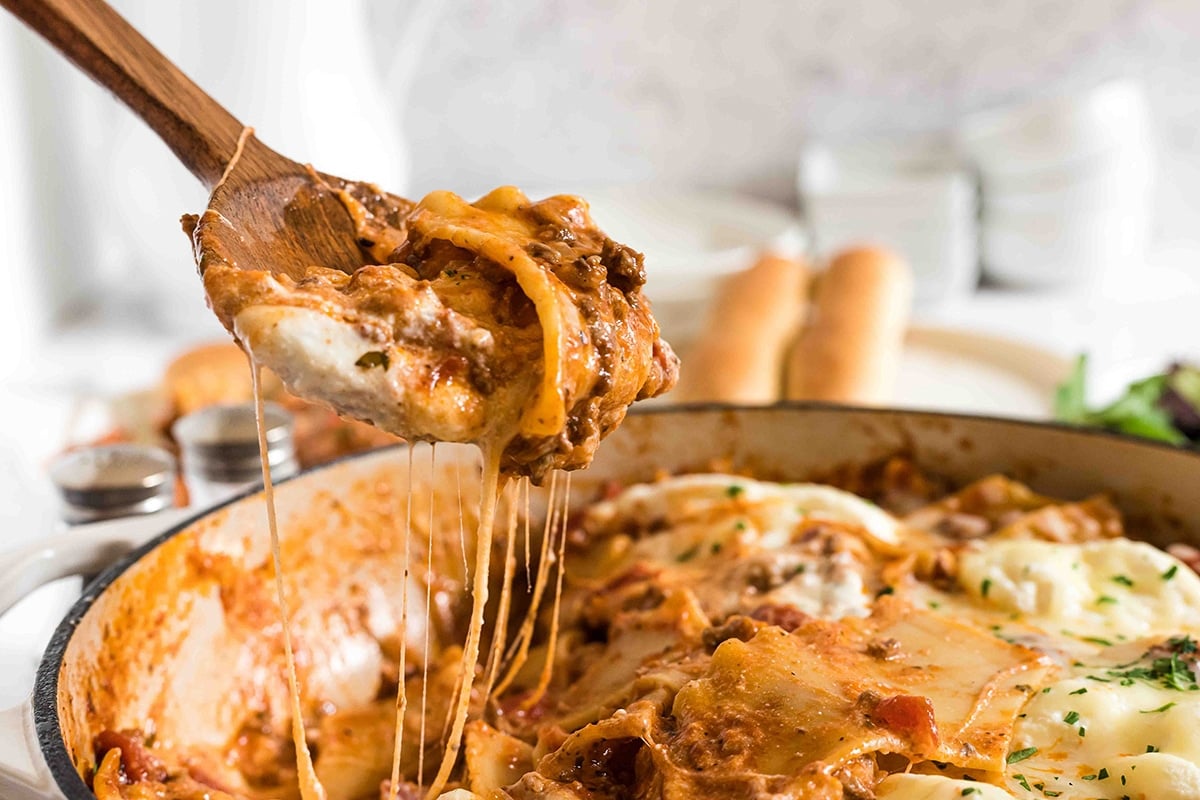 How To Make Skillet Lasagna
This lasagna recipe couldn't be easier to make and takes all of the work out of traditional lasagna making.
Add olive oil to a large cast iron skillet and heat over medium heat.
Once the skillet is hot, add the ground beef and onion and cook until the ground beef is browned and the onions are soft.
If desired, drain the excess grease from the pan though it can remain if you prefer.
To the beef mixture add the garlic, Italian seasoning, basil, salt, and pepper.
Using a wooden spoon, stir the seasonings until combined.
Add the tomato sauce, diced tomatoes, and water and bring the entire combination to a boil.
Then, add the broken lasagna noodles and stir.
Reduce the heat and allow the mixture to simmer over low heat while covered.
Once the noodles are tender, gradually add the ricotta cheese by the spoonful without stirring.
Next, sprinkle mozzarella over the top.
When the mozzarella has slightly melted, remove the skillet from the heat and cover with a tight-fitting lid until the cheese has entirely melted.
Once the cheese melts, garnish with parsley or basil and serve alongside a salad or homemade garlic bread.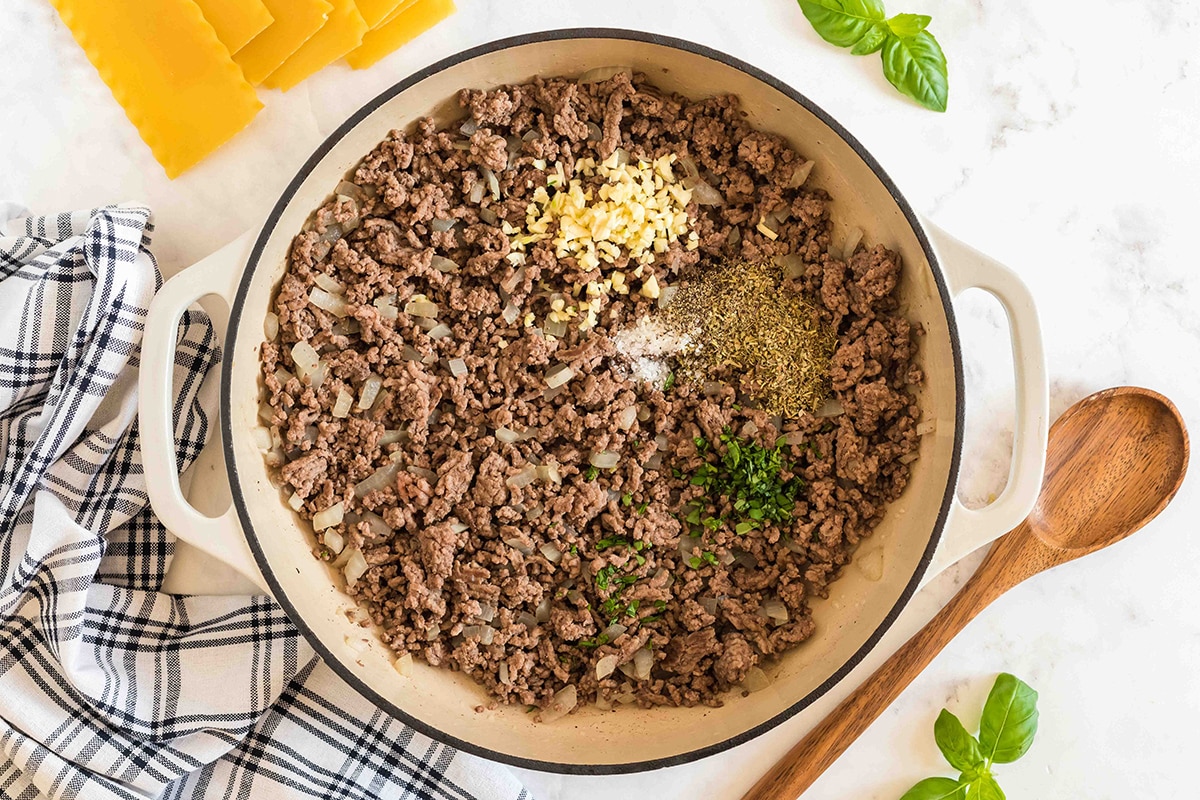 Variations
This is a fantastic recipe that channels the flavors of a classic lasagna but you can also make some changes to tweak it to your tastebuds.
Oil – If you don't have olive oil use another like avocado oil or sunflower oil.
Cheese – Try using other types of cheese or adding some flavor with parmesan cheese or asiago. You can also add fresh mozzarella to the top.
Noodles – Use any noodles you prefer — spaghetti, bowtie pasta, or any of your favorites will work. You can use traditional pasta as well as whole grain pasta.
Dried herbs – If you don't have fresh basil on hand, substitute dried.
Heat – Try adding some red pepper flakes for a little spiciness.
Cottage cheese – Add some cottage cheese (or substitute it for some or all of the ricotta) for extra creamy cheesiness.
Bell peppers – For an extra bit of crunch and color, add some sliced peppers.
Meat alternatives – Instead of beef, try ground sausage, ground chicken, ground turkey, or any plant-based protein you prefer.
Powders – If you're short on onion or garlic, try using onion powder or garlic powder instead.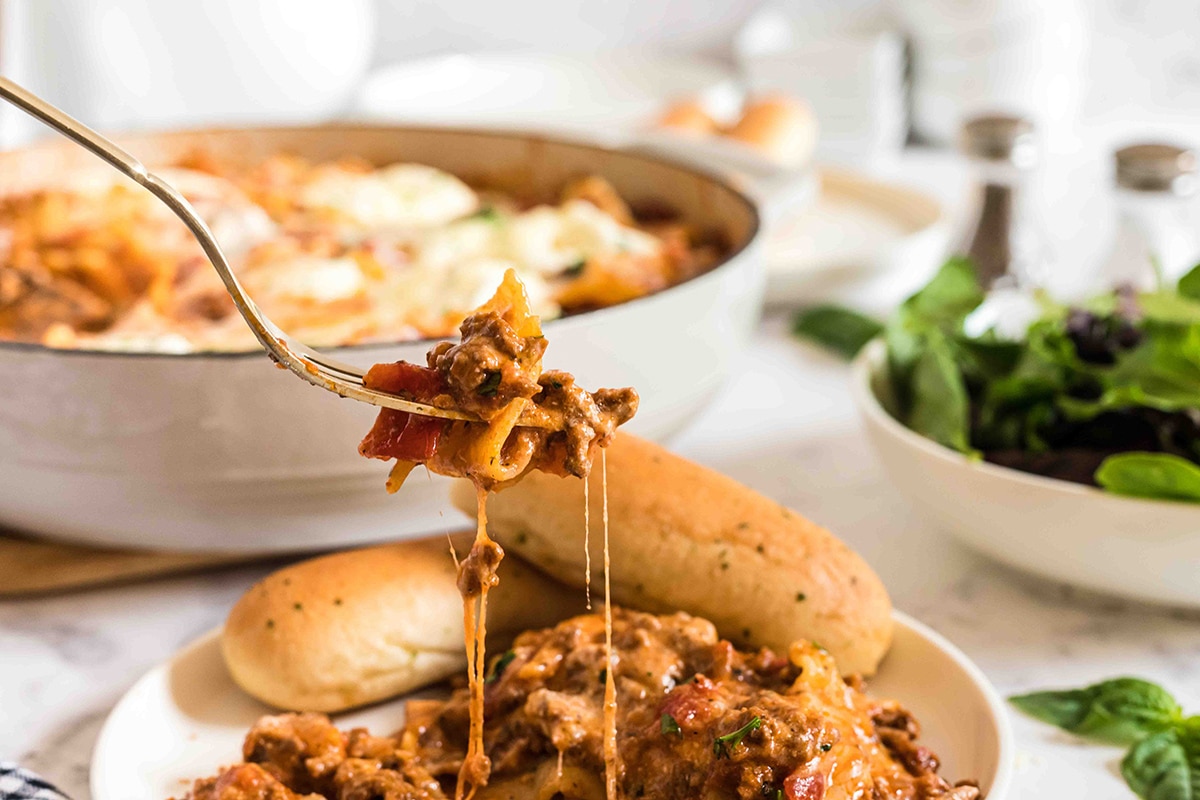 Storage, Make Ahead and Freezing
Refrigerator: Store skillet lasagna for up to 3 days in the refrigerator in an airtight container.
Make-Ahead: This dish is best made all together and served fresh.
Freezer: Since the noodles will likely not retain their original texture, it's not recommended to freeze this dish.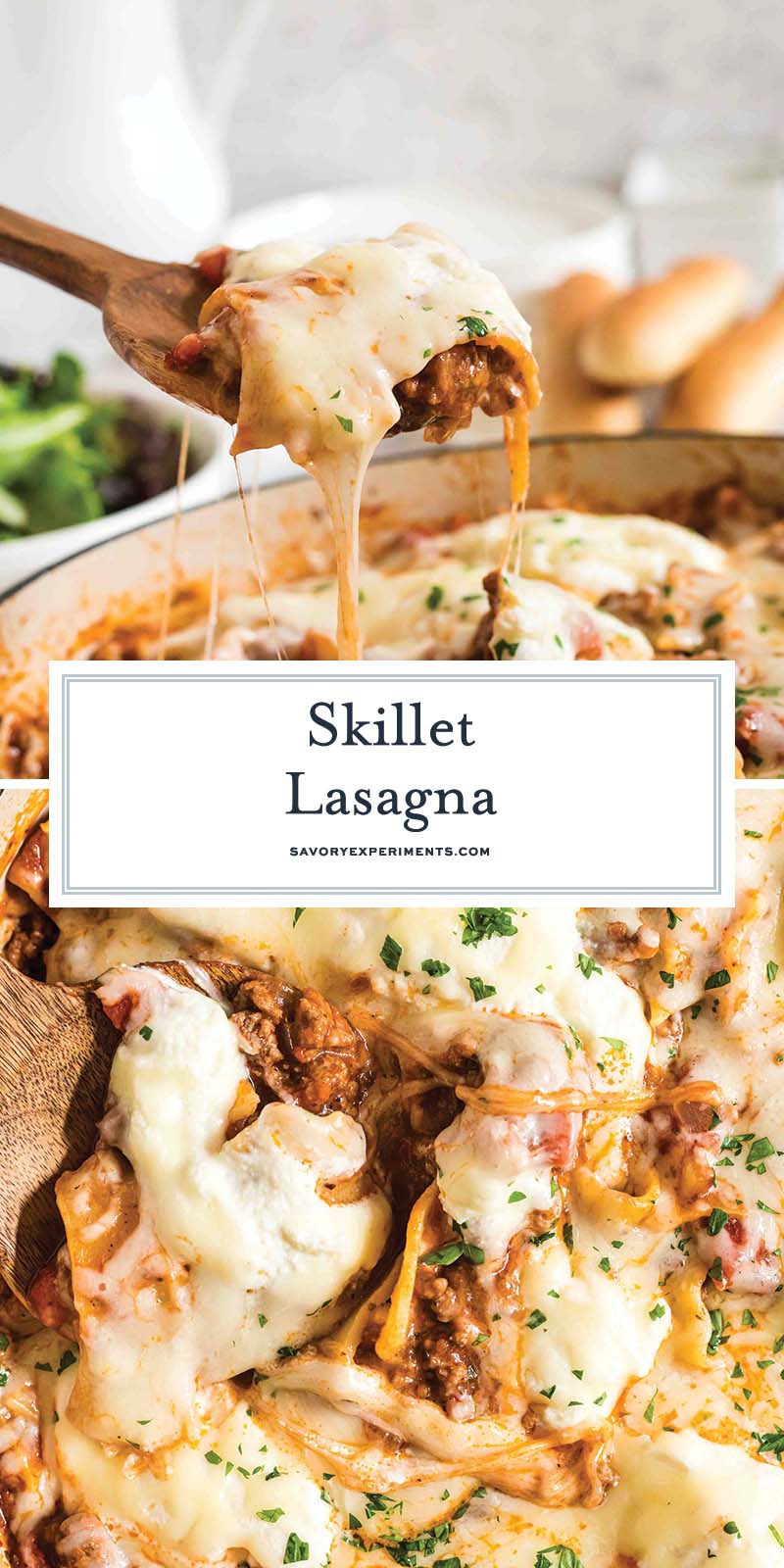 Other Delicious Italian-inspired Dishes