Dark pasta and a white plate give Squid Ink Pasta with White Wine Cream Sauce a "black tie" effect. Super fancy, but also super easy and quick in time!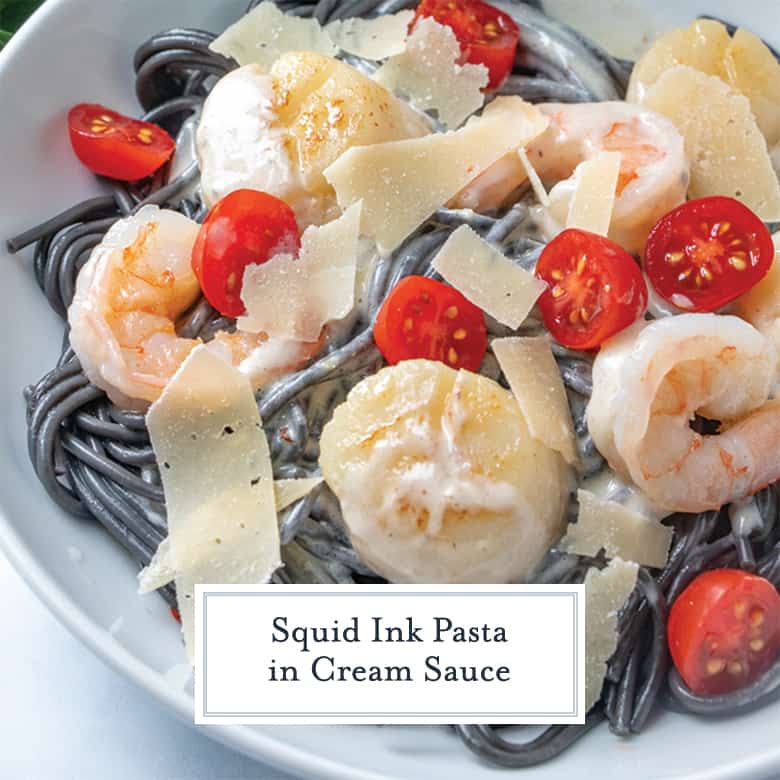 Black Squid Ink Pasta
Let's talk about the elephant in the room. Yes, this is black pasta.
Take a moment. Let it sink in. Squid ink pasta gets its color from the ink of a squid. People will also use the ink of a cuttlefish which is in the same family.
Is squid ink pasta vegetarian? Technically speaking, squid ink pasta is vegetarian because the ink is an animal byproduct, much like egg or milk. However, it is not vegan.
After accepting the color, you will naturally think to yourself, "What does squid ink pasta taste like"?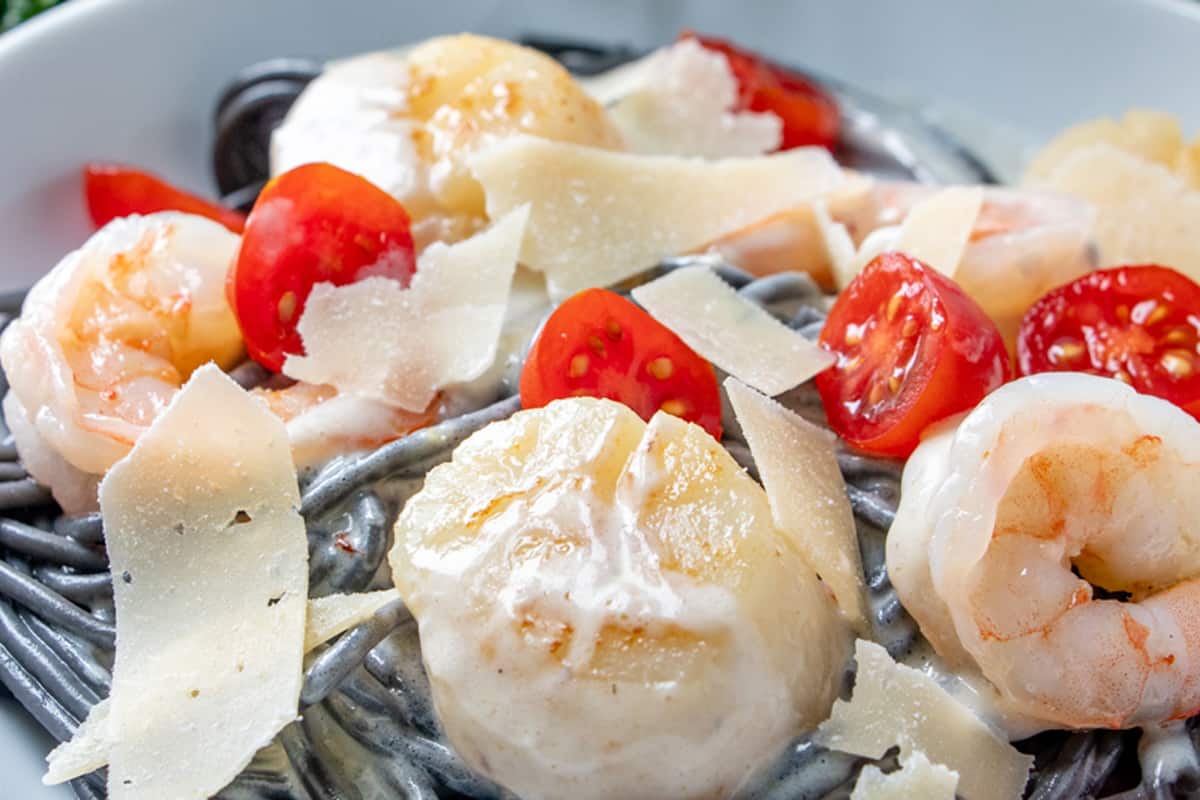 Squid Ink Pasta Taste
It tastes just like the pasta you know and love, only this version has a little bit of a briny bite and just a little extra salt. No "fishy" taste here. The same as if pasta was boiled in really salty water.
You'll see most black pasta in the form of squid ink spaghetti and sometimes artfully lined on ravioli or tagliatelle and other shapes. The black color demands to be noticed!
Where Do I Buy Black Pasta?
It can be hard to find, so I usually just grab mine from an Italian market/speciality shop or order it online. Sometimes you can locate it at Trader Joes.
How Do I Cook It?
Squid ink pasta is cooked just like any other pasta, in boiling salted water. Cook, stirring occasionally, to prevent sticking. You can also lightly toss in olive oil, if you desire.
Use the directions on the package because like most pastas, the cooking time will vary based on size.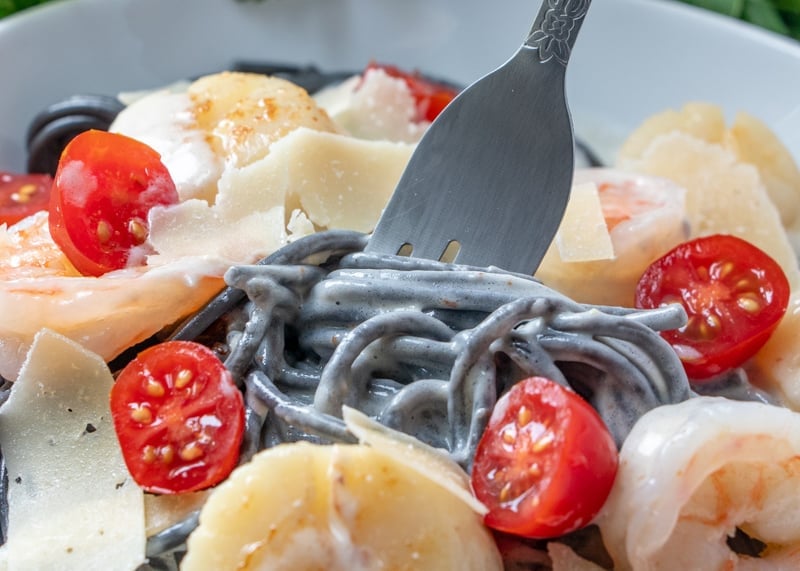 Pasta Sauce
The key to making squid ink pasta really sing is pairing it with the right sauce. It shouldn't be too heavy, too salty, or too dark in color- think delicate and light.
A white wine sauce thickened ever so slightly with cream is the best in my book. Give it a "tuxedo" effect.
I paired my sauce with fresh cherry tomatoes and lemon juice (or zest). If you like more heat, add crushed red pepper to taste, but don't overwhelm the seafood or the pasta.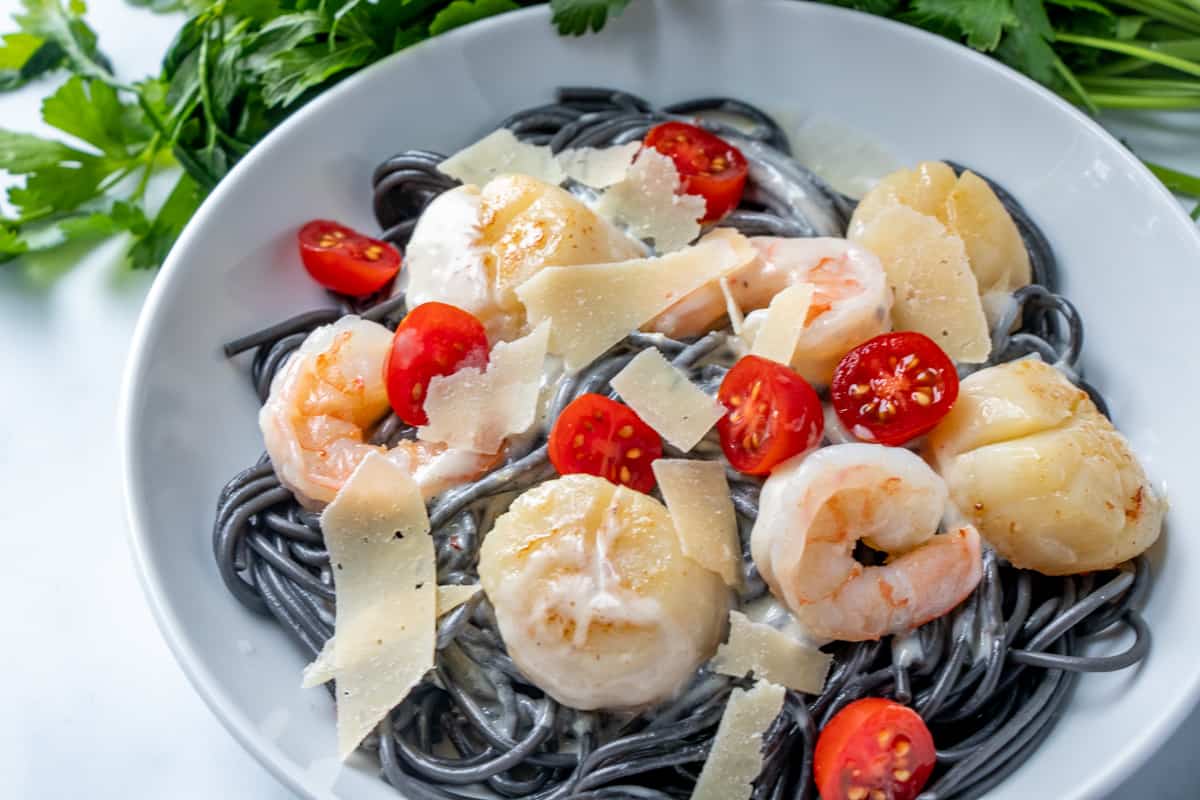 You wouldn't want to cover up that beautiful black pasta with a rich, tomato-based sauce, would you? Nope.
What if my white wine sauce is too thick? If the sauce is too thick, you can thin it out slightly with cooking water, like carbonara sauce, or with additional white wine.
What if my white wine sauce is too thin? Make a slurry using flour, cornstarch or arrowroot. Whisk with a small amount of water or sauce and then add to larger batch.
Be mindful that the sauce will thicken as it cools, so don't add too much when it doesn't thicken immediately.
Wine
What white wine should I use when cooking? This is really dependant on personal preference, but generally speaking a nice, crisp pinot grigio or sauvignon blanc works well in this recipe.
White cooking wine can also be used. It has a good amount of flavor, but it shelf stable for long periods of time with refrigeration. It stays this way due to added salt, so use additional salt sparingly and taste before adding any at all.
Alcohol in the wine will cook off so it is safe for pregnant women and children to indulge in as well.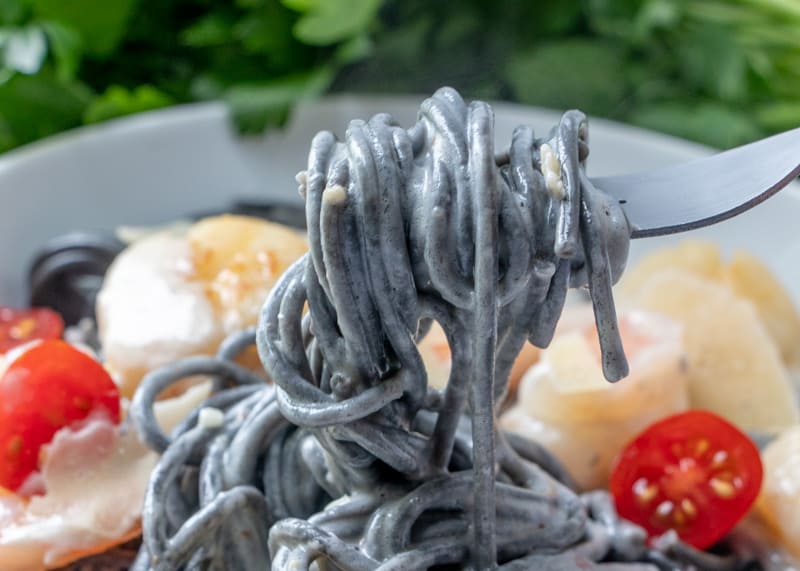 Shrimp & Scallops
In terms of protein, it is a bit of a no-brainer. Seafood is the perfect match.
I prefer dry sea scallops and large shrimp, but you can certainly substitute chicken, beef or another seafood. Fresh squid is a natural pairing too.
Pasta with scallops and shrimp with pasta are fairly traditional, but did you know that in Italy, the thought of pairing seafood with any sort of dairy or cheese is unheard of.
This recipe would also taste great with a pan fried fish like halibut or salmon, too.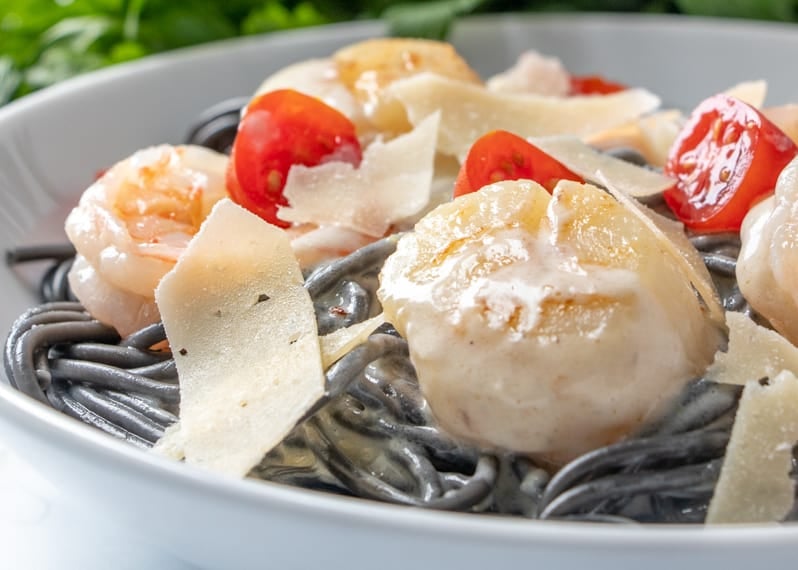 Seafood, on the other hand, is very common. While in the states we think of being a locavore as a novelty and food trend, in Italy, it is the standard and being on the sea, so is seafood.
What Should I Serve It With?
Just like any other pasta dish, I like to make a nice green salad and maybe a side of garlic bread to mop up any extra sauce in the bowl.
You can also make some of our favorite starters like a cheese board or even caprese skewers.
I also include small bowls of additional Parmesan cheese and red pepper flakes on the table.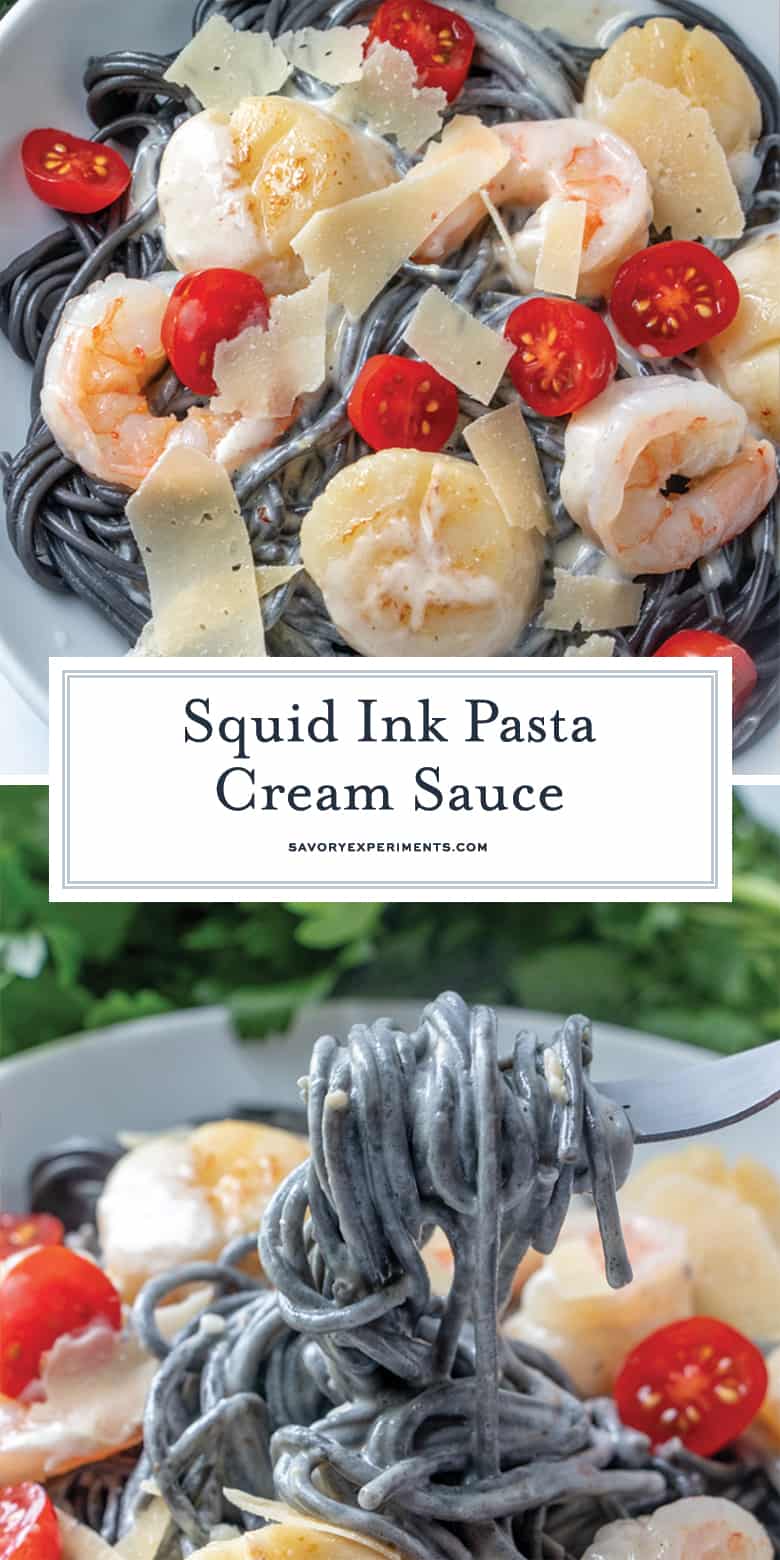 More amazing pasta recipes: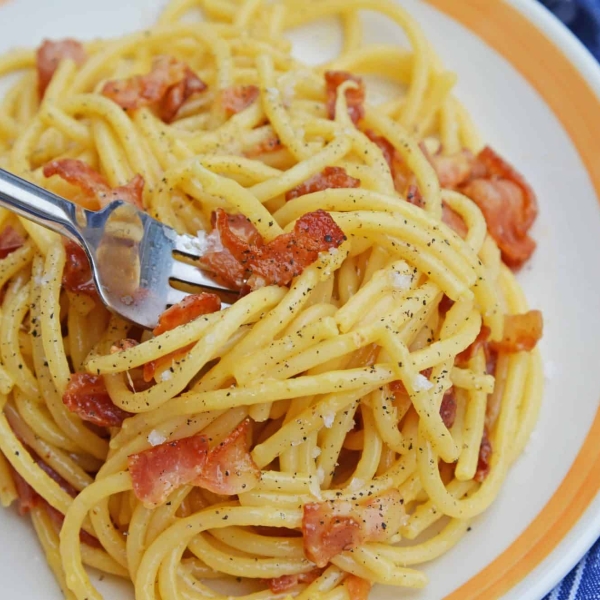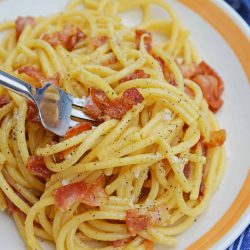 Authentic Carbonara
Authentic Carbonara is an easy Italian pasta recipe using eggs, cheese and bacon. This is an easy carbonara recipe that any home cook can feel confident in making!
View this recipe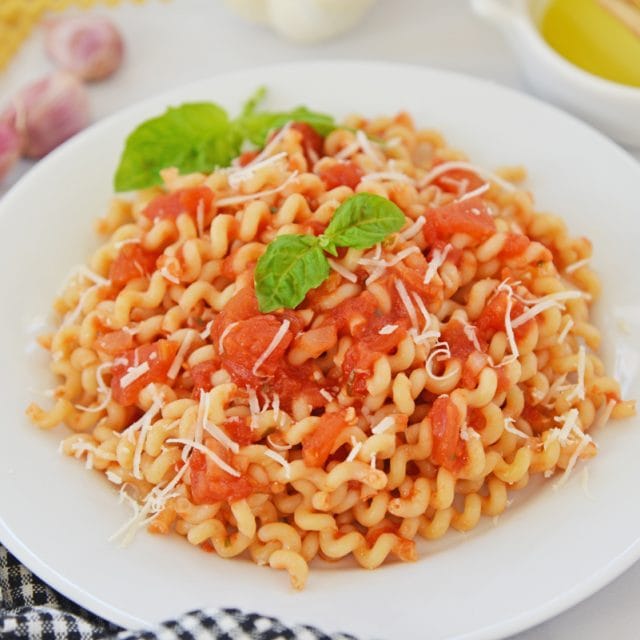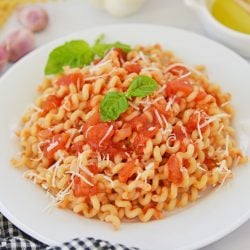 Easy Pomodoro Sauce
A quick and easy tomato sauce made from coarsely chopped tomatoes, garlic, olive oil and fresh basil. Perfect for pasta and dipping.
View this recipe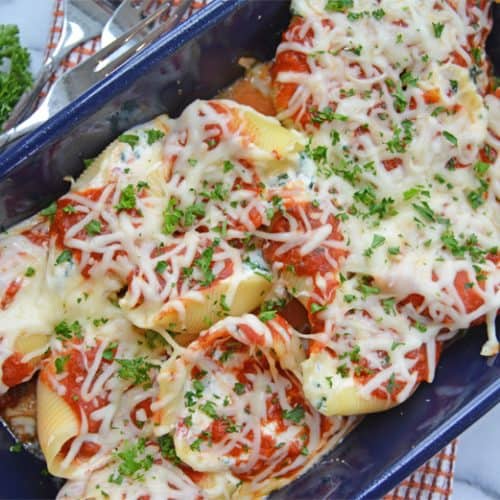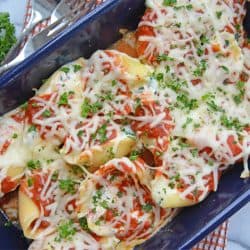 Spinach Stuffed Shells
Pasta night just got SO much more delicious! This easy Spinach Stuffed Shells recipe is full of cheesy goodness and makes a great weeknight meal.
View this recipe
Tools:
Micrograter– A small kitchen utensil you find you use a lot more than you expected!
Cast Iron Skillet– Yes they are heavy, yes they take a little extra TLC. Are using cast iron pans worth it? YES!!! Just buy one and you'll thank me later!
I have both pre-seasoned and unseasoned. I like them both for different reasons. Here are some quick instructions on how to season cast iron and how to clean cast iron.
Dutch Oven– every kitchen should have one! They are heavy. They are expensive. They are worth it!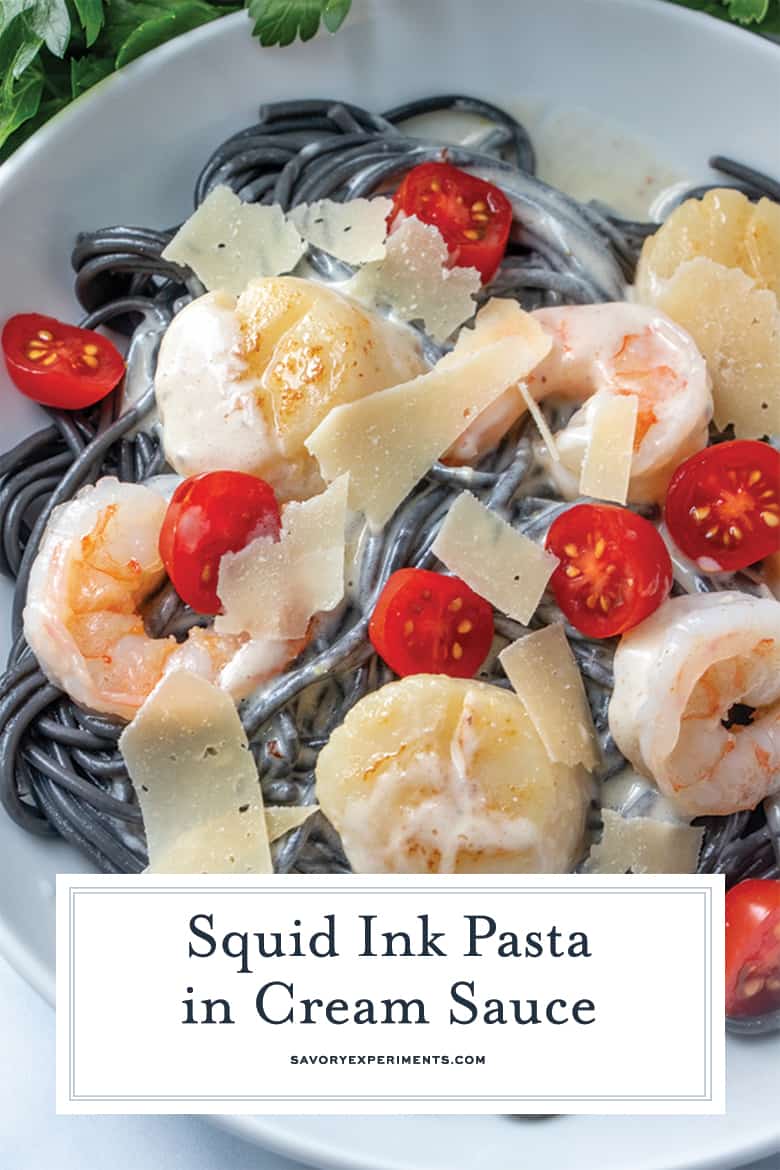 Squid Ink Pasta with White Wine Cream Sauce Recipe is an elegant dish that is easy to prepare using squid ink spaghetti. Top with shrimp and scallops.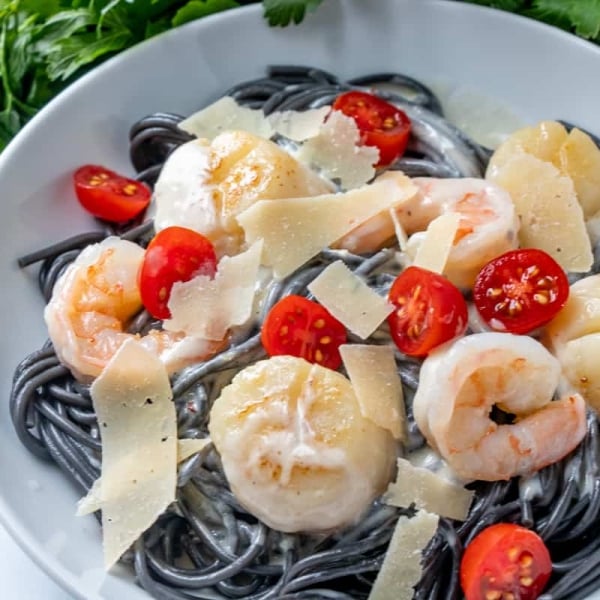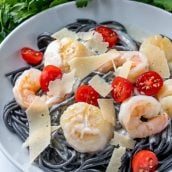 Squid Ink Pasta with White Wine Cream Sauce
Squid Ink Pasta with White Wine Cream Sauce Recipe is an elegant dish that is easy to prepare. Wow, your diners with this striking dish.
Instructions
Fill a large pot with water and bring to a boil. Add pasta and cook according to pasta directions. No need to add extra salt, as this pasta has a salty taste. Drain and return to the pot, tossing with 2 tablespoons butter to coat the pasta and prevent it from sticking.

While the pasta cooks, heat a large skillet to medium-high heat. When hot, add 4 tablespoons butter. Do not allow to get too hot or the butter will burn.

Add scallops, searing on each side for 2 minutes. Remove and set aside. Add shrimp, cooking until pink and slightly curled. Remove and set aside.

Add remaining butter, shallots, and garlic, stirring for 2 minutes. Add flour, scraping up butter and bits to a paste.

While stirring, pour in white wine to deglaze the pan. Bring to a boil, reducing slightly.

Stir in lemon zest, heavy cream, crushed red pepper, Parmesan cheese, and parsley. Season with fine sea salt and pepper. Return seafood to the pan, spooning sauce over to reheat for approximately 2-3 minutes. The sauce should be a loose, creamy sauce, but not heavy.

Divide squid ink spaghetti and seafood between bowls, spooning sauce over top. Garnish with shaved Parmesan cheese and grape tomatoes.

If you've tried this recipe, come back and let us know how it was in the comments or ratings!
Nutrition
Calories:
953
kcal
,
Carbohydrates:
54
g
,
Protein:
19
g
,
Fat:
69
g
,
Saturated Fat:
42
g
,
Cholesterol:
263
mg
,
Sodium:
573
mg
,
Potassium:
426
mg
,
Fiber:
2
g
,
Sugar:
3
g
,
Vitamin A:
2960
IU
,
Vitamin C:
8.5
mg
,
Calcium:
200
mg
,
Iron:
1.9
mg