Cheesy Garlic Bread is one of those simple recipes that my guests always request. When hubby goes to the hunting camp for a week with his buddies, I send 2 pounds of the delicious spread to make tons of homemade garlic bread.
It is THAT GOOD!
Cheesy Garlic Bread is made with a blend of cheese, cream cheese, garlic and seasonings to make the BEST garlic bread you've ever tasted!
Like many things in this world, not all garlic bread is created equal. And, in fact, garlic bread is really just an American thing. You'd be hard pressed to find it in Italy unless you went to an establishment that caters to tourists. Especially garlic knots or Crazy Bread.
But here in the states, and as an Italian-American myself, it is perfectly acceptable to serve Cheesy Garlic Bread with your Italian dishes.
In fact, it is completely accept to serve Cheesy Italian Bread with any dish Italian or not! Why?
Because it is delicious! My cheesy Italian bread goes a step further and not only adds shredded cheese, but also cream cheese. You teeth will literally sink into the cheesiness. And that is what is is all about, right?
What is an Italian cheese blend you ask? Any blend of shredded Italian cheeses you like. My personal favorites are mozzarelle, Parmesan cheese, provolone, asiago and fontina. You can use just one or a blend of all of them!
PRO TIP: Roasted garlic has a lot of garlic flavor, but with less bite. For a more intense garlic flavor, use fresh, minced garlic.
Another difference, instead of using garlic powder or raw garlic, I use roasted garlic. Roasted garlic gives the essence of garlicky-ness without being overpowered and making you peel the paint at night.
It is an extra step that takes a little longer, so if you want to toss in a tablespoon of granulated garlic or a couple cloves of raw garlic, be my guest! At some grocers you can even purchase roasted garlic, which is another option.
PRO TIP: Beat cream cheese in a stand mixer or with a hand mixer well before adding other ingredients to ensure it blends smoothly.

Also make sure to use softened butter, not melted butter. Learn how to soften butter quickly HERE.
But in reality, it is SUPER easy and nothing beats fresh from the oven. Check out my post on How to Roast Garlic before you get started.
From there, making the bread couldn't be easier. Just toast the cut sides on golden brown. Slather it with your cheesy garlic butter and bake until bubbly.
Tools for baking Cheesy Garlic Bread:
Rimmed Baking Sheet – Really, every kitchen should have one, but they are especially handy for items like this that are prone to rolling off the edges when being flung in and out of the oven.
Wood cutting board – wood won't dull your knives like plastic and if treated properly, has natural antimicrobial properties.
Good knife – Global is my favorite! They are worth the price, I promise. I am kind of obsessed with them and store them tucked away so no one else can use them. Including hubby. Hands off my good stuff!
Even though Cheesy Garlic Bread isn't actually Italian, here are some delightful Italian main dishes to pair it with!
Questions you might have about how to make Garlic Bread:
Can I make garlic bread in advance? I would suggest making the topping ahead of time, but waiting until you are ready to eat before actually cooking it. Fresh garlic bread is so much better.
Can I freeze garlic bread? You sure can! Haven't you seen frozen garlic bread in the freezer section of the store? Freeze it with the topping on it and before you make it.

Check out my tips and tricks for freezing food HERE!
What is the best bread for garlic bread? This is purely a matter of preference. Some would insist that Italian bread be used, but really do what you want!
Sometimes I use French bread, other times sourdough and other times a specialty, gourmet bread if the bakery has it. Don't limit yourself and get creative! Sometimes I even use leftover bread like Italian sub rolls, hamburger buns or brioche.
You use round bread, can I use a bread loaf? Of course you can! This cheesy garlic bread topping can be used on any type of bread. See my answers above about the best bread for garlic bread.
Is garlic bread Italian? You'd be hard pressed to find American garlic bread in Italy, at least I didn't see any. Instead, really good, delicious, freshly baked bread is served with nearly all meals.
What is the best way to reheat garlic bread? As with most bread, the best way to reheat it is in the oven on a low setting or with a quick broil (watch is closely!)
Bread reheated in the microwave gets gummy and chewy fast.
CONNECT WITH SAVORY EXPERIMENTS!

Be sure to follow me on social media, so you never miss a post!

Facebook | Twitter | Youtube
Pinterest | Instagram
Get our FREE 8 Day E-Course on How to Be a Better Home Cook. Sign up HERE!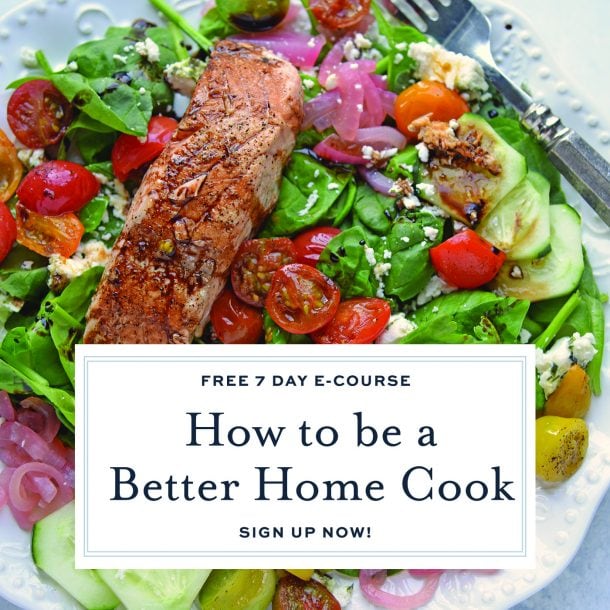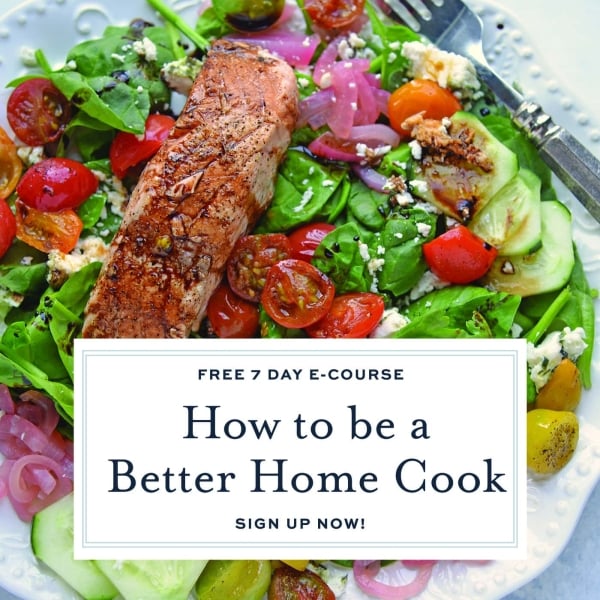 Cheesy Garlic Bread
Cheesy Garlic Bread is made with a blend of cheese, cream cheese, garlic and seasonings to make the BEST garlic bread you've ever tasted! The perfect bread to serve with any meal!
Instructions
Preheat oven to 400 degrees.

In a stand mixer, blend together butter and cream cheese.

Add Italian cheeses, roasted garlic, parsley and sea salt.

Slather onto each piece of bread and set on a rimmed baking sheet.

Bake for 10-15minutes, or until cheese is melted and bubbly.

Remove and slice into bread sticks or cubes.

If you've made this recipe, come back and let us know how it was!
Nutrition
Calories:
590
kcal
|
Carbohydrates:
38
g
|
Protein:
10
g
|
Fat:
44
g
|
Saturated Fat:
24
g
|
Cholesterol:
48
mg
|
Sodium:
726
mg
|
Potassium:
173
mg
|
Fiber:
2
g
|
Sugar:
22
g
|
Vitamin A:
585
IU
|
Vitamin C:
0.7
mg
|
Calcium:
45
mg
|
Iron:
1.6
mg