There are few things greater in life than Homemade Mozzarella Cheese. It may seem daunting, but once you realize just how easy it is to make, you won't be able to stop yourself from making it all the time.

Homemade Mozzarella Cheese is a mix of science and cooking. With a velvety texture and packed with flavor you will be making it all the time.
HOMEMADE MOZZARELLA CHEESE! I will admit, when I first posted this, I lacked confidence in myself and bought a backup ball of fresh mozzarella cheese just in case.
Honest truth? I didn't need it and neither will you.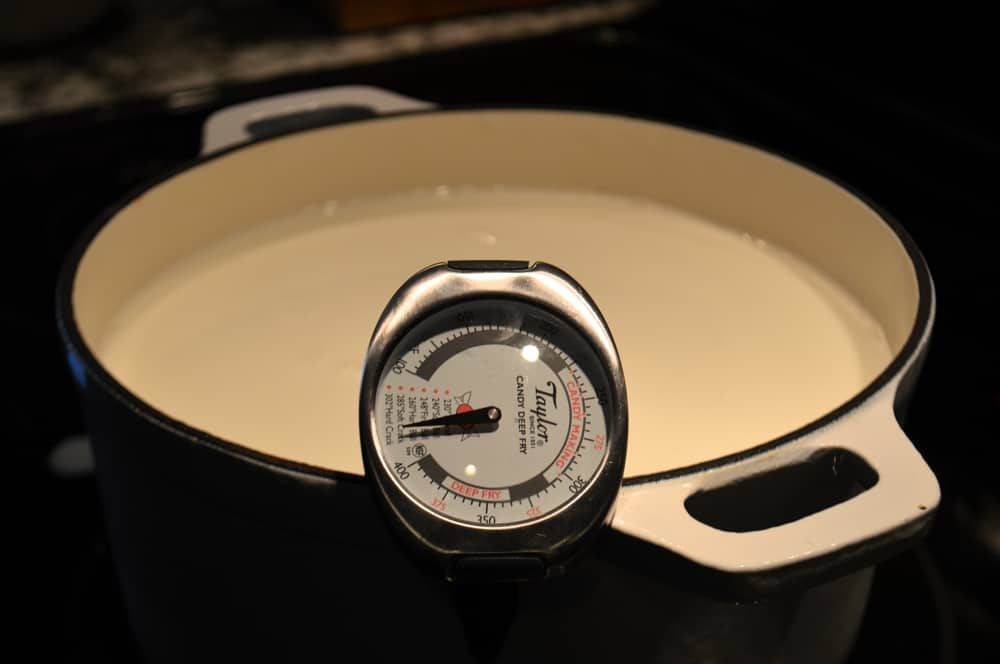 You will need a few specific ingredients for this recipe that you probably don't have in your pantry. The first one is rennet
which is an enzyme that helps milk coagulate or come together into cheese curds.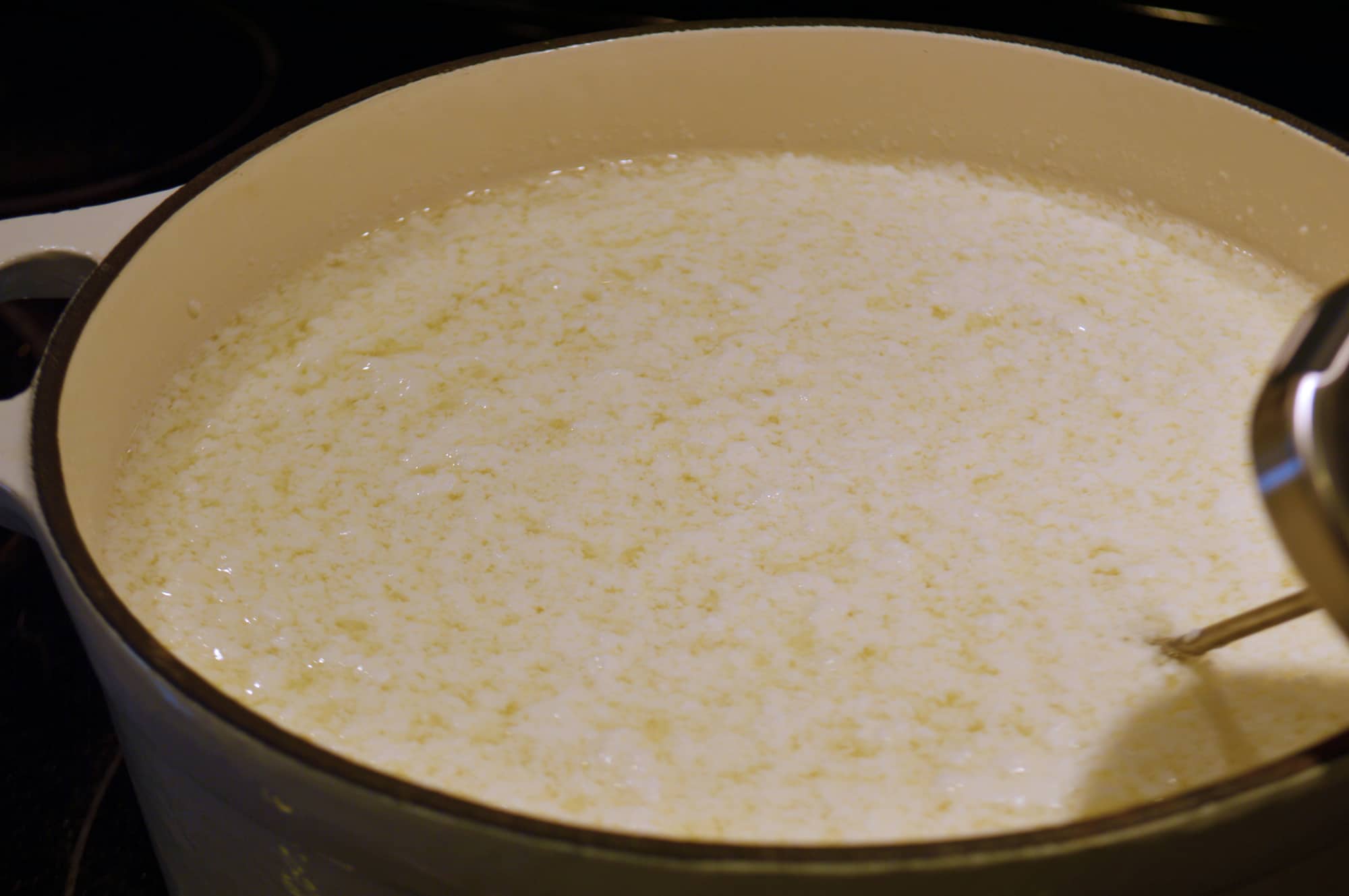 Rennet can often be purchased at beer or cheese making stores, specialty grocers, or online. If you are a vegetarian, be sure to purchase animal rennet as some are not veggie friendly.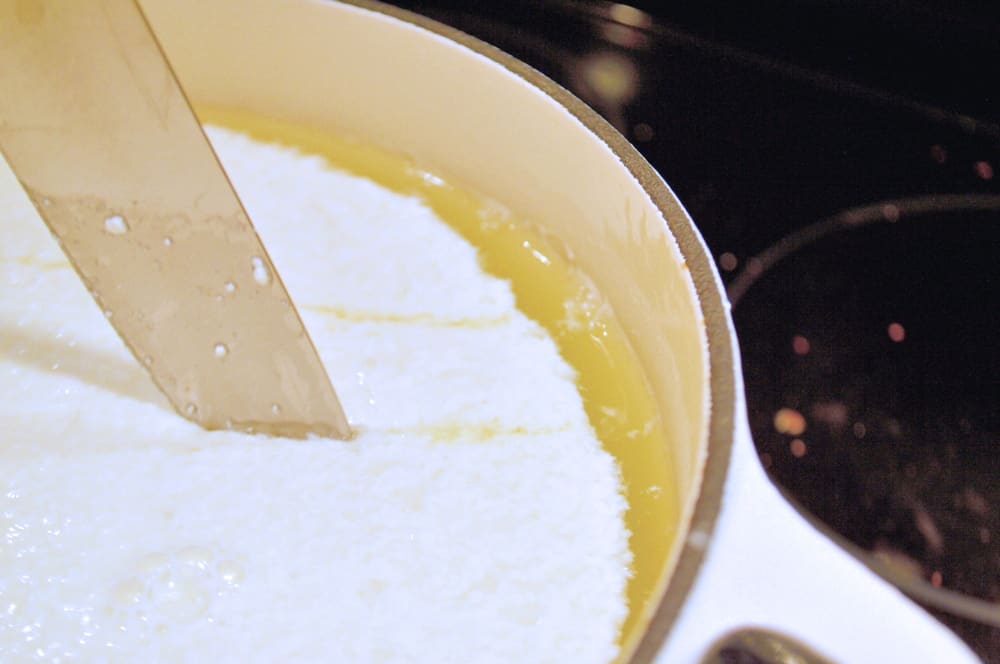 Most recipes also call for a special cheese salt. Cheese salt
is used at different points during the cheese making process.
It helps to expel moisture or why, enhance flavor, preserve, and discourage any unwanted organisms.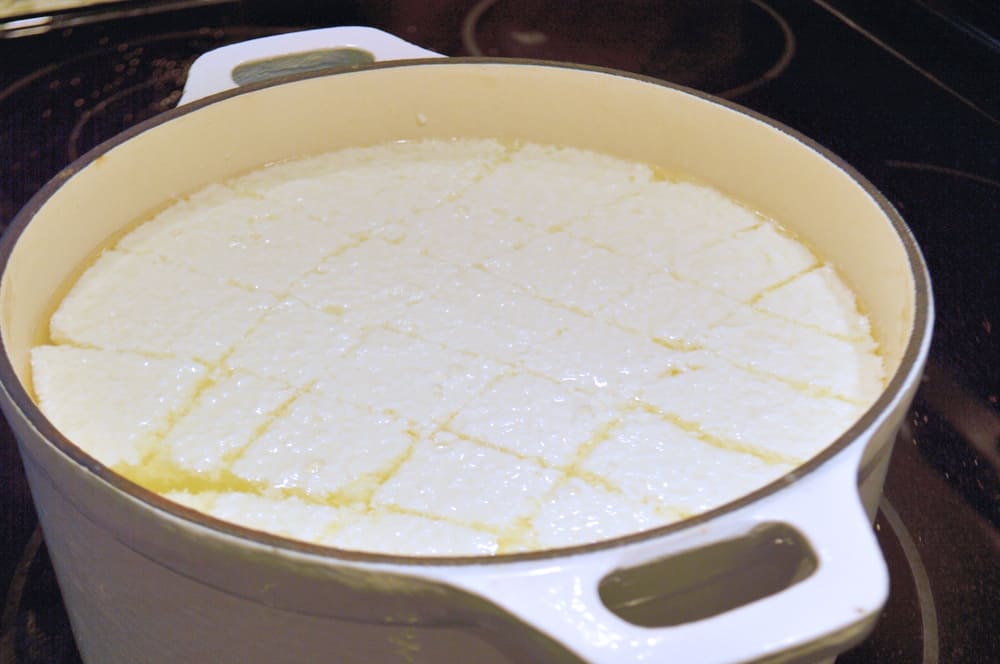 Many individuals will substitute kosher salt for this ingredient, which I am sure will work just fine, but for the price (relatively inexpensive), I decided to spring for the cheese salt.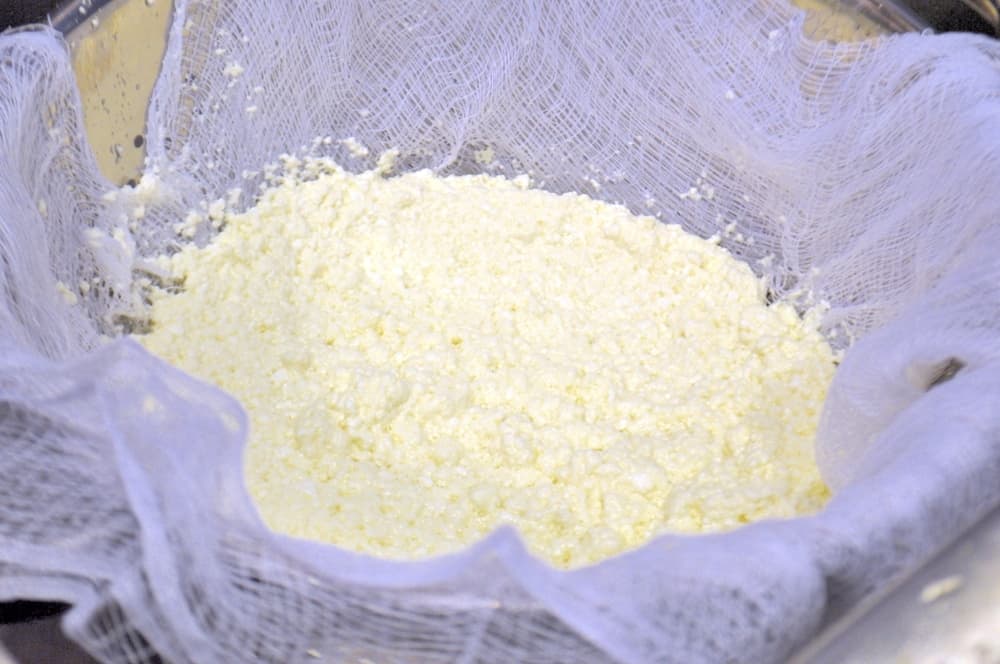 You will also need citric acid for this Homemade Mozzarella Cheese. The good news is this is easier to find. Most grocery stores will have this and can often be found in the canning aisle.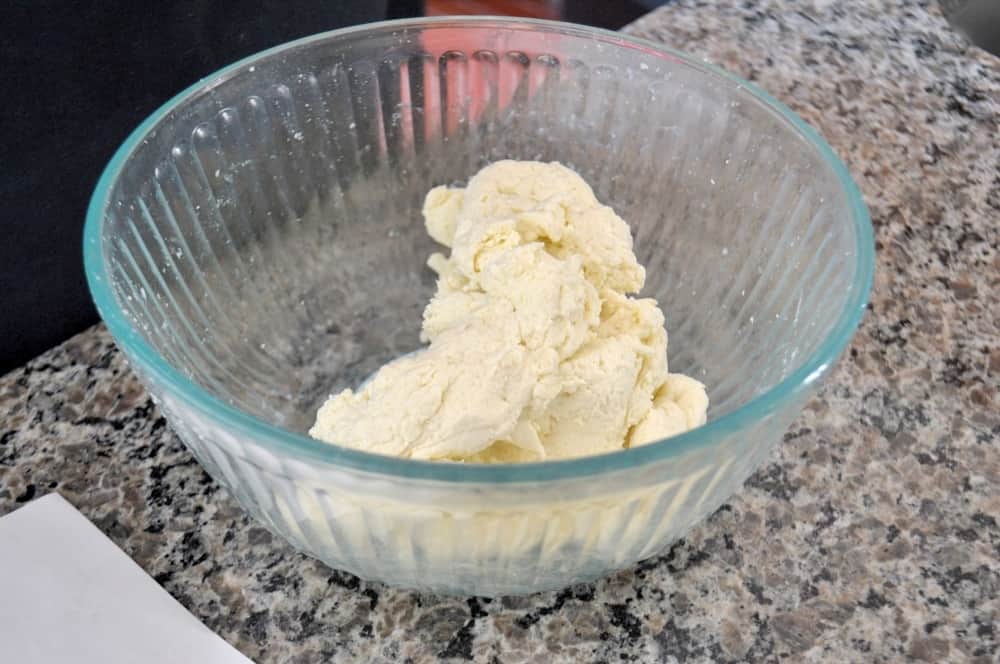 Other items on your shopping list: a candy thermometer, cheesecloth (go figure!), a slotted spoon, plastic gloves, and a non-reactive pot. Stainless steel or enamel are going to be what you are looking for.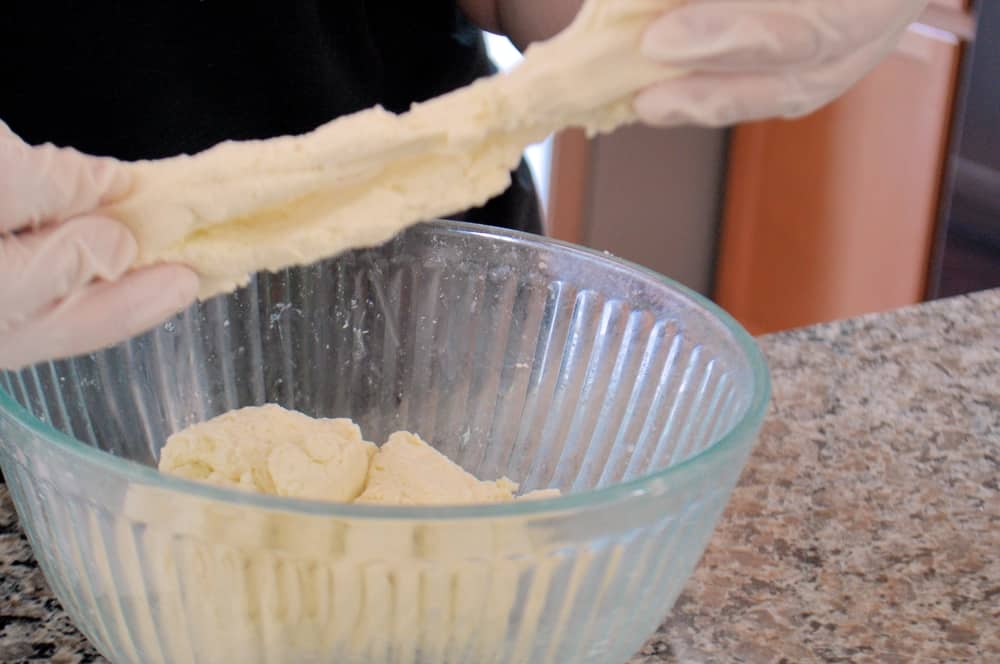 When all of that is assembled, you are ready to start your cheese making!
I should also make a note here. This recipe cheats just a touch. I used a microwave. Old school cheesemakers would be horrified, but I only have so many hours in the day.
Less time in the kitchen makes more time for enjoying cheese!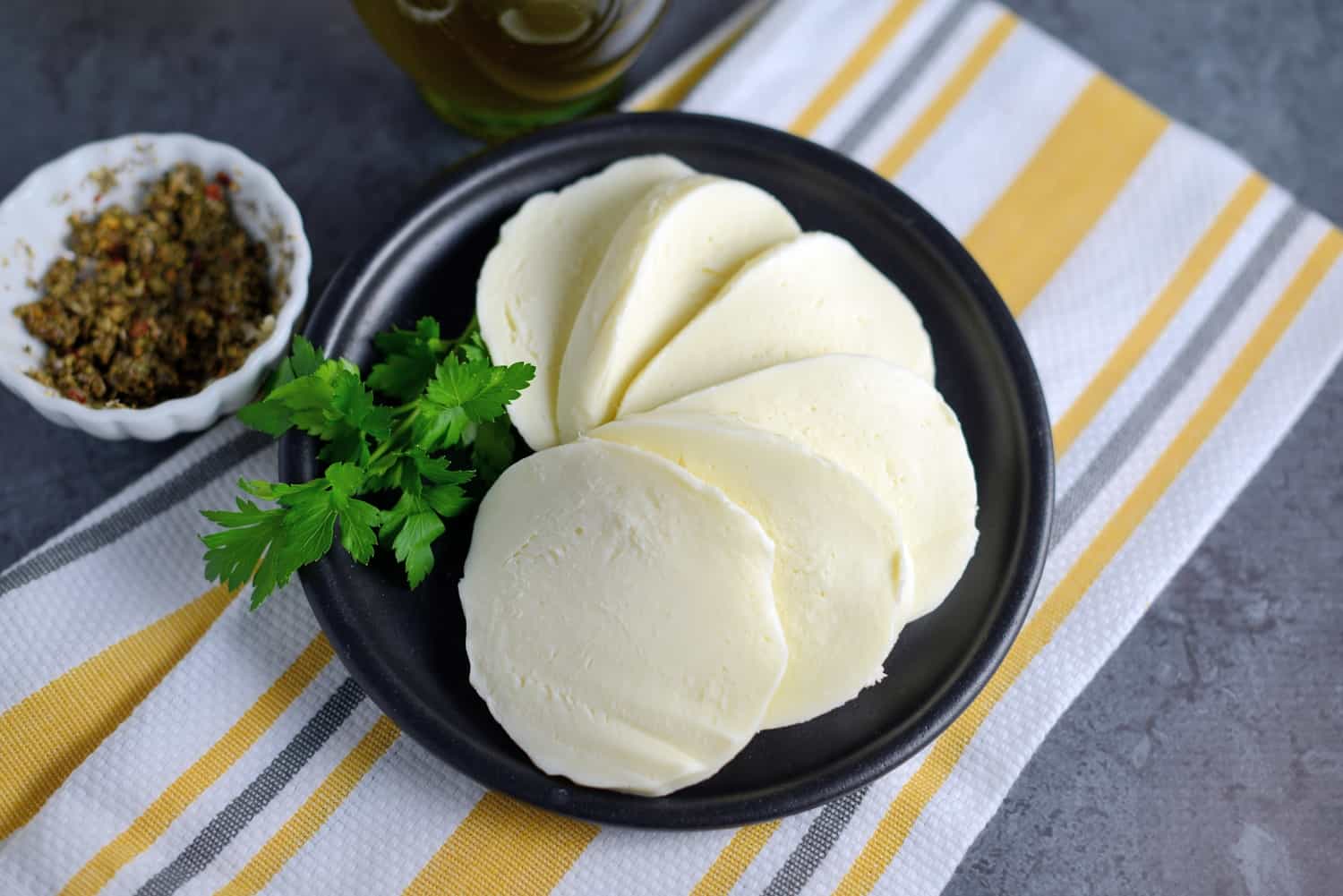 Be sure to check out these other recipes to pair your homemade cheese with:
Baked Mostaccioli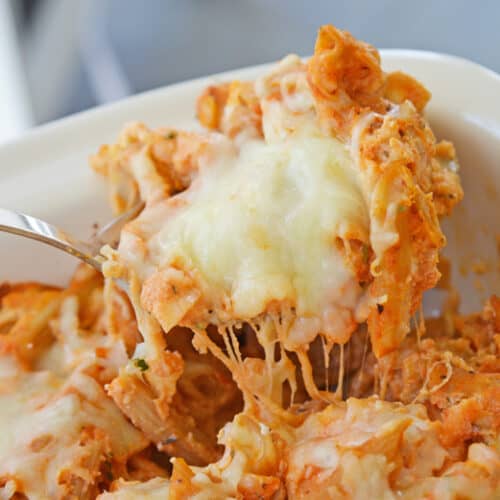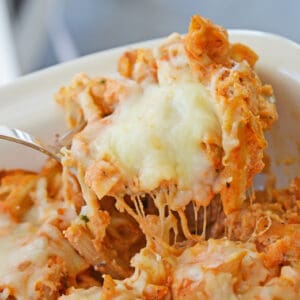 A delicious one-dish meal with baked pasta, tomato sauce, cheese and sausage. Great for potlucks and as a freezer meal!
Spinach Stuffed Mushrooms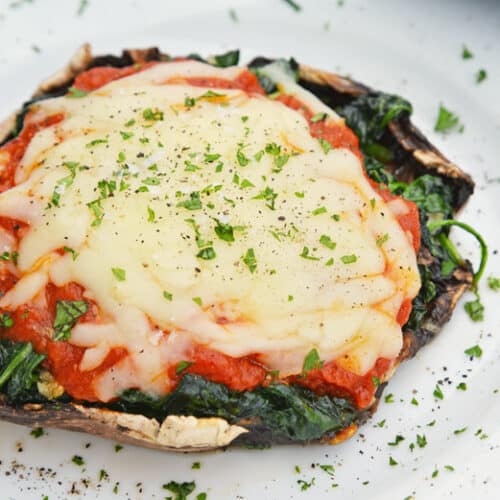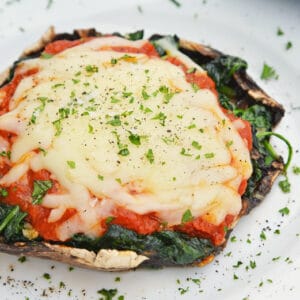 Does you partake in meatless Monday? These EASY Spinach Stuffed Mushrooms are so tasty and filling that you won't miss the meat at all! The BEST appetizer!
Pizza Sandwich Sliders
Cheesy Pizza Sandwich Sliders are easy to make with just 4 ingredients and the best for parties. Loved by kids and adults!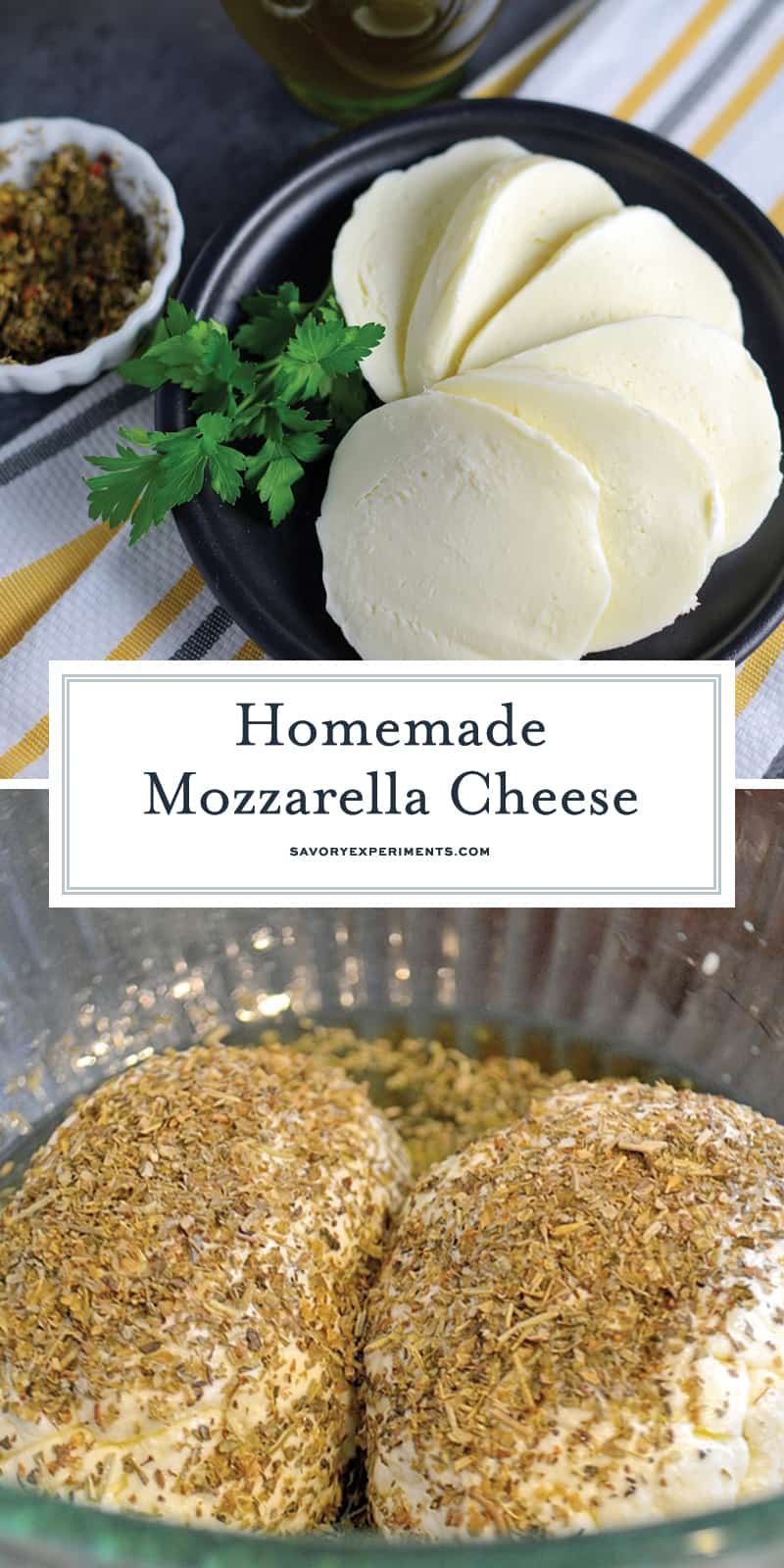 CONNECT WITH SAVORY EXPERIMENTS!

Be sure to follow me on social media, so you never miss a post!

Facebook | Twitter | Youtube
Pinterest | Instagram

Get our FREE 8 Day E-Course on How to Be a Better Home Cook. Sign up HERE!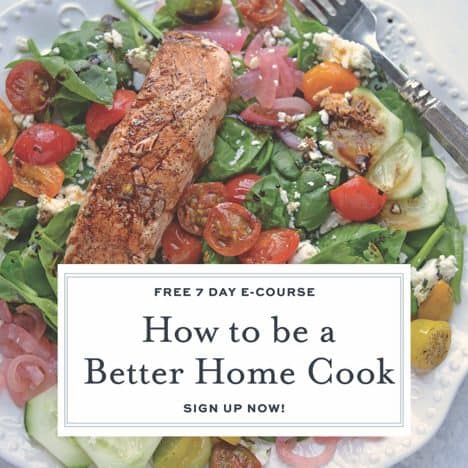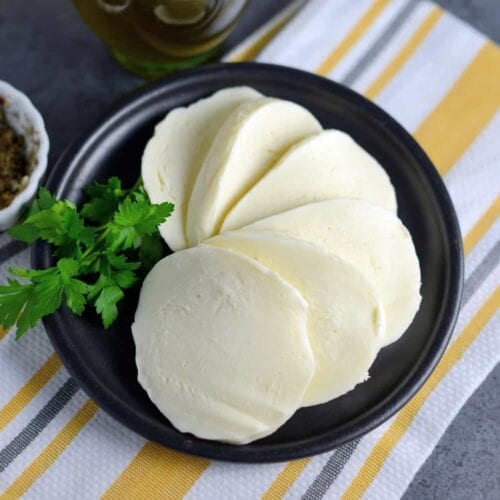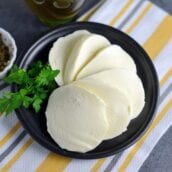 Print Recipe
Homemade Mozzarella Cheese
Make fresh, homemade mozzarella cheese for a fraction of the cost with no added preservatives or additives.
Instructions
Start by dissolving rennet in 1/4 cup water. Then pour milk into a large non-reactive pot. Place the thermometer in the pan and secure to the side.

Sprinkle citric acid powder over top, store the remainder for later use. Stir dissolved rennet into milk. Stir for one minute. Heat milk to 90 degrees and hold steady at that temp. This was a little more challenging with an electric cooktop than gas, but I got it to work! Do not heat over 90 degrees.

After 5-10 minutes, milk will start to separate, cheese curds from whey. Cheese curds will be a silky, gelatin-like substance. Whey is a liquidy, yellow substance, look around the edge in the picture. Using a large knife, cut curd into a checkerboard pattern with squares equaling 1×1 inches.

Continue to heat milk mixture to 110 degrees for 20 minutes. Be mindful that it does not go over 110 degrees. Cheese will continue to separate.

Line a colander with cheese cloth. Pour mixture into colander to drain. Dump cheese curds into a microwave-safe dish. Discard whey.

Microwave on high for 1 minute. Drain off the whey. Wearing plastic gloves to combat the heat, knead and stretch for 30 seconds. Heat on high for an additional 30 seconds or until it reaches 135 degrees. Curds will be really hot.

Add cheese salt. Wearing plastic gloves will prevent some of the heat from scalding your hands. As much as you can, knead the dough like you would bread. Start to pull and stretch. It might not be stretchy like silly putty, but it will still be okay. Continue to knead and stretch until it is one mass and not falling apart.

Mold into a ball and wrap with plastic wrap. Place in the refrigerator for at least 30 minutes. Remove plastic wrap and place in a bowl. Drizzle with olive oil and Italian breading dip seasoning.

Slice and serve! Enjoy your Homemade Mozzarella Cheese. Cheese will stay fresh for 2 days in the refrigerator, keep covered with olive oil to stay moist.

If you've tried this recipe, come back and let us know how it was!
Nutrition
Calories:
1169
kcal
|
Carbohydrates:
90
g
|
Protein:
59
g
|
Fat:
61
g
|
Saturated Fat:
35
g
|
Cholesterol:
189
mg
|
Sodium:
815
mg
|
Potassium:
2498
mg
|
Sugar:
95
g
|
Vitamin A:
3065
IU
|
Calcium:
2139
mg
|
Iron:
0.6
mg