If you're looking for a vegetarian meal for Meatless Monday, look no further than this Eggplant Rollatini recipe! It's EASY to make and full of flavor!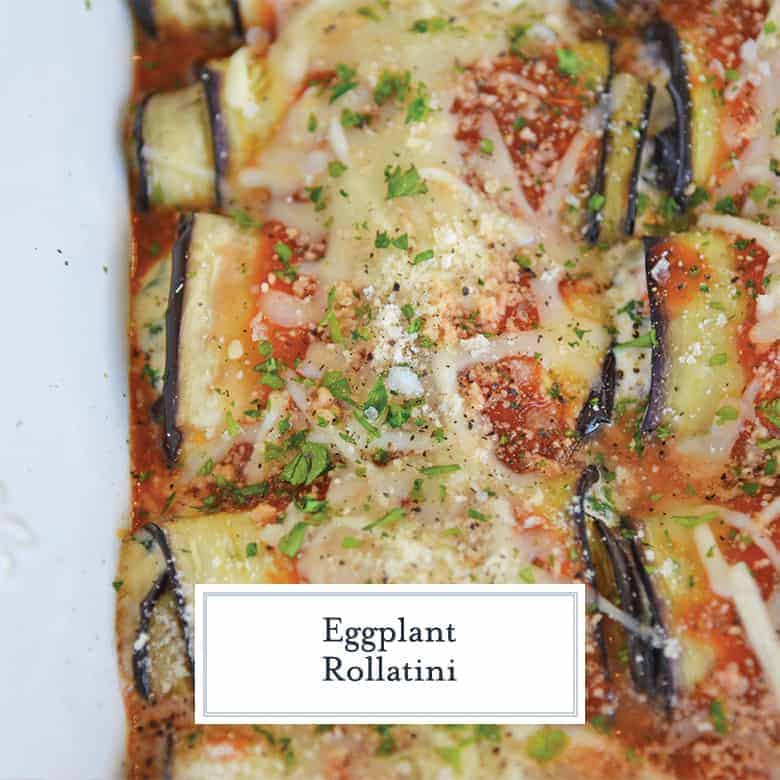 This is the BEST Eggplant Rollatini recipe. With simple ingredients and lots of Italian flavor, it's sure to become a family favorite.
Eggplant Rollatini Recipe
Eggplant Rollatini, sometimes seen as "eggplant rollatine" or involtini, it is simply eggplant rolled with a ricotta cheese mixture topped with tomato sauce and cheese. It is an easy low-carb, vegetarian Italian recipe that everyone will enjoy.
A Southern Italian favorite, Eggplant Rollatini has fallen off many menus in the states. Why? Well, the traditional methods of preparation are time consuming.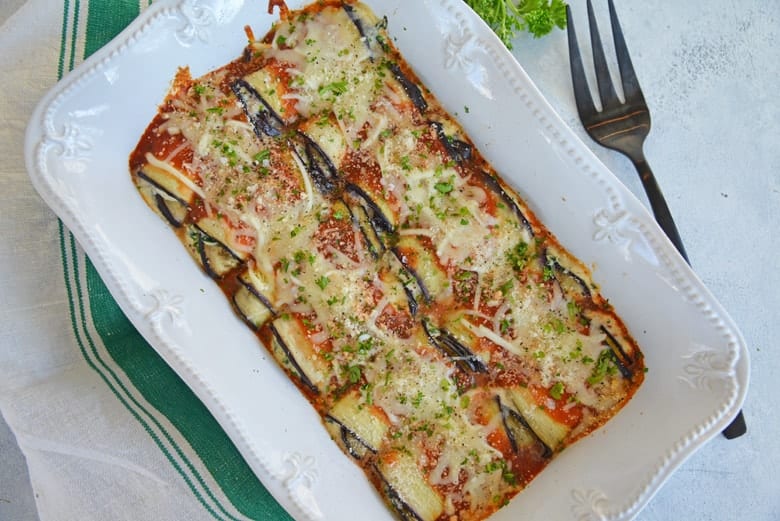 How to Make Eggplant Rollatini
There are a couple of ways to prepare eggplant rollatini. The first is to flour, bread and fry thin strips of eggplant, roll them in ricotta cheese, cover them in sauce to bake.
The issue with this is all your hard work flouring and breading for a golden brown crisp to allow it to sog up again when flooded with delicious marinara.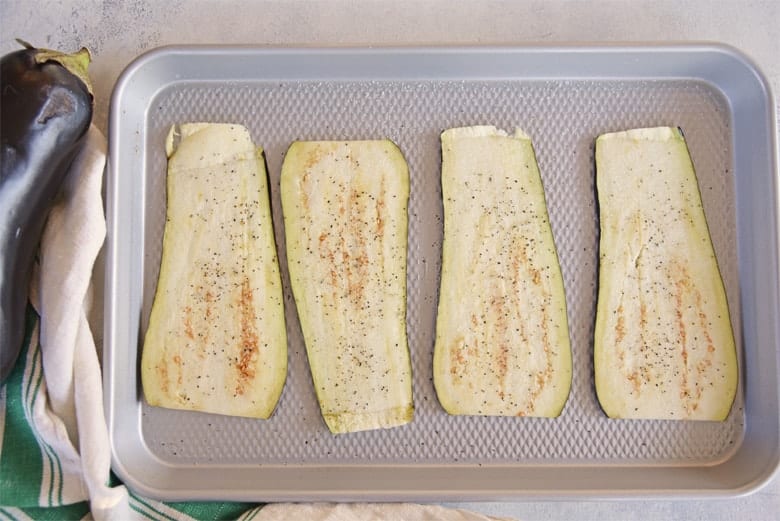 Eggplant is also notorious for being a challenge to get crispy since the vegetable is so full of water, so all that hard work is lost.
Bake Eggplant
The second way is probably my favorite, but by far the most time consuming and challenging. Here, you bake eggplant slices to dehydrate them, then roll them in ricotta cheese, secure the with toothpicks and then freeze them.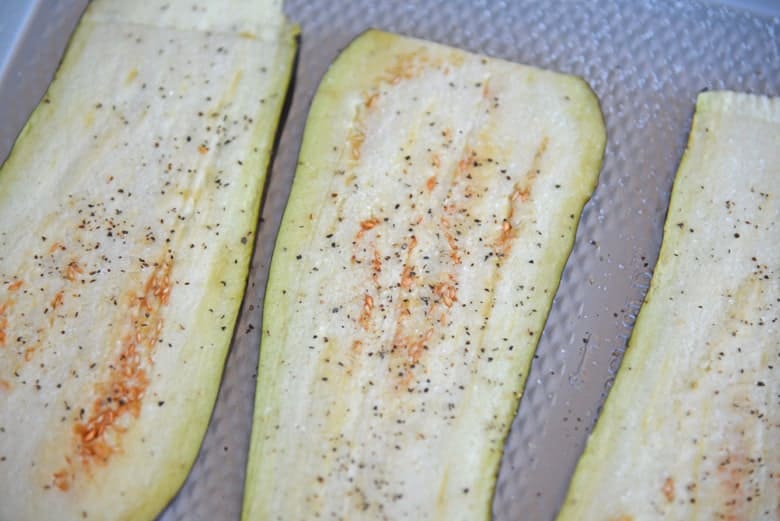 When you are ready to cook, roll are dipped in an egg batter and then fried. They remind me of an Italian chile relleno, but with eggplant instead of green chiles. They are served with a marinara or rose sauce and fresh mozzarella cheese.
Most of the baked eggplant recipes I've come across have two things in common:
They don't give you enough tips or advice on how to get the eggplant right .
And they have WAY too much filling. You really can't stuff that much into an eggplant roll-up.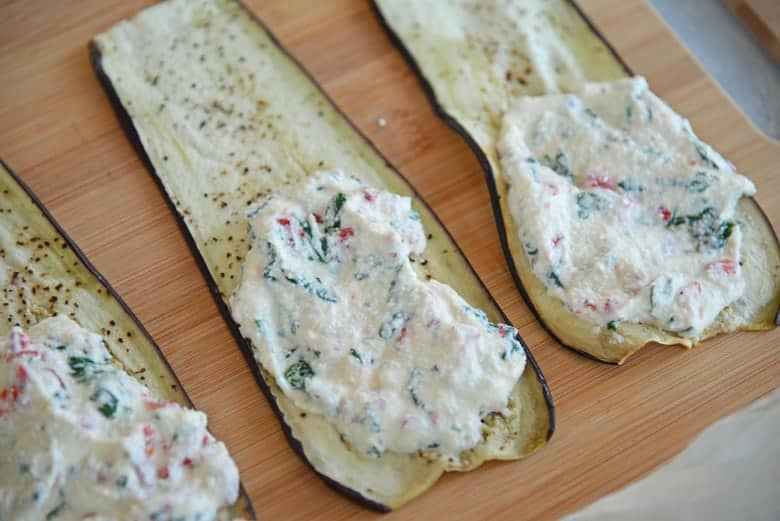 And depending on the side and length of your eggplant, that can vary even more. If serving as an entree, plan on serving 3-4 rolls per person. I like to think they are about the size of a stuff shell.
If serving as a side dish, then place for one or two. Having leftovers isn't the worst thing that can happen. Lunch for you!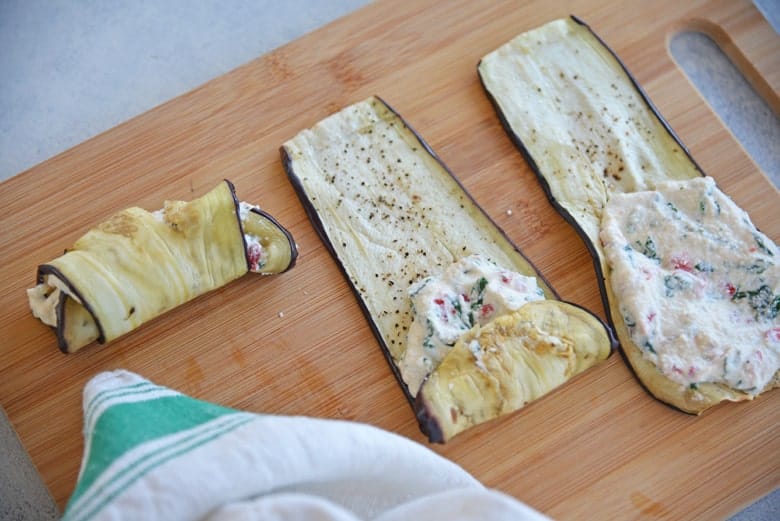 I also found some try to add too much flavor to the eggplant, so while I am skipping a few steps on flavoring and frying eggplant, I am adding flavor to the ricotta mixture with roasted red pepper, garlic and spinach. Trying to squeeze in those veggies any way possible!
I've created a baked eggplant rollatini that cuts out some of the cumbersome steps, but still results in a tasty bite with a little bit of toothiness.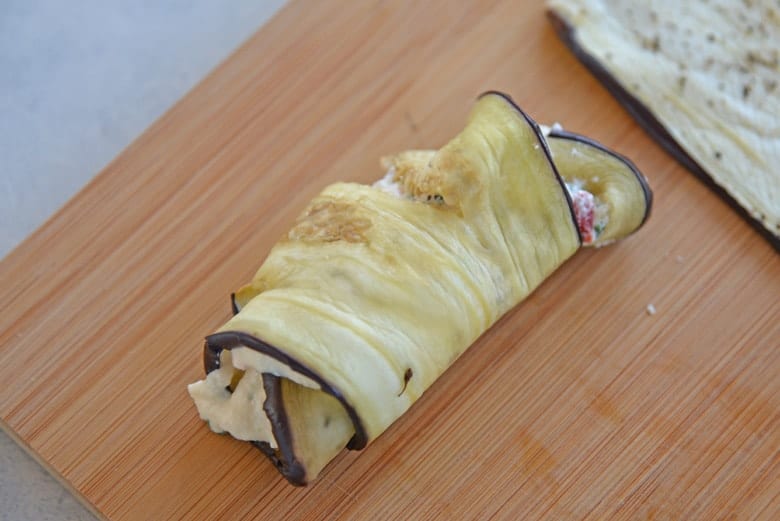 Tricks & Tips
The trick is to bake the eggplant, but not to the point of being totally limp. Instead of using plain ricotta cheese, I add minced roasted pepper and wilted spinach.
Both give a texture component and while it isn't the crunch of fried food, it does provide sophistication and a slight bite.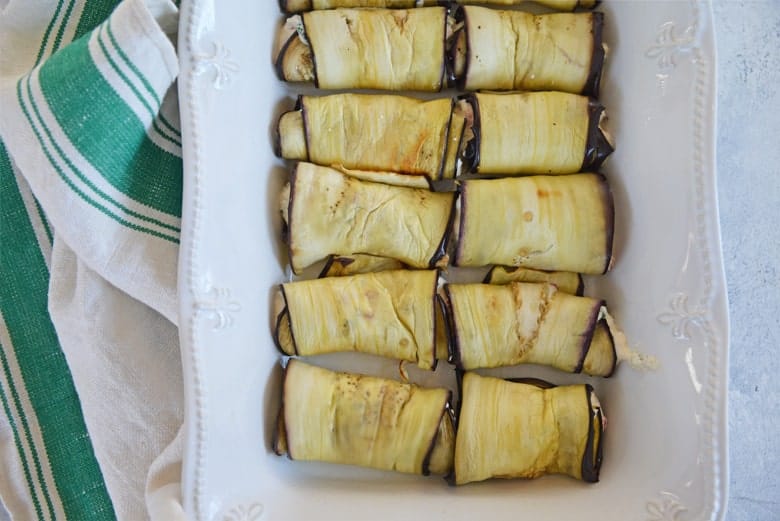 Servings may vary greatly just depending on the size of your eggplant. I had a few I made for Thanksgiving that were short and squatty, I needed four. But the ones I made today only required two.
PRO TIP: If you prefer to use fresh oregano, the swap is 1 tablespoon of fresh for every 1 teaspoon of dried.
I use a mandolin slicer to get an even, thin cut. Word to wise, still use the safety guard, you'll thank me when you aren't in the emergency room with stitches. It also gets more challenging to get good cuts the closer you are to the edges.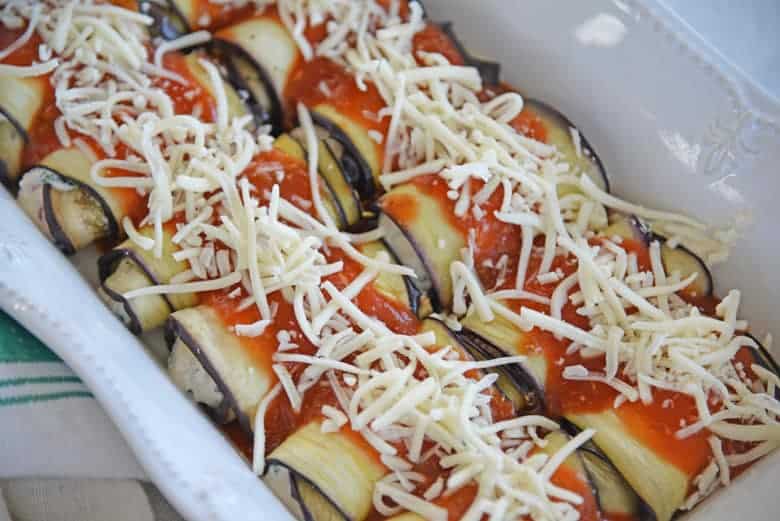 The next trick is to make sure that the filling and eggplant are as dry as possible. Any excess water that cooks off will make your tomato sauce thin and soupy. Yuck.
Drain roasted red pepper well and also dab dry on paper towels. Wring out cooked spinach well with paper towels or a kitchen towel. See notes in the recipe about how to do this. Just know the objective is to make things DRY.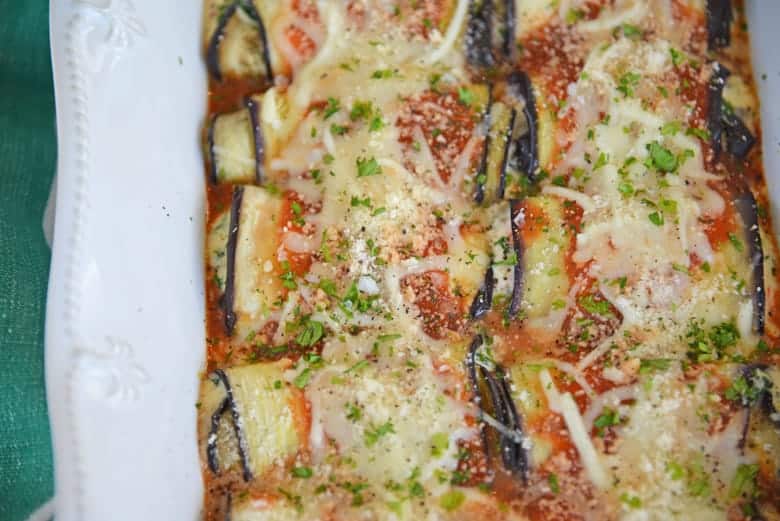 Also use a low moisture mozzarella cheese. It melts better and you won't get any liquid pooling in the bottom.
Tips for working with eggplant:
Know that eggplant is actually a fruit, not a vegetable.
When picking an eggplant, look for a firm and heavy fruit with uniform color.
Store eggplant in the fridge until you are ready to use.
Do not cut your eggplant ahead of time, it gets soggy and bitter.
Eggplant goes bad pretty fast, so buy a ripe one only one or two days before you plan to use it.
Eggplant slices best on the mandolin when it is cold, keep it in the fridge until right before you slice it.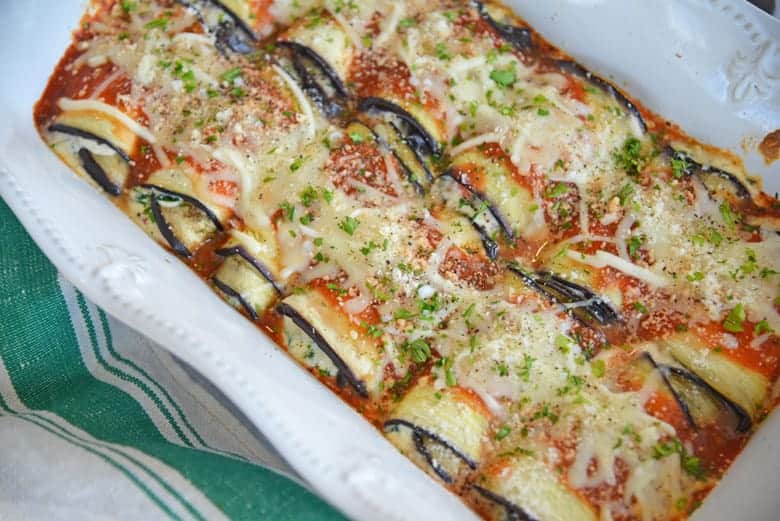 Tools:
Mandolin Slicer– this is the easiest way to finely shredded anything without pulling out all of the accessories to your stand mixer. You can attempt to slice eggplant thin by hand, but unless you are a ridiculously trained chef, your cuts will most likely not be even.
9 x 13 Glass Baking Dish– an absolute essential for any kitchen! Use it for baking, marinating or storing. Get one with a lid, you'll thank me later.
Wood cutting board – wood won't dull your knives like plastic and if treated properly, has natural antimicrobial properties.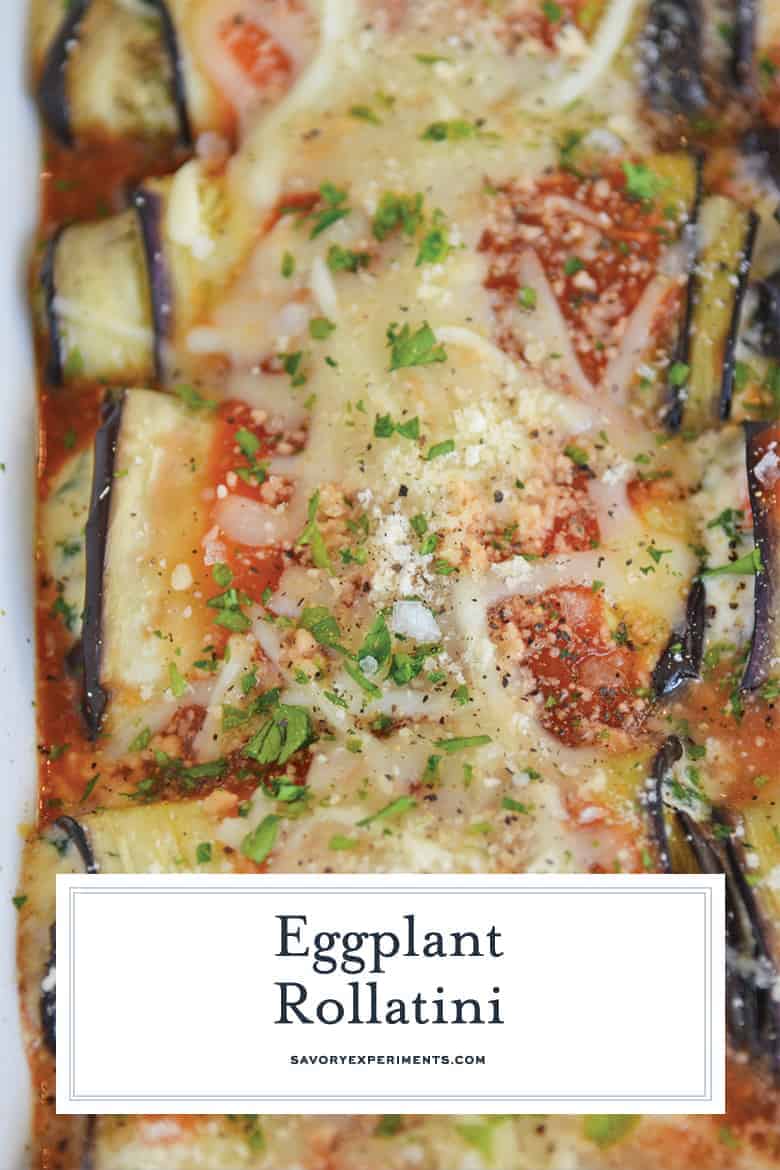 Questions you might have about how to make eggplant rollatini:
Do I have to use a mandolin? You don't have to, but it is the best way to cut eggplant for eggplant rollatini. You'll need a super sharp knife and a steady hand to do without one.
Can eggplant rollatini be frozen? It sure can! Cover it well and freeze it for up to 6 months.
Can I make this ahead of time? Yes! In fact, this is an awesome make-ahead dish and my husband might even tell you that it tastes better the next day.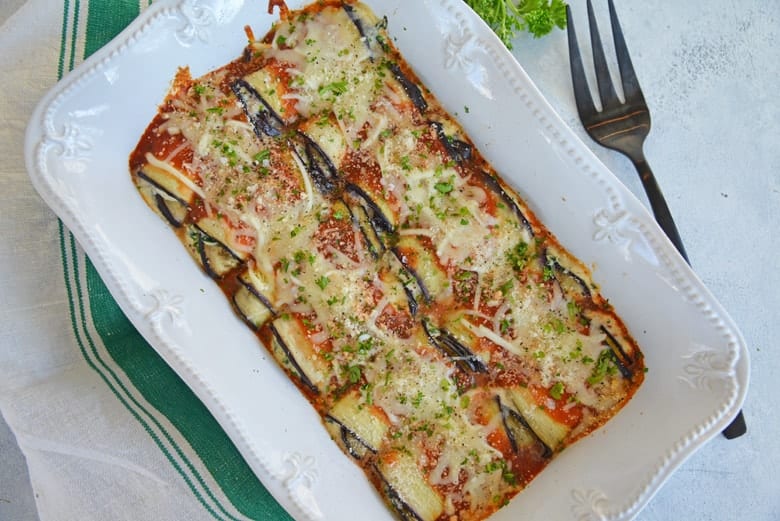 Is eggplant rollatini spicy? My recipe isn't as written, but if you want some heat, feel free to add 1/2 teaspoon crushed red pepper flakes to either the ricotta mixture or the tomato sauce.
Can I add meat if I want to? While this is a great option for meatless Monday or for your vegetarian friends, you can also add meat if you prefer.
Add 1/2 cup cooked and drained ground beef or chicken to the ricotta mixture and reduce the amount of ricotta by half.
Can you make this a vegan eggplant rollatini? Because of the cheese and egg, this recipe is not vegan. However, if you've experimented with vegan substitutes in the kitchen, feel free to try. And let me know in the comments how it turns out!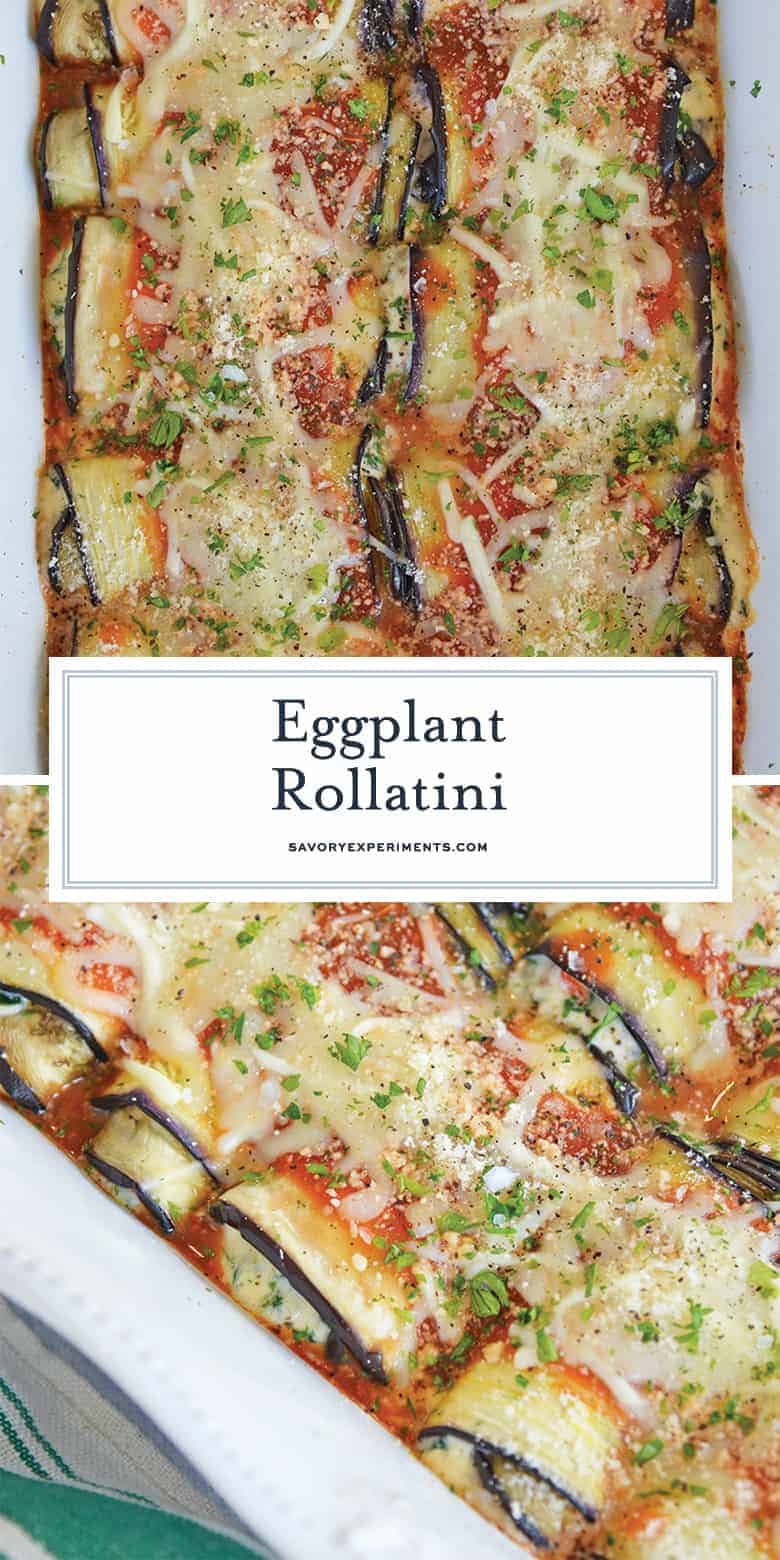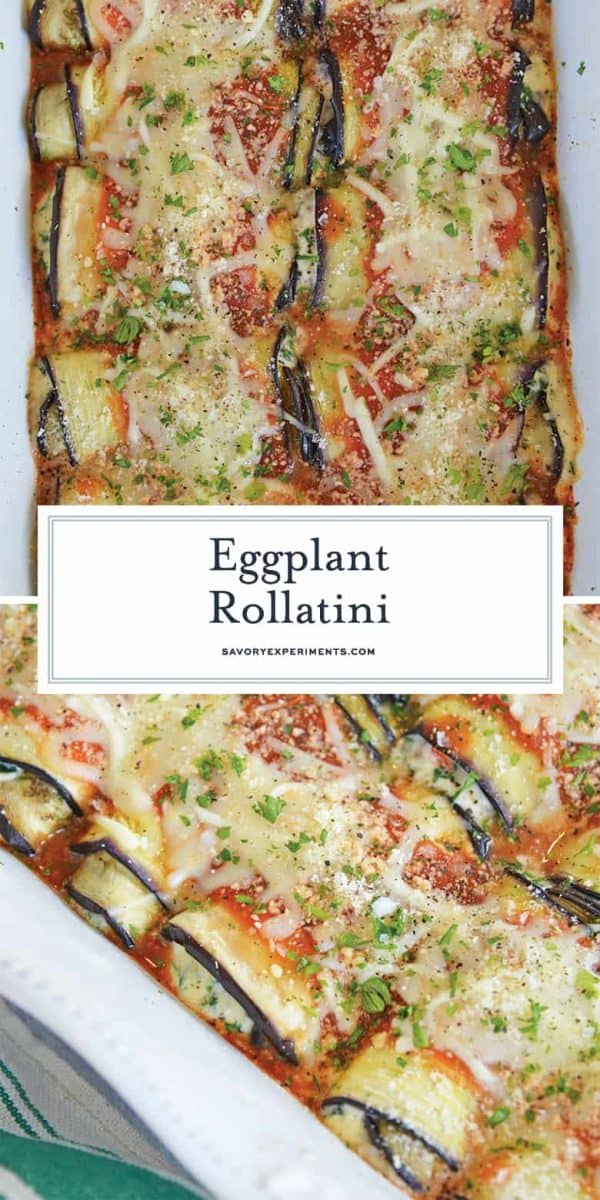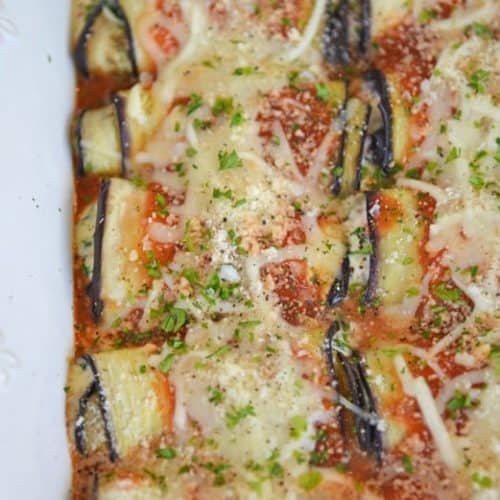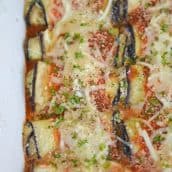 Eggplant Rollatini
If you're looking for a vegetarian meal for Meatless Monday, look no further than this Eggplant Rollatini recipe! It's EASY to make and full of flavor!
Instructions
Preheat oven to 350 degrees. Spray two baking sheets with cooking spray.

Using a mandolin slicer, cut eggplant lengthwise into 1/4 inch slices. Season with fine sea salt and ground black pepper.

Bake for 12-14 minutes, or until edges start to brown slightly. Slices should be pliable and flexible, but not crispy.

Heat olive oil in a non-stick skillet. Add garlic, cooking for 1-2 minutes.

Add fresh spinach and toss until fully wilted and reduced.

Drain and dry spinach as much as you can. Lay it flat on a paper towel to get as much water out as possible.

Make sure the ricotta is fully drained and roasted red peppers and spinach are as dry as possible.

Combine ricotta cheese, roasted red pepper, chopped spinach and egg in a mixing bowl.

Working one roll at a time, place a 1-2 tablespoons at the edge of an eggplant slice. Roll up and place, seam side down, in a baking dish coated with cooking spray.

Continue with remaining slices.

In a separate bowl, stir together tomato sauce and dried oregano. Top eggplant rolls with tomato sauce, mozzarella and parmesan cheeses.

Bake, uncovered, for 20 minutes.

Remove and allow to sit for 5-10 minutes before serving.

If you've tried this recipe, come back and let us know how it was in the comments or ratings.
Notes
In order for this recipe to work, the ingredients need to be as dry as possible. Drain ricotta cheese in a fine mesh sieve or a cheesecloth lined colander.
Dab roasted red pepper with paper towels until dry. Wring out cooked spinach to release excess water.
For spinach, use 2 cups fresh spinach in a skillet with 1 tablespoons oil over medium heat. Toss with tongs until spinach has wilted. You can also use frozen spinach. Whichever method you use, drain well.
Nutrition
Calories:
246
kcal
,
Carbohydrates:
22
g
,
Protein:
15
g
,
Fat:
13
g
,
Saturated Fat:
7
g
,
Cholesterol:
82
mg
,
Sodium:
759
mg
,
Potassium:
940
mg
,
Fiber:
9
g
,
Sugar:
12
g
,
Vitamin A:
917
IU
,
Vitamin C:
15
mg
,
Calcium:
265
mg
,
Iron:
2
mg