Few things compare to the gloriousness that homemade breadcrumbs can add to a dish or a meal. From casseroles to mac and cheese to coating chicken cutlets and more, they are a crispy crunchy vehicle for flavor and texture that are all too often overlooked.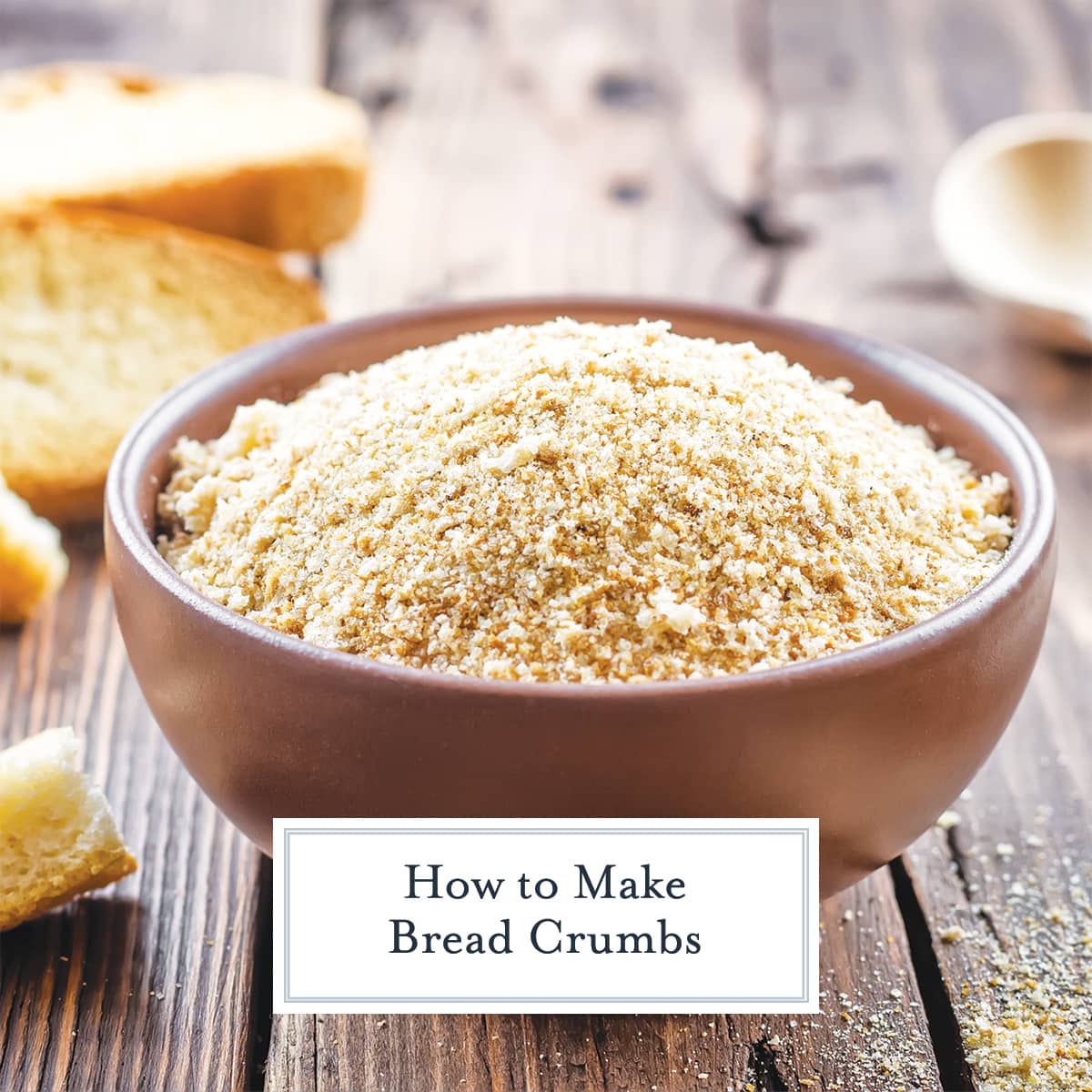 And while many of us, myself sometimes included, grab the store bought variety, they couldn't be easier to make at home. And you can make a large batch, dried bread lasts forever!
What are Breadcrumbs?
Let's go through the basics. Breadcrumbs are cubed bread that has been broken down into even small little bits and then toasted dry by being baked in the oven/toasted in a dry pan or toasted wet, with some sort of oil or fat. The result are crispy and crunchy morsels that can take a dish from ho-hum to holy moly in a flash. For the purpose of this conversation, we are going to be talking mostly about dry breadcrumbs.
For a bit of background, I grew up with a mom that would perpetually keep slices of white stale bread laid out in the oven on a baking sheet. Without fail, you would open the oven and find them there. The reason? She was resourceful and refused to waste ingredients and really wanted to be ready for stuffing when Thanksgiving rolled around.
Before a loaf was about to start growing legs, she knew that those slices should make their way into the oven to start the process of drying them out. These are known as "dry" breadcrumbs.
And while this method is great, the science of mold prevention might be thought of as a little shaky. Plus, if you are in a hurry, this can be too time consuming. I have found the best way to make dry breadcrumbs is in the oven, only with the heat turned on. Sorry, Mom.
What Type of Bread for Homemade Bread Crumbs?
You can go with any bread your heart desires in terms of the type of bread you use. Sure, you can use white bread to make them (and they will be delicious, of course!), but what if you started looking at the bread aisle or your bakery like a painter looks at the colors of paint on their palette. Think of the flavor a sourdough bread crumb could bring or even a rye bread crumb to liven up a dish or dinner.
My mom left her slices whole, but I would advise you break down the slices into chunks and process them in a food processor before toasting. Something less dense, like white bread, can be torn in bigger chunks. Something denser, like a country loaf, should be broken down into smaller chunks.
From there, you can choose the perfect size of breadcrumb you want. Looking for something fine? Not a problem. Throw those chunks into the food processor and let it go for a minute or so. Want something a bit chunkier and irregular, give it a few blitzes to find the perfect size. You can truly cater these to what size fits the dish the best.
Some folks even take toasted bread and use a box grater if they don't have a food processor. Note, this method doesn't not work with fresh bread, it really needs to be good and crunchy!
Bake Them!
The next level of flavor comes from baking them. This process will not only dry them out but give them a bit of color (and flavor!). Really want to go all out? Make seasoned breadcrumbs! Think a spice or two, a full-blown spice mix, some fresh or dried herbs, maybe even some finely crumbled bacon? You can truly layer flavor until the cows come home.
Whatever path you choose, skip the trip to the store, knowing that you can make your own breadcrumbs easily and at home.
Variations
After you master making basic bread crumbs, the possibilities are endless. Here are a few ways we love to make customized flavors.
Switch up the type of bread. Try using something unexpected like rye, pumpernickel, sourdough or even focaccia.
Add other seasonings. Italian seasonings is the most common, but any seasoning blend from Thai to Blackened can create an interesting flavor. Or keep it simple with onion powder or garlic powder.
Toast them! Just like meats, browning bread crumbs changes the flavor profile due to the maillard reaction.
Toast them AND use olive oil. Flavored oils will add even more fun taste.
Breadcrumbs or Bread Crumbs?
That is the question… and a commonly asked one! Both spellings, breadcrumbs and bread crumbs, are acceptable. Turns out most folks prefer one-word, but I like it as two. Up to you.
What are Panko Breadcrumbs?
Panko (for short) is a Japanese style of breadcrumb made from crustless white bread. While in Japan they make it with Japanese white bread, in the states you can make it with any type of white bread. It literally translates to "breaded".
It has more to do with the texture and larger, airy crumbs than the actual bread it is made with. These larger bits can result in crunchy topping and absorbing less oil and grease when fried. In nearly any recipe you can interchange panko or plain breadcrumbs and vice versa.
To make panko bread crumbs, follow the same instructions, but use plain white bread without crusts, then pulse to a coarser texture than you would for Italian style.
Storage & Shelf Life
Fresh breadcrumbs will last for months if stored properly. First, they need to be fully dried out with zero moisture left. If you plan to keep them for an extended amount of time, I suggest tossing with a small amount of coarse Kosher salt to prevent any moisture, but also preserve.
Store in an airtight container in a cool, dark place at room temperature.
Recipes that Use Breadcrumbs: