This video was filmed as part of a Facebook LIVE segment with How to Sear Scallops. For the full version and to watch more, visit us on Facebook. I also usually don't sound like Minnie Mouse… I had to speed up the video to make it fit!
Oh, Carbonara, how I miss you. One of my favorite things about visiting Italy, Rome specifically, was bowls upon bowls of Carbonara. Velvety carbonara sauce is just dreamy…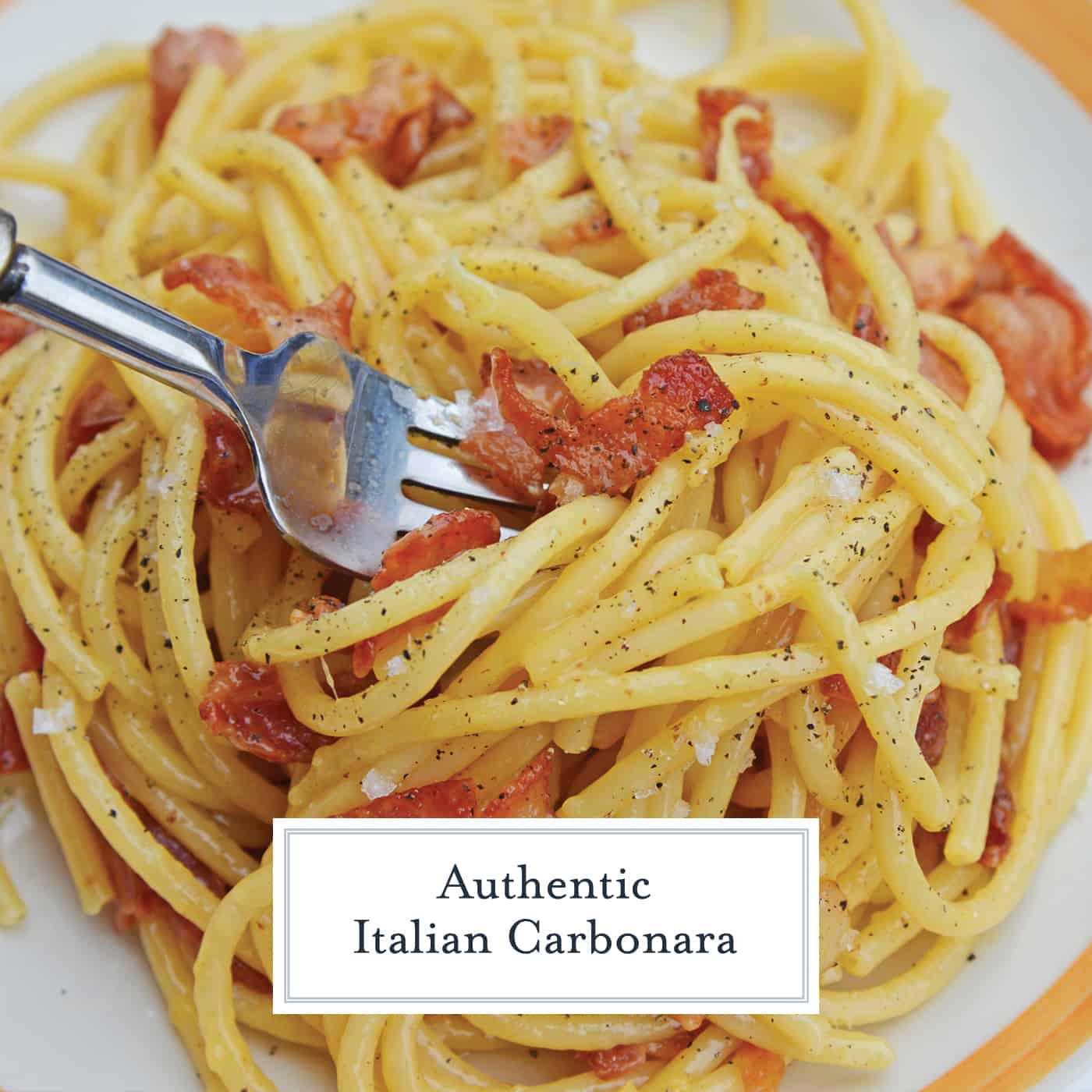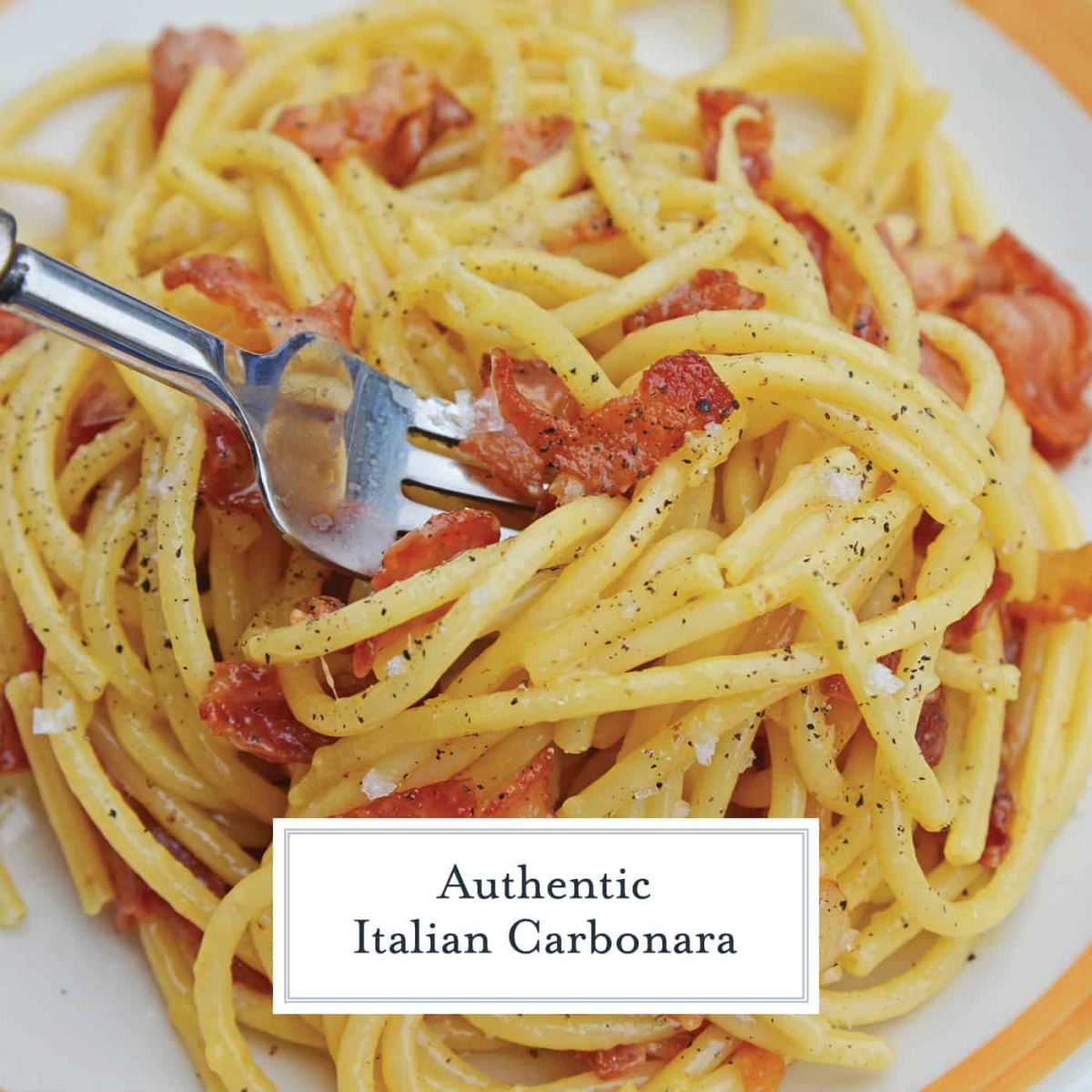 Authentic Carbonara is an easy Italian pasta recipe using eggs, cheese and bacon. This is an easy carbonara recipe that any home cook can feel confident in making!
Carbonara is something you don't see on many Italian American menus and quite frankly, you don't really see it all that much outside of Rome unless you are at a super touristy restaurant, of which I try to avoid.
You might also see it referred to as pasta carbonara or spaghetti alla carbonara, some just carbonara.
Whatever the name, it is a pasta dish with an egg mixture tossed with super hot pasta in a large skillet. Reserved pasta water and cheese mixture brings it all together.
A good dish of carbonara goes back to the basic elements of Italian cooking. Good, simple ingredients. You won't find dishes with 15 ingredients and tons of toppings in Italy. Nearly all of them are limited to 10 and under.
And the whole locavore movement is almost laughable. There is no such thing when everything is sourced locally.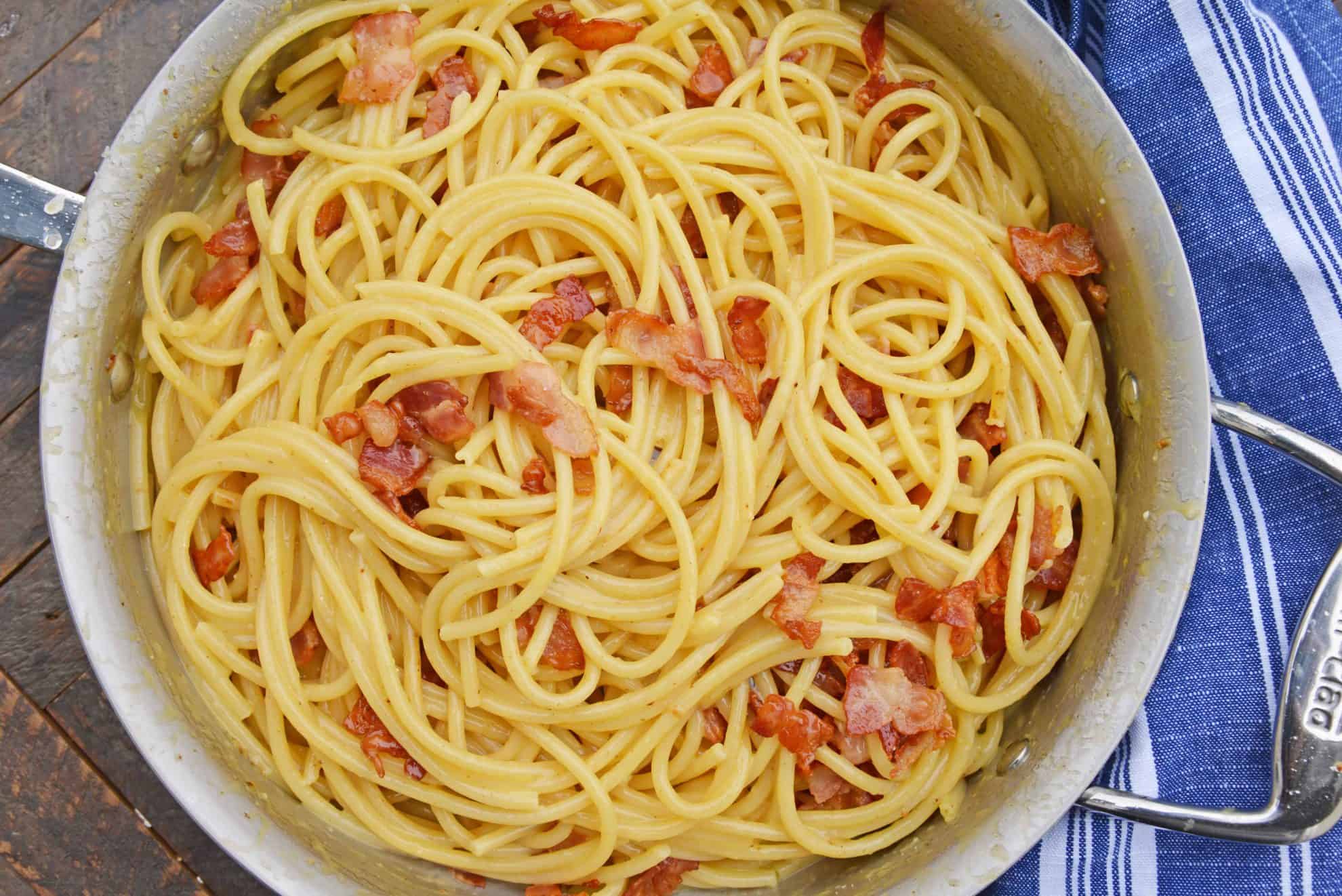 While Carbonara is a very simple recipe and in fact, very fast to make, it still scares the crap out of most Americans to make it at home.
I am not sure if it is the fear of cooking with raw egg, not moving fast enough to make the velvety sauce instead of pasta with scrambled egg or the mere fact that most American think carbonara is actually Alfredo (it is most certianly not).
What is carbonara or what does it mean? It doesn't have a literally translation, but is the name for pasta sauce made with cured pork, egg, and grated cheese.
I had a close friend tell me her kitchen as never been messier and she was never as fearful to make as dish as she was when she made carbonara. The pressure to move fast was just overwhelming.
While it is true you can't dilly dally around the kitchen and time is important, it will also be ok if you don't move at warp speed.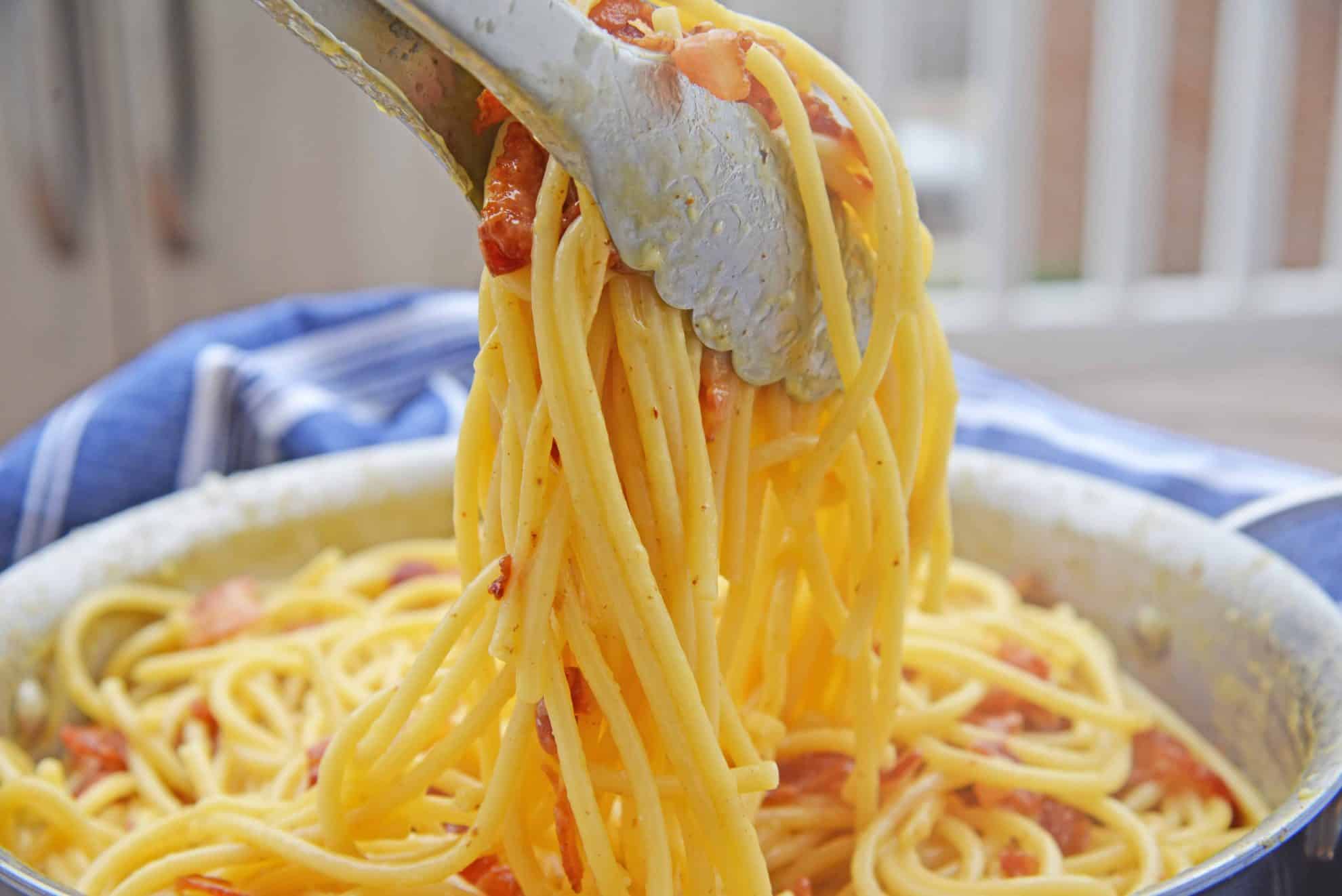 There are only a couple of basic elements: pasta, pork (bacon or pancetta), cheese (most commonly percerino romano), egg, salt and pepper. Minus the egg and you have cacio e pepe.
First, you must choose your pasta. With over 500 shapes, it is very true that each was designed specifically with a sauce in mind. Carbonara pairs best with a thick, eggy pasta cooked al dente, or in some cases even a little under.
It is most popular with spaghetti (spaghetti carbonara) or wide, flat noodles like fettuccine, but I like mine with bucatini, a fatter, round spaghetti with a hollow center.
I've tried Carbonara with cappellini and even tubed pasta like rigatoni and it just doesn't turn out the same.
Second it the first of the fats, the pork, which serves two purposes. First it, flavors the dish, as any fat is really the base flavor of all dishes.
And secondly, the rendered bacon fat coats your noodles and allows the sauce to comes together without turning into just egg.
Pancetta is the most traditional of pork used, but I typically end up using bacon because it is cheaper and easier to find. What is the difference between pancetta and bacon?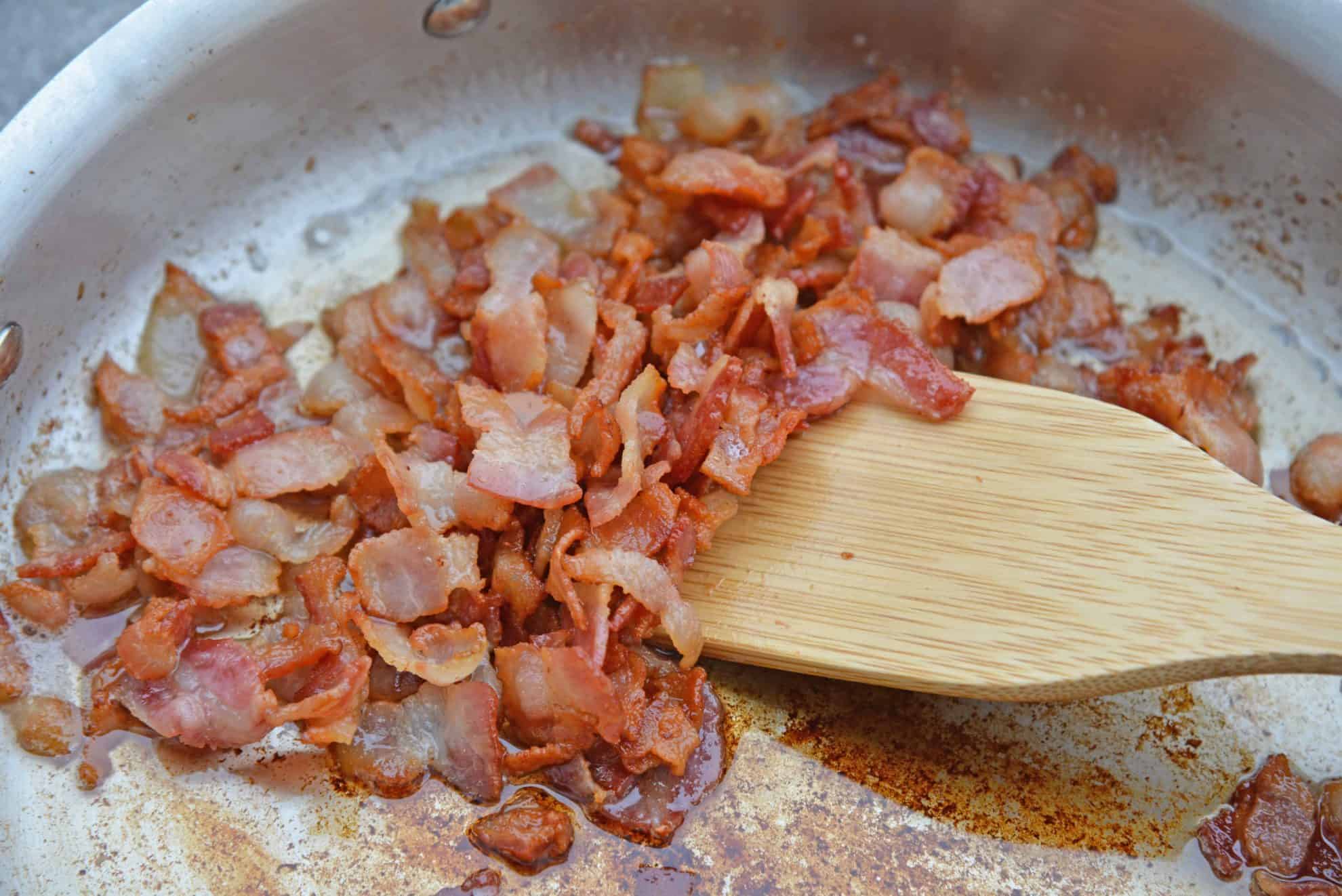 Both are pork belly, but bacon is typically cured, smoked and sliced while pancetta is cured and left into a whole chunk, making it easier to cut into larger pieces, or as the French say, lardons.
The bacon and rendered fast can be prepared ahead of time. I make this dish for dinner parties quite frequently and do this step ahead so I just need to boil the pasta and toss.
Guanciale, an Italian cured pork made from the jowls or cheeks is also sometimes used. it is quite tender and doesn't have as much rendered fat.
I prefer something fattier so I don't have to add additional oil and also something with a gummy texture, like bacon or pancetta.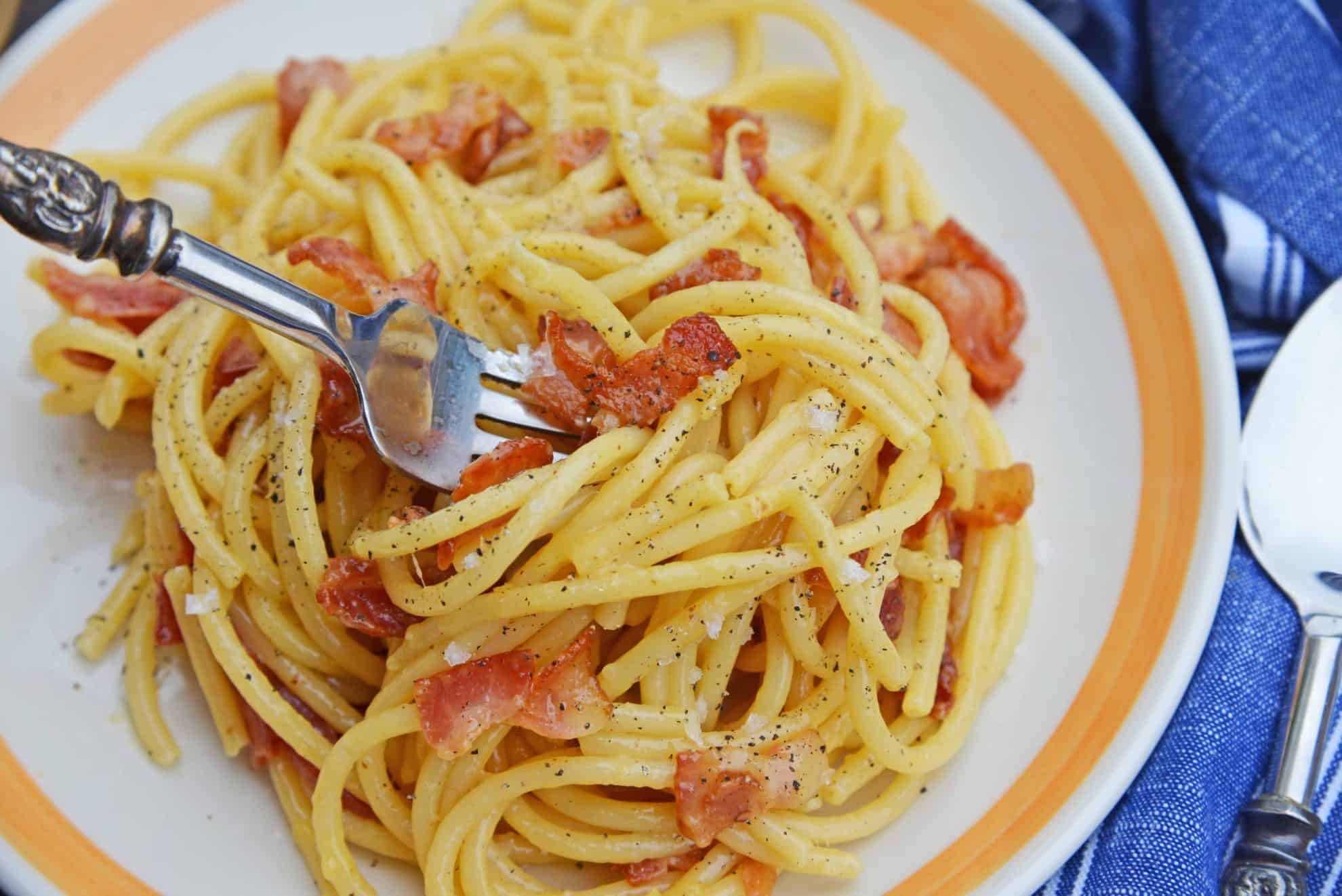 The cheese comes next. Pecorino romano is most commonly used, but any hard cheese, like Parmesan will work. I wait to season with salt until the very end because these hard, brined cheese also provide a salty profile and vary greatly from cheese to cheese.
Some carbonara sauces won't need any additional salting if the cheese is also salty.
And of course, the egg. My only advice is to use the freshest eggs you can come by since carbonara is only a lightly cooked egg sauce.
Some people will also add fresh garlic, olive oil or parsley, but I find these ingredients to be unnecessary. Sometimes I do top mine with grilled shrimp or seared scallops.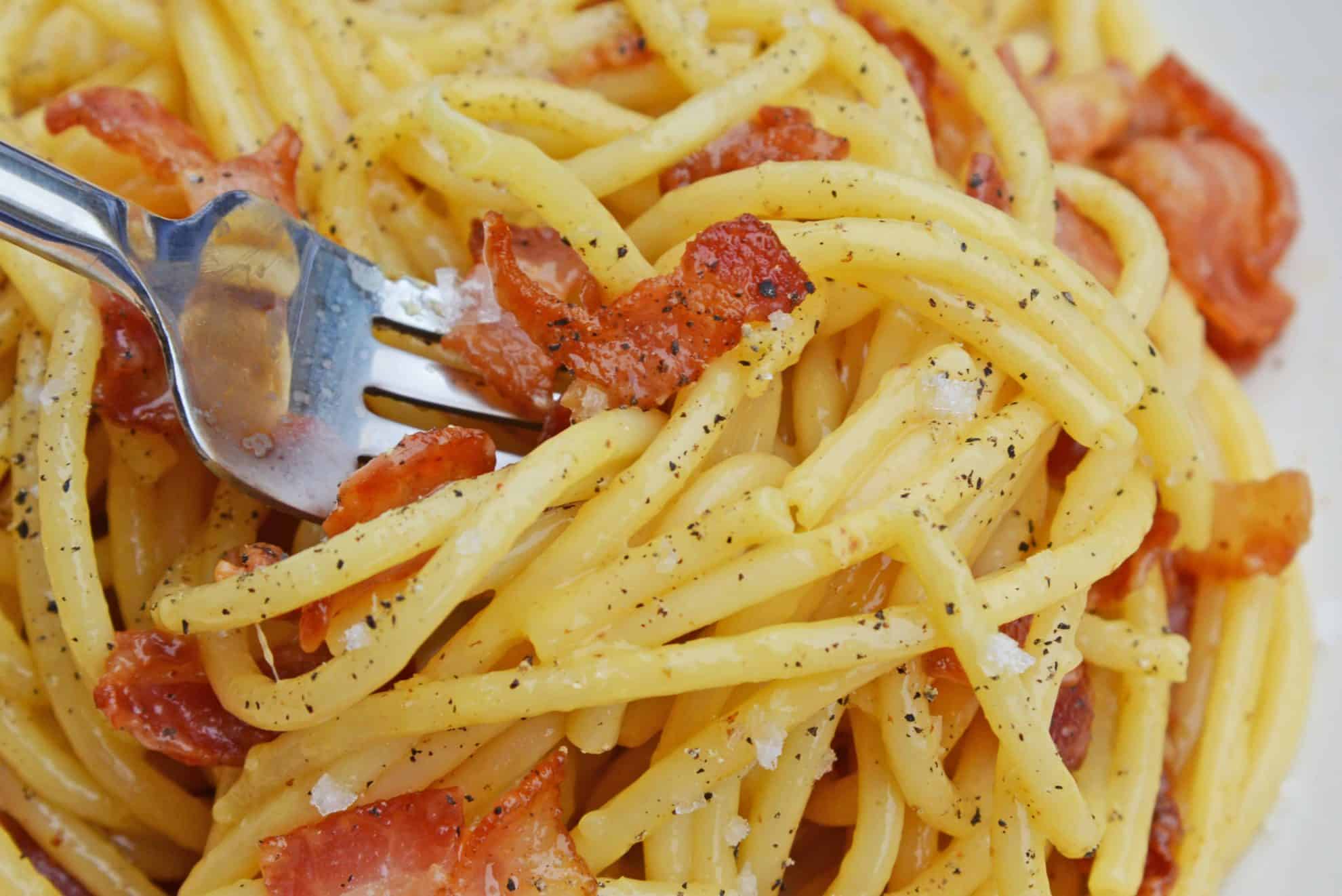 Questions you might have about how to make carbonara:
What if I forgot to reserve some of the pasta water? I can't tell you how many times I've done this. My husband hears the curse word from the kitchen and he doesn't even ask, instead yelling in "forgot to save some water!" I even put the measuring cup with a ladle right by the cooktop, still I fail.
So I have also become really good and finding alternate solutions. The easiest is just a small amount of cornstarch in water. About 1 tablespoon for 1 cup of water. Afterall, pasta water is just starchy water.
Can I get sick from eating raw eggs in carbonara? You can sick from eating anything, raw or not, but the risk is so low that I don't even worry about it. In fact, the day I made this batch (and devoured it) I was pregnant.
Try for the freshest eggs you can and know that the sauce is partially cooked. Just as cooked as a benedict sauce, if you eat eggs benedict. You can also look for eggs that specify they have been pasteurized.
Can carbonara be reheated? I would like to tell you YES, but the sad truth is it never tastes the same as fresh. Never. I've tried it so many ways, but it is really hard. The best way is to reheat it is to use cream, making it almost an alfredo.
Heat a small amount (1/2 cup or so) of cream in a saucepan, when simmering, add leftover carbonara and toss until hot. It might not ever be piping hot, but it will be more than room temperature. Add more pecorino romano until makeshift sauce thickens.
Can carbonara be frozen? I wouldn't do this. The sauce can't be separated from the pasta and it doesn't reheat well.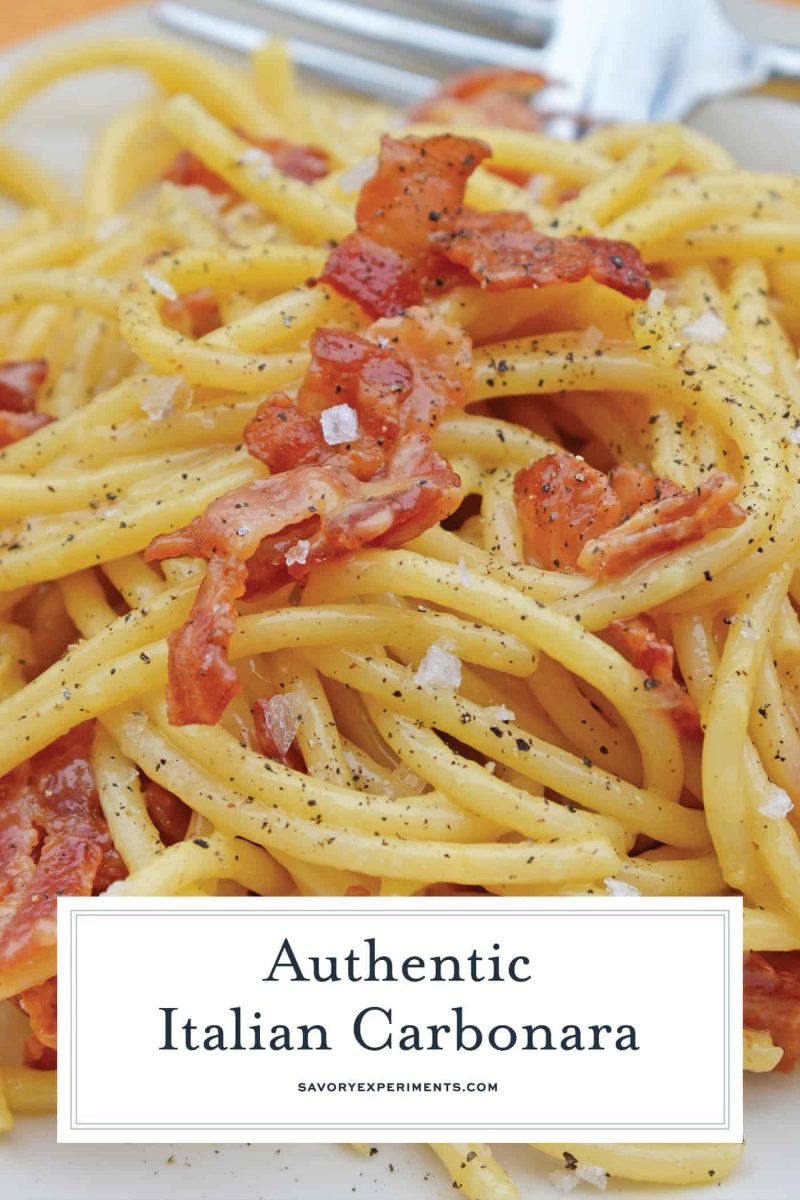 Is carbonara good for you? No! It is literally fat, on fat on carb. But if you eat like the Italians eat, in much smaller portion sizes, then you don't need that much and everything in moderation is okay. It is a heavy meal, so you won't need a heaping serving to feel satisfied.
What is my sauce is lumpy? Let me tell ya, the one thing I learned while in Rome was that most Carbonaras are a little lumpy. You can add more pasta water to thin it out, but your lumps might also just be cheese and that is totally acceptable!
Can I make carbonara without bacon? Yes! You will still need a fat to coat the pasta with, so instead of rendered bacon fat, use heated olive oil or butter.
Can I make carbonara without eggs? Unfortunately, not eggs are the base of the sauce and there is no good substitution.
If you like classic Italian recipes, check these out: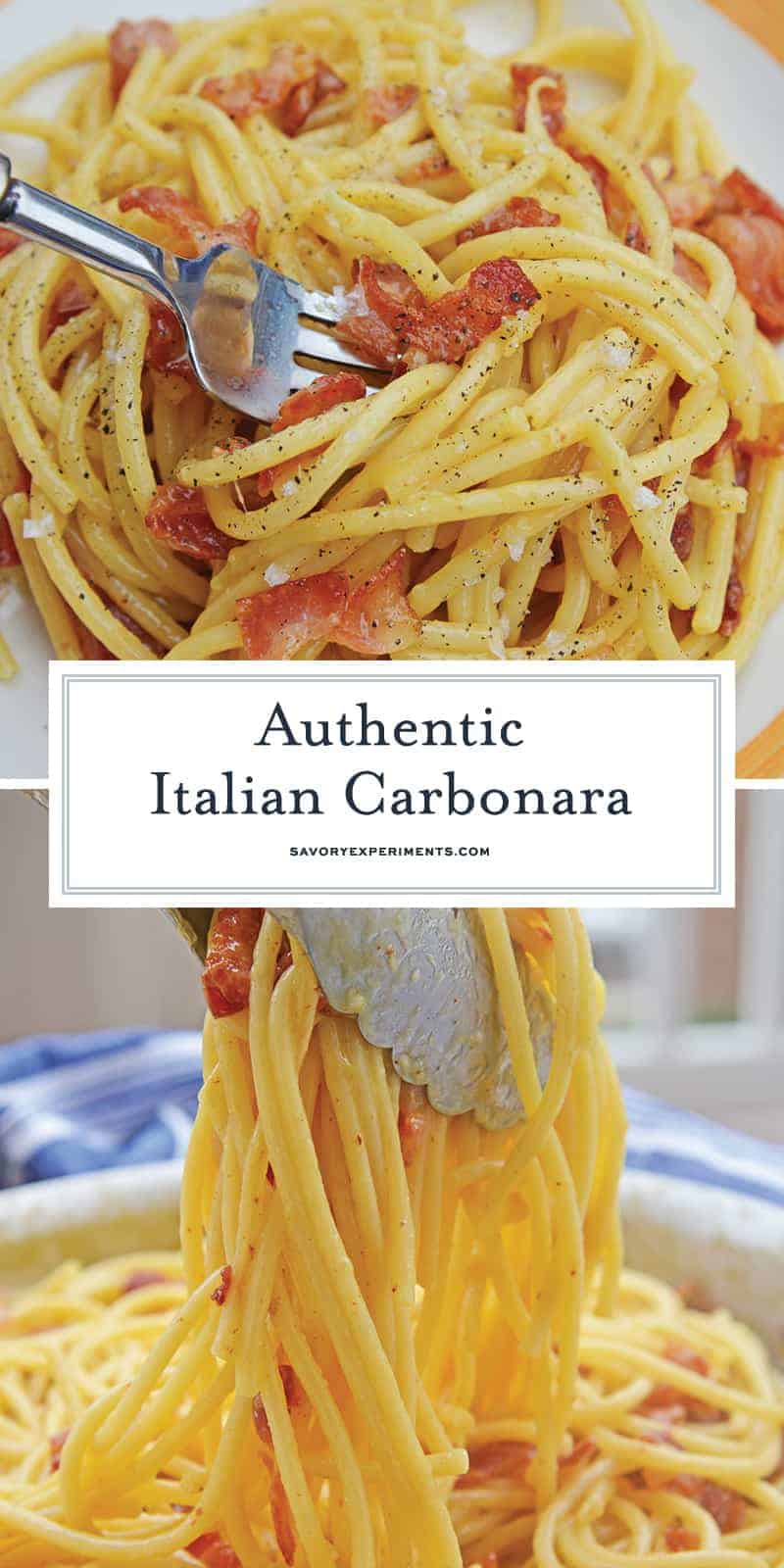 CONNECT WITH SAVORY EXPERIMENTS!

Be sure to follow me on social media, so you never miss a post!

Facebook | Twitter | Youtube
Pinterest | Instagram

Get our FREE 8 Day E-Course on How to Be a Better Home Cook. Sign up HERE!