This Seafood Fra Diavolo recipe is a delicious restaurant worthy seafood dinner that can be made in the comfort of your own home! Even though this recipe is time consuming, it is really easy, and worth the wait!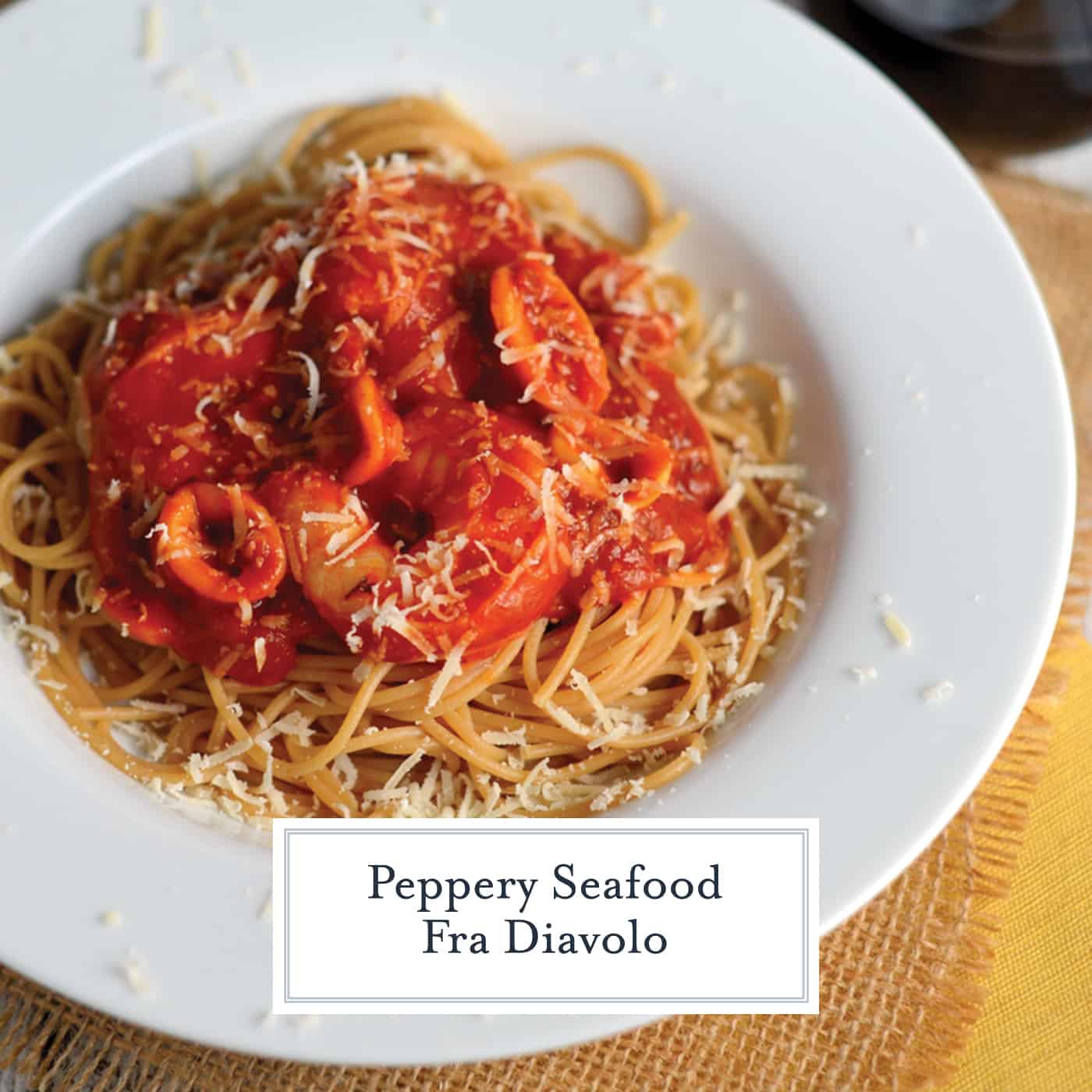 This Seafood Fra Diavolo Recipe is one of my favorite seafood pasta recipes ever! Fra Diavolo is a deliciously spicy marinara with fresh seafood. It's the perfect combination of sweet and spicy at the same time.
What does Fra Diavolo Mean?
I know the term "Fra Diavolo" isn't a very common word that comes up in conversation. You may be one of those people that have never even heard of it before.
PRO TIP: Different sauces are meant to pair with different shapes of pasta. Thinner, tomato based sauced do best with long, thin pastas like spaghetti, capellini or even fettuccine.
So what does Fra Diavolo mean? Fra Diavolo means "brother devil" and the tern can be added to any dish that is spicy.
This Seafood Fra Diavolo is a spicy marinara that I like to pair with am al dente pasta, usually thin spaghetti. You can choose your own seafood, but I used large shrimp and squid.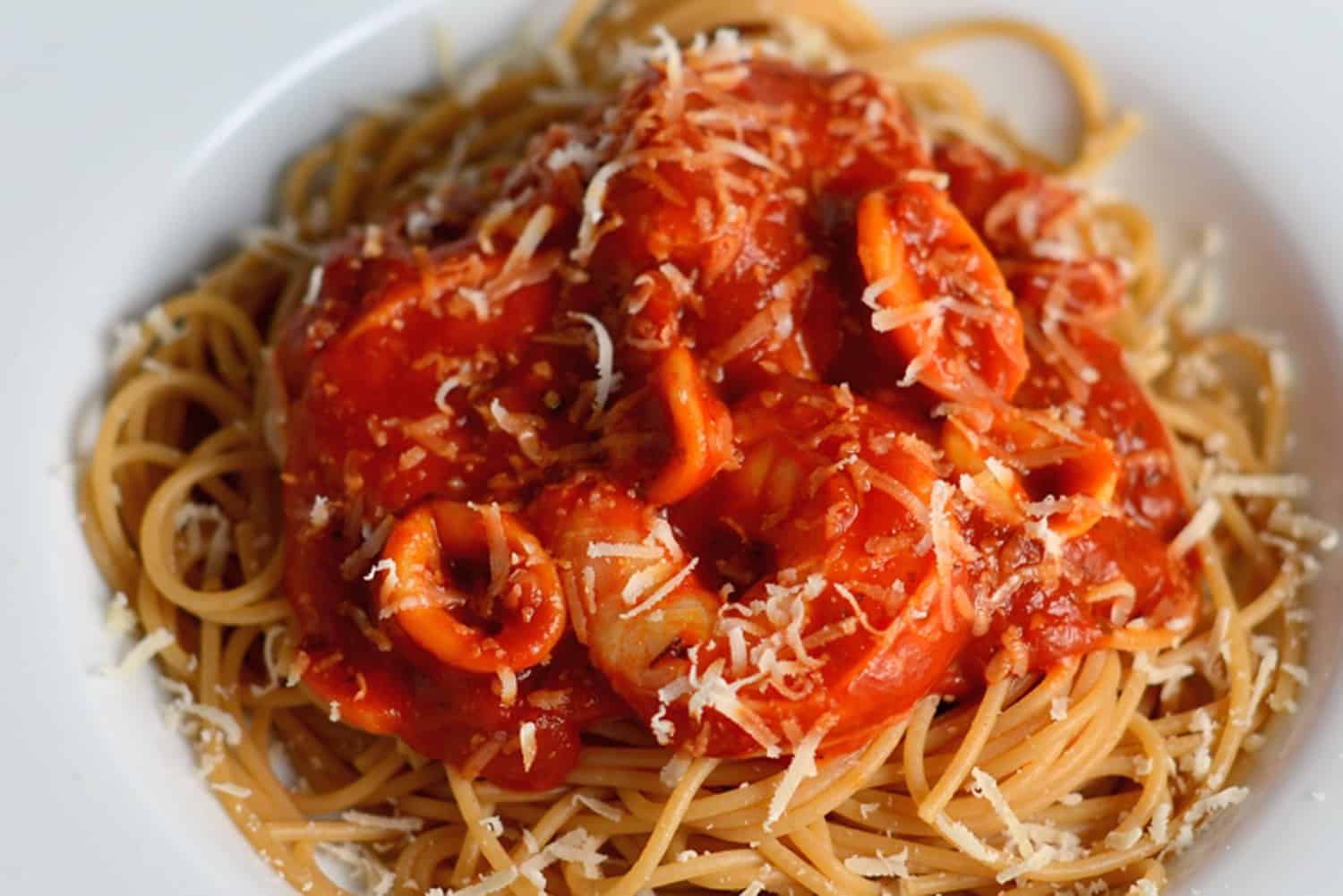 There are many ways to make it, but most commonly crushed tomatoes, onions, garlic and crushed red pepper, also known as red pepper flakes. Some people like to add white wine or even red wine, but I don't necessarily think it needs it.
What Does Fra Diavolo Taste Like?
Fra diavolo sauce is initially spicy with a sweet aftertaste. You'll see it most commonly over pasta, but it can be used on pizza, calzones, stromboli or as a dipping sauce. Really any place a traditional marinara sauce is called for, you can use fra diavolo sauce instead.
Seafood Fra Diavolo is a meal we typically eat in the colder months, but it can be served any time of year. I make it it in a jumbo size stock pot
and then freeze it in batches before I add seafood, which is only in the last 30 minutes of cooking.
I know what you're thinking when you look at the cook time for this recipe. "Two hours just for simmering time!? Are you crazy?"I
It seems like a tedious recipe, but I'm telling you it's worth it for those special date nights in! Plus during those 2 hours, it only needs to be stirred occasionally. it isn't a hard recipe… just time consuming.
PRO TIP: Use freshly grated cheese when topping your seafood pasta dishes, or any other dish for that matter. Pre Shredded cheese can be dry and is tossed in a powdery starch to prevent clumping. This gritty texture can also translate to your food. For best flavor, grate fresh off the block right before serving!

This dish pairs best with pecorino romano, but also Parmesan!
I put my "sauce rule" into effect when cooking it. This simply means that anyone who enters the kitchen for any reason while it simmers, must stir the sauce. And if you get caught taste testing, you are banned from eating my famous Cheesy Garlic Bread Sticks.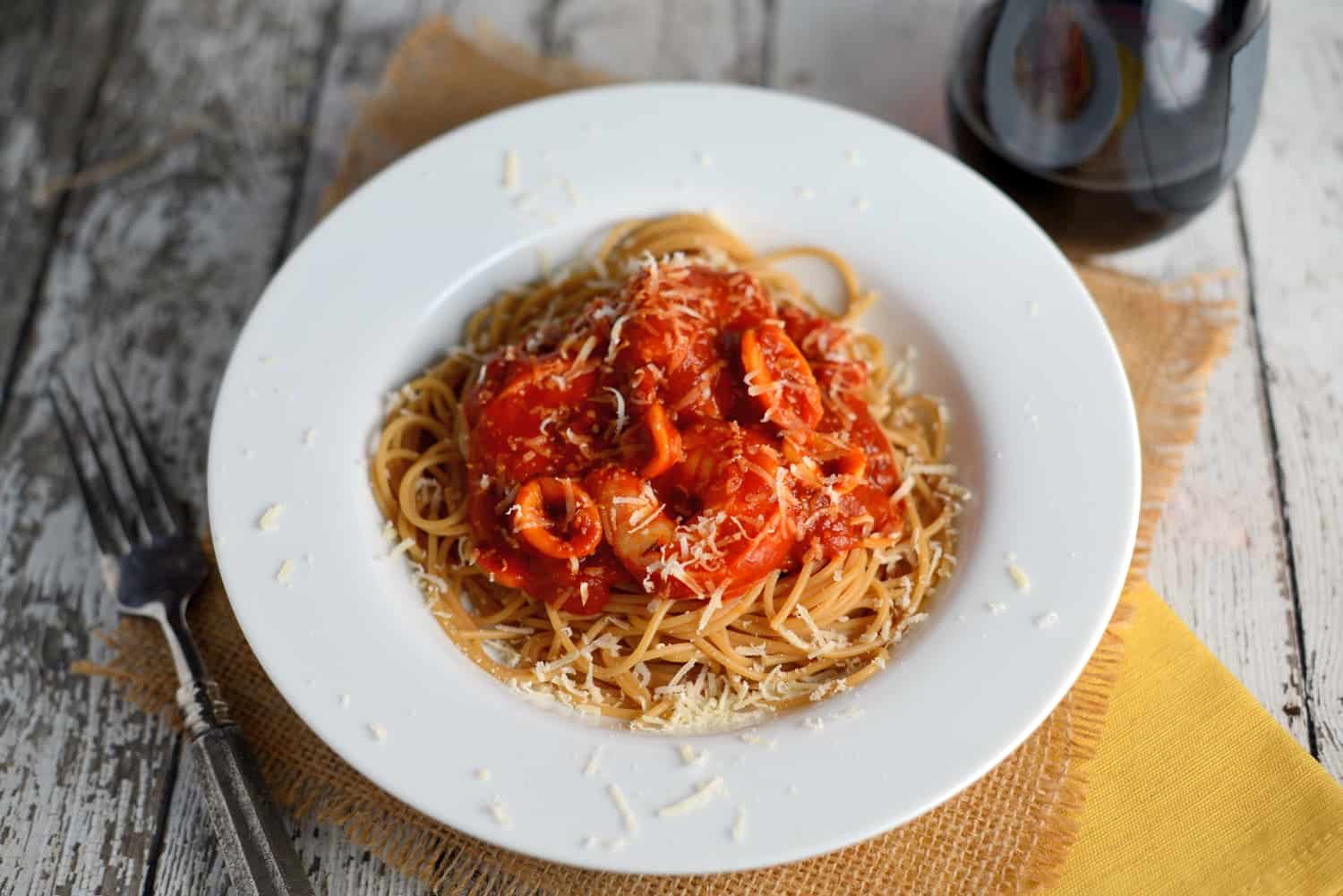 Make sure you pair this dish with a fantastic wine!
Southwestern Shrimp and Grits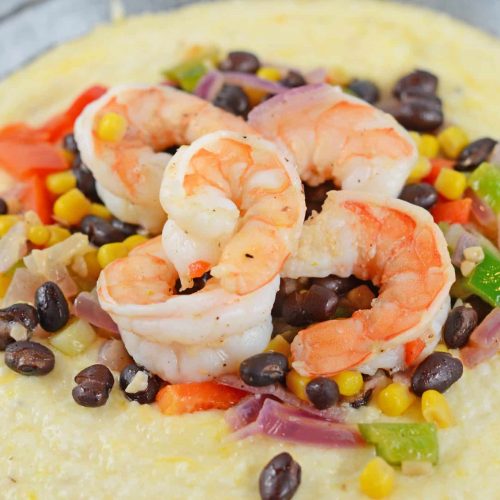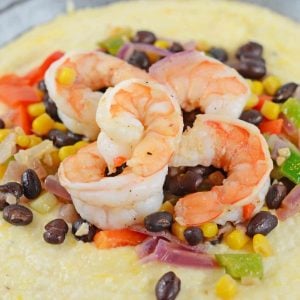 Southwestern Shrimp and Grits is a new take on an old classic combining Texas Caviar with Creamy Cheddar Grits and shrimp!
Scallion Pesto Scallop Pasta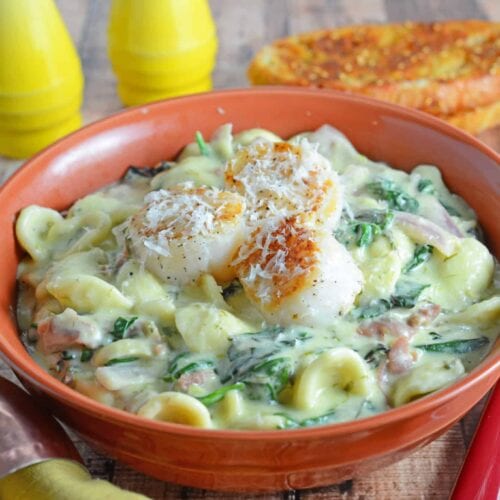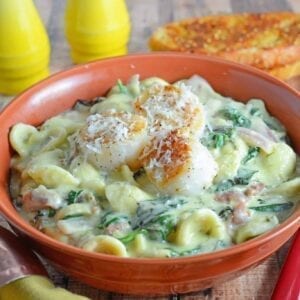 Scallion Pesto Scallop Pasta is a restaurant quality dish, creamy pasta sauce with garlic, Swiss chard, prosciutto and seared scallops.
Creamy Shrimp Alfredo Recipe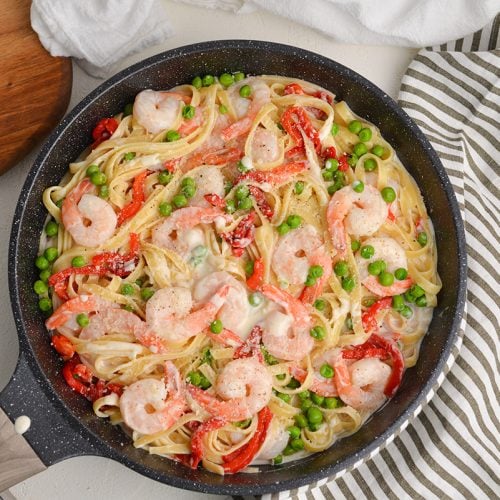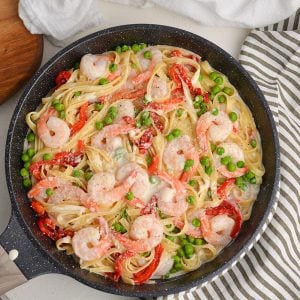 Garlicky alfredo sauce paired with pasta, shrimp, plump peas, juicy roasted red pepper stripes and nutty parmesan cheese.
Tools for making Seafood Fra Diavolo:
Good Extra Virgin Olive Oil– A good olive oil will taste like, well, olives, while a poorly made one will taste like vegetable oil. Gross. While people tend to favor Italian and Greek olive oils, I prefer to buy mine domestically.
They are some great ones out there from all over the world, but the reporting of ingredients isn't always the same and you could find that your super expensive olive oil was actually cut with vegetable oil.
Dutch Oven– every kitchen should have one! They are heavy. They are expensive. They are worth it!
Collander – Another kitchen staple that every home should have.
Cheese Grater– Another item I didn't think I needed, but love. Parmesan cheese lasts longer and tastes better when freshly grated.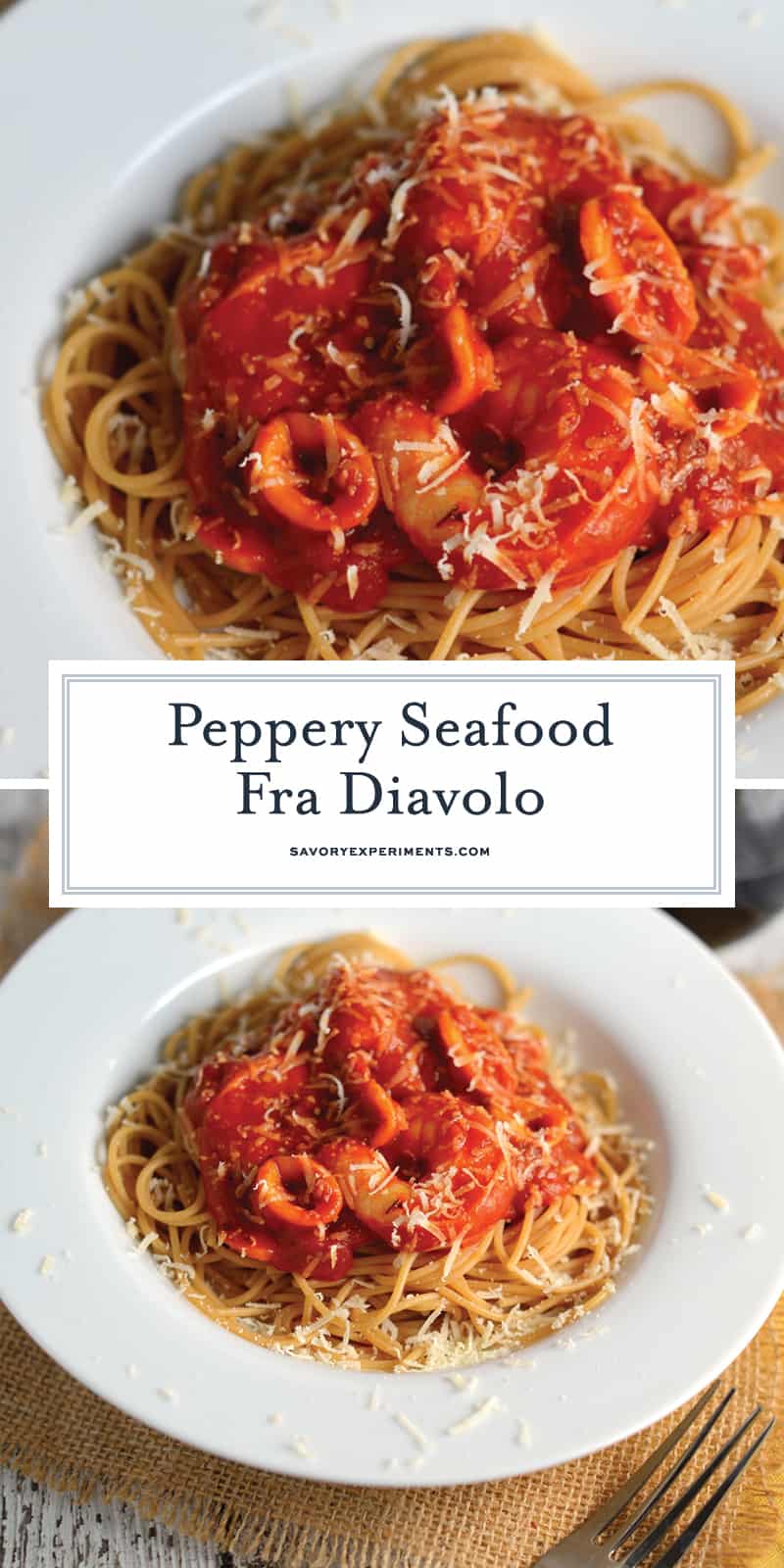 Questions about how to make fra diavolo:
What seafood can I use? Any type you want! Shrimp seems to be the most popular, but feel free to add calamari rings, mussels, clams and even oysters. If you want to use fresh fish, I recommend ladling the sauce over the fish, rathering than adding it to the sauce, where it can easily break apart and get lost.
Can I freeze fra diavolo sauce? Fra diavolo sauce is very freezer friendly. I have froze it with and without seafood and I have to say that it reheats betters if you take out all the seafood or refrain from adding it before freezing. Then while you are reheating it, add the seafood you desire. It will stay good in the freezer for up to 4 months if packaged correctly.
How do I reheat fra diavolo? The best way is over medium heat in a saucepan on the stove. But let's get real… most of us will use the microwave and that is fine. Be mindful that any reheated seafood has the tendency to be a little rubbery and there is no way around that.
Can I make fra diavolo ahead of time? Fra diavolo sauce can be made in advance and in fact, tastes best a day later when the flavors really have time to marry. I would refrain from adding seafood until reheating and ready to serve because it tends to get rubbery when cooked twice.
Is fra diavolo sauce gluten free? This recipe for the sauce alone is gluten free, however I can not speak for all fra diavolo recipes. Make sure to serve over gluten free pasta.
Is fra diavolo low carb? Unfortunately, not. Even though the actual sauce doesn't contain typical starches, tomatoes and the sugar contain a good amount of sugars.
Can I use cooked shrimp instead of raw shrimp? You sure can! But then they don't need to be added until about 5 minutes before serving. If they cook too long, they get rubbery.
Why don't you season with salt? I season the pasta water with salt, but not the sauce. Tomato sauce is generally salty enough and doesn't require more. If you love salty food, I recommend serving a finishing salt, like Maldon salt
, on the side.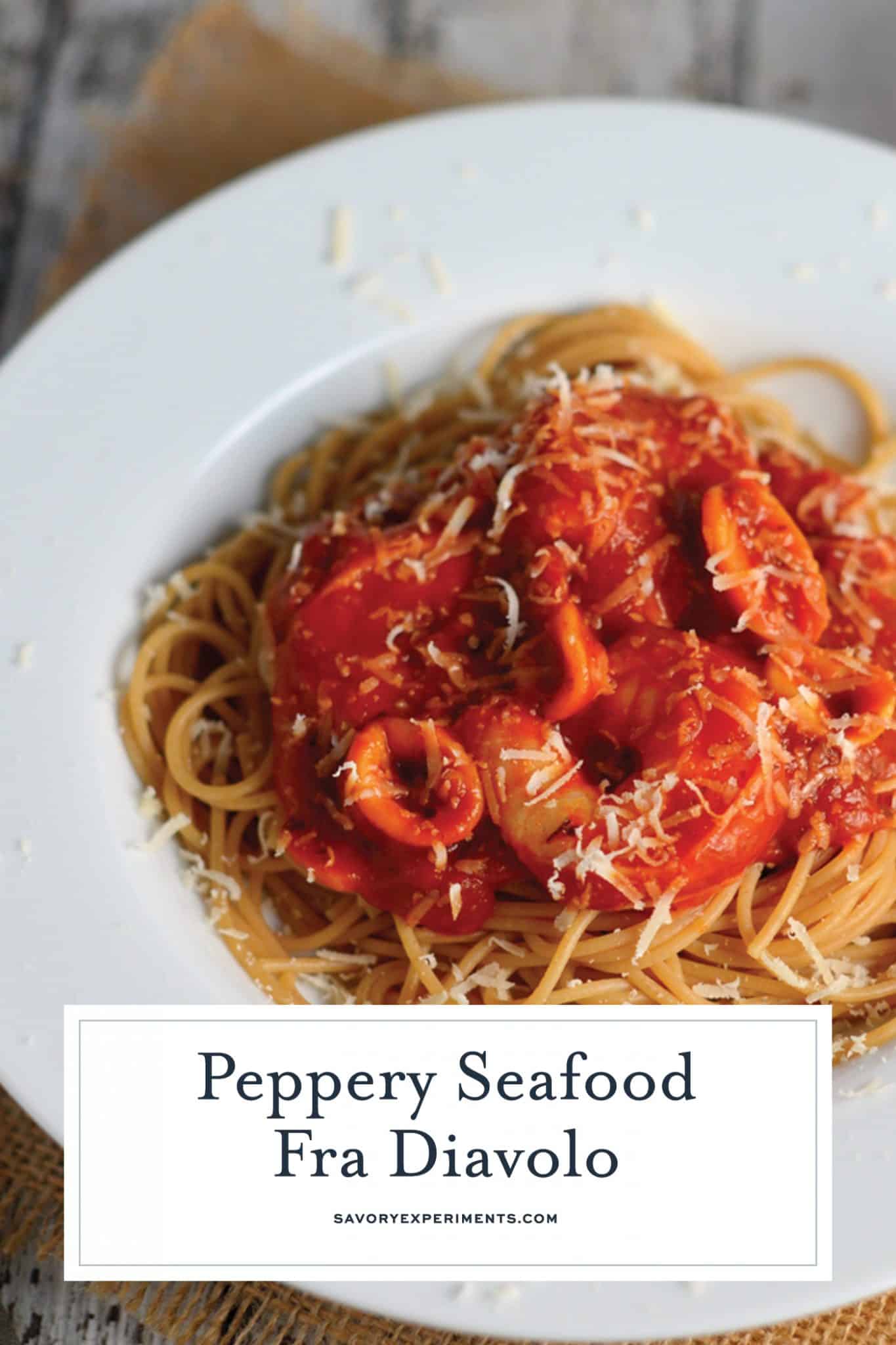 ---
---
Seafood Fra Diavolo
Spicy marinara sauce with fresh seafood.
Instructions
In a large Dutch oven or large pot, heat olive oil over medium-high heat. Saute garlic and onions until soft, stirring continuously, approximately 10 minutes.

Add tomato puree through Italian seasoning, stir well. Reduce heat to the lowest setting and simmer for 2 hours, stirring sporadically.

Thirty minutes before serving, stir in sugar. Ten minutes before serving, stir in shrimp and squid. The heat from the sauce will cook seafood.

Serve sauce over pasta of choice and enjoy your Seafood Fra Diavolo!
Nutrition
Calories:
454
kcal
|
Carbohydrates:
43
g
|
Protein:
35
g
|
Fat:
16
g
|
Saturated Fat:
2
g
|
Cholesterol:
417
mg
|
Sodium:
1320
mg
|
Potassium:
850
mg
|
Fiber:
4
g
|
Sugar:
32
g
|
Vitamin A:
1070
IU
|
Vitamin C:
31.6
mg
|
Calcium:
308
mg
|
Iron:
6.6
mg