When I first started blogging, I swore there was one recipe I would never, ever share. My family spaghetti and meatballs recipe.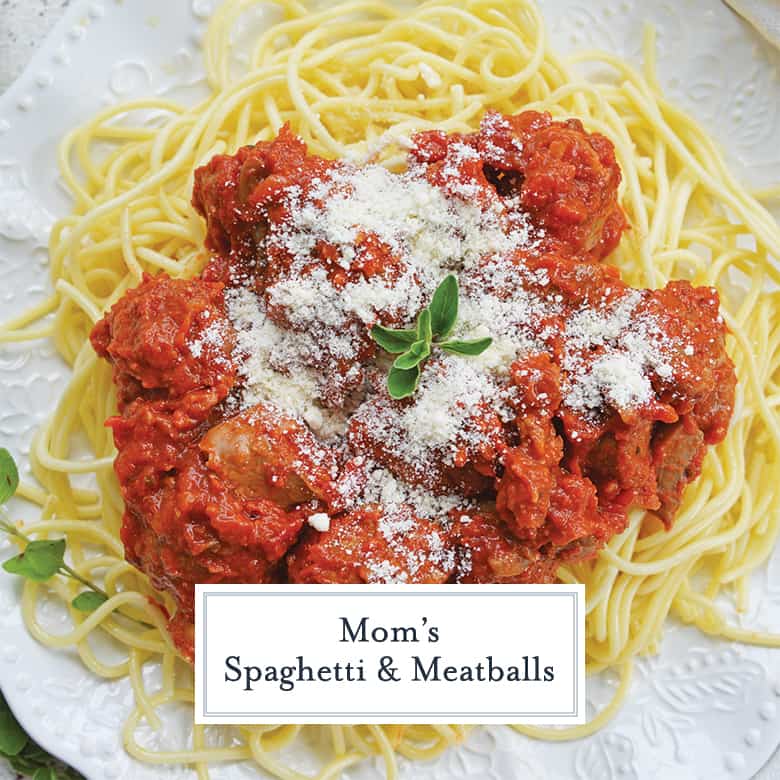 Fast forward seven years later and here I am…. posting our favorite recipe. I won't claim it to be "the best" although I think it is.
Homemade Spaghetti and Meatballs just the way mom makes them. Just a handful of ingredients makes the perfect tomato sauce.
Spaghetti and Meatballs Recipe
The truth is, when it comes to classic spaghetti and meatballs, or as some say red sauce or Sunday gravy, there are a million ways to do it right and your perfect recipe probably as some nostalgia attached.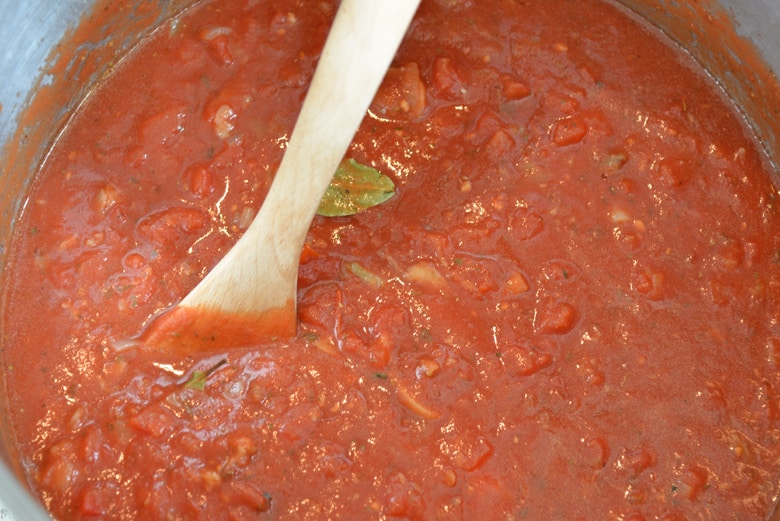 It almost seems like a lost art. It used to be that Italian- American homes had a large stock pot of Sunday Sauce on the stove every weekend, but nowadays with the ease and amazing flavor of jarred sauce, some have failed to pass down the family recipe.
FUN FACT: They also used to grow their own tomatoes and have a long weekend when the whole family harvested, canned, jarred and steamed the crops to have them in the pantry through winter. In some heavily Italian areas you'll still seem them outside with giant stock pot towards the end of the summer and giving whole tomatoes to friends and family.
And don't get me wrong, when the craving hits and I don't have any in the freezer, I surely buy my own bottled sauce and doctor it up a bit. There is no shame in that game.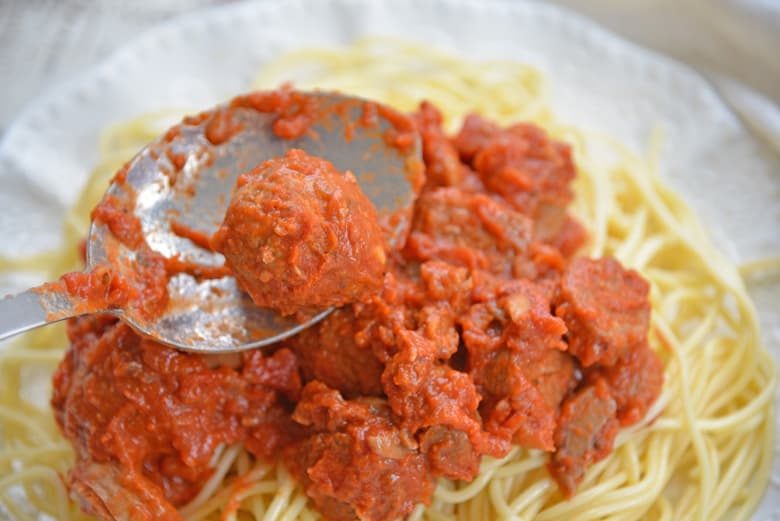 Classic Recipe for Spaghetti Sauce
But when I do spend a day to make homemade spaghetti sauce, I make a double, sometimes a triple batch to throw some in the freezer.
For the tomatoes, I generally buy canned crushed tomatoes and diced tomatoes, only because steaming, peeling and crushing my own takes oodles of time. And after I've done all of that, it is actually cheaper to buy them at the store.
After that the only secret is time. Time for the tomatoes to break down, time for the flavors to marry and time for it to reduce into a thick and rich sauce.
Meatballs & Sausage
I like to take the time to make meatballs and even sometimes my own sausage. Homemade Meatballs can be all beef or any combination of ground pork, beef and even sometimes lamb. Try to avoid lean ground beef, you need some fat to hold it together and season the sauce.
I almost always make my own meatball recipe, although now that I have young kids, I break down and buy the Italian sausage. Essentially braising all day will make the most tender meatballs you've ever tasted!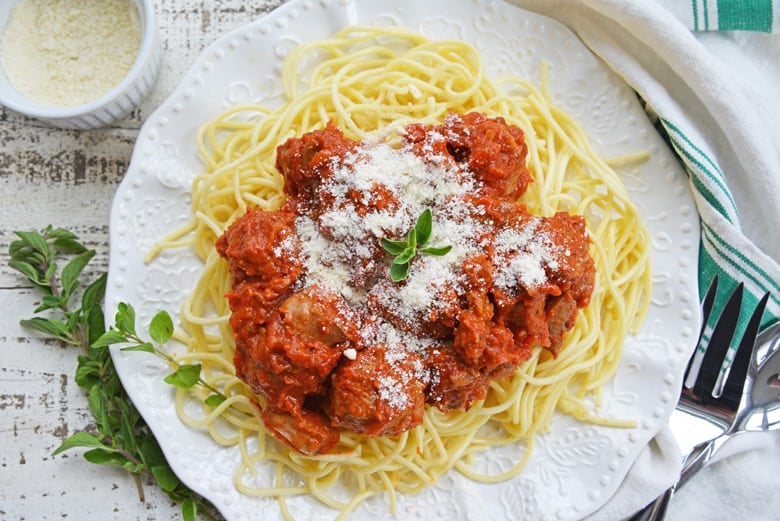 Do I have to use meat? While I use meatballs and sausage to flavor my sauce, some use many other types of meat. My mother in law likes to use pork butt and my grandmother in law likes neck bones and more!
Feel free to use frozen meatballs and store bought sausage. I won't be offended. They will still add flavor and depth to your sauce. It is really the simmering of flavors that is important.
Ingredients
Extra Virgin Olive Oil– For a simple sauce like this, good ingredients can make a world of difference. This is a recipe that deserves a good, quality olive oil, not the triple pressed, bottom of the barrel stuff.
Yellow Onions– I use a medium size which equals about 1 cup per onion. Yellow, or Spanish onions. Yellow onions cook down to be slightly sweet and not as pungent. If you want a forward onion flavor, swap with white onions.
Fresh Garlic Cloves- Under no circumstances should you substitute the jarred minced garlic in your sauce. It is sweet and with garlic being one of the primary flavors, it just won't taste right. Add more if you really like garlic.
Crushed and diced tomatoes– You'll get both cans and the reasoning is that they are different textures. You'll also find varying textures and flavors from brand to brand. Tuttorosso and Cento are my best picks for grocery store options. If you can find an Italian grocery, grab San Marzano style- these are actually my first pick, but hard to find. They come whole, so you'll need to chop them yourself. I use a paring knife and do it right into the pot. I do not use tomato paste because it is too thick right from the jar.
Fresh Oregano- I use oregano seeing that my sauce is much more savory and even a little zesty, as opposed to some sauces that use fresh basil and are sweet. Oregano is described as being slightly astringent, which doesn't sound appealing at all. I think of being earthy and tangy. My mother always used dry, which is also an option. One teaspoon of dried equals one tablespoon of fresh.
Ground black pepper- Try using freshly ground instead of the pre-ground stuff that tastes like sawdust.
Bay leaves- Dried are actually better! Fresh bay leaves are often bitter.
Meatballs and Sausage- see notes above and make your own or use store-bought.
Canned mushrooms- And here we go… all of the haters are about to tell me that sauce doesn't have mushrooms. Well, both my family's (from Fasano) and my husband's (from Formicola) DO. And to save time, I buy canned instead of sweating my own down. Feel free to buy a pint of button mushrooms, slice them and sweat down in a large skillet before adding to the sauce.
Wait? Where is the salt, sugar and cheese?
Other ingredients that many classic recipes have that I omit are salt and sugar. Sugar balances out the acidity, but I don't find mine to ever be overly acidic. The tomatoes themselves have enough salt.
Cheese is delicious, but you can always top it with cheese before serving! Aged parmesan or pecorino romano are always good options. As is fresh parsley for some green.
Variations
Fresh Herbs– while I exclusively use oregano, feel free to add other flavor profiles. A tablespoon of Italian seasoning is also a good customization.
Spicy- If you want more of a spicy sauce, like a fra diavolo, add 1 teaspoon of crushed red pepper flakes or even jarred anchovies to the sauce when sauteing onions and garlic.
Meatless– On an-all veg diet? Even vegan? Just omit the meatballs and sausage. It will still be good!
Make It!
You are going to think this is ridiculous, but the first step is my favorite. sauteing the onions and garlic in olive oil. Oh, the sweet smell used to wake me up on Sunday mornings and I just love it! Use a large pot (20 quart) – biggest one you can find, even a stock pot, a Dutch oven might not even be big enough after you add the meat. Do this over medium heat- going too high will surpass the smoke point of the oil and cause it to burn.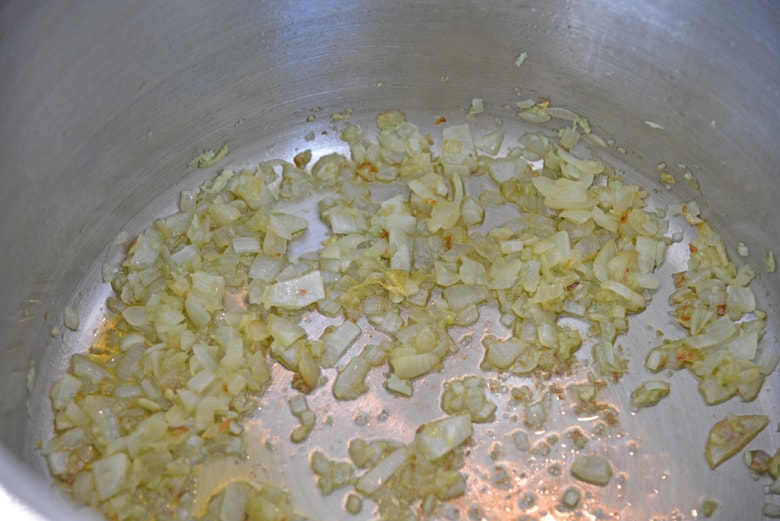 Add all the tomatoes, juice and all and then the rest of the ingredients through the meats and mushrooms.
Now it the hardest part: finding a temperature low enough that it won't scorch and letting it simmer. Most stoves have at least one burner that has a "lower than low simmer" function. One house we lived in had an electric stove that was still too hot, so I'd make a large ring out of aluminum foil to hold it up from the heating mechanism.
Cover with the lid ajar for steam to release and simmer for a minimum of 4 hours over low heat, stirring occasionally. I usually don't let is simmer longer than 7 hours. If it isn't time for dinner yet, just turn off the heat and put the lid on. It will hold enough heat to prevent it from passing the naughty temperatures.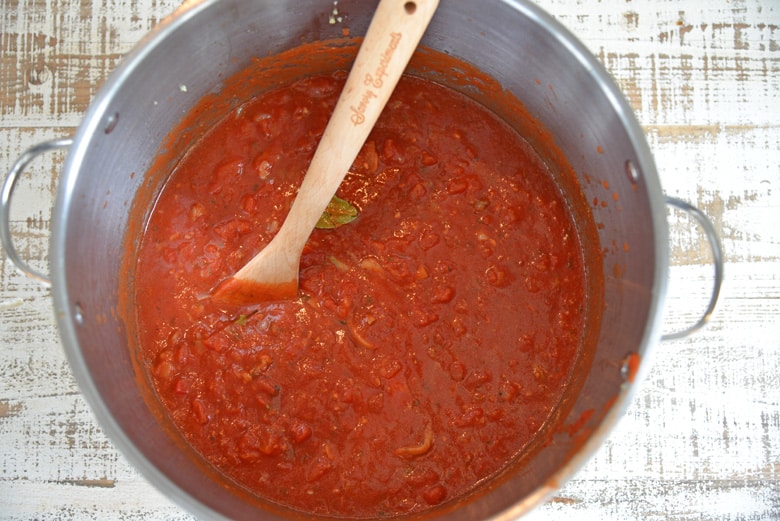 Remove the bay leaf. Did you know that dried bay leaves can actually cause some tummy troubles, so make sure to get it out!
When ready to serve, cook your desired pasta, of course spaghetti noodles are the most popular, followed by thin spaghetti, bucatini and rigatoni. Now days, zucchini noodles are quite popular too!
Spoon over pasta and top with cheese or crushed red pepper flakes, if desired.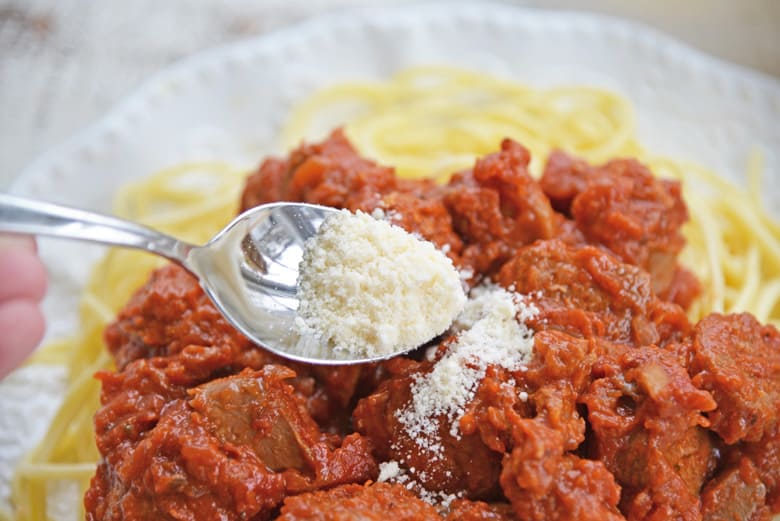 Some folks have asked if you can make it in a slow cooker and the is yes, but you'll need to saute the onions and garlic first, then transfer it AND you'll need an extremely large slow cooker or two standard sized ones to accommodate this recipe. You can also cut the recipe in half.
Make Ahead, Freezing & Storage
Can I freeze spaghetti and meatballs? By all, means yes! As I mentioned above, this is a time consuming recipe. I try to make a double and triple batch of homemade sauce (even though this recipe feeds 12-15) and then freeze it in smaller batches.
For leftovers… I also save some for lunches and just eat meatballs and sausage with sauce and no pasta. It will stay good in the fridge for about 5 days if in an airtight container and can be easily microwaved.
I do store the sauce separate from the pasta. I know plenty of people who like to mix the two, but I find that leftover pasta gets gummy and soggy, so I store them separately.
Make Ahead- My husband will tell you that it is better the next day, so YES!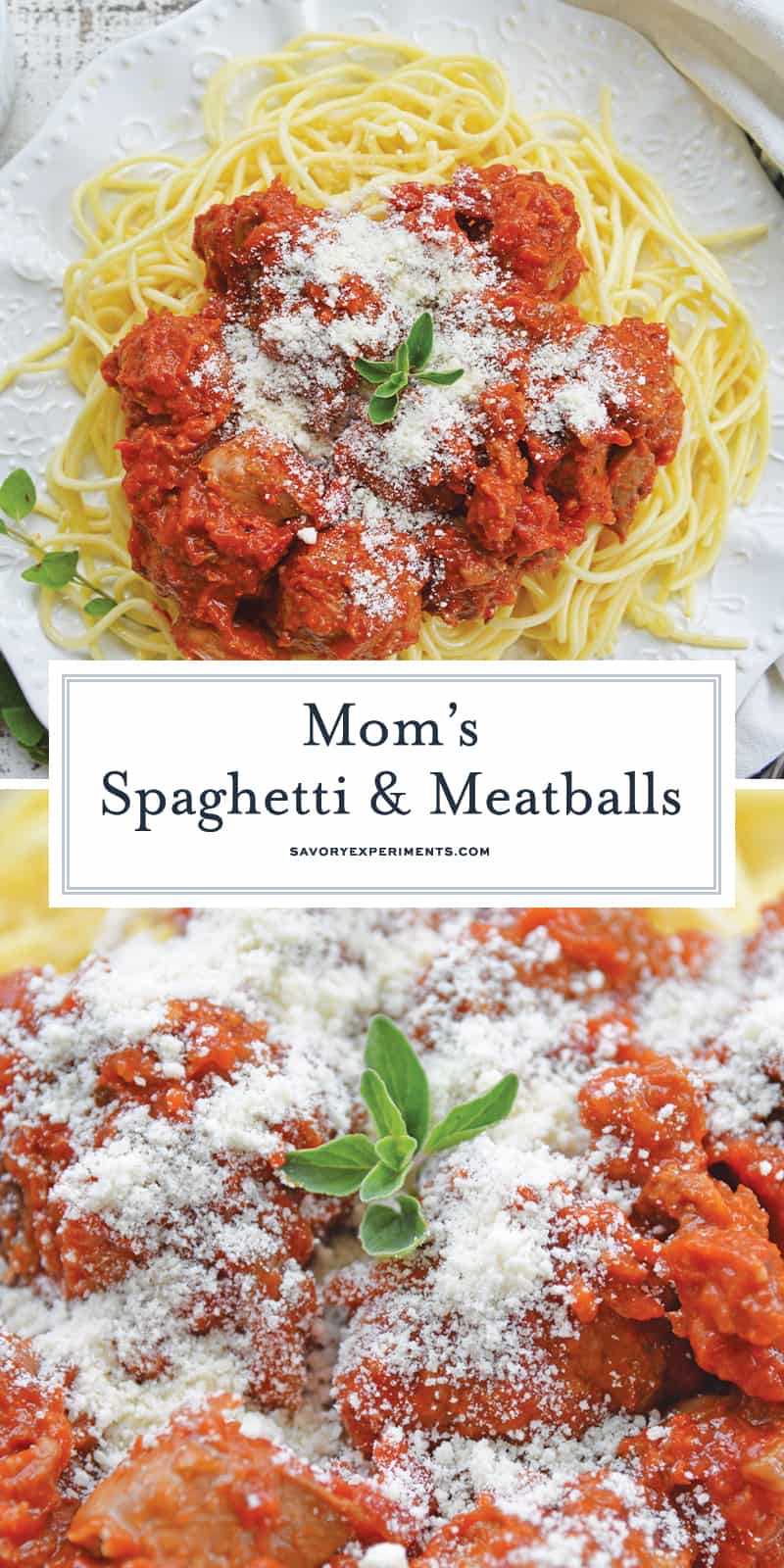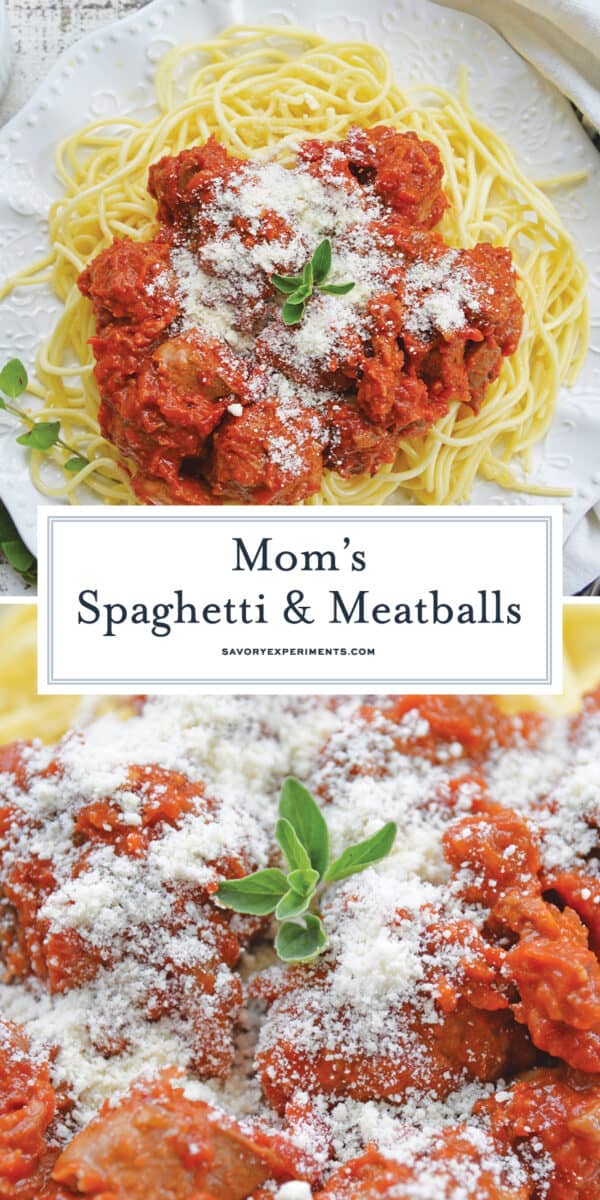 How do I reheat pasta?
As mentioned, I store the sauce separately from the pasta. You can, of course, microwave the pasta, but it will drastically change the texture.
Instead, I like to boil a pot of water, lightly salt it and drop my cold pasta in for about 1-2 minutes. It won't be perfectly al dente like it was the first time around, but it won't be soggy, gummy or overcooked either.
Craving more Italian recipes? Here you go!