When I first started blogging, I swore there was one recipe I would never, ever share. My family spaghetti and meatballs recipe.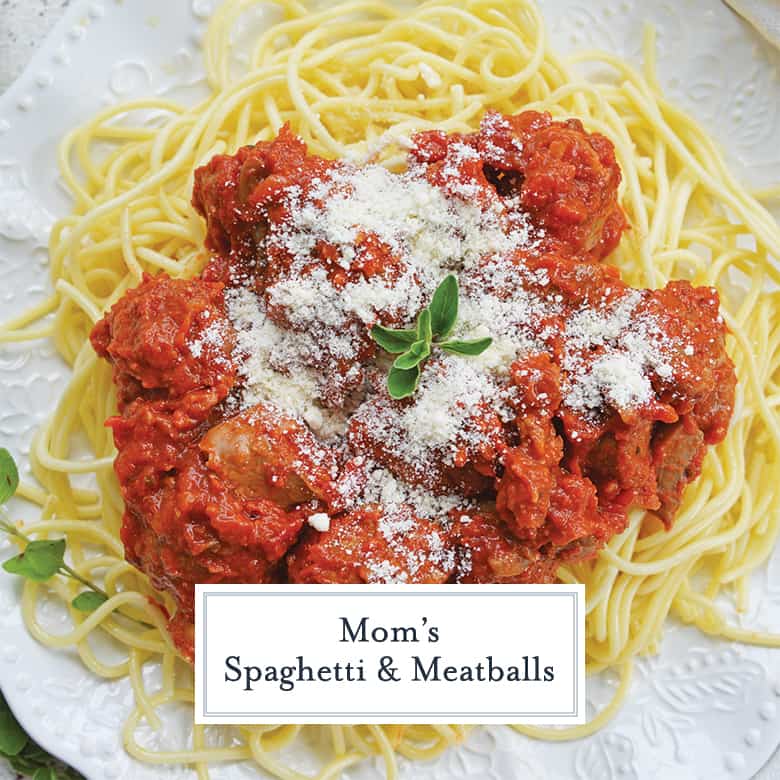 Homemade Spaghetti and Meatballs just the way mom makes them. Just a handful of ingredients makes the perfect sauce.
Fast forward seven years later and here I am…. posting our favorite recipe. I won't claim it to be "the best" although I think it is.
The truth is, when it comes to classic spaghetti and meatballs, or as some say red sauce or gravy, there are a million ways to do it right and your perfect recipe probably as some nostalgia attached.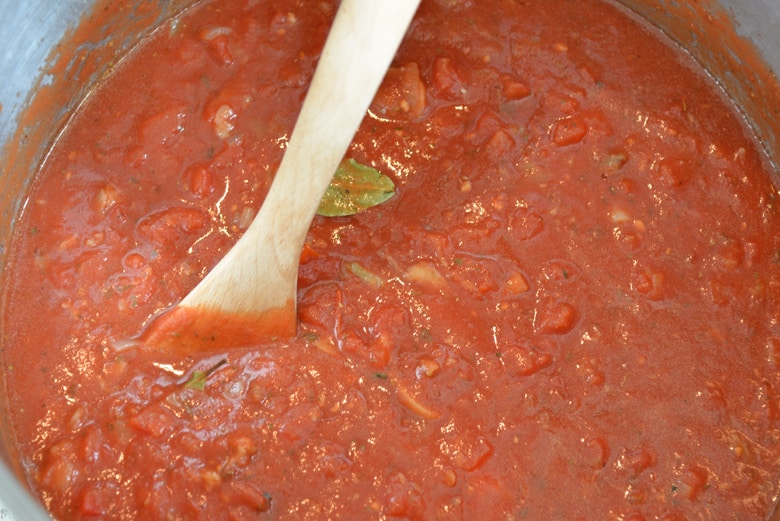 It almost seems like a lost art. It used to be that Italian- American homes had a large stock pot of Sunday Sauce on the stove every weekend, but nowadays with the ease and amazing flavor of jarred sauce, some have failed to pass down the family recipe.
FUN FACT: They also used to grow their own tomatoes and have a long weekend when the whole family harvested, canned, jarred and steamed the crops to have them in the pantry through winter. In some heavily Italian areas you'll still seem them outside with giant stock pot towards the end of the summer.
And don't get me wrong, when the craving hits and I don't have any in the freezer, I surely buy my own bottled sauce and doctor it up a bit. There is no shame in that game.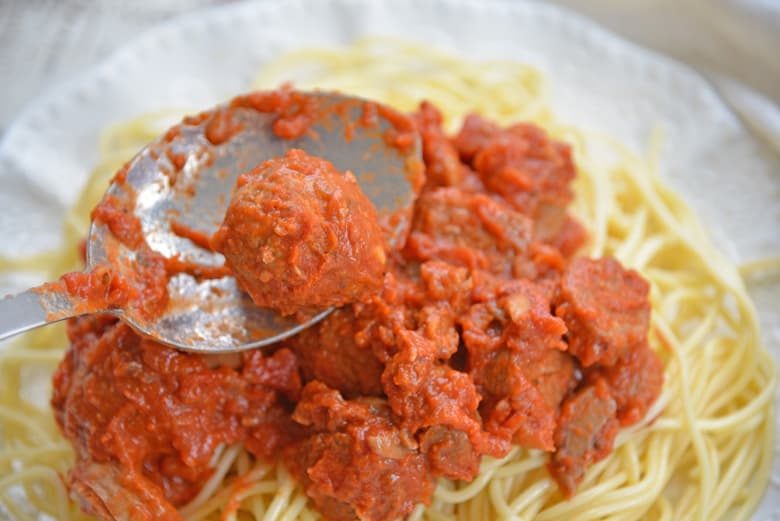 But when I do spend a day to make homemade spaghetti sauce, I make a double, sometimes a triple batch to throw some in the freezer.
I like to take the time to make homemade Italian Meatballs and even sometimes my own sausage. Although now that I have young kids, I break down and buy the sausage.
For the tomatoes, I generally buy canned, only because steaming, peeling and crushing my own takes oodles of time. And after I've done all of that, it is actually cheaper to buy them at the store. And again, kids.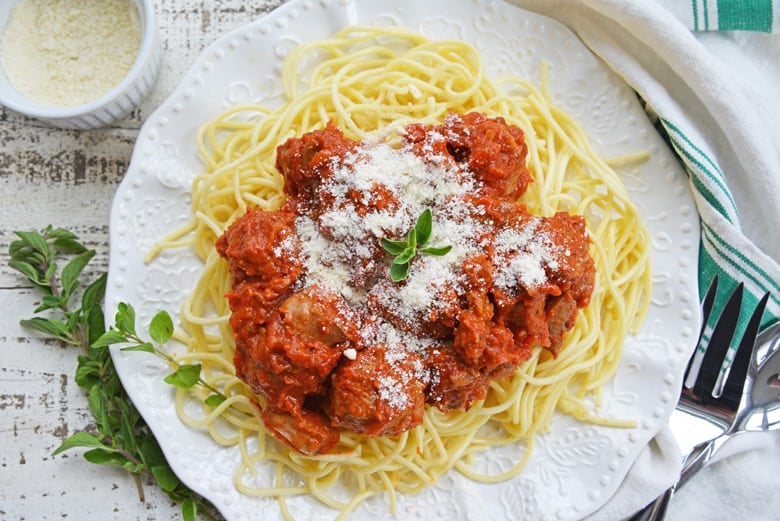 Do I need to use meatballs and sausage in my sauce?
While I use meatballs and sausage to flavor my sauce, some use many other types of meat. My mother in law likes to use pork butt and my grandmother in law likes neck bones and more!
Feel free to use frozen meatballs and store bought sausage. I won't be offended. They will still add flavor and depth to your sauce. It is really the simmering and marrying of flavors that is important.
How do I make Homemade Spaghetti and Meatballs?
Sauces will vary greatly based on the seasonings, but most will start with olive oil, onion and garlic. One of my favorite scents in the morning is this heavenly combination.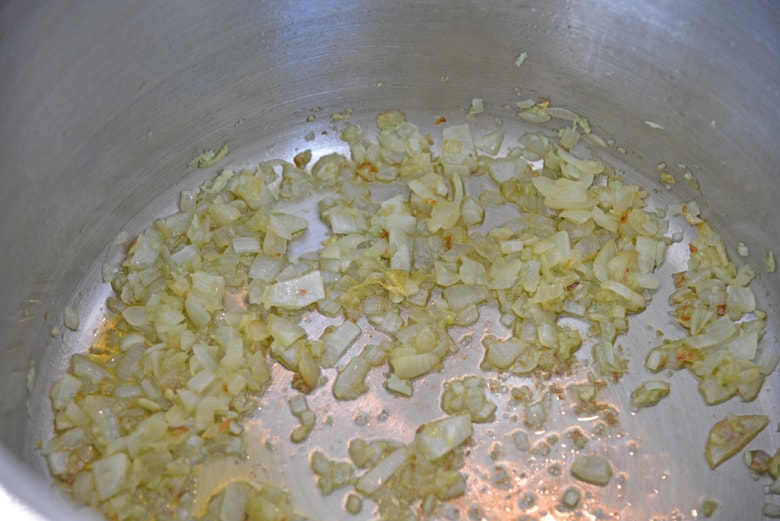 I use oregano seeing that my sauce is much more savory and even a little zesty, as opposed to some sauces that use basil and are sweet.
Oregano is described as being slightly astringent, which doesn't sound appealing at all. I think of being earthy and tangy. I use fresh oregano, but you can also use dry.
PRO TIP: If using dried herbs, the general substitution is 1 teaspoon dried for every 1 tablespoon fresh.
I also add freshly ground black pepper and bay leaves. The only thing I do not add is salt. The tomatoes will provide all the saltiness you need.
Olive oil is also an important point. For a simple sauce like this, good ingredients can make a world of difference. This is a recipe that deserves a good, quality olive oil, not the triple pressed, bottom of the barrel stuff.
I also add mushrooms, which some folks think is odd, but our sauce has always had mushrooms so I don't question it. And they are canned, yes.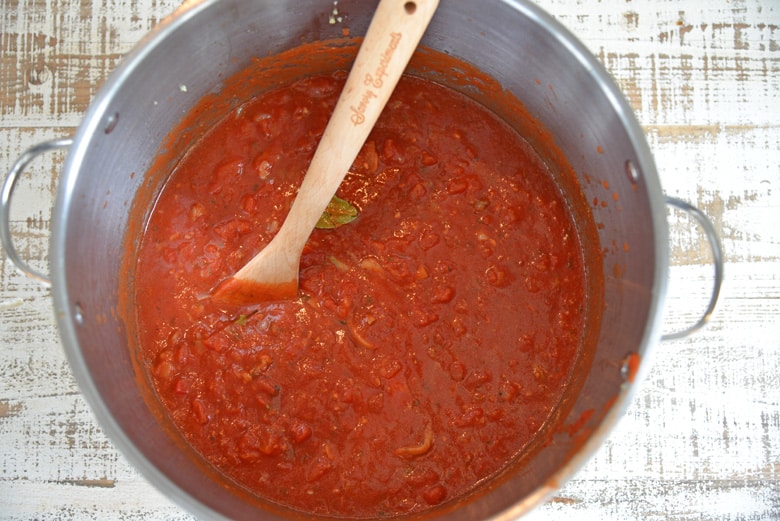 If you wish to cook down your own mushrooms, be my guest, but this is a labor intensive dish so I cut a few corners here and there. Mushrooms just happen to be one of those corners. They don't add a lot of flavor, more texture. You can omit them if you'd like.
Other ingredients that many sauces have that I omit are cheese and sugar. Sugar balances out the acidity, but I don't find mine to ever be overly acidic. And cheese because cheese is delicious.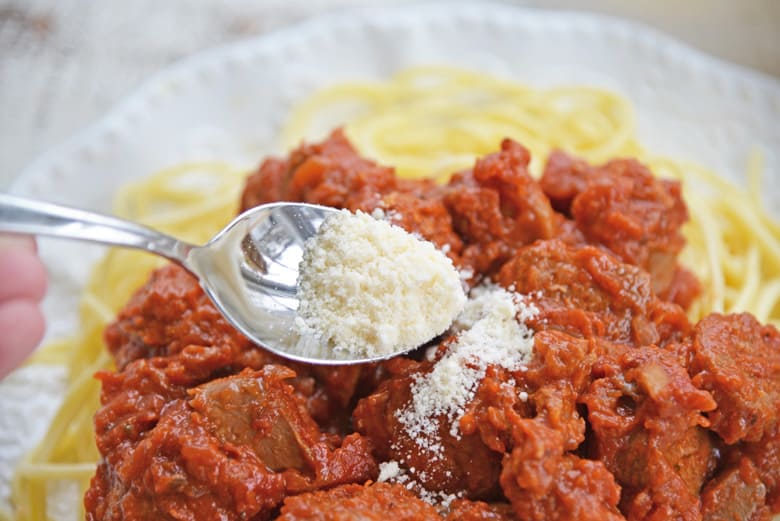 But you can always top it with cheese before serving! Aged parmesan or pecorino romano are always good options.
If you want more of a spicy sauce, like a fra diavolo, add 1 teaspoon of crushed red pepper flakes or even jarred anchovies to the sauce when sauteing onions and garlic.
Can I freeze spaghetti and meatballs?
By all, means yes! As I mentioned above, this is a time consuming recipe. I try to make a double and triple batch (even though this recipe feeds 12-15) and then freeze it in smaller batches.
I also save some for lunches and just eat meatballs and sausage with sauce and no pasta. It will stay good in the fridge for about 5 days if in an airtight container and can be easily microwaved.
I do store the sauce separate from the pasta. I know plenty of people who like to mix the two, but I find that leftover pasta gets gummy and soggy, so I store them separately.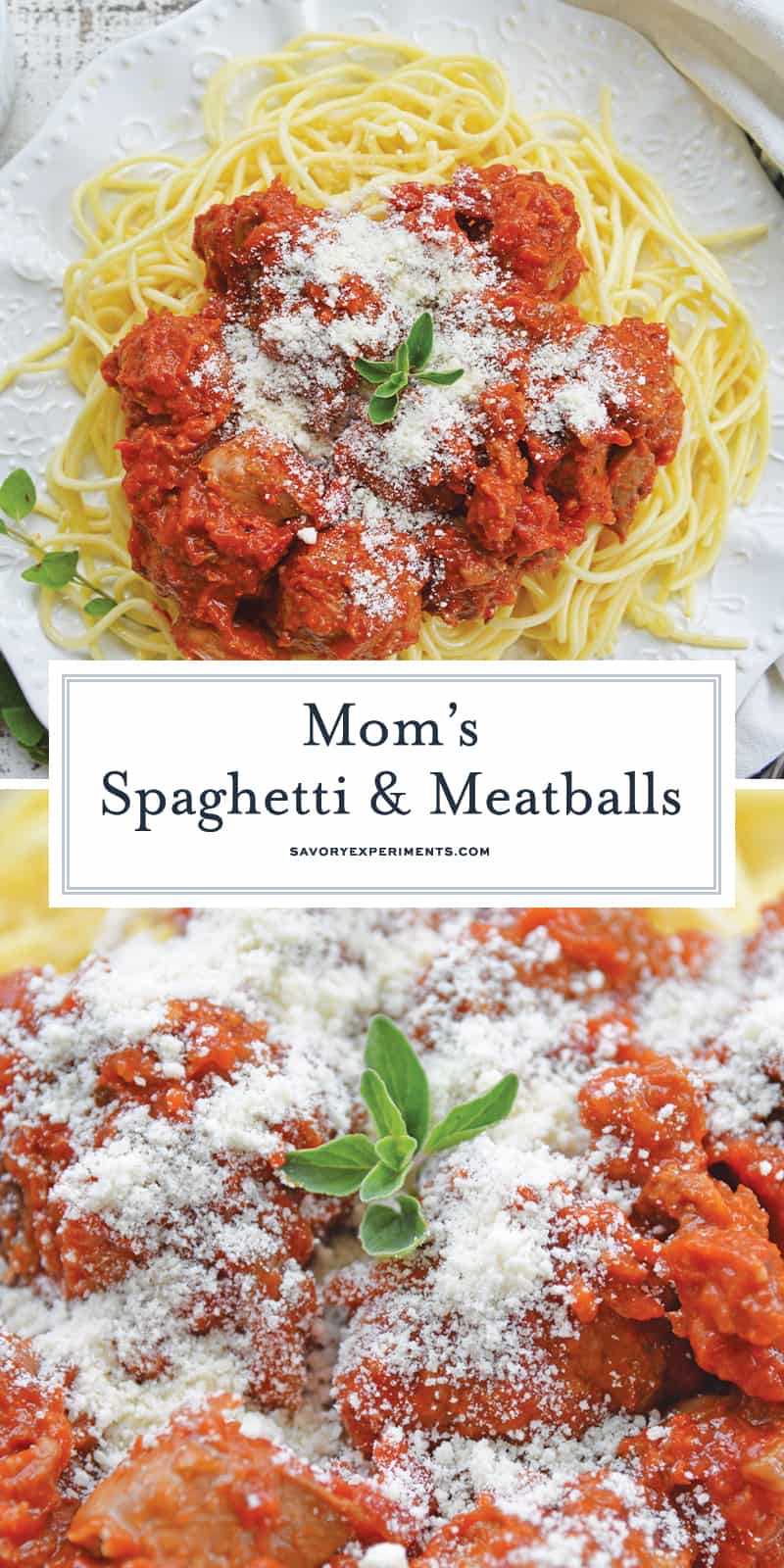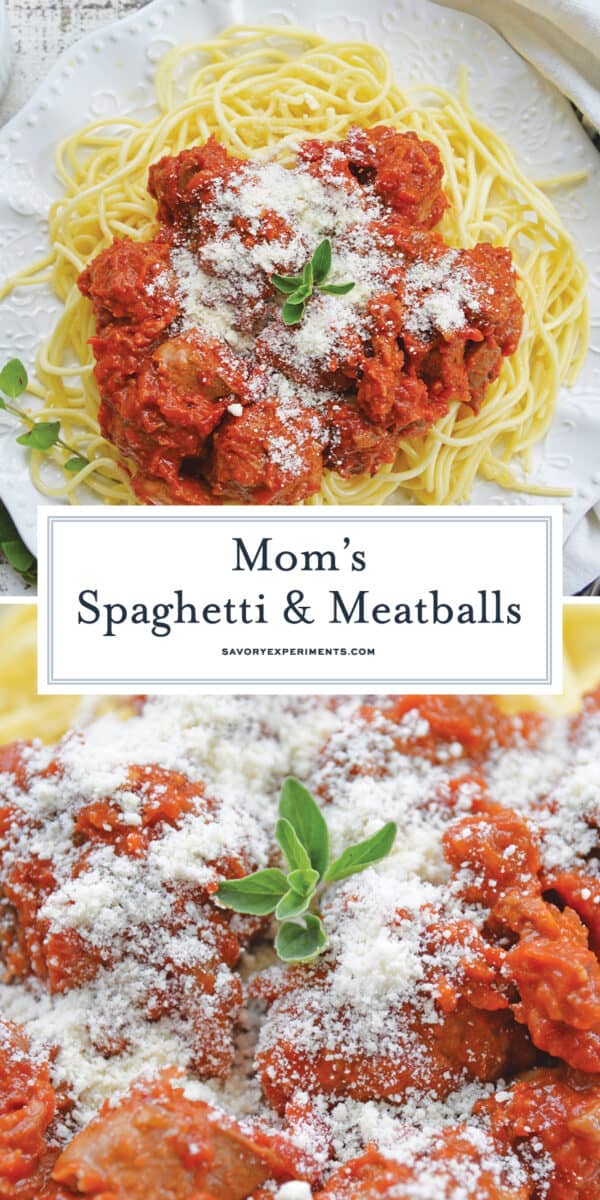 How do I reheat pasta?
As mentioned, I store the sauce separately from the pasta. You can, of course, microwave the pasta, but it will drastically change the texture.
Instead, I like to boil a pot of water, lightly salt it and drop my cold pasta in for about 1-2 minutes. It won't be perfectly al dente like it was the first time around, but it won't be soggy, gummy or overcooked either.
Craving more Italian food? Here you go!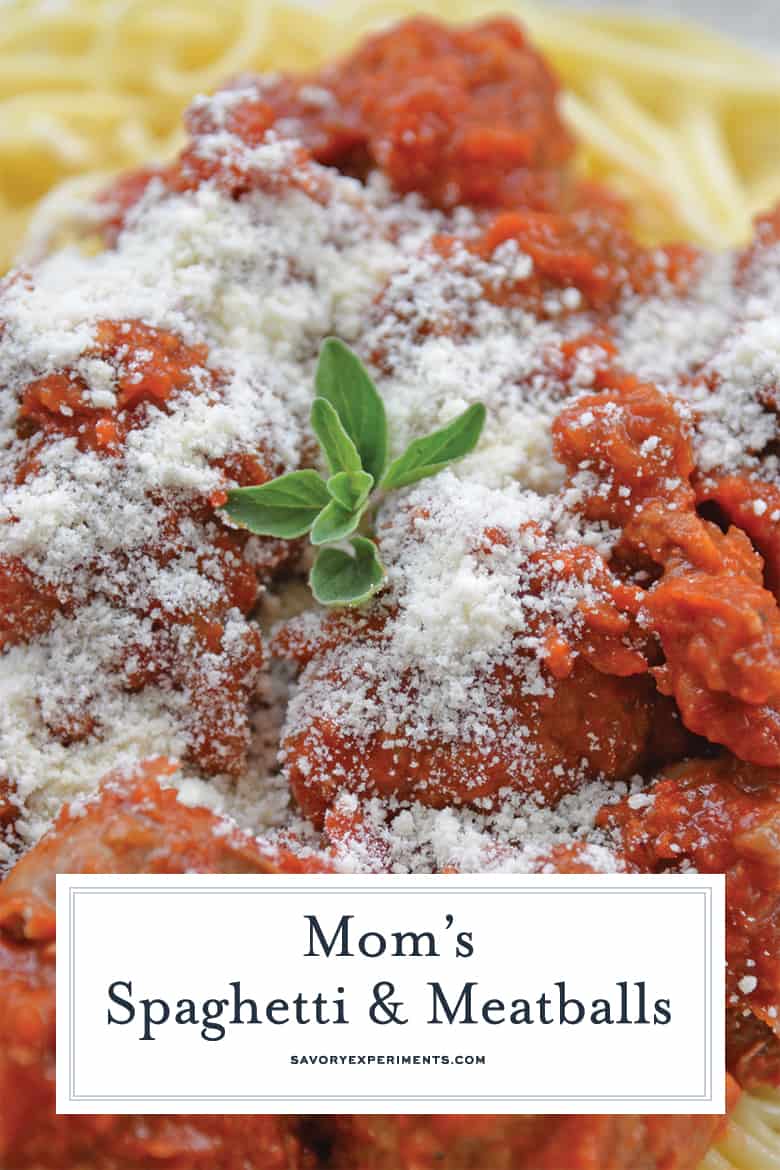 CONNECT WITH SAVORY EXPERIMENTS!

Be sure to follow me on social media, so you never miss a post!

Facebook | Twitter | Youtube
Pinterest | Instagram

Get our FREE 8 Day E-Course on How to Be a Better Home Cook. Sign up HERE!