Looking for a great recipe for an easy weeknight meal? Garlicky shrimp scampi pasta might seem like a restaurant quality dish, but it is actually comes together in just 20 minutes!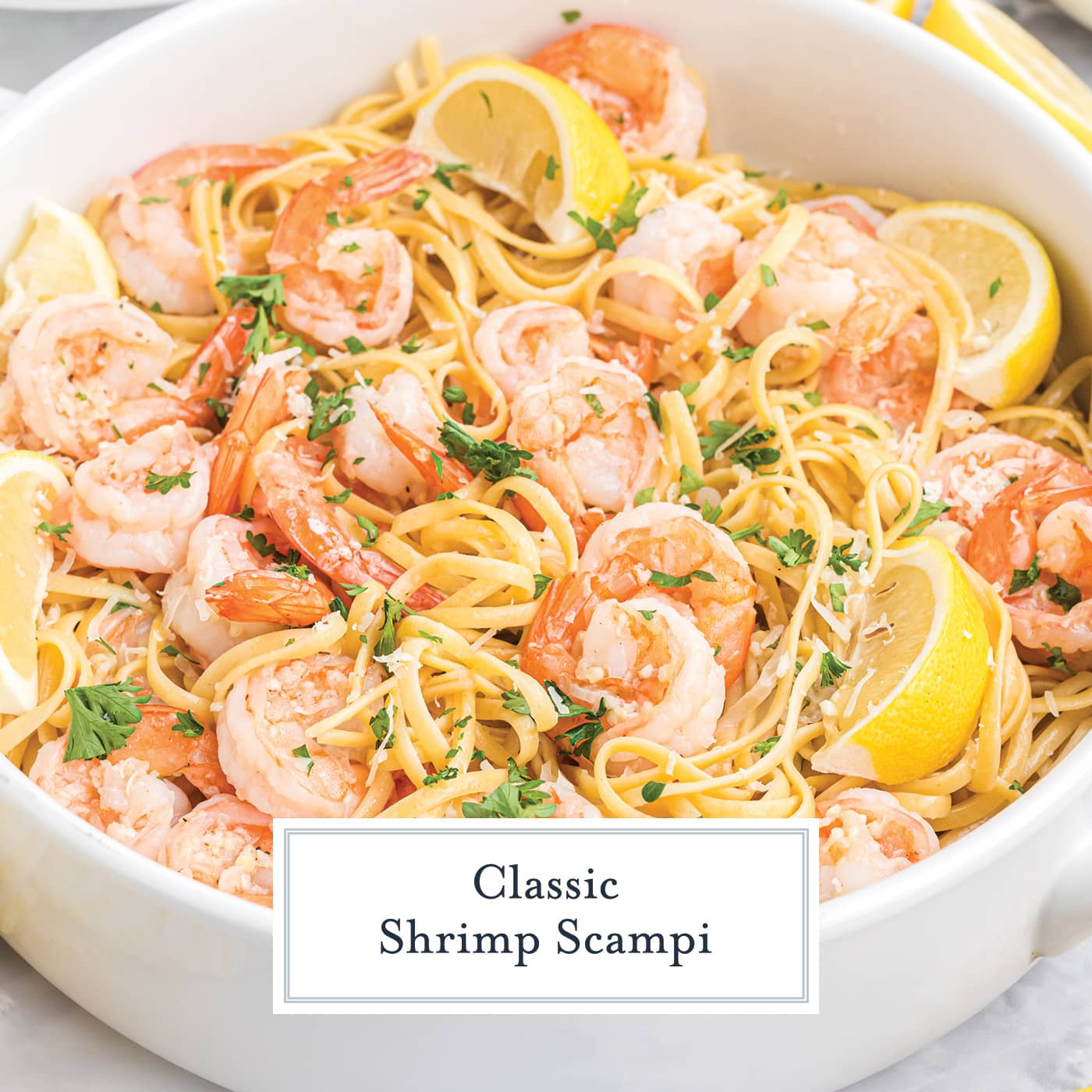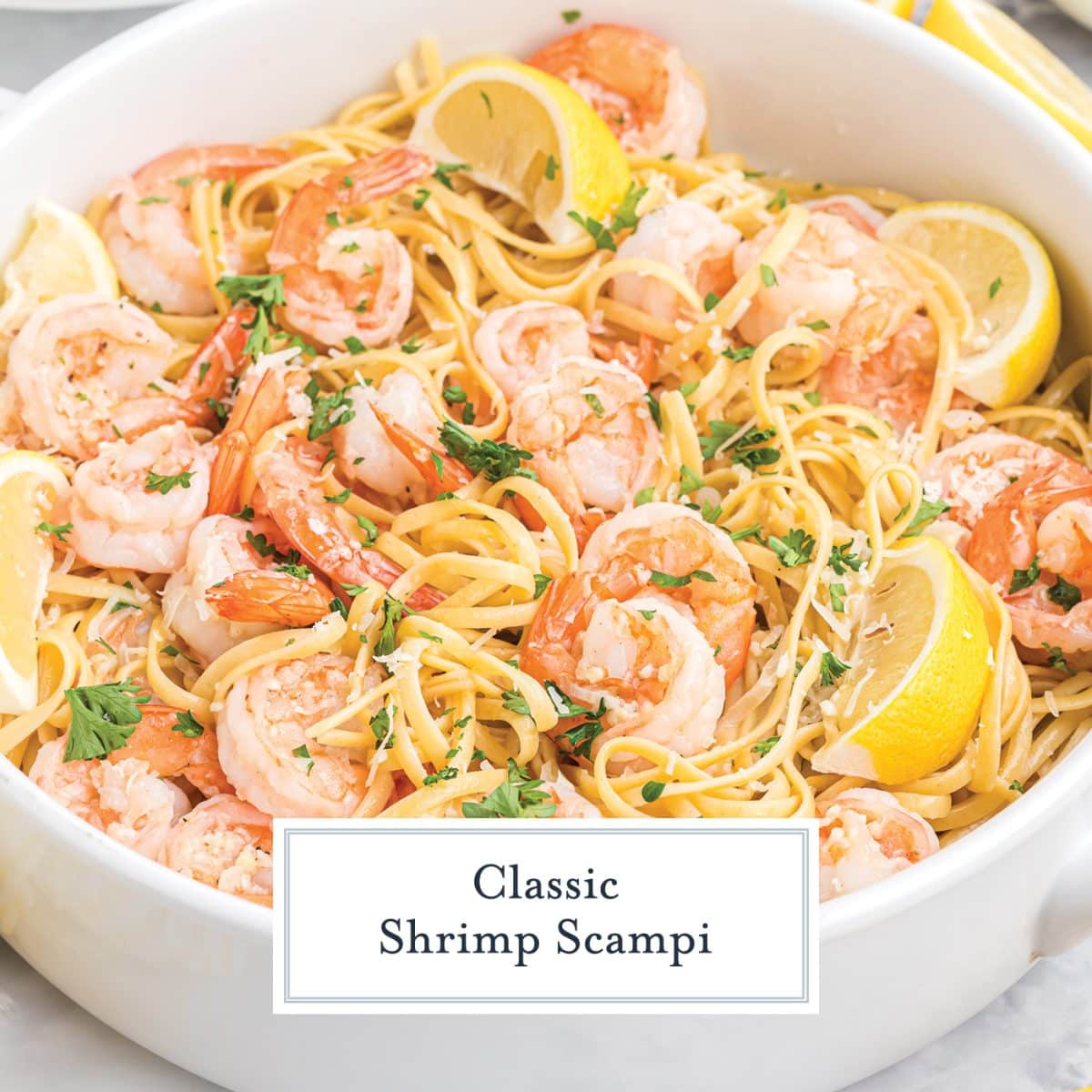 What does Scampi Mean?
Did you know that "scampi" is an Italian word that actually means a small crustacean called a langoustine? In the United States you might be able to find them in the frozen seafood section, but we have mostly swapped out langoustines for shrimp.
They are basically the size of shrimp, but look like lobsters with a red back. I use them in my Italian Seafood Stew, you should check them out!
You'll also find that scampi is referred to a method of perpetration or garlic butter sauce instead of in reference to the protein. You'll see all kinds of scampi recipes like Chicken Scampi, Asparagus Scampi even Lobster Scampi on menus at Americanized Italian joints.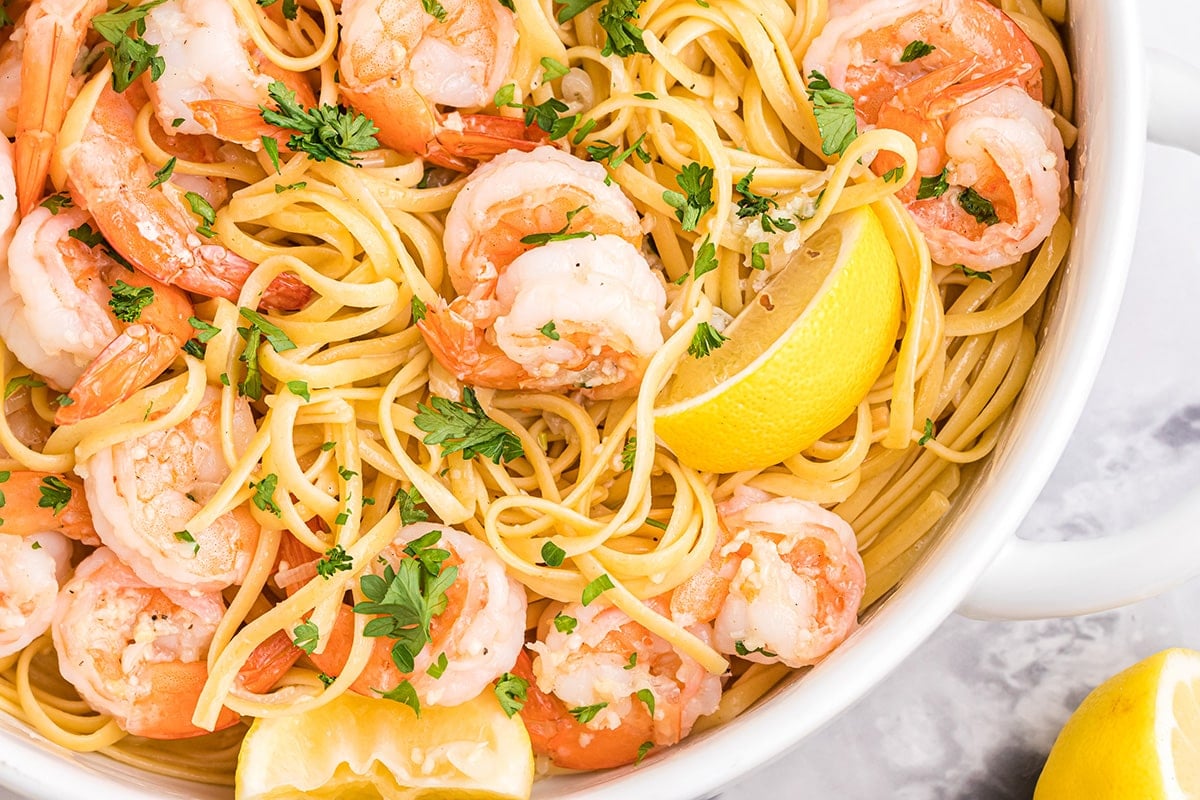 What You'll Need
Like many traditional Italian dishes, Shrimp Scampi recipe is easy to prepare and only uses a handful of ingredients. The difference between good and bad scampi lies in the quality of ingredients.
There are many variations for scampi, but the basic version has a butter base with shrimp, pasta and garlic. I like to add garlic (or shallots,) white wine and lemon juice to brighten up my sauce.
Any of these simple ingredients can be easily omitted if they don't fit your taste.
Linguine – Of course, you can use any shape of pasta that you'd like. Angel hair pasta, or even zucchini noodles can be substituted here. You can use whatever pasta you prefer, however I do suggest this sauce pairs best with a long, thin pasta and not tubed or thick pastas.
Shrimp – Make sure you have uncooked shrimp with the tails on. I like using jumbo shrimp. Here is my guide to shrimp if you need help picking a variety.
Butter – Choose a quality, grass-fed butter since it is the base. Cheaper butters hold a lot of water and don't have as much flavor. Many chefs also like to clarify their butter.
Garlic – To many, garlic would seem simple, but I implore you to use freshly minced garlic instead of the jarred nonsense. They have distinctly different flavors. Fresh garlic is what makes a scampi sauce, so saving time here won't do you any favors.
Shallot – Thinly slices shallot adds the perfect texture and flavor to this Italian-American dish.
White wine – It's best to stay on the dryer side when cooking with wine. So think along the lines of pinot grigio or chardonnay.
Lemon – For the best results, I always prefer having fresh lemon juice instead of the bottled kind. If you like just a hint of lemon, serve with wedges for people to add their own. You can also add a little lemon zest if you'd like.
Salt and Pepper – Use these to taste. I like to finish the white wine sauce, taste it and then add salt and pepper according to my taste.
Parsley – Fresh parsley not only adds a clean finishing touch to your dish, but it makes it look pretty with the contrasting color too.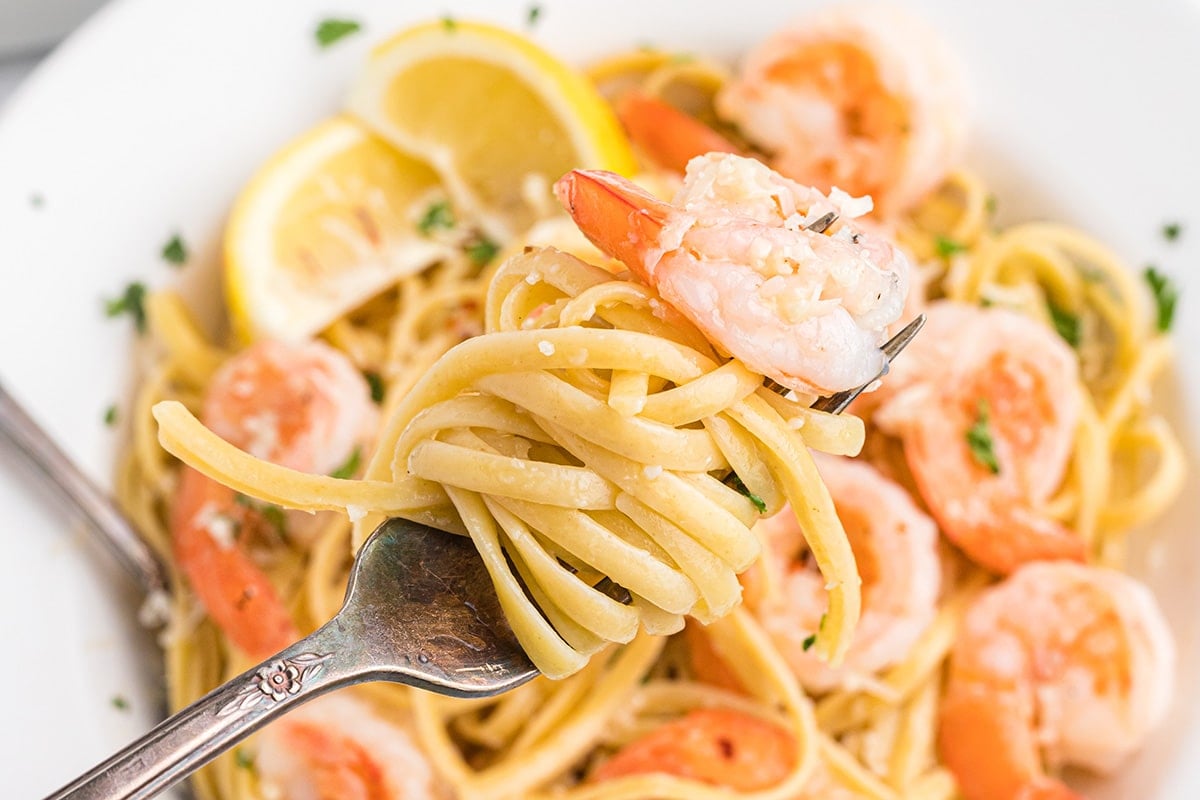 How to Make Easy Shrimp Scampi
Cook pasta. Cook your pasta al dente according to pasta directions. Drain and set aside.
Start sauce. While pasta cooks, melt butter in a large skillet over medium heat.
Add shallots. After the butter melts, add shallots, while cooking and stirring.
Add garlic. Add the garlic, cooking an additional minute.
Cook shrimp. Add fresh shrimp, cooking until shrimp turn pink and curl.
Add white wine. Pour in white wine, cooking another minute.
Serve. Serve classic shrimp scampi sauce over freshly cooked pasta, seasoning with sea salt, freshly cracked black pepper and a spritz of fresh lemon. You can even grate some fresh parmesan cheese or red pepper flakes on top if you'd like.
You can also serve your garlic butter Shrimp Scampi sauce over crusty bread instead of pasta. If you have a vegetarian dining at your table, simply set aside a small amount of sauce and lightly sauté asparagus cut into 2-inch pieces instead of shrimp. Serve with Cheesy Garlic Bread Sticks and a nice green salad.

Tips and Tricks
If you do choose to make clarified butter, add an additional 3 tablespoons of butter to compensate for the volume you'll be losing by skimming.
Clarified butter is when you remove the milks solids, also known as the frothy white foam that floats when butter is melted. This is a matter of personal preference. For the best Shrimp Scampi, I don't feel that it is necessary to clarify the butter first. You can also use ghee.
Garlic that is thinly sliced with have less garlic punch than garlic that has been pressed, the ultimate of garlic flavor.

Did you also know that what makes some garlic so pungent and flavorful and others more tame has to do with how you cut it? The amount of cells severed directly impacts the garlicky flavor.
Also important is the pasta. While I prefer fresh pasta whenever possible, it just isn't always possible. I also like using a thick linguine for Shrimp Scampi when technically speaking the traditional pasta is spaghetti or even angel hair.
I also like to toss my pasta in the garlic butter sauce while still in the skillet. It allows it to absorb the delicious sauce instead it just dripping off and pooling at the bottom of your dish.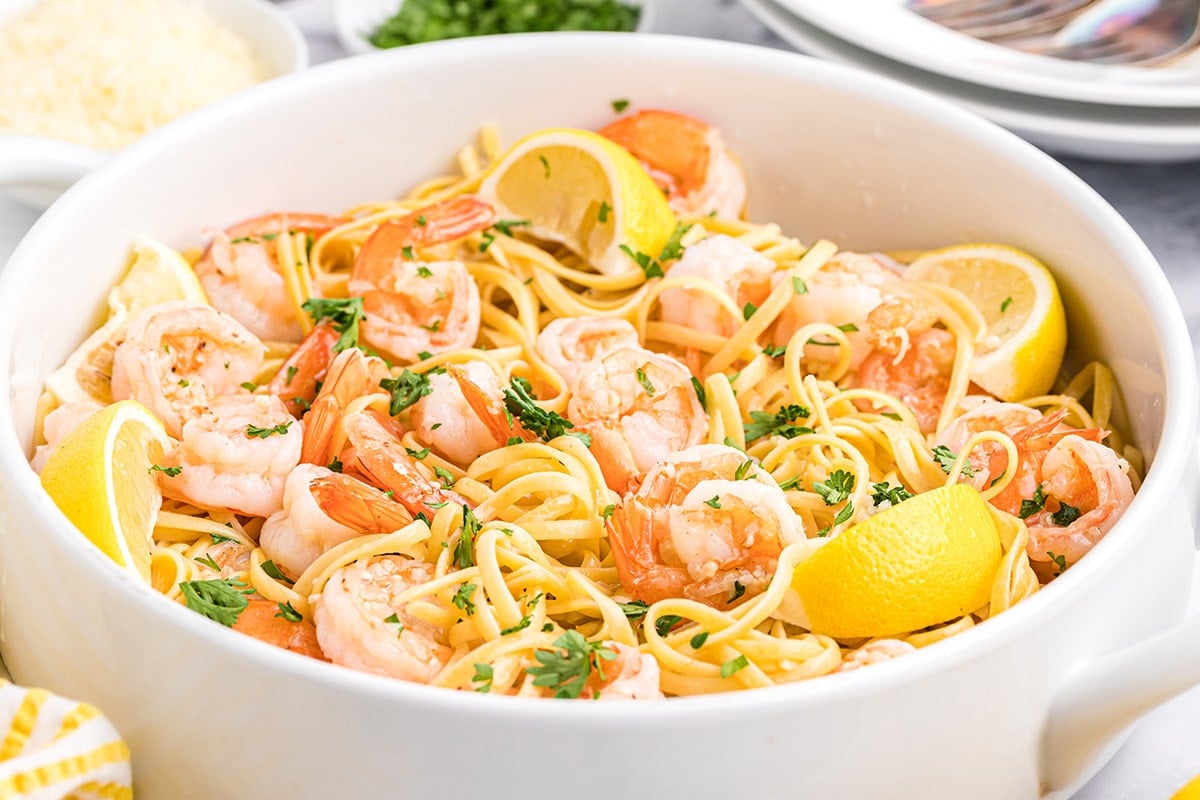 Storage and Freezing
Shrimp always taste best freshly cooked. When they are reheated, they tend to get gummy and rubbery. Since the sauce it so simple, I would suggest prepping all the ingredients ahead of time, but waiting until right before serving to actually make the sauce.
When stored in an airtight container in the refrigerator, this easy shrimp recipe will keep up to two days. You can also freeze it if you'd like to. This will keep for up to two months.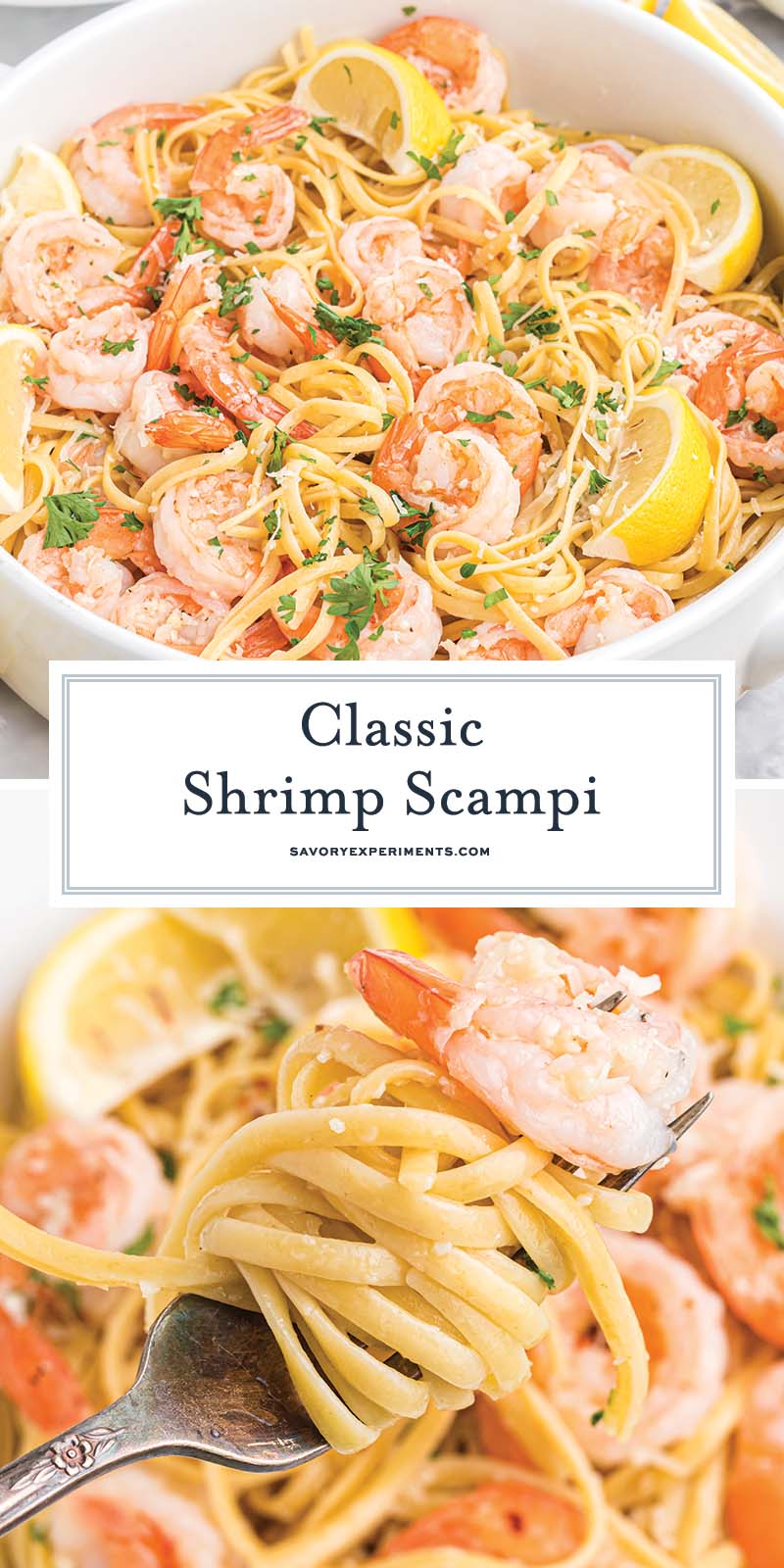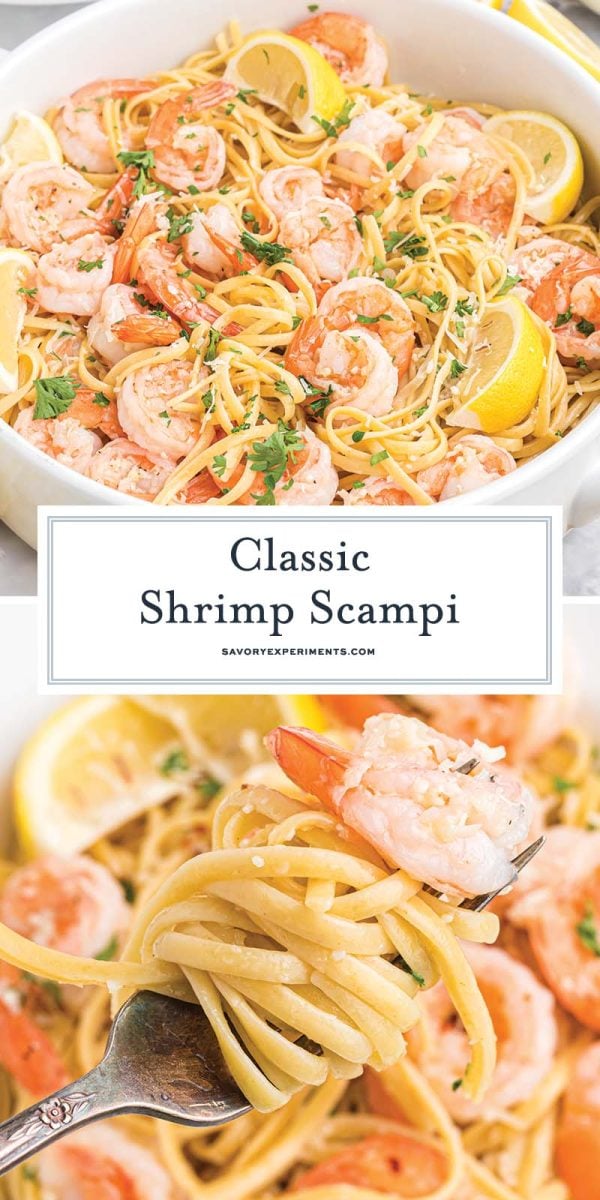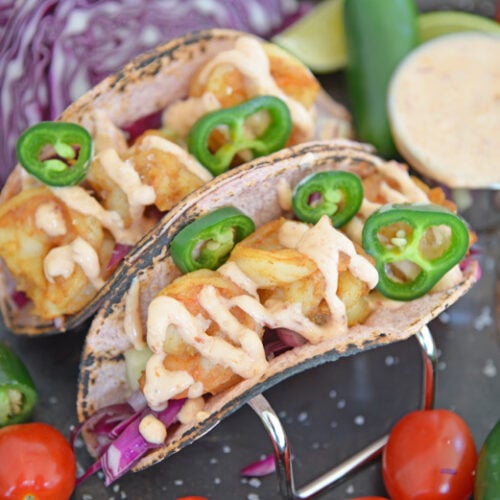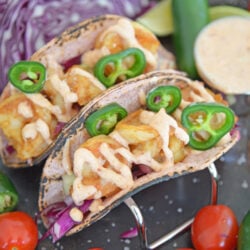 BOMB Shrimp Tacos
Easy shrimp tacos don't get any better than these Shrimp Tacos with Cabbage Slaw! Taco Tuesday will never be the same! Full of fresh flavor and seasoning!
See The Recipe!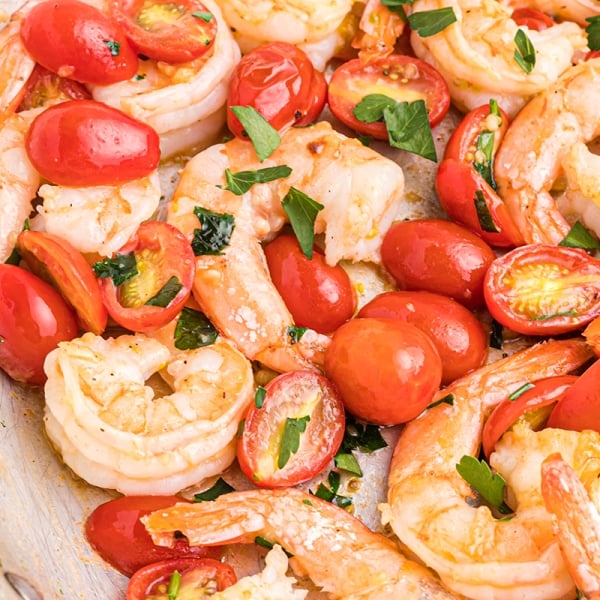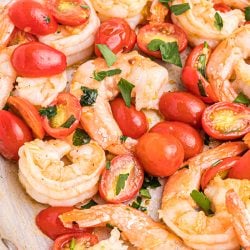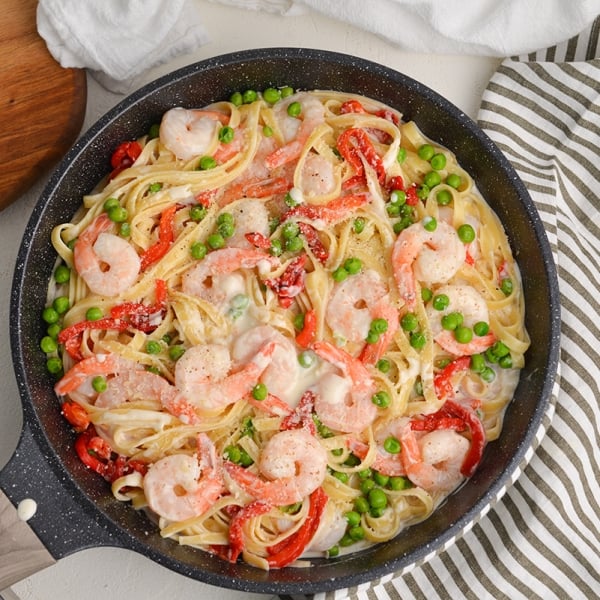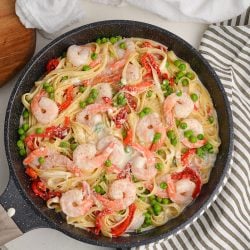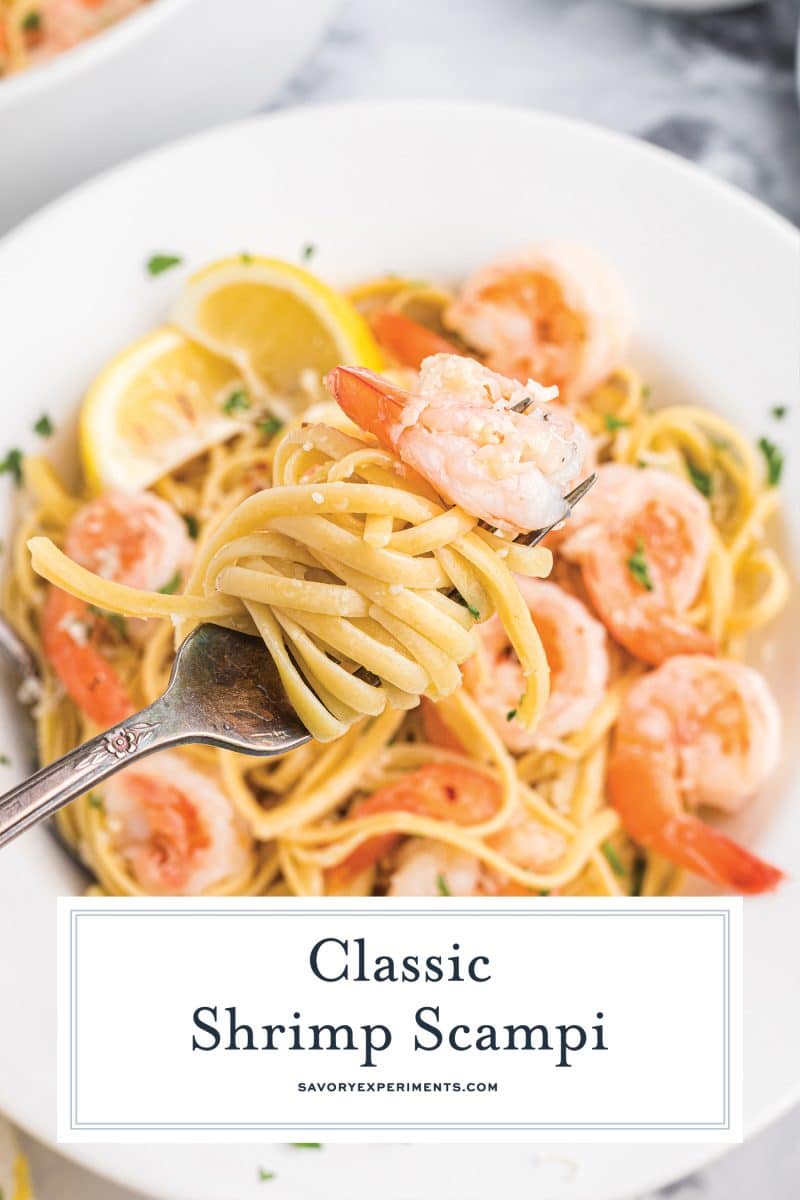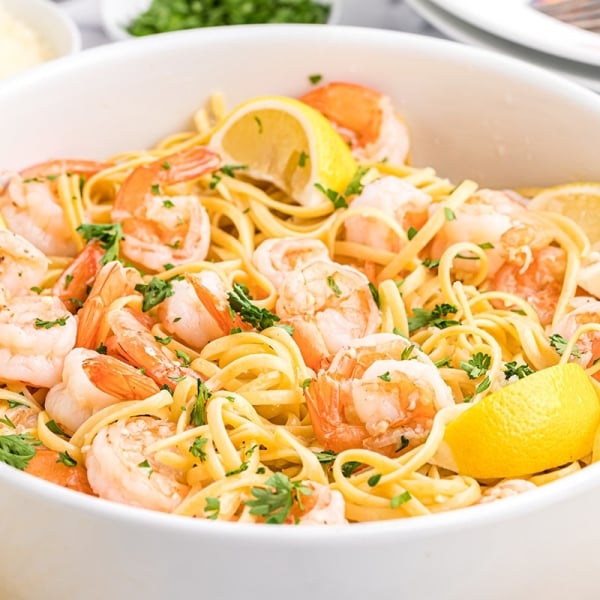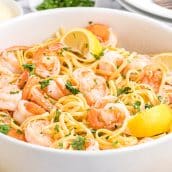 Shrimp Scampi
Shrimp Scampi is a traditional Italian dish made with a garlic butter sauce and shrimp with al dente pasta and fresh lemon juice.
Instructions
Cook pasta al dente according to pasta directions. Drain and set aside.

While pasta cooks, melt butter in a large skillet.

Add shallots, cooking 2 minutes and stirring.

Add garlic, cooking an additional 1 minute.

Add shrimp, cooking 3-4 minutes or until shrimp turn pink and curl.

Pour in white wine, cooking 1 more minute.

Serve shrimp scampi sauce over freshly cooked pasta, seasoning with sea salt, freshly cracked black pepper and a spritz of fresh lemon.
Nutrition
Calories:
762
kcal
,
Carbohydrates:
89
g
,
Protein:
39
g
,
Fat:
26
g
,
Saturated Fat:
15
g
,
Cholesterol:
347
mg
,
Sodium:
1092
mg
,
Potassium:
404
mg
,
Fiber:
4
g
,
Sugar:
4
g
,
Vitamin A:
709
IU
,
Vitamin C:
20
mg
,
Calcium:
208
mg
,
Iron:
4
mg