Basic Italian sauces are one of the things every home cook should master. A nice vodka sauce is among them! Adding cream to it only enhances it's deliciousness and gives you a recipe that friends and family will be asking for.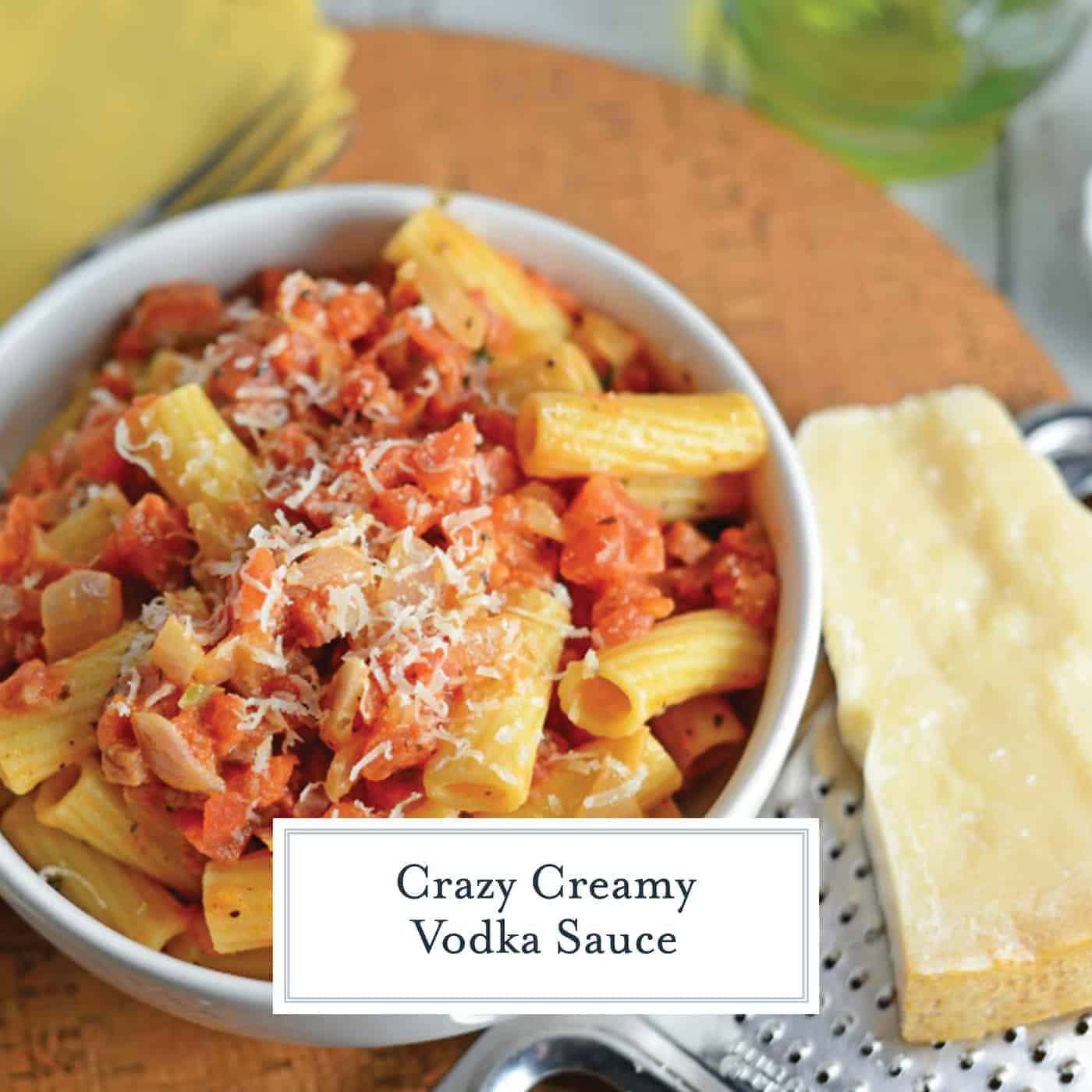 Creamy Vodka Sauce is an easy pasta sauce recipe pancetta, tomatoes, and cream. Serve over your favorite pasta shape like Penne!
A few weeks ago hubby and I visited his family in Rochester, New York which is rife with Italian restaurants. Sadly, we were there to celebrate a family member who had recently passed. The night we arrived we went to one of their local favorites.
Plagued by indecision, we finally decided to order Chicken Parmesan with Vodka Sauce and let me tell you something, that dish put a smile on each and every face at that table.
Food has a way of making things better instantaneously and I love that. We had full glasses of wine, delicious penne alla vodka, chicken Parmesan, our favorite garlic bread recipe and shared stories.
Anyone who knew grandpa has a story and each of us also have a nickname. In fact, I'm not sure I ever heard him refer to anyone by their given name. It was one of those things that made him truly special.
I was "the chef" and my husband "lightening" since he was so fast-paced as a child. We laughed, we cried, we celebrated his life, and we hugged before we all returned to our lives, forever changed.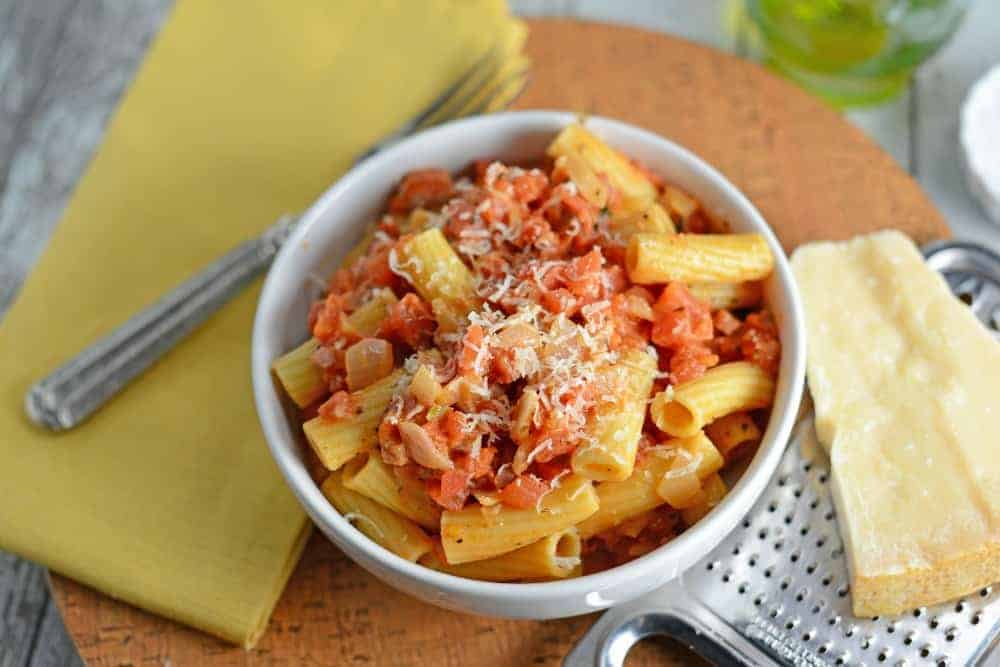 Food found a way to bring a close-knit family even closer. For days after our return home, I couldn't get that dinner out of my mind. It might have been me missing family or missing Rochester, but I was determined to make it.
Our only regret was that we weren't having our nightly phone call with grandpa when he asked us what we were eating for dinner. Make sure you tell your loved ones how much you care about them and hold them tight.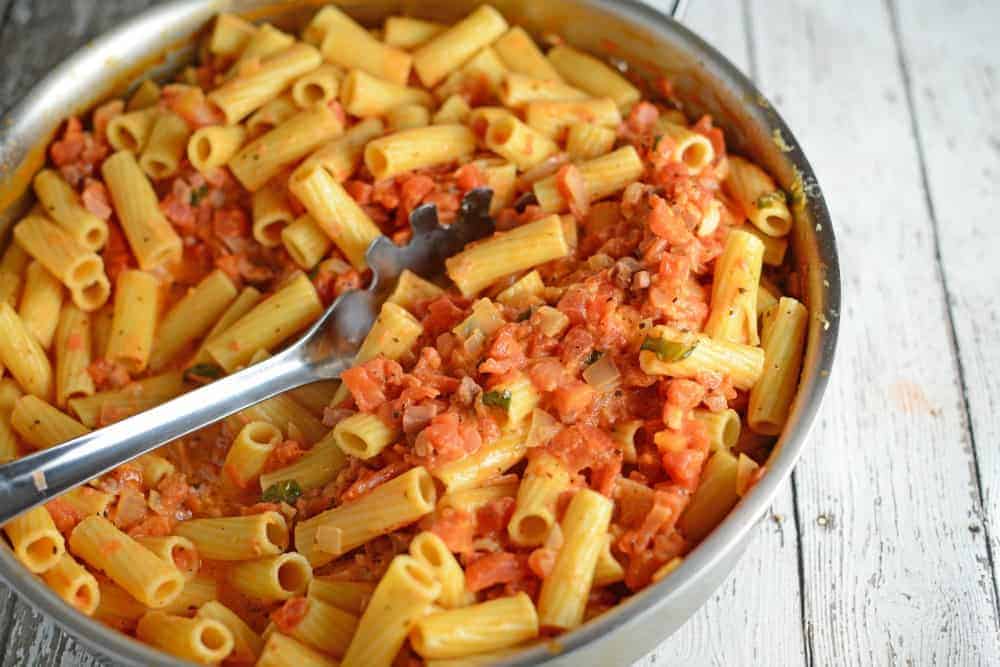 Creamy vodka sauce with large chunks of pancetta felt like the right kind of comfort and I finally whipped some up for dinner for hubby and I. In fact, I made two dishes that evening, Vodka Sauce and Linguine with Clam Sauce.
For those of you who aren't familiar with it, pancetta is cured pork belly made Italian style. Think of it as salt-cured, Italian bacon. When used in sauces like this it adds a nice meat flavor and it's fat renders and helps to emulsify the sauce.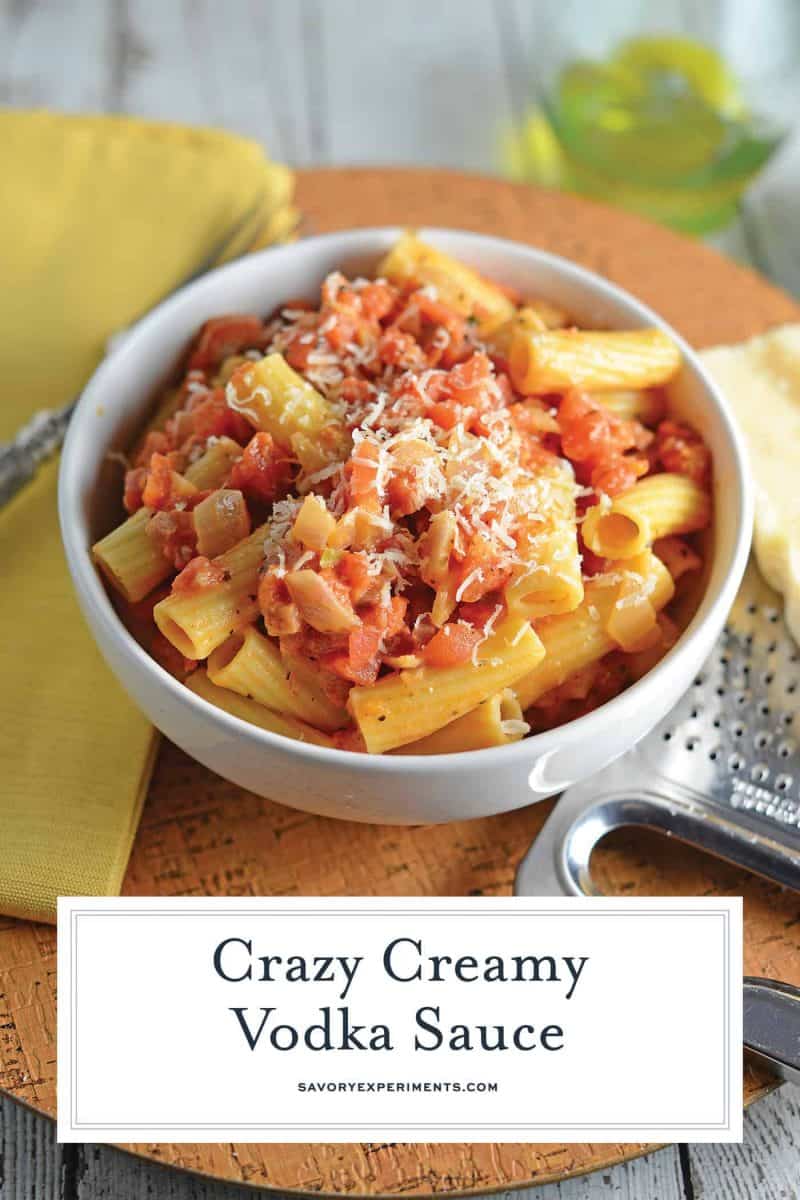 If you can't find pancetta or it is a little too step in terms of price, don't worry! Thick-cut bacon (smoked, cured, or otherwise) works just as well.
If you are looking for more Italian classics, here are a few!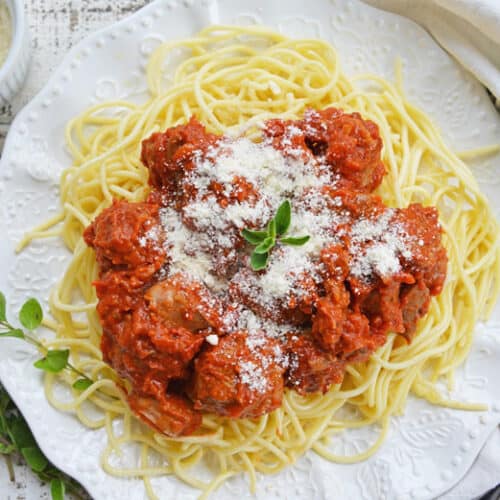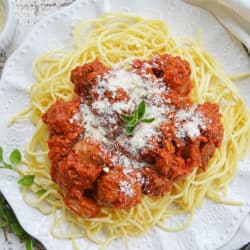 Homemade Spaghetti and Meatballs
Homemade Spaghetti and Meatballs just the way mom makes them. Just a handful of ingredients makes the perfect sauce.
View this recipe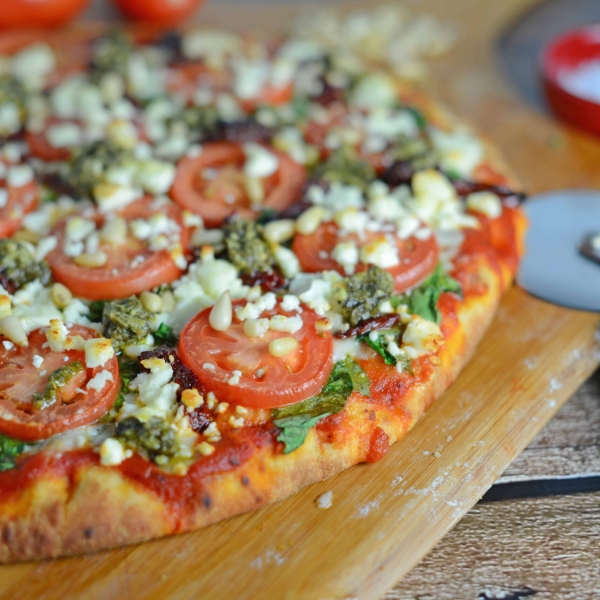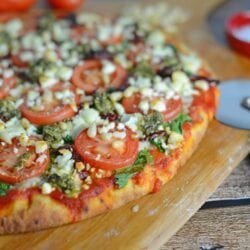 Tomato and Pesto Pizza
Tomato Pesto Pizza is an easy vegetarian pizza with fresh tomato slices, mozzarella and feta cheese, sun dried tomatoes, pesto and toasted pine nuts.
View this recipe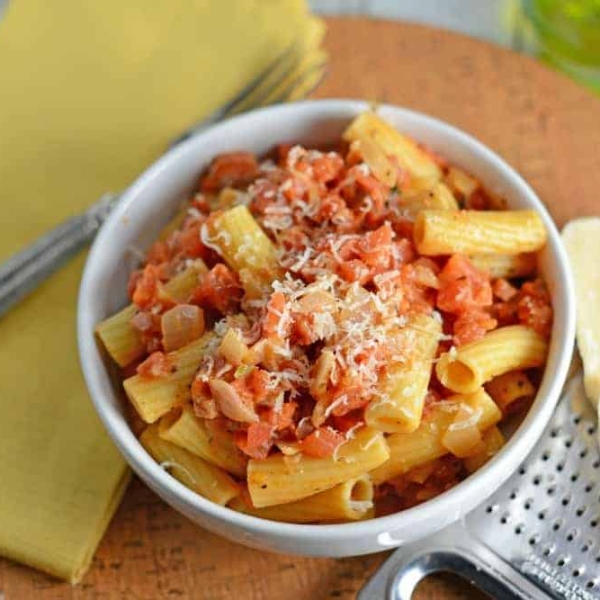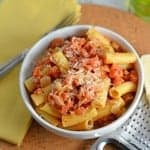 Creamy Vodka Sauce Recipe
Creamy Vodka Sauce is an easy pasta sauce recipe pancetta, tomatoes and cream. Serve over your favorite pasta like Penne alla Vodka!
Instructions
In a large skillet, melt butter over medium-high heat.

Add onion, sauteing for 2-4 minutes. Add garlic and pancetta, sauteing for another 3 minutes.

After onion and garlic have softened, stir in vodka and crushed tomatoes, bringing to a low a simmer. Allow to reduce and thicken, approximately 10 minutes.

Stir in cream, basil, salt and pepper until combined. Toss with pasta, allowing to heat for 1-2 minutes. Serve immediately.

If you tried this recipe, come back and let us know how it was!
Nutrition
Calories:
818
kcal
,
Carbohydrates:
47
g
,
Protein:
11
g
,
Fat:
47
g
,
Saturated Fat:
28
g
,
Cholesterol:
150
mg
,
Sodium:
726
mg
,
Potassium:
902
mg
,
Fiber:
6
g
,
Sugar:
12
g
,
Vitamin A:
2210
IU
,
Vitamin C:
26.8
mg
,
Calcium:
159
mg
,
Iron:
4.5
mg