Basic Italian sauces are one of the things every home cook should master. A nice vodka sauce is among them! Adding cream to it only enhances it's deliciousness and gives you a recipe that friends and family will be asking for.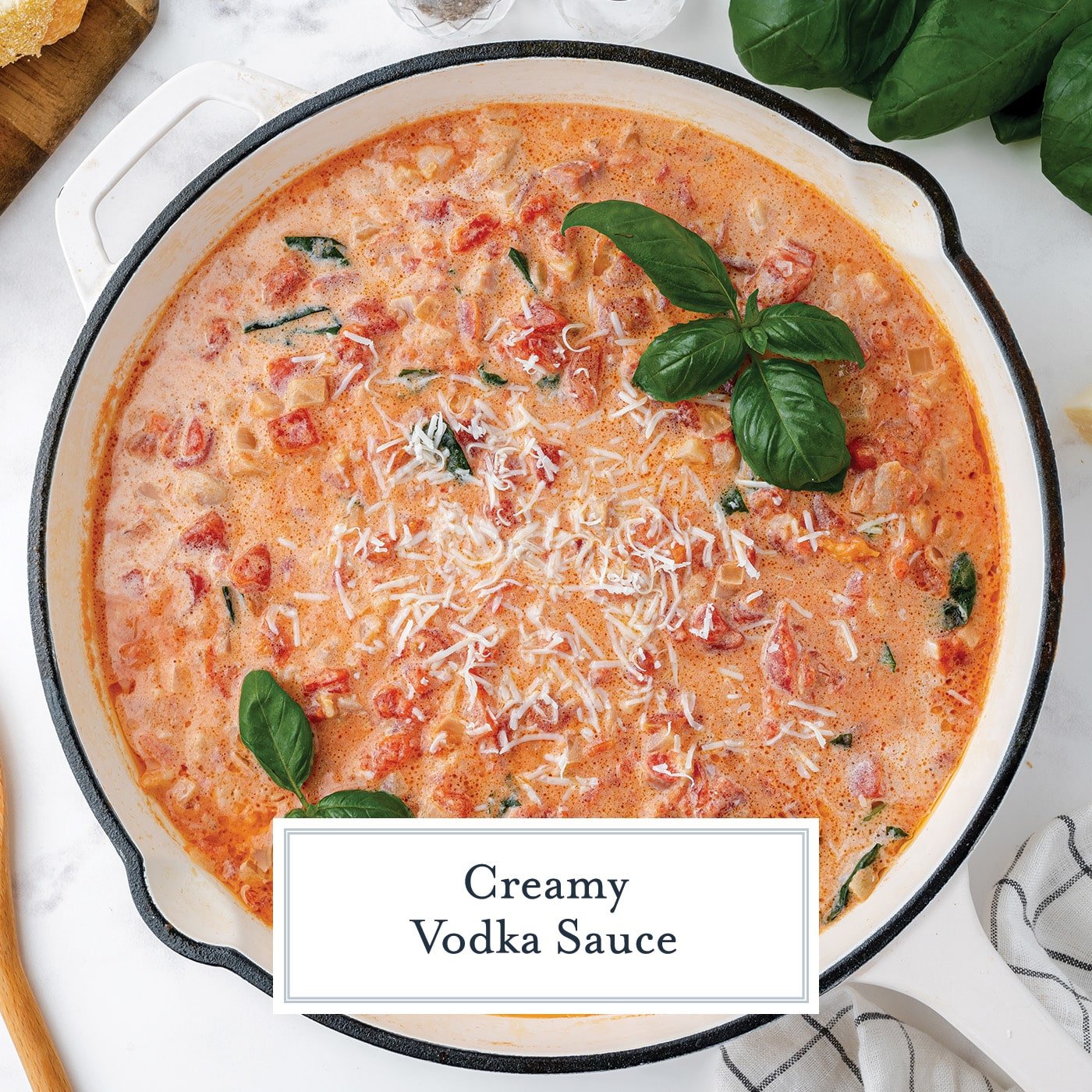 A few weeks ago hubby and I visited his family in Rochester, New York which is rife with Italian restaurants. Sadly, we were there to celebrate a family member who had recently passed. The night we arrived we went to one of their local favorites.
Plagued by indecision, we finally decided to order Chicken Parmesan with Vodka Sauce and let me tell you something, that dish put a smile on each and every face at that table.
Sauce as a Comfort Food
Food has a way of making things better instantaneously and I love that. We had full glasses of wine, delicious penne alla vodka, chicken Parmesan, our favorite garlic bread recipe and shared stories.
Food found a way to bring a close-knit family even closer. For days after our return home, I couldn't get that dinner out of my mind. It might have been me missing family or missing Rochester, but I was determined to make it.
Creamy vodka sauce with large chunks of pancetta felt like the right kind of comfort and I finally whipped some up for dinner for hubby and I. In fact, I made two dishes that evening, Vodka Sauce and Linguine with Clam Sauce.
Why You'll Love This Creamy Vodka Sauce
There are many reasons why this great recipe is loved, but here are a few specific reasons why we love it.
Delicious – This sauce has the brightness of tomatoes, silkiness from the cream and butter, and just the right amount of saltiness from the pancetta. And, of course, the slight bite from the vodka.
Versatile – There are plenty of ways to use this sauce other than with pasta. Plus, while it's perfect for parties or date night, it's also a great way to make an easy weeknight dinner.
Customizable – You can make your own signature vodka sauce by adding or substituting your favorite ingredients.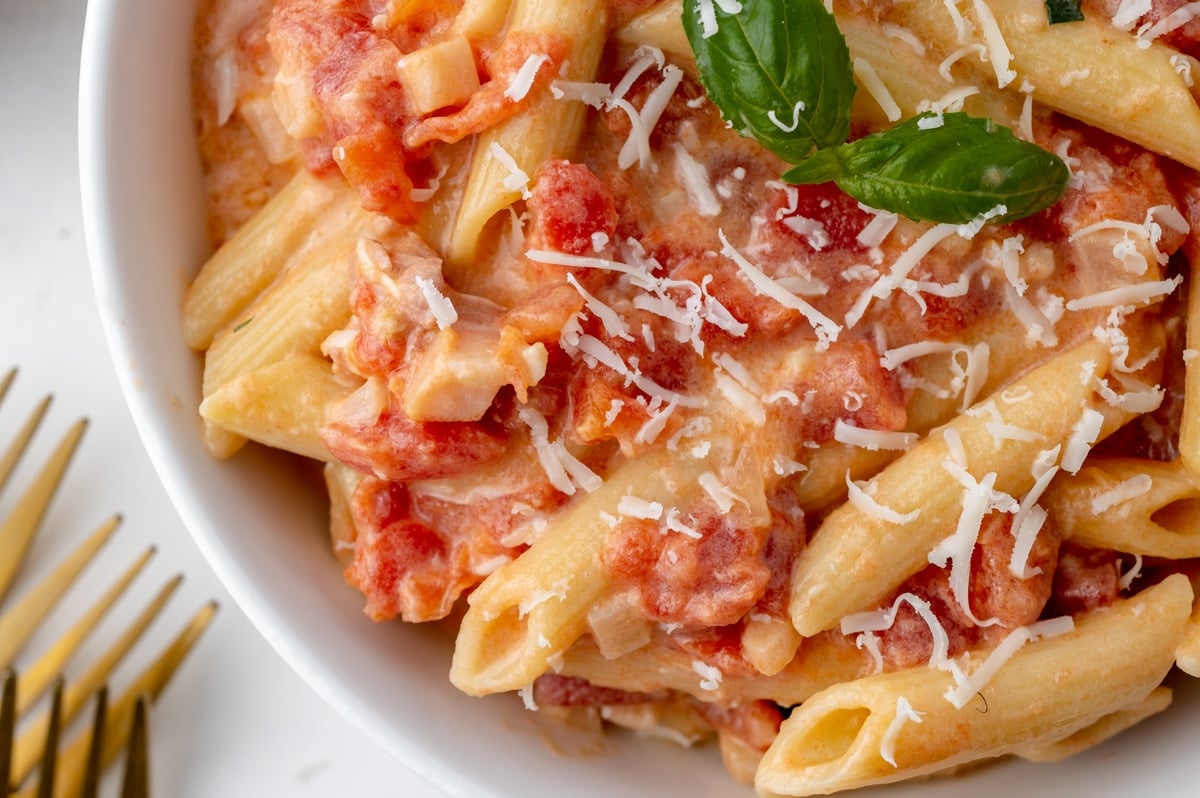 Ingredients
These ingredients all mingle together to create a perfectly balanced, creamy sauce.
Butter – You can use salted or unsalted butter. If you choose salted, make sure to taste as you go before adding more salt to the sauce.
Yellow onion – Dice onions evenly so that there aren't any large chunks in the sauce.
Garlic – Mince the garlic cloves so that the pieces are fine. You can also use a grater or microplane to achieve perfectly fine slices.
Pancetta – You can often find diced pancetta at the grocery store which makes preparation even more of a breeze. If you can't find pancetta, use prosciutto or ham — country ham will add extra salty flavor.
Vodka – Just like when using wine, use a vodka that appeals to your taste buds. If you're not sure which to choose, try asking a liquor-loving friend who can give some tips. You'll be surprised at how well a splash of vodka complements the tomato flavor.
Petite diced tomatoes – We prefer to use San Marzano tomatoes, but you can choose any brand that you like.
Heavy cream – Since this is a creamy sauce, don't skimp on the fat — make sure to get heavy cream rather than light or half-and-half.
Fresh basil leaves – Hand tear this herb for a rustic feel.
Fine sea salt – Add this to taste depending on how much saltiness the butter and the meat bring to the sauce.
Ground black pepper – Grind it yourself before adding or use your table shaker.
Cooked pasta – If you're using this sauce over pasta, cook the noodles to al dente just before serving. You can use it with nearly any pasta shape.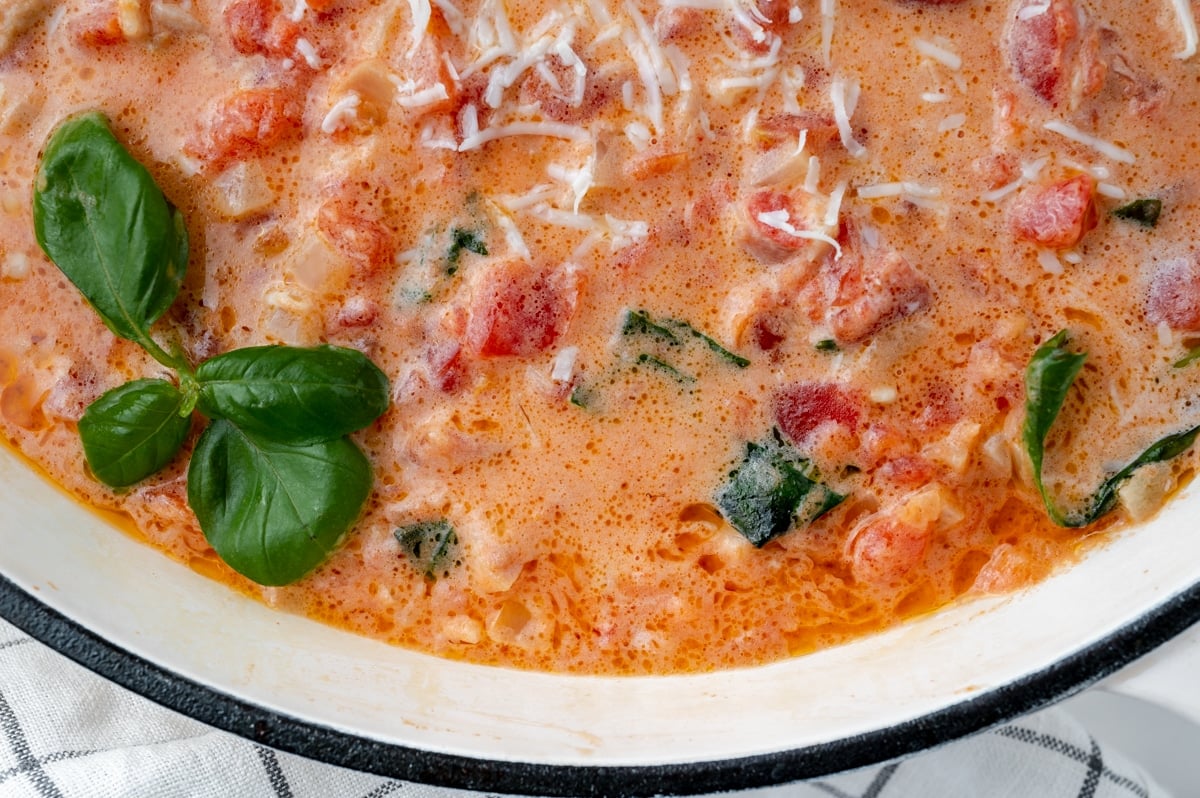 How to Make Vodka Sauce
This creamy vodka sauce recipe couldn't be easier to make. Follow the steps below to learn exactly how.
Melt butter. In a large skillet, melt butter over medium-high heat.
Saute onion, garlic and pancetta. Add onion, sauteing for a few minutes. Add the pressed garlic and pancetta, sauteing for another few minutes.
Stir in vodka and tomatoes. After onion and garlic have softened, stir in vodka and crushed tomatoes, bringing to a low a simmer. Allow to reduce and thicken.
Add cream, basil and seasonings. Stir in cream, basil, salt and pepper until combined. Toss with pasta, allowing to heat for through.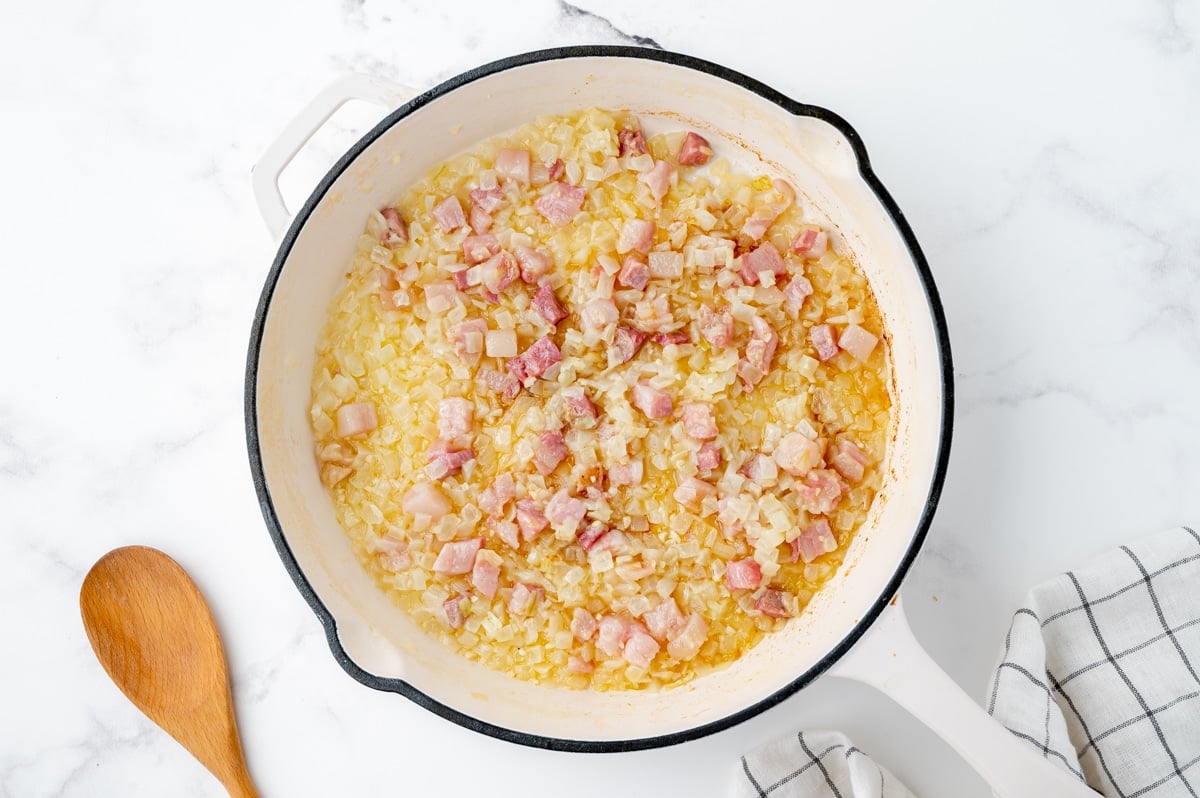 What to Serve with Creamy Vodka Sauce
Vodka sauce pairs well with any pasta dish, but there are other uses for it, too.
Dipping sauce – Instead of traditional marinara, use this sauce for dipping bread sticks, mozzarella sticks, or warm, crusty bread.
Pizza topping – Elevate your next at-home pizza with this creamy sauce instead of pizza sauce.
Chicken parmigiana – Top your chicken parmigiana with this silky sauce.
Eggs – Make an Italian-American riff on the Middle Eastern dish, shakshuka, by frying up eggs in this vodka sauce.
Meatballs– Homemade meatballs can be simmered in this delicious sauce too!
Vegetables – Toss steamed or grilled veggies in vodka cream sauce to entice even the pickiest eaters.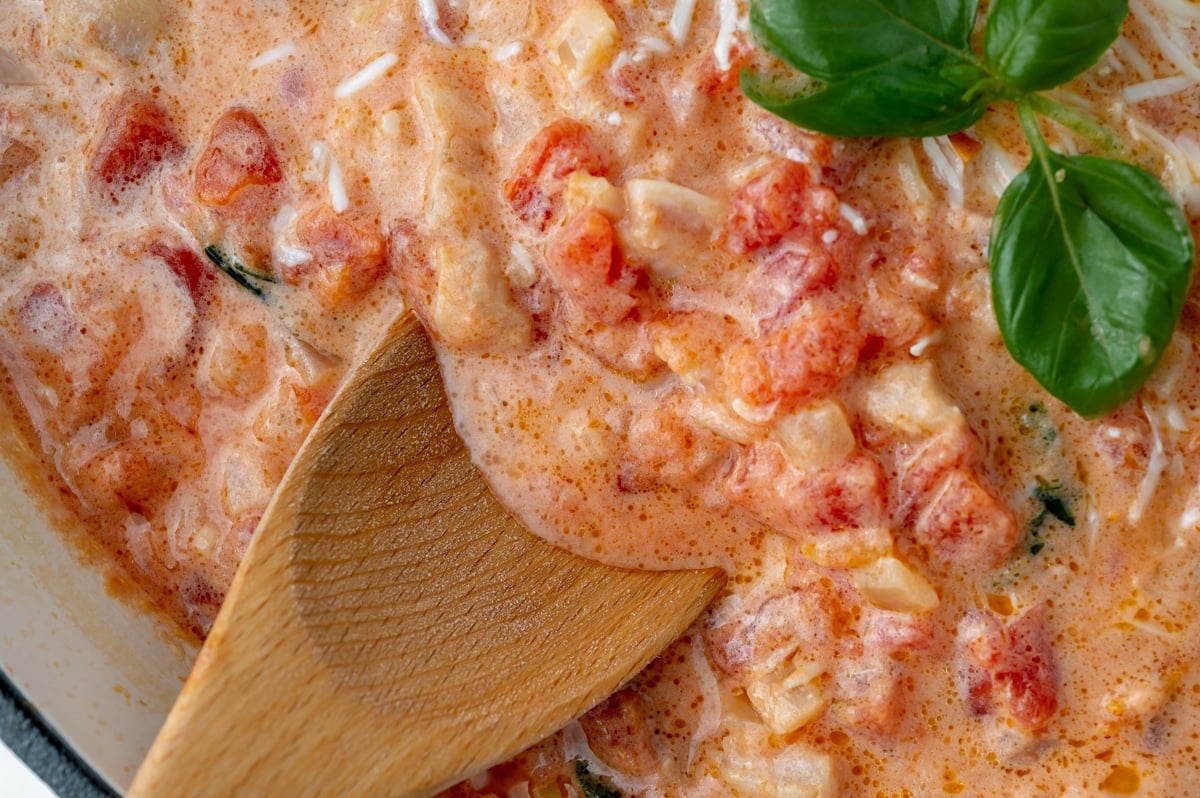 Variations
This creamy sauce can be changed up however you like to suit the palates in your house (or for guests).
Heat – Add crushed red pepper flakes or cayenne pepper powder to spice it up.
Liquor – Of course, if you leave out the vodka, it won't be a vodka sauce. But you can use wine, or cooking wine, instead, for a different flavor.
Meat – You can omit the meat or use your favorite meat substitute. Rotisserie chicken would be an easy substitute.
Onion – Use a different variety of onion (like white onion or red onion) or substitute onion powder.
Garlic – While we prefer fresh garlic, you can use minced garlic that is jarred as well.
Cheese – You can always add cheese to a sauce. This one is best dressed with fresh parmesan cheese.
Oil – Substitute extra virgin olive oil for some of the butter.
Consistency – If you want a thinner pasta sauce, try adding a bit of chicken stock or a cup of pasta water to the tomato mixture. If you want a thicker sauce, add some tomato paste — either way, adjust the seasonings to taste.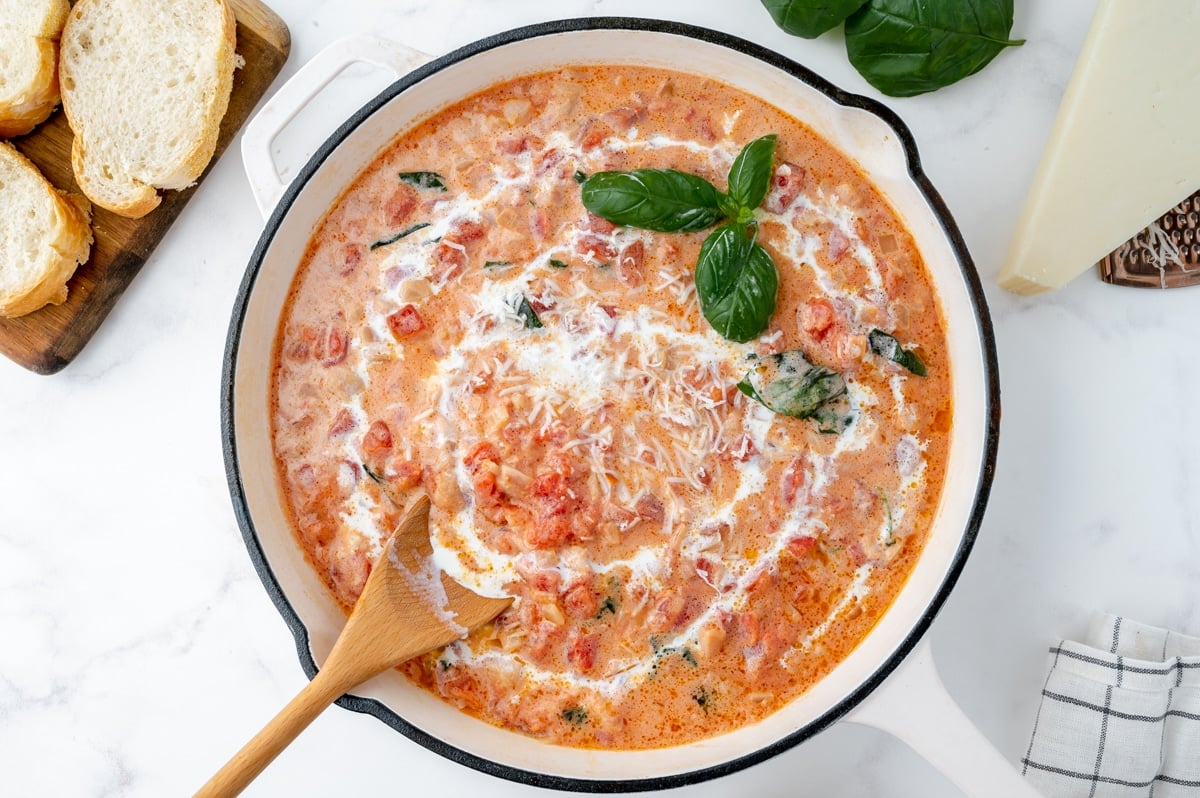 Make Ahead, Storage and Freezing
Make Ahead: Since the sauce will last for several days in the refrigerator, you can make it ahead. Just heat sauce at a low simmer just before you're ready to serve.
Refrigerator: After cooling to room temperature, store leftover vodka sauce in the fridge for 4-5 days in an airtight container.
Freezer: Freeze vodka sauce in a freezer-safe container or freezer bag for up to 6 months.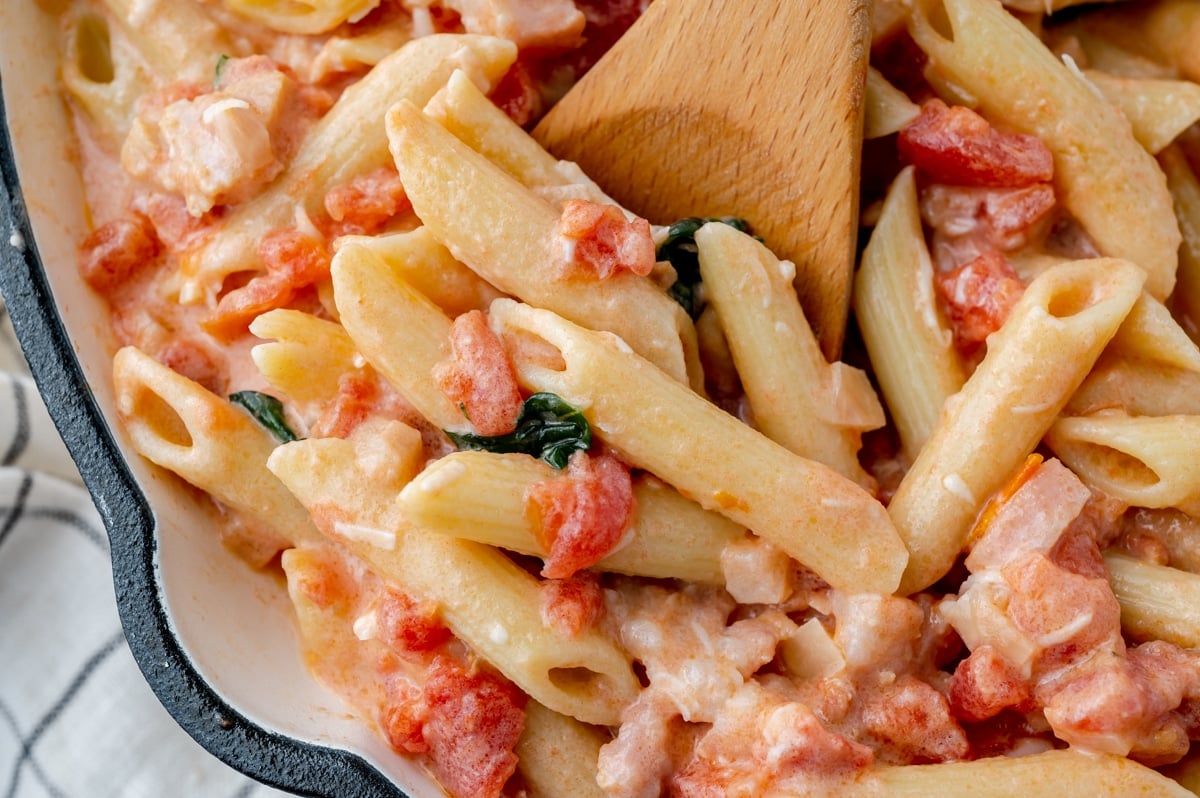 Frequently Asked Questions
What is vodka cream sauce made of?
Vodka sauce is a mixture of tomatoes, traditional Italian herbs and aromatics, vodka, and cream.
What does vodka cream sauce taste like?
This silky smooth sauce has bright flavors from the tomatoes and basil rounded out by the fat of the cream and saltiness of the meat.
Why do you put vodka in cream sauce?
The vodka helps to bring all of the flavors of the sauce together while also remaining somewhat neutral in flavor. The alcohol content cooks out during the cooking process.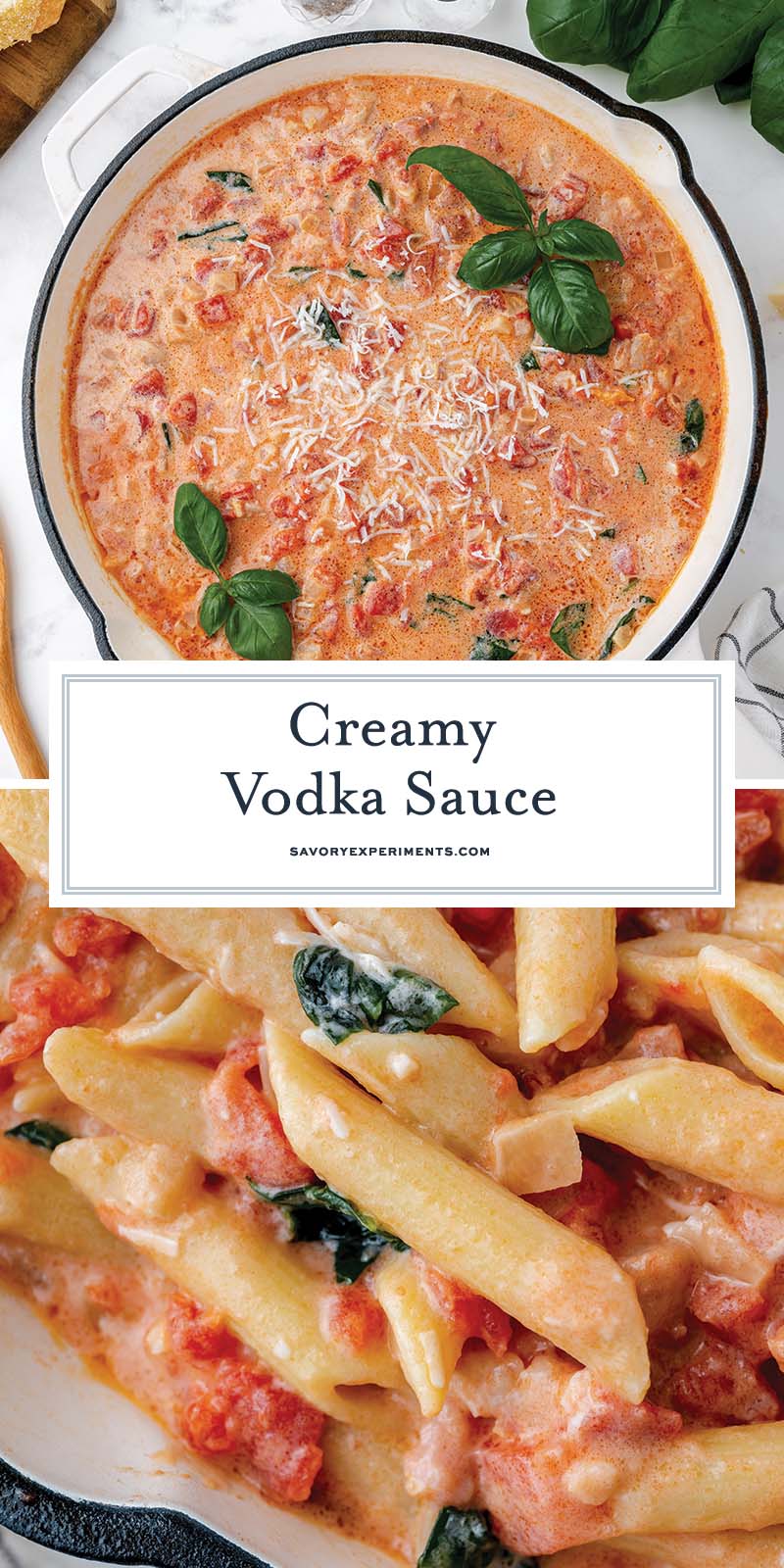 More Italian Classics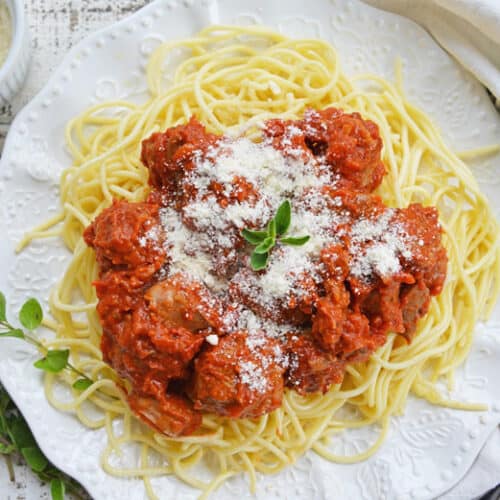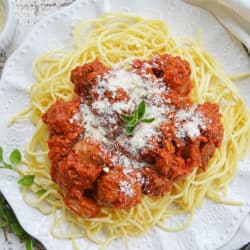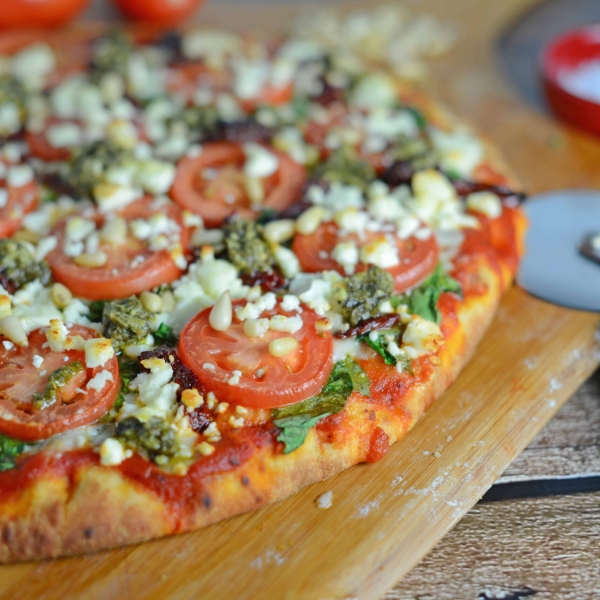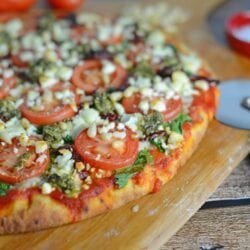 Tomato and Pesto Pizza
Tomato Pesto Pizza is an easy vegetarian pizza with fresh tomato slices, mozzarella and feta cheese, sun dried tomatoes, pesto and toasted pine nuts.
See The Recipe!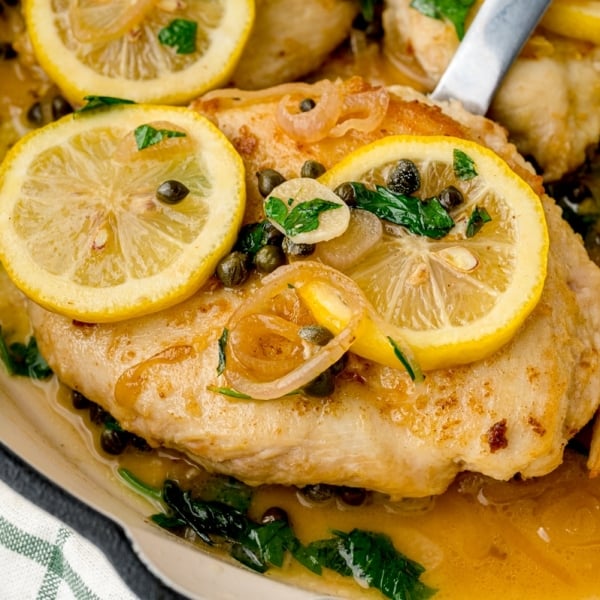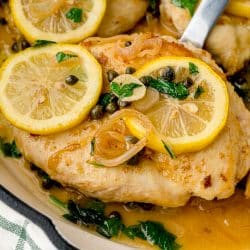 Chicken Piccata Recipe
Classic Chicken Piccata is an easy Italian recipe that comes together in less than 30 minutes and explodes with flavors of lemon, caper and shallot.
See The Recipe!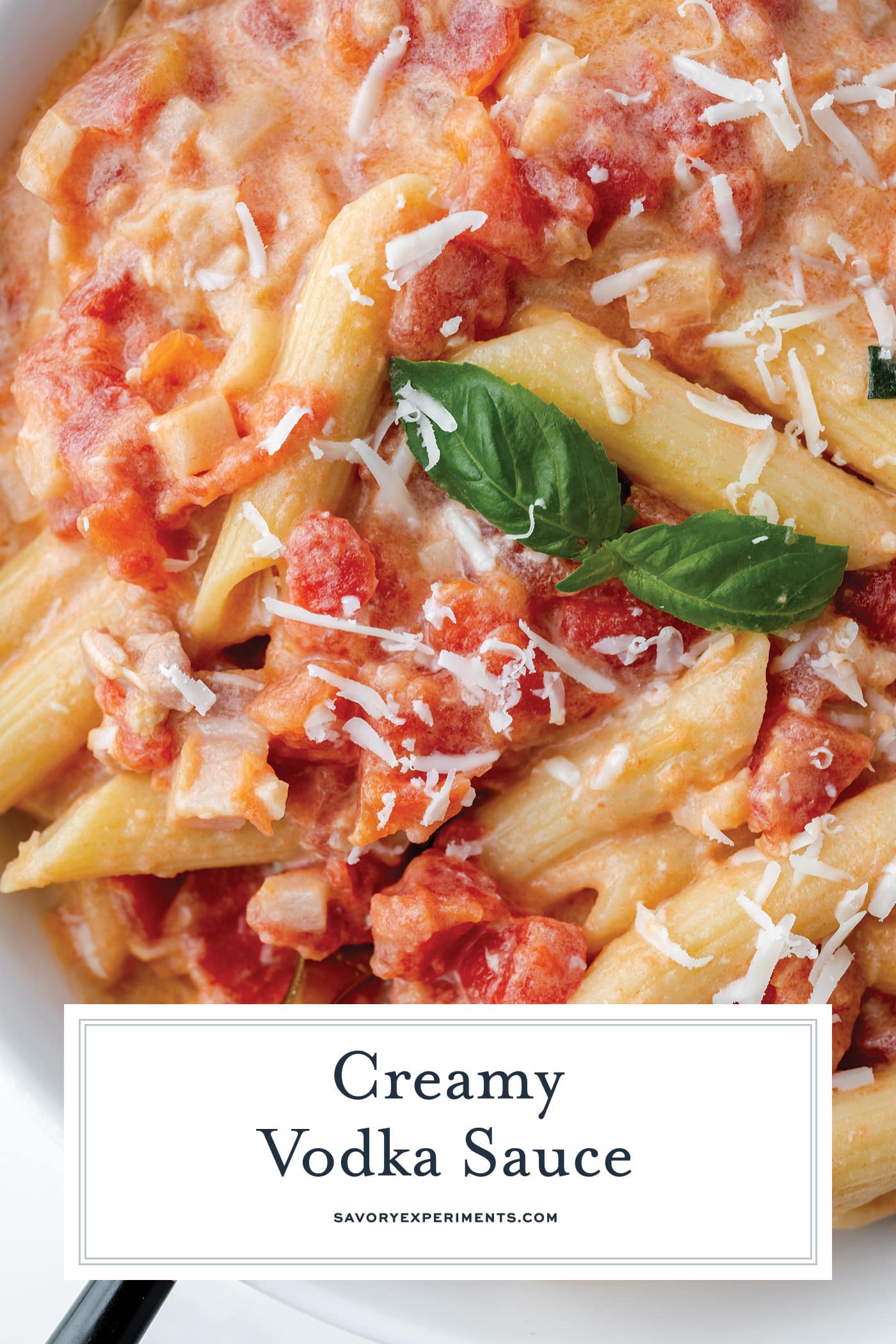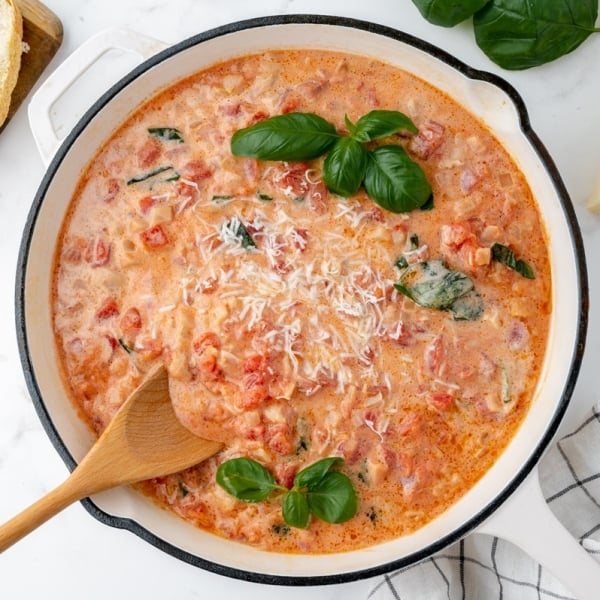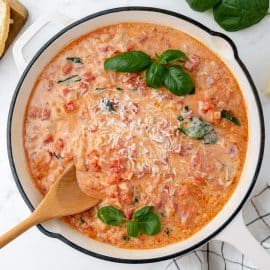 Creamy Vodka Sauce Recipe
Creamy Vodka Sauce is an easy pasta sauce recipe pancetta, tomatoes and cream. Serve over your favorite pasta like Penne alla Vodka!
Instructions
In a large skillet, melt the butter over medium-high heat.

Add the onion, sauteing for 2-4 minutes. Add the garlic and pancetta, sauteing for another 3 minutes.

After the onion and garlic have softened, stir in the vodka and crushed tomatoes, bringing to a low a simmer. Allow the sauce to reduce and thicken, approximately 10 minutes.

Stir in the cream, basil, salt and pepper until combined. Toss with hot, cooked pasta, allowing to heat for 1-2 minutes. Serve immediately.

If you tried this recipe, come back and let us know how it was in the comments or star ratings.
Nutrition
Calories:
727
kcal
,
Carbohydrates:
36
g
,
Protein:
12
g
,
Fat:
46
g
,
Saturated Fat:
25
g
,
Polyunsaturated Fat:
4
g
,
Monounsaturated Fat:
14
g
,
Trans Fat:
1
g
,
Cholesterol:
117
mg
,
Sodium:
623
mg
,
Potassium:
752
mg
,
Fiber:
5
g
,
Sugar:
11
g
,
Vitamin A:
1668
IU
,
Vitamin C:
20
mg
,
Calcium:
122
mg
,
Iron:
4
mg