Chances are you're familiar with the classic dish baked mostaccioli.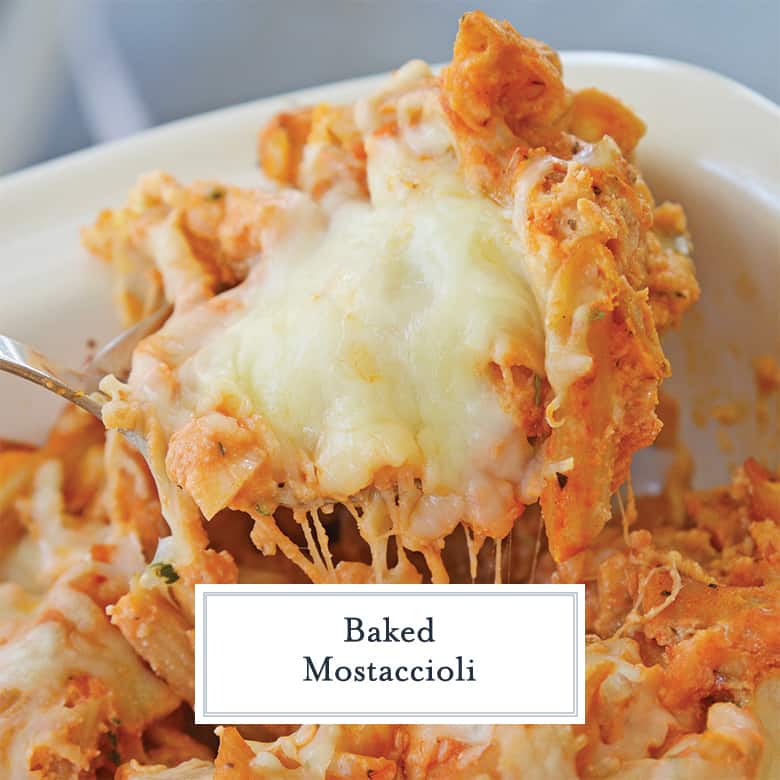 A delicious one-dish meal with baked pasta, tomato sauce, cheese and sausage. Great for potlucks and as a freezer meal!
You probably had it at school or a potluck. Sometimes called lunch lady mostaccioli, wedding mostaccioli or even funeral mostaccioli, it is commonly served at function with large groups because the ease, simplicity and frugalness.
If you've never heard it, perhaps have heard of baked ziti or even baked penne? They are all basically the same, but with a different type of pasta.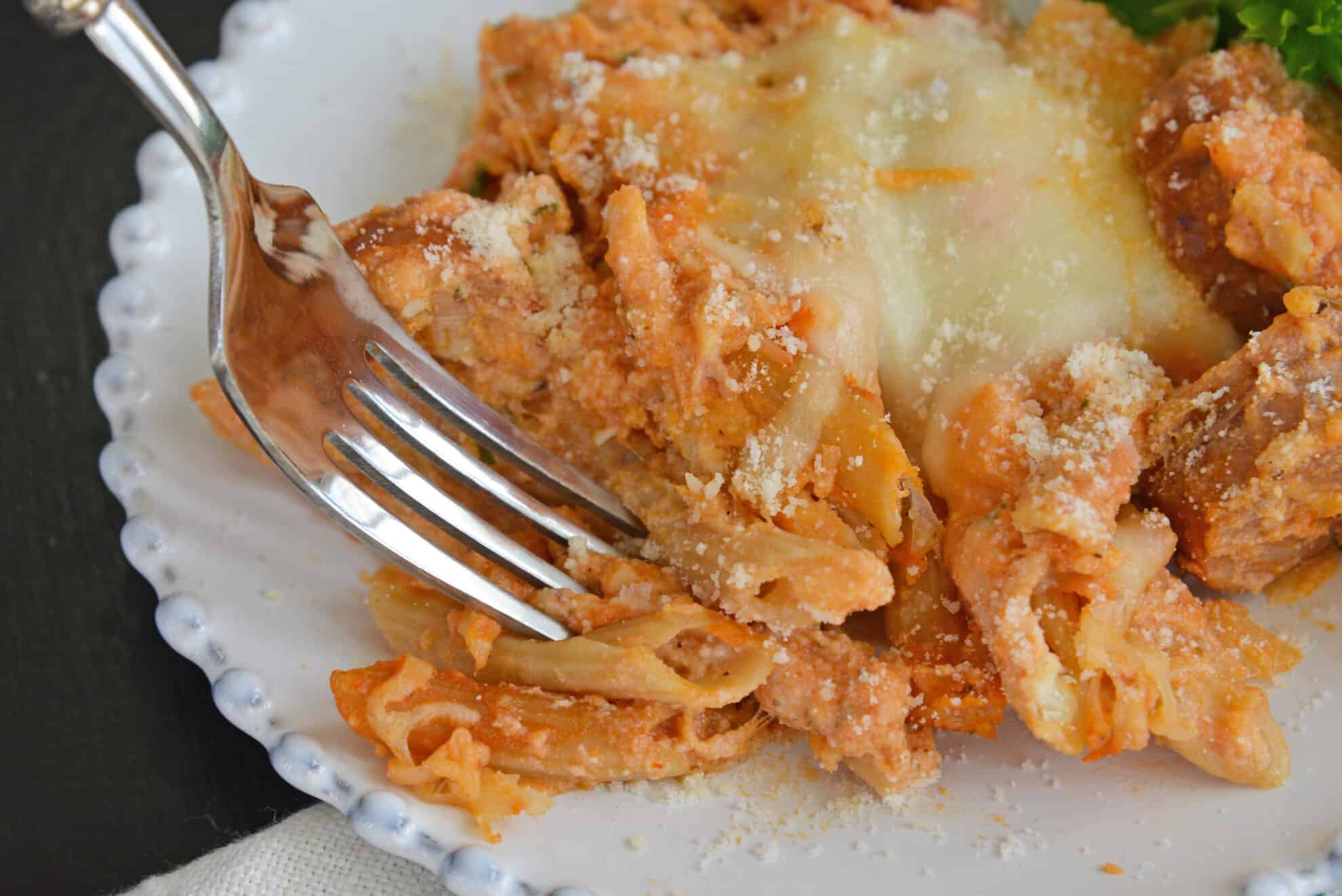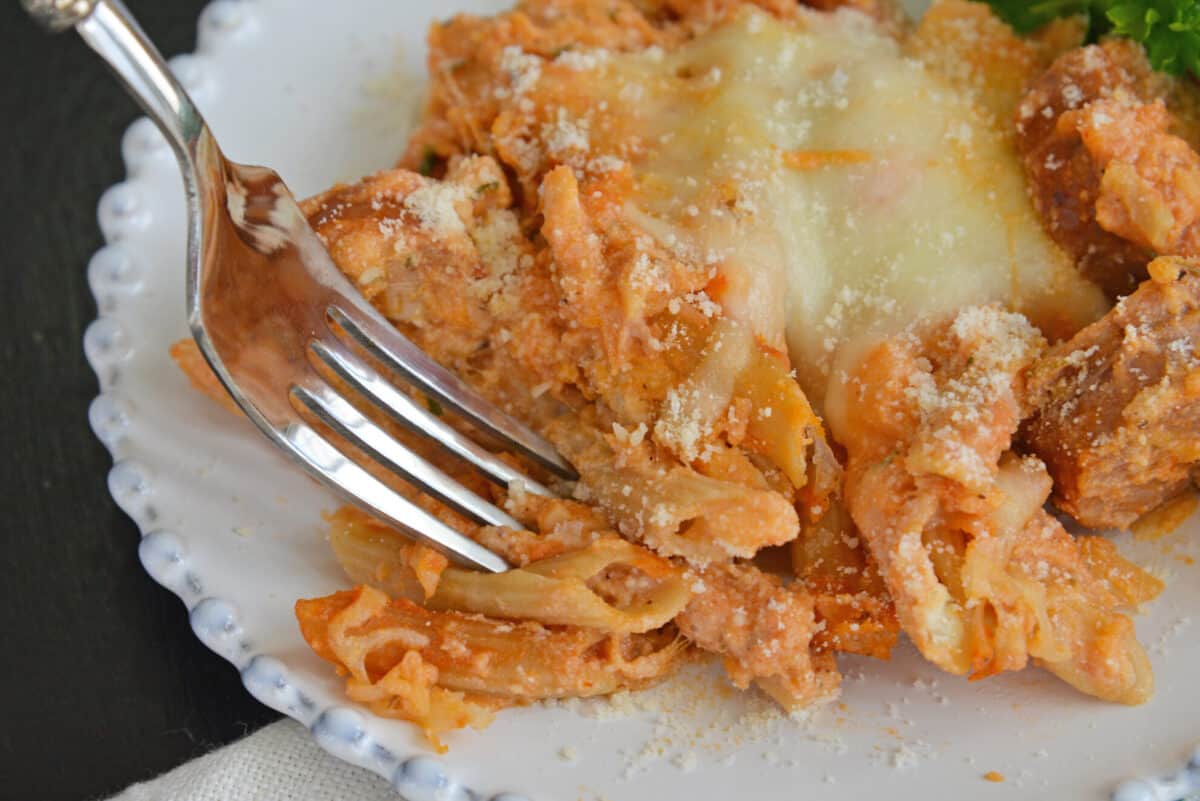 Mostaccioli is a long cylindrical pasta but with no ridges and blunt edges. Penne is smaller but still cylindrical and has ridges and diagonally cut ends. And Ziti is the same size as mostacollini but with the features of penne, ridges and diagonal ends.
But I will tell you this: most of the time it is called mostaccioli even if the correct pasta is not being used. It's like making spaghetti and meatballs with fettuccine.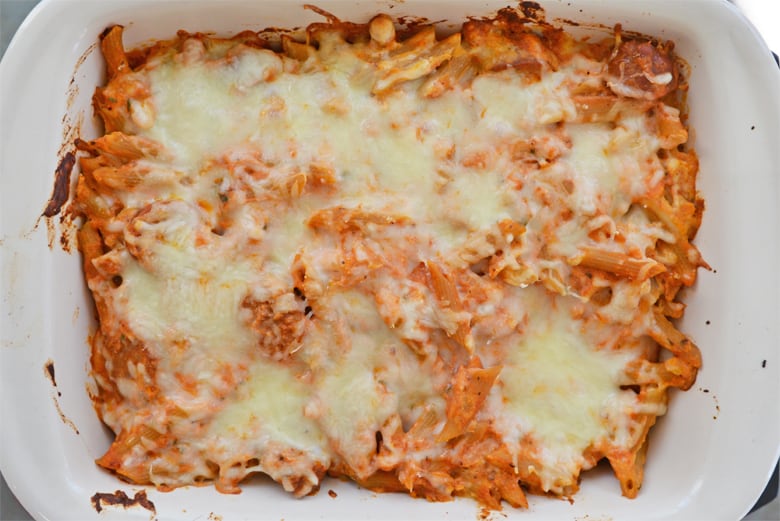 How to Make Baked Mostaccioli
Like most things in life, there are several variations on this dish, which is American dish and not even remotely authentic, by the way. In fact, most Italians won't know what you are talking about. Instead it is most popular in German families!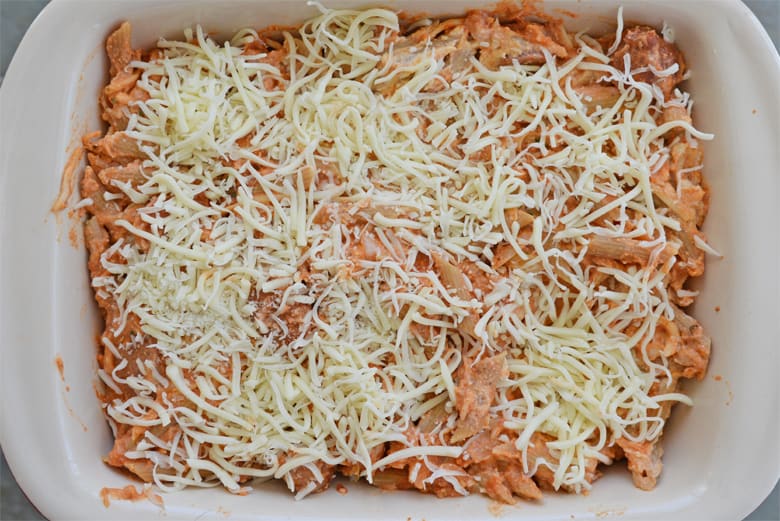 The main difference you will see (besides what shape of pasta) is whether or not you use ricotta cheese. I like the ricotta. It helps bind the dish together and creates a creamy tomato sauce. Kind of like lasagna but without all the work of having to layer ingredients.
Some folks choose to just mix it all together and let mozzarella, provolone or Parmesan cheese bind the pasta.
I blend my ricotta with an egg so it bakes up fluffy and then season it with garlic powder, onion powder, salt and pepper. If you want a spicer version, add crushed red pepper flakes to the mix.
The other ingredients are usually onions, garlic and bell pepper. I like to add mine raw so they have a nice crunch and toothiness, but you can sweat them down and saute to soften first if you wish.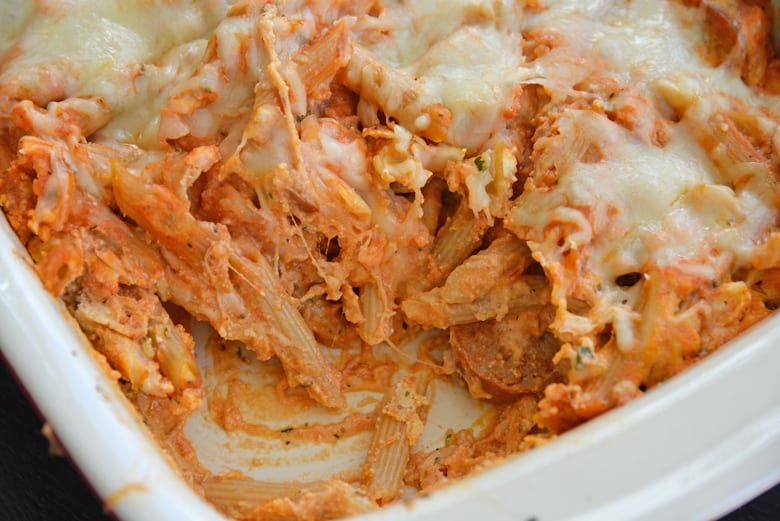 You can also add these fun veggies:
Diced zucchini
Shredded carrots
Fresh herbs
Parsnips
Rutabaga
Mix the ricotta with your pasta, tomato sauce and meat of choice and you are all set!
The whole point of the dish is to be quick and easy so I generally use a jarred tomato sauce and pre shredded cheese.
What type of meat do you use in Baked Mostaccioli?
It is really up to you. I use whatever I have on hand which is commonly Italian sausage, but you can also use ground beef or even bulk sausage.
Some folks use shredded chicken and it is most certainly acceptable to leave as a vegetarian dish. In fact, at many gatherings it is served as the main entree for those who don't eat meat or even as a side dish to a meaty main entree.
You can add more if you like it meaty or less if you prefer more pasta. This is verstile and won't make or break depending on the amount of protein.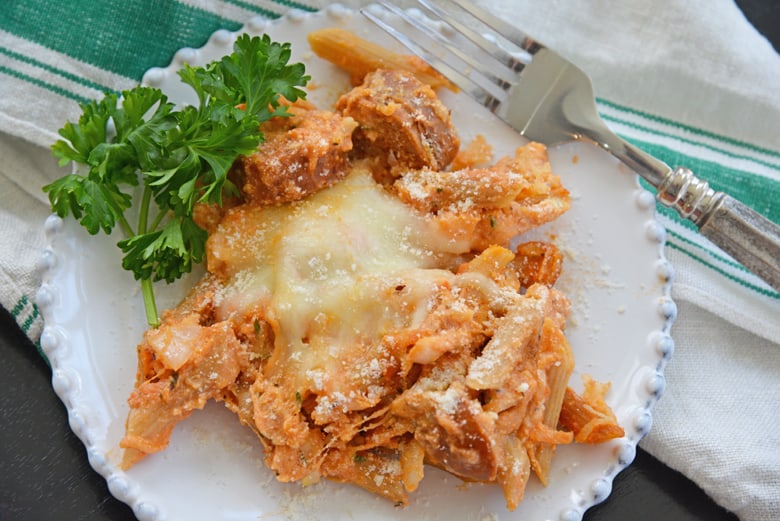 Can I freeze Baked Mostaccioli?
Can you freeze it? Ha! This dish was practically developed for the primary reason of freezing. It is the dish you bring to a meal train to keep in the dark depths of the freezer and it never seems to go bad (but I don't recommend going past 6 months).
You can also make it ahead, either just assembled or baked. It lasts for up to 5 days covered and refrigerated.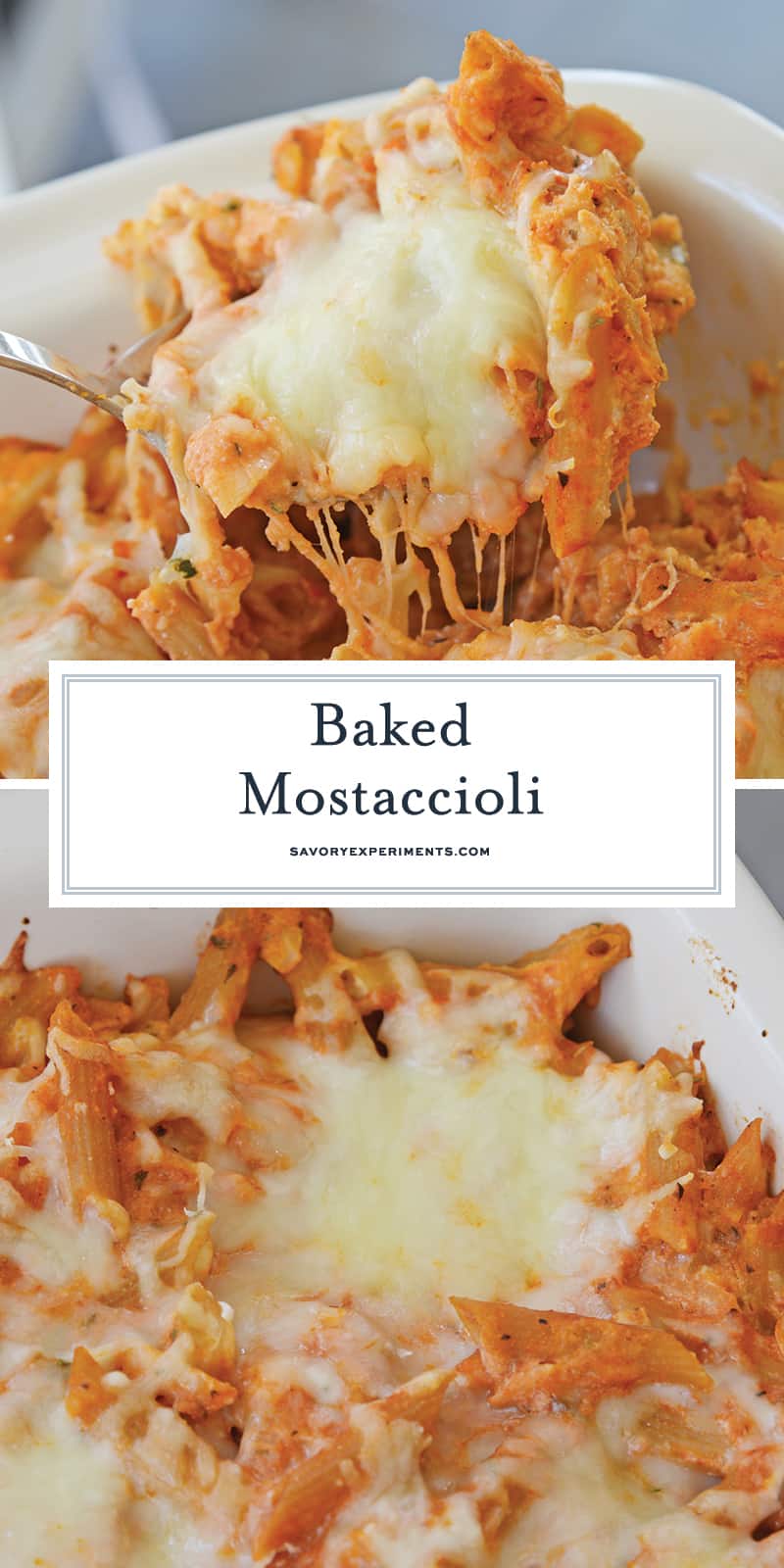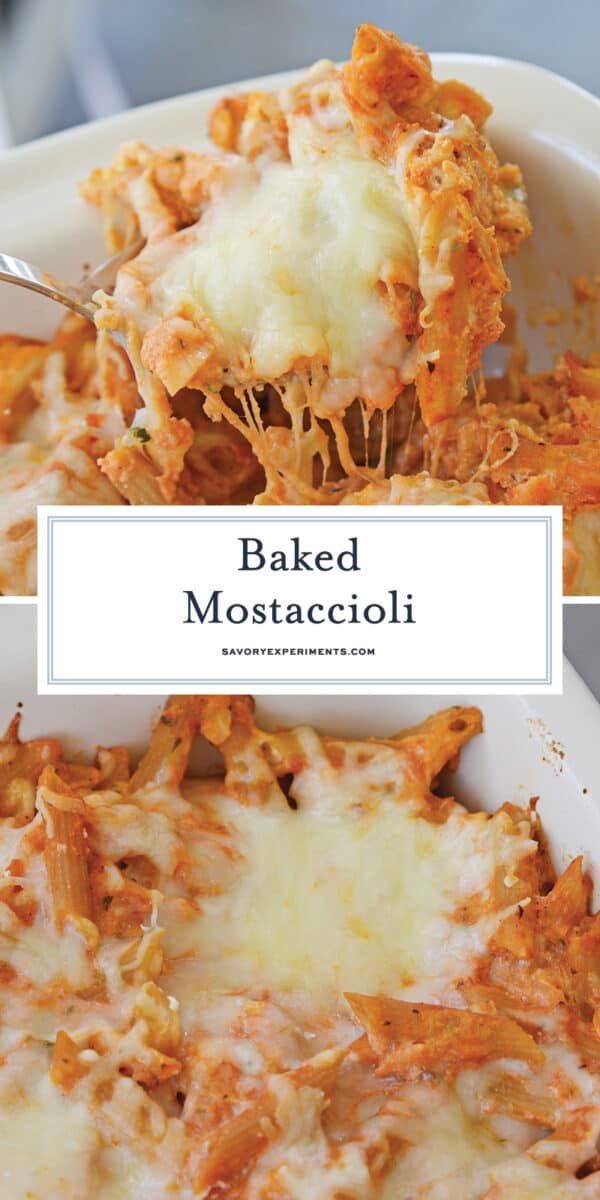 Sloppy Joe Tater Tot Casserole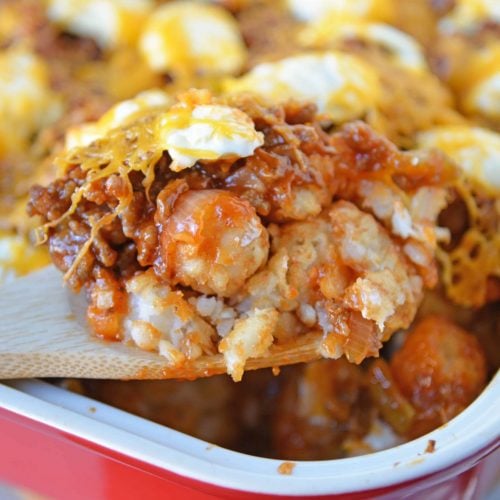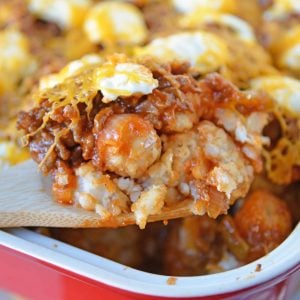 Sloppy Joe Tater Tot Casserole combines layers of crispy tater tots with homemade sloppy Joe mix, cream cheese and cheddar for the ultimate quick meal or party food!
Chicken Broccoli Casserole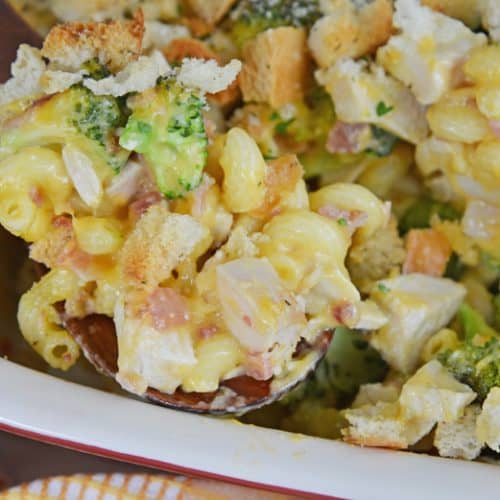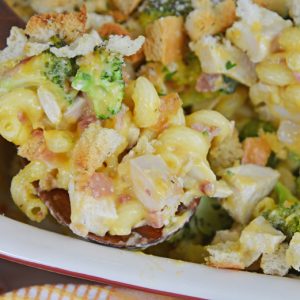 This award winning cheesy chicken broccoli casserole is the easiest one-dish dinner that is perfect for make ahead, freezer and parties!
King Ranch Chicken Casserole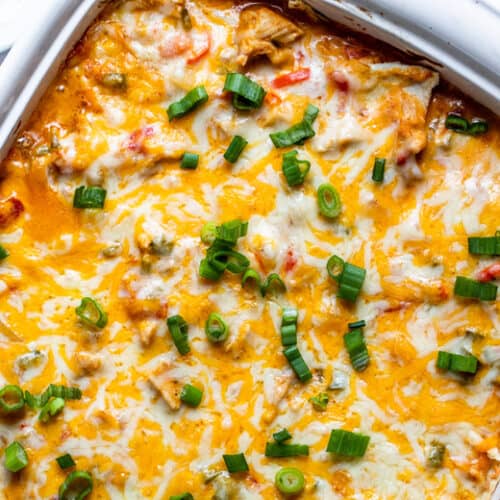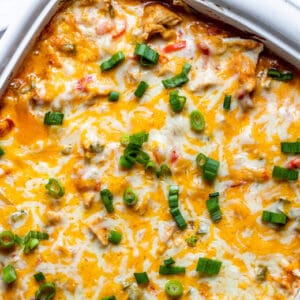 This King Ranch Chicken Casserole is packed with incredible Tex-Mex flavors and of course loads of cheesy goodness. This simple recipe is perfect for a family dinner and can be made ahead of time.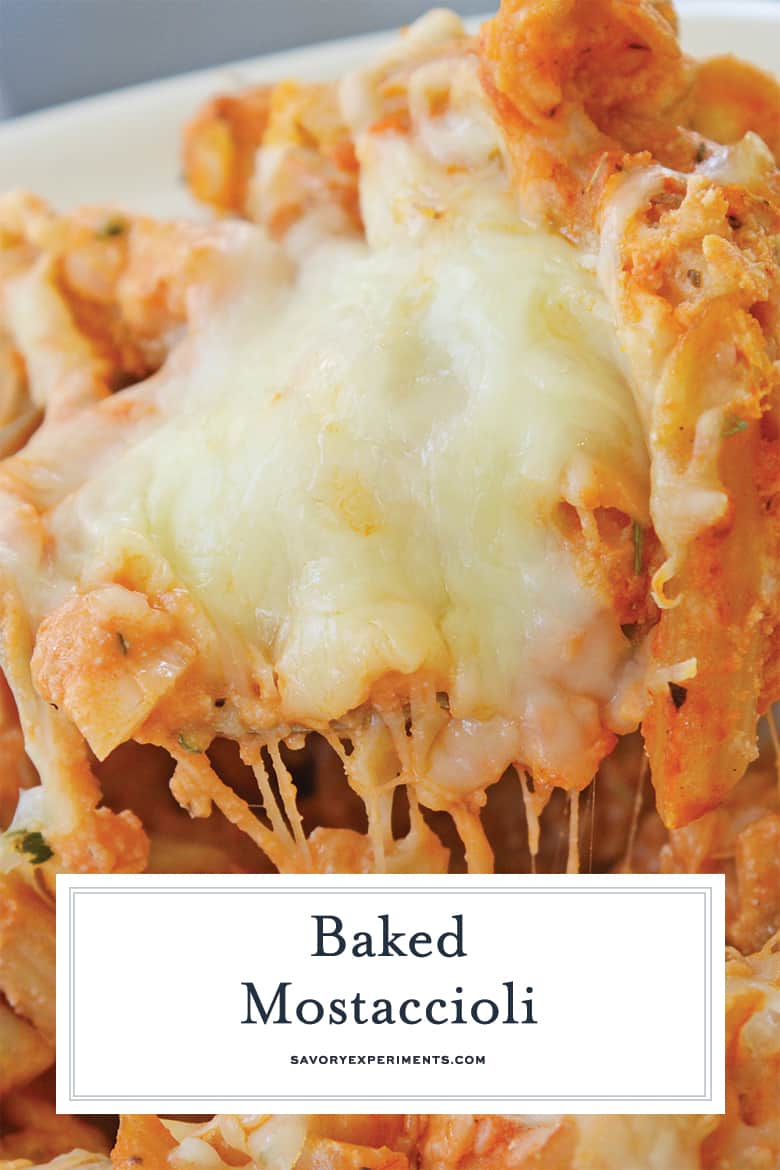 CONNECT WITH SAVORY EXPERIMENTS!

Be sure to follow me on social media, so you never miss a post!

Facebook | Twitter | Youtube
Pinterest | Instagram
Get our FREE 8 Day E-Course on How to Be a Better Home Cook. Sign up HERE!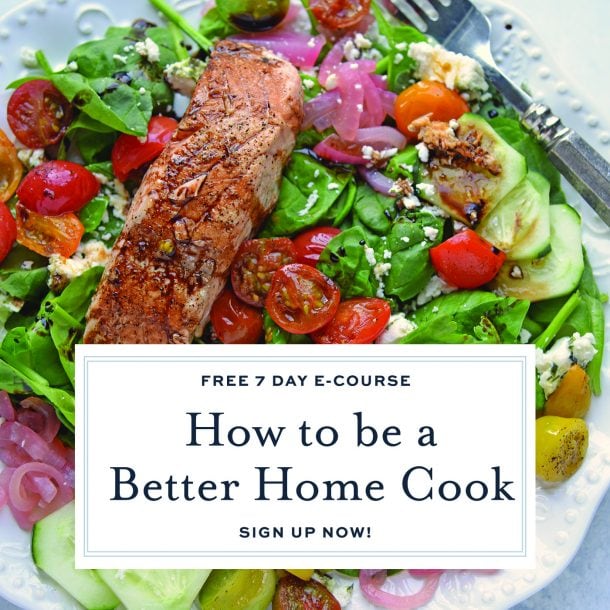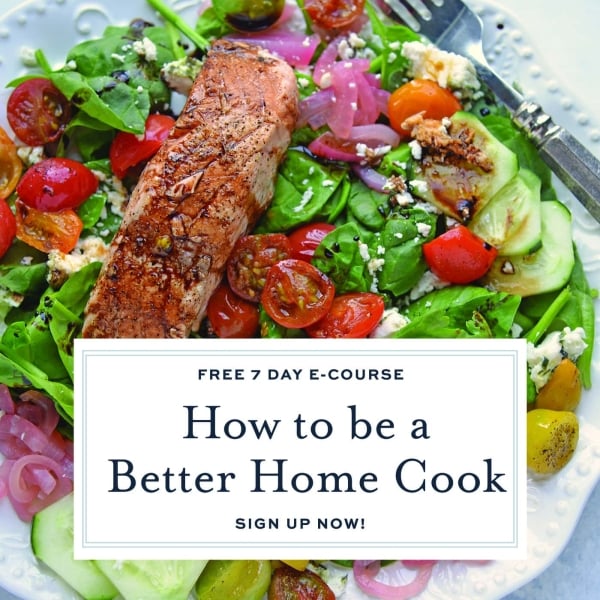 Baked Mostaccioli
A delicious one-dish meal with baked pasta, tomato sauce, cheese and sausage. Great for potlucks and as a freezer meal!
Instructions
Preheat oven to 350 degrees. Coat a large casserole dish with cooking spray.

Cook pasta al dente according to package directions, drain and set aside. If you are making the pasta ahead of time, toss with 2 teaspoons olive oil to prevent sticking and drying out.

In a medium mixing bowl, stir together ricotta cheese, egg, garlic powder, onion powder, fine sea salt, black pepper and parmesan cheese.

In a large mixing bowl, toss together cooked pasta, ricotta mixture, onion, garlic, marinara sauce, 1 cup mozzarella cheese and cooked sausage. When combined, pour into prepared casserole dish.

Top with remaining 1 cup mozzarella cheese.

Bake, uncovered, for 25-30 minutes or until top cheese is melted and bubbly.

Remove and serve hot or wait until fully cooled before covering and refrigerating or freezing.

If you've tried this recipe, come back and let us know how it was!
Notes
*If you are using a bland or plain jarred sauce, add 1 tablespoon Italian seasoning.
** You can use any type of meat you'd like- bulk sausage, ground beef, shredded chicken or link sausage. You can also go vegetarian by doubling the pasta to a full pound.
Nutrition
Calories:
472
kcal
|
Carbohydrates:
22
g
|
Protein:
26
g
|
Fat:
31
g
|
Saturated Fat:
13
g
|
Trans Fat:
1
g
|
Cholesterol:
109
mg
|
Sodium:
1101
mg
|
Potassium:
439
mg
|
Fiber:
1
g
|
Sugar:
3
g
|
Vitamin A:
597
IU
|
Vitamin C:
4
mg
|
Calcium:
254
mg
|
Iron:
2
mg