Chances are you're familiar with the classic dish baked mostaccioli. A delicious one-dish meal with baked pasta, tomato sauce, mozzarella cheese and sausage. Great for potlucks and as a freezer meal.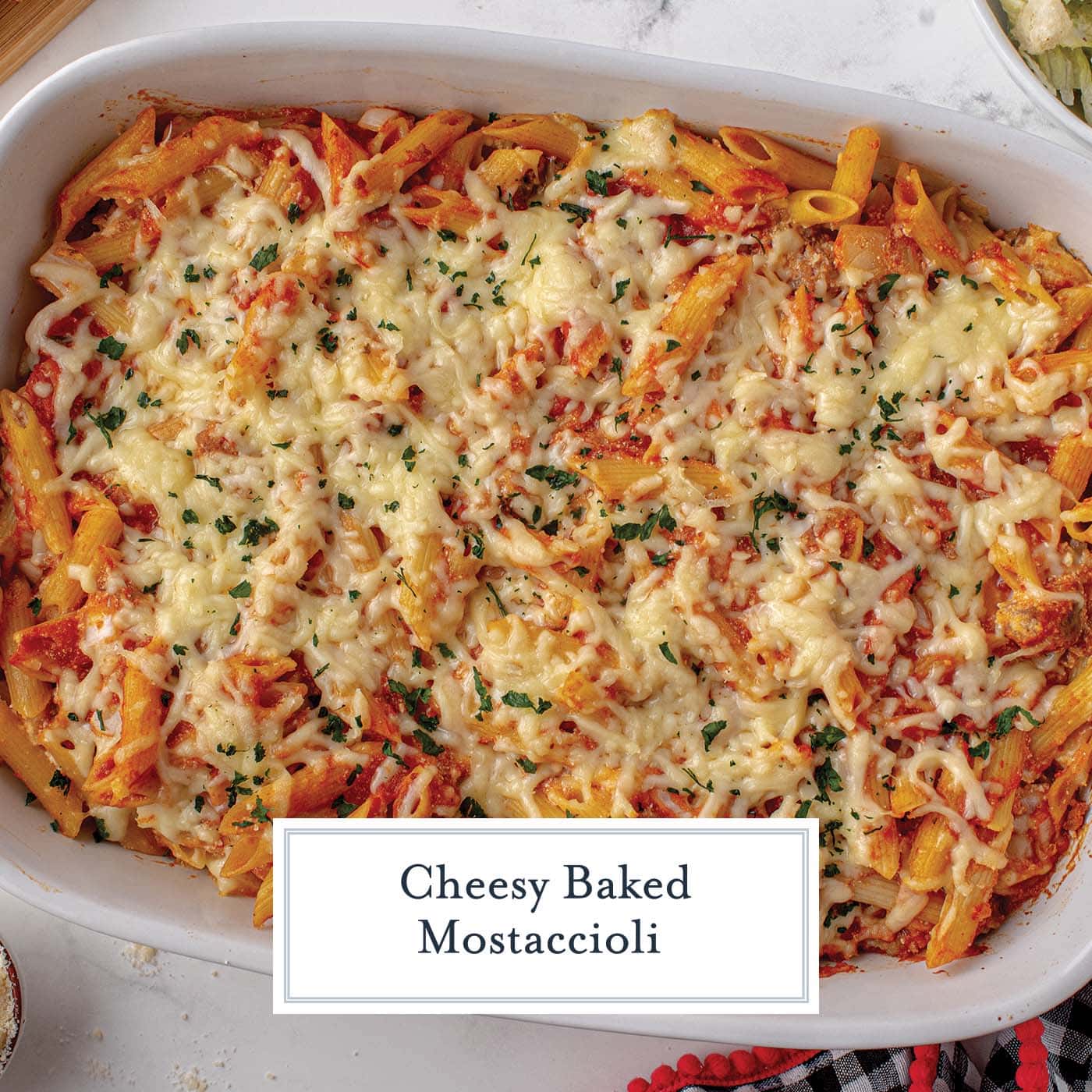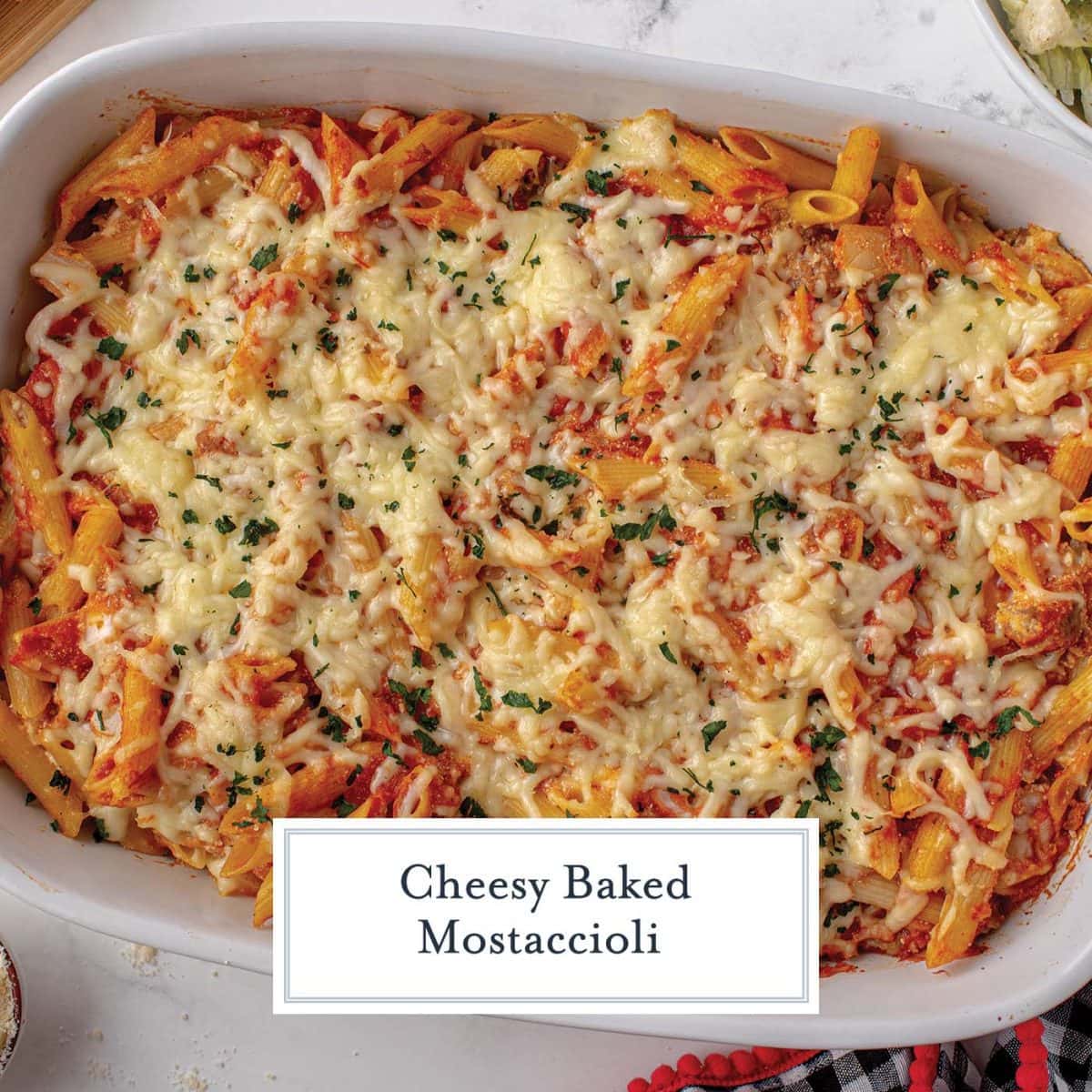 Baked Pasta
You probably had it at school or a potluck. Sometimes called lunch lady mostaccioli, wedding mostaccioli or even funeral mostaccioli, it is commonly served at function with large groups because the ease, simplicity and frugalness. A dish the whole family will enjoy, even the picky eaters.
If you've never heard it, perhaps have heard of baked ziti or even baked penne? They are all basically the same, but with a different type of pasta.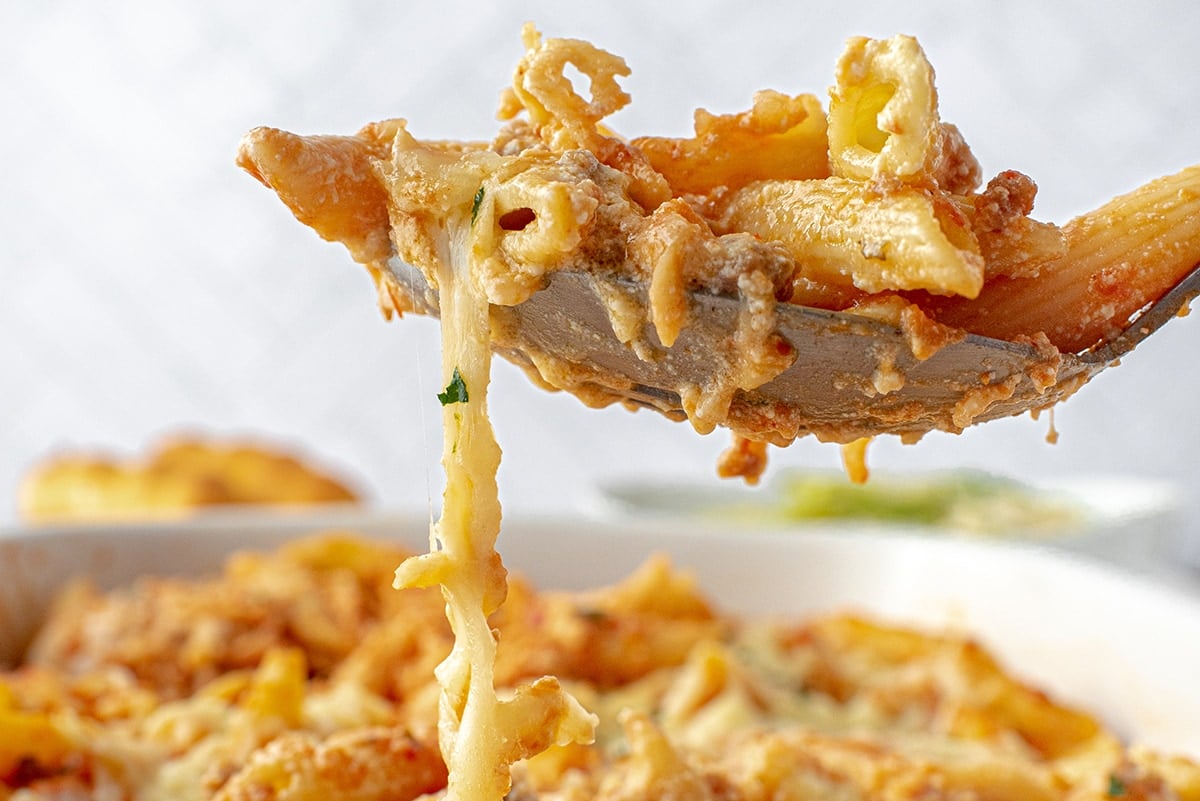 What is Mostaccioli?
Mostaccioli pasta is a long cylindrical pasta but with no ridges and blunt edges. Penne is smaller but still cylindrical and has ridges and diagonally cut ends. And Ziti is the same size as mostacollini but with the features of penne, ridges and diagonal ends.
But I will tell you this: most of the time it is called mostaccioli even if the correct pasta is not being used. It's like making spaghetti and meatballs with fettuccine or angel hair.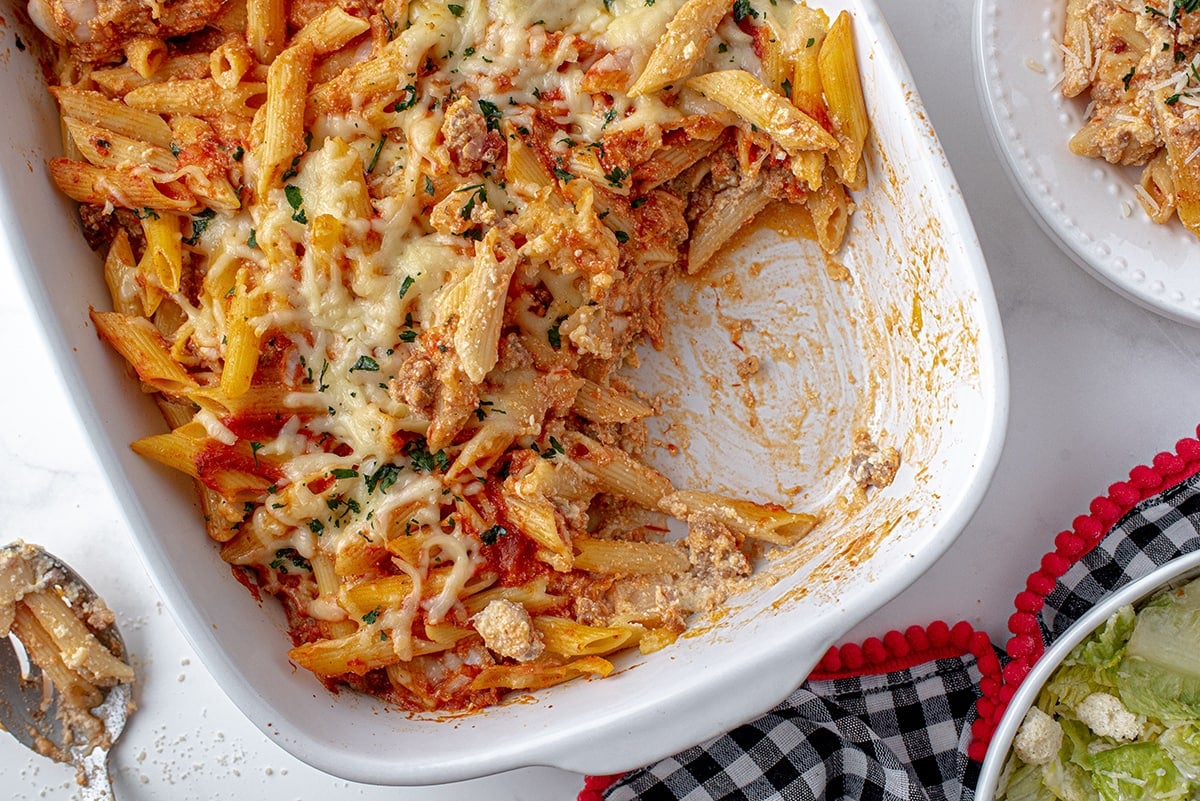 Ingredients
Perhaps one of the reasons it is so popular is that it only uses a handful of inexpensive ingredients.
Dry mostaccioli , penne or ziti– I only use a half of a pound, usually about half of a standard box. You can use more, but you'll need a larger casserole dish.
Whole milk ricotta cheese– If you are going for comfort food, there is no reason to reduce the fat content in the milk, but should it be the only thing you can get your hands on, go for it.
Egg- Egg helps to bind the whole dish together.
Seasonings- Garlic powder, onion powder, salt and black pepper. Feel free to blend in Italian seasoning, crushed red pepper flakes or any other flavors that float your boat.
Cheese- A cheese blend will provide the best flavor and texture. Freshly shredding the mozzarella and parmesan cheese will yield the best results.
Marinara sauce- Get crazy and use vodka sauce or any other tomato sauce base, any pasta sauce, even meat sauce, will do.
Fresh Garlic- My family and I love garlic so bottled sauces don't typically have the amount we like. Fresh garlic gives actual garlic flavor whereas the bottled stuff is more on the sweet side. It is optional.
Onion- A small white or yellow onion will also give toothiness and flavor, but also optional. I put mine in raw so it stays crisp, but you can also put it in a medium saute pan over medium heat to sweat it out.
Cooked sausage- Sweet Italian sausage or spicy Italian sausage- or meatballs or ground beef- or go meatless! Bake it in the oven or cook it in a large skillet to get a nice brown.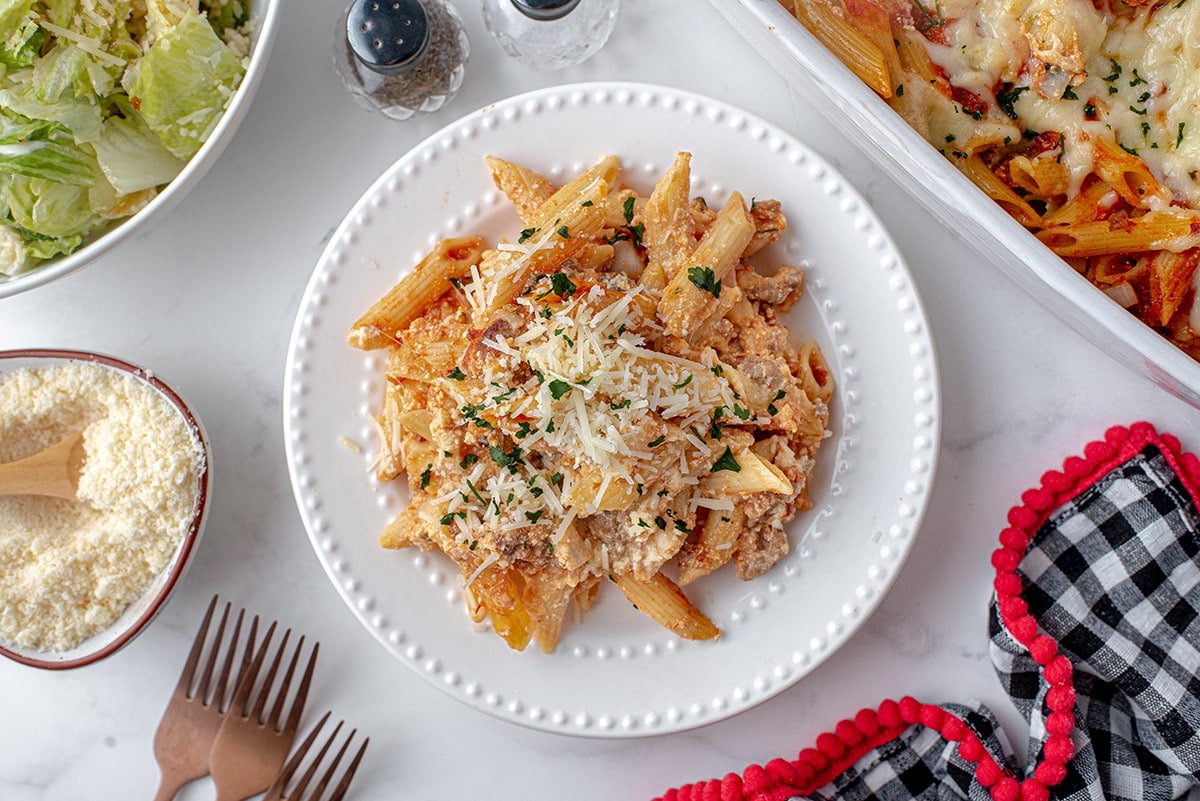 How to Make Baked Mostaccioli
Like most things in life, there are several variations on this dish, which is American dish and not even remotely authentic Italian. In fact, most Italians won't know what you are talking about. Instead it is most popular in German families!
The main difference you will see (besides what shape of pasta) is whether or not you use ricotta cheese. I like the ricotta. It helps bind the ingredients and creates a creamy tomato sauce. Kind of like lasagna, but without all the work of having to layer ingredients.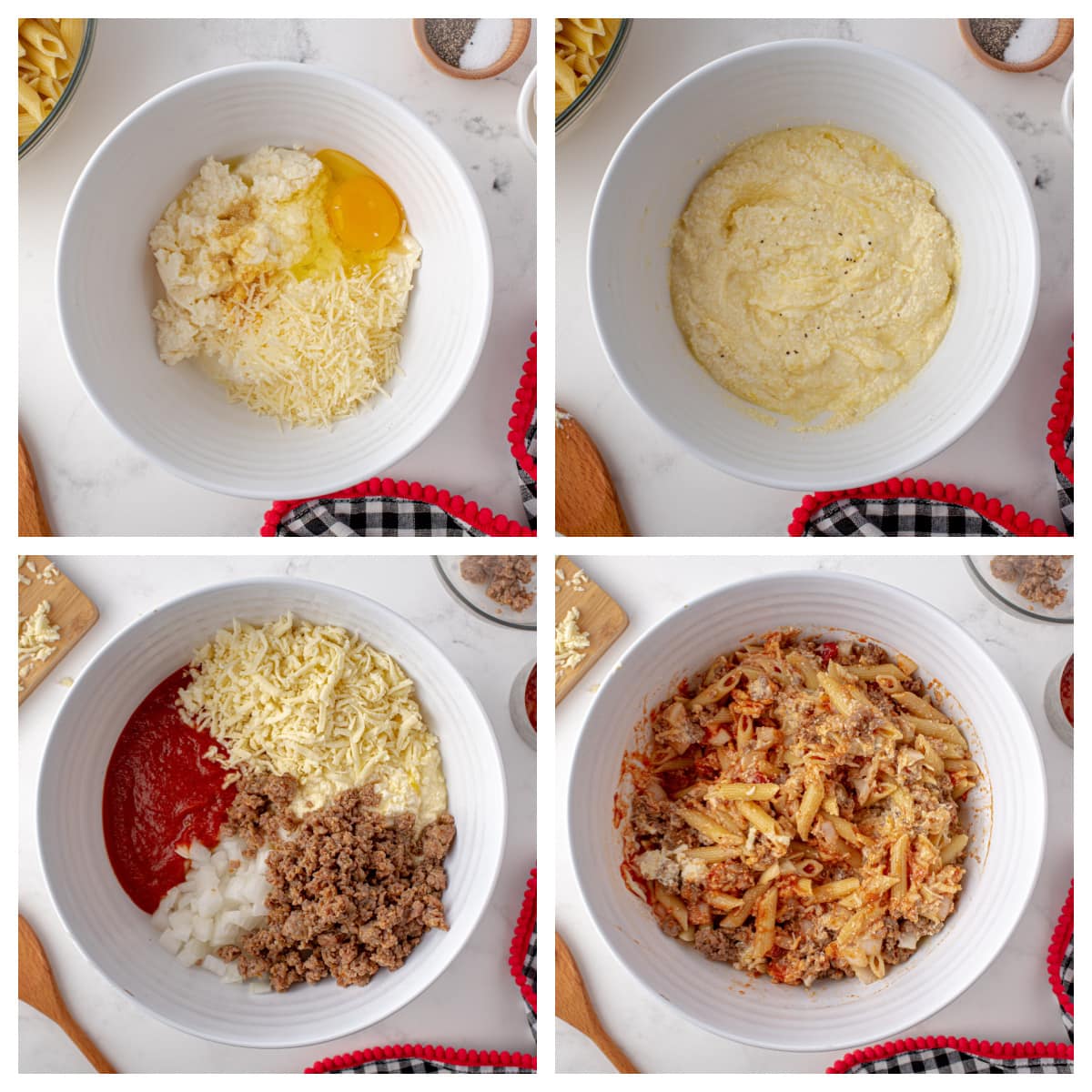 Some folks choose to just mix it all together and let mozzarella, provolone or Parmesan cheese bind the pasta. Here is how I do it:
Preheat the oven and prepare a large casserole dish with cooking spray.
Cook the pasta al dente according to package directions, drain and set aside. Be careful to not overcook the pasta- even cook 1 minute less than the box instructs if you want a toothy texture. It will continue to cook in the oven. Sometimes I even rinse it with cold water to stop the cooking process. If you are making it far in advance, toss with 2 teaspoons of olive oil to prevent it from getting gummy and sticking to each other.
In a large mixing bowl, stir together the ricotta cheese, egg, garlic powder, onion powder, fine sea salt, black pepper and parmesan cheese. Get it evenly distributed is key. Then add the marinara sauce, half of the mozzarella, cooked pasta and sausage and toss together. Move it all to the prepared baking dish.
Top with the rest of the mozzarella cheese and bake uncovered until hot and cheese is brown and bubbly.
Allow the dish to rest for 15-20 minutes before digging in.
Variations
Easy baked mostaccioli is really a hard recipe to mess up. The ingredients don't need to be a perfect measurement and feel free to customize.
Diced zucchini
Shredded carrots or parsnips
Fresh herbs like oregano, parsley or basil
Green pepper or red peppers
Sun dried tomatoes or roasted tomatoes
Provolone cheese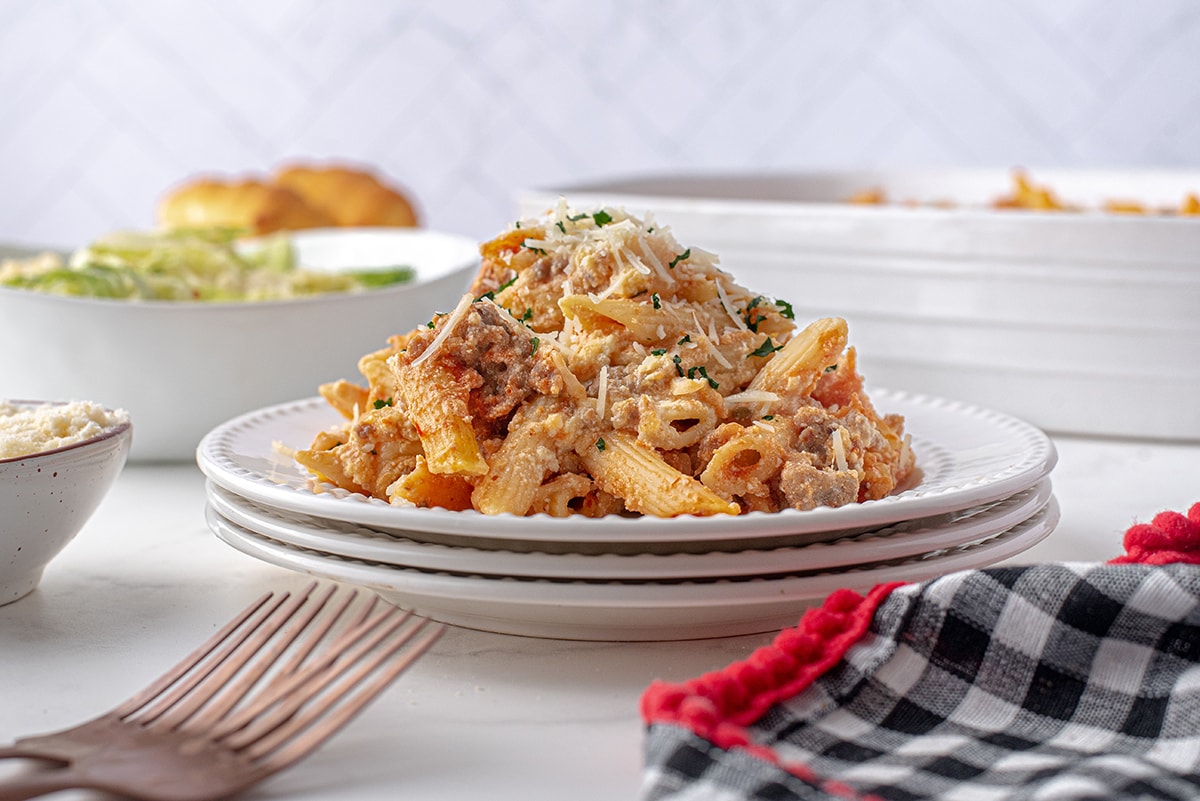 Make Ahead & Freezer Friendly
Can you freeze it, can you make it ahead? Ha! This dish was practically developed for the primary reason of freezing and making ahead of time. It is the dish you bring to a meal train to keep in the dark depths of the freezer and it never seems to go bad (but I don't recommend going past 6 months).
You can also make it ahead, either just assembled or baked. It lasts for up to 5 days covered with plastic wrap or aluminum foil and refrigerated. My husband would be the first to tell you tell you that it tastes better on the second day and also cold.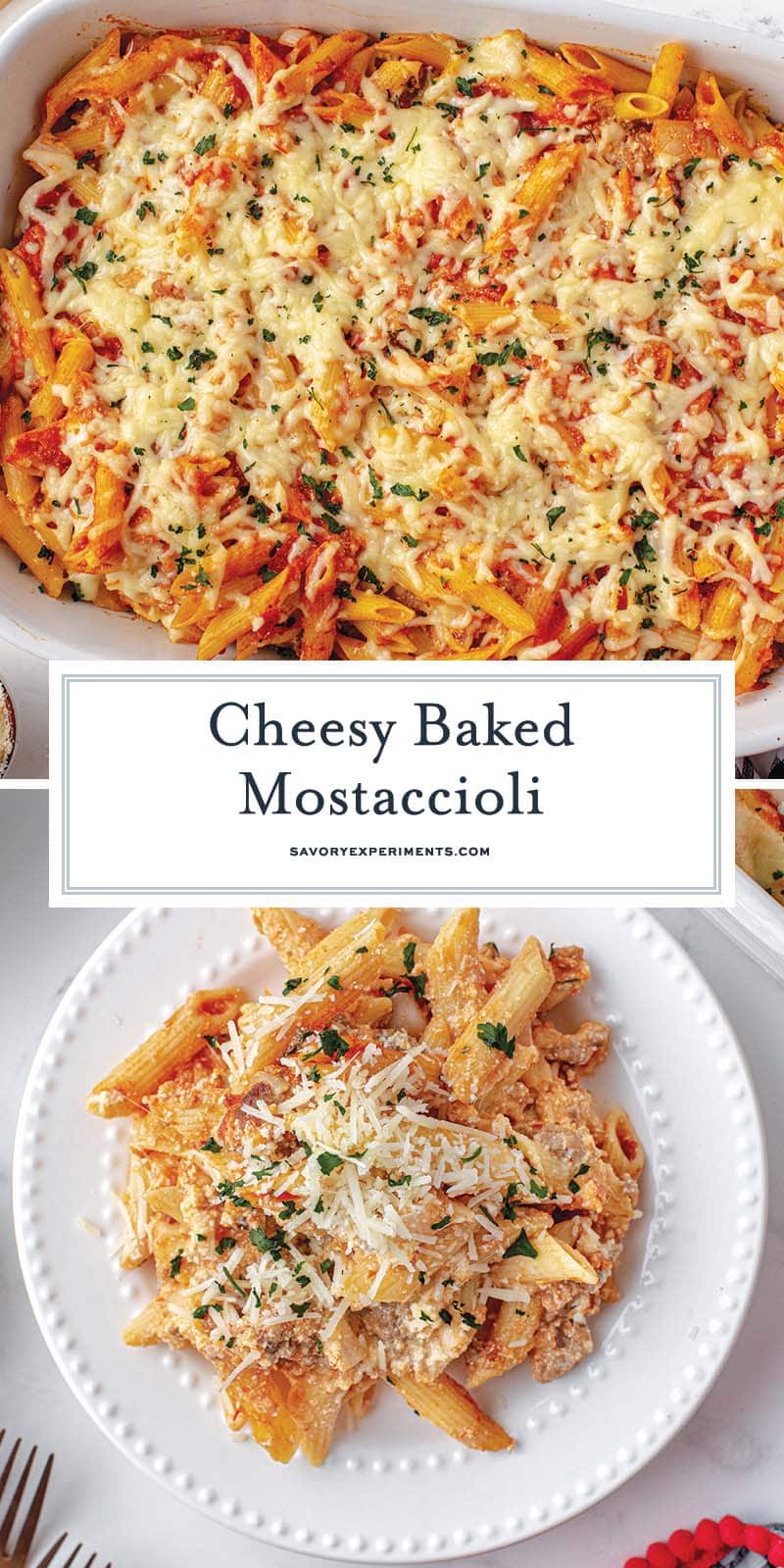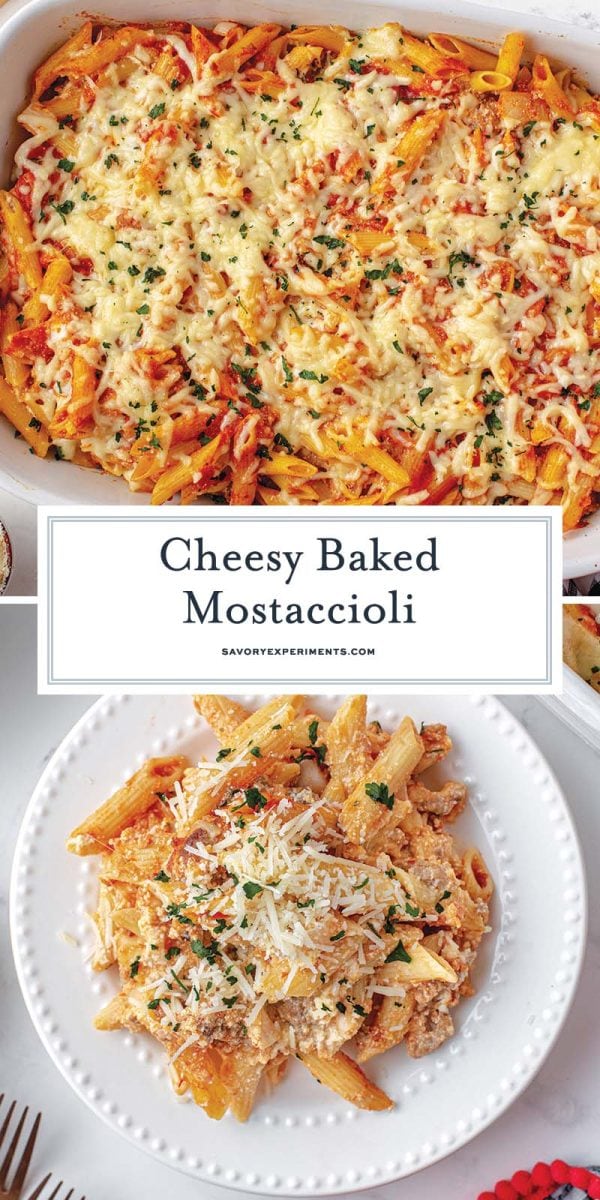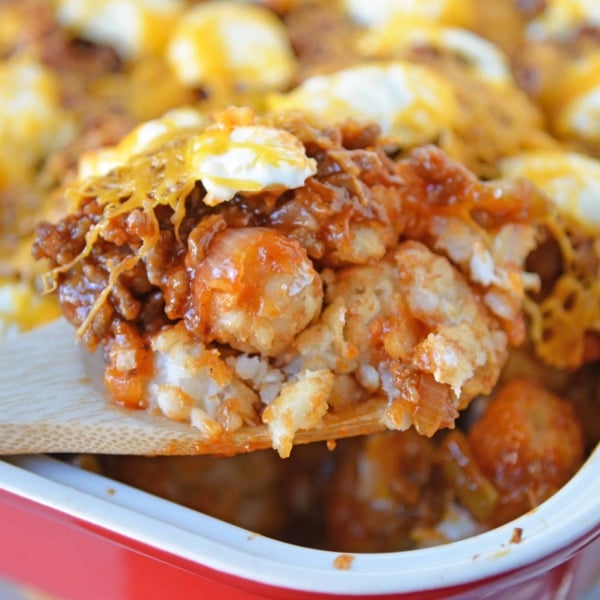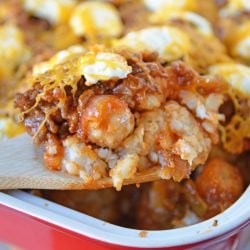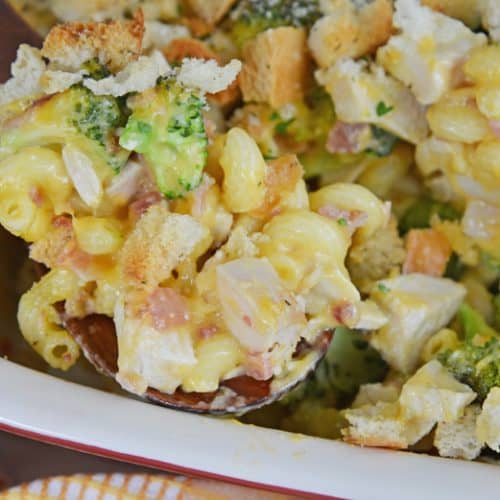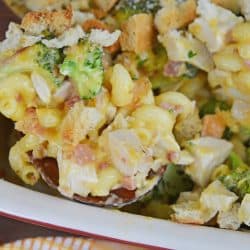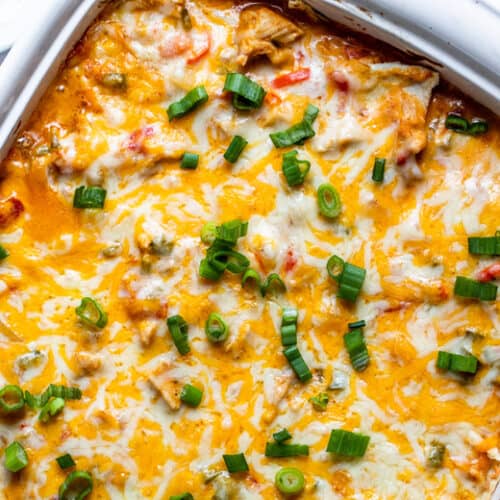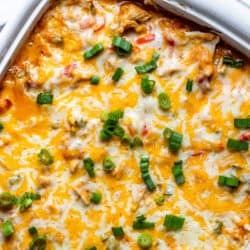 Easy King Ranch Recipe
This King Ranch Chicken Casserole is packed with incredible Tex-Mex flavors and of course loads of cheesy goodness. This simple recipe is perfect for a family dinner and can be made ahead of time.
See The Recipe!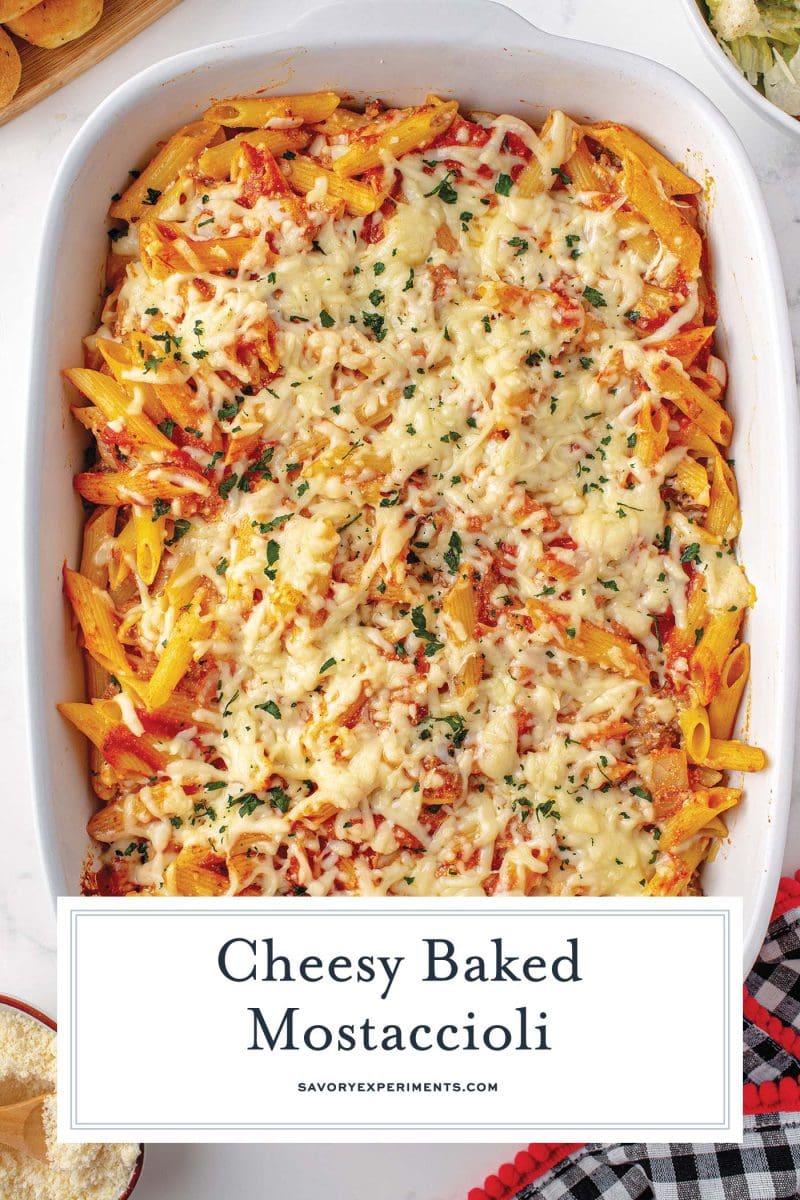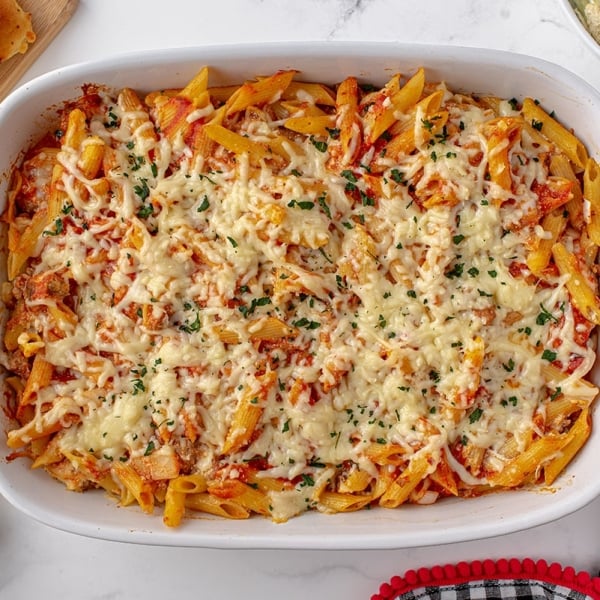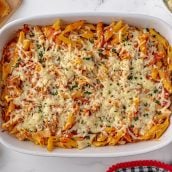 Baked Mostaccioli
A delicious one-dish meal with baked pasta, tomato sauce, cheese and sausage. Great for potlucks and as a freezer meal!
Instructions
Preheat oven to 350°F and coat a large casserole dish with cooking spray.

Cook the pasta al dente according to package instructions, drain and set aside. If you are making the pasta ahead of time, toss with 2 teaspoons olive oil to prevent sticking and drying out.

In a large mixing bowl, stir together the ricotta cheese, egg, garlic powder, onion powder, salt, pepper and parmesan cheese.

To the ricotta mixture, add the cooked pasta, sausage and 1 cup of the mozzarella cheese. When combined, pour into prepared casserole dish.

Top with remaining 1 cup mozzarella cheese.

Bake, uncovered, for 25-30 minutes or until top cheese is melted and bubbly.

Remove and serve hot or wait until fully cooled before covering and refrigerating or freezing.

If you've tried this recipe, come back and let us know how it was in the comments or ratings.
Notes
*If you are using a bland or plain jarred sauce, add 1 tablespoon Italian seasoning.
** You can use any type of meat you'd like- bulk sausage, ground beef, shredded chicken or link sausage. You can also go vegetarian by doubling the pasta to a full pound.
Nutrition
Calories:
472
kcal
,
Carbohydrates:
22
g
,
Protein:
26
g
,
Fat:
31
g
,
Saturated Fat:
13
g
,
Trans Fat:
1
g
,
Cholesterol:
109
mg
,
Sodium:
1101
mg
,
Potassium:
439
mg
,
Fiber:
1
g
,
Sugar:
3
g
,
Vitamin A:
597
IU
,
Vitamin C:
4
mg
,
Calcium:
254
mg
,
Iron:
2
mg