This easy Salisbury Steak is nothing like the slice of meat you used to get on school lunches! It's so delicious, and the mushroom brown gravy really sends it over the top.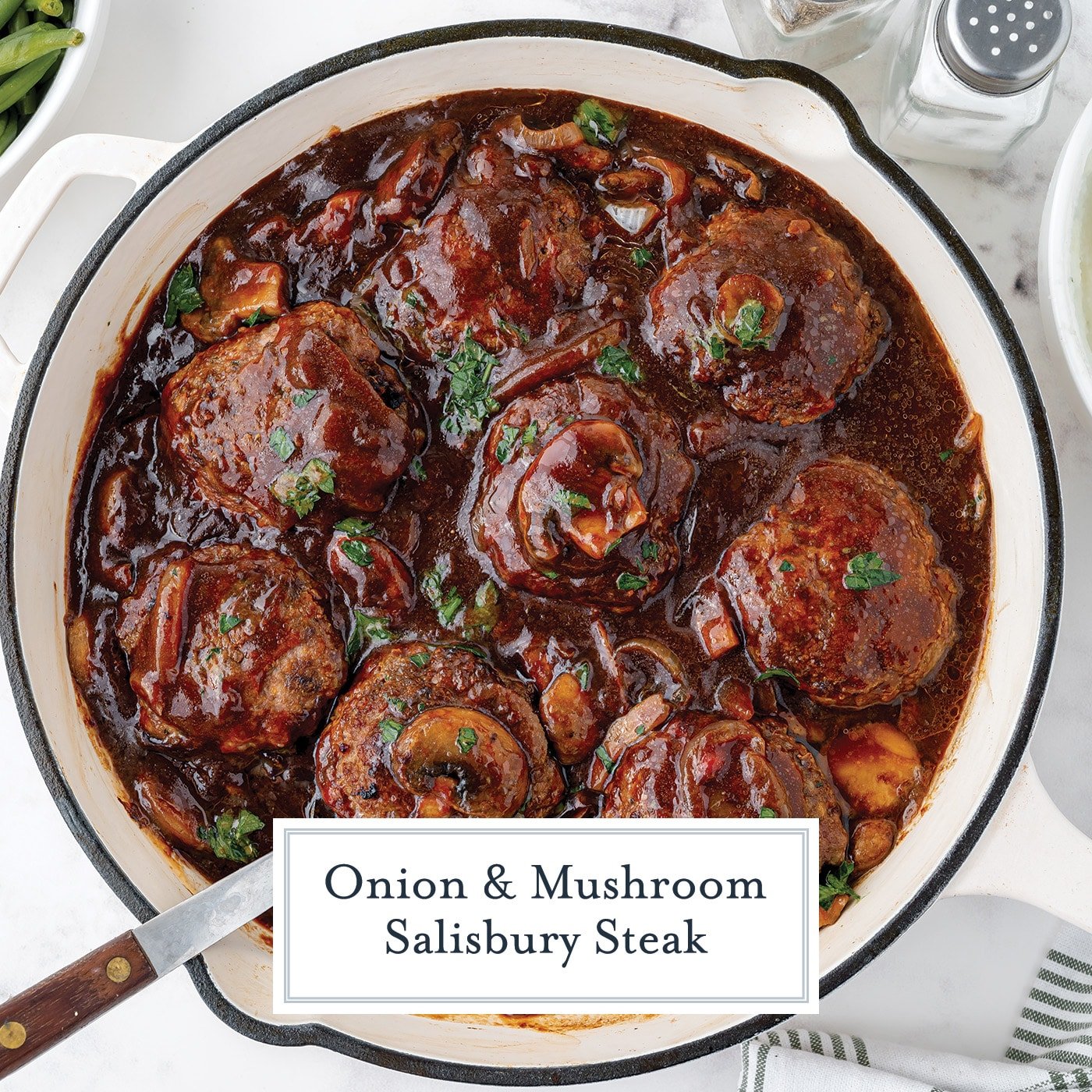 Forget what you know about salisbury steak, this Homemade Salisbury Steak recipe is out of this world! Topped with a mushroom gravy, it's moist and delicious!
What is Salisbury Steak?
Is it a steak or a hamburger? It is kind of both…
Salisbury steak uses a ground beef meat mixture to form "steaks", so in fact they are hamburgers. But instead of serving on a bun with a side of fries, these ground beef steaks are finished off with a sweet onion and mushroom gravy.
Once known as a Hamburg Steak, Salisbury Steak has a vague history. Some say it was a physician with the surname Salisbury who was on one of the first low carb/high protein diets that invented it. And others say it came from overseas. Others also claim that this was first beef tartare.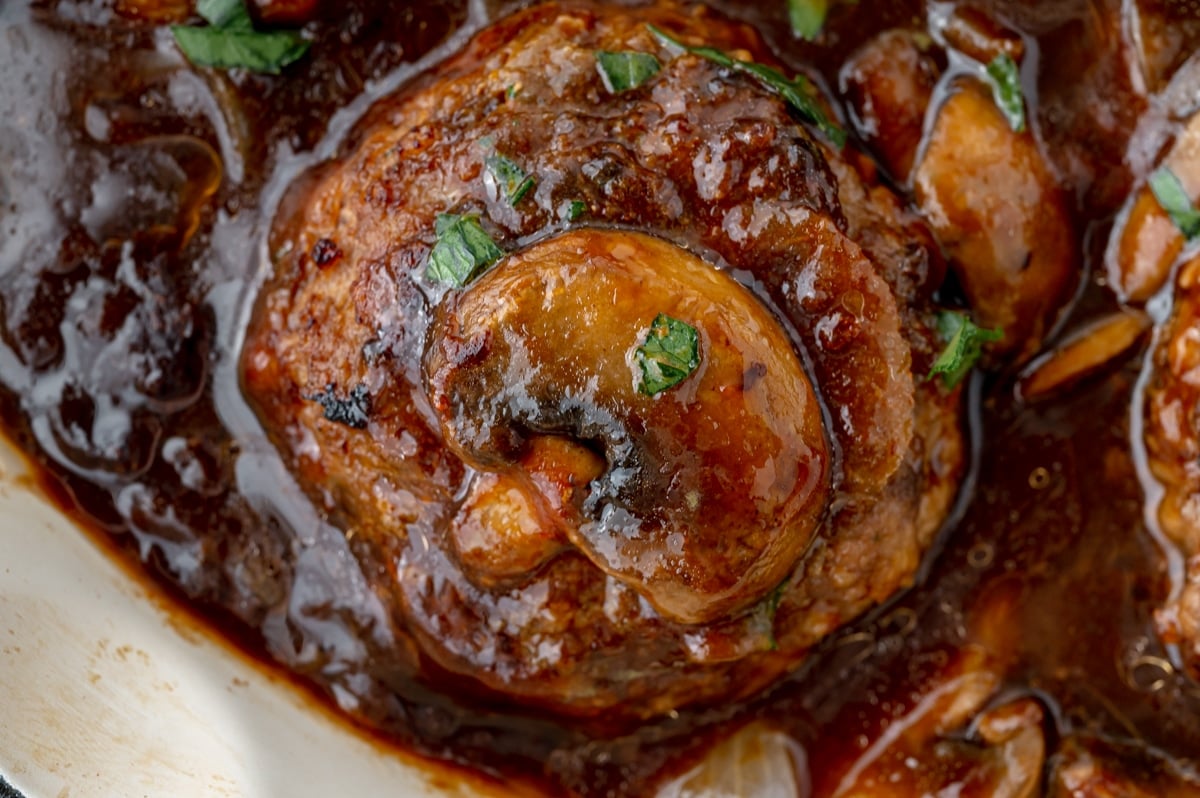 Why You'll Love Salisbury Steak
Tender beef patties topped with a rick brown gravy, it is no wonder why Salisbury Steak has stood the test of time and secured itself in the top 10 of comfort foods.
Easy to make – With simple ingredients and only 30 minutes, you can have this dinner ready in no time.
Inexpensive – One to two pounds of ground beef go a long way to feed a large family. It is now wonder how it became a star dish in school cafeterias.
A comfort food win – No matter the time of year, this salisbury steak recipe brings absolute classic comfort food to the dinner table.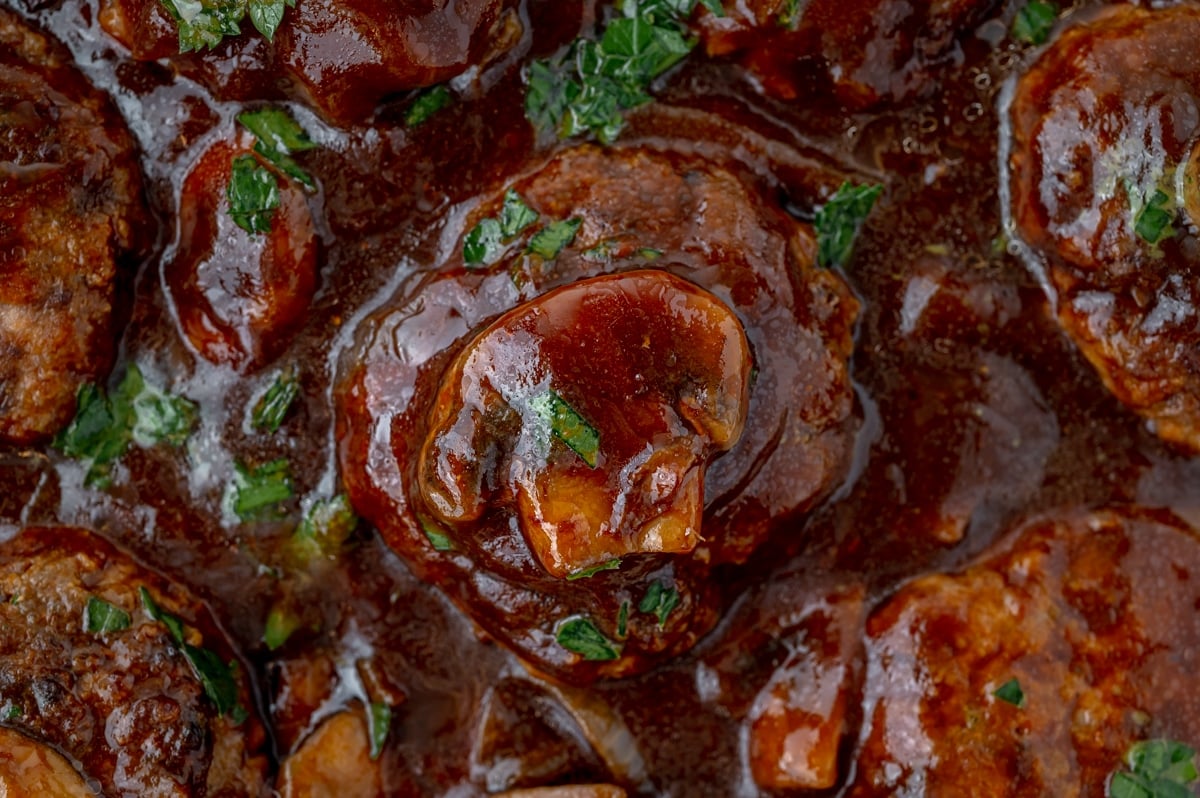 Ingredients
You might already have most of what you need to make this simple salisbury steak and flavorful mushroom gravy.
For the ground beef steaks:
Ground beef – I like to use lean beef, but check the section below for more ground meats you can use to make these oval patties.
Seasoned bread crumbs – You can use store bought or even make your own. I don't recommend using panko breadcrumbs- go for something more like Italian breadcrumbs.
Dijon mustard – I like the tang and zing that mustard adds to these hamburger patties. You can also use ground mustard if you don't have dijon.
Egg – The egg is going to act as a binding agent to help hold these delicious patties together.
Gravy Master – This is a seasoning that I keep in the cabinet for all sorts of beef flavoring needs. You can use worcestershire instead if you'd like.
Vegetable oil – You need some type of oil to fry these patties up. You can use any neutral oil here.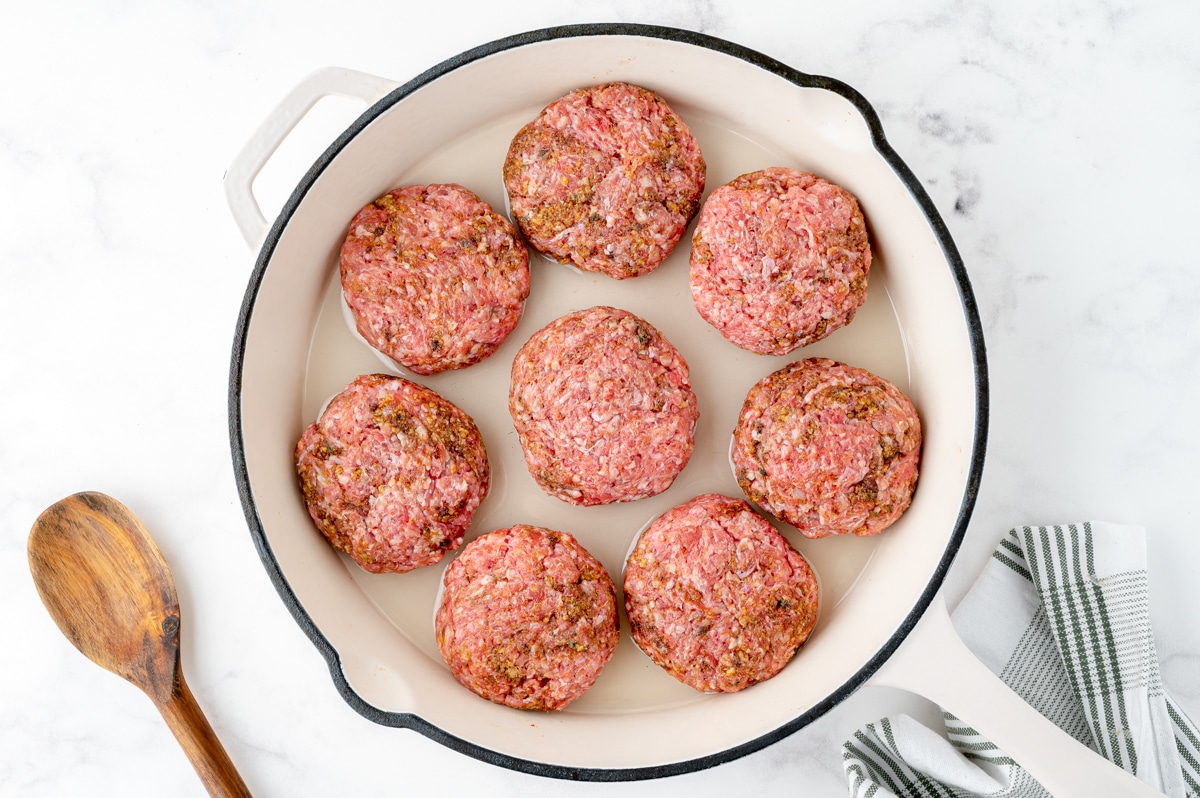 For mushroom gravy:
Butter – Deglaze the pan from cooking the patties with some butter. This is also what you'll saute the onions and mushrooms in.
Sweet onion – You can use either white onion or yellow onion. Sliced onions add so much flavor to the rich mushroom gravy,.
White mushrooms – You can't have a mushroom gravy without, well, mushrooms! I like to use white mushrooms, but you can use any variety you prefer.
Beef broth – Store-bought beef stock or broth is totally fine, or if you're feeling fancy you can use a homemade recipe instead.
Tomato paste – To give my gravy just a little more flavor, I like to add a little bit of tomato paste.
Cornstarch – Depending on how thick you like your gravy to be, use a cornstarch slurry to make it thicker. If you like it thin, you can leave it out.
Salt and pepper – I like to use a combination of coarse kosher salt and freshly ground black pepper. You can add these to taste.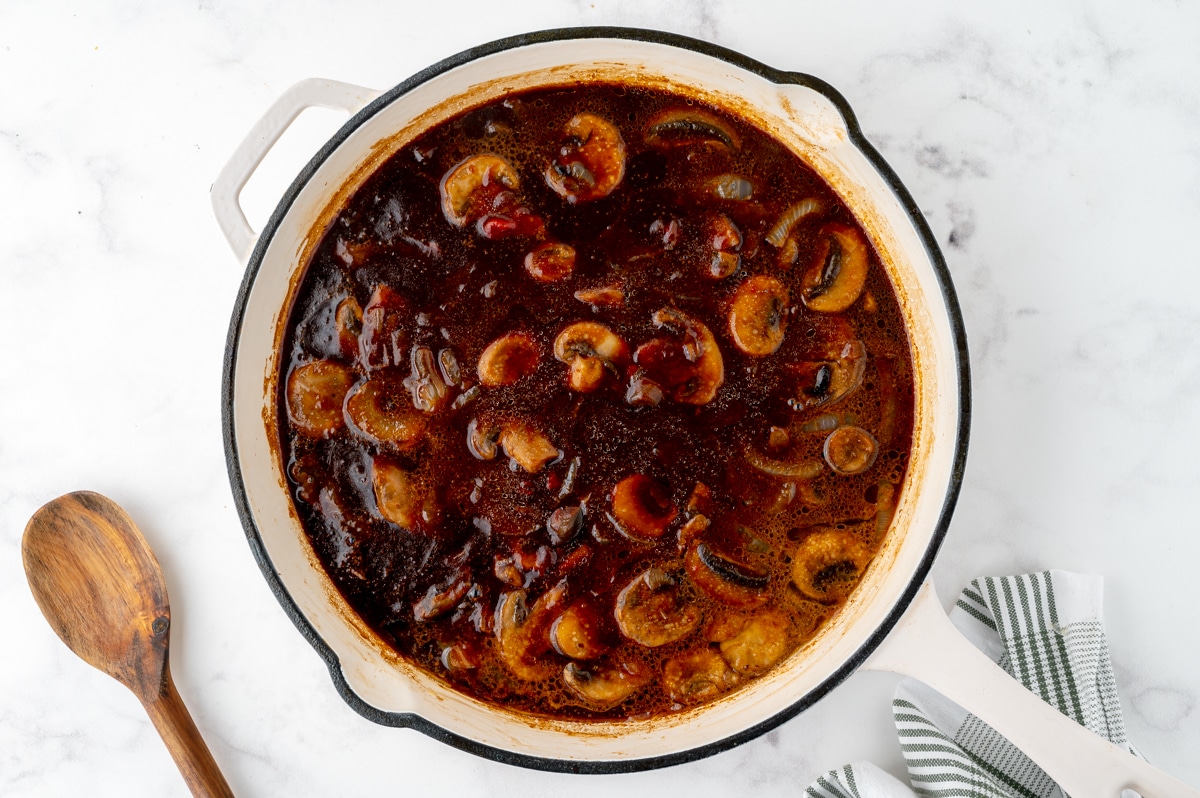 How to Make Salisbury Steak
You are going to love how easy it is to make these juicy salisbury steaks.
Make your ground beef patties. I use seasonings, the previously mentioned Gravy master, bread crumbs and milk.
Cook the patties. Cook ground beef patties in a large skillet over medium heat until they are mostly, but not all the way done. You want to make sure the patties are cooked, but not overcooked.
Make the gravy. Make onion and mushroom gravy in the same skillet. It seems like a lot of mushrooms and onions, but they are mostly water and cook down. The liquid released from your vegetables will also help to season the gravy. This part will take the longest
Add remaining ingredients. Mix the remaining gravy ingredients with mushrooms and onions.
Thicken gravy and add patties. Thicken your gravy using cornstarch or arrowroot. Add ground beef patties back to the gravy and allow to simmer for 4-5 minutes so the flavors marry and hamburger steaks reheat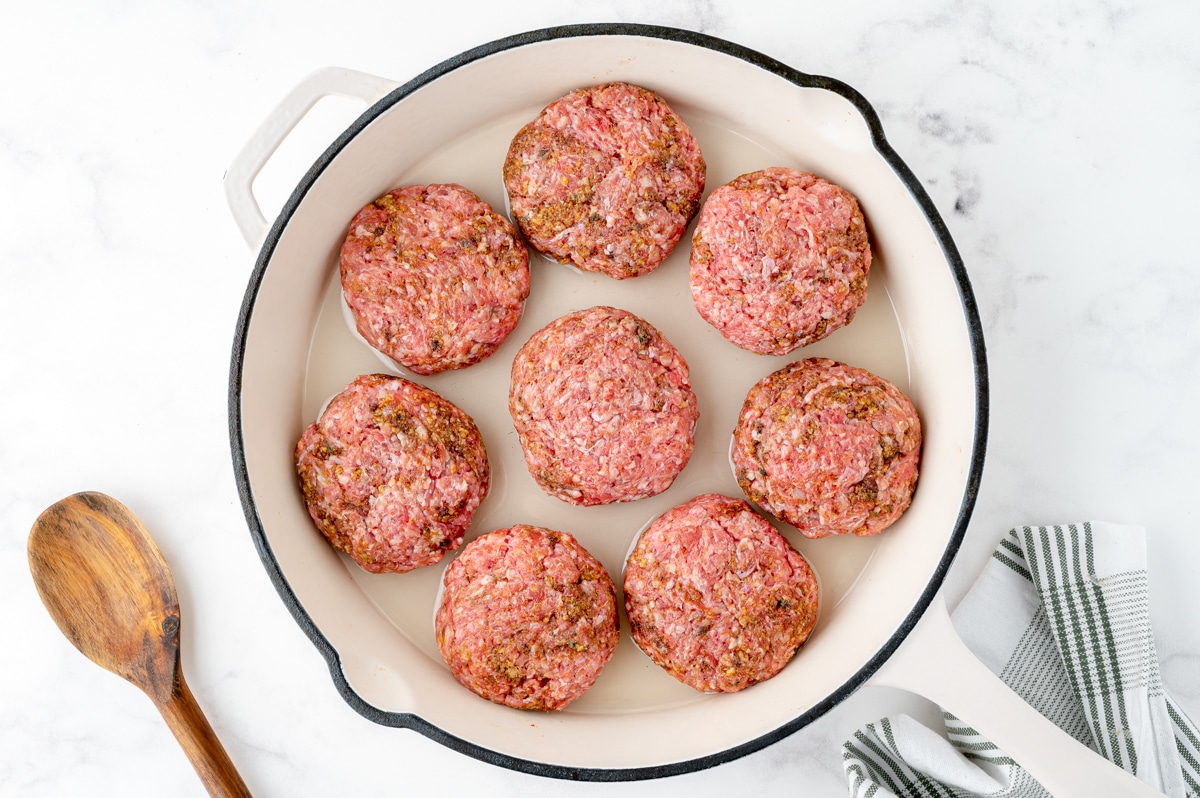 How to Serve Salisbury Steak
The most common foods to serve Salisbury Steak with are mashed potatoes, making the perfect starchy base for gravy to not escape onto the plate, and noodles. I prefer to use buttered egg noodles and seasoned peas and onions, but really it is up to you.
There is no reason why you couldn't use rice, quinoa or another grain, as long as the base it assisting in soaking up the beautiful gravy.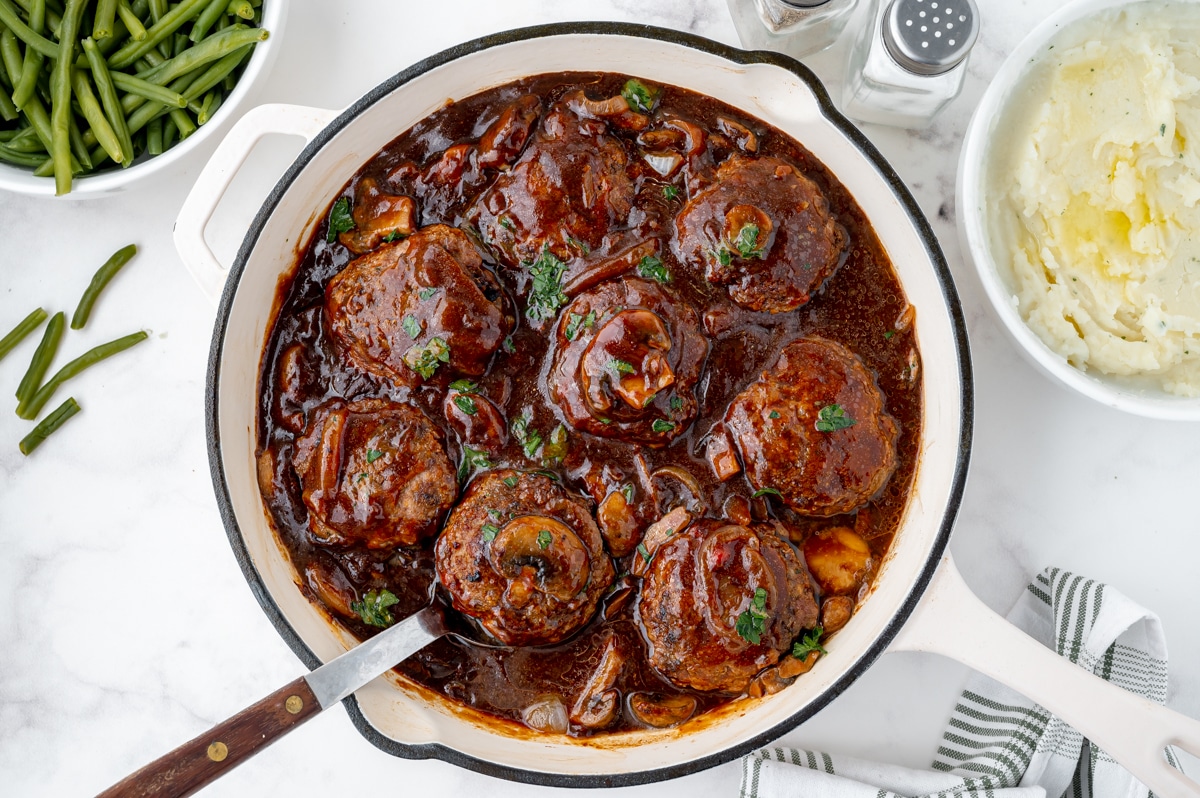 Variations
We like this easy salisbury steak recipe exactly as written; however, there are plenty of ways you can make it your own.
Ground beef – While I like to use a lean ground beef, you can certainly use other types of meat as well. Ground chicken, ground turkey or pork would all work well for the meat patties. Or a combination of any of those.
Chicken – Not a fan of beef? You could totally make this recipe with chicken breasts instead. Just keep in mind the cooking times will change.
Flavor – Add some extra flavor to your savory gravy. Some soy sauce, red wine or dry mustard will make all the difference in the onion gravy.
Leave out the onions – If you have picky eaters, no problem. You can totally leave out the onions and substitute with onion powder instead.
Size – Some folks like to make their ground beef patties large, like a monster hamburger, but I prefer to make mine into smaller oval patties. They are easier to manage in the pan and less likely to break while flipping.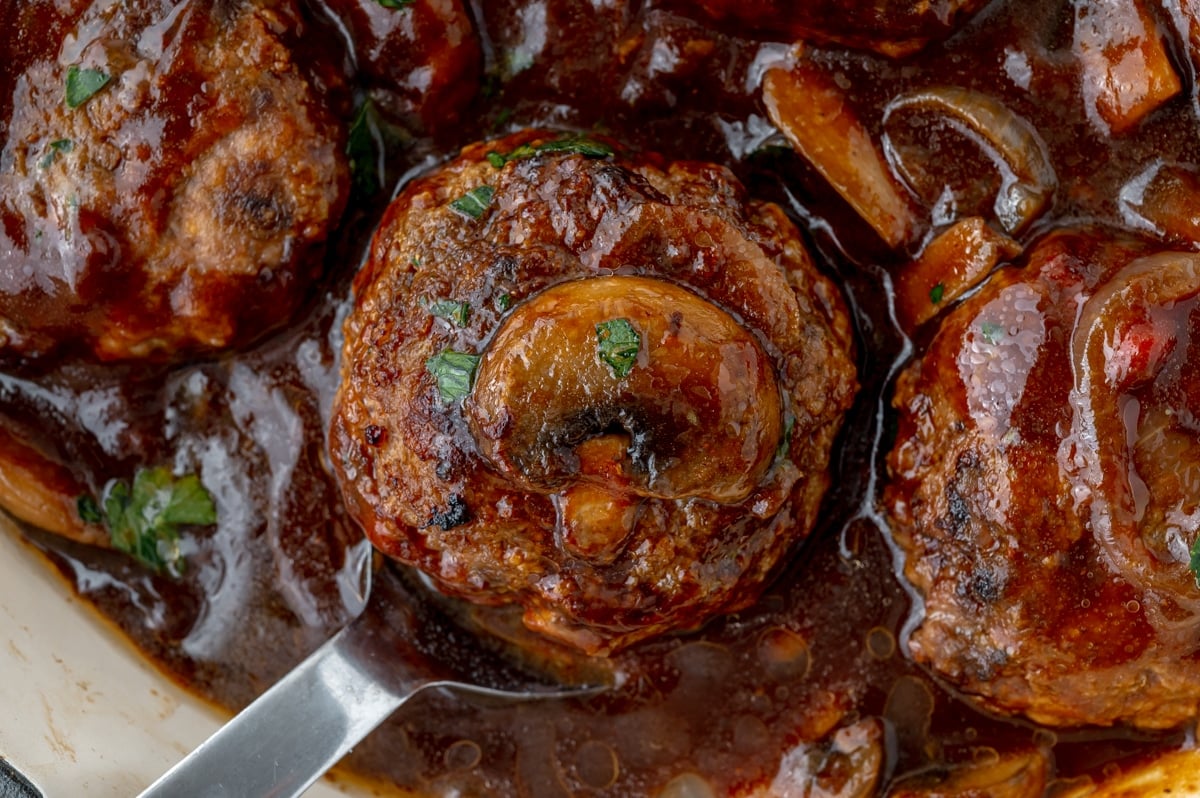 Storage and Freezing
Storage: You can store any leftover salisbury steak in the refrigerator in an airtight container. It will stay for up to 3-5 days.
Freezing: This delicious recipe also freezes well. Simply store in a freezer safe container for up to two months.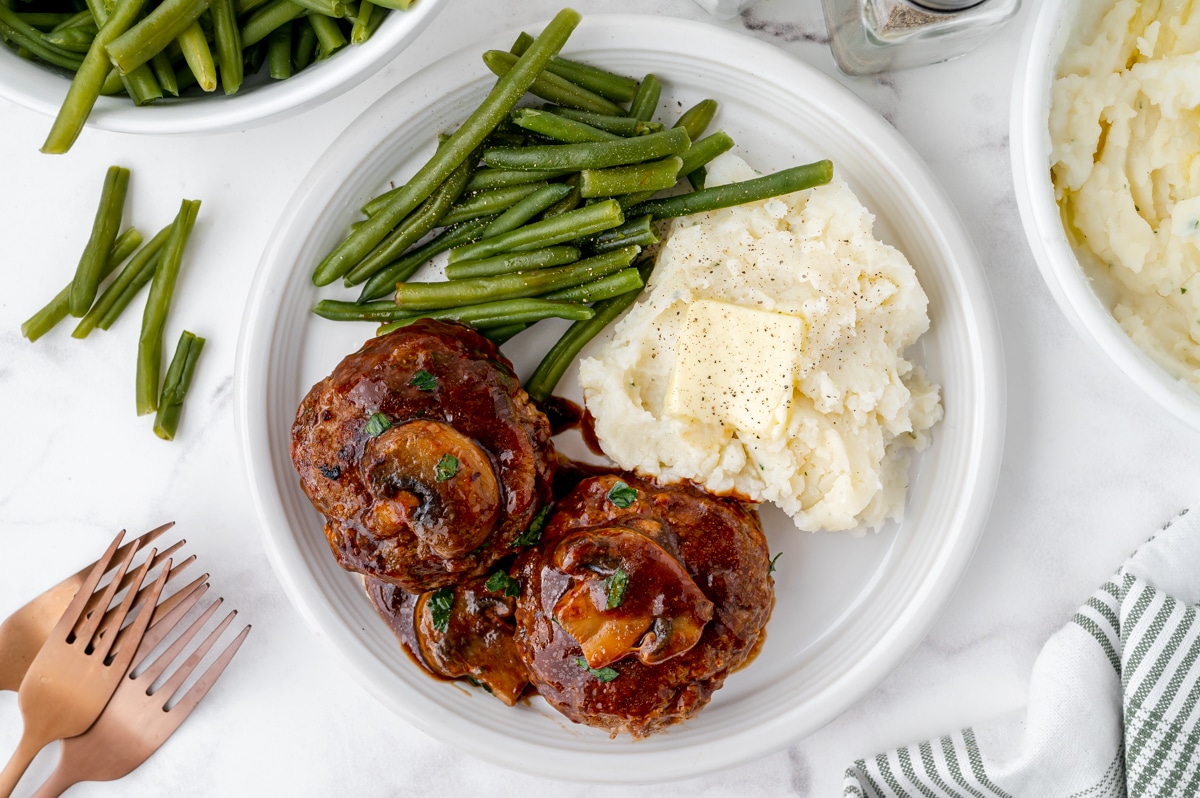 Frequently Asked Questions
What can I substitute for Gravy Master?
Substitutions for Gravy Master include Kitchen Bouquet or Worcestershire sauce. Of course, you can also use beef bouillon granules.
Can I use a different type of ground meat?
If you don't want to use ground beef, feel free to use ground chicken, turkey or any blend of the three. You can even use a little ground pork, if you'd like. A nice meatloaf mix is good as well.
What is the difference between a hamburger steak and a Salisbury steak?
It really comes down to the ingredients. A hamburger steak usually just uses salt and pepper to season it. While salisbury steak uses mustard, egg, onions and a gravy.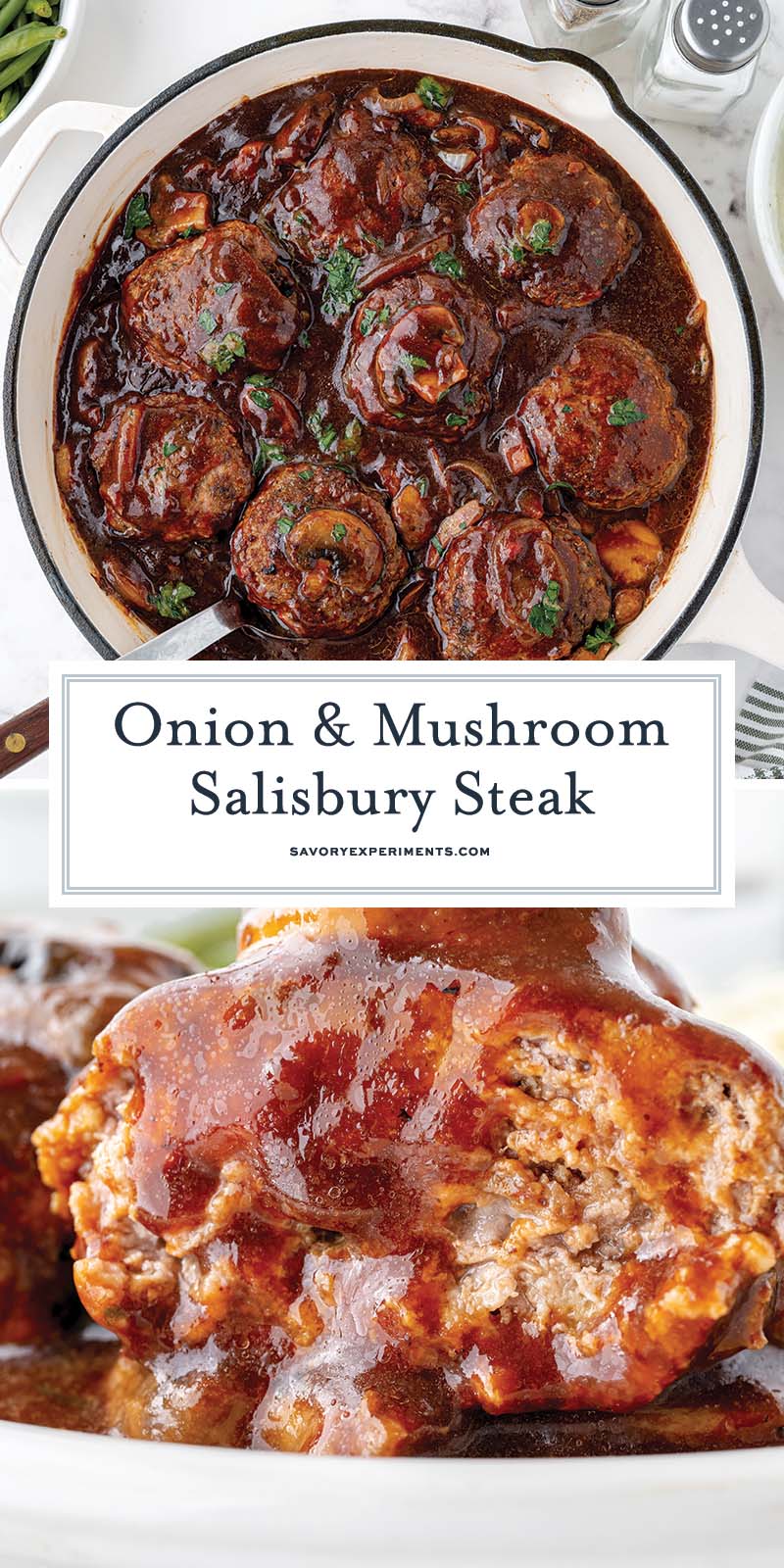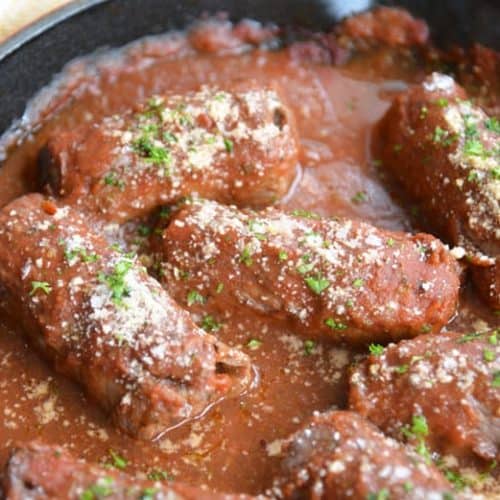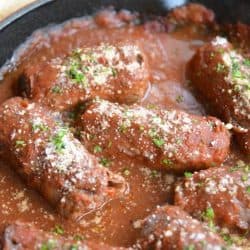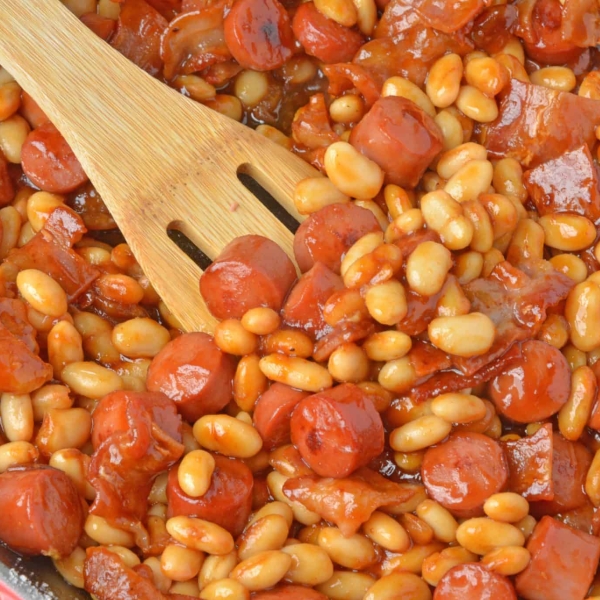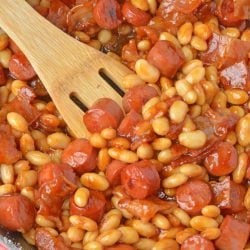 Franks and Beans
This Franks and Beans recipe is made with real beef hot dogs and less sugar than the canned version. Perfect as a quick and easy lunch or a classic camping food!
See The Recipe!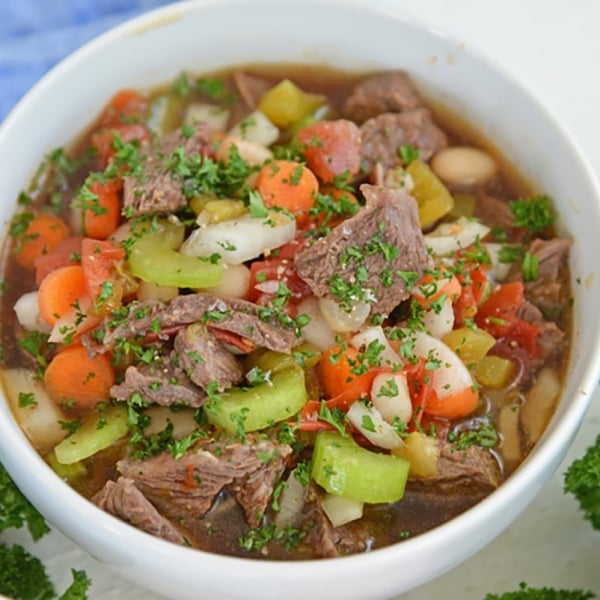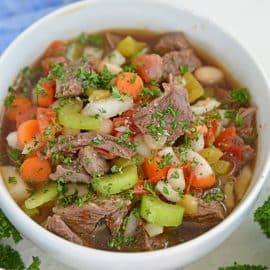 Short Rib Soup
Mildly hot short rib soup is sure to warm your soul and your belly. Tender pieces of beef with veggies and southwest flavors.
See The Recipe!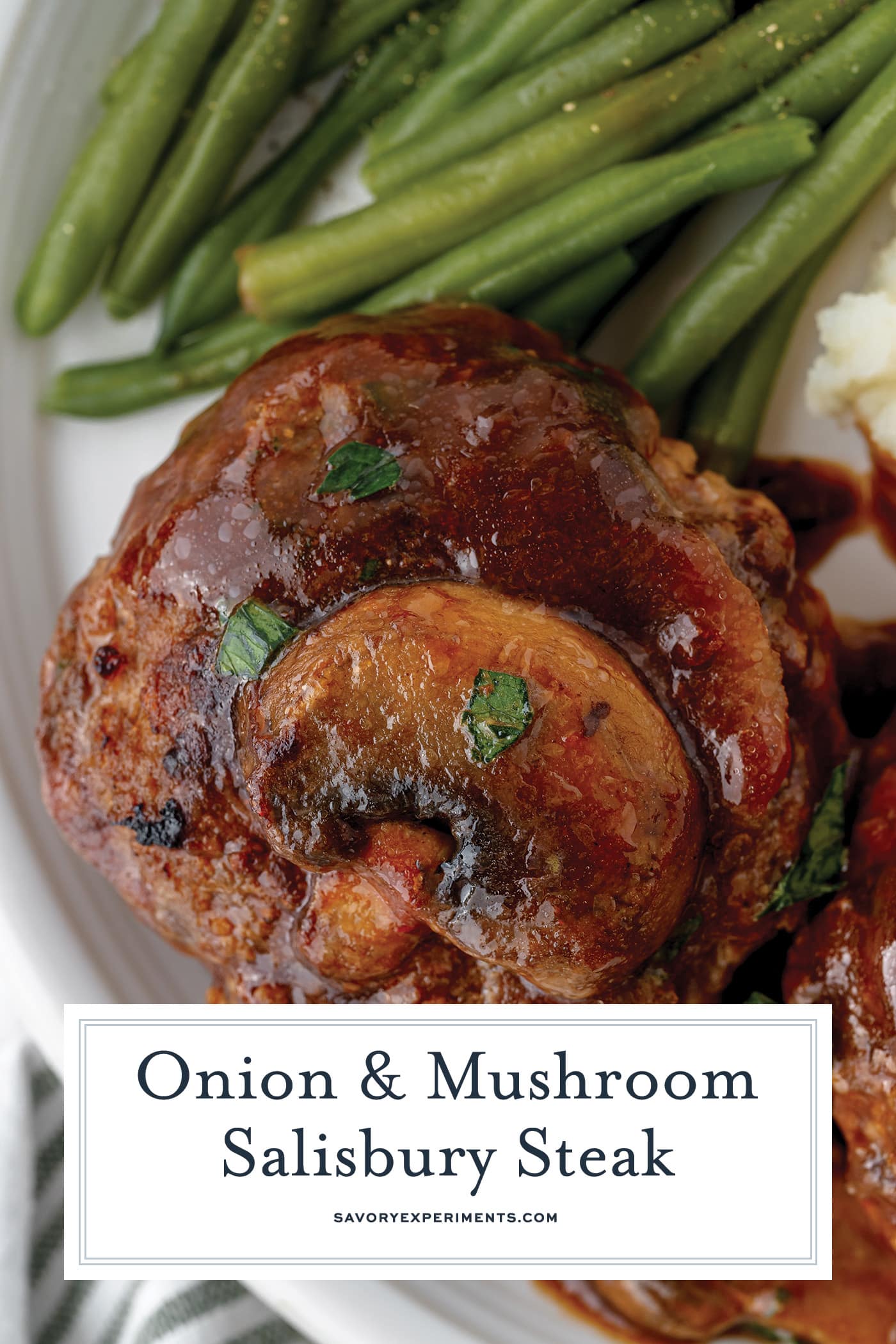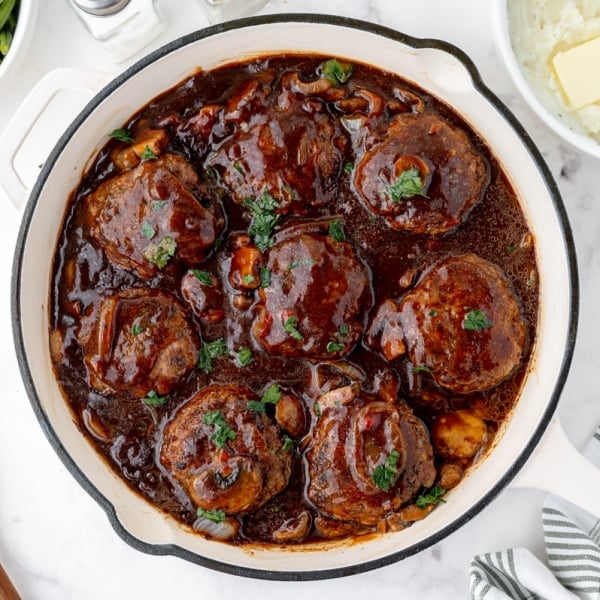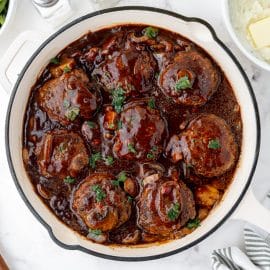 Salisbury Steak
Forget what you know about salisbury steak, this Homemade Salisbury Steak recipe is out of this world! Topped with a mushroom gravy, it's moist and delicious!
Ingredients
For the ground beef steaks:
Instructions
Hamburger Patties:
In a medium mixing bowl, stir together the breadcrumbs, Dijon mustard, egg and Gravy Master.

Break the ground beef into pieces as you add to the breadcrumb mixture. Toss to combine. Do not overmix.

Form the ground beef mixture into 8 equal size patties.

Heat a large skillet over medium-high heat with the vegetable oil. Add the hamburger patties. Cook on each side for 4-5 minutes or until well browned.
Onion Mushroom Gravy:
Without cleaning out the skillet, start the gravy by adding the butter and onion. Reduce heat to medium-low. cook the onions until soft, approximately 4-5 minutes.

Add the mushrooms, stirring until they reduce by about half.

Whisk in the beef broth, tomato paste, Gravy Master and black pepper,

Ladle out a small amount of liquid, whisk with the cornstarch, and return to the skillet, stirring until it thickens.

Taste the gravy to determine if you need to add additional salt.

Return the hamburger steaks to gravy to reheat. Spoon the gravy over each steak and heat for 2-3 minutes before serving.

If you've tried this recipe, come back and let us know how it was in the comments or star ratings.
Notes
If you don't have seasoned bread crumbs, you can add 1 tablespoon Italian seasoning to plain bread crumbs or just use plain panko or breadcrumbs.
Nutrition
Calories:
634
kcal
,
Carbohydrates:
24
g
,
Protein:
37
g
,
Fat:
43
g
,
Saturated Fat:
18
g
,
Cholesterol:
169
mg
,
Sodium:
932
mg
,
Potassium:
946
mg
,
Fiber:
3
g
,
Sugar:
7
g
,
Vitamin A:
300
IU
,
Vitamin C:
7.3
mg
,
Calcium:
91
mg
,
Iron:
5.3
mg