Skip the jarred tomato sauce and make your own easy homemade Marinara Sauce in less than an hour. For real!
Homemade Marinara Sauce is a quick and easy recipe for a tomato based sauce using herbs and spices. Perfect for pizza, dipping sauce or to put over pasta.
Marinara Sauce is one of the simplest of Italian sauces. Processes and tastes can vary greatly, but it all comes down to tomatoes, garlic, onion and herbs.
While my family recipe for spaghetti sauce takes all day long, this quick homemade marinara sauce is what I make when I'm whipping up calzones, Parmesan chicken or baked ziti pie. You can make it ahead and freeze or can it to make sure you always have marinara on hand.
As far as tomatoes go, you have two choices. One that will be a little more time than the other.
You can use fresh plum tomatoes, also known as roma tomatoes and quickly steam and skin them. Or… use canned whole tomatoes. If you find a good canned tomato that doesn't taste metallic, you are golden!
In all honesty, while I love fresh tomatoes, it defeats the purpose of a quick marinara sauce. So I use canned tomatoes and I refuse to apologize for it. If you do choose to steam and peel your own tomatoes, here are the instructions on how to peel a tomato.
In fact, if you visit a grocery store while in Italy, you won't find a long aisle of various sauces and flavors. They sell one canned base sauce. It is just tomato. And not even whole tomatoes, just tomato sauce.
PRO TIP: If you want to use dried herbs instead of fresh, use 1 teaspoon of dried herbs for every 1 tablespoon of fresh herbs.
A blank slate to add your favorite herbs, vegetables and seasonings. The canned sauce is also more acidic than typical American versions who tend to lean towards a sweet sauce.
The choice is yours and I'm sure will reflect how much time you have. You can also choose the texture, using an immersion blender to make the sauce smoother, or leaving it nice and chunky. Your choice again.
Use this quick and tasty marinara sauce recipe for anything that calls for tomato sauce or marinara sauce. Pizza, calzones, dipping for mozzarella sticks or calamari- the list is endless!
Here are a few recipes you can pair your quick homemade tomato sauce with:
Tools for making homemade marinara sauce:
Heavy Bottom Frying Pan– this will be one of your most used kitchen tools. Having something that is heavy bottom will distribute heat better and prevent burning whether you are using an electric or gas range.
Wood cutting board – wood won't dull your knives like plastic and if treated properly, has natural antimicrobial properties.
Good knife – Global is my favorite! They are worth the price, I promise. I am kind of obsessed with them and store them tucked away so no one else can use them. Including hubby. Hands off my good stuff!
Good Extra Virgin Olive Oil– A good olive oil will taste like, well, olives, while a poorly made one will taste like vegetable oil. Gross. While people tend to favor Italian and Greek olive oils, I prefer to buy mine domestically.
There are some great ones out there from all over the world, but the reporting of ingredients isn't always the same and you could find that your super expensive olive oil was actually cut with vegetable oil.
Questions you might have about how to make marinara sauce:
Is marinara sauce the same as spaghetti sauce?
This really depends on your definition of spaghetti sauce. Marinara sauce, usually made with tomatoes, garlic, herbs, and onions can also include capers, olives, spices or wine.
You can certainly served it on top of spaghetti, however my family spaghetti sauce recipe has a few more ingredients, most notably mushrooms and takes all day to simmer down.
Is marinara sauce healthy?
I really hate when people ask me this question because the definition of health is so different for everyone. It is low calorie and low fat. The only fats coming from olive oil, which is supposed to provide healthy fats.
Tomatoes have the antioxidant lycopene, which has been linked to many health benefits, including reduced risk of heart disease and cancer and are a great source of vitamin C, potassium, folate and vitamin K.
With that said, they are also fairly high in natural sugars, which can increase when cooked.
Can marinara sauce go bad?
This is a homemade recipe for marinara sauce and doesn't contain any additives or preservatives. If stored correctly, it can stay in the refrigerator for up to 2 weeks.
You can also can your homemade marinara sauce, however I am not a canning expert. Follow these instructions.
Can you freeze marinara sauce?
You can freeze marinara sauce. I like to put mine in an airtight plastic bag, releasing as much air as possible. It will stay good frozen for 3-4 months.
Can you use marinara sauce for pizza?
Yes! Of course you can!
How much marinara sauce should I plan for per person?
That really depends on the recipe you are making it for. If you are normal person with a normal appetite, about 1/2 cup of marinara per plate of pasta should suffice.
Is marinara sauce vegan?
This recipe for marinara sauce is both vegetarian and vegan.
Is marinara sauce a vegetable?
In my eyes, YES! It is chalk full of vegetables so I count it as a serving.. or two.
Homemade Marinara Sauce is a quick and easy recipe for a tomato based sauce using herbs and spices. Perfect for pizza, dipping sauce or to put over pasta.
CONNECT WITH SAVORY EXPERIMENTS!

Be sure to follow me on social media, so you never miss a post!

Facebook | Twitter | Youtube
Pinterest | Instagram
Get our FREE 8 Day E-Course on How to Be a Better Home Cook. Sign up HERE!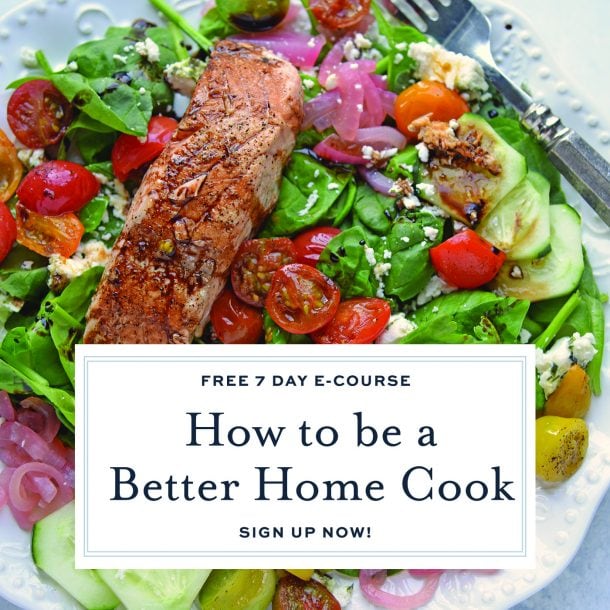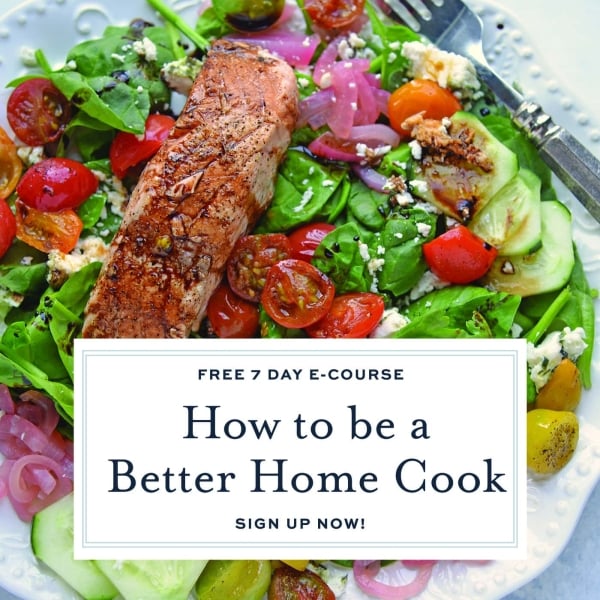 30-Minute Marinara
Homemade Marinara Sauce is a quick and easy recipe for a tomato based sauce using herbs and spices. Perfect for pizza, dipping sauce or to put over pasta.
Instructions
Heat olive oil in a large sauce pan. Add onions, sautéing until starting to soften, approximately 4 minutes. Add garlic and continue to sauté for 2-3 minutes, stirring to prevent burning.

Add tomatoes, cutting coarsely with a paring knife, add remaining juices from can. Add remaining ingredients, stirring to combine. Simmer for 15-20 minutes, stirring frequently.

If you enjoy a chunky sauce, leave as-is and serve it up! If you want a smoother sauce, blend with an immersion hand blender, taking care to blend larger pieces, but not totally juicing it.

If you've tried this recipe, come back and let us know how it was!
Notes
If using whole tomatoes, choose about 8 large plum tomatoes. Dip whole tomatoes in boiling water for 30 seconds, transferring to an ice bath immediately. Skins should peel easily.
Nutrition
Calories:
234
kcal
|
Carbohydrates:
27
g
|
Protein:
5
g
|
Fat:
10
g
|
Saturated Fat:
1
g
|
Sodium:
1241
mg
|
Potassium:
1295
mg
|
Fiber:
6
g
|
Sugar:
16
g
|
Vitamin A:
3070
IU
|
Vitamin C:
52.3
mg
|
Calcium:
64
mg
|
Iron:
2.6
mg