Meatballs and pasta in a savory tomato broth, this Italian meatball soup is full of flavor. With simple ingredients and minimal prep, this hearty meal is on the table in less than an hour.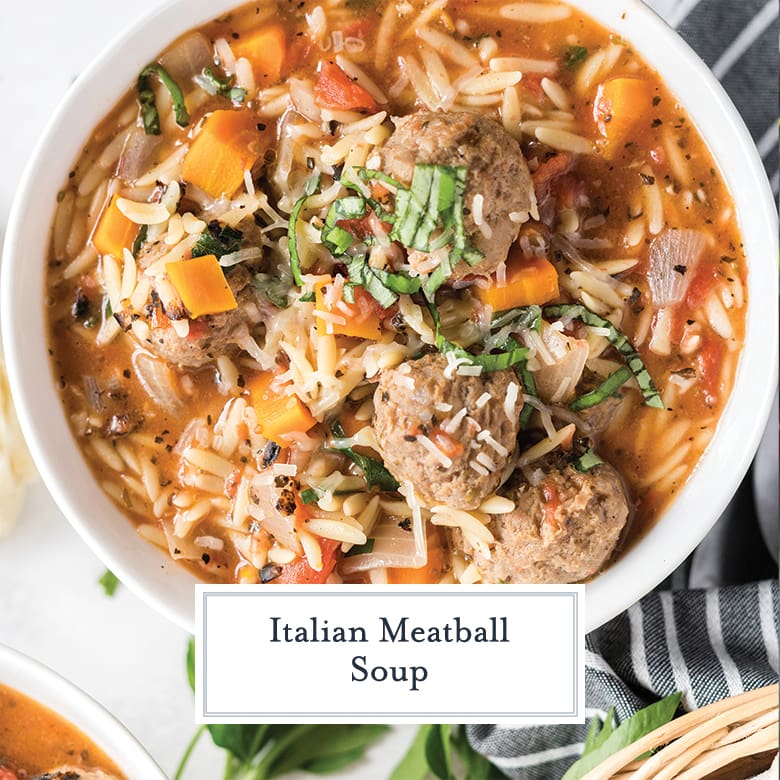 Winter Soups
As soon as fall approaches my favorite thing to do is make sure all my Dutch ovens are dusted off and ready for soup. We eat a lot of soup during the fall and winter.
Soup is such an easy meal to make and there are endless varieties. You really are only limited by your imagination. A pot of soup can be a fantastic way to use up bits of ingredients in your fridge or pantry.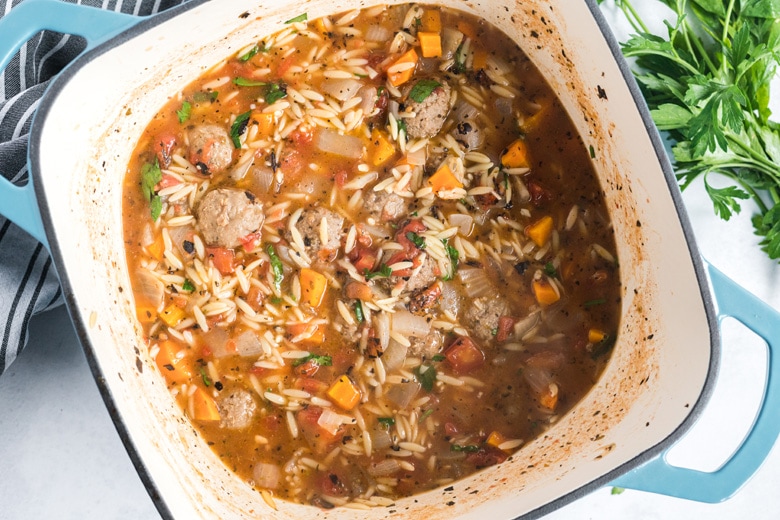 There have been many times I've just started tossing ingredients in the pot without any plan at all. We've rarely been disappointed with the results.
Meatball Soup
This Italian meatball soup came about when I had a bag of frozen meatballs, some veggies that needed to be used up and half a box of pasta. Since I always have staples such as tomatoes and broth in the house I decided to get to work.
This soup is rich and hearty. The meatballs and pasta make it filling and it's full of flavor from the fire roasted tomatoes and fresh herbs.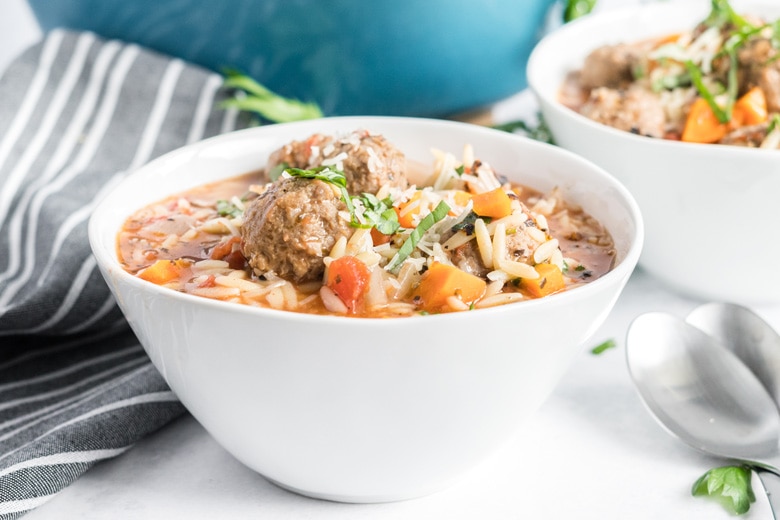 This soup has definitely made its way into rotation for the upcoming soup season.
Premade vs Homemade meatballs
This soup works well with either premade or homemade meatballs. Frozen meatballs have come a long way and there are plenty of good quality ones in the freezer section of your grocery store. We do call is easy meatball soup for a reason.
The nice thing about frozen meatballs is they are less work and they are usually pre-cooked. You can just add them to the soup and once they are thawed and heated through they are ready to serve.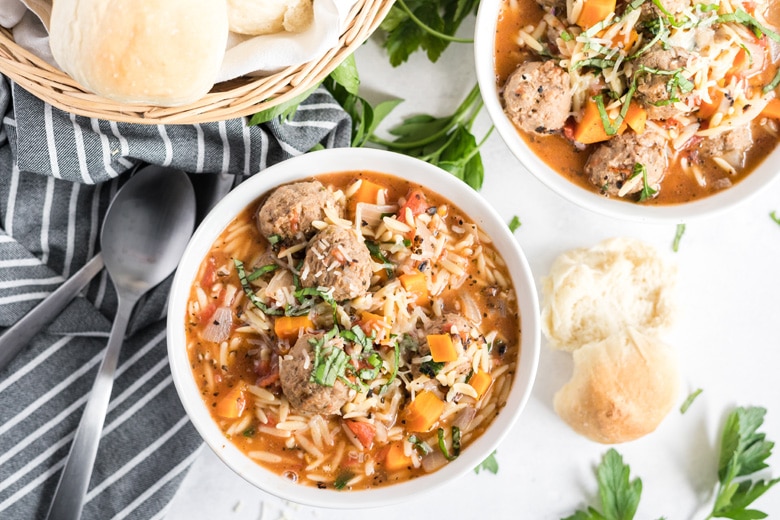 Homemade meatballs are more work, but you can control the ingredients and flavors, like using lean ground beef or even making chicken meatballs.
If you are going to use homemade meatballs I would suggest you pan sear them first to release some of the fat. It will also ensure they hold together whey they are heated in the soup.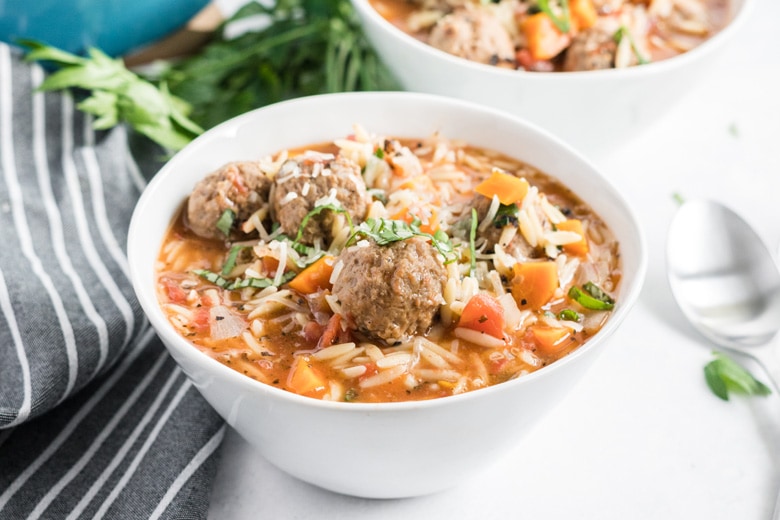 You could even make a batch of your favorite meatballs, cook them fully, and then store them in the freezer for the next time you want to make this soup.
Meatball Soup Ingredients
The ingredients in this soup are simple pantry items. You probably have many of these ingredients already, and if not, don't be afraid to use some substitutions.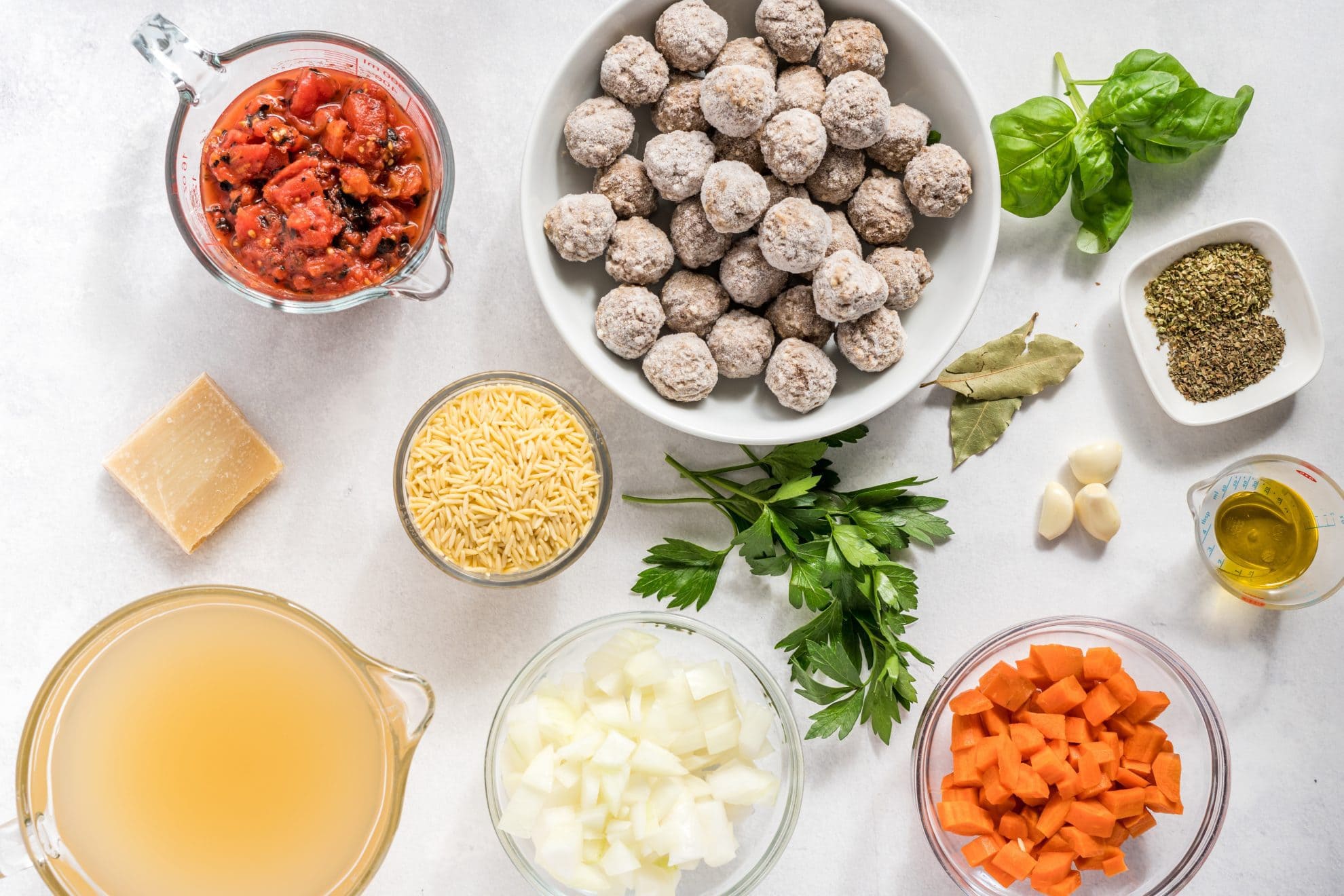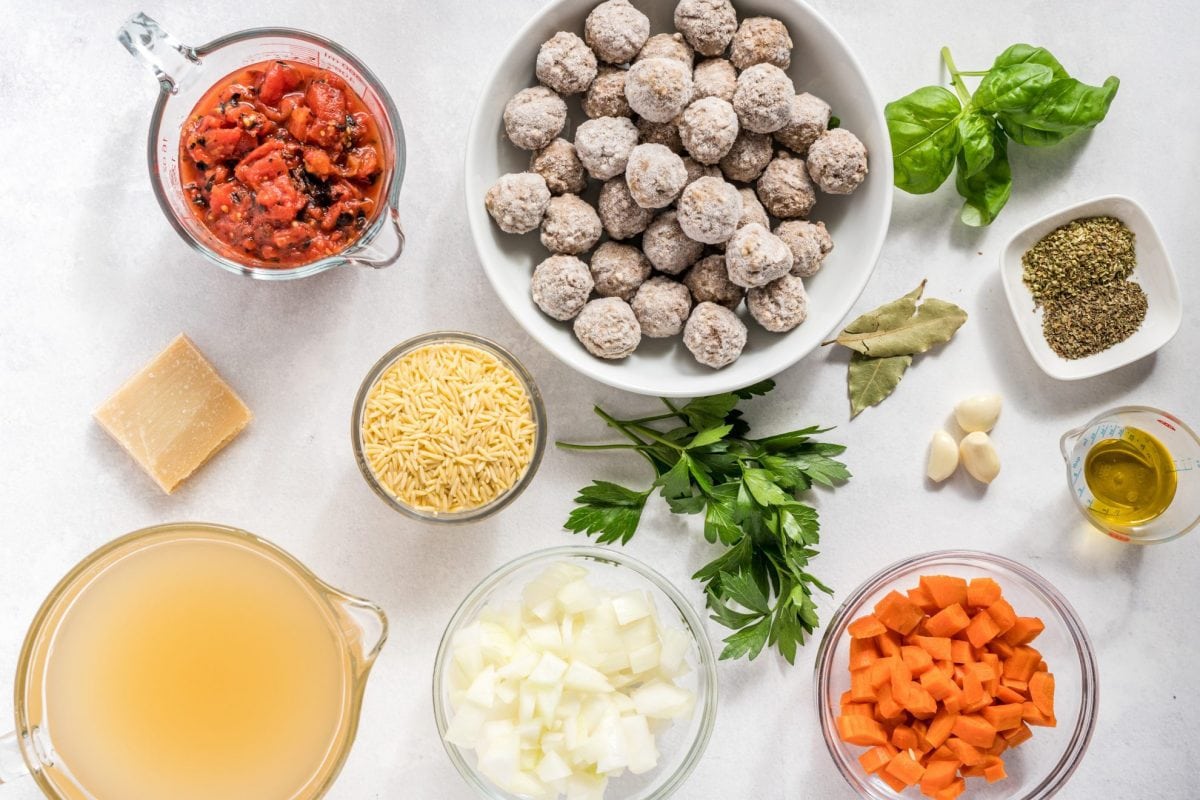 Here are the main components of this soup and some things you can use instead.
Broth – I use chicken broth in this recipe because I feel it lets the tomato flavor come through a bit more. However, you can use beef broth, vegetable broth, or any combination of the three depending on what you have.
Fire roasted tomatoes – These have a deeper flavor and are less acidic than regular diced tomatoes, but you can use whatever you have. If you are using regular diced tomatoes, you may want to add a tablespoon of tomato paste to deepen the flavor.
Meatballs – I use all beef frozen meatballs. But as mentioned above, you can certainly use homemade. If you don't like beef, feel free to use turkey or pork meatballs instead.
Parmesan rind – yes, those hard rinds left after you've shredded all the cheese can be saved and used! When added to the soup what's left of the cheese will melt away, and you would be surprised just how much you can get out of it. If you don't have a ziplock bag full of rinds (like I do) that's ok. Just add about ¼ cup of shredded parmesan cheese.
Orzo pasta – Orzo resembles grains of rice, only it is actually pasta. I like using orzo for this as you are sure to get pasta in every spoonful of soup. If you don't have orzo, that's ok. I would suggest using a different small pasta such as digitali or small shells.
How to Make Italian Meatball Soup
This soup is easy to make and requires only a few steps.
ONE – Heat the oil, onions, garlic and carrots over medium heat until the vegetables begin to soften.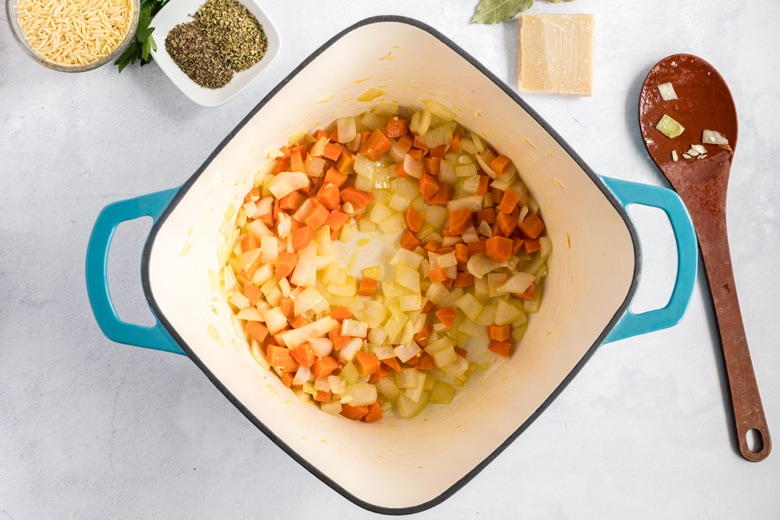 TWO – Add the broth, tomatoes, dried herbs, meatballs and parmesan rind. Increase heat to medium high and bring to a boil.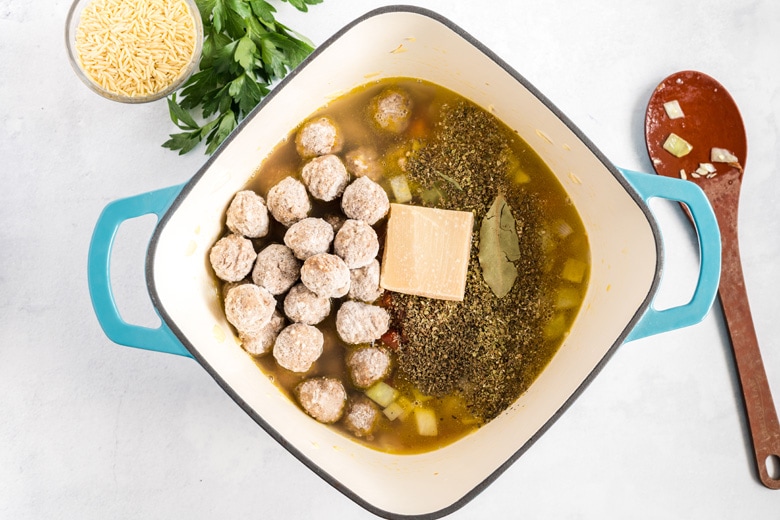 THREE – When the liquid is boiling add the pasta. Reduce the heat to medium low. Cover and simmer for about 12 minutes until pasta is al dente.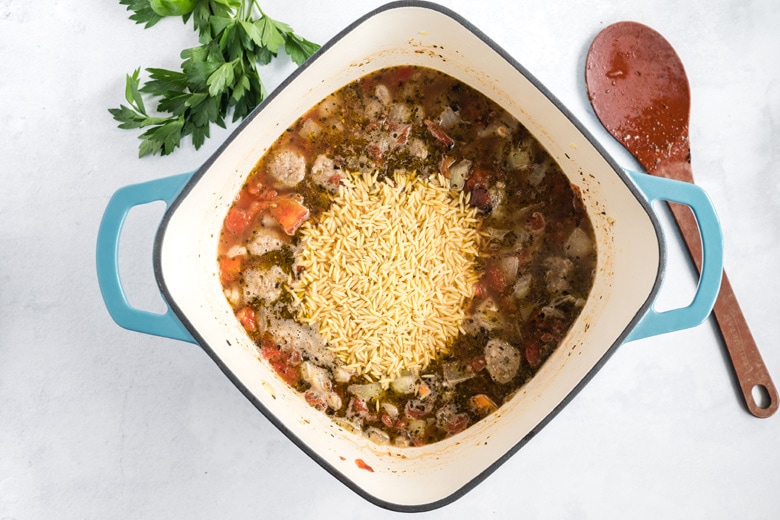 FOUR – Remove the bay leaves and parmesan rind. Add the chopped, fresh herbs, stir and serve.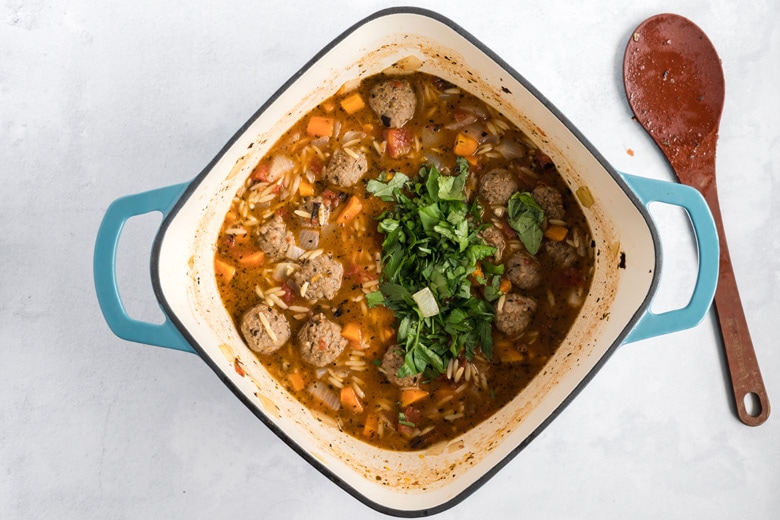 Meatball soup can really be a complete meal on its own. But if you feel like you want to serve it with something then some great choices are:
Freezing and Storage
The base of this soup will freeze very well, however the pasta will absorb the liquid and tends to become soft.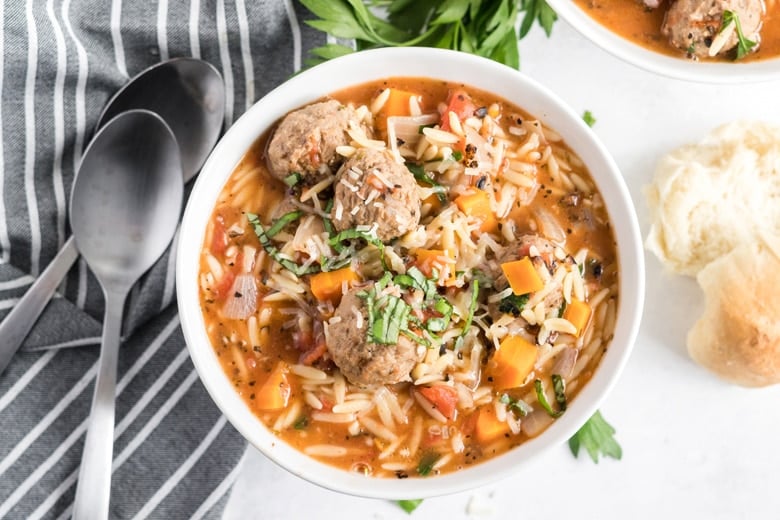 If you want to freeze this soup I would suggest to freeze it before you add the pasta. When it comes time to serve the soup, cook up a bit of pasta to add to it.
You can definitely make this soup earlier in the day and let it simmer. Just wait to add the pasta until about 15 minutes before you want to serve it. This will help ensure the pasta doesn't absorb all the broth or get too soggy.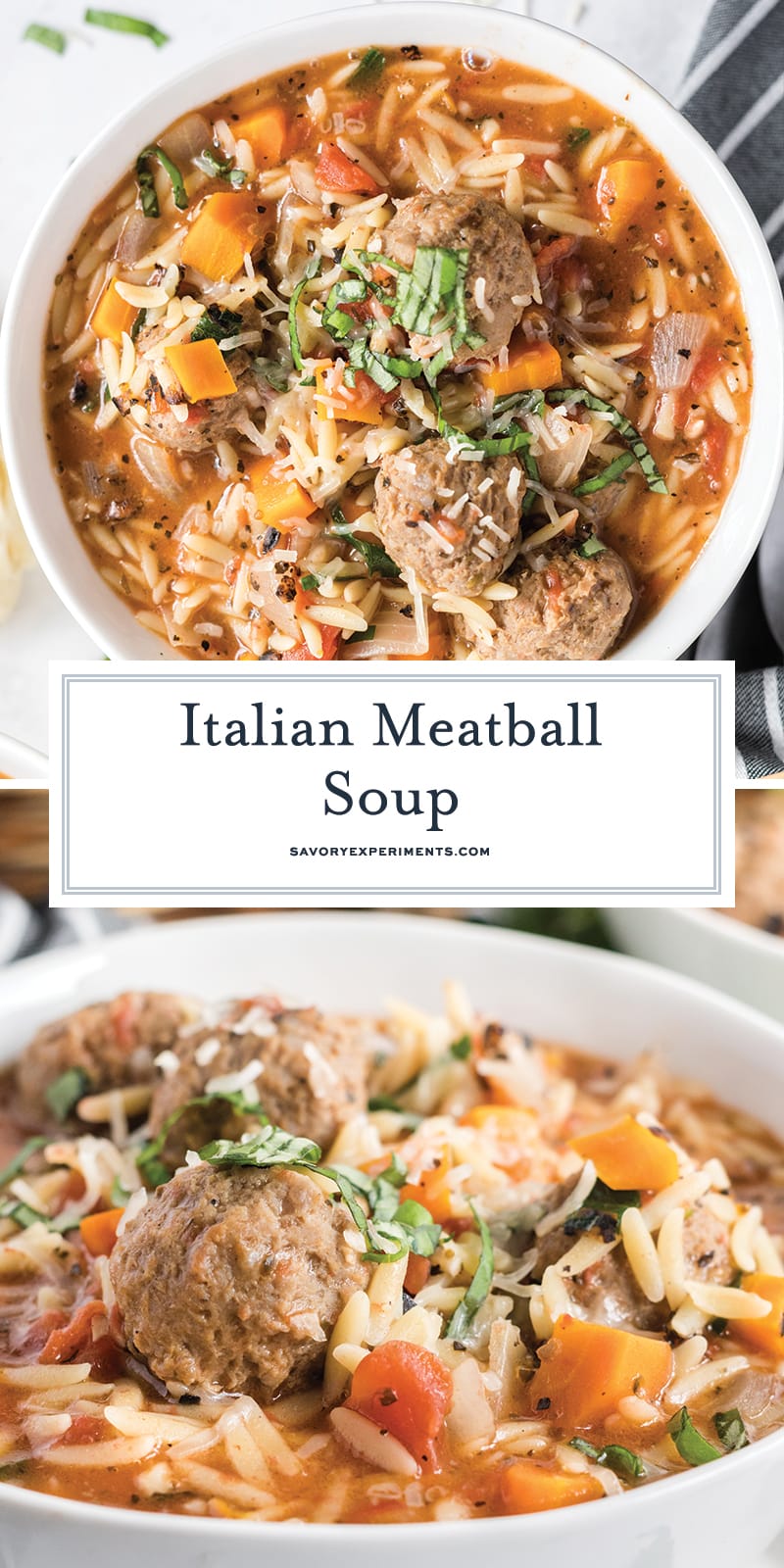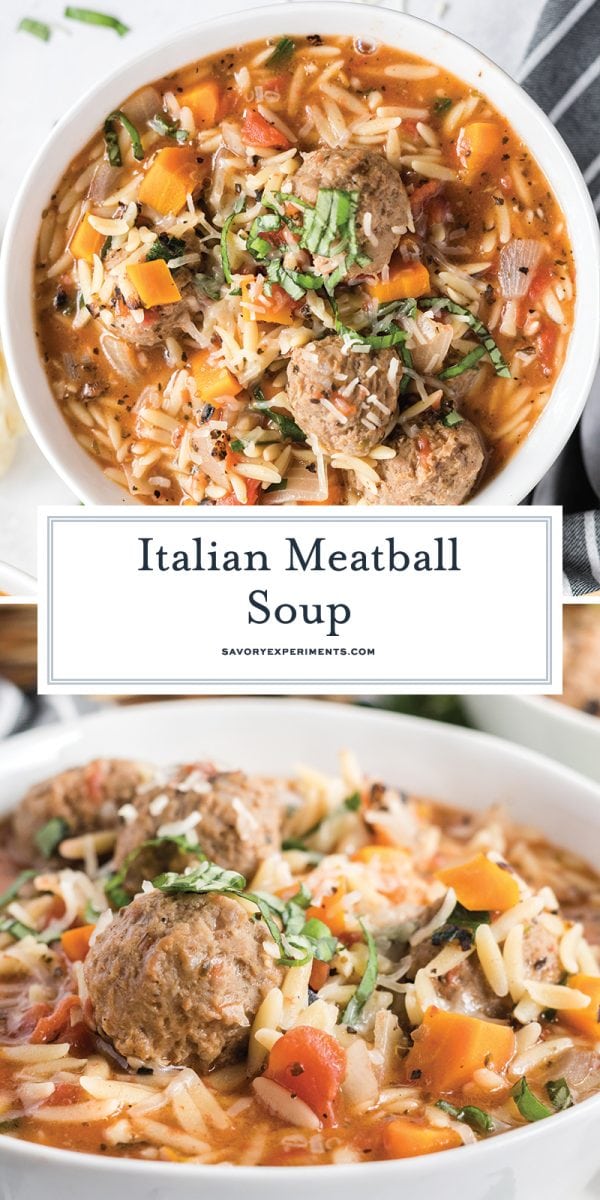 More warm soup recipes: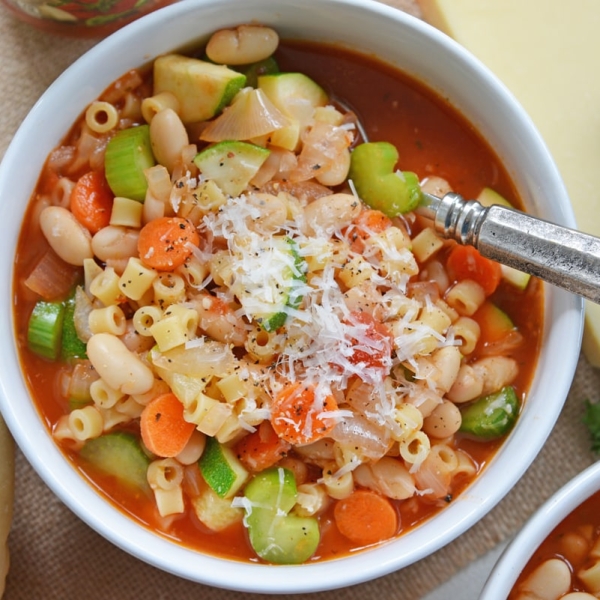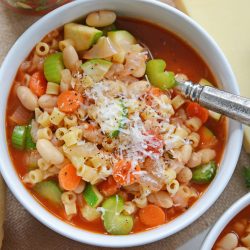 Rich Minestrone Soup
Thick, rich and delicious Minestrone Soup that uses one secret ingredient that cuts your prep, chop and cook time in HALF! You'll put this on the weekly menu.
View this recipe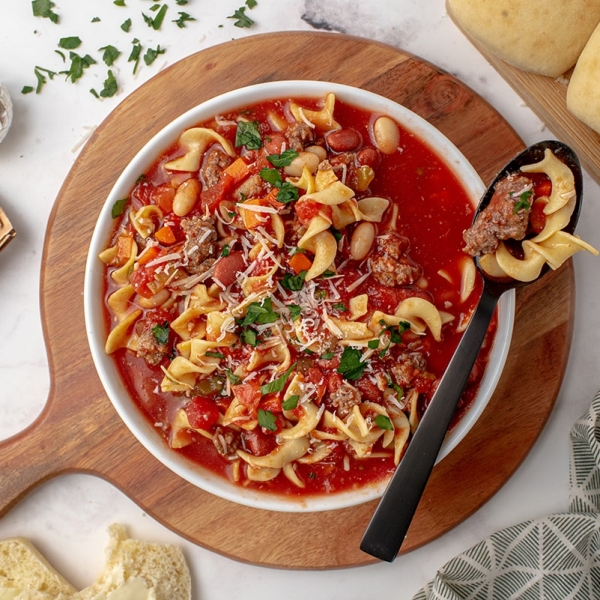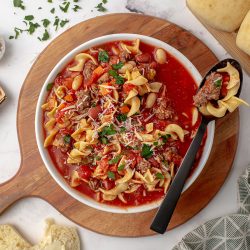 Pasta e Fagioli Soup
Whether you call it Pasta e Fagioli or Pasta Fagioli, this EASY soup recipe is hearty and delicious. Full of authentic Italian flavors in just 30 minutes!
View this recipe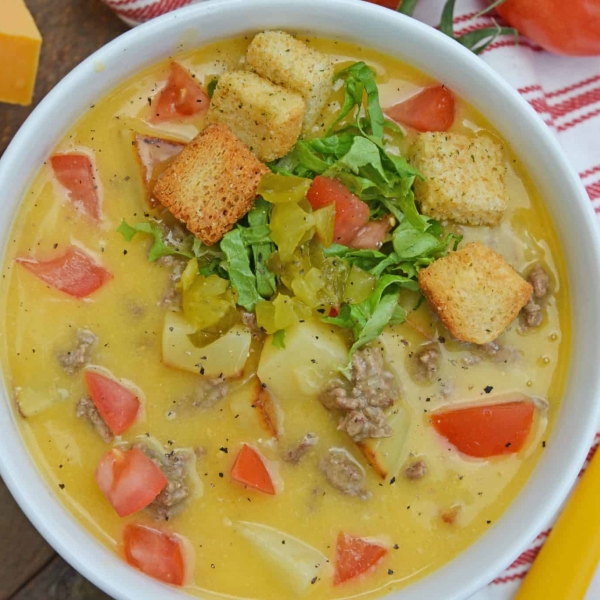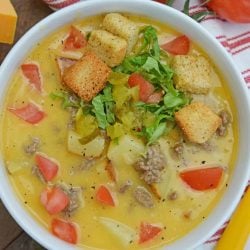 Bacon Cheeseburger Soup
Bacon Cheeseburger Soup takes classic Cheeseburger Soup and adds BACON! Your favorite comfort food in soup form, does it get any better?
View this recipe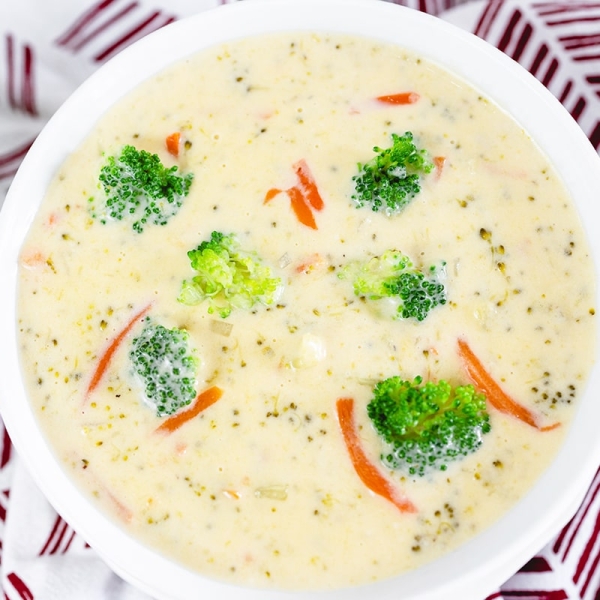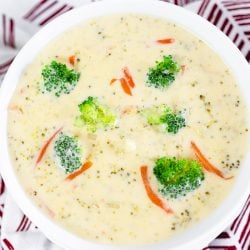 Instant Pot Panera Broccoli Cheddar Soup
An easy instant pot recipe that tastes even better than the original Panera Broccoli Cheddar Soup. Ready in just 30 minutes!
View this recipe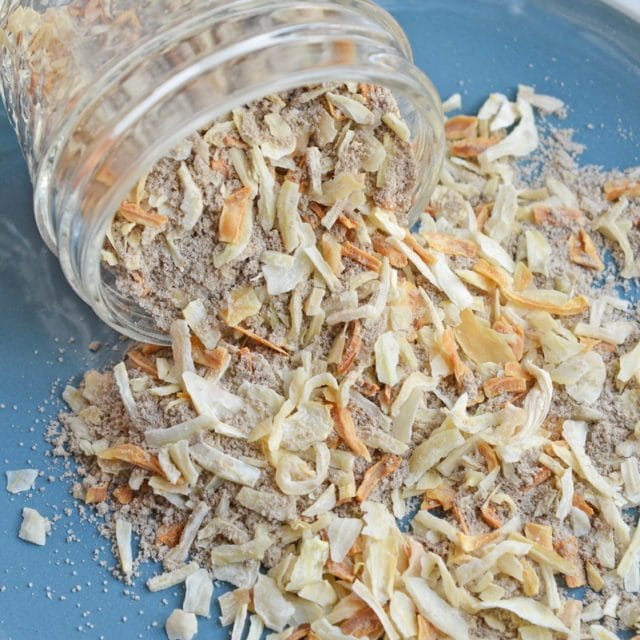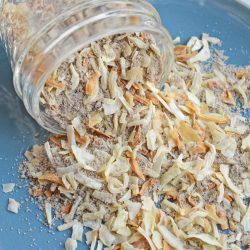 Onion Soup Mix
Onion Soup Mix is so easy that you already have all the ingredients in your pantry. Perfect as a substitute for Lipton's Onion Soup Mix.
View this recipe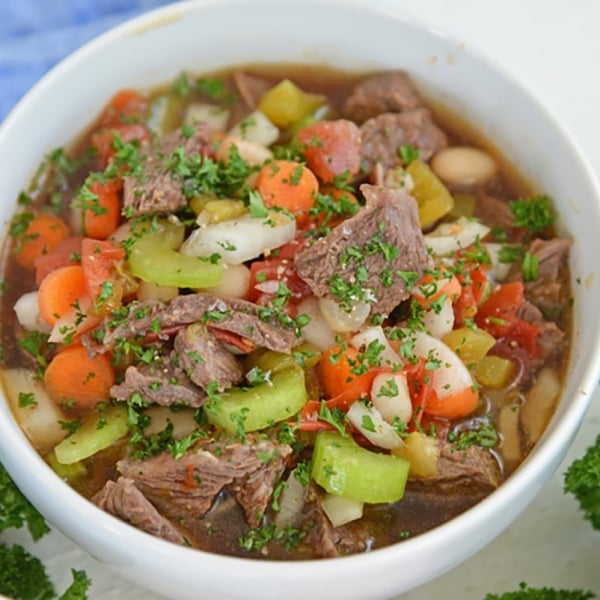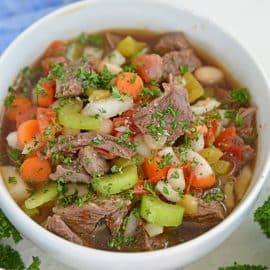 Short Rib Soup
Mildly hot short rib soup is sure to warm your soul and your belly. Tender pieces of beef with veggies and southwest flavors.
View this recipe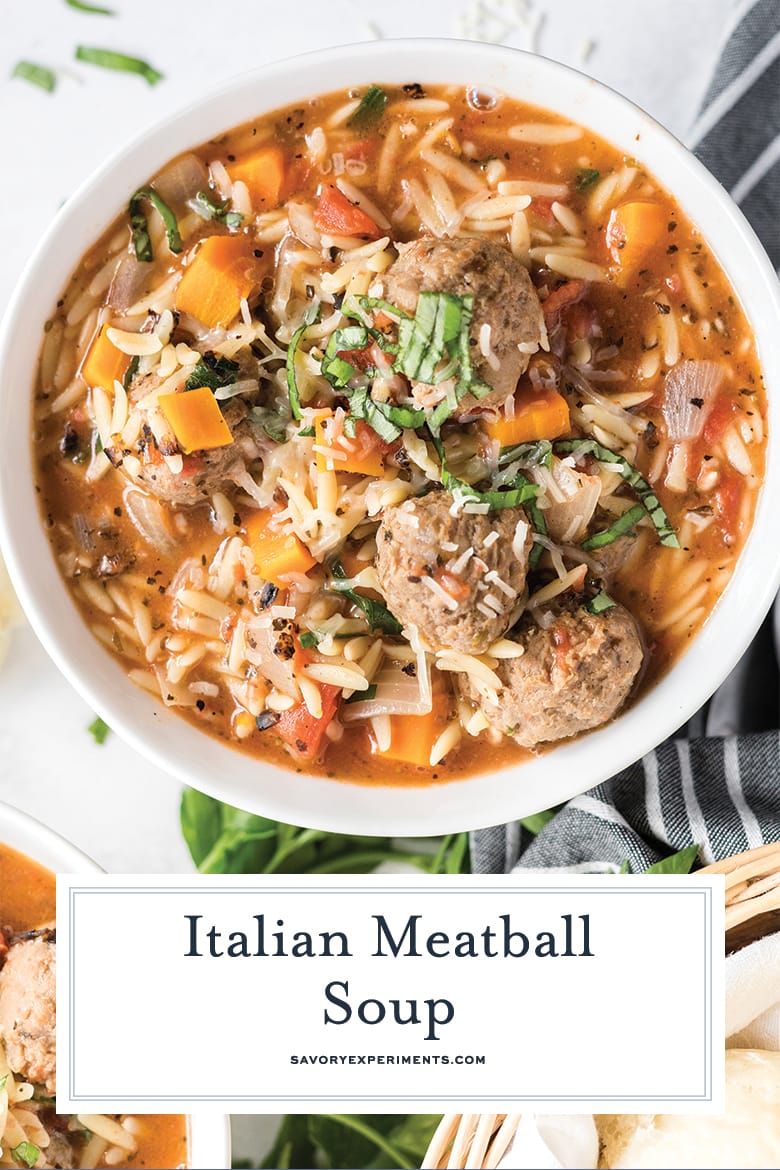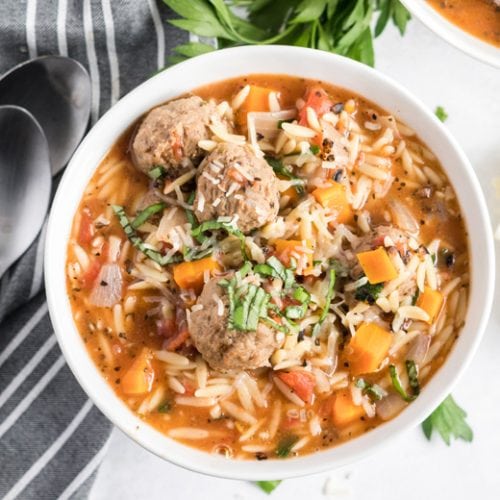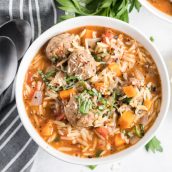 Italian Meatball Soup
Meatballs and pasta in a savory tomato broth, Italian meatball soup is a simple and hearty meal that is on the table in less than an hour!
Ingredients
2

tablespoons

olive oil

1

cup

yellow onion

, diced

1

cup

carrots

, diced

3

cloves

garlic

, minced

6

cups

chicken broth

15

ounces

canned fire roasted tomatoes

2

teaspoons

dried oregano

1

teaspoons

dried basil

1

pound

fresh or frozen meatballs (about 1 inch diameter)

2

inches

square parmesan rind

, or ¼ cup shredded parmesan, plus more for garnish

1

cup

orzo pasta

, uncooked

¼

cup

chopped italian parsley

, plus more for garnish

¼

cup

chopped basil

, plus more for garnish
Instructions
Add the olive oil, onions, carrots and garlic to a large pot and heat over medium heat until vegetables are beginning to soften, 5-7 minutes.

Add the chicken broth, tomatoes, oregano, basil, bay leaves, meatballs and parmesan rind. Increase heat to medium high and bring to a boil.

Once the liquid is boiling add the pasta and reduce heat to medium low. Cover and simmer for about 12 minutes, until pasta is el dente.

Remove the bay leaves and parmesan rind, add the chopped herbs and stir to combine. Season with salt and pepper to taste.

It you've tried this recipe, come back and let us know how it was in the comments or ratings!
Nutrition
Calories:
582
kcal
,
Carbohydrates:
43
g
,
Protein:
28
g
,
Fat:
33
g
,
Saturated Fat:
10
g
,
Cholesterol:
83
mg
,
Sodium:
1565
mg
,
Potassium:
874
mg
,
Fiber:
4
g
,
Sugar:
7
g
,
Vitamin A:
5788
IU
,
Vitamin C:
33
mg
,
Calcium:
137
mg
,
Iron:
4
mg