Then I saw it. Raw dough floating in a pool of melted butter. While some might have found this image unappealing, I fell in love instantly and I didn't even know what they were yet!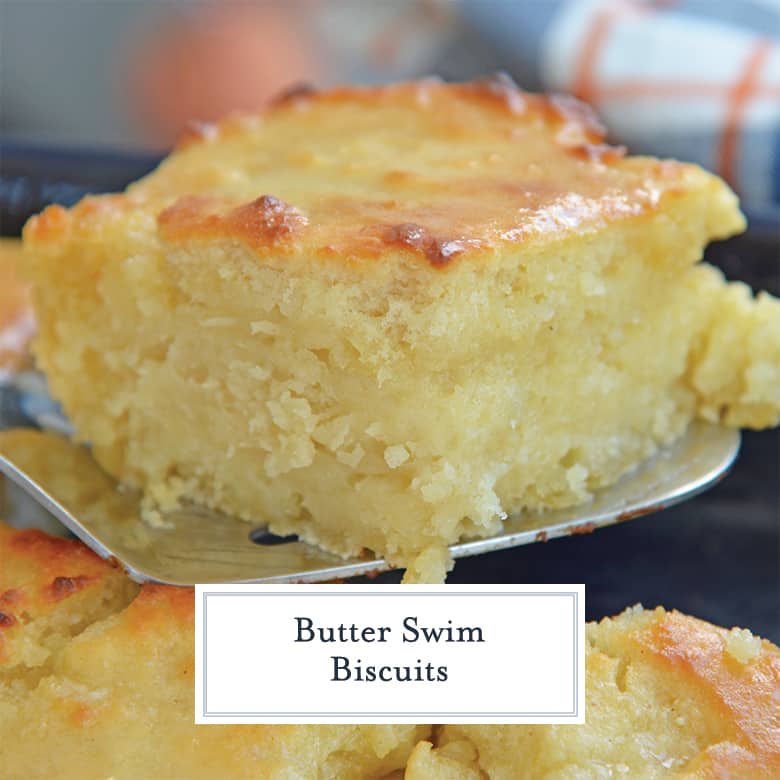 A little research and I had several common names. Apparently these buttery buttermilk biscuits are actually quite common. It is a wonder I hadn't run across them before. I mean two of my favorite things: butter and carbs.
These are a no knead, no yeast and no roll biscuits. Seriously, the easiest ever.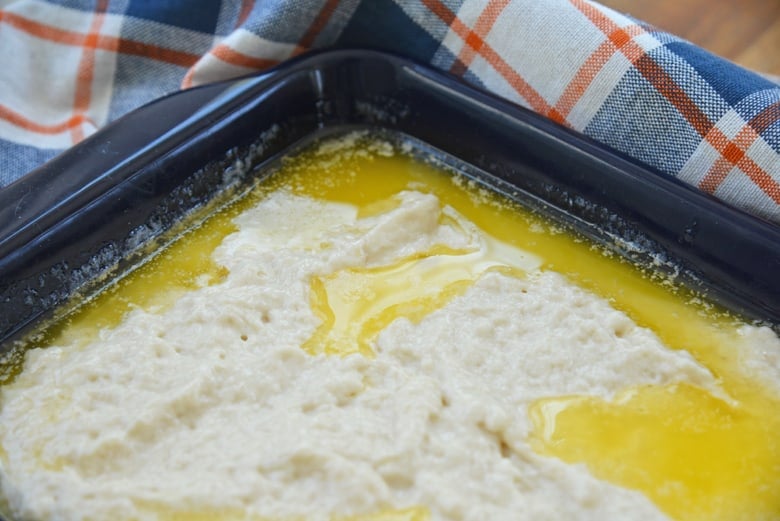 Butter Swim Biscuit Recipe
These devine fluffy biscuits have several names:
Butter Float Biscuits
Butter Swim Biscuits
Butter Dip Biscuits
Easy Butter Biscuits
Rumor has it they are the result of one lazy Texas woman who lacked the motivation to make rolled, cut and then butter biscuits. Then one had to wonder why we spent so much time doing it the hard way when you can just literally bake the dough IN butter.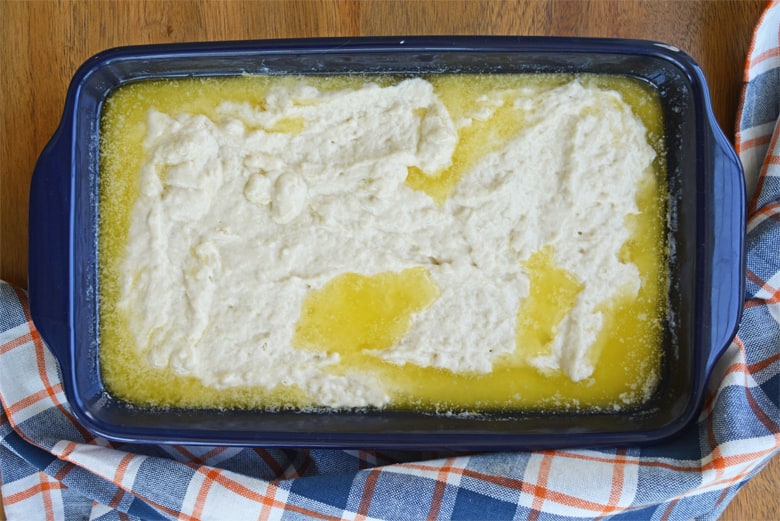 Hats off, mysteriously lady in Texas who I now idolize.
The trick is not having to add too much flour in order to roll out or even drop the biscuits. Instead, you just transfers the lumpy and very sticky dough right into the baking dish with butter.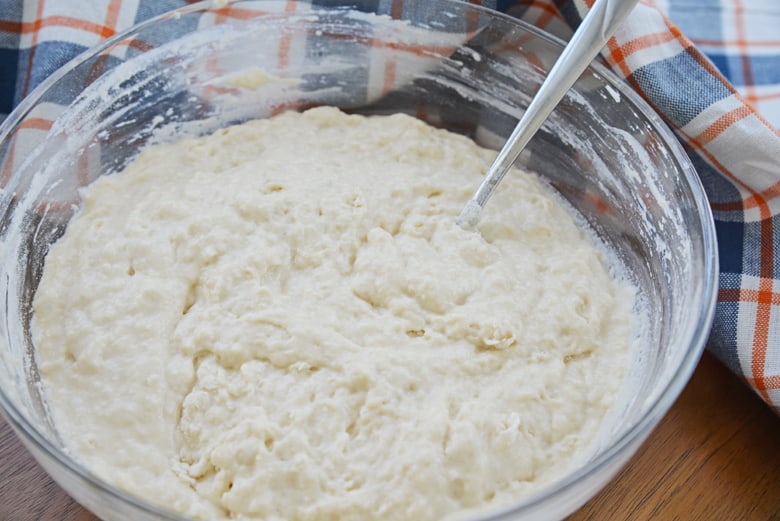 Buttermilk Biscuits
These buttermilk biscuits are a thick, chewy and very rich Southern Style biscuit. Perfectly hearty for a runny egg sandwich and thick cut bacon.
The edges turn into lacy, crispy, buttery pieces of biscuit that might crumble off.
There are a couple of changes I've made while making these recipe. I used a rectangular baking dish instead of square. I felt like the biscuits cooked more evenly instead of having a center biscuit be all doughy.
Secondly, it was impossible to cut the biscuit dough while raw. It is too sticky and won't hold. So I took the biscuits out after baking for 15 minutes and cut them then, swishing around the butter to get into the cracks.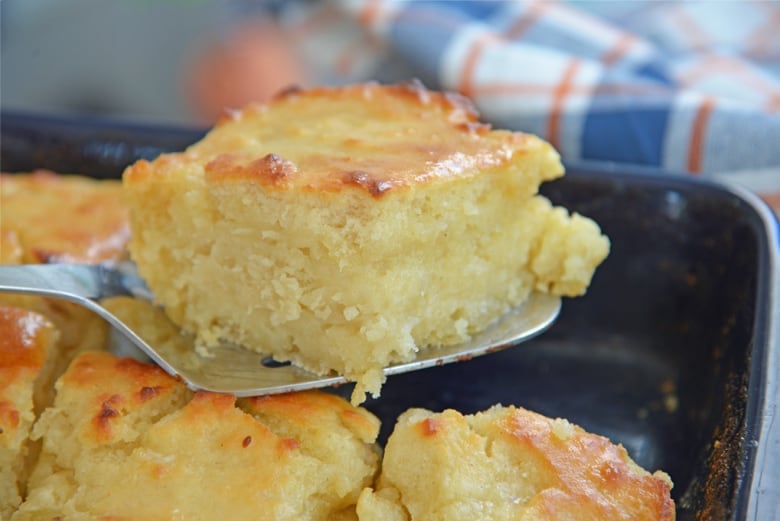 Buttermilk in Recipes
What is buttermilk?
Buttermilk is the liquid byproduct spun off of cream during the process of making butter. The solids make butter and the liquid is buttermilk.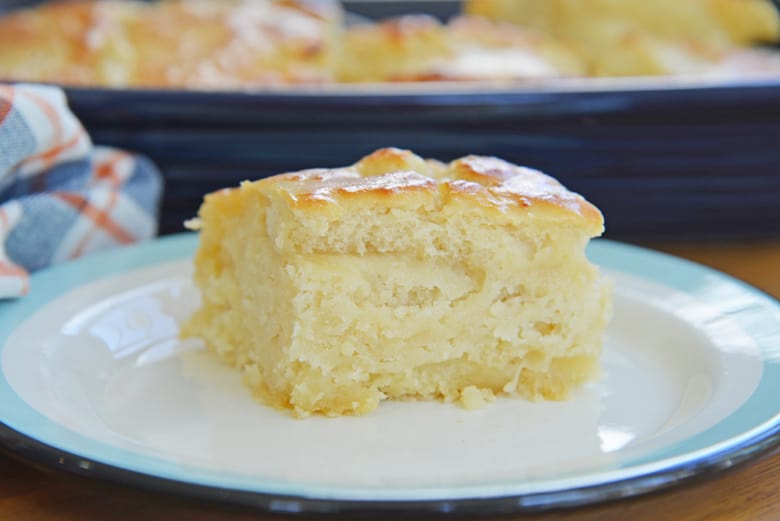 I rarely have buttermilk in the fridge. I don't use it that often, it is expensive and I never need the whole jug. So I keep powdered buttermilk in the pantry, which I used today. I honestly can't tell the difference when it is baked into the recipe.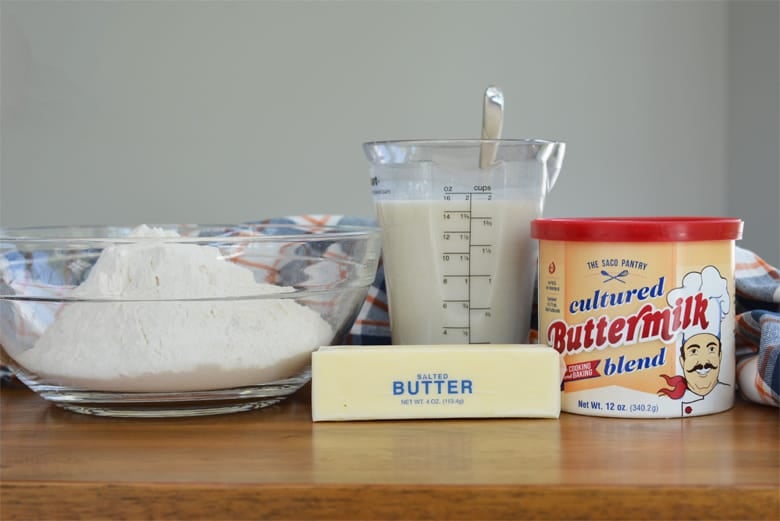 If you don't have buttermilk, you can use these substitutions.
1 tablespoon white vinegar + 1 cup 2% or whole milk
1 tablespoon lemon juice + 1 cup 2% or whole milk
1 tablespoon white vinegar/lemon juice + 1 cup skim milk + 1 tablespoon melted butter
Do not use cream. It not the same thing.
Measure Flour Correctly
I would venture to say that about 75% of people aren't measuring their flour correctly. Too much flour can lead to dry and brittle baked goods and thick, clumpy sauces. Too little can make for doughy and loose recipes.
Here is how to measure flour the correct way.
Stir flour to loosen it in the canister or bag.
Spoon flour into measuring cup. Do not pack it down.
Use the back of a butter knife to even off the top.
Add to recipe.
Simply dipping the measuring cup into a canister of flour packs it down and can result in up to 3-4 ounces more flour than what the recipe calls for.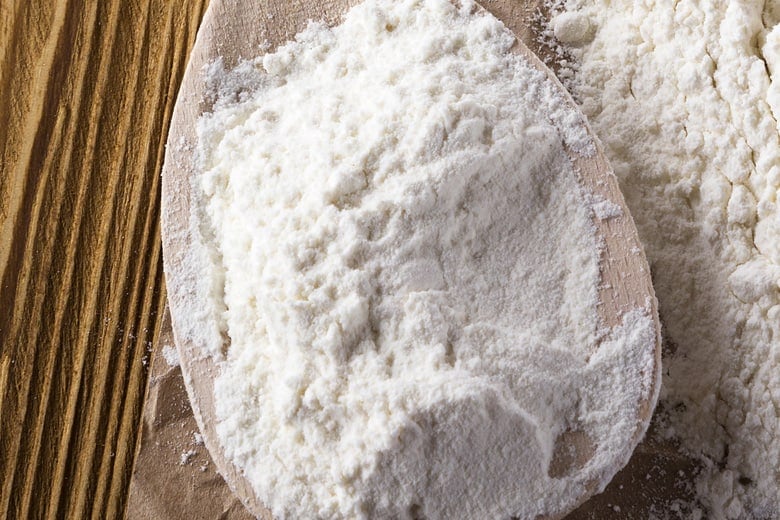 Butter for Biscuits
These easy biscuits really don't need any additional butter after literally taking a butter bath. But if I were to serve them with something, it would be honey butter or molasses butter.
Check out all of our flavored butters to find your best match!
What You'll Need
Large Mixing Bowl– Use a mixing bowl a little larger than you think you'll need. There is less pressure to keep it in the bowl. You can always transfer it to a smaller serving bowl later. I personally look for ones with lids so I can cut down on plastic wrap and aluminum foil waste.
Measuring Cups and Spoons – stainless steel, these are dishwasher safe and easy to use.
Silicone Basting Brush– Truth time! I used a pastry brush with boar bristles for the photos because it looks prettier, but I generally used a silicone basting brush. They don't absorb as much of the liquid being basted, are easier to clean and dry better so they don't carry as much bacteria.