Then I saw it. Homemade biscuits in a pool of melted butter. While some might have found this image unappealing, I fell in love instantly and I didn't even know what they were yet! They were Butter Swim Biscuits and I needed them in my life.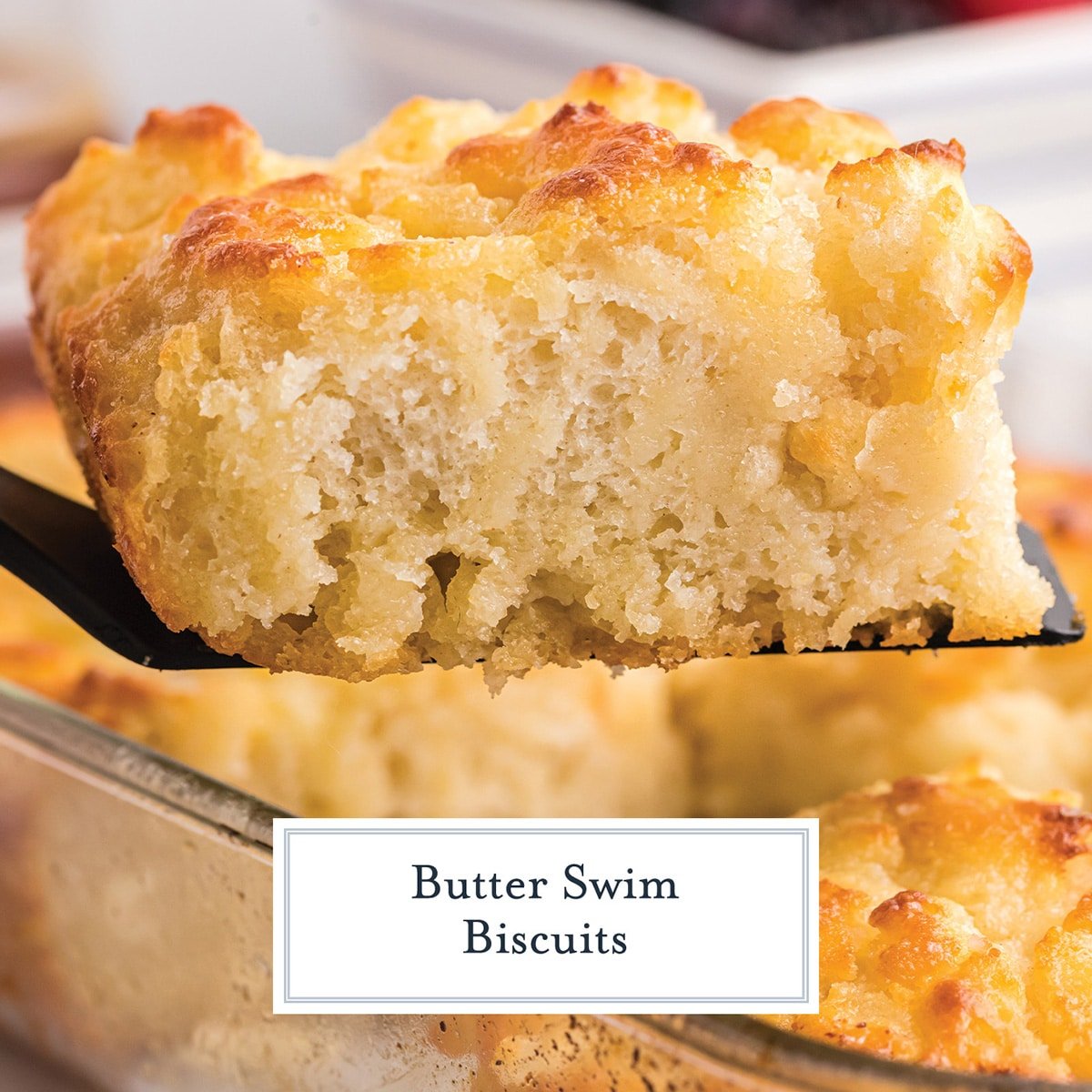 Let me introduce you to the Swim Biscuit
A little research and I had several common names. Apparently these buttery buttermilk biscuits are actually quite common. It is a wonder I hadn't run across them before. I mean two of my favorite things: butter and carbs.
These are a no knead, no yeast and no roll biscuits. Seriously, the easiest ever. They are a dense bread, not light, flaky biscuits, so set your expectations correctly. They can be served as an appetizer or side dish and for breakfast, brunch, lunch or dinner.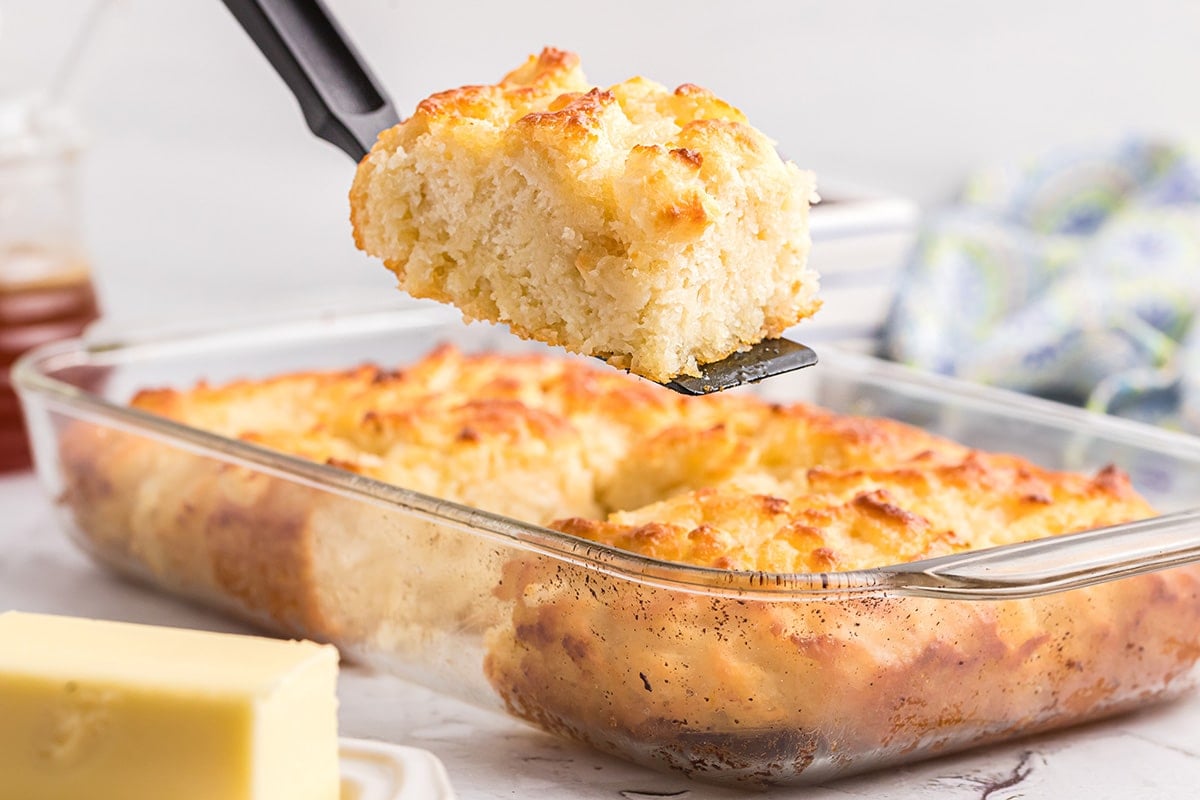 What are Swim Biscuits?
These devine fluffy biscuits have several names:
Butter Float Biscuits
Butter Swim Biscuits
Butter Dip Biscuits
Easy Butter Biscuits
Butter Biscuits
Rumor has it they are the result of one lazy Texas woman who lacked the motivation to make rolled, cut and then butter biscuits. Then one had to wonder why we spent so much time doing it the hard way when you can just literally bake the dough IN butter.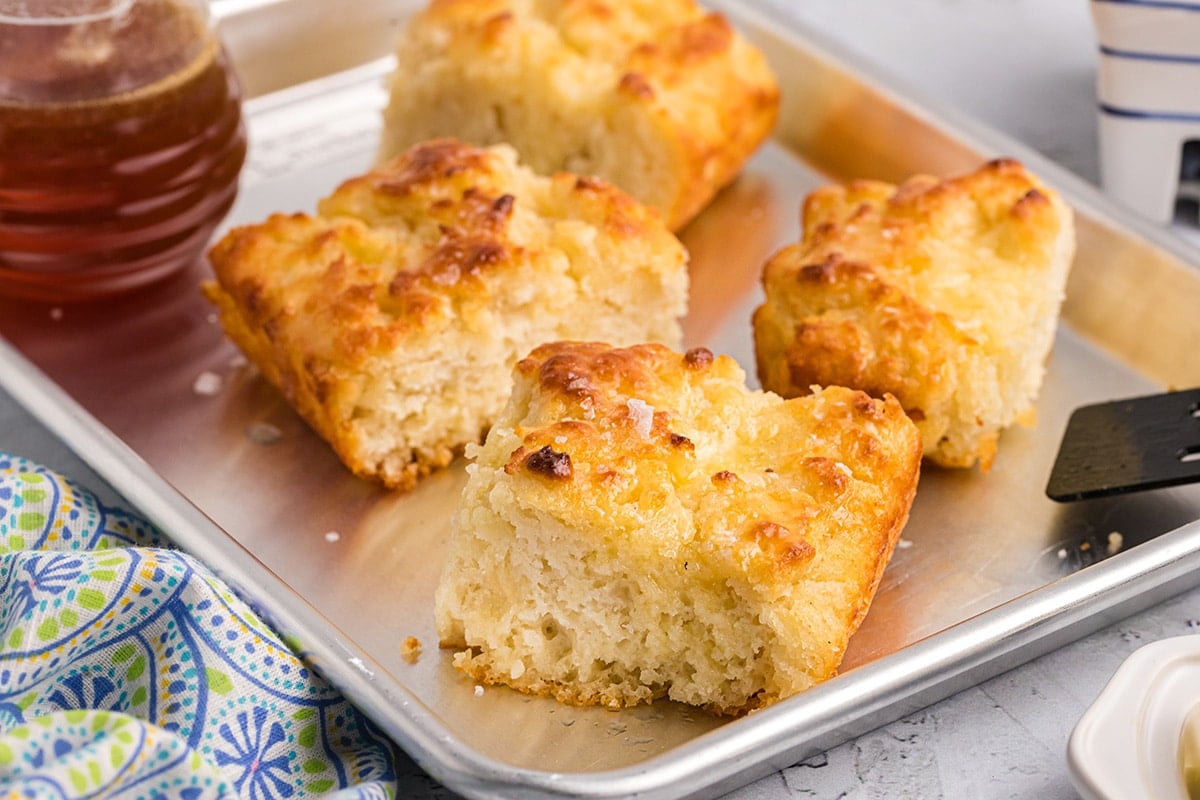 Hats off, mysteriously lady in Texas who I now idolize. The trick is not having to add too much flour in order to roll out or even drop the biscuits. Instead, you just transfers the lumpy and very sticky dough right into the baking dish with butter.
These buttermilk biscuits are a thick, chewy and very rich Southern Style biscuit. Perfectly hearty for a runny egg sandwich and thick cut bacon, however they still have a tender crumb, making them also a good biscuit for shortcakes and other fruity dessert bases.
Why you'll love Butter Swim Biscuits
Rich Texture – Butter swim biscuits are not so light and fluffy, but they are rich and decadent and will have you wanting more.
Other Uses – Yes, you can eat a whole batch on your own, but you can also make them for breakfast sandwiches, sliders and more. Their hearty structure makes them perfect !
No Yeast and No Rising – These buttery rolls don't require yeast and therefore no rising time, meaning you back the biscuit dough and throw it in the oven. Easy peasey!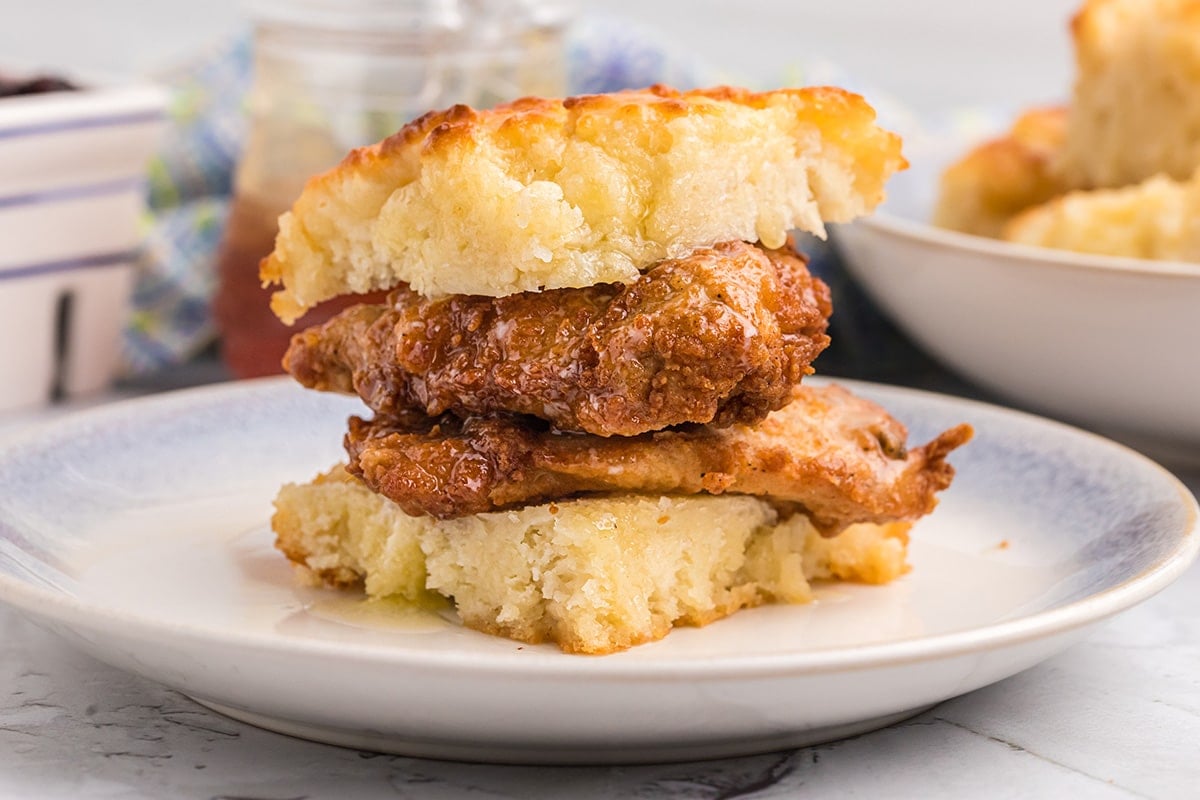 Butter Biscuit Recipe Ingredients
These delicious biscuits only take a handful of simple ingredients that you likely already have on hand with the exception of buttermilk. But I have a solution for that below. Here is the list of things to grab ot make these buttery biscuits.
All-Purpose Flour– Just regular old flour is needed, but if you have self-rising, this can be used too. Simply omit the baking powder and salt. I have not tested this recipe with flour substitutions, but if you do, we'd love to hear about your experience in the comments section.
Buttermilk– Essential for the tangy and rich taste. Some folks have used regular milk, but it was whole milk and they didn't come out quite as sophisticated.
Salted Butter– Yes, I know I don't usually use salted butter, but in this case, you want a lot of butter. These are good, old fashioned homemade buttermilk biscuits and gosh darn it, they are salty! This is also what helps the crispy crust and golden brown tops. And yes, you read that correct, one stick of butter that will result in a pool of butter around the dough.
Baking powder- Acts as the leavening agent and is responsible for the fluffy interior.
Sugar– This caramelizes and helps to balance the other flavors.
Fine sea salt– Or use coarse Kosher salt for a less salty end result. Either way, you will have amazing biscuits.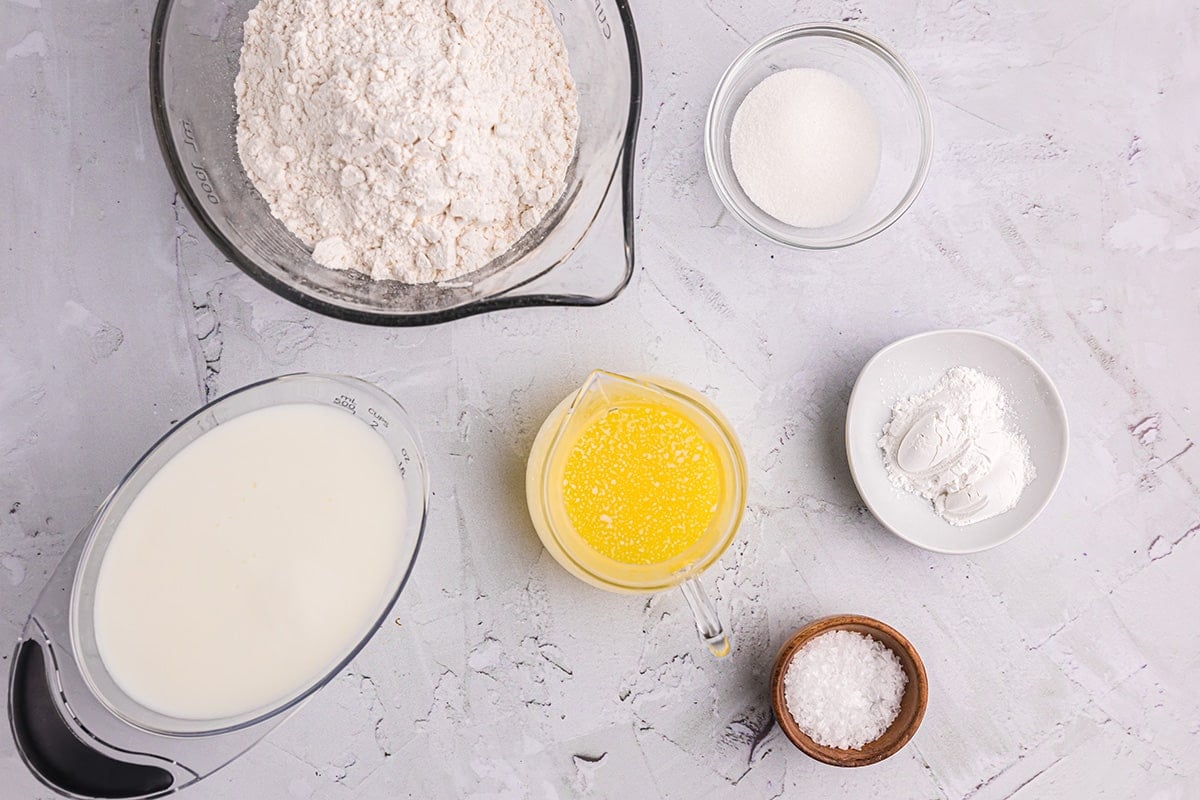 More fun variations include adding 1 teaspoon of garlic powder or onion powder to the dough or melted butter, 1/2 cup of freshly shredded cheddar cheese for cheese biscuits, or using any other cheese you like. Some folks also like making these into sweet biscuits by adding 1/2 cup of fresh fruit like blueberries or raspberries.
How to Make Butter Swim Biscuits
There are a couple of changes I've made while making these recipe. I used a rectangular baking dish instead of square. I felt like the biscuits cooked more evenly instead of having a center biscuit be all doughy. Some also like using a cast iron skillet, which I have not tested.
Secondly, it was impossible to cut the biscuit dough while raw. It is too sticky and won't hold. So I took the biscuits out after baking for 15 minutes and cut them, swishing around the melted butter to get into the cracks.
Prep. Preheat the oven and prep a 11×7 baking dish with cooking spray. Yes, there will be loads of butter, but some of the dough might kiss the sides of the dish and not be butter.
Dry Ingredients. Sift together the dry ingredients so they are evenly combined. If you don't have a sifter, just whisk them together in a large bowl.
Wet Ingredients. Pour in the buttermilk and stir by hand until just combined. Batter will be lumpy and super sticky.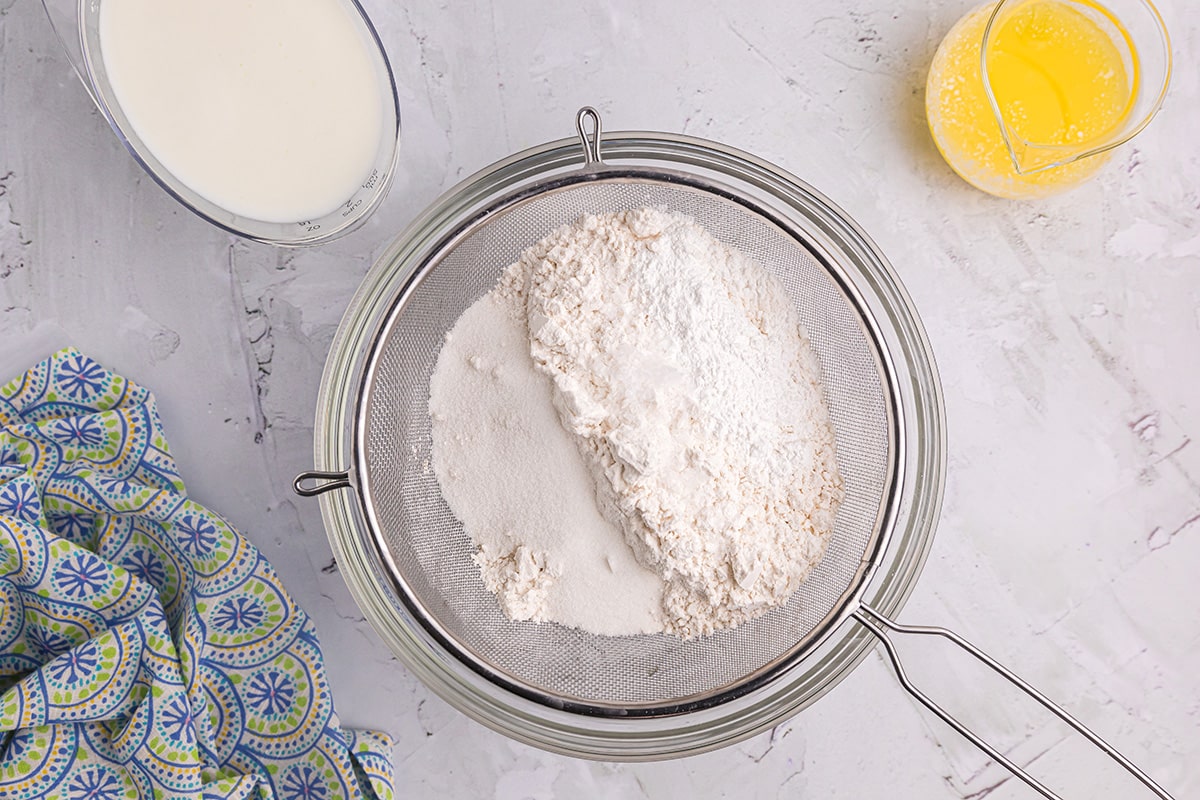 Add the Butter. Melt the butter in a microwave-safe bowl. If you are adding any seasonings, do so at this step.
Assemble. Spread the moist dough to the corners of the dish and then pour melted butter over the top of the dough. Butter will float above in some areas and not in others, that is fine.
Cook. Bake for 15 minutes, remove and cut into 8 large biscuits (like tic-tac-toe) using a sharp knife. If you skip this step, they won't cook all the way through. For best results, use a basting brush to get the butter bubbling up the edges on to the top of the biscuits and in the crevices. Return to the oven to finish baking, about 7-8 minutes or until the the tops are golden brown. The end baking time will vary based on the cooking vessel.
Rest. Allow the baked biscuits to sit for at least 10 minutes before cutting and serving.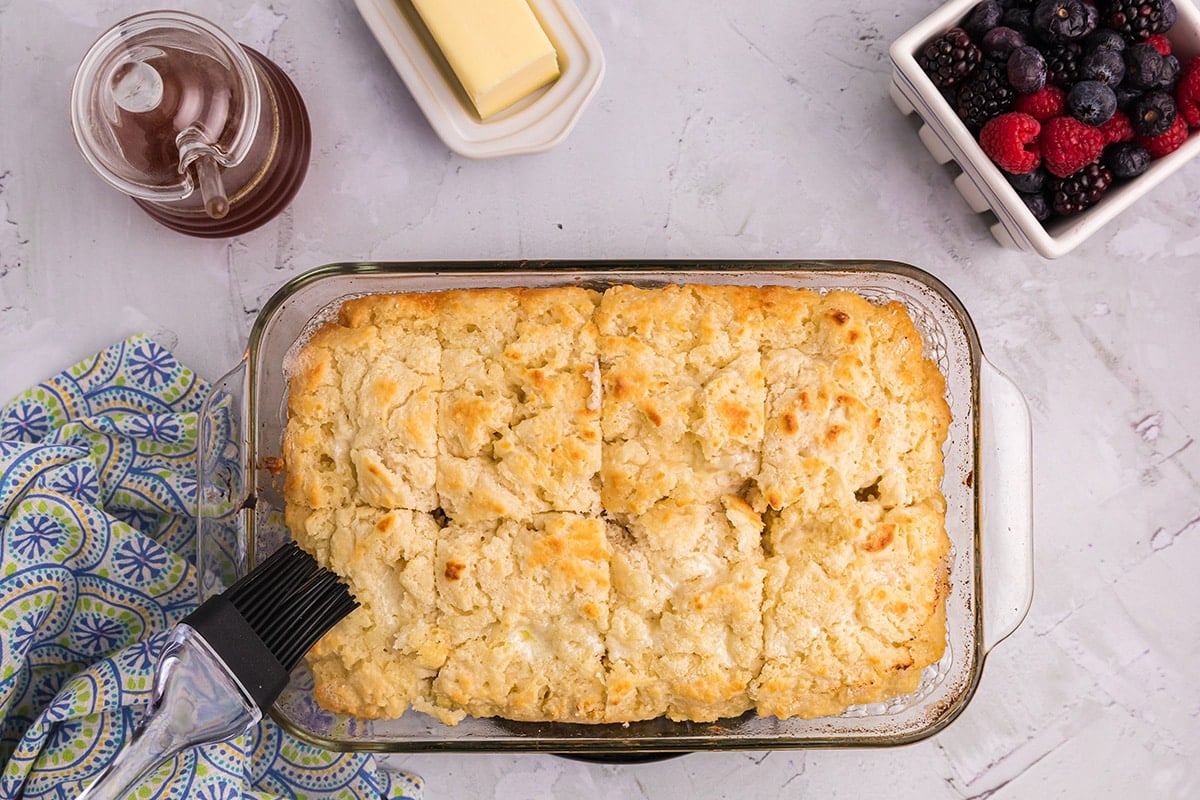 Making this Butter Biscuits Recipe without buttermilk
What is buttermilk? Buttermilk is the liquid byproduct spun off of cream during the process of making butter. The solids make butter and the liquid is buttermilk.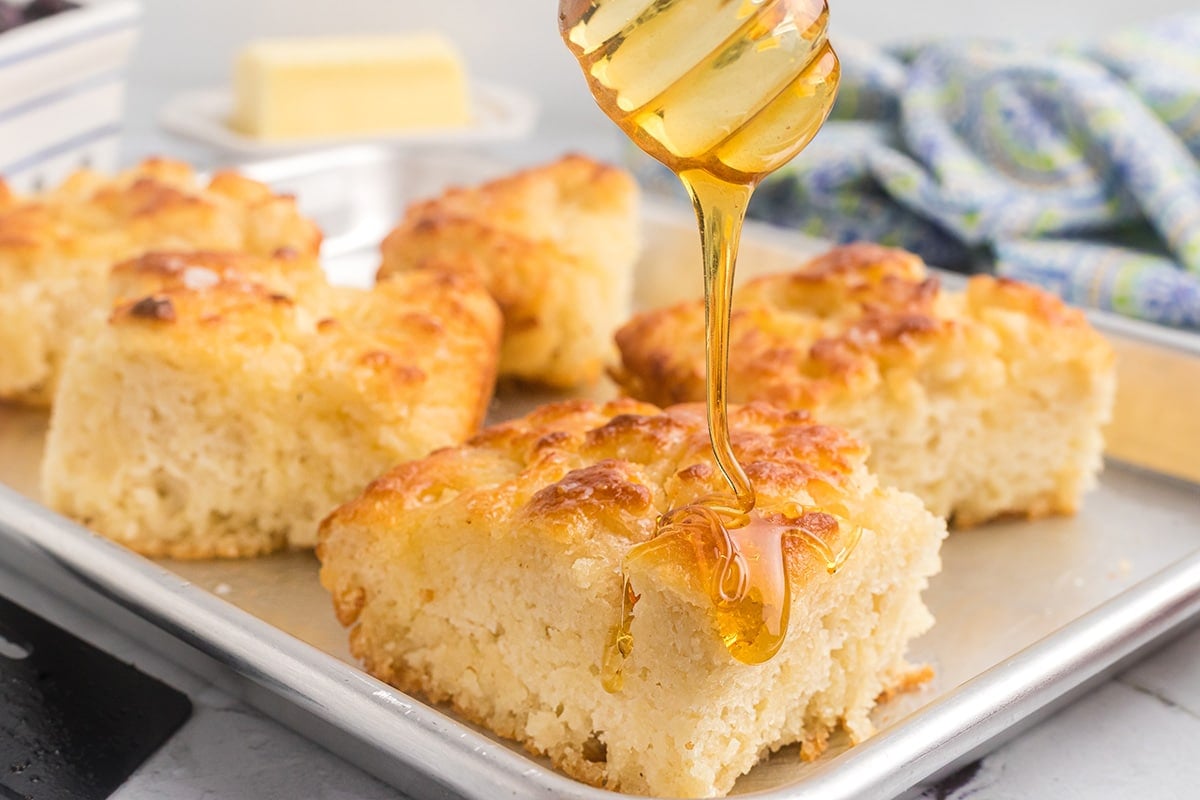 I rarely have buttermilk in the fridge. I don't use it that often, it is expensive and I never need the whole jug. So I keep powdered buttermilk in the pantry, which I used today. I honestly can't tell the difference when it is baked into the recipe.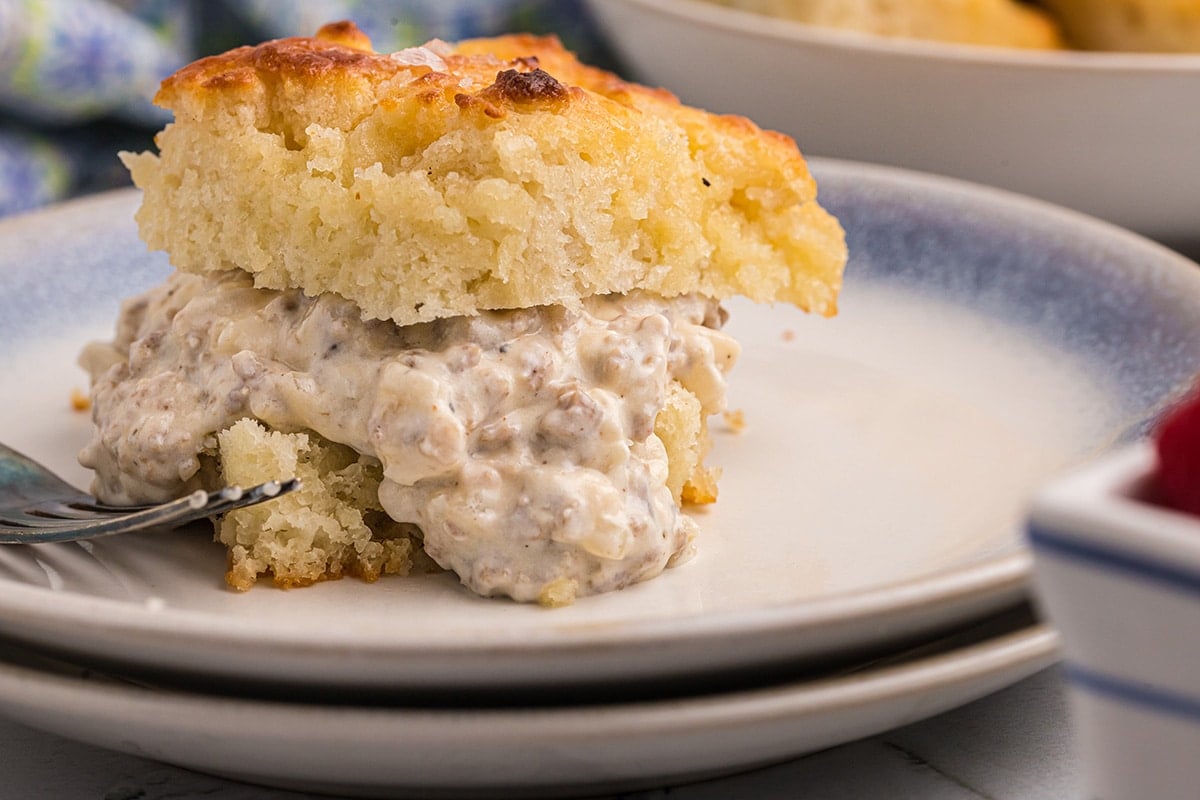 If you don't have buttermilk, you can use these substitutions.
1 tablespoon white vinegar + 1 cup 2% or whole milk
1 tablespoon lemon juice + 1 cup 2% or whole milk
1 tablespoon white vinegar/lemon juice + 1 cup skim milk + 1 tablespoon melted butter
Do not use cream. It not the same thing.
Measure Flour Correctly
I would venture to say that about 75% of people aren't measuring their flour correctly. Too much flour can lead to dry and brittle baked goods and thick, clumpy sauces. Too little can make for doughy and loose recipes.
Here is how to measure flour the correct way.
Stir flour to loosen it in the canister or bag.
Spoon flour into measuring cup. Do not pack it down.
Use the back of a butter knife to even off the top.
Add to recipe.
Simply dipping the measuring cup into a canister of flour packs it down and can result in up to 3-4 ounces more flour than what the recipe calls for.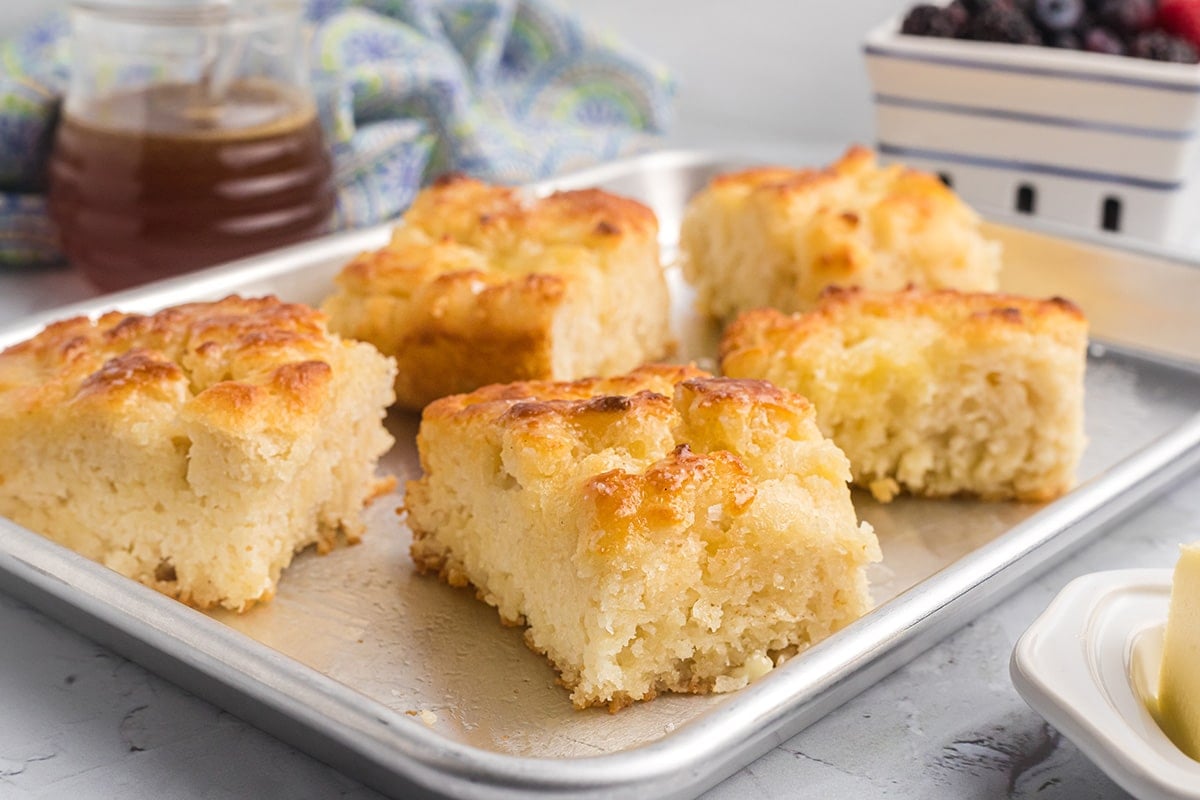 What to serve with this Butter Swim Biscuits Recipe
These easy biscuits really don't need any additional butter after literally taking a butter bath. But if I were to serve them with something, it would be honey butter or molasses butter. Check out all of our flavored butters to find your best match!
A little bit of jam is also a match made in flavor heaven. Homemade cherry jam or strawberry jam are my favorites.
In my house, these biscuits are generally GONE straight out of the pan, but they do have other options: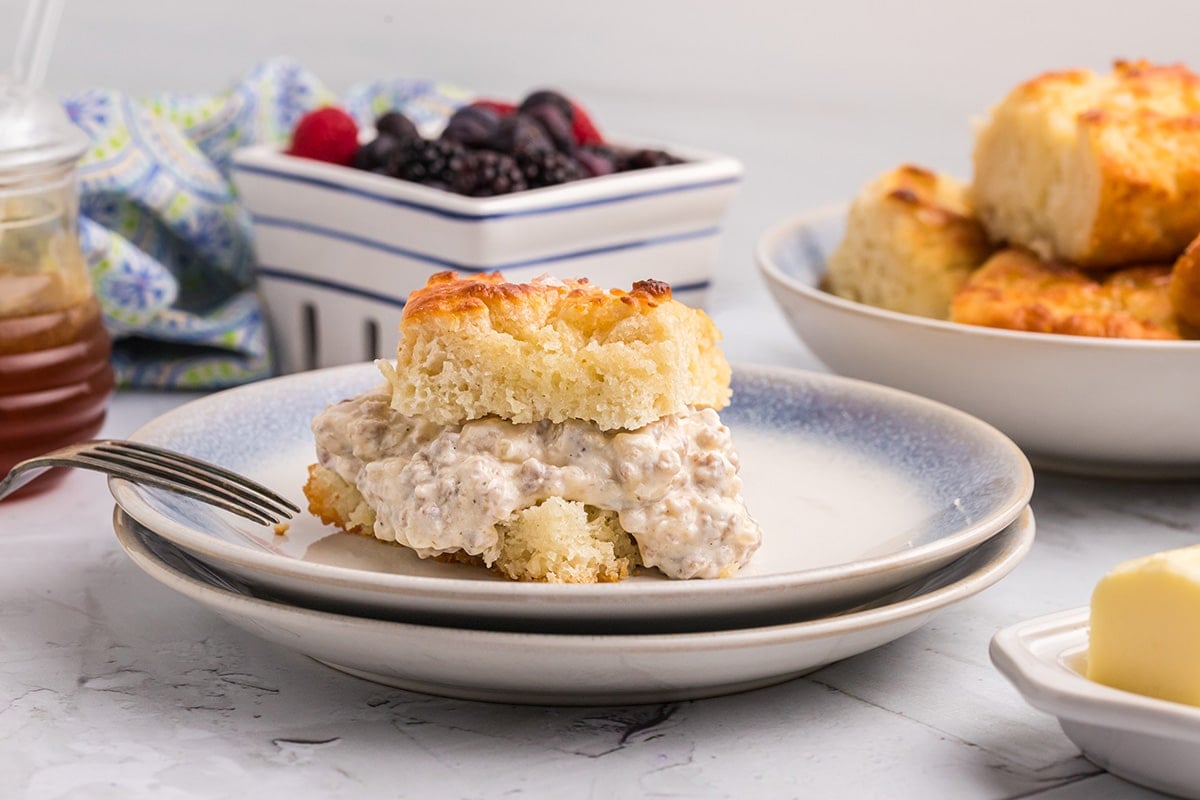 Storing, Freezing & Reheating Swim Biscuits
Storage: Most breads are best enjoyed within the first day of baking. After that, air takes hold and starts to dry out the moist crumb. Luckily, butter biscuits are so drenched and filled with buttery goodness that this process takes a little longer. Store biscuits in an airtight container or plastic bag at room temperature for up to 5 days.
Freezing Biscuits: Wrap cooled biscuits tightly with foil or plastic wrap and then in a freezer-safe plastic bag, pushing out as much air as possible. If they are wrapped tight and air can't get to them, they should remain fresh for up to 4 months. Thaw at room temperature for 1 hours.
Reheating: Breads are often better reheated because the starches recrystallize and over time they lose moisture. Reheating will reactivate the starches and they will revive a bit as fresh.
Using the microwave is convenient, but leaves bread rubbery. To prevent this, wrap in a damp paper towel and heat for 15 seconds at 50% power. Bread can also be reheated in a warm oven for just a few minutes.