Chicken Fried Bacon is thick cut bacon dredged in seasoned flour, like chicken fried steak, and then fried to a golden brown and served with Cream Gravy.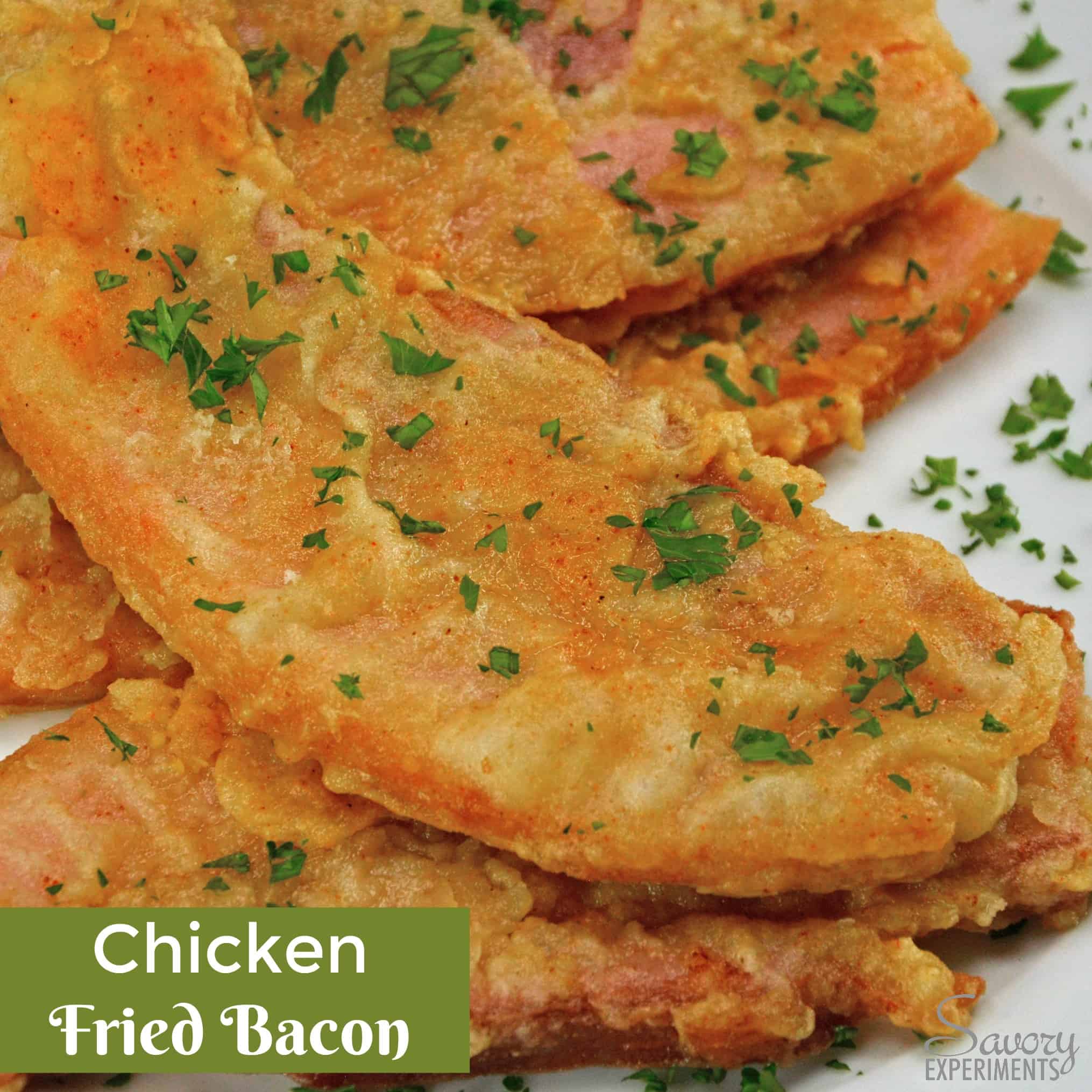 Chicken Fried Bacon, is your mind blown yet? You've heard of chicken fried steak, country fried steak, even the Zac Brown band Chicken Fried. But chances are you haven't heard of Chicken Fried Bacon served with Cream Gravy.
I hadn't either until a few days ago. I had a friend who posted a picture of it on Facebook and I had *mind blown* moment. Was this a novelty? I Googled it. Nope, turns out Chicken Fried Bacon is a dish commonly served in Texas.
Which is odd because I lived in Texas for a period of time and never once heard of it or remembered seeing it on a menu. But, hey, why not. Everything tastes good battered and fried, right?
The technique behind Chicken Fried Bacon is exactly like chicken fried steak. I used a seasoned flour suitable for a fried chicken recipe, but instead of chicken or beef, I used a thick cut bacon. Fry it up golden brown and pair it was a simple cream gravy and there you have it!
I would suggest making sure you have a quality thick cut bacon before proceeding. This recipe won't work with a piece of flimsy, fatty bacon. If you watch the video, you'll clearly see that these bacon strips were no joke. At nearly 1/4 inch thick each with little fat, they were perfect for the job. I got these special from the meat counter.
The cream gravy recipe is as simple as it gets. The flavor comes from developing a nutty flour and butter mix known as a roux. The deeper the color and more fragrant it gets, the better flavor of your gravy.
I also go heavy on the pepper for my cream gravy. Feel free to season it however you'd like or even use duck fat or rendered bacon grease instead of butter.
I used light cream, as it doesn't need to be heavy or whipping to get thick after using a roux, but you can certianly substitute those in if you'd like. If you gravy gets too thick, remove it from the heat and add milk by the tablespoon until it thins to your desired consistency.
Tools for making Chicken Fried Bacon with Cream Gravy:
If you like our Chicken Fried Bacon, you'll like these other comfort food recipes:
If you liked this Easy Dinner Recipe, snag a copy of my Easy Dinner Recipes Mini-Cookbook. Available here for only $0.99, here is a small collection of time-saving, hearty and satisfying dinners guaranteed to get you in and out in 30 minutes or less!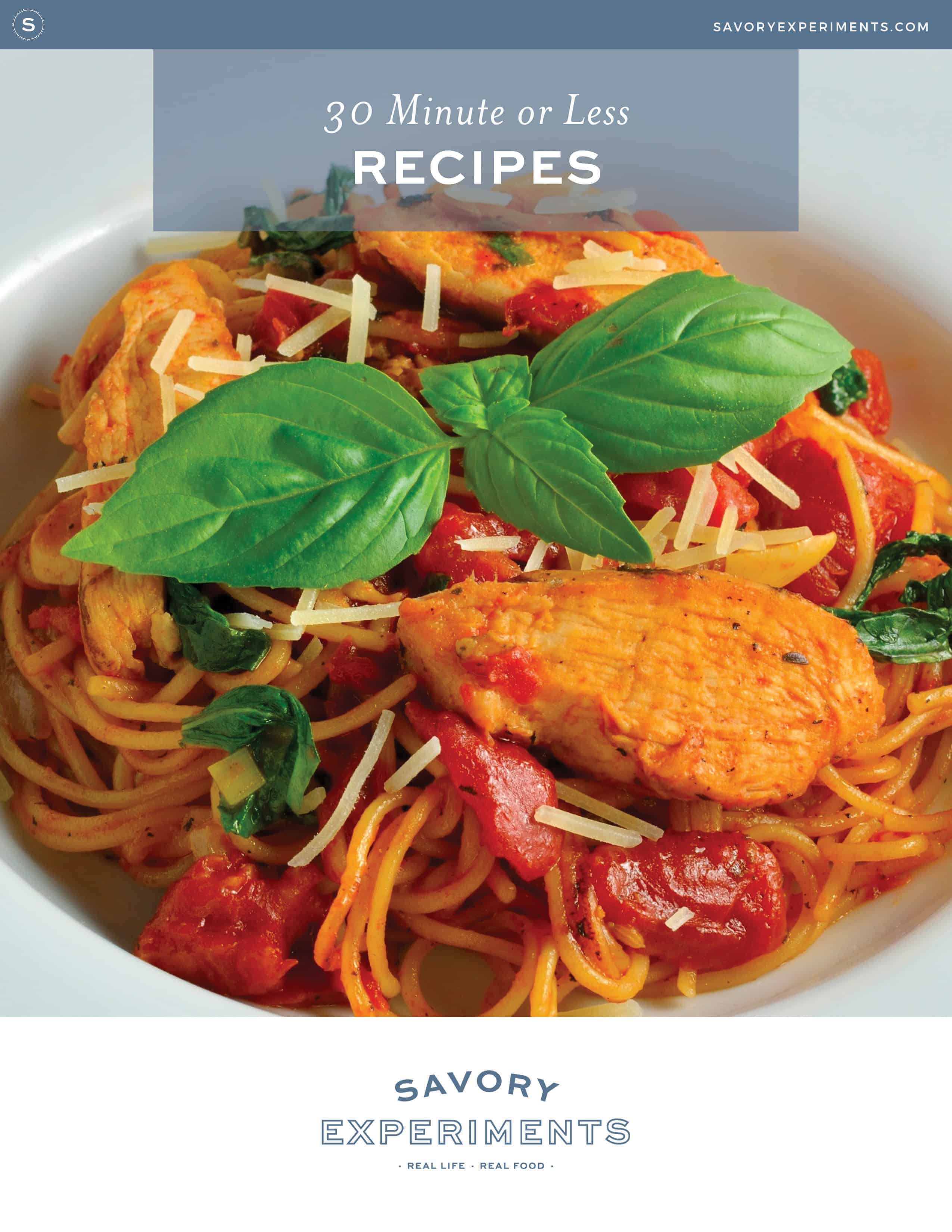 Chicken Fried Bacon
Chicken Fried Bacon is thick cut bacon dredged in seasoned flour and egg, like chicken fried steak, and then fried to a golden brown and served with Cream Gravy.
Course:
Appetizer, Breakfast, Side Dish
Ingredients
Chicken Fried Bacon:
1

pound

thick cut bacon

cut in half

1

egg

1/2

cup

milk

1

teaspoon

garlic powder

1

teaspoon

onion powder

1/2

teaspoon

smoked paprika

3/4

cup

flour

Vegetable oil

for frying
Cream Gravy:
3

tablespoons

unsalted butter

3

tablespoons

flour

2

cups

cream

1

tablespoon

ground black pepper

2

teaspoons

fine sea salt
Instructions
Whisk egg and milk together in a shallow dish or pie plate.

In a different shallow dish, mix together flour, onion powder, garlic powder and paprika.

Dredge each strip of thick cut bacon in egg, then flour and repeat. Set aside.

Heat oil in a frying pan over med-high heat.

Fry until each strip is golden brown. The cooking time vary greatly based on the thickness of your bacon. The average will be about 4-5 minutes per strip. Flip halfway to ensure even browning.

To make cream gravy, melt butter in a heavy bottom sauce pan over medium high heat. Add flour, whisking together until it forms a paste. Continue to whisk until it turns a dark brown and smells nutty.

Whisk in cream, ground pepper and salt.

Continue to whisk for 2-3 minutes or until cream gravy starts to thicken Remove from heat.

Serve cream gravy with chicken fried bacon.
Recipe Video
Recipe Notes
Adapted from food.com.
Nutrition Facts
Chicken Fried Bacon
Amount Per Serving
Calories 1107
Calories from Fat 891
% Daily Value*
Total Fat 99g 152%
Cholesterol 304mg 101%
Sodium 1990mg 83%
Potassium 423mg 12%
Total Carbohydrates 30g 10%
Protein 22g 44%
* Percent Daily Values are based on a 2000 calorie diet.