When those dark sweet cherries come into season, it's hard not to eat them by the bowl full. Making cherry jam is a great way to preserve them so we can enjoy them all year long.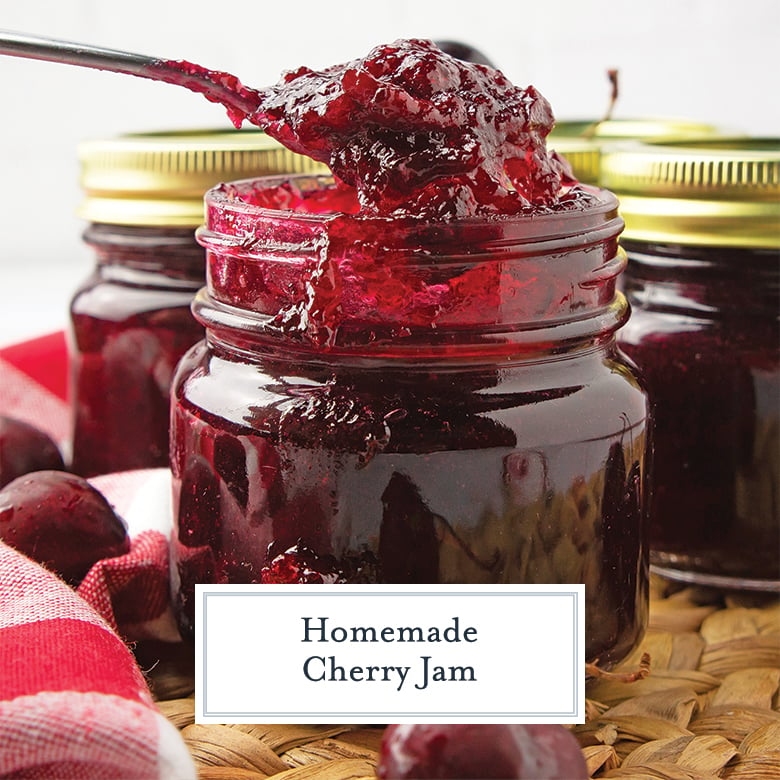 Enjoy Cherry Season longer with this Sweet Cherry Jam Recipe
There are few fruits that I like better than a fresh sweet cherry. When the season begins (usually late June- late July), cars literally clog the country roads near my house, all lined up to get first pick at the u-pick orchards.
Sadly their season is also far too short! Thankfully, with a very easy cherry jam recipe, both you and I get to enjoy them for a much longer time that nature wants us to.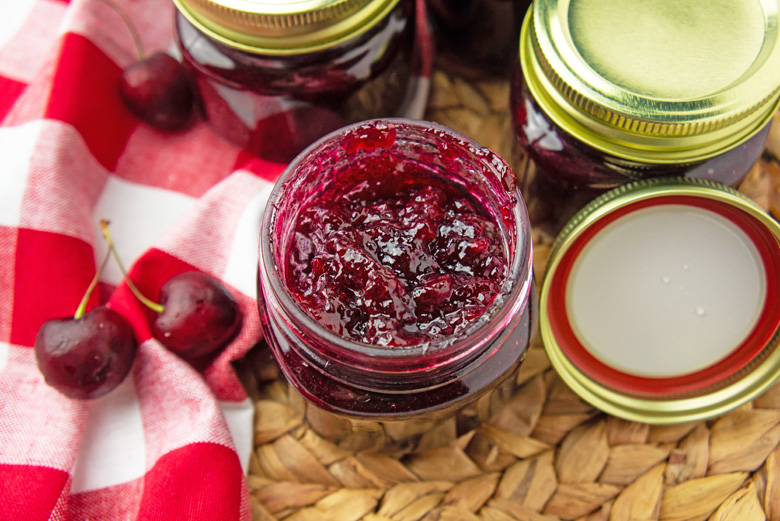 Even better, I'll let you in on a secret for those winter months when you're scraping the bottom of that last jar of jam…you can actually make most homemade jam recipes with frozen fruit. This one included!
PRO TIP: To use frozen cherries to make jam, thaw them in a bowl in the fridge first and pour off the water that collects in the bottom of the bowl. It will cause your jam to set too loose!

Also be sure to check for pits, sometimes manufacturers miss them!
Cherry Jam Recipe with Pectin Ingredients
The best part of any homemade jam recipe is that they're easier than stores would have you believe. This one is made with just a few ingredients:
Cherries – What type of cherries you use is up to you. Rainier, bing and black are the most popular cherries for making jam. Some are tart while others are sweet.
Sugar – acts as a preservative, but also aids the natural sugars and pectin to make the texture we call jam.
Lemon juice– acid helps balance and brighten the flavors.
Vanilla– (optional) but adds warmth and aroma.
Pectin– helps to thicken without over cooking.
With one pot and a bit of boiling and stirring, your cherries will transform into a sugary thick jam that'll have you craving pb&js all week long.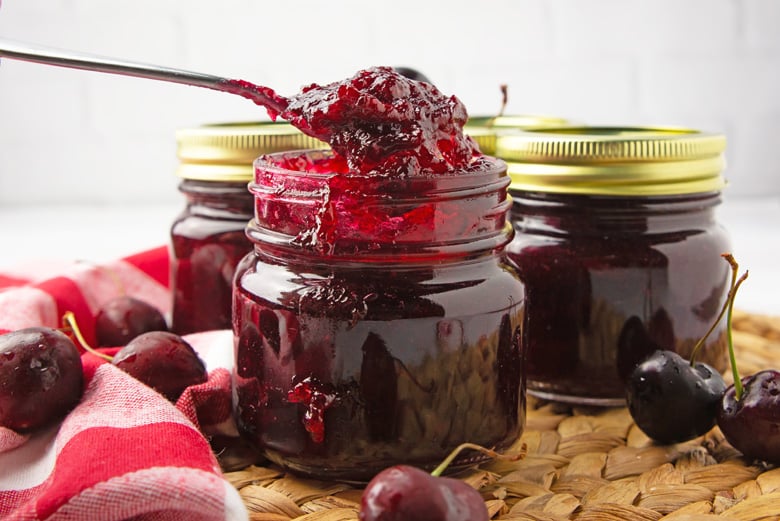 What is pectin?
Pectin is an essential, naturally occurring carbohydrate that causes thickening when combined with acid and sugar. Cherries are very low in natural pectin so adding commercial pectin helps the jam set faster and prevents the cherries from becoming chewy and tough from long cooking times.
Can I make this without pectin? Years and years ago, before commercial pectin, our great grandma's surely made jam without pectin. To do so you'll need to cook all your ingredients at once until your jam reaches 220°F.
Be sure to use a jelly thermometer to not overcook it. If canning, proceed as usual.
However, cherries contain almost no natural pectin, so cooking them to this temperature causes the cherry chunks in the jam to become chewy and sticky. I recommend using pectin for a more pleasant texture of the fruit in your cherry jam.
Can I use regular pectin instead of low-sugar pectin? Low sugar pectin is as readily available in major supermarkets as regular pectin and using less sugar allows the beautiful vanilla flavors to shine.
If you prefer to use regular pectin, add the whole amount of sugar at the very end, opposed to in stages. In other words, add all the sugar after the jam comes to its first boil.
How to Make Cherry Jam
Pit and chop all your cherries. If using frozen, chop once thaw. Collect any juice that's released from chopping and add that to the pot.
Combine your chopped fruit, lemon juice, vanilla, pectin, and ¼ cup of the total sugar in a large wide pot over medium high heat.
Cook until at a rolling boil that doesn't stop even when stirring.
Add in the remaining sugar while stirring. Continue stirring gently until the jam boils even as you stir. Begin timing and cook for exactly one more minute.
Remove from heat and if not canning the jam, allow to cool slightly then ladle into storage containers. Allow to cool further until cool enough to handle, then store in the fridge for up to 1 month.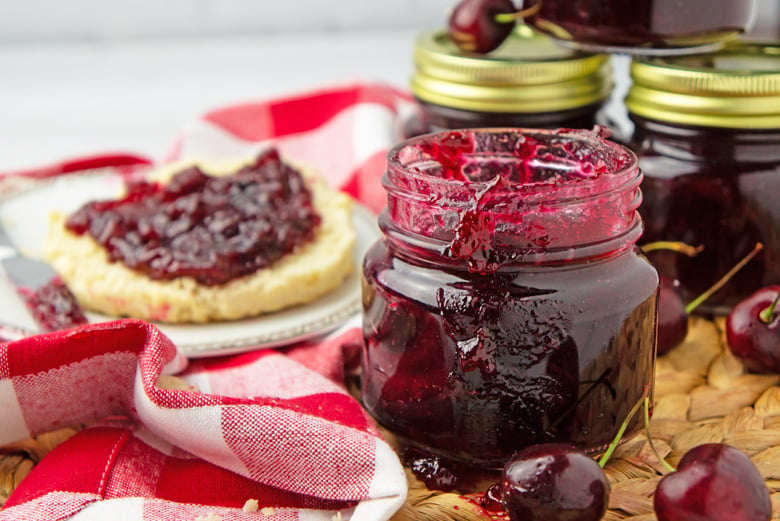 Canning your jam is the best way to make sure your jam lasts as long as possible. It takes just a few extra steps and allows you to store all of your jam in the cupboard for up to 18 months.
What you'll need to can Homemade Cherry Jam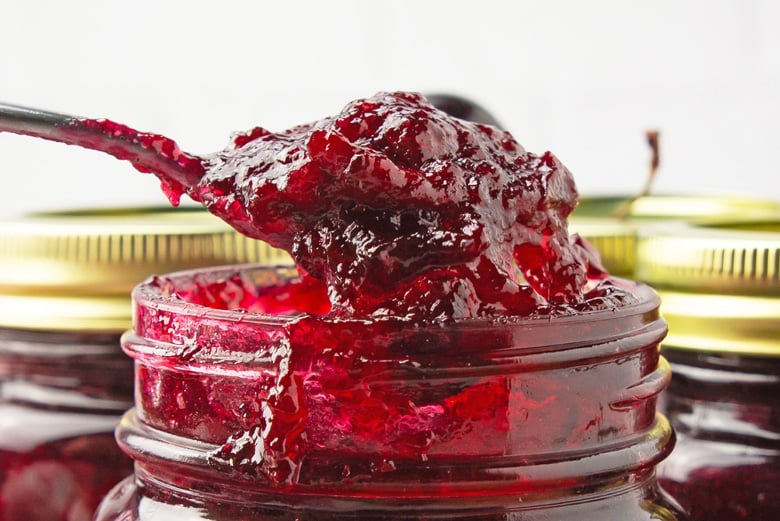 How to can cherry jam:
Before you start cooking your jam fill a large pot with the canning rack with enough water to cover your canning jars by 1 inch. Bring it to a boil over high heat.
While your jam is cooking place your jars in the pot of boiling water for a minute or so to warm them up. This prevents cracking from a temperature difference when you add the hot jam to them.
Remove them from the water with your jar clamps and place them on a towel upside down to let the water run out.
When your jam is done, flip the jars over using your hand protection, they'll still be hot. Using your funnel and ladle, fill jars immediately with your hot jam, leaving ¼" of space between the rim and the jam.
Place seals on and using your hand protection, screw on the lids as tightly as you can. Then use your jar clamps to submerge the jars in the boiling water again.
Allow to 'process' in the boiling water for 10 minutes. Remove and set them on a towel, (they'll be very hot!) and leave them at room temperature until each lid has 'popped'.
Do I need to sterilize my jars, seals, and lids?
No, as long as you're processing your canned jam for 10 minutes in boiling water there is no longer any need for sterilizing your jars and seals before adding your jam. Be sure to use new seals.
Tips for the Best Cherry Jam
Wipe the rims of your jars clean with a warm, damp paper towel and then dry them before placing your seal. Any jam that gets stuck there can stop the jar from sealing safely.
You'll know the jars are ready for the cupboard when you hear a 'pop' of the seal locking. You can also check this by pushing down on the center of the seal. If it clicks, it isn't done yet. This can take up to 24 hours, so be patient!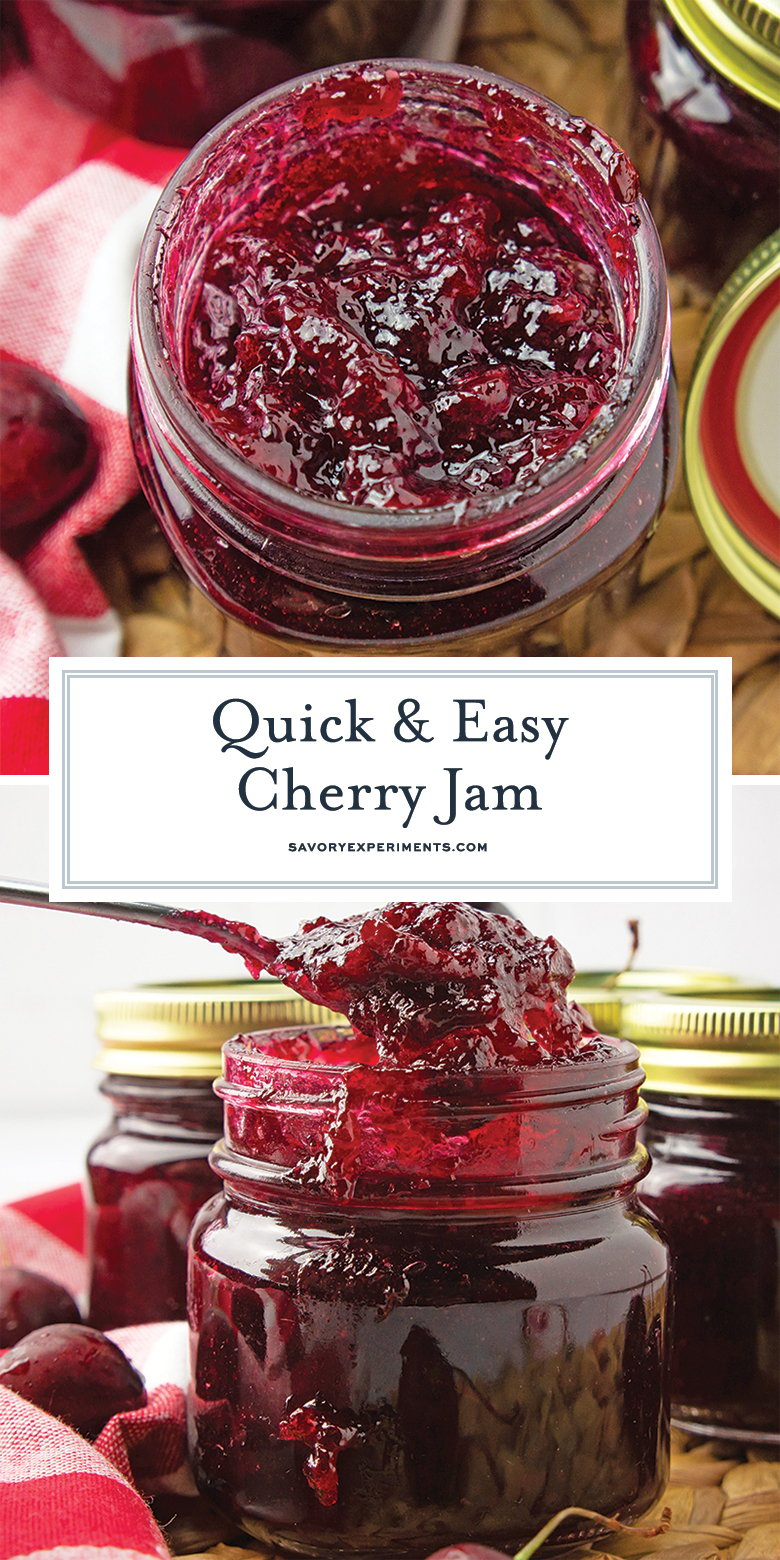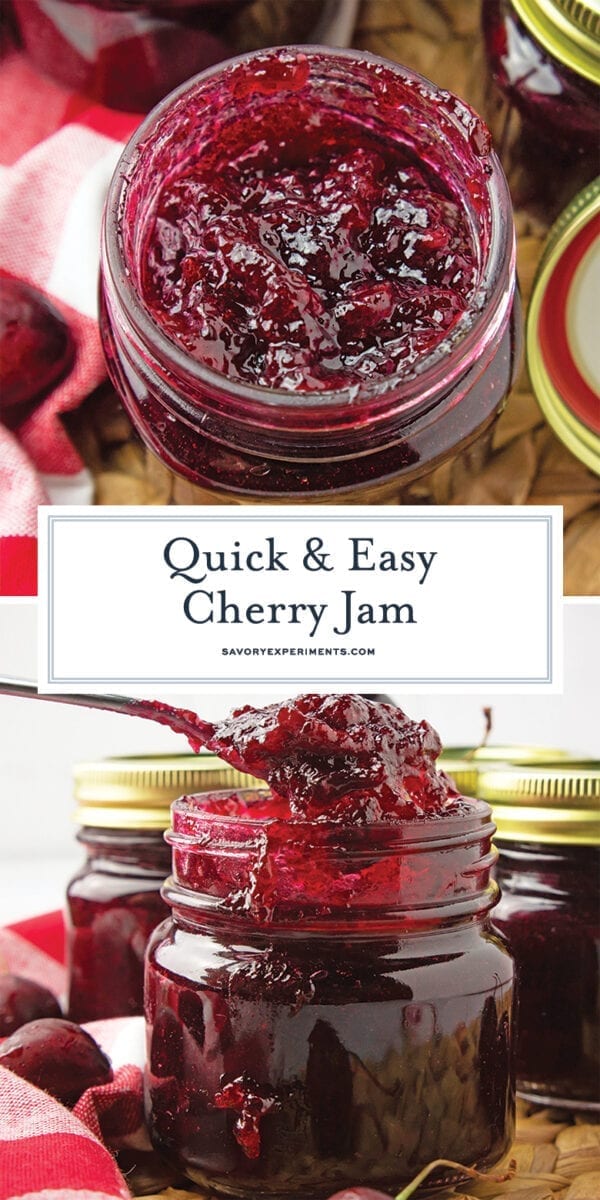 Sweet Cherry Jam Recipe Serving Suggestions
Cherry Jam has so many uses! The most obvious and common is to smear it on biscuits, toast, English muffins or a bagel.
It can also be dolloped onto pancakes or waffles, stirred into yogurt or made into a lovely ribbon through vanilla or chocolate ice cream.
But you can also use it in baked desserts and pastries that call for any type of fruit jam. It can even be used for layer cakes or filling in donuts.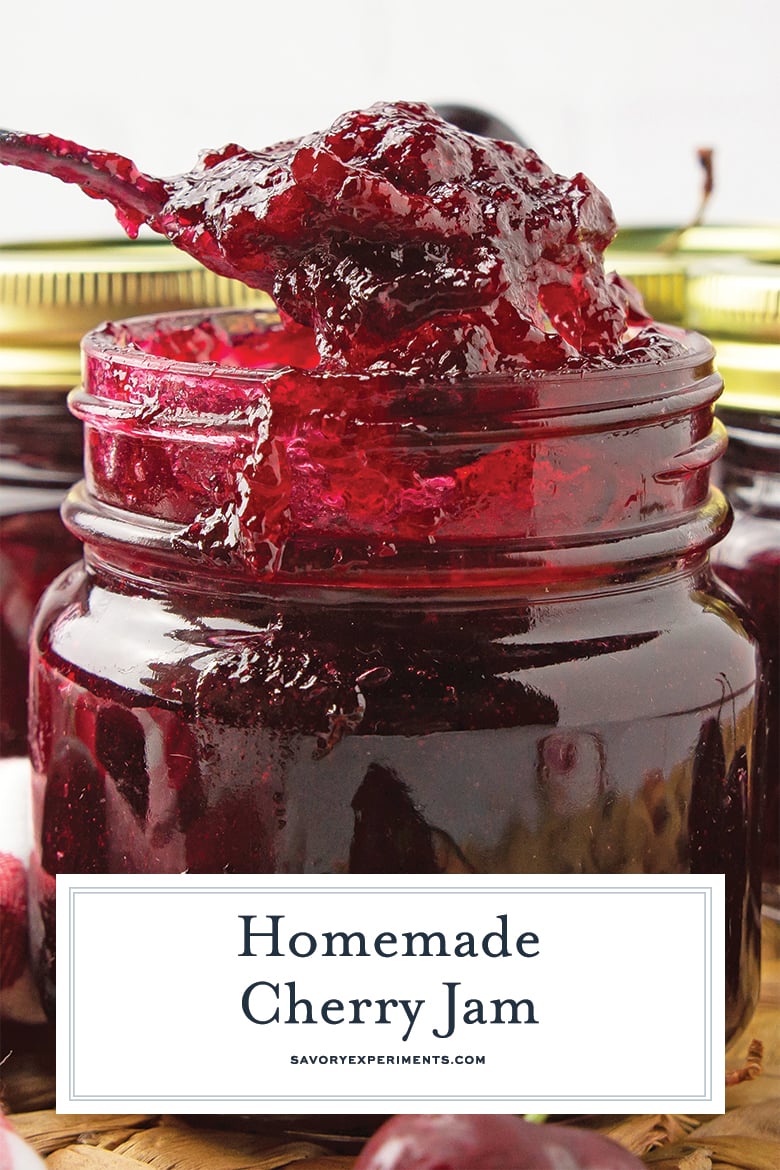 How to store this Cherry Preserves Recipe
And that's it! Simple ingredients and simple steps to gooey sweet cherry jam that's full of warm vanilla flavors and just enough tartness to keep you eating by the spoonful!
Now that you have 4 gorgeous jars of homemade jam, and the options for using it are endless. Here are a few of my favorite suggestions on how to use it!
As a glaze on meat like pork tenderloin, meatloaf, or roasted duck.
Served with soft cheese and crackers as an appetizer.
Stirred in with yogurt for a healthy breakfast!
Spooned warm over vanilla ice cream!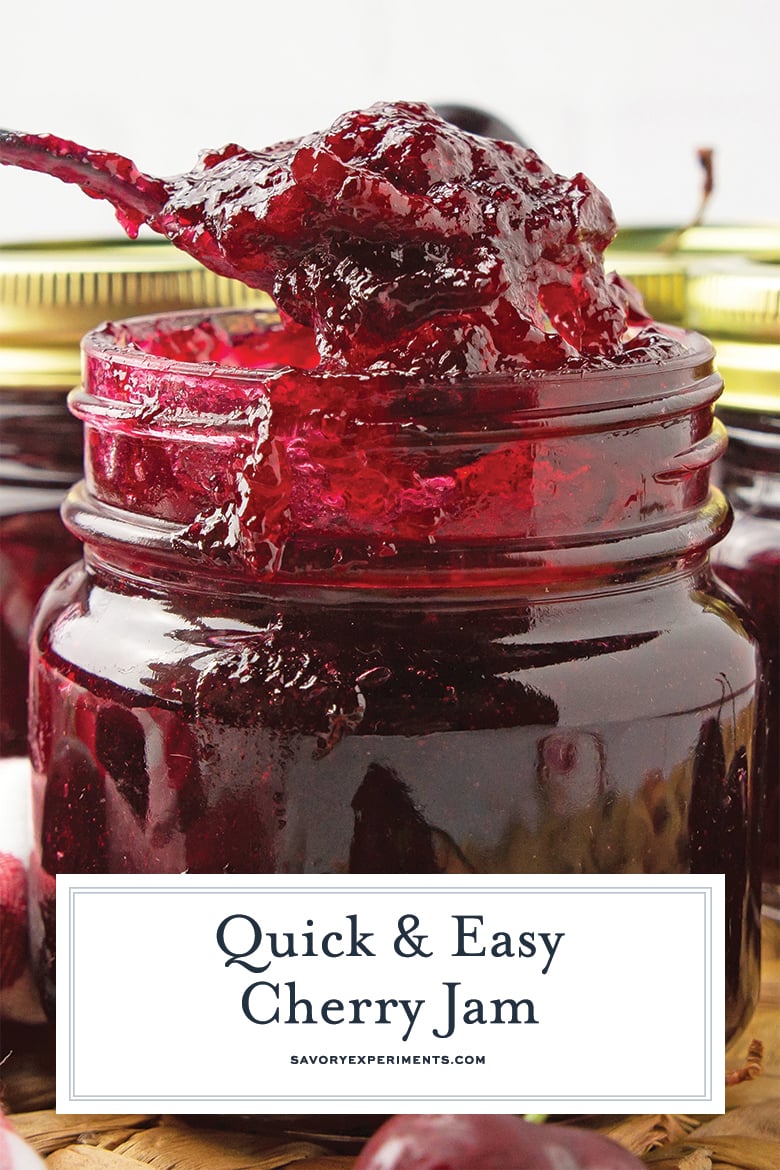 Can I freeze Cherry Jam?
Yes. To freeze jam I recommend cooking it to a looser set than traditional jam. Simply cook for 45 seconds rather than 1 minute after you add the pectin.
Then transfer to freezer safe jars or containers and allow to cool completely before sealing and transferring to the freezer. You can keep it for up to 1 year.
Cherry Jam FAQs
What type of cherries are best for jam?
The most common cherries used in jam are Montmorency, Morello, Rainer and Bing. It depends on your flavor preference and the intent for the jam. Tart cherries like Montmorency or Morello are often used to balance sugar and not be overly sweet, but sometimes the objective is for a super sweet jam, so Rainer or Bing are used.
Do Cherries have high pectin?
Cherries do not have high pectin, which is why additional pectin is used in this recipe.
Is Cherry Jam and Cherry Preserves the same?
Generally speaking, the two can be used interchangeably. By definition, jam is smoother, using mashed fruits, while preserves is often a coarser chop with larger bits of fruit present.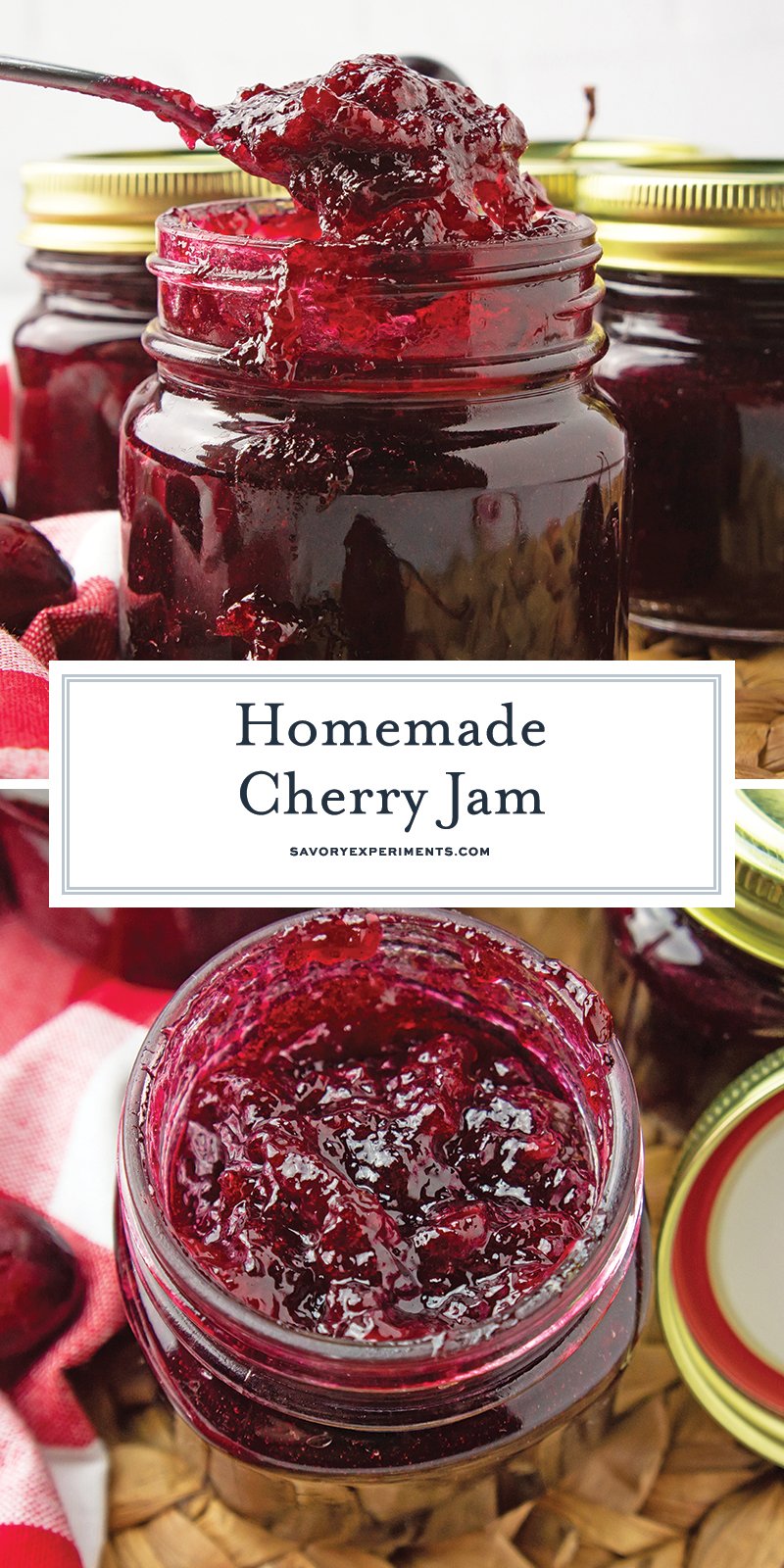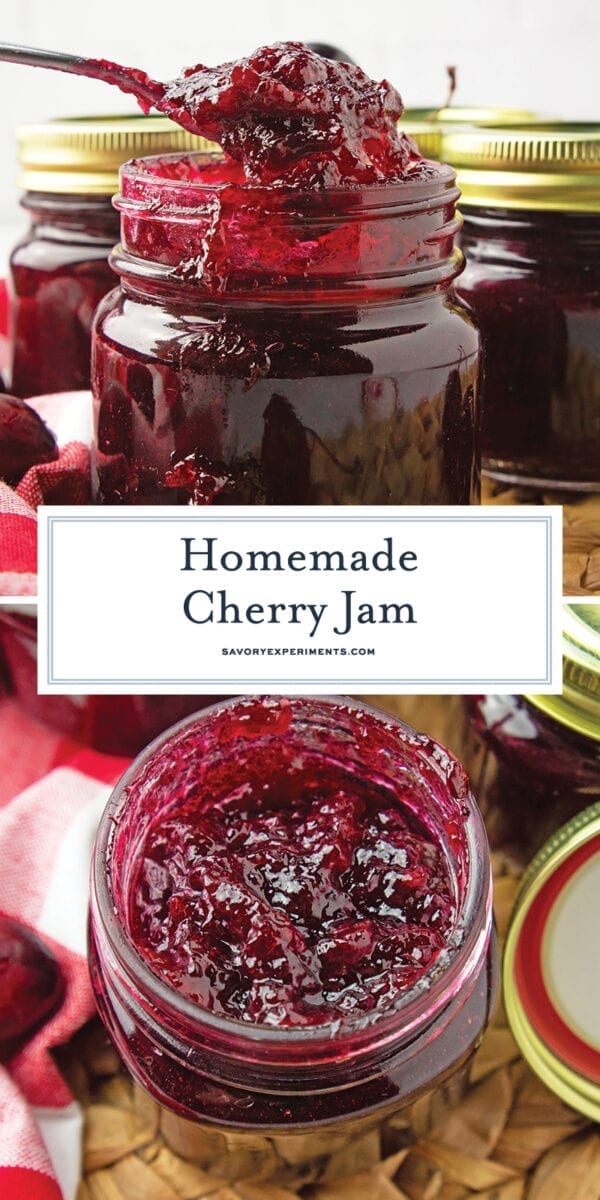 If you liked this cherry jam recipe, you might also like these recipes: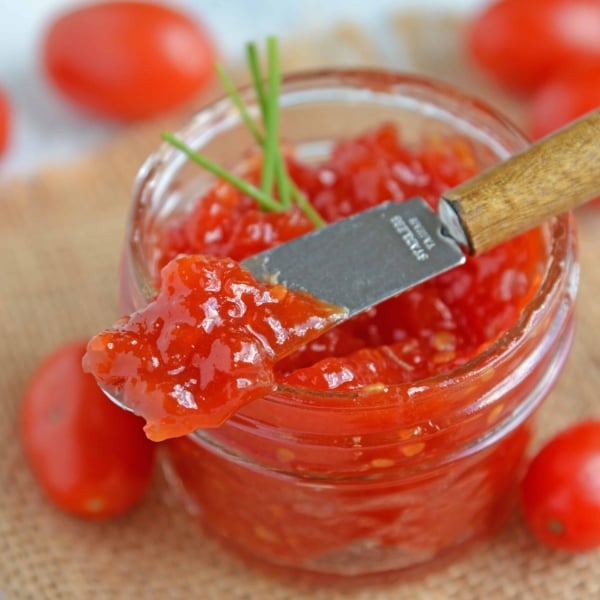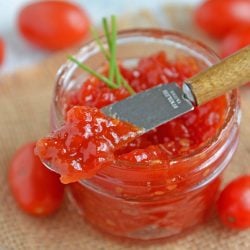 Tomato Jam Recipe
Tangy and sweet, tomato jam is excellent on everything from grilled cheese to deviled eggs, adding a balanced acidity that will complement a wide variety of other foods.
View this recipe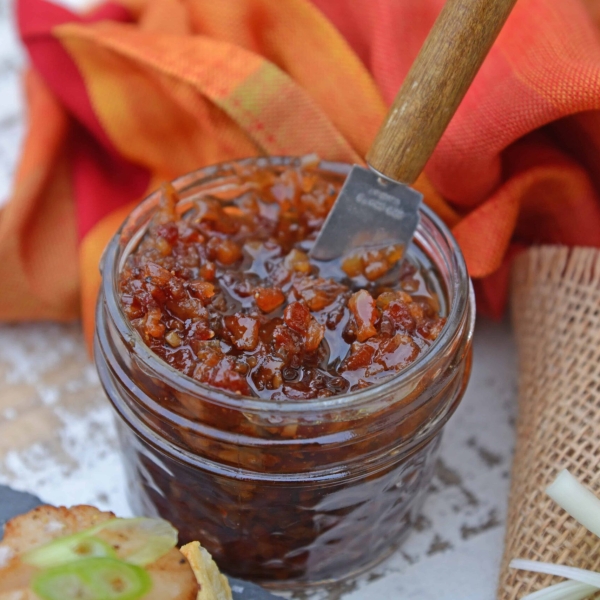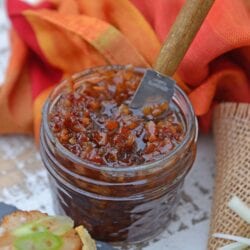 Bacon Bourbon Jam
My Bourbon Bacon Jam Recipe will change the way you see jam. This jam is sweet and savory and also happens to be the most versatile condiment around.
View this recipe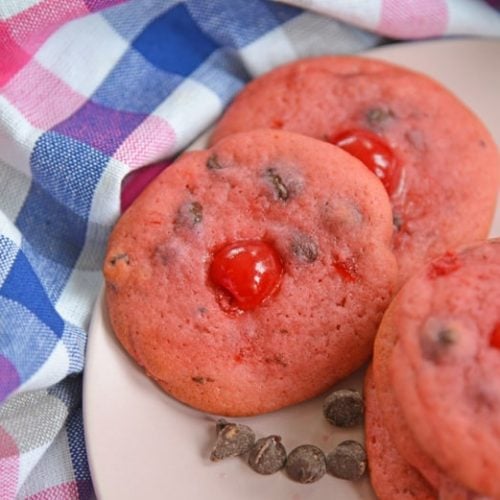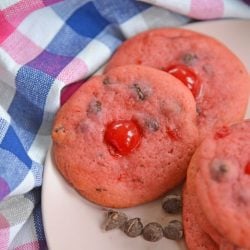 Cherry Chocolate Chip Cookies
A homemade cookie recipe doesn't get much better than these Cherry Chocolate Chip Cookies! Chocolate and cherry just belong together!A homemade cookie recipe doesn't get much better than these Cherry Chocolate Chip Cookies! Chocolate and cherry just belong together!
View this recipe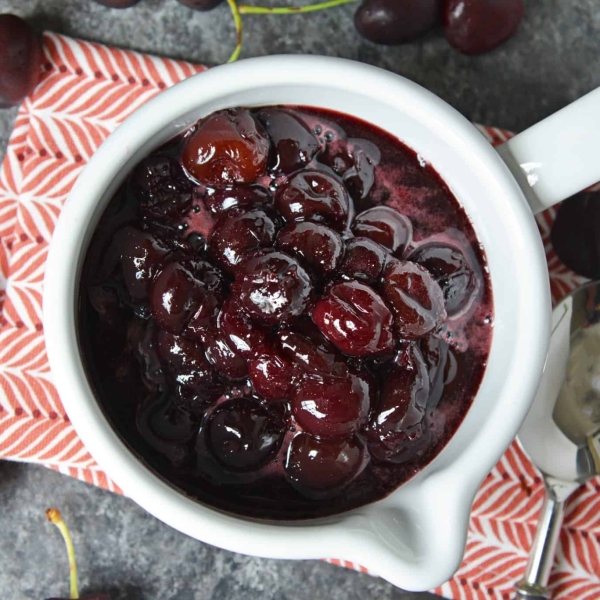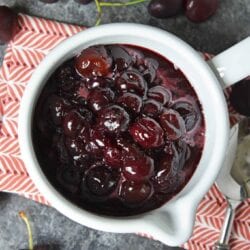 Fresh Cherry Sauce
This Fresh Cherry Sauce is a yummy way to use fresh cherries. Spoon over ice cream, cake, waffles and more!
View this recipe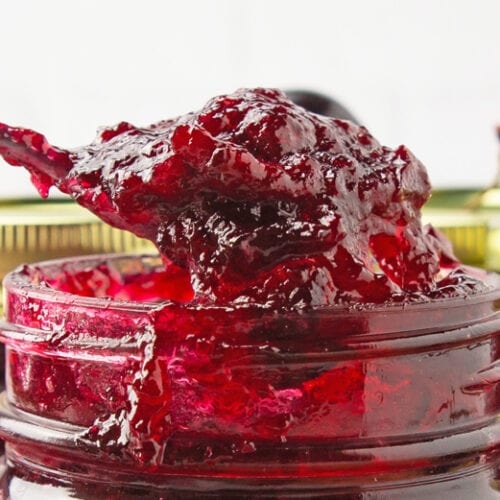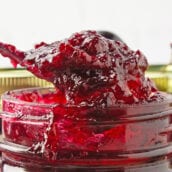 Sweet Cherry Jam Recipe
Whether you're a seasoned pro or learning how to make homemade jam, this cherry jam recipe is easy and addictive. With canning instructions included you can whip up a batch and be enjoying a vanilla infused sweet cherry jam in 45 minutes.
Ingredients
5

cups

sweet cherries

, pitted and chopped (about 2.5 lbs)

2 1/2

cups

white sugar

3

tablespoons

lemon juice

1

vanilla bean

, split with seeds scraped, or 3 teaspoons vanilla extract

1

package low-sugar pectin
Instructions
Pit your cherries and chop into small chunks, add all the chopped cherries and any juice released from chopping into a large, wide pot.

Add the lemon juice, vanilla bean and seeds, pectin, and ¼ cup of sugar to the cherries and stir to combine.

Heat over high heat while stirring gently until it comes to a complete full boil that doesn't stop even while you stir.

Add the remaining sugar and continue to stir gently until the jam returns to a full boil again that doesn't stop as you stir.

Once it hits that full boil, time the jam for exactly 1 minute, continuing to stir. Then remove from heat.

If not canning your jam, allow to cool slightly then place in storage jars or containers and allow to cool further then seal and refrigerate for up to 1 month.
Canning instructions:
Before beginning to cool your jam, fill your canning pot with enough water to cover your jars by 1 inch and bring to a boil over high heat.

Before your jam is finished cooking, place place your open jars into the pot of boiling water to heat them up.

Remove from water after a minute or so and flip upside down onto a towel. Use your jar clamps and hand protection as the jars will be hot.

When your jam is finished cooking, flip jars right side up and use your funnel and ladle to fill each jar, leaving only ¼ inch of space between the rim and jam.

Wipe rims clean with a damp paper towel then dry them before placing your seals.

Use your hand protection to place the seals and screw on the lids as tightly as possible. Submerge the jars in the boiling water and allow to sit in boiling water for 10 minutes.

Remove from water and let the jars sit at room temperature until the lids have popped, so the lid doesn't click or move when you press on the middle. When the jars have popped and cooled, store in a cupboard for up to 18 months. Once opened, refrigerate and use in 1 month.
Nutrition
Calories:
599
kcal
,
Carbohydrates:
154
g
,
Protein:
2
g
,
Fat:
1
g
,
Saturated Fat:
1
g
,
Sodium:
2
mg
,
Potassium:
395
mg
,
Fiber:
4
g
,
Sugar:
147
g
,
Vitamin A:
110
IU
,
Vitamin C:
16
mg
,
Calcium:
22
mg
,
Iron:
1
mg