Everyone's idea of the perfect breakfast sandwich is wildly different. For some, it is the classic combination of bacon, egg, and cheese while others always opt for ham or even sausage. This Avocado Breakfast Sandwich has an extra special something!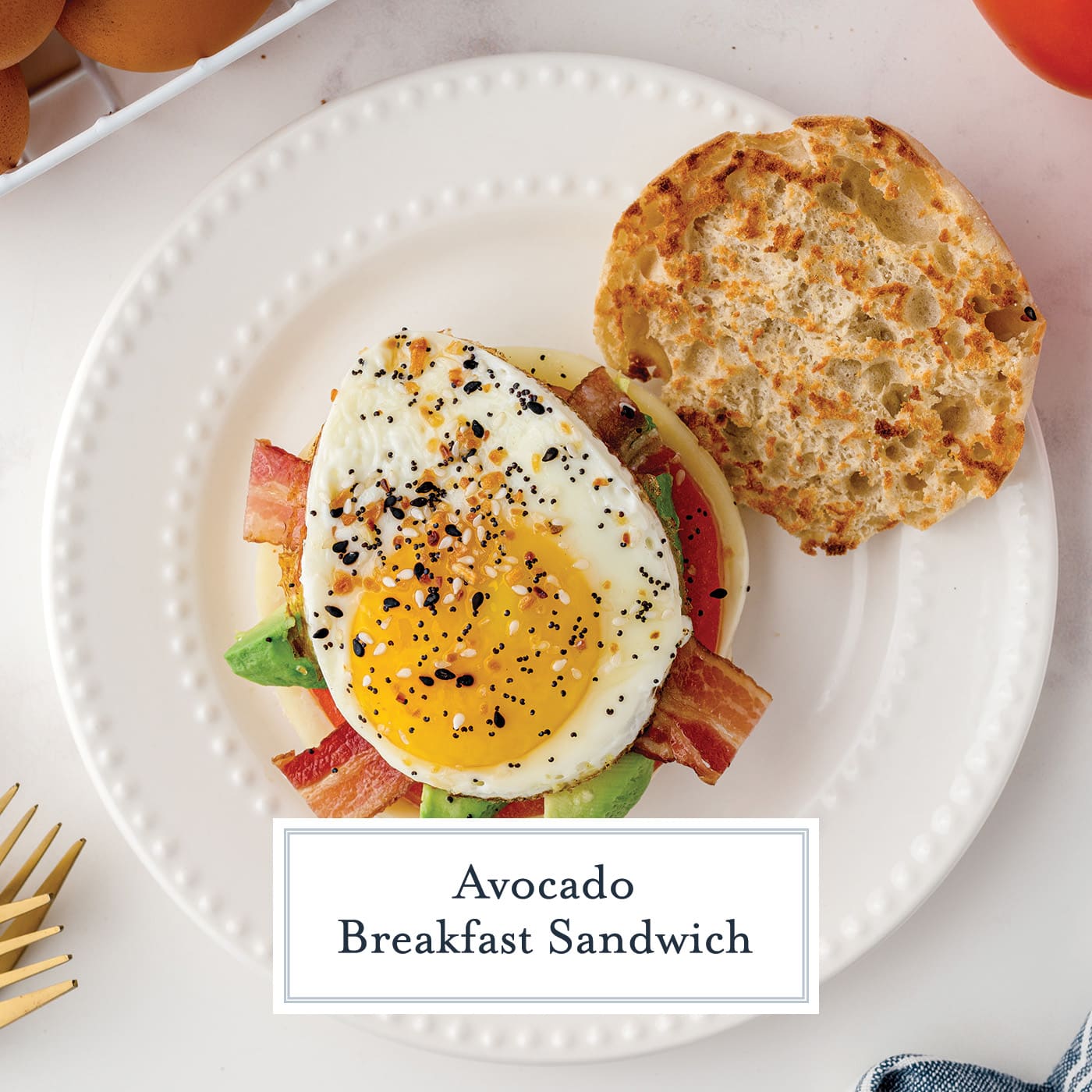 Eggs are a whole nother aspect. Some are in the scrambled camp and there are those that swear by a fried egg with a runny yolk.
Then there is my sister-in-law who hates eggs and forgoes them and doubles up on the cheese. And don't even get me started on bread.
I am sure it is debatable but this is my version of the BEST breakfast sandwich.
The key to a make or break breakfast is the condiment you choose. I know those that are ketchup crazy and it got me thinking. What if I went with a Sweet Tomato Jam? It is my secret weapon.
A little sweet, a little tangy, and very much like ketchup, but that much more delicious. Pair that with creamy avocado, an egg, crispy bacon, and provolone cheese and you have a winning sandwich.
Tomatoes are not your jam? You could go double up on the bacon and try this recipe with my Bourbon Bacon Jam recipe. A sure-fire way to start the day.
But don't stop there. You can also have breakfast for dinner (or lunch), brinner, if you will. It is the perfect meal on-the-go. And, of course, you can still make this sandwich even without the swanky breakfast sandwich maker.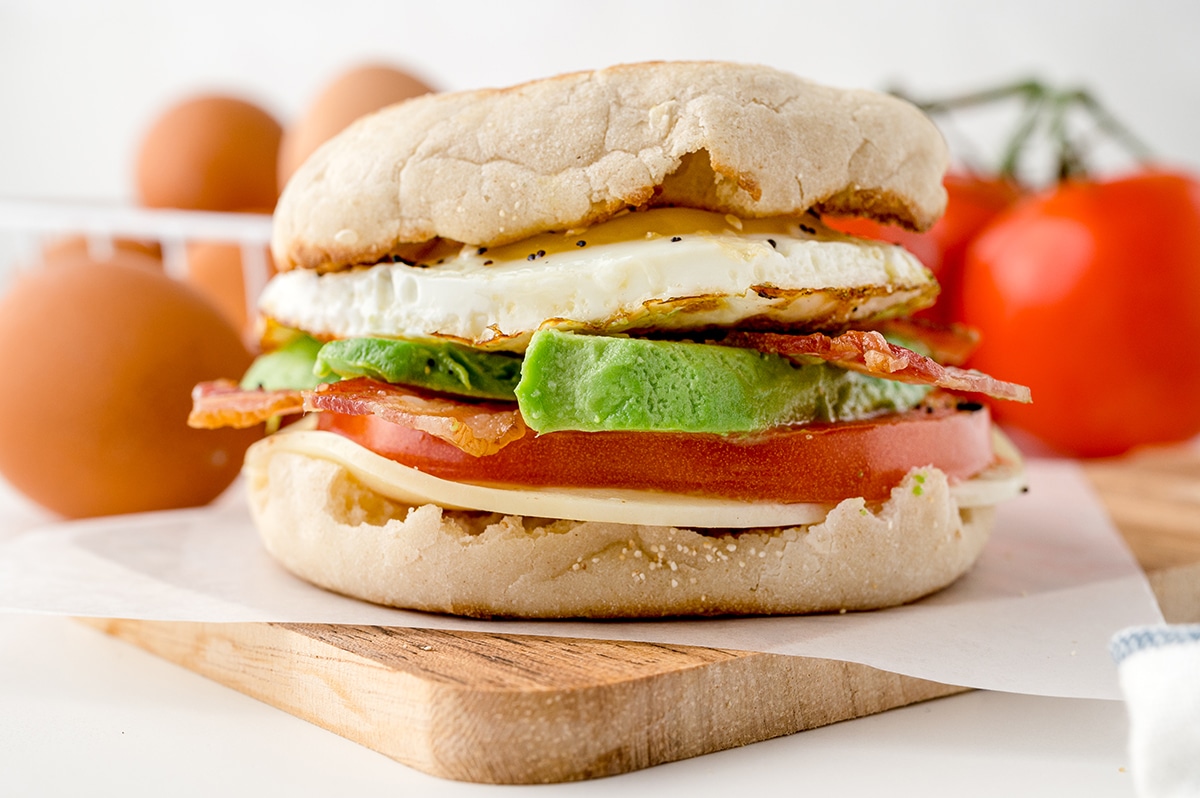 Avocado Breakfast Sandwich Ingredients
English muffin – A toasted english muffin is the best choice as a base for any breakfast sandwich. They're easy to pop in the toaster and hold together better than a slice of bread.
Tomato – This is an optional ingredient, but I love the acidity and flavor that a slice of fresh tomato adds to this sandwich.
Avocado – The addition of avocado not only has health benefits, but it makes this breakfast sandwich have an excellent creamy and soft bite. A ripe avocado only lasts so long, so make sure you are using a fresh avocado. Smashed avocado works just as well as slices of avocado.
Provolone cheese – Provolone cheese adds a nice flavor and creaminess to our sandwich. You can use any cheese you'd like or omit all together.
Egg – You can't have an avocado egg sandwich recipe without a fried egg! I like to keep mine a little runny in the center so that it drips down the sandwich, Divine!
Bacon – I like my bacon crispy, but cook yours to your liking. I also find that it fits onto the sandwich better when the slices of bacon are cut in half.
Everything bagel seasoning – I like to think of this as my secret ingredient. It adds so much flavor and dimension, and its an easy and delicious way to take this sandwich up a notch.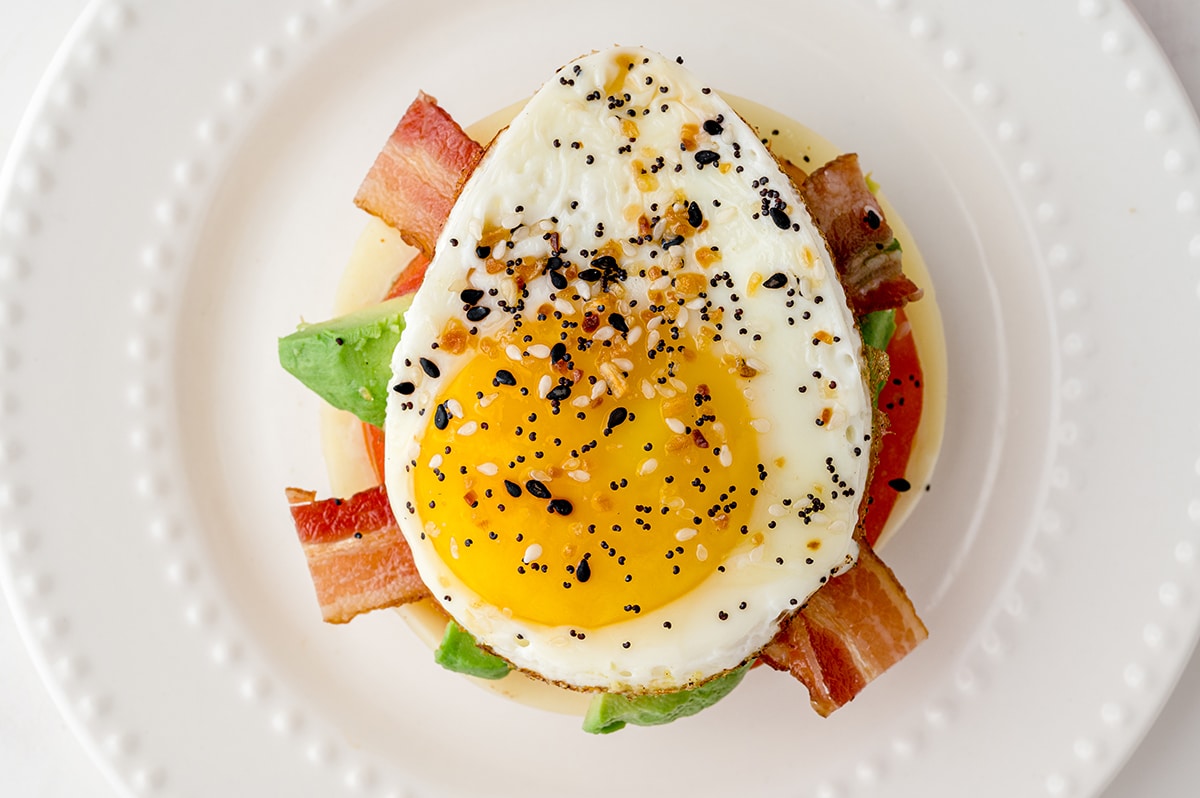 How to Make Avocado Breakfast Sandwich
Prepare english muffin. Toast the English muffin, set aside.
Cook elements. Fry your egg how you'd like it. Cook bacon until crisp.
Assemble. Assemble the sandwich by assembling a slice of tomato, avocado, slice of provolone, bacon, fried egg and a sprinkle of everything bagel seasoning.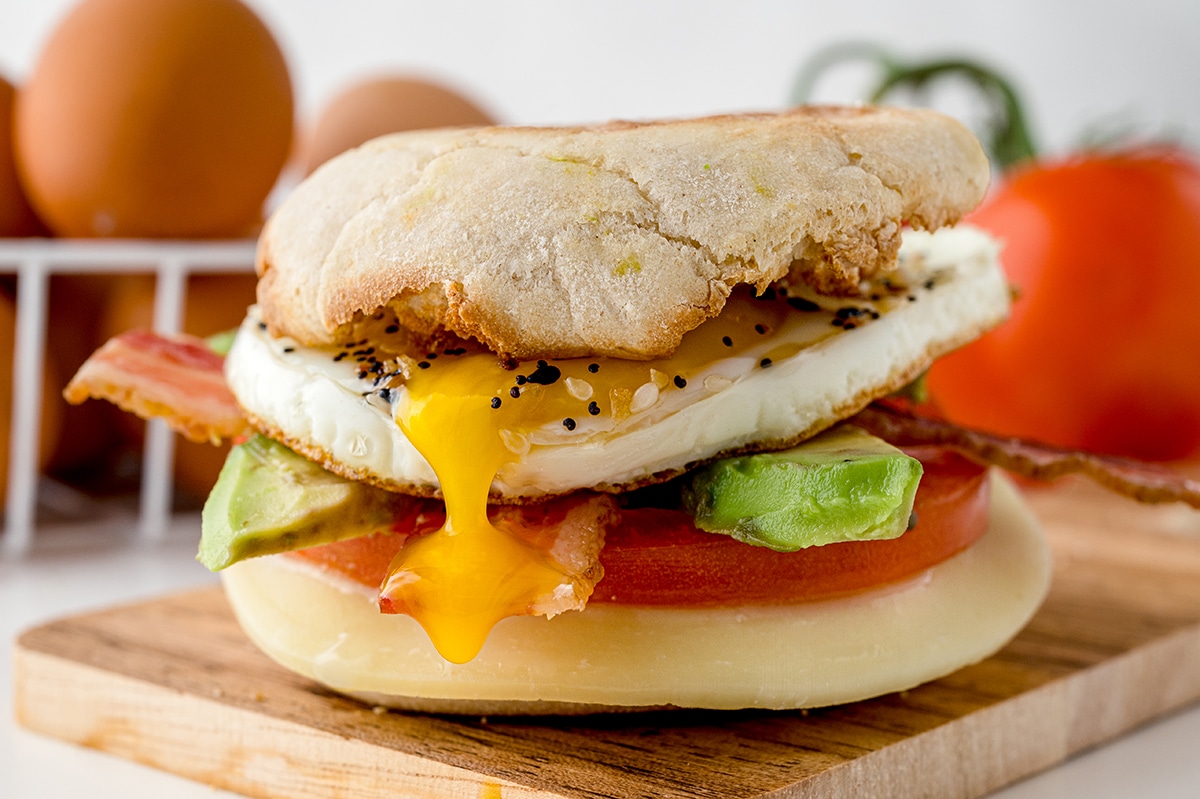 Variations
Add a little spice – You can top your sandwich with some red pepper flakes, hot sauce or even a slather of pepper jelly to add a nice kick to this delicious breakfast sandwich.
Greens – If you'd like to add a little more green than just avocado slices, think about adding some micro greens, a layer lettuce or spinach into the mix.
Egg – You can make your egg any way you prefer it. Egg whites are great if you're trying to keep this a healthy breakfast.
Bread – Instead of an english muffin, you can use a bagel, a croissant, whole wheat bread, or biscuits to make your egg sandwiches.
Toppings – The additions you can add to this sandwich are endless. Try adding some red onions, lime juice or lemon juice for different ways to change it up.
Cheese – I like provolone on my avocado breakfast sandwich, but use your favorite! Cheddar cheese or swiss cheese would be great alternatives. Or leave the cheese off all together.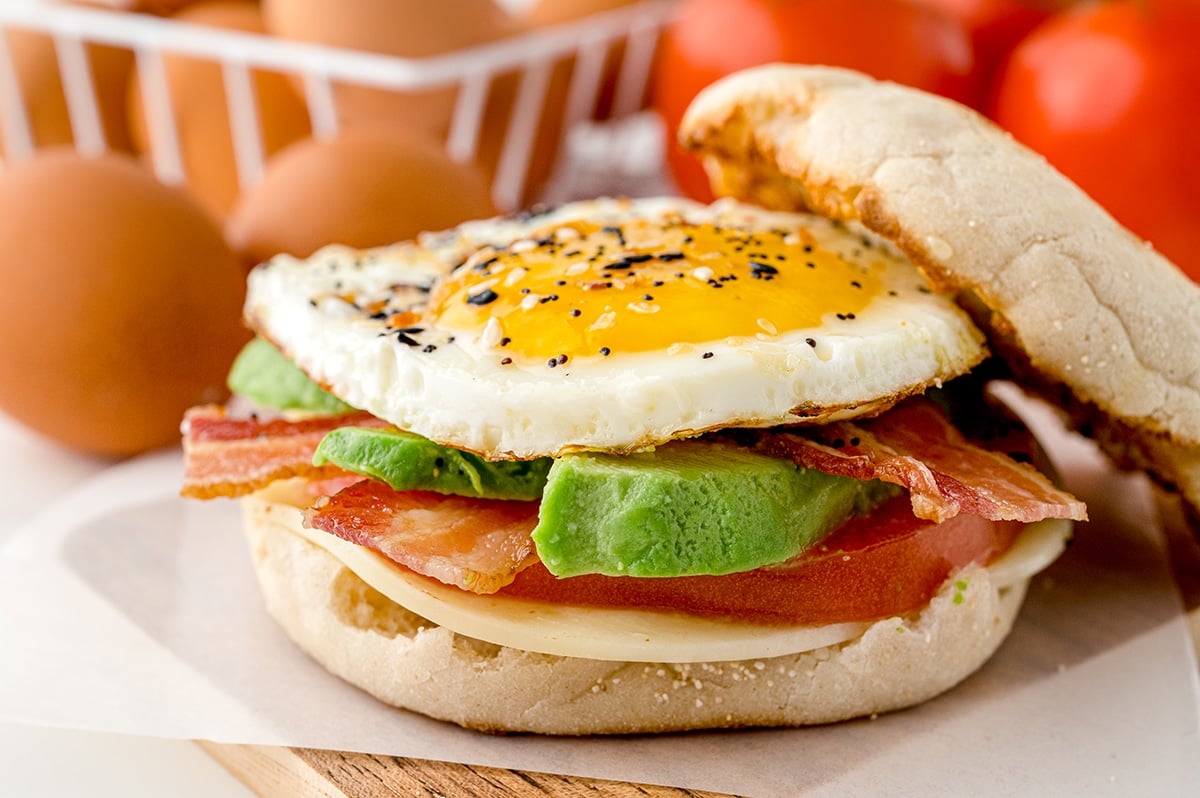 Storage and Freezing
Storage: Because this recipe makes only one avocado breakfast sandwich, there shouldn't be any leftovers. Simply wrap the sandwich in aluminum foil and enjoy it on your way out the door.
Freezing: You can also batch cook these sandwiches and store them in the freezer for a quick grab-and-go breakfast perfect for busy mornings. Make a batch of sandwiches and wrap them individually in the freezer to grab and go. All you have to do is give them a quick warm-up in the microwave at the office.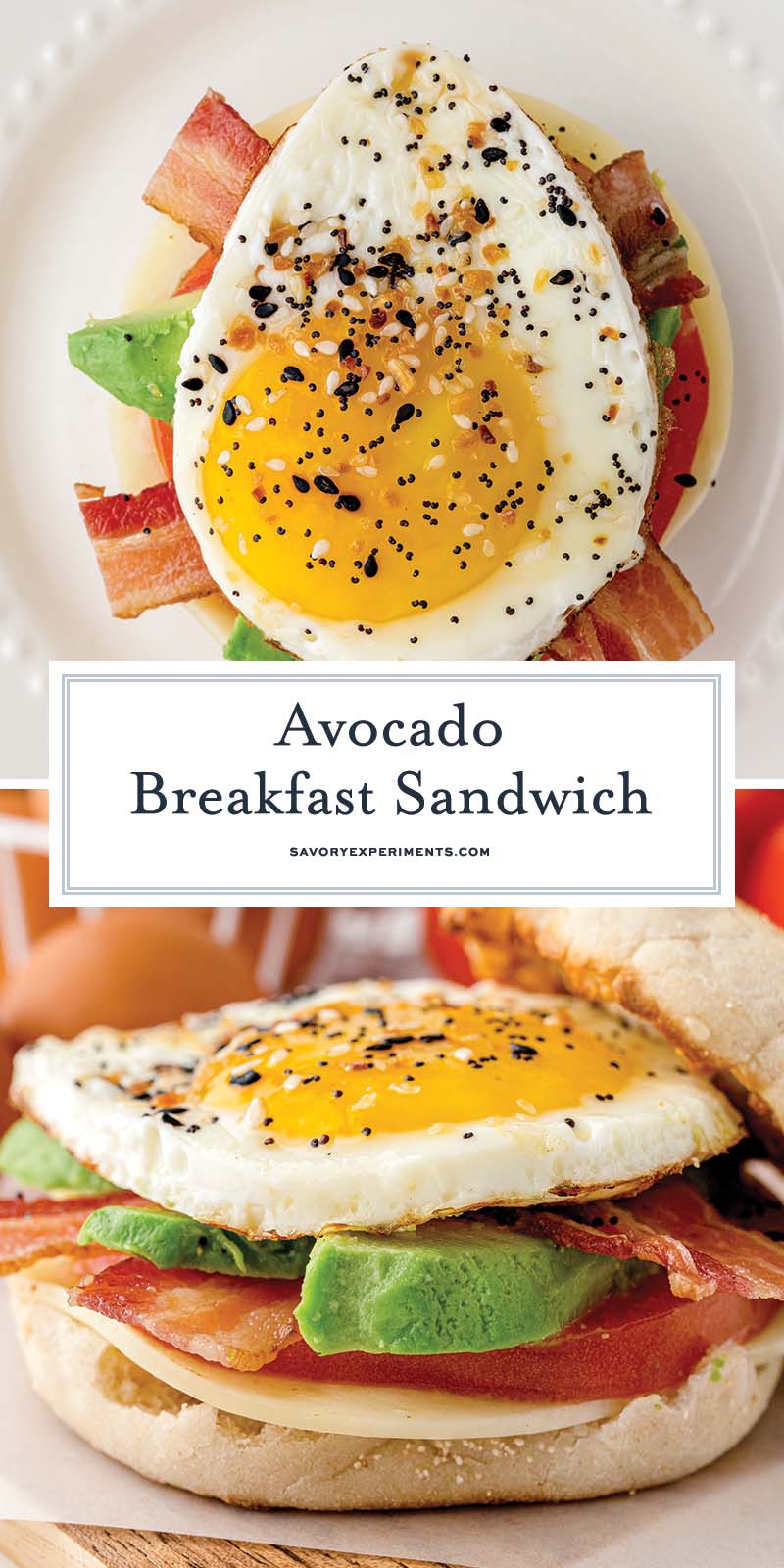 More Easy Breakfast Recipes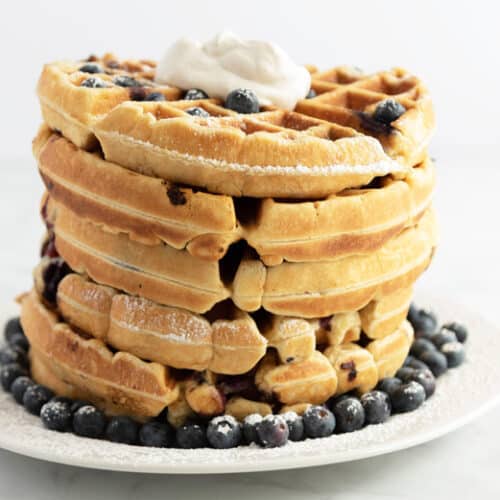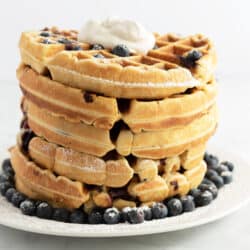 Blueberry Waffle Recipe
This light and fluffy Blueberry Waffles recipes are totally made from scratch! Made with simple ingredients and easy to whip up for a quick breakfast!
See The Recipe!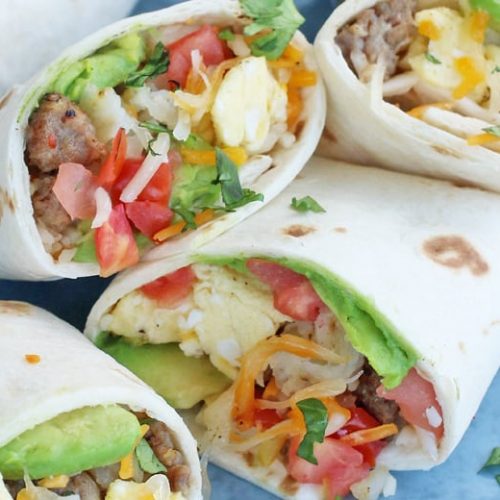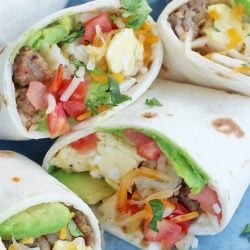 Easy Breakfast Burritos
If you're looking for the best breakfast burrito, you've found it with this easy, delicious breakfast burrito recipe! Easy to make and delicious to eat!
See The Recipe!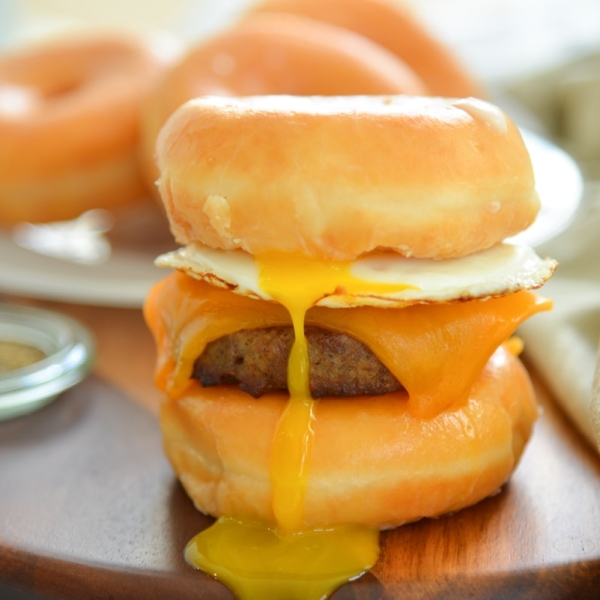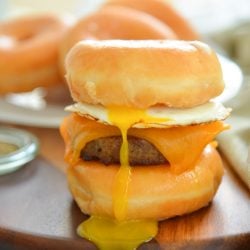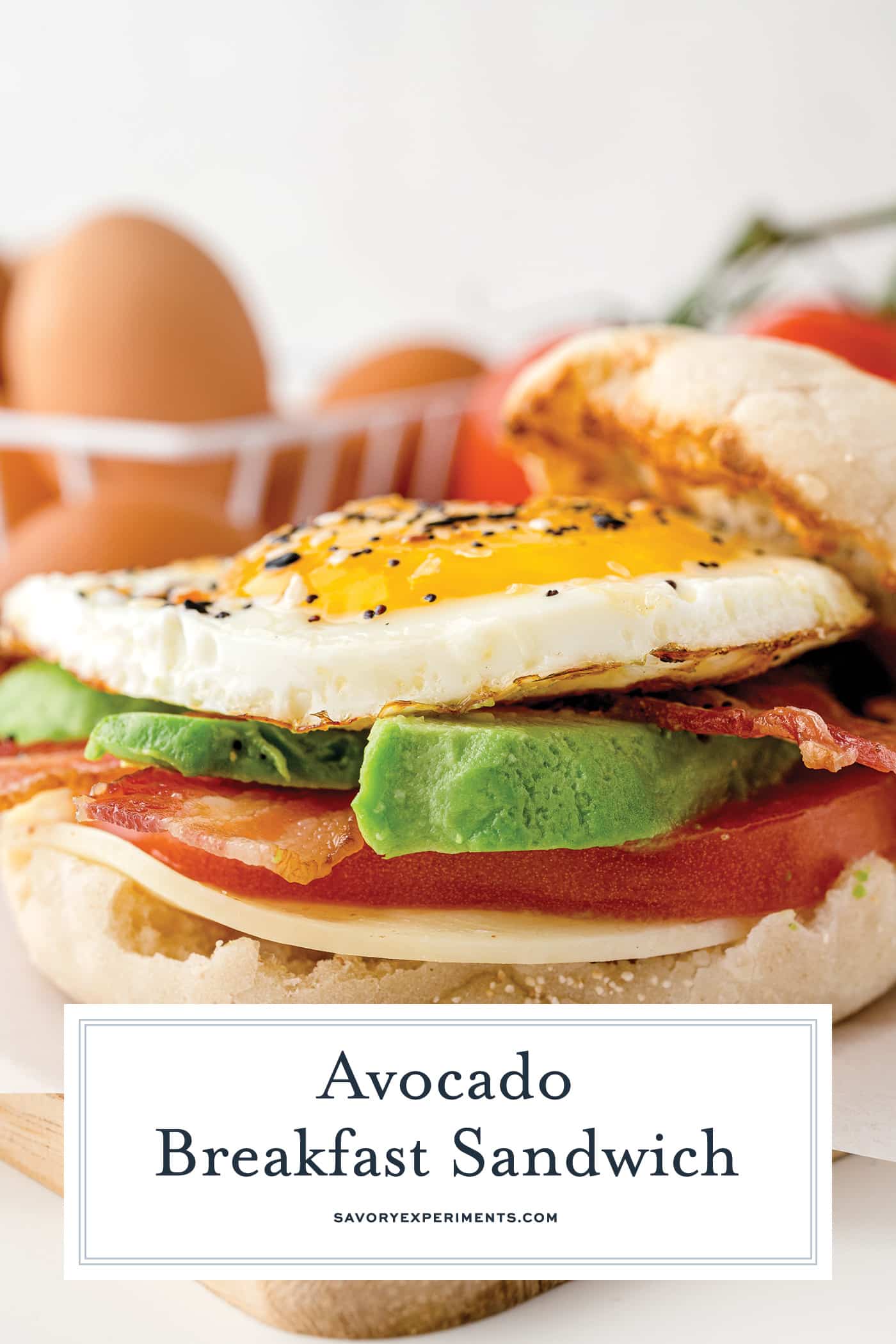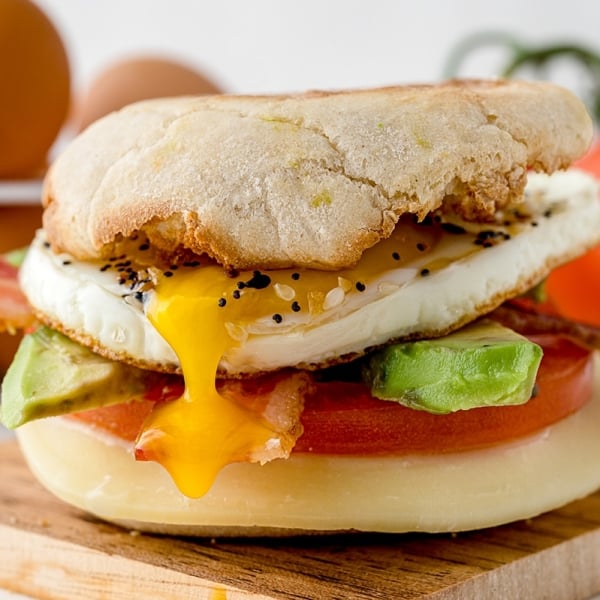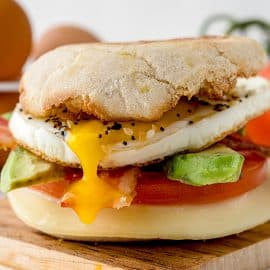 The BEST Breakfast Sandwich
The best breakfast idea: breakfast sandwiches! I always have trouble finding breakfast recipes, but this one is SO tasty and only takes 5 minutes. Better than frozen breakfast sandwiches!
Instructions
Toast the English muffin, set aside.

Assemble the sandwich by assembling a slice of tomato, avocado, slice of provolone, bacon fried egg and a sprinkle of everything bagel seasoning.

If you've tried this recipe, come back and let us know how it was in the comments or star ratings.
Nutrition
Calories:
613
kcal
,
Carbohydrates:
70
g
,
Protein:
30
g
,
Fat:
31
g
,
Saturated Fat:
18
g
,
Cholesterol:
197
mg
,
Sodium:
1001
mg
,
Potassium:
2666
mg
,
Fiber:
32
g
,
Sugar:
7
g
,
Vitamin A:
1610
IU
,
Vitamin C:
50.8
mg
,
Calcium:
330
mg
,
Iron:
4.6
mg