Everyone's idea of the perfect breakfast sandwich is wildly different. For some, it is the classic combination of bacon, egg, and cheese while others always opt for ham or even sausage.
What makes this the BEST Breakfast Sandwich? Egg, provolone, bacon, avocado, and a secret condiment. Keep reading to find out what it is!
Egg as a whole nother aspect. Some are in the scrambled camp and there are those that swear by a fried egg with a runny yolk.
Then there is my sister-in-law who hates eggs and forgoes them and doubles up on the cheese. And don't even get me started on bread.
I am sure it is debatable but this is my version of the BEST breakfast sandwich.
I am a lover of breakfast but the honest truth is that whether it is an on-the-go start to my day during the workweek or bright and early on the weekend, I am always short on time.
It is rare that I can dedicate any time to my breakfast routine and yes, that does include making a stop at a fast-food spot or a deli to have someone else make me something. That was until recently.
A few months back I received a new breakfast sandwich maker. Let me tell you, I was a little skeptical, but this thing is absolutely genius. It makes my Best Breakfast Sandwich in 5 minutes flat. Would ya believe that?
Essentially it breaks things down. Separate compartments simultaneously cook a raw egg, toast your choice of bread (as long as it is round,) melt the cheese, and warm the other toppings.
It is like breakfast magic.
The key to a make or break breakfast is the condiment you choose. I know those that are ketchup crazy and it got me thinking. What if I went with a Sweet Tomato Jam? It is my secret weapon.
A little sweet, a little tangy, and very much like ketchup, but that much more delicious. Pair that with creamy avocado, an egg, crispy bacon, and provolone cheese and you have a winning sandwich.
Tomatoes are not your jam? You could go double up on the bacon and try this recipe with my Bourbon Bacon Jam recipe. A sure-fire way to start the day.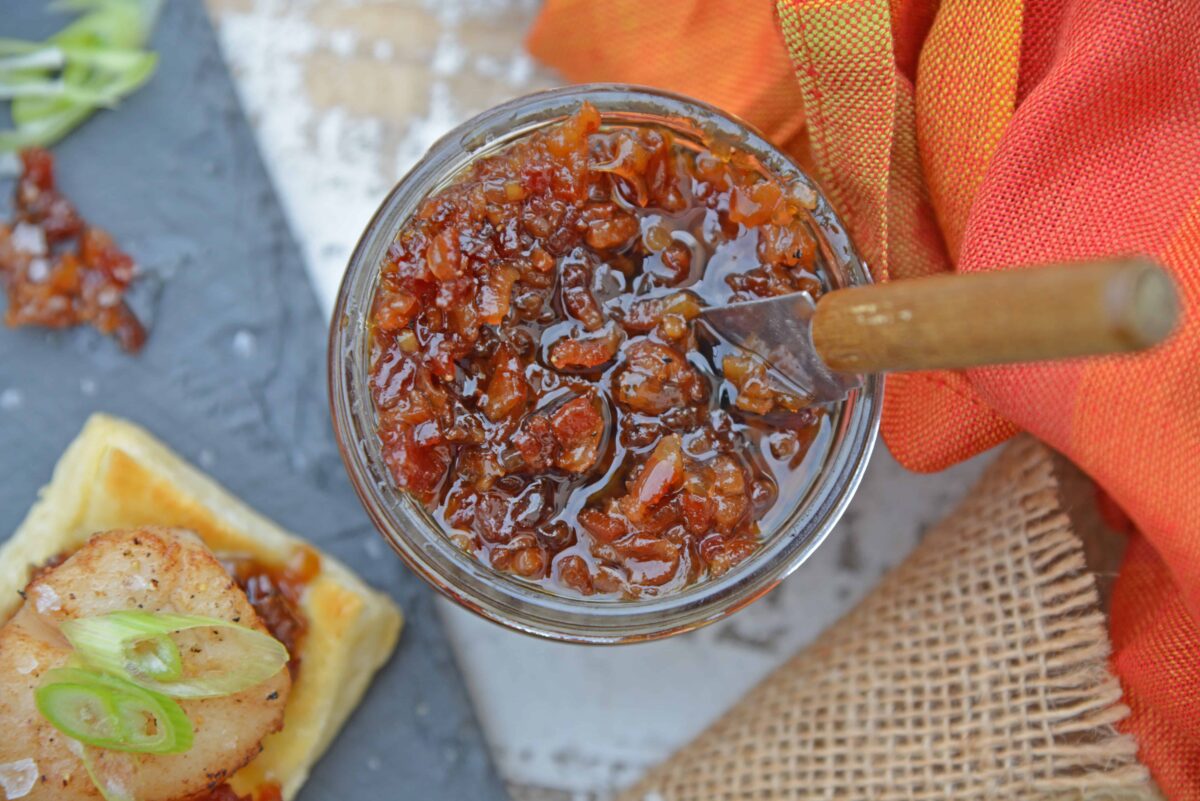 If you are running out the door, wrap this up in aluminum foil which should help keep some of the heat in. It would be a shame to miss out on that melty cheese.
Really, really short on time? Make a batch of sandwiches and wrap them individually in the freezer to grab and go. All you have to do is give them a quick warm-up in the microwave at the office.
But don't stop there. You can also have breakfast for dinner (or lunch), brinner, if you will. It is the perfect meal on-the-go. And, of course, you can still make this sandwich even without the swanky breakfast sandwich maker.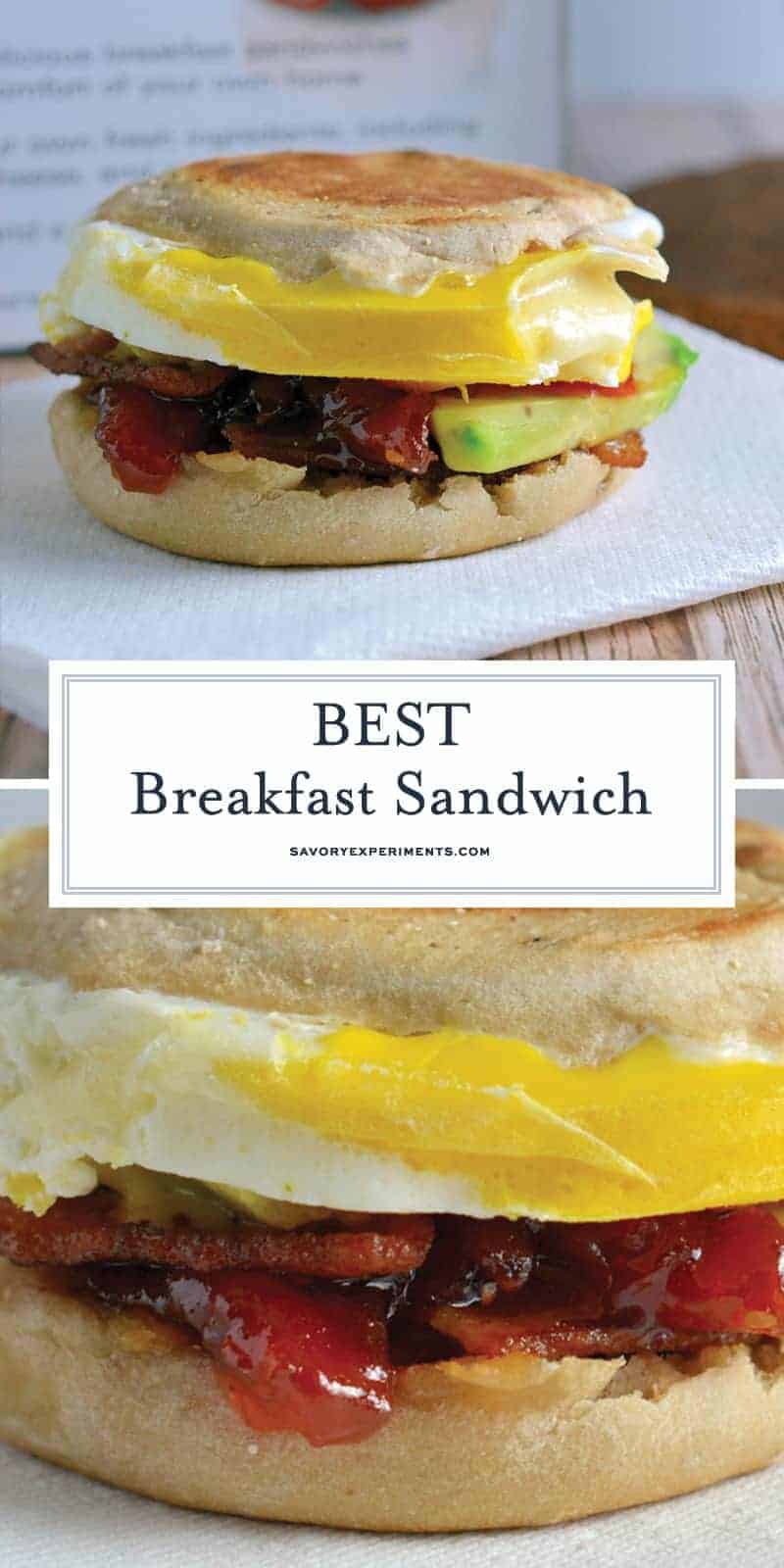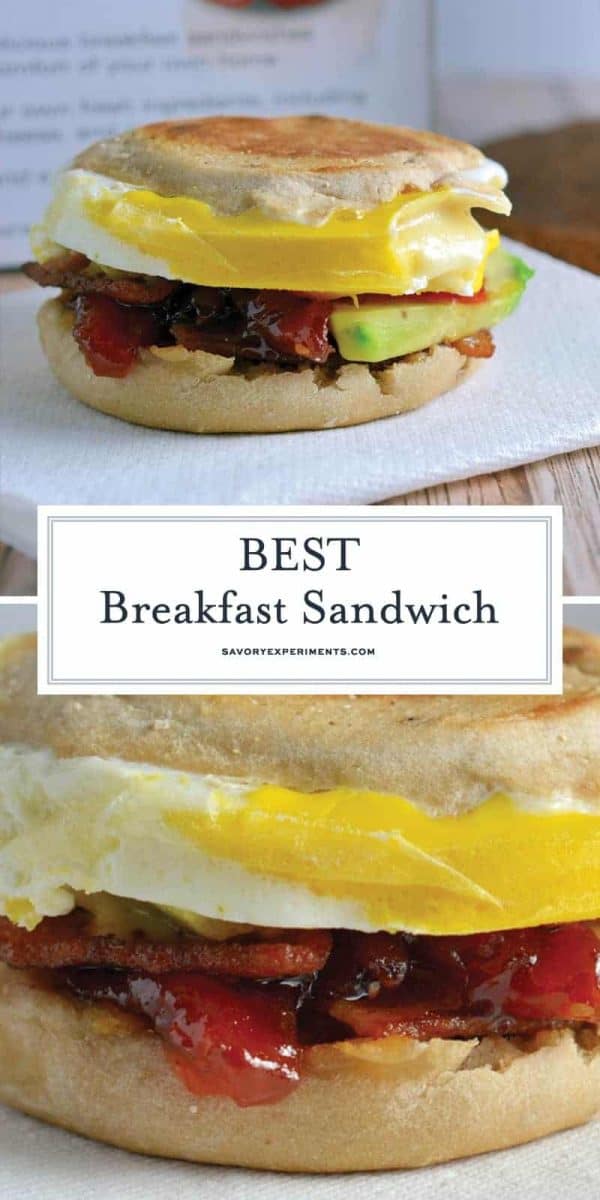 ---
---
The BEST Breakfast Sandwich
The best breakfast idea: breakfast sandwiches! I always have trouble finding breakfast recipes, but this one is SO tasty and only takes 5 minutes. Better than frozen breakfast sandwiches!
Ingredients
1

English muffin

2

tablespoons

Tomato Jam

3

slices

avocado

1

slice

provolone

1

egg

1

strip bacon

crispy, cuthalf
Instructions
Preheat your breakfast sandwich maker. In the bottom compartment add one half English muffin, in the center, the egg and on the top. Close and cook for 5 minutes.

Pull out dividers and enjoy your breakfast sandwich!

If you've tried this recipe, come back and let us know how it was!
Nutrition
Calories:
613
kcal
|
Carbohydrates:
70
g
|
Protein:
30
g
|
Fat:
31
g
|
Saturated Fat:
18
g
|
Cholesterol:
197
mg
|
Sodium:
1001
mg
|
Potassium:
2666
mg
|
Fiber:
32
g
|
Sugar:
7
g
|
Vitamin A:
1610
IU
|
Vitamin C:
50.8
mg
|
Calcium:
330
mg
|
Iron:
4.6
mg