Changes in the world have me posting recipes I'd never thought I would post. But here I am showing you how to make 2-Ingredient Bread with no eggs and no yeast.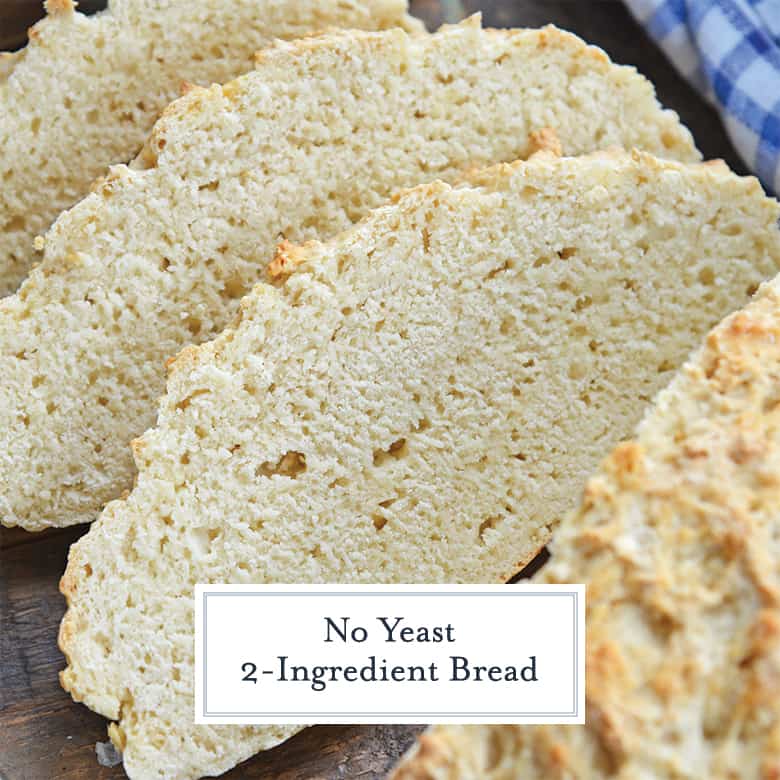 This 2-Ingredient No Rise No Yeast Bread is perfect for those days when you need a loaf and can't get to the store. Just a few ingredients and 40 minutes to delicious homemade bread!
Some people call this emergency bread, cheaters bread, no rise bread or even yeast free bread. It is true you can make bread without yeast. It is a little denser, rustic and earthy, which makes it perfect for serving with soup, making into garlic bread or using for a sandwich or panini.
Two ingredient doughs are not all that uncommon. You'll see pizza doughs that don't need to rise made with Greek yogurt and flour, pita breads made with whole wheat and oil and other similar varieties. This recipe is about as standard as it gets and one of the first you'll make when teaching yourself to bake bread.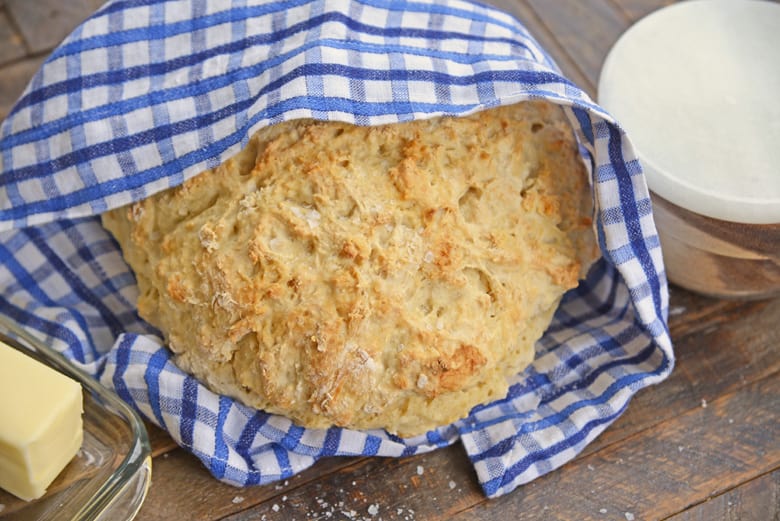 And even though this bread is just about as basic as it gets, it doesn't mean you can't add other flavors.
Here are my favorites:
Powdered garlic
Fresh herbs
Caraway seeds
How to Make 2-Ingredient Bread
One thing to keep in mind is that the exact amount of flour will differ by the brand and type you are using. Here we use a homemade self-rising flour with all purpose. And if you watched my Facebook live making it, I needed more water and then subsequently more flour.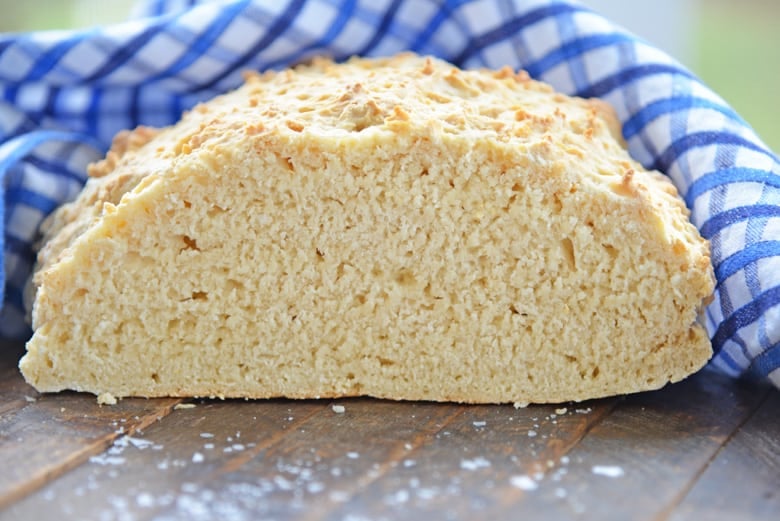 In hindsight, I know exactly what happened, I only measured out 1 ¼ cup of milk and I actually needed 1 ½ cups. I used milk because I had it on hand, but it was skim, so I added 1 tablespoon of butter to give it a little more fat.
What Can I Use Instead of Milk?
If you have whole milk or even powdered milk or buttermilk, those will do too. If you don't have milk, water with 1 tablespoon of butter or oil works too. Aim for a liquid with a little bit of fat.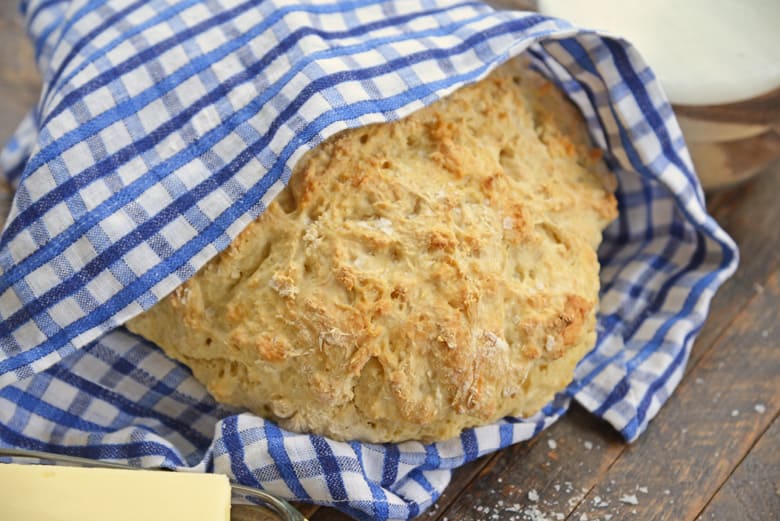 The bread dough should be slightly wet and tacky, but not such that it doesn't stay formed. For this type of simple bread, that moisture is going to be what keeps your bread from turning into a brick.
How do I make the actual bread?
It is simple, just mix the ingredients together and you are done. No rising time because there isn't any yeast.
You also want to avoid overworking the dough. Too much kneading will result in the gluten being overworked and the bread being tough. Therefore, I do not recommend using the bread hook attachment on your stand mixer. Do it the old-fashioned way with your hands.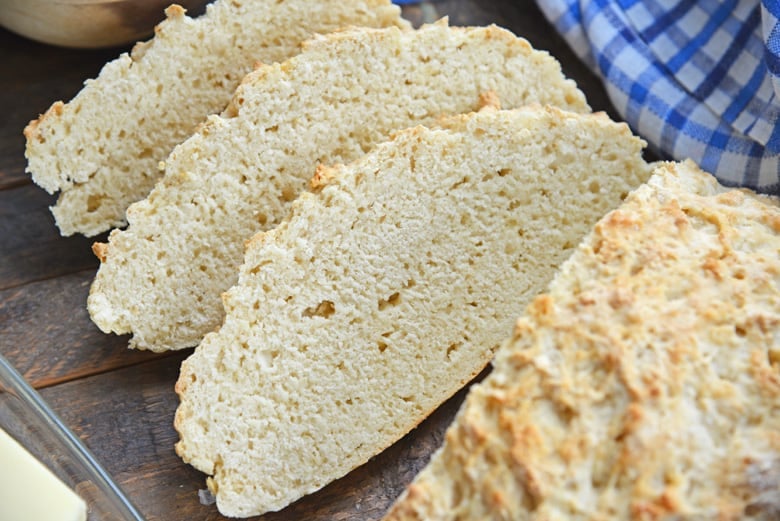 Place the dough on a parchment lined baking sheet to prevent sticking and burning. Form it into a round disc no more than 3 inches tall. If it is too tall, the center won't bake all the way and the edges will be dry.
Then put grooves into the bread in a cross pattern. For this loaf, they aren't visible in the finished product, but this was also a very wet bread dough. One thing I love about this bread is that it is slightly different every time!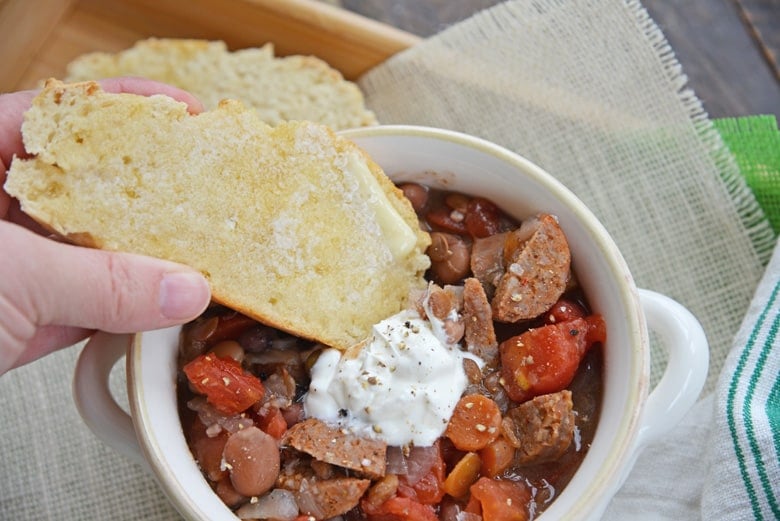 In summary, tips for making no yeast homemade bread:
Do not overwork the dough.
Know that you might need to add more flour or liquid depending on the brand.
Mix until slightly tacky and sticky.
Use parchment paper to prevent sticking and burning.
Do not form a disc taller than 3 inches.
Make grooves in the bread.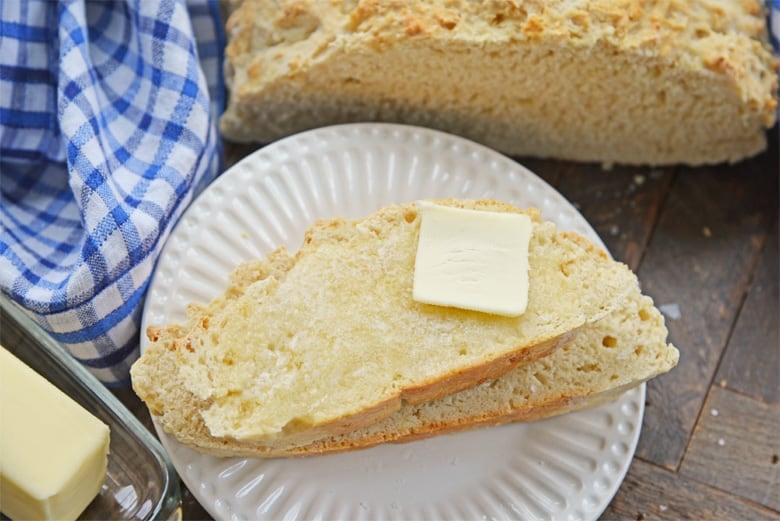 Best dips and butters to serve with your bread: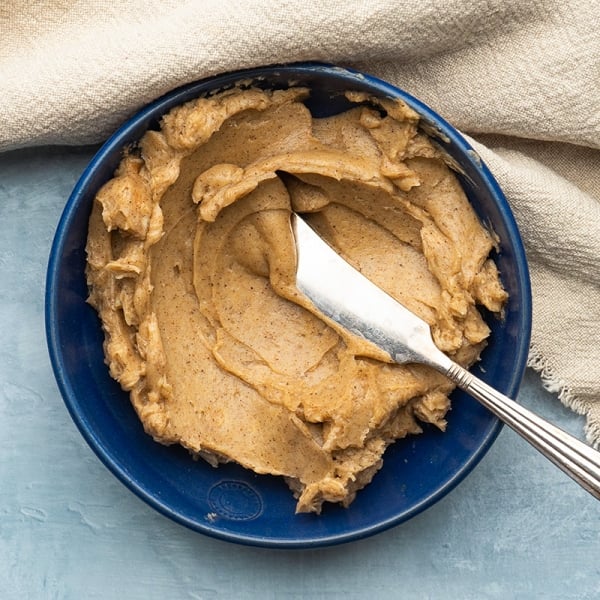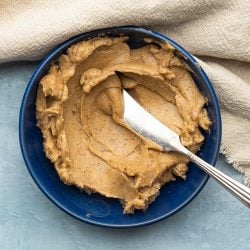 Copycat Texas Roadhouse Butter (Cinnamon Honey Butter)
Texas Roadhouse Butter, whipped with cinnamon, honey and nutmeg, is the perfect pairing for Texas Roadhouse Rolls, biscuits and more!
View this recipe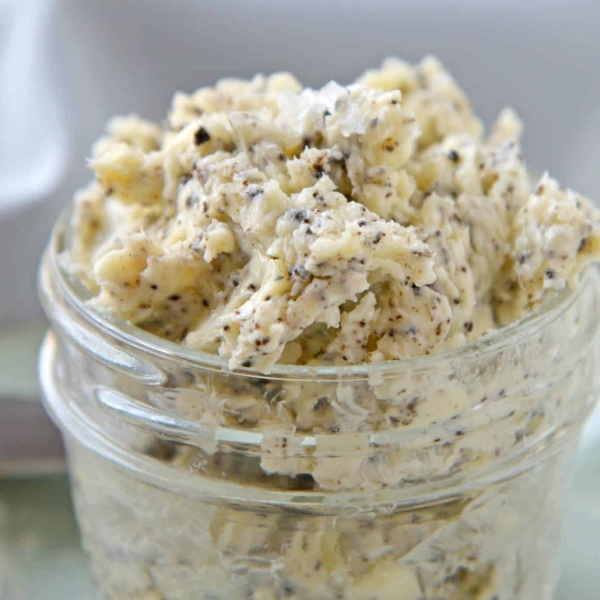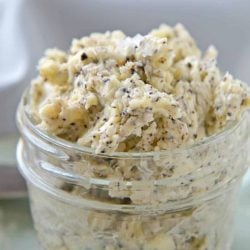 Truffle Butter
This Homemade Black Truffle Butter is so easy to make! Only 3 ingredients and a few minutes needed. You'll never get it at the store again!
View this recipe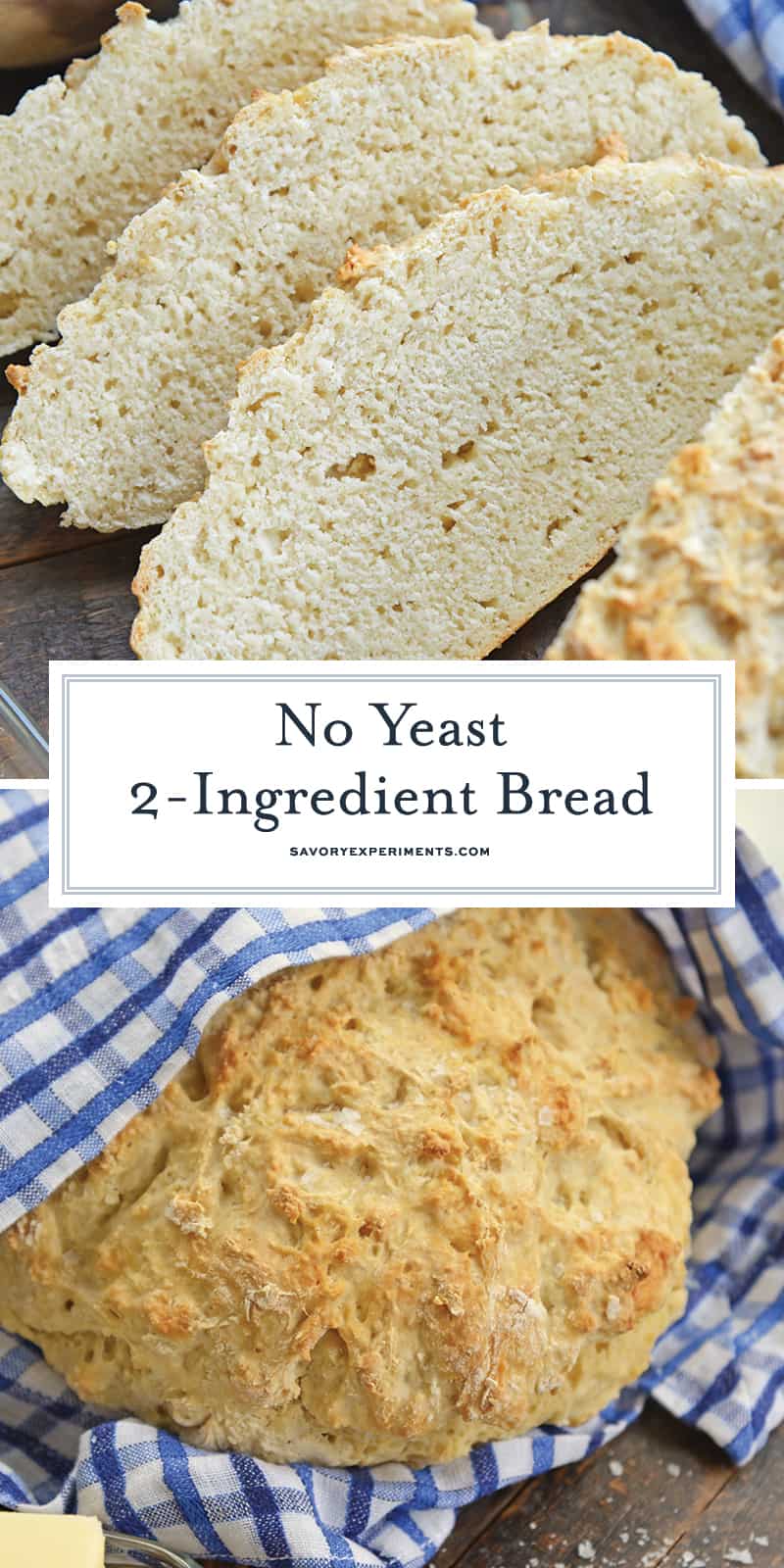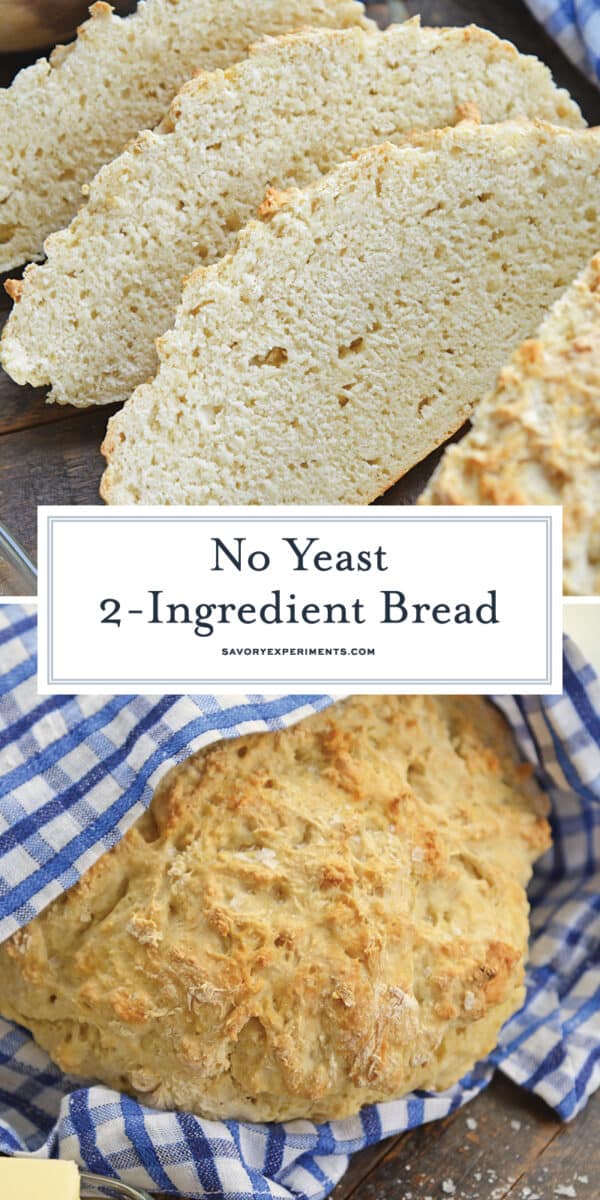 Other breads you might like: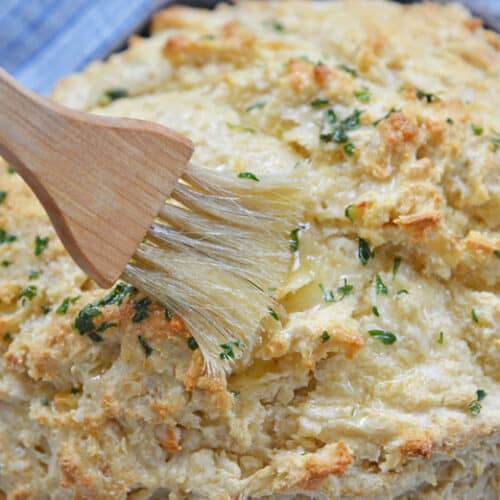 No Yeast Roasted Garlic Bread
A spin-off of my most popular bread recipe, this one is laced with butter and roast garlic. No yeast and no rise time and only 6 ingredients!
View this recipe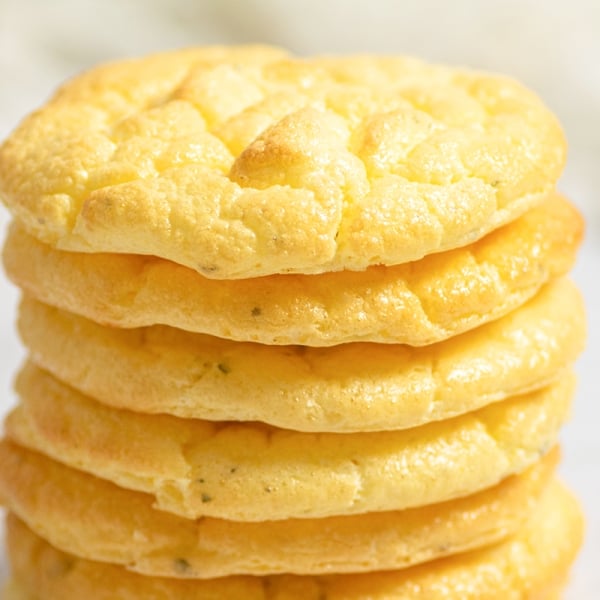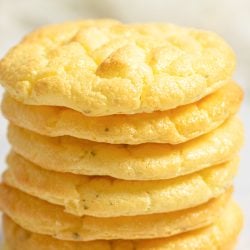 Cloud Bread
Soft & fluffy Cloud Bread made with cream cheese & herbs is easy to make and takes minutes to make. Wheat-free, gluten-free, and low carb!
View this recipe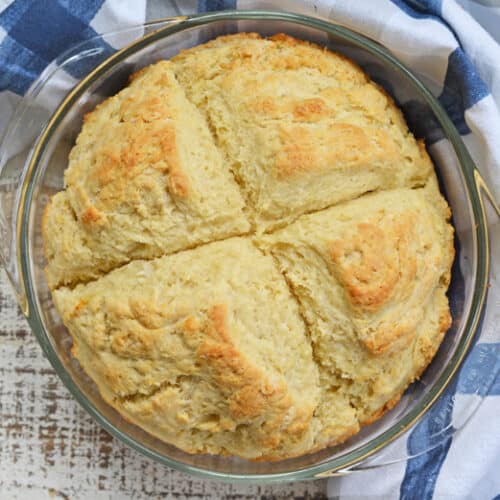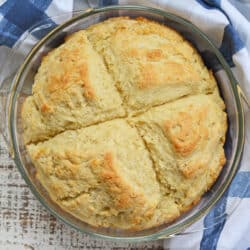 No Yeast Potato Bread
Thick and chewy No Yeast Potato Bread is an easy and quick homemade bread recipe perfect for deli sandwiches and more!
View this recipe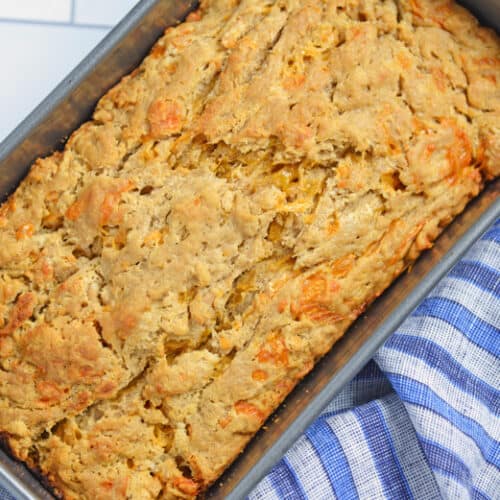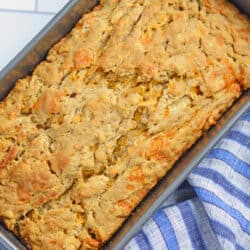 Cheddar Beer Bread
Rich, buttery and cheesy, this easy to make Cheddar Beer Bread only requires 5 ingredients and NO RISING TIME!
View this recipe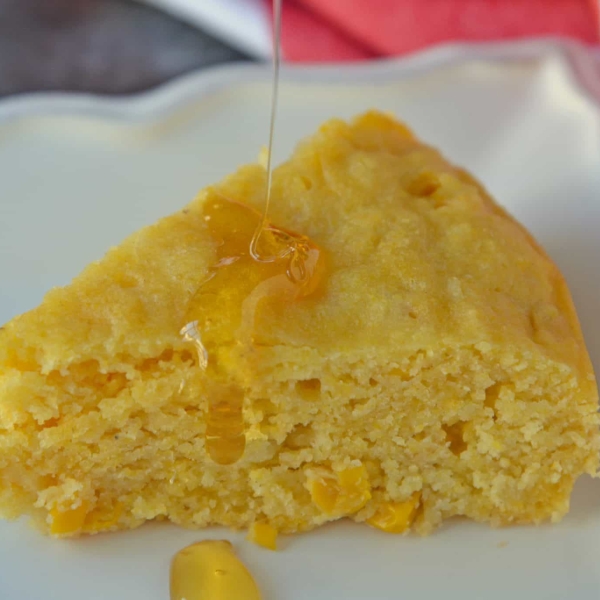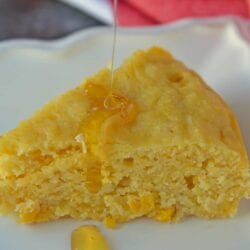 Instant Pot Sweet Cornbread
Instant Pot Sweet Cornbread is an easy cornbread recipe made with honey making it both sweet and moist. Made in the Instant Pot, it cooks in half the time!
View this recipe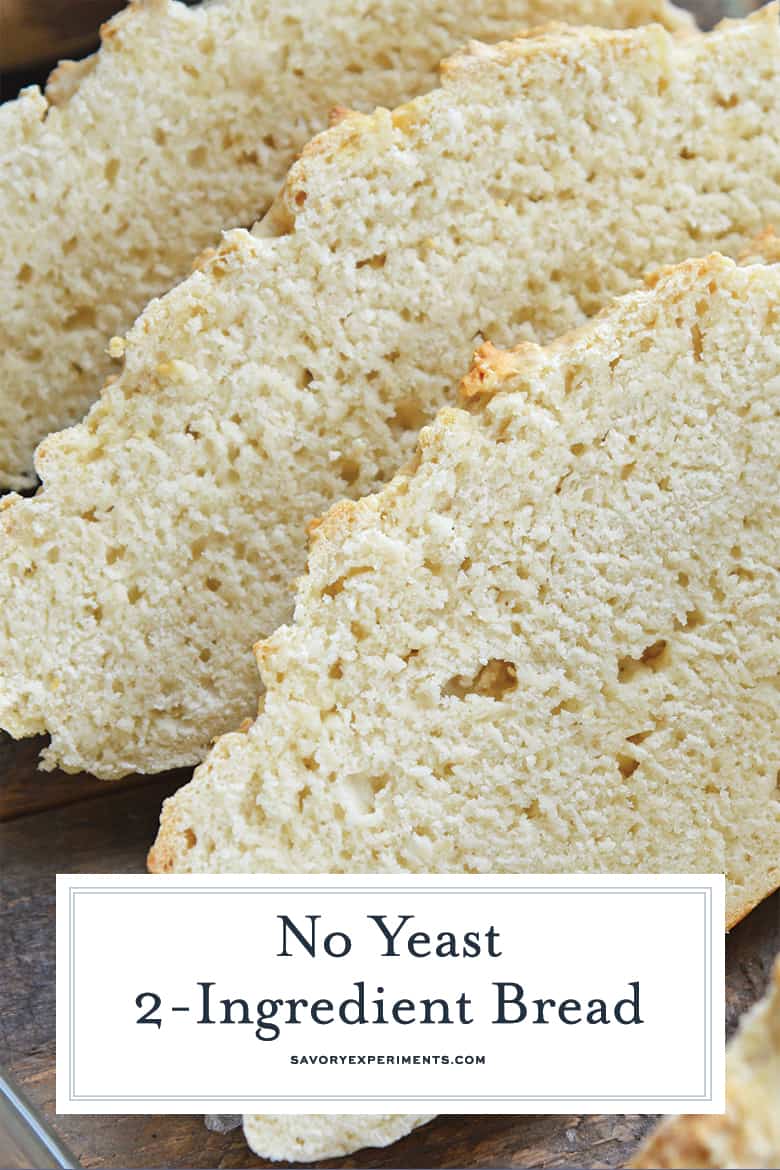 We hope you enjoy this easy homemade bread recipe! Follow our tips and you'll be sure to have tasty bread in just 40 minutes. We have even more simple recipes using minimal ingredients and pantry staples!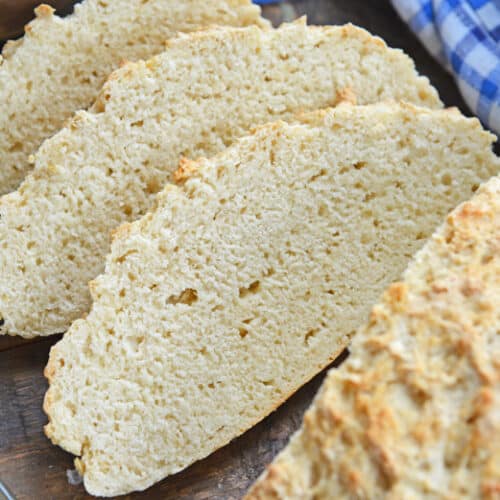 No Yeast Bread Recipe
This 2-Ingredient No Rise No Yeast Bread is perfect for those days when you need a loaf and can't get to the store. Just a few ingredients and 40 minutes to delicious homemade bread!
Instructions
Preheat oven to 375 degrees. Line a baking sheet with parchment paper

Whisk together self-rising flour with brown sugar. Add milk and mix until just combined and wet. Do not overwork the dough.

Mold dough into a disc shape about 3 inches high, score an "X" into the dough.

Bake, uncovered, for 30-35 minutes. Tap the top with a wooden spoon and when it makes a hollow noise, it is done.

Remove and allow to cool before slicing.

If you've tried this recipe, come back and let us know how it was!
Notes
Use whole milk or skim milk with 1 tablespoon melted butter. If using water, add 1 tablespoon melted butter or oil.
For fancier bread, baste the top with melted butter and a sprinkle of coarse sea salt when it comes out of the oven.
Nutrition
Calories:
267
kcal
,
Carbohydrates:
53
g
,
Protein:
8
g
,
Fat:
2
g
,
Saturated Fat:
1
g
,
Cholesterol:
5
mg
,
Sodium:
22
mg
,
Potassium:
127
mg
,
Fiber:
2
g
,
Sugar:
5
g
,
Vitamin A:
74
IU
,
Calcium:
64
mg
,
Iron:
3
mg