When it comes to making bacon, you have a number of ways to cook it up- traditional frying pan or even in the oven. If you are like me and want the least fussy to make and the easiest to clean up, go ahead and grab your air fryer so we can get cooking.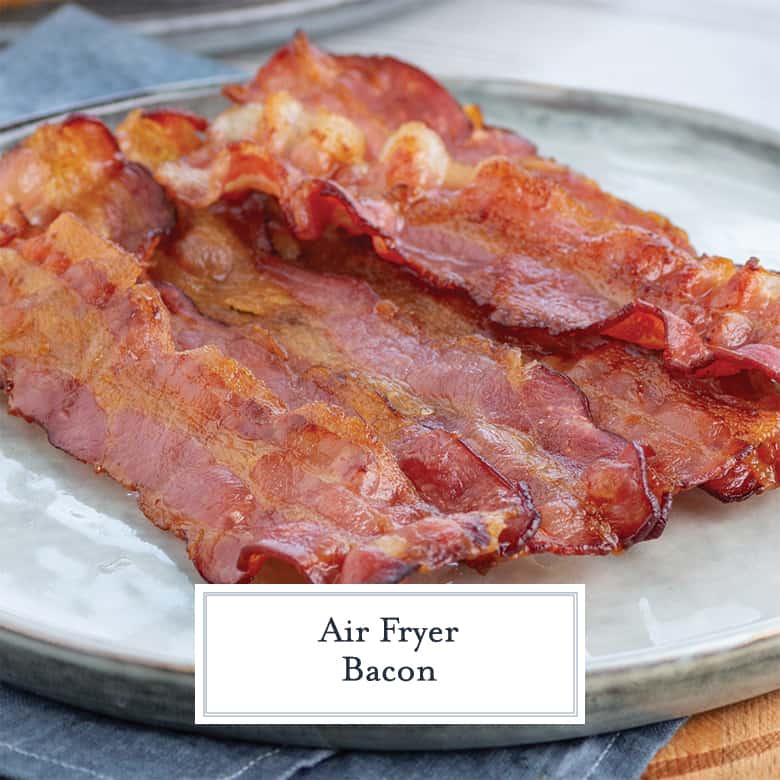 Cooking Bacon
I hate to admit it, but I will sometimes avoid cooking bacon simply because of the pain associated with getting it from the fridge to the plate. To be clear, it is not because I dislike it in any way. In fact, I have a love affair with bacon.
I tend to use it in recipes more than just eat it plain, so it usually a step in the cooking process instead of being a step all alone.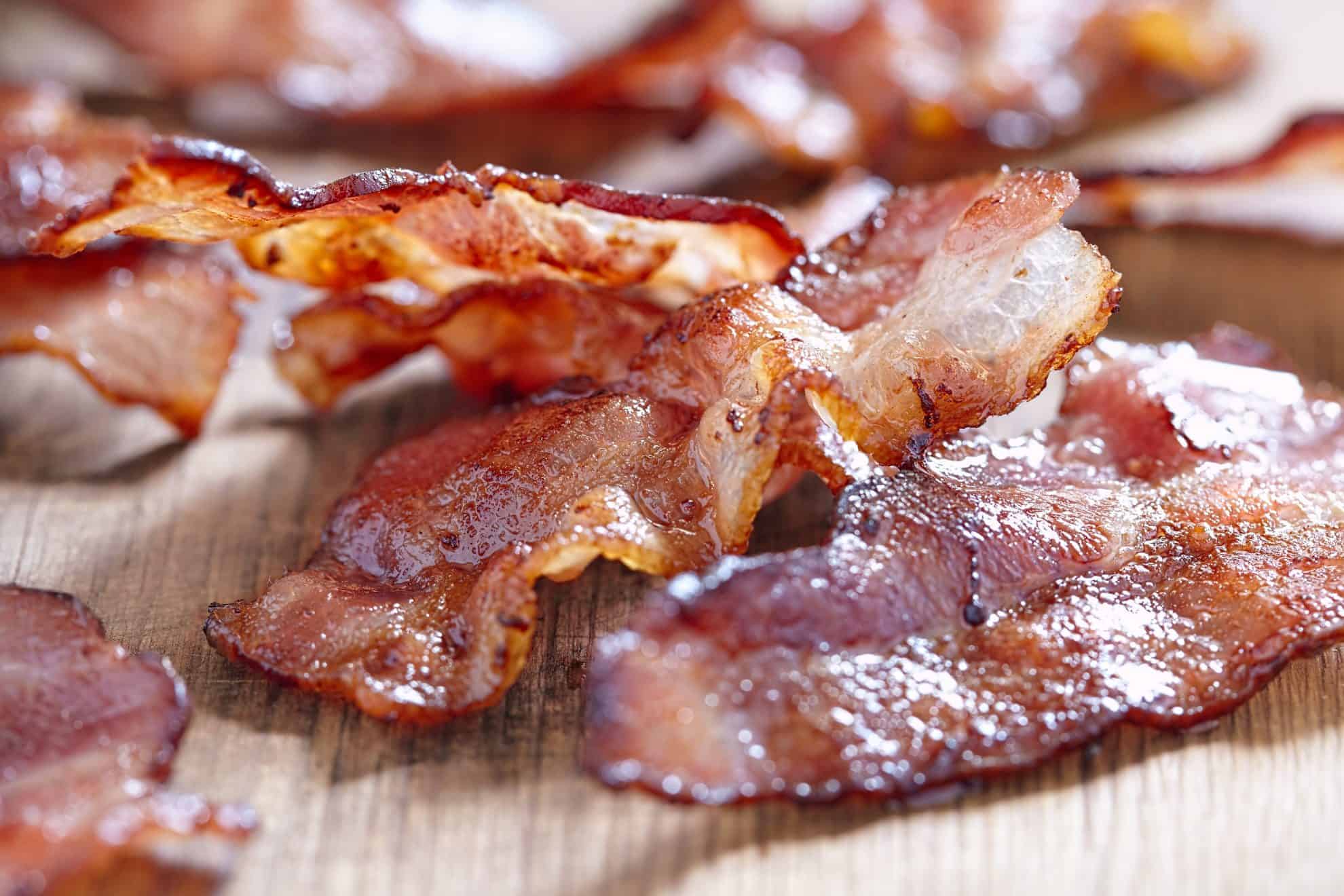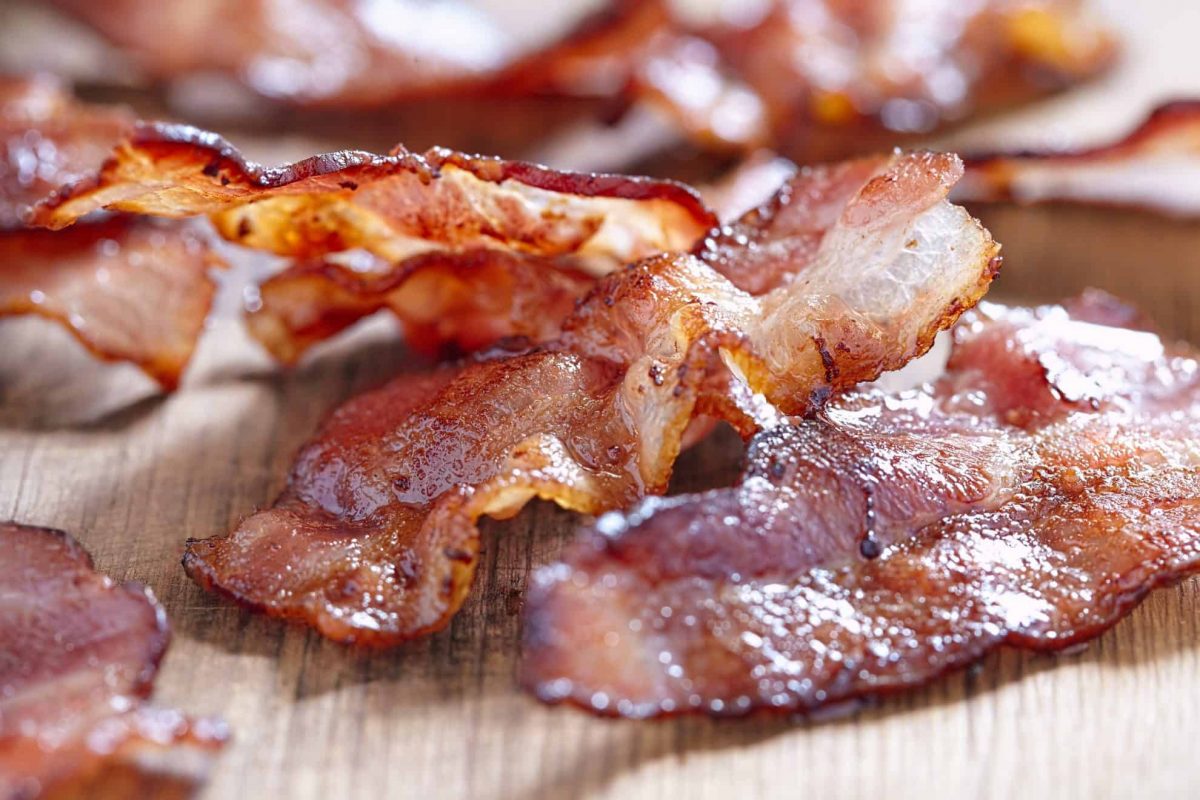 When I got my air fryer, I was playing around and started thinking through my staples and wondering if they could easily be cooked in there. When my brain stopped on bacon, I thought, "What if?" I can safely say my bacon-filled dreams came true and I never looked back.
What is an Air Fryer?
For the uninitiated, an air fryer is an appliance that can replicate the results of a deep fryer in a flash. And despite, its name, it functions as a little tabletop oven with convection.
This means the air inside the cooking chamber is constantly circulating around whatever you are cooking – above, on the sides, and below. As I am sure you have guessed, circulating food "in air" tends to be a bit healthier than cooking it in oil.
Bacon in the Air Fryer
Cooking bacon in there means it is fully enclosed. Any spits or spatter that might come from it cooking are not ending up on your counter, the floor, or you. The fat rendering off falls away into the reservoir below.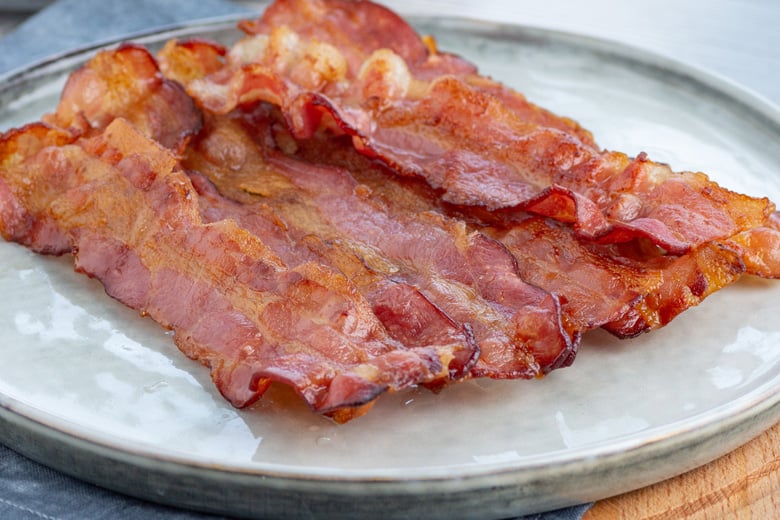 When I am cooking for a big crowd, I will cook my bacon in the oven just because I can cook a lot at once. But if I am cooking it for the regular bunch, I reach for the air fryer instead of the frying pan. It is the path of least resistance and I am certain you will add it to your routine as well.
Types of Bacon
So know you know what to do, but you might be asking what kind of bacon should you purchase. You might have your favorites, but if not, here is a nifty guide to some of the varieties in the store:
Side bacon is the most common type of bacon. It is very fatty with long layers of fat running parallel to the rind. This can be cured or uncured and smoked or unsmoked.
Slab bacon typically has a medium-to-high ratio of meat to fat. It is made from the belly and side cuts, and from fatback.
Center-cut bacon is nothing more than regular bacon with the fatty ends cut off.
No matter what bacon you are cooking up, you will love how it turns out in your air fryer.
Tips for Air Fryer Bacon
If you are going to cook more than one batch of bacon, be sure to empty the bacon fat in the reservoir before starting the next batch.
Extra thick cut bacon will need an additional 1-2 minutes. This recipe is based on an average slice of bacon.
Alternatively, skinny bacon pieces will take 1-2 minutes less. If you don't know the size of your bacon, shoot me a picture and I'll be happy to judge it for you. 🙂
Bacon needs to be in a single layer. Depending on the size of your basket, you can do more or less at one time.
Please remember that all Air Fryer brands are slightly different. This recipe has been tested in the Corsi.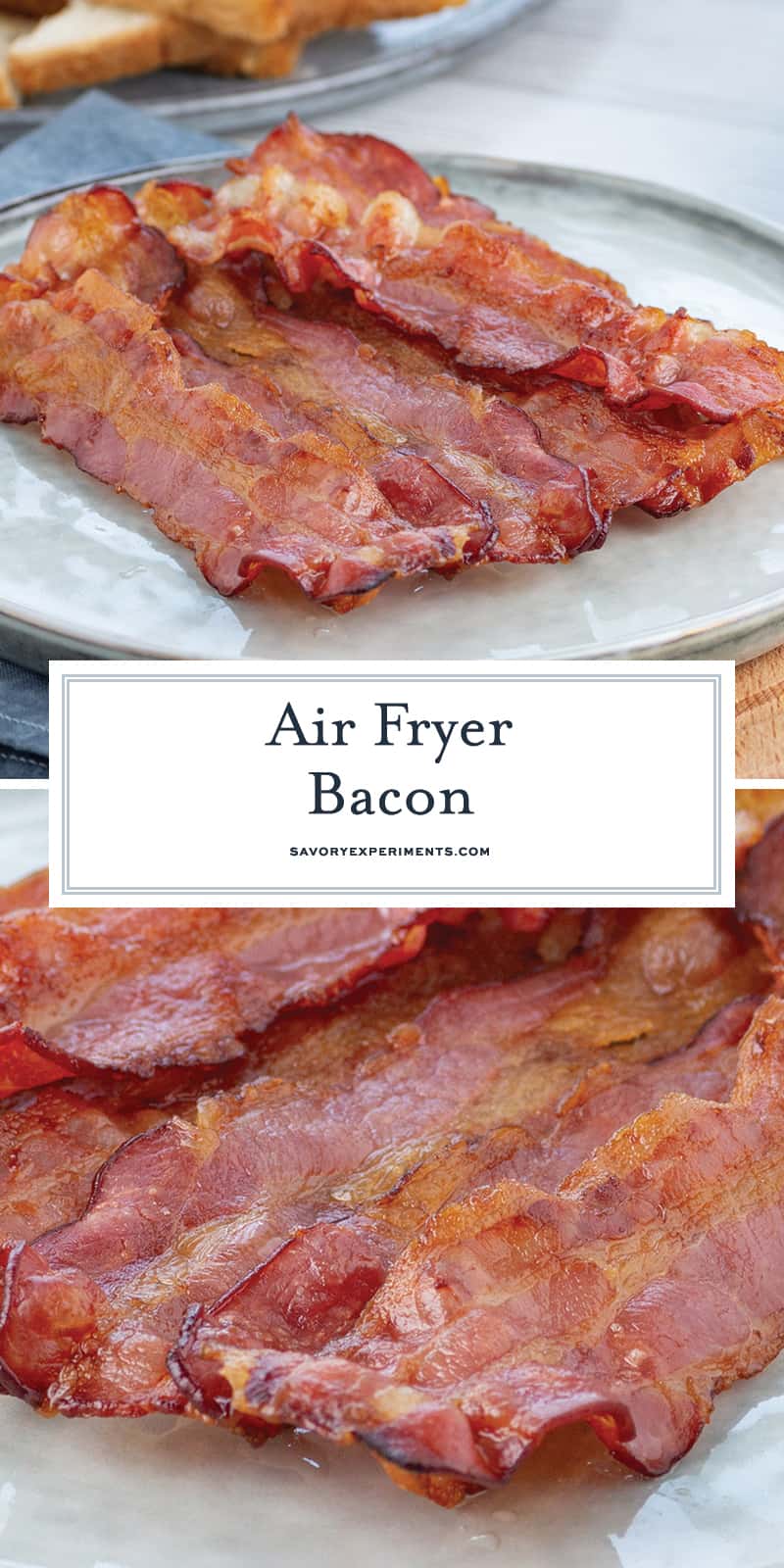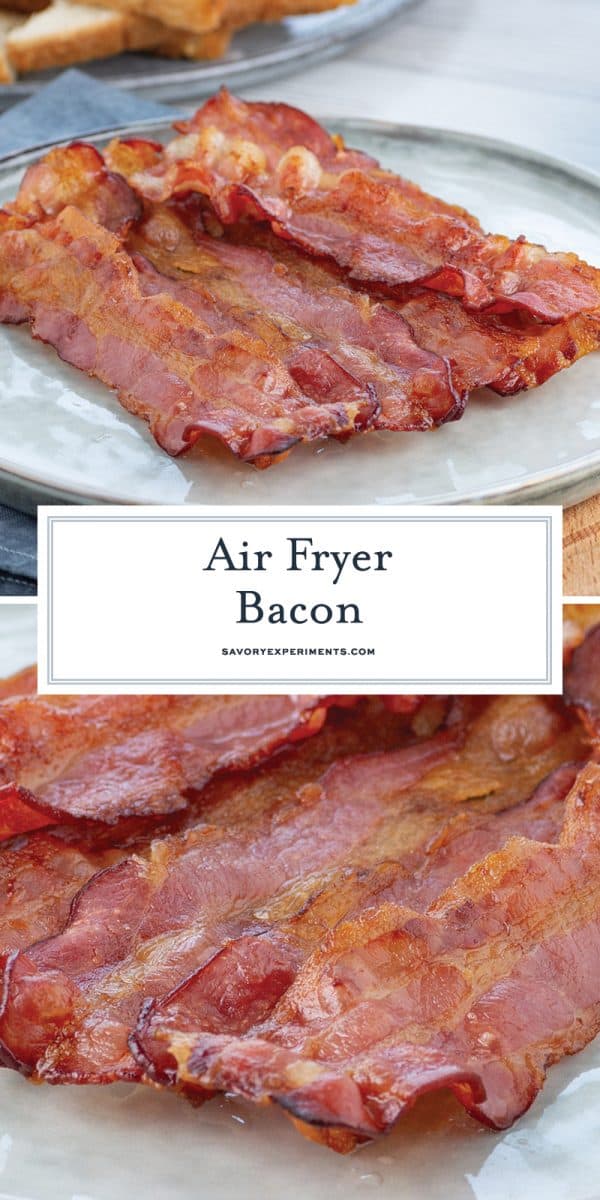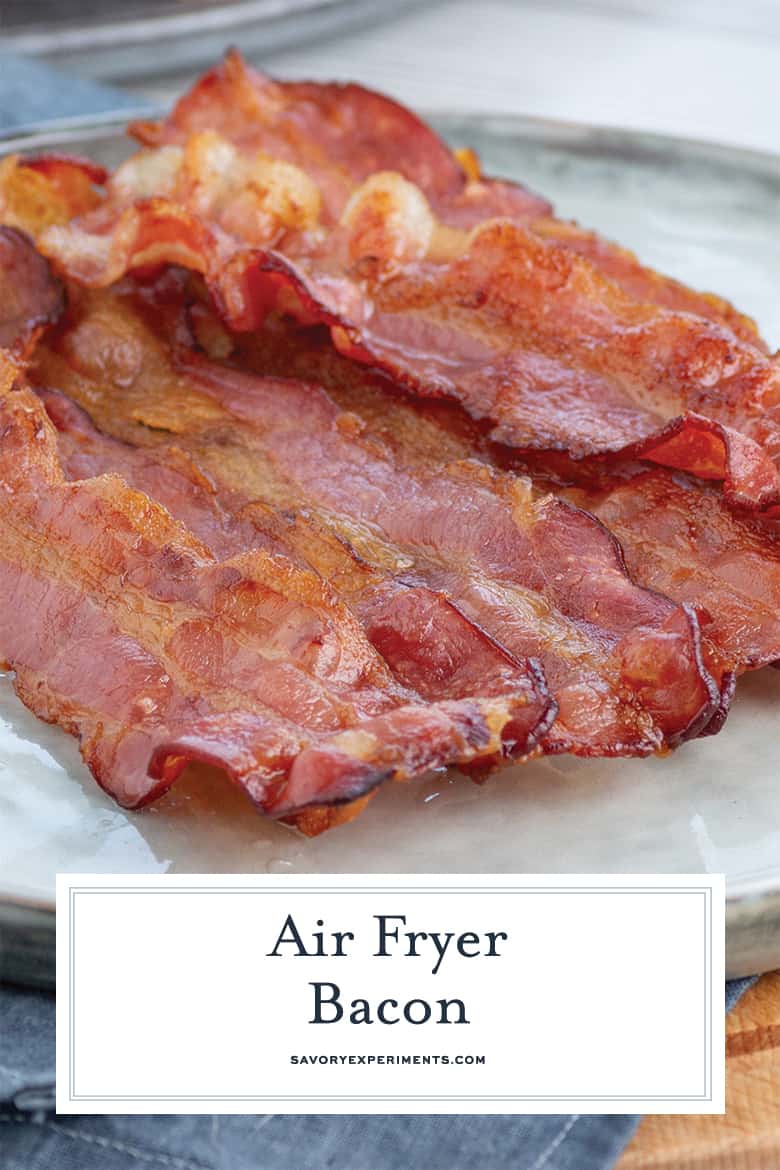 Please remember that all Air Fryers will be slightly different. I use a medium sized air fryer with a basket, as opposed to the type that looks like a toaster oven. Mine is a Corsi and I love it!