We have all been there. You are mid-recipe and realize you didn't double check your ingredient list.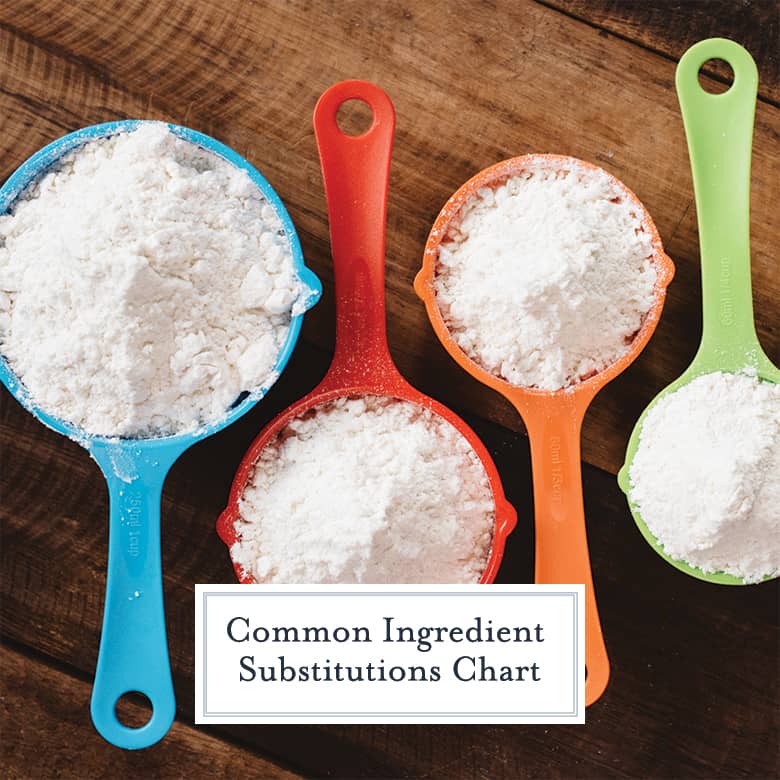 Whenever I am in this bind, I take a deep breath and remember that there are plenty of substitutes that will give you a delicious as ever recipe without grabbing your car keys.
Sign Up to Get Your Free Copy Here!
Check out these easy work arounds. I keep this printed in my pantry or on the inside of a cupboard door for occasions just like this.

*Unless noted, use equal parts called for in the recipe
Don't have…
Use this!
Baking Powder
Cream of Tartar & Baking Soda
Substitute ¼ teaspoon of baking soda mixed with ½ teaspoon cream of tartar to fill in for 1 teaspoon of baking powder.
Breadcrumbs
Crushed CrackersCrushed Bran Cereal
Broth (Chicken, Beef, Vegetable)
Bouillon Cube w/ same flavor
***You can even switch up the flavors if you don't have the specific cube you need.
Brown Sugar
White Sugar & Molasses
1 cup white granulated sugar + 1 tablespoon molasses
Butter
Vegetable ShorteningApple SauceOilCooking Spray (sauteeing only)
Buttermilk
Milk & Lemon Juice
Cinnamon
Allspice or Nutmeg
*½ teaspoon = 1 teaspoon of cinnamon (a little goes a long way)
Cornstarch
All-Purpose Flour
1 T cornstarch = 2 T AP flour
Chili Powder
1 teaspoon = 1⁄2 teaspoon dried oregano, 1⁄4 teaspoon dried cumin, and a dash of bottled hot sauce
Cream of Tartar
Equal parts vinegar and lemon juice
Creme Fraiche


Heavy Cream & Yogurt
1 cup heavy cream + 1 tablespoon of yogurt = 1 cup creme fraiche
Dried Herbs
Fresh Herbs finely Chopped
***Fresh herbs are less potent so you may want to double the amount called for in the recipe.
Fresh Herbs
Dried herbs
***Dried herbs are more potent so you should use a third of the amount being called for.
Garlic Cloves
Garlic Powder or Granulated Garlic
½ tsp granulated garlic OR ⅛ tsp garlic powder = 1 garlic clove

Ginger (Fresh)
Ground Ginger
⅛ teaspoon ground ginger = 1 tablespoon fresh minced ginger
Heavy Cream*not for whipping
Whole Milk + Unsalted Butter
⅔ cup whole milk + ⅓ cup melted butter
Honey
Agave Syrup
***This one goes both ways.
Hot Sauce
Cayenne + Vinegar
¾ tsp cayenne + 1 tsp white vinegar

Kosher Salt
Fine Table Salt
Use half or three quarters of the amount called for
Lemon Juice
Vinegar
Mayo
Plain Yogurt or Sour Cream or Avocado
Maple Syrup
Honey
***The flavor will vary some, but it works!
Milk
Evaporated Milk + Water
½ cup evaporated milk + ½ cup water
Molasses
¾ cup of brown sugar + ¼ cup waterOR
one cup of dark corn syrup or maple syrup or honey
***Flavor may vary
Mustard
Dry Mustard + Vinegar
1 teaspoon dry mustard + 1-2 teaspoons vinegar = 1 tablespoon prepared mustard
Nuts
You can use these interchangeably if you are out of the one your recipe calls for.

Oil
Apple Sauce
Onion
Onion Powder or Granulated Onion
1 tsp onion powder OR 1 tbsp dried minced onion = 1 small onion
Parmesan Cheese
Toasted Bread Crumbs
Pastry Flour
Cake Flour & All-Purpose Flour

And after you are done with your masterpiece, check out some of our most popular recipes!