Making Homemade Fudge Sauce is easier and quicker than a trip to the store to buy it! With just 6 common ingredients, you can have a batch of thick warm fudge sauce ready to drizzle on anything your heart desires.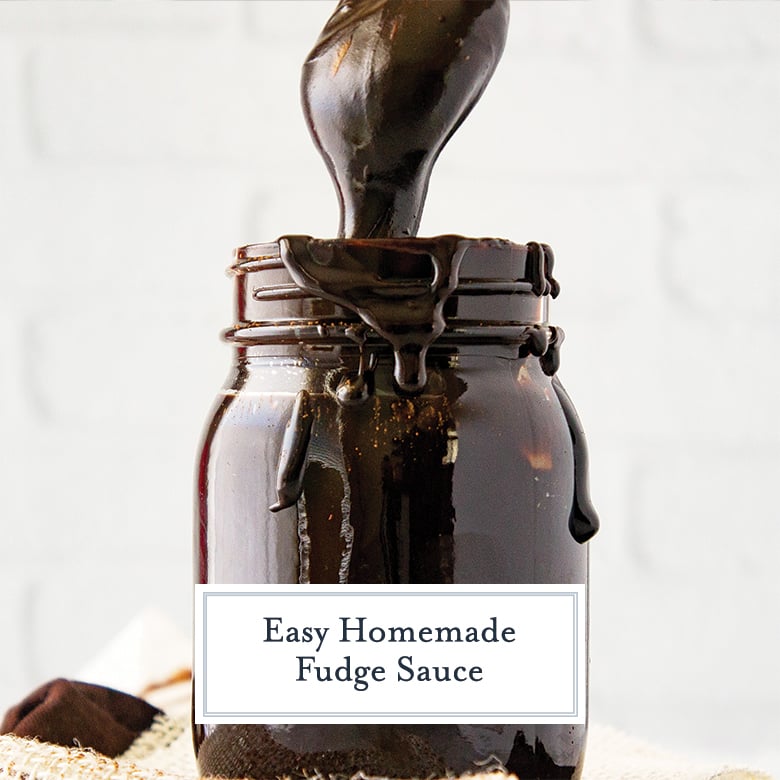 Easy Fudge Sauce
I'm a long time fan and advocate for homemade chocolate fudge sauce. You control the ingredients, the sweetness, and it's so ridiculously easy and quick to do.
Thick, silky fudge sauce is just one pot and 15 minutes away. Cocoa powder and chocolate melt into a luscious, sweetened sauce that's perfect for topping fruit, ice cream, and so much more.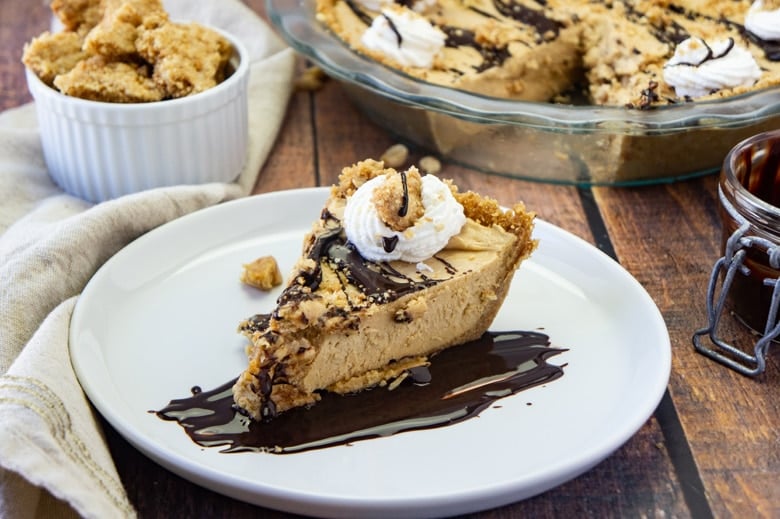 Ingredients
Armed with just a whisk and a heavy bottomed saucepan you can have a bubbling pot of fresh fudge sauce cooking away in minutes. It's a simple combination of ingredients that melts into a truly smooth fudge sauce that's as delicious straight out of the pot as it is cooled from the fridge later.
To make this you only need 6 simple ingredients:
Cocoa powder
Semi Sweet Chocolate
Brown Sugar
Corn Syrup
Water
Heavy Cream
That's really all it takes! No preservatives, no mysteries, just chocolate, sugar, cream and water.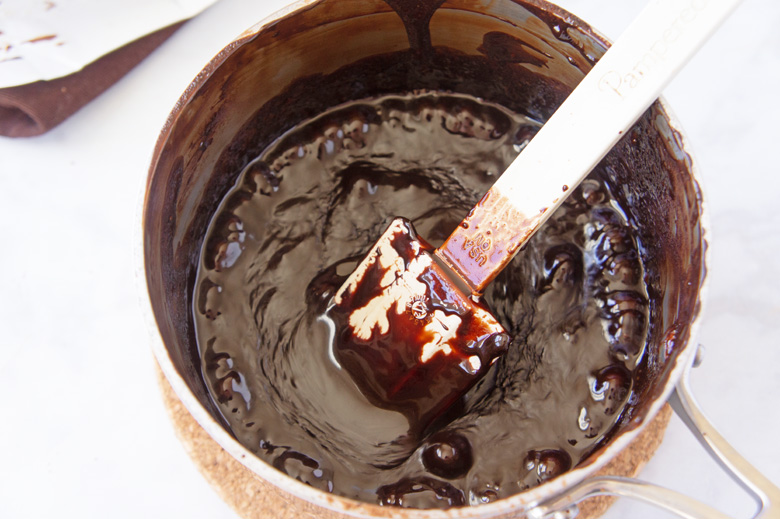 Everything plays an essential role in creating a thick but still luscious fudgy sauce you'll want to make sure you keep stocked in your fridge.

PRO TIP: Adding a pinch of salt to the pot intensifies the chocolate flavor. Don't worry, it won't be salty!
Make It!
The chocolate you choose matters! I recommend no higher than a 60% cocoa chocolate. Choosing a higher percentage will increase bitterness. If you like very dark chocolate this can be delicious, but a semi-sweet 56% is a great starting point.
Once you have all your ingredients it's a simple matter of whisking the cocoa powder, brown sugar, and water together over medium heat until it's smooth, foamy liquid.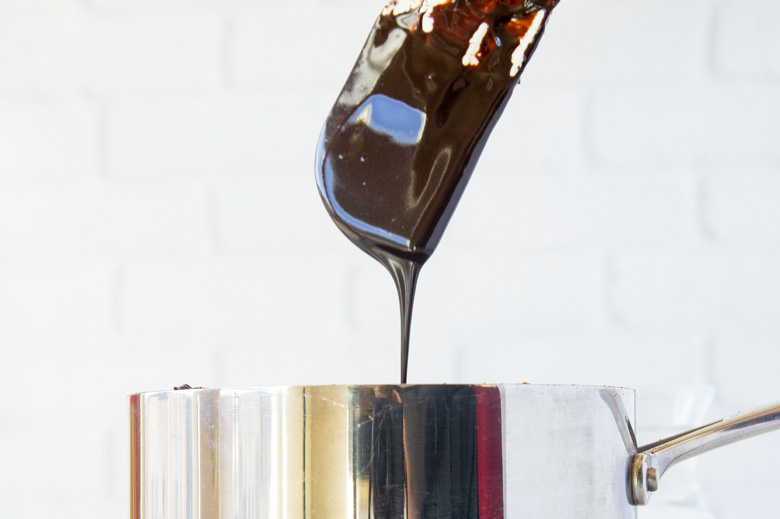 Then you add corn syrup, half the chocolate and boil until bubbly and thickened. Once it's off the heat, add the rest of the chocolate and cream and stir into a silky smooth sauce. That's it. Done, easy!
Perfect Hot Fudge Sauce Tips
Choose a cocoa powder and chocolate that you like. I recommend a dutch processed cocoa powder for a smoother, less bitter chocolate flavor.
Chop up the chocolate to help it incorporate into the sauce more quickly and smoothly.
Use a heavy bottomed saucepan to reduce the risk of burning or scorching of the chocolate.
Once your pot is over heat, don't walk away. The mixture goes from watery to frothy to thick and bubbly in minutes.
Stir frequently with a rubber spatula once the mixture begins to bubble. Be sure to get the corners of the pan. This helps the chocolate stay smooth, prevents any burning, and helps you know when the sauce is done!
After the first addition of chocolate, reduce the stove temperature to medium low so that it bubbles without splashing or popping.
It's tempting, but don't crank up the heat. You can overheat chocolate and you'll end up with a grainy or burnt sauce.
Stir in the final addition of the chocolate very thoroughly, this last addition off the heat helps create the smooth, silky appearance and texture of the final fudge sauce. Add the cream LAST, after all the chocolate is melted.
Taste with caution! Sugar can absolutely burn your mouth.
Pour into a storage jar or container to cool, rather than leaving it in the pot, this makes clean up easier!
Let it cool completely before storing in the fridge.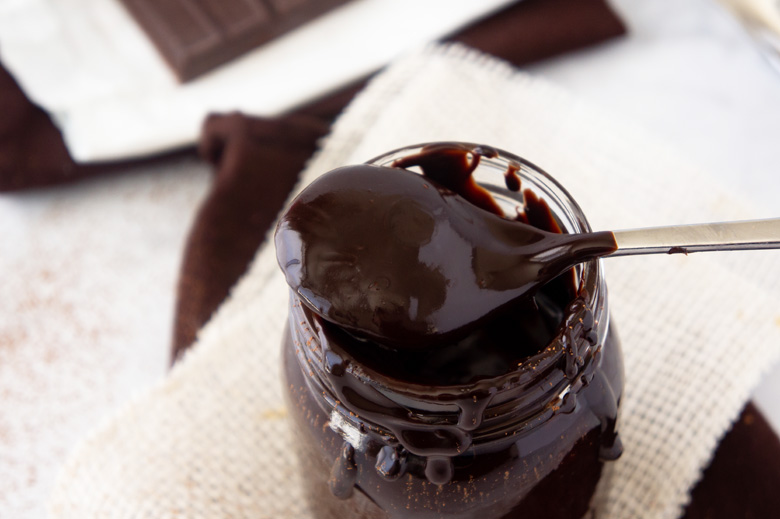 Pro Tip: You'll know your fudge sauce is done cooking when it coats a spoon or your spatula completely. It will still appear somewhat thin until it cools, but the spoon will stay coated. You can also tell by swiping your spatula along the bottom, you'll be able to see some of the bottom of the pot behind the spoon when it's thickened enough.
By the time it's done cooking your kitchen will smell like warm, melted chocolate and you'll be raiding the fridge and cupboards to find things to dip right in.
Storage & Reheating
Once it's cooled enough to place in the fridge, you can keep it there safely for up to 1 month.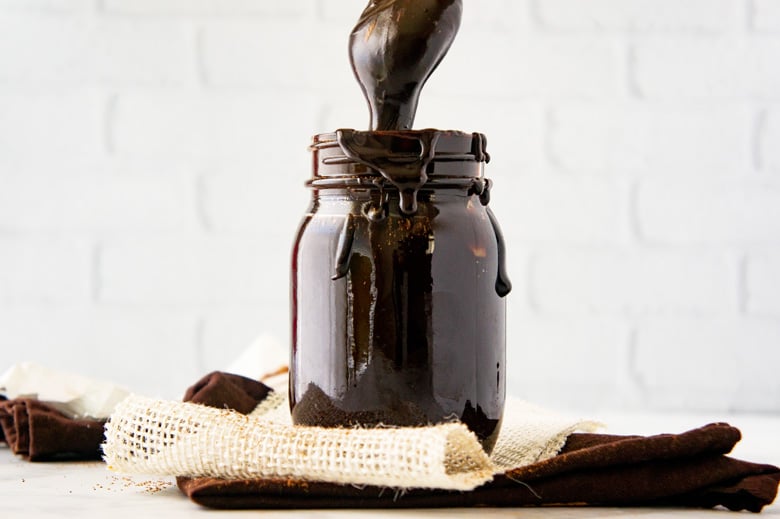 Straight out of the fridge the sauce will be thick and fudgy. It will loosen at room temperature enough to use as a spread or dip, but you can also warm it up for a nice warm fudge sauce. Drizzle it over cakes, pie, or anything else that goes with chocolate!
Substitutions & Consistency
If you prefer, you can use milk chocolate instead. However, due to the fact that milk solids can burn at lower temperatures, wait to add your milk chocolate until the sauce has already thickened.
I would not recommend, however, substituting a non dairy milk. At least not on it's own. Most non-dairy milks are not an adequate substitute for heavy cream. If you'd like to make it heavy cream, use a full fat coconut milk that has been stirred well.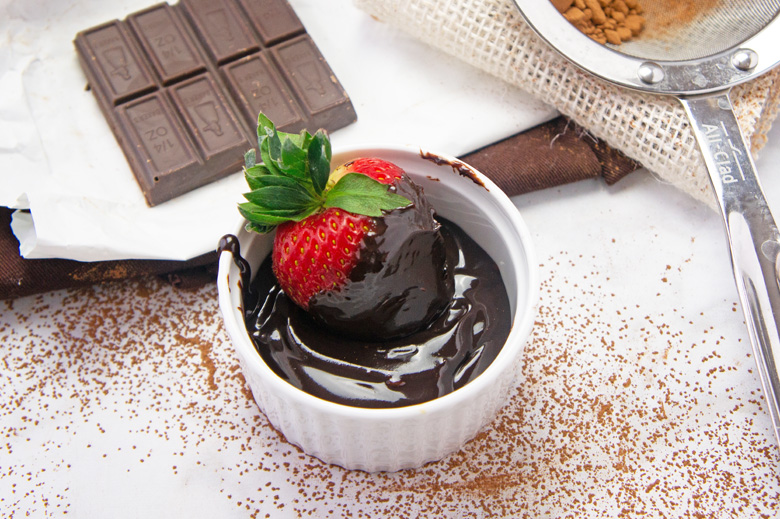 Your heavy cream is the key to the final thickness in the fridge once chilled. Add one to two tablespoons extra cream for a thinner final sauce, and reduce by one for a very thick sauce. Do not leave it out! Leaving out the cream will leave you with more of a chocolate caramel instead.
Keep in mind that your fudge sauce might develop a skin on top as it's cooling. That's completely normal, just give it a stir and it will disappear!