Similar to butter swim biscuits, these no-yeast cinnamon sugar biscuits make for a delicious Saturday morning treat. Rich buttermilk biscuits topped with a thick layer of cinnamon crunchies, brings back my childhood of my mom making me cinnamon sugar toast.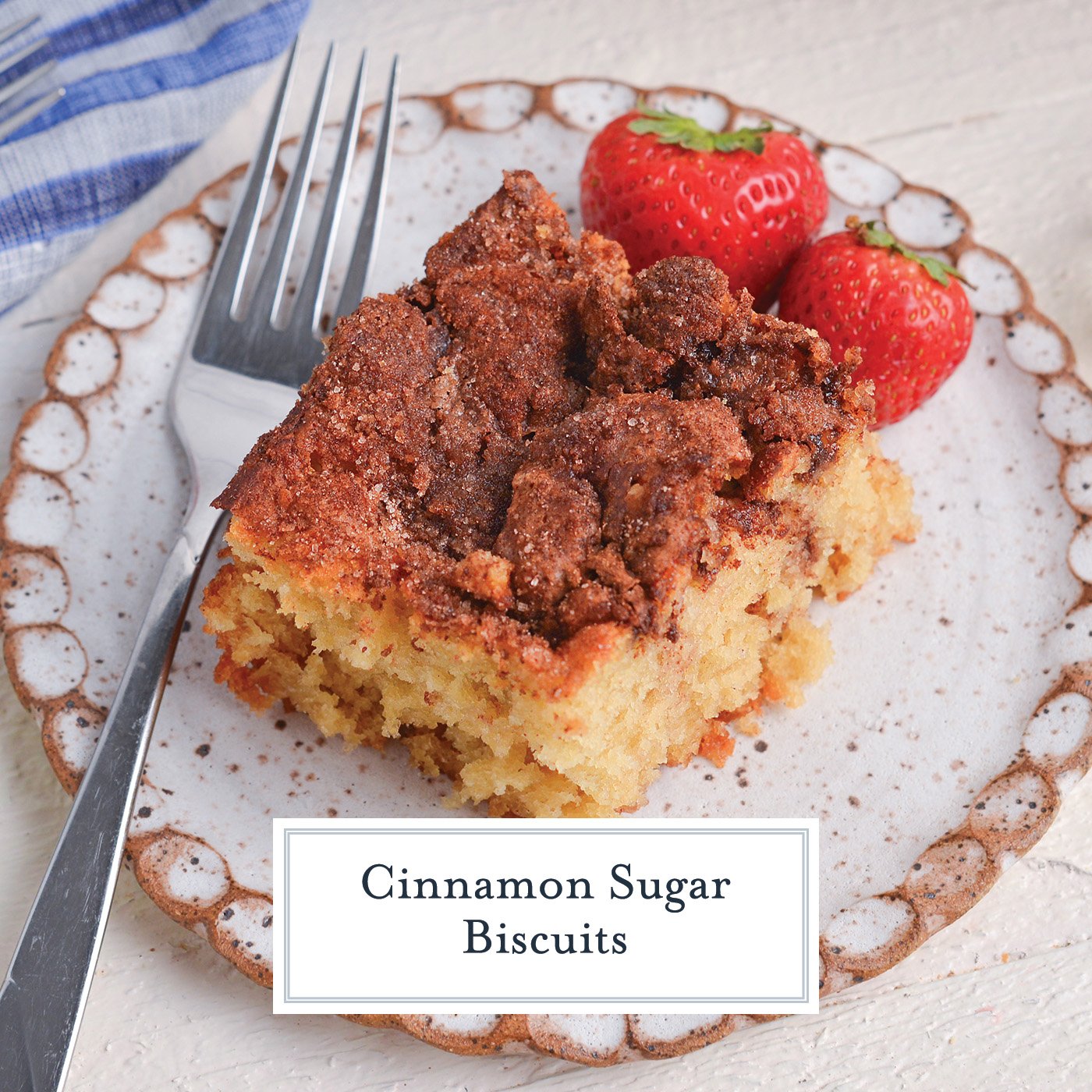 These sweet biscuits are a great way to start off Christmas morning, but they're equally as good as an easy breakfast treat on the weekend. Just make the dough the night before and pop them in when you're ready!
Why Do You Use Cold Butter in Baking?
Using cold butter is crucial for making flaky biscuits. If the butter is room temperature, or warm, it will be absorbed by the other ingredients. Keeping it cold means that it will maintain its shape until you bake the biscuits, when it can steam and create pockets of air.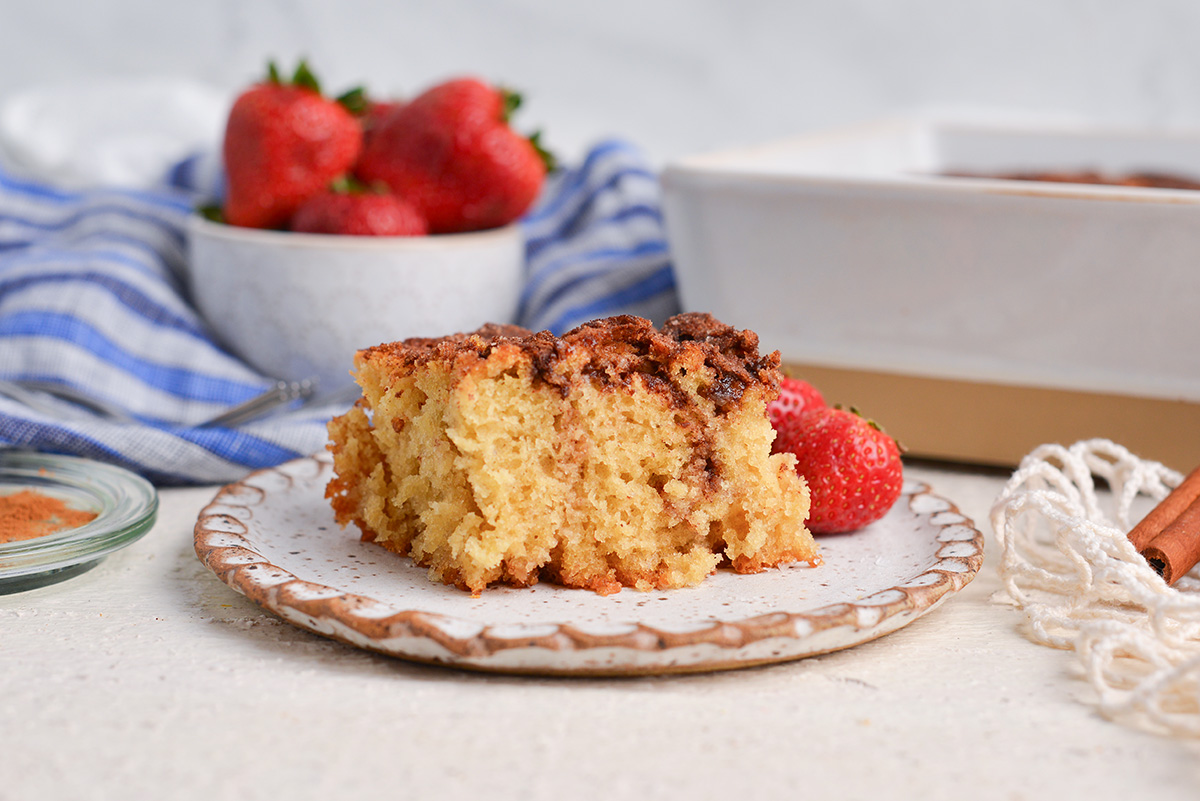 Why Are These Homemade Biscuits Delicious?
There are so many things that make these sugar and cinnamon biscuits amazing.
Nostalgia- I'm a kid of the 80's when things like gritty cinnamon sugar toast and Cinnamon Toast Crunch Cereal reigned for breakfast. This is an elevated version of those childhood classics.
No Yeast/No Rise- These biscuits stay tall with the help of a lot of leavening agents (baking soda and baking powder) but don't require any rising time because they don't use yeast.
Make Ahead Friendly- You can assemble right up to baking or go ahead and bake (and reheat — they taste best warm).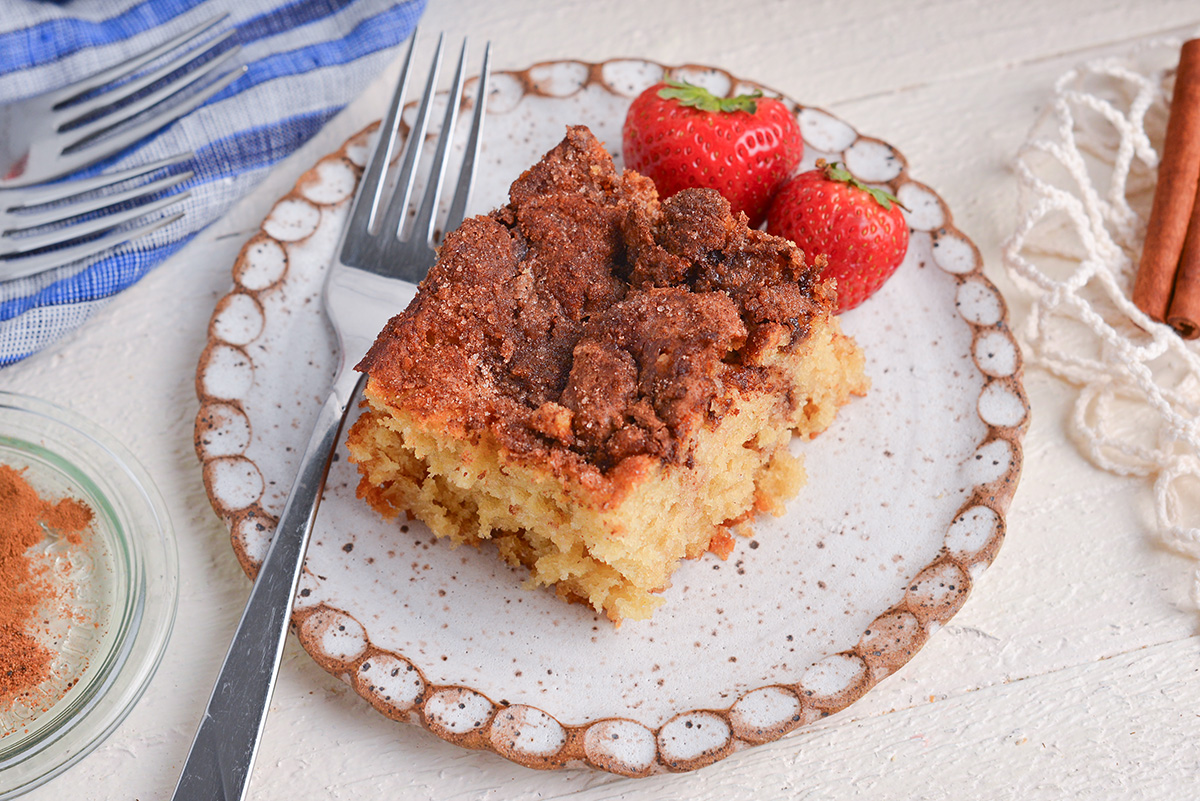 Ingredients For Cinnamon Sugar Biscuits
You only need a few simple ingredients to make this easy recipe.
Buttermilk Biscuit Ingredients:
Vegetable Shortening – We use shortening because it has a high smoke point and butter or cooking spray will burn if baked at 425°F.
Flour – Flour gives the biscuits their structure. We use all-purpose flour but you can use a 1:1 gluten-free flour, too.
Cornstarch – Cornstarch also contributes to the structure of the biscuits and helps to make them soft
Baking Powder – This leavening agent helps the biscuits to rise.
Baking Soda – Using baking soda with baking powder eliminates the need to use yeast or to knead the dough.
Brown Sugar – Brown sugar makes the biscuits sweet with a caramel-like flavor.
Coarse Kosher Salt – Salt brings out the sweetness of the brown sugar and balances the flavor of the biscuits.
Unsalted Butter – Use cold butter that has been cut into cubes. Avoid salted butter since the recipe calls for kosher salt, too.
Buttermilk – Buttermilk contributes to the tender texture of the biscuits and imparts a little bit of tanginess.
Cinnamon Topping Ingredients:
White Sugar – Granulated sugar makes the topping crunchy and caramelizes while baking.
Ground Cinnamon – Cinnamon gives the biscuits warm flavor.
Ground Nutmeg – Nutmeg also imparts warm flavor and complements the sugar and cinnamon.
Heavy Cream (or Buttermilk) – Basting the biscuits helps them to stay moist.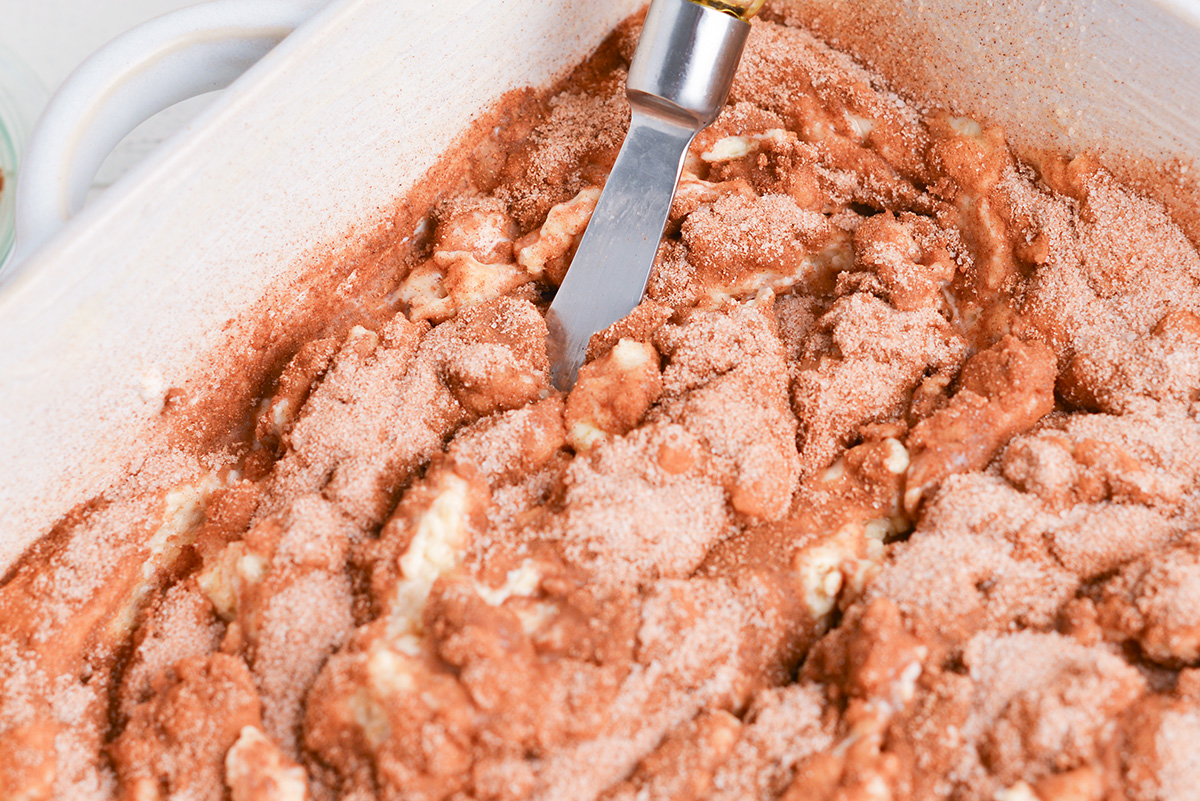 How to Make Cinnamon Sugar Biscuits
If you've made butter swim biscuits before, making these ones will be a breeze!
Dry ingredients. Add the dry ingredients for the biscuits to a large bowl and mix to completely combine.
Cut in butter. Place the cold butter in the bowl with the flour mixture and use a pastry cutter to combine.
Add buttermilk. Pour in the buttermilk and stir until the dough forms. Transfer the batter to the prepared baking dish.
Make cinnamon sugar topping. Combine sugar, nutmeg, and cinnamon in a medium mixing bowl.
Brush on heavy cream. Use a pastry brush to apply the heavy cream or buttermilk to the top of the biscuit batter.
Top with cinnamon mixture. Sprinkle the sugar and cinnamon mixture over top. Swirl the topping with a knife or toothpick.
Bake. Place the baking dish in the oven and bake until the biscuits are golden brown and a toothpick inserted in the center of the biscuits comes out clean.
Cool. Remove the biscuits from the oven and place them on a wire rack to cool briefly before cutting.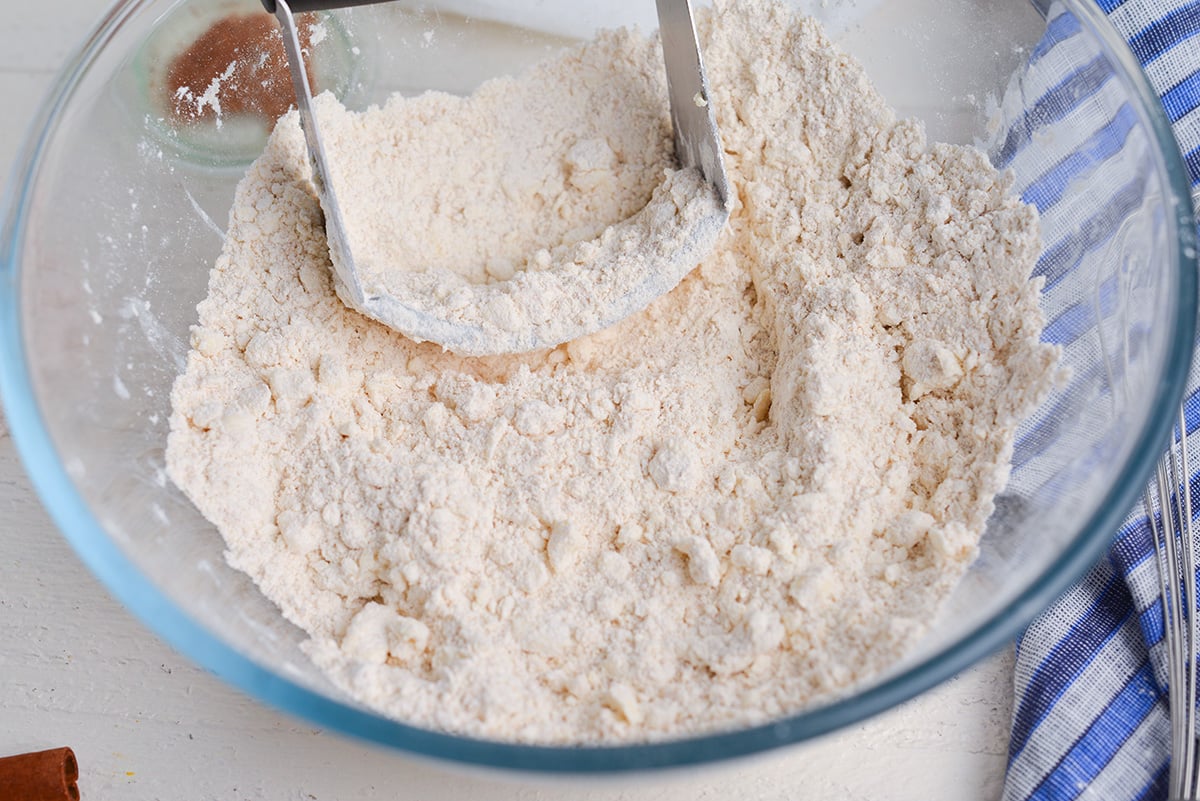 What to Serve with Cinnamon Sugar Biscuits
These sweet treats are perfect with a pat of butter or a drizzle of honey, maple cream syrup, or agave nectar. You can also spread apple butter, pumpkin cream cheese spread, or creamy nutella dip over top.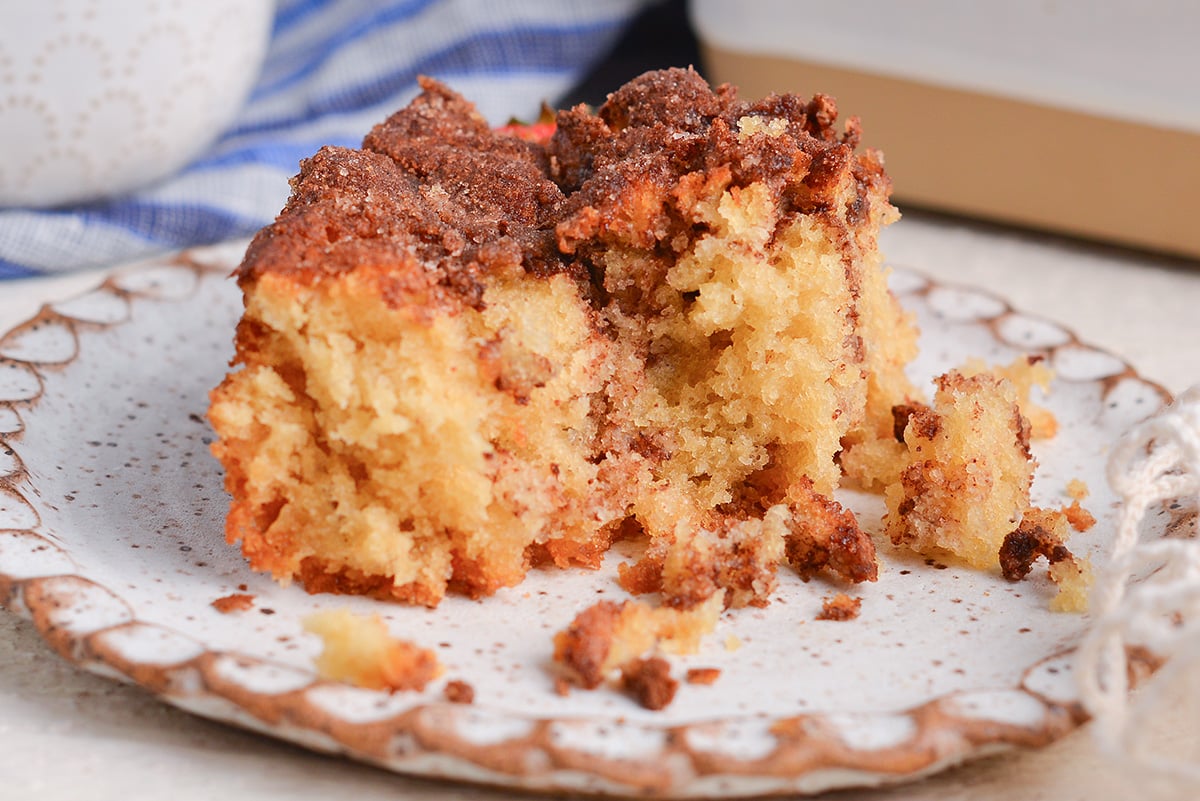 Variations
There are lots of ways to jazz up these sweet biscuits.
Nuts – Add crushed pecans, walnuts, or peanuts to the top of the biscuits.
Topping – Drizzle the tops with a sweet glaze like a powdered sugar icing or spread cream cheese frosting over top of each biscuit.
Spices – Add other spices to the topping, like allspice or cloves.
Dried Fruit – Fold raisins or dried cranberries into the batter.
Dairy-Free Options – If you want to eliminate dairy from the biscuits, try using a non-dairy milk or heavy cream substitute with a similar fat content.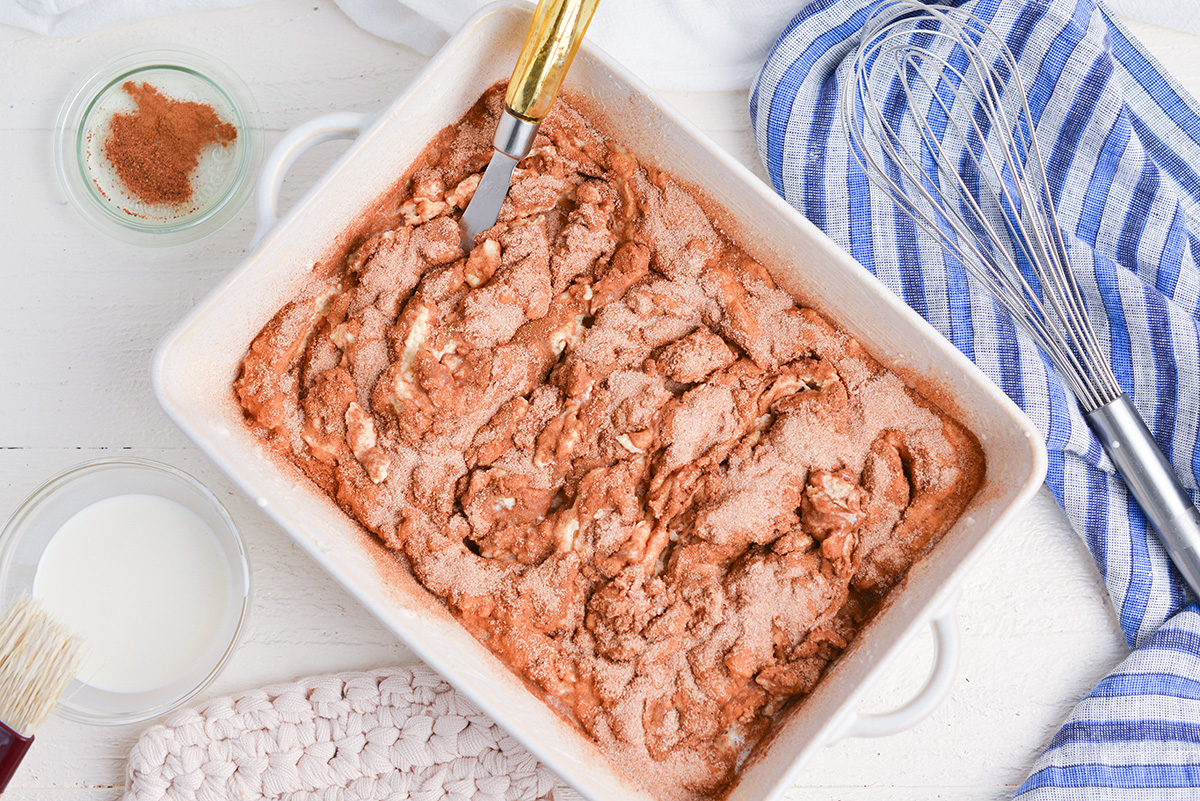 Storage
These easy biscuits can be stored in the fridge or freezer, making it easy to make them ahead of time and enjoy whenever a biscuit craving hits.
Make Ahead
You can make the batter for the biscuits and refrigerate for up to 24 hours before baking.
Refrigerator: Store biscuits in a single layer in an airtight container in the refrigerator for up to 5 days.
Freezer: To freeze biscuits, first wrap them tightly in plastic wrap, then wrap them in aluminum foil and freeze for 1 month.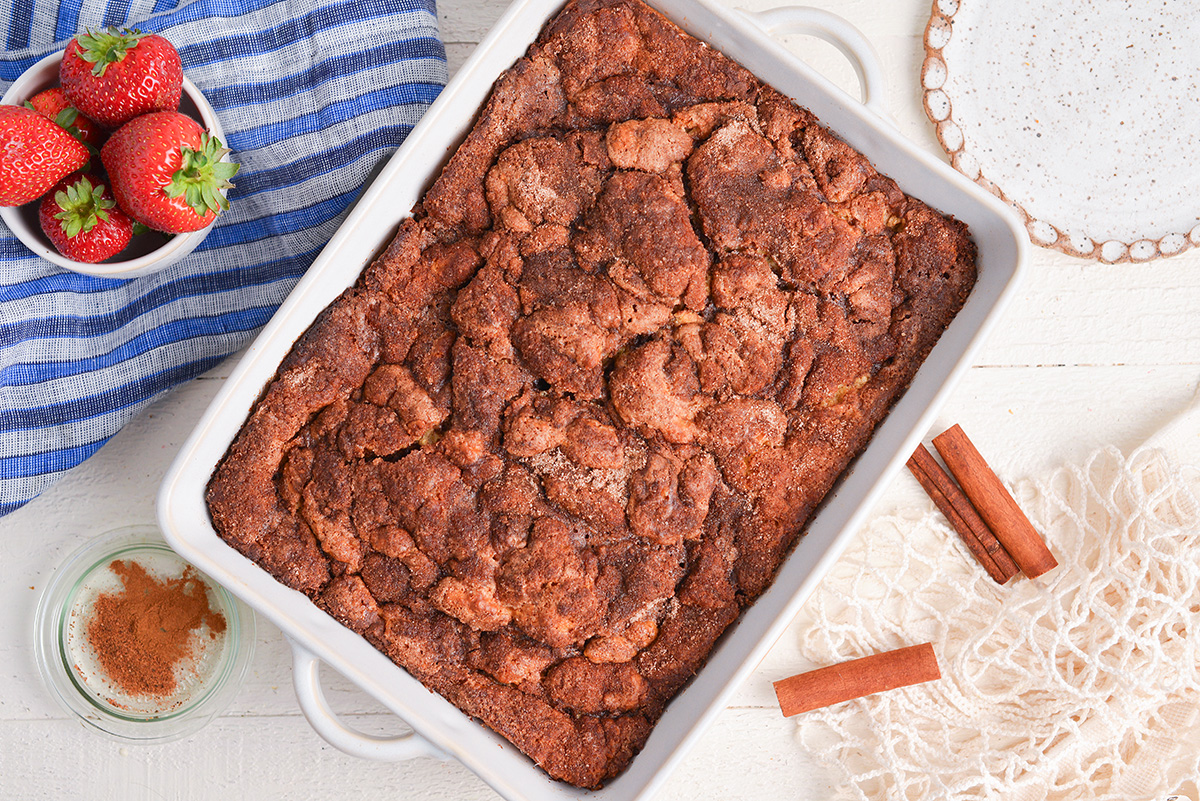 Common Questions About Cinnamon Sugar Biscuits
What is the secret to a good biscuit?
If you're looking to make the best biscuit, you'll want to use cold butter. You can cut it into cubes, or even grate it using a cheese grater or a microplane. This will create those delicious flaky layers you're looking for.
Which liquid makes the best biscuits?
Buttermilk is the ideal liquid to use for the most tender biscuits. If you don't have that handy, you can use another high-fat liquid like heavy cream.
What kind of flour are biscuits made of?
Wheat flour is what most biscuits are made of. You can also experiment with other gluten-free types of flour.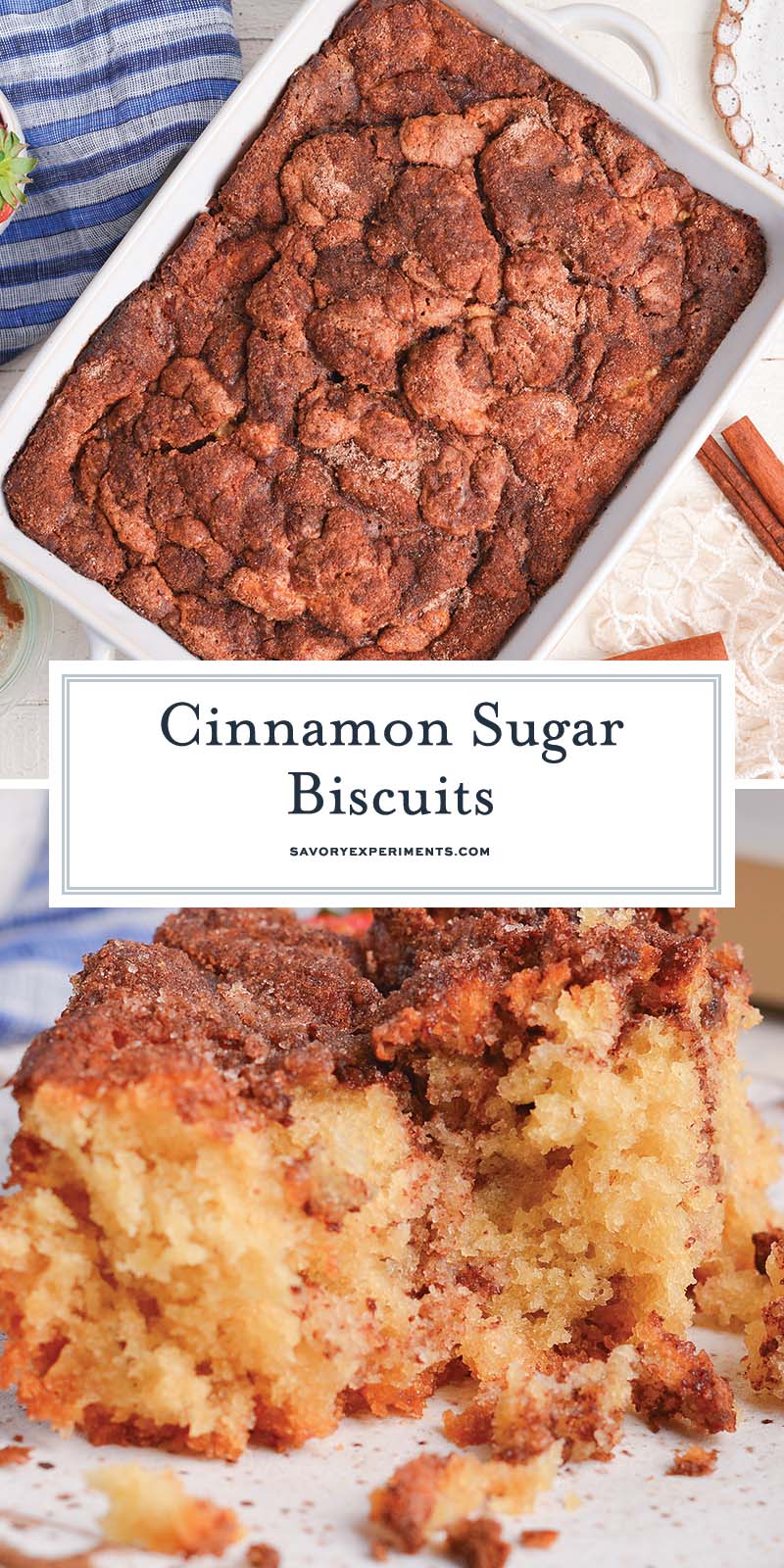 Other Sweet Breakfast Treats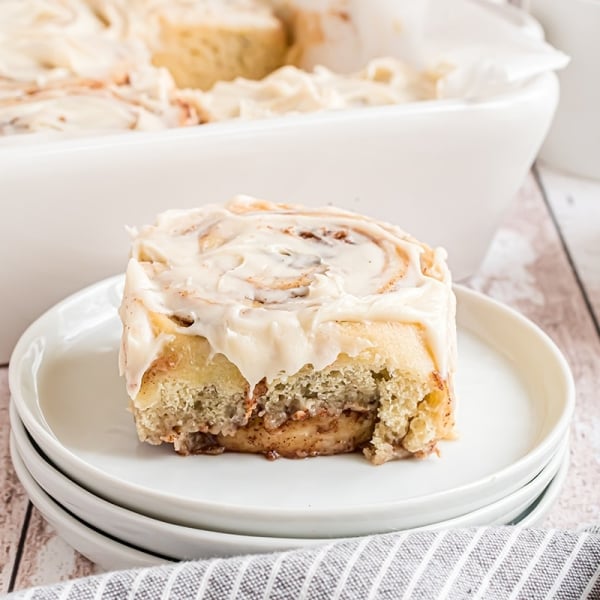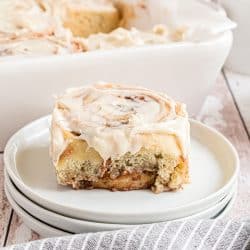 Cinnamon Rolls
If you're looking for a sweet treat to start the day try this EASY Cinnamon Roll recipe. Perfect for special occasions as well as weekdays!
See The Recipe!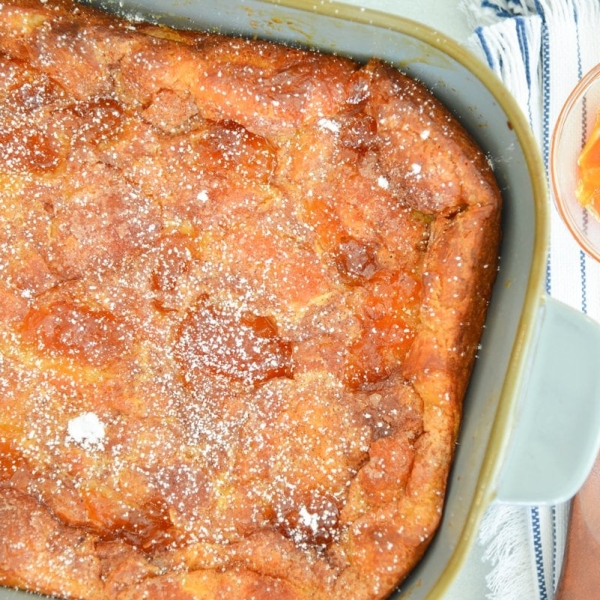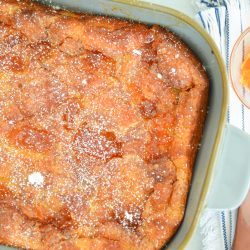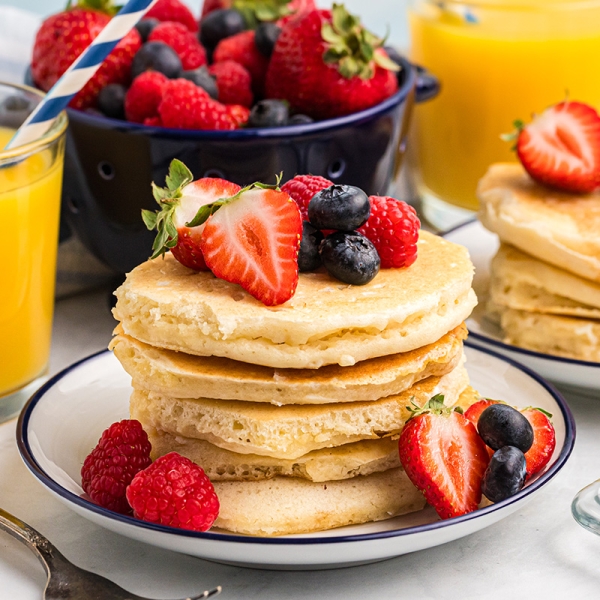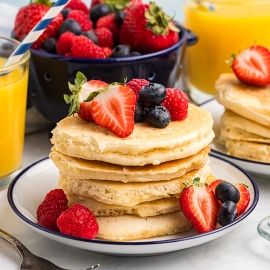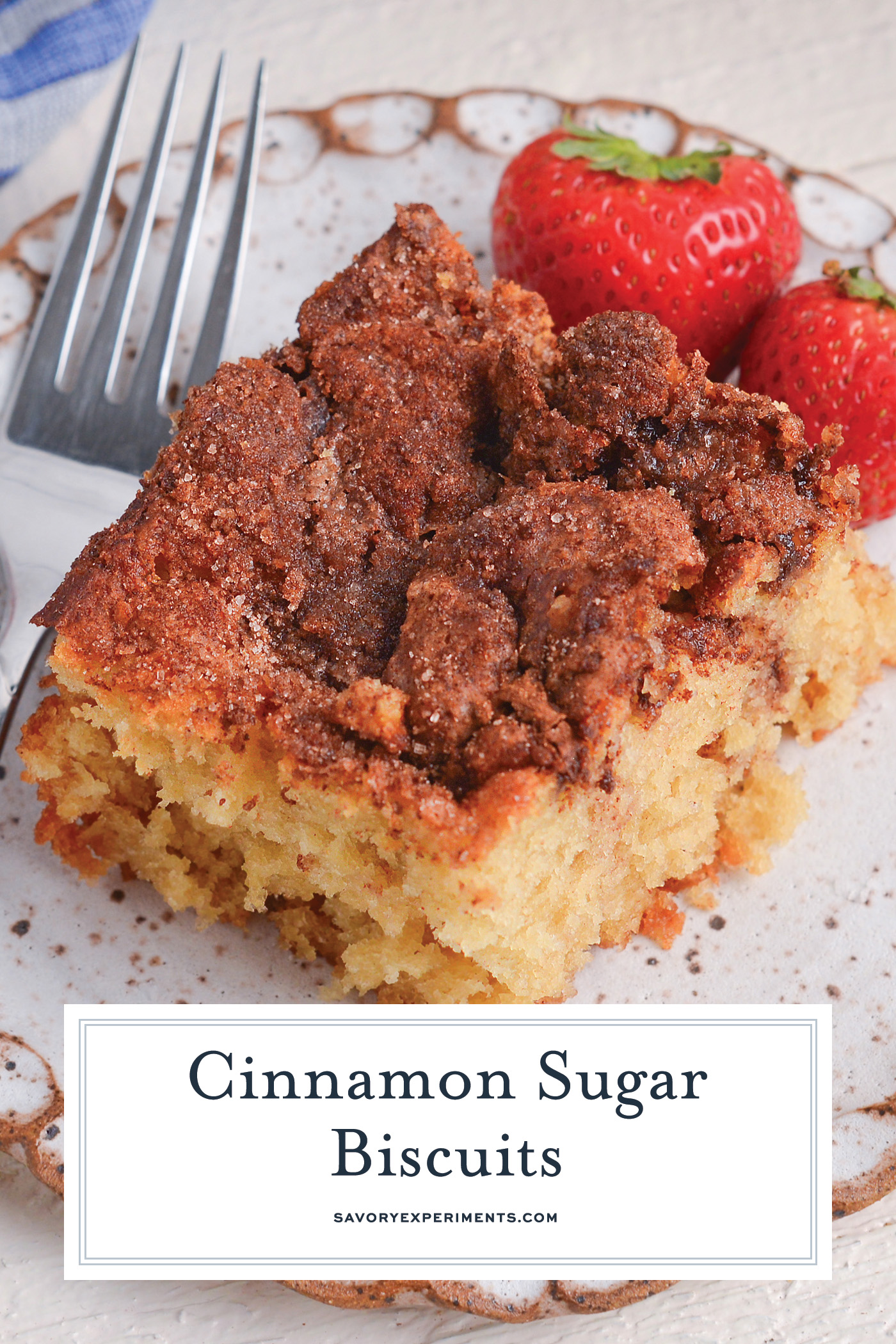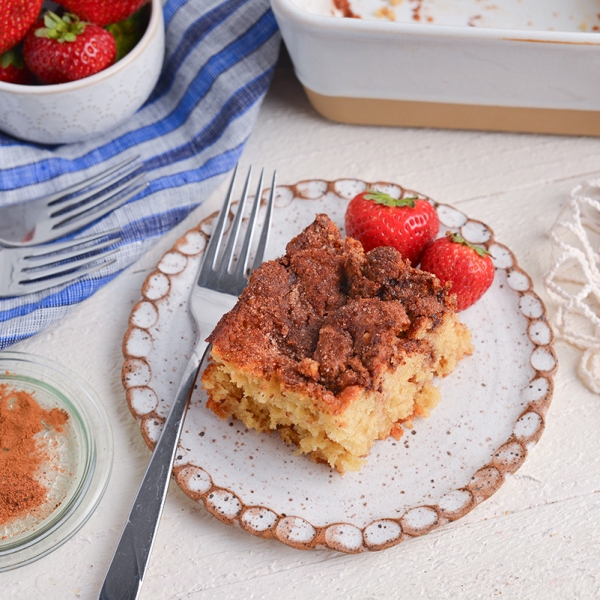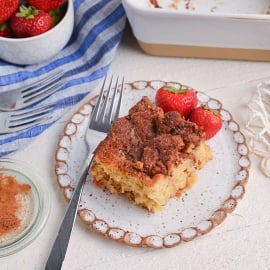 Cinnamon Sugar Biscuits
BEST Cinnamon Sugar Biscuits (Just Like Butter Swim Biscuits!)
Instructions
Preheat the oven to 425°F and grease a 3 quart casserole dish with vegetable shortening. Set aside. You can use a smaller or large casserole dish, but this will also impact baking time.

In a large mixing bowl, whisk together the flour, cornstarch, baking powder, baking soda, brown sugar and salt.

Using a pastry cutter, blend in the cold butter.

Stir in the buttermilk until a coarse and lumpy batter forms. Scoop this into the prepared baking pan, set aside. They will spread, this is normal.

In a medium mixing bowl, stir together the sugar, cinnamon and nutmeg.

Baste the tops of the biscuits with heavy cream (or buttermilk) and top with the cinnamon sugar mixture. Using a knife or large toothpick, swirl the topping around.

Bake, uncovered for 25-27 minutes or until the tops are lightly browned and it passes the toothpick test.

Remove and allow to cool before cutting with a serrated knife.

If you've tried this recipe, come back and let us know how it was in the comments or star ratings!
Notes
To take this up a notch, consider drizzling with powdered sugar icing!
Nutrition
Calories:
442
kcal
,
Carbohydrates:
60
g
,
Protein:
6
g
,
Fat:
20
g
,
Saturated Fat:
12
g
,
Polyunsaturated Fat:
1
g
,
Monounsaturated Fat:
5
g
,
Trans Fat:
1
g
,
Cholesterol:
50
mg
,
Sodium:
554
mg
,
Potassium:
275
mg
,
Fiber:
2
g
,
Sugar:
21
g
,
Vitamin A:
597
IU
,
Vitamin C:
0.1
mg
,
Calcium:
149
mg
,
Iron:
2
mg