Everyone knows that the best Panera soup is their broccoli cheese soup (their French Onion is pretty good too). This Broccoli Cheddar Soup recipe in the Instant Pot makes the delicious, comforting and hearty soup an easy weeknight dinner.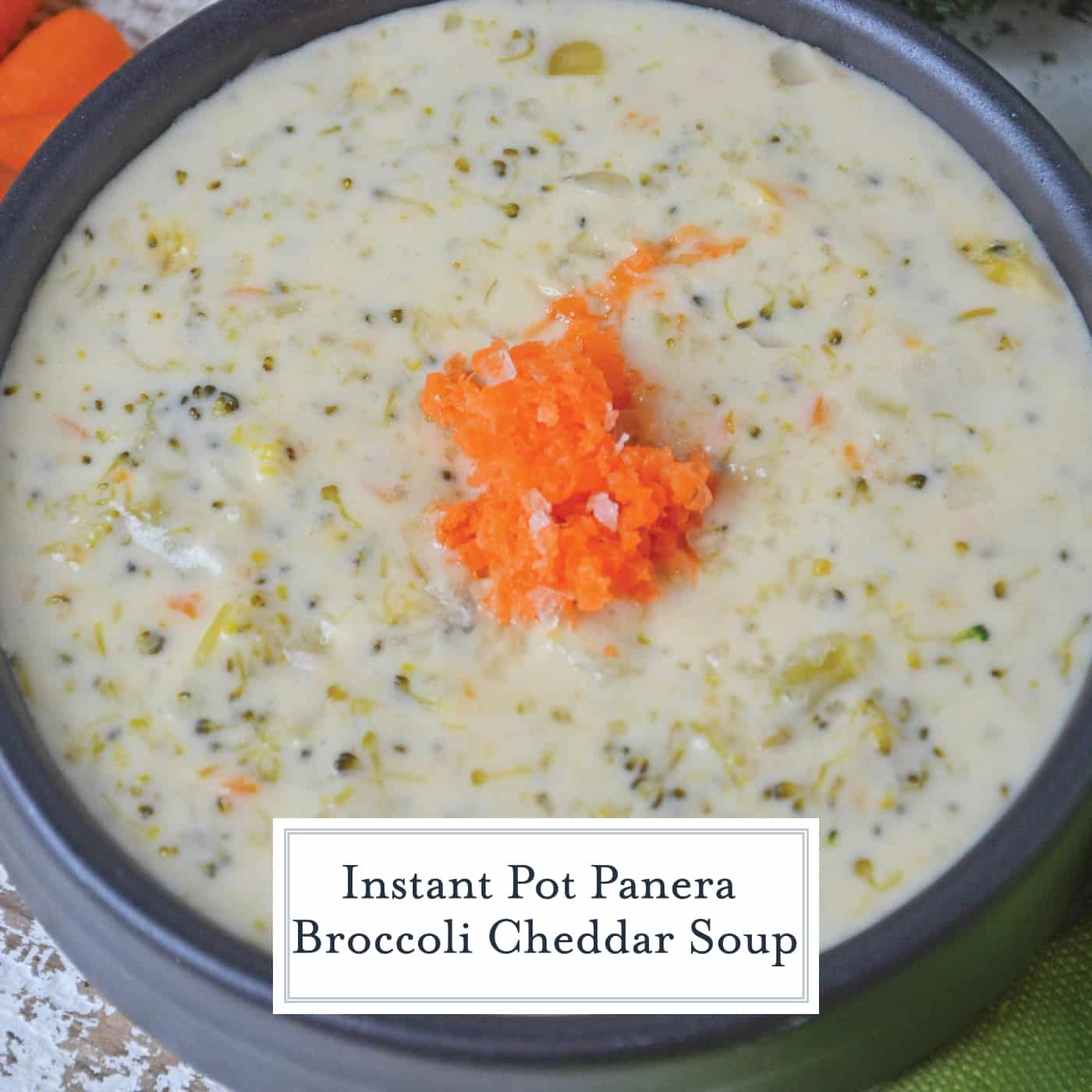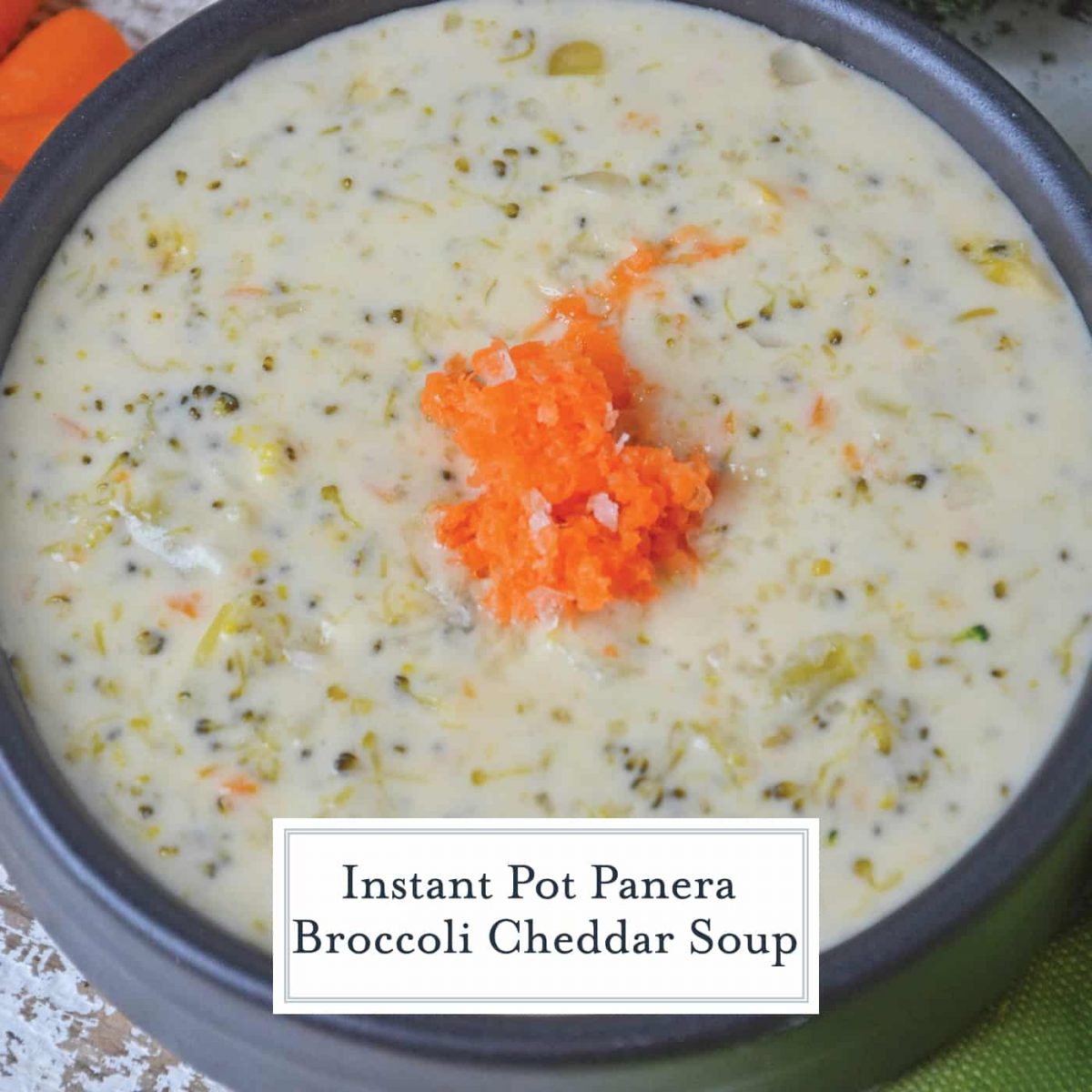 Panera Soup
I must admit that Panera Bread is a weakness of mine.
If I'm out running errands around lunch time, there's a high probability that I'm going to swing by Panera, even if it would take the same amount of time to just go home and grab something from the fridge. It's also my go-to place for lunch dates with friends and colleagues.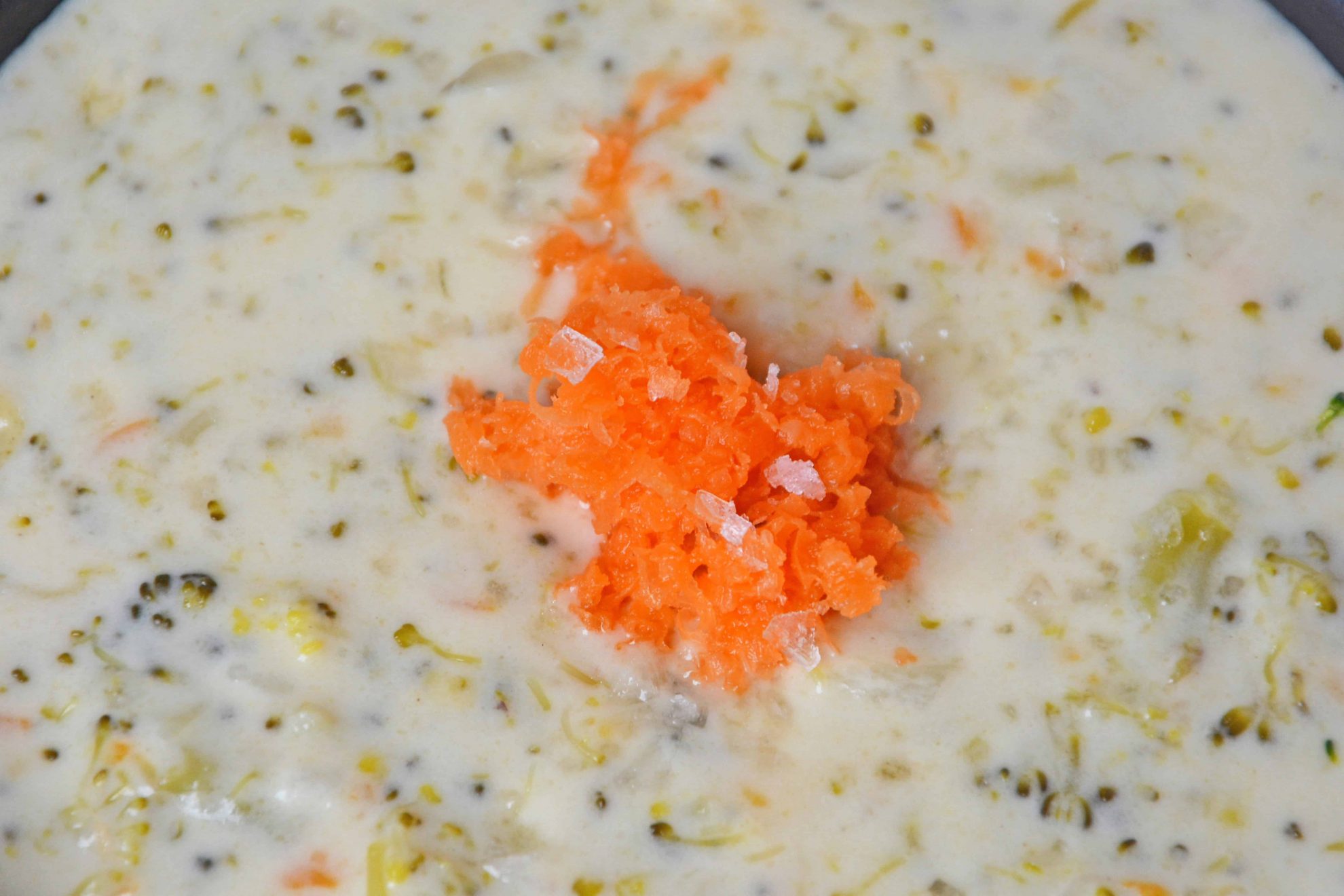 My order is the same, every time – a big, steaming bowl of Broccoli Cheddar Soup. Sometimes I'll get it as a side with a sandwich but usually, especially in the winter, I just go all-in and get only soup.
I'm a big soup person. My favorites include chicken noodle soup, butternut squash bisque, beef stew, crab soup, minestrone and of course, this broccoli and carrot mixture. The ultimate of vegetable soups without it just being floating pieces of veg.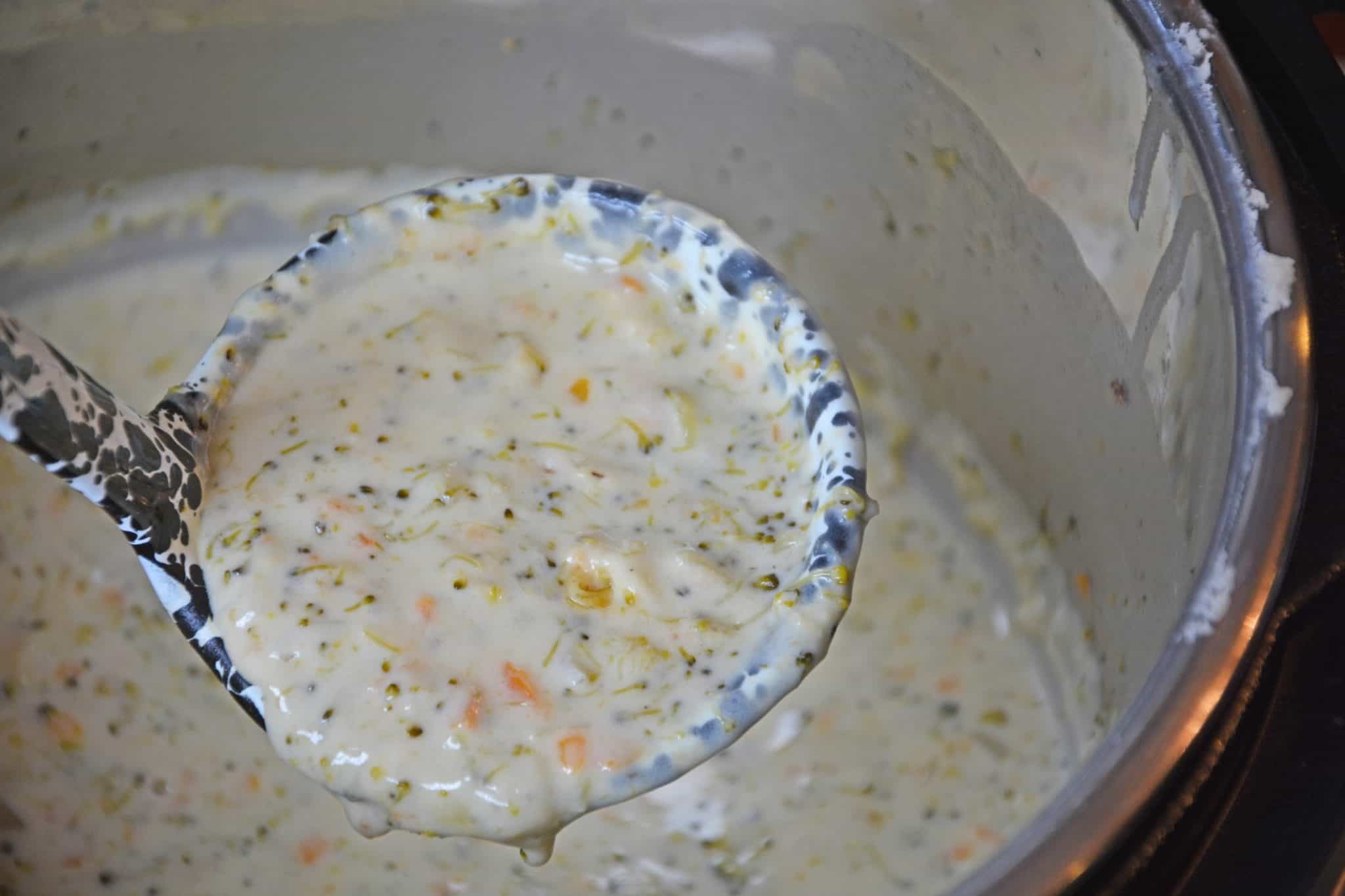 I love theses flavors so much that I found myself craving it even when Panera was nowhere in sight so I decided to try making my own copycat version at home. Hello, SOUP!
Instant Pot Broccoli Cheddar Soup
I don't have the time or patience for a soup that takes all day to simmer and cook so I decided to give it a try in my current kitchen obsession, my Instant Pot. If you are just getting used to yours, make sure to check out my Instant Pot for Beginners!
The result? This recipe tastes like the real deal. Over 100 ratings and comments don't lie!
And… it is ready, from prepping the veggies to your first steaming mouthful, in 30 minutes. It's now one of my favorite easy instant pot recipes.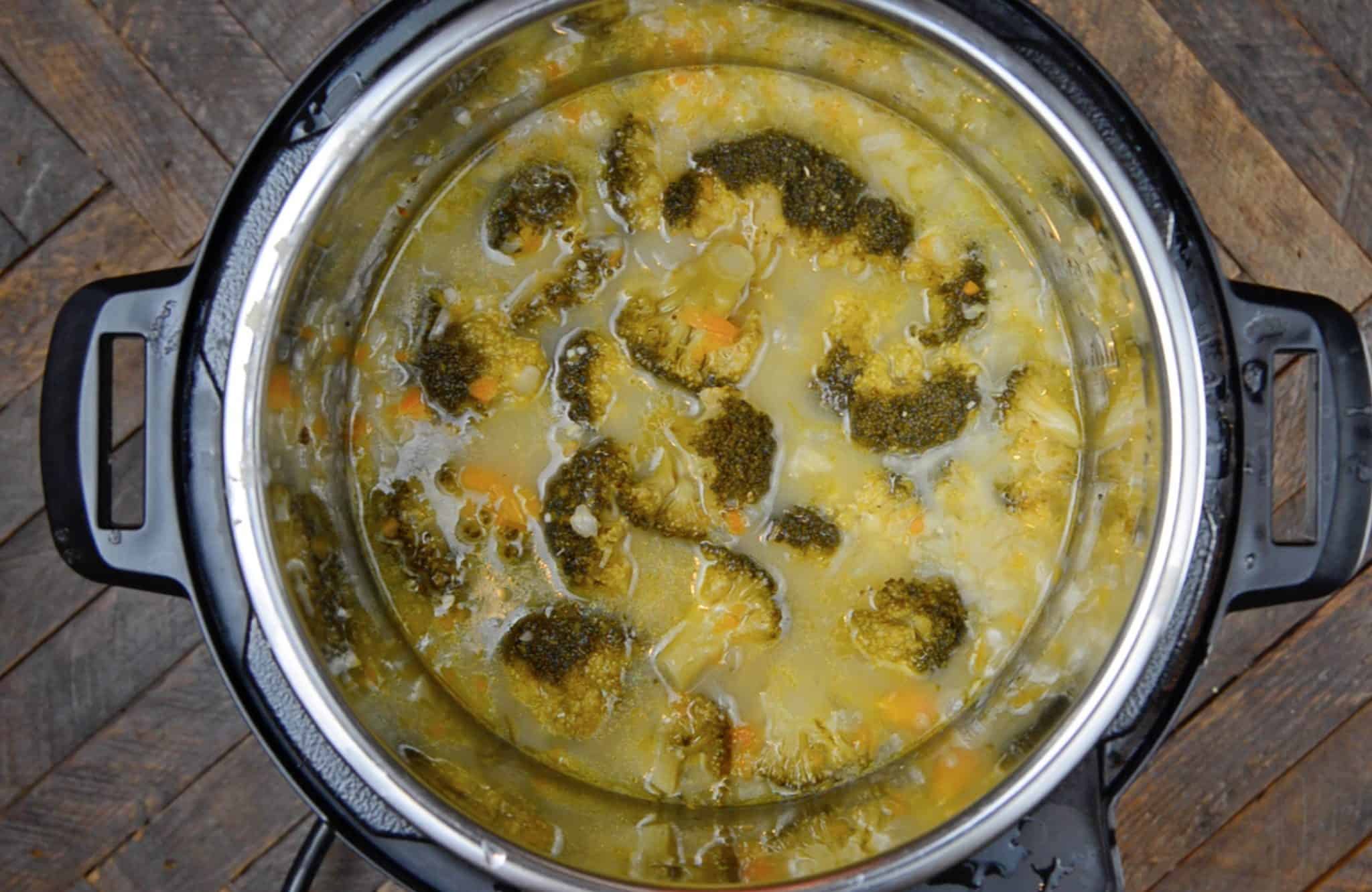 Ingredients
What makes this one of the best instant pot soup recipes? Well, first and foremost, because it's easy. Just a handful of ingredients, most of which you probably already have on hand.
Unsalted butter
Diced Onion
Flour
Garlic
Carrot
Broccoli
Nutmeg
Vegetable or Chicken Stock/Broth
Heavy cream
Cheddar cheese
Salt and Pepper
If you're feeling in need of an additional dose of comfort food, try serving this in a bread bowl. Or at least with a few crusty slices of sourdough bread. Delicious. And if you want it hot, add some red pepper flakes.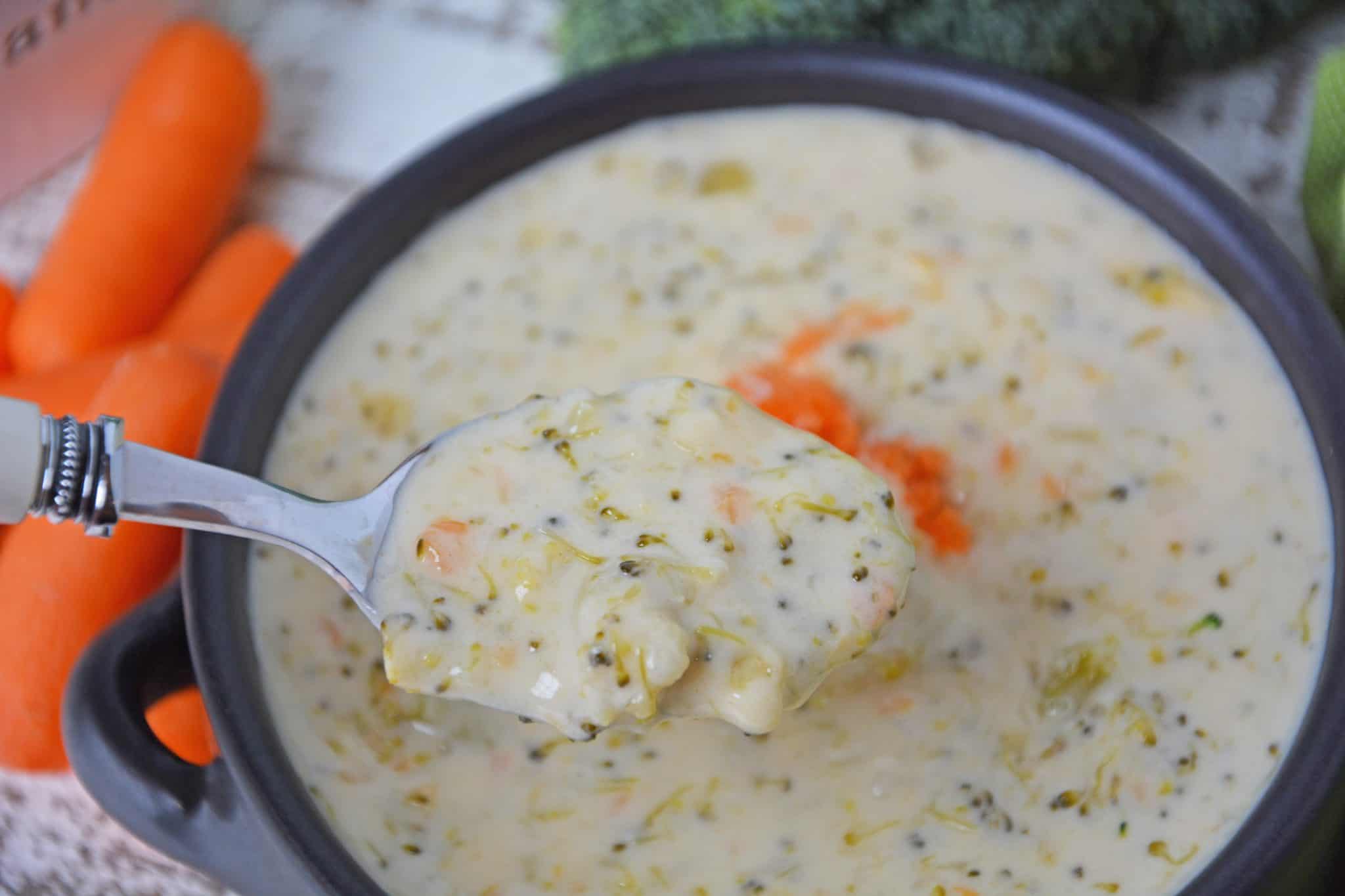 Oh, and for those of you with kids, this Instant Pot Broccoli Cheddar Soup is a great way to sneak in an extra serving of veggies! Though, really, that's a good trick for adults too! And if you need more that do this, check out my meatball soup too!
Double the Recipe, Double the Fun!
Please note that you can easily double this soup by doubling the amount of ingredients, but you do not need to change the cooking time.
However, this depends on the size of your pressure cooker. This fits perfectly into a 6 quart IP, use a larger IP to double up.
Generally speaking, never fill your pressure cooker more than 1/2 to 2/3 full, although with raw broccoli, there is a ton of air between, so this is hard to judge. You should be fine in a 6qt or larger pressure cooker.
Slow Cooker & Stovetop Instructions
Can I make this soup in a crock pot or slow cooker? You sure can! Follow the directions, but instead of putting it on manual pressure for 15 minutes, put it on high for 2-3 hours and then resume the instructions.
Can I make this broccoli cheese soup on the stove? Yep! You can follow the same directions, but in a Dutch oven or large stock pot over medium heat. Allow to simmer for about 1 hour.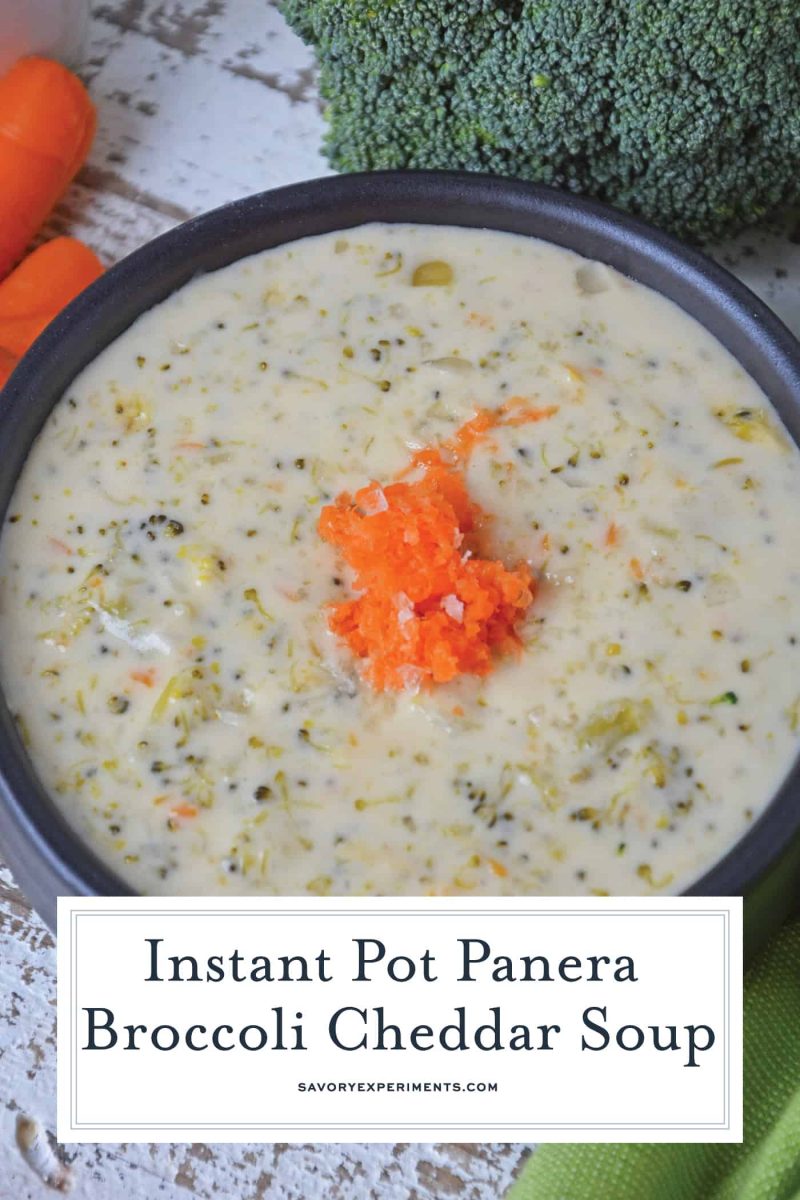 Storage & Freezing
Can I freeze my Instant Pot Broccoli Cheddar Soup? You sure can! Just like freezing any soup, place it in an airtight container or plastic bag and freezer for up to 3-4 months.
Soup can be stored in the fridge for up to 5 days. Reheat in a saucepan over low heat or in the microwave.
Special Diets
I am not a dietician and I don't specialize in specific lifestyle meal plans. Here are the best answers I can provide!
Is Broccoli Cheddar Soup gluten-free? Not the way I have made it because it contains flour. If you'd like to make it gluten-free you can use a GF thickener like cornstarch or arrowroot.
Is broccoli cheddar soup vegetarian? It sure is! But it isn't vegan since it uses cream. I've never experimented with using a non dairy creamer, but if you have, I'd love to hear how it turned out!
Is broccoli cheddar soup good for a cold or sore throat? Only you can be the judge of that. It will not cure illness, for sure, but sometimes a nice comfort soup recipe makes you feel better inside.
Is broccoli cheddar soup keto friendly? I am not a keto expert, but I do know you shouldn't have flour, so sub that out for a keto friendly thickener and you should be all good. However, I do not suggest using almond flour in those one.
Tools:
Wood cutting board – wood won't dull your knives like plastic and if treated properly, has natural antimicrobial properties.
Good knife – Global is my favorite! They are worth the price, I promise. I am kind of obsessed with them and store them tucked away so no one else can use them. Including hubby. Hands off my good stuff!
French Onion Soup Crocks– these are oven safe bowls perfect for serving any soup! I personally like the old school brown porcelain with a handle. It makes it easier to transfer from the baking sheet to a serving plate.
If you have any more questions, send on on over!
CONNECT WITH SAVORY EXPERIMENTS!

Be sure to follow me on social media, so you never miss a post!

Facebook | Twitter | Youtube
Pinterest | Instagram

Get our FREE 8 Day E-Course on How to Be a Better Home Cook. Sign up HERE!