If we are being 100% transparent with each other, I could (and would) eat nothing but biscuits for a whole meal. Buttery and fluffy, there isn't nothing quite like them. But I also don't have the time to make sourdough or yeast biscuits, so drop biscuits are my go-to.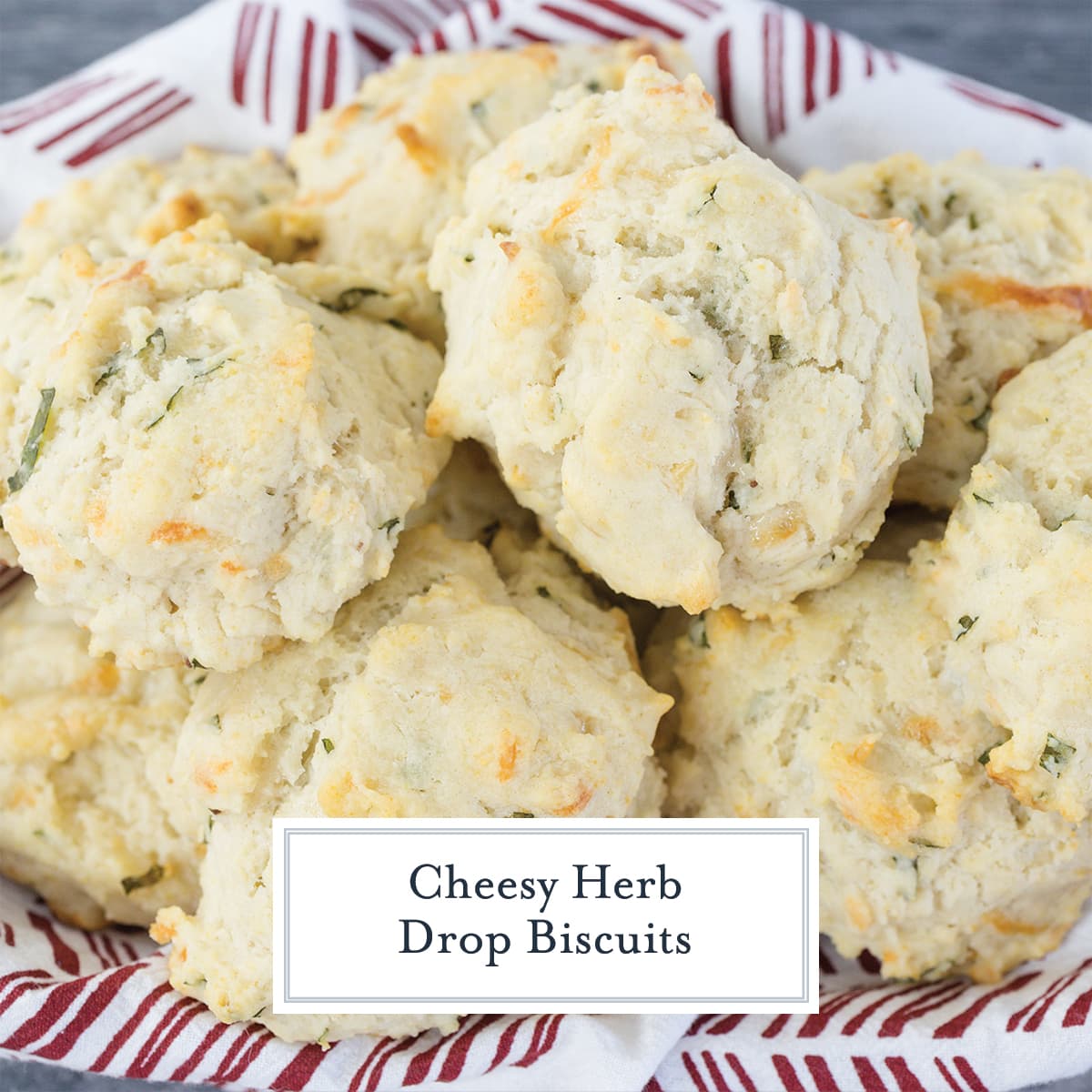 This Cheese Herb Drop Biscuit recipe is a delicious combination of fresh herbs, parmesan and mozzarella cheese all in a simple easy biscuit recipe that can be modified in so many ways.
What are Drop Biscuits?
The term drop biscuit simply means a biscuit made by dropping your biscuit dough from a spoon onto your baking sheet using dough that doesn't require yeast, rising or rolling. Americans have been making drop biscuits since the 1850's. Some people call them the lazy man's biscuit… I'm okay with being lazy if they taste this good!
The dough is often so sticky you wouldn't be able to roll them if you wanted to. The high level of moisture helps to make them soft and buttery without the use of yeast.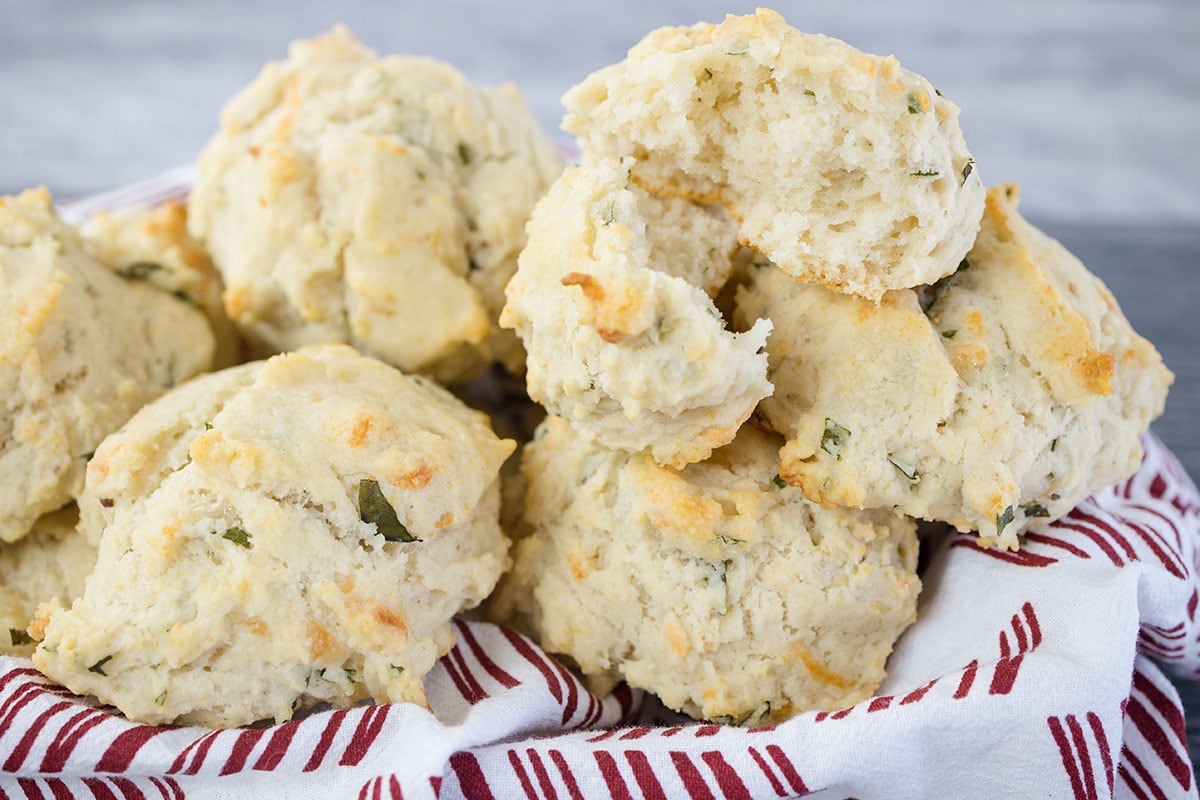 Drop biscuit recipes can be used for savory biscuits like these or sweeter breakfast biscuits.
Ingredients
The ingredient list for these particular homemade biscuits is quite simple and uses kitchen staples. I like to call it my "clean out the crisper" recipe because it uses so many odds and ends of both cheese and herbs. The actual amounts of these can be adjusted depending on what you have.
All-Purpose Flour– Although I do have a variation using self-rising flour below the recipe card.
Baking Powder– Since you aren't using yeast or eggs, you need something to help the biscuits rise, this is your leavening agent.
Coarse Kosher Salt– Please, please, please use a large coarse grain salt. If you need to use a fine grain, reduce the volume by 50-75%.
Fresh Herbs– Don't focus too much on the amount here, it can be more or less and you'll still have tasty biscuits. The fresh herb mix can be any combination you have lurking in your vegetable drawer. The most commonly used herbs are Rosemar, Thyme, Cilantro, Flat Leaf Parsley, Tarragon, Chives and Oregano. And don't just use the leaves, chop up those stems too.
Garlic– Fresh garlic will give the most garlicky flavor while the bottled stuff will have more a sweet flavor.
Cheese- They are cheesy drop biscuits for goodness sake! Use 1/2 cup of cheese total, I used Parmesan and mozzarella, but cheddar, gouda and monterey jack are also popular.
Milk- While we used whole milk for the fat content to keep these bad boys rich, any fat percentage will work.
Vegetable Oil- Works as the fat in the dough. Any neutral oil will work.
Unsalted Butter- This is for basting at the very end. If you use a salted butter, reduce the salt in the actual recipe.
Marinara Sauce- This is optional, but can serve your biscuits with marinara for dipping. Garlic butter, olive oil dip or any of our compound butters are also great choices!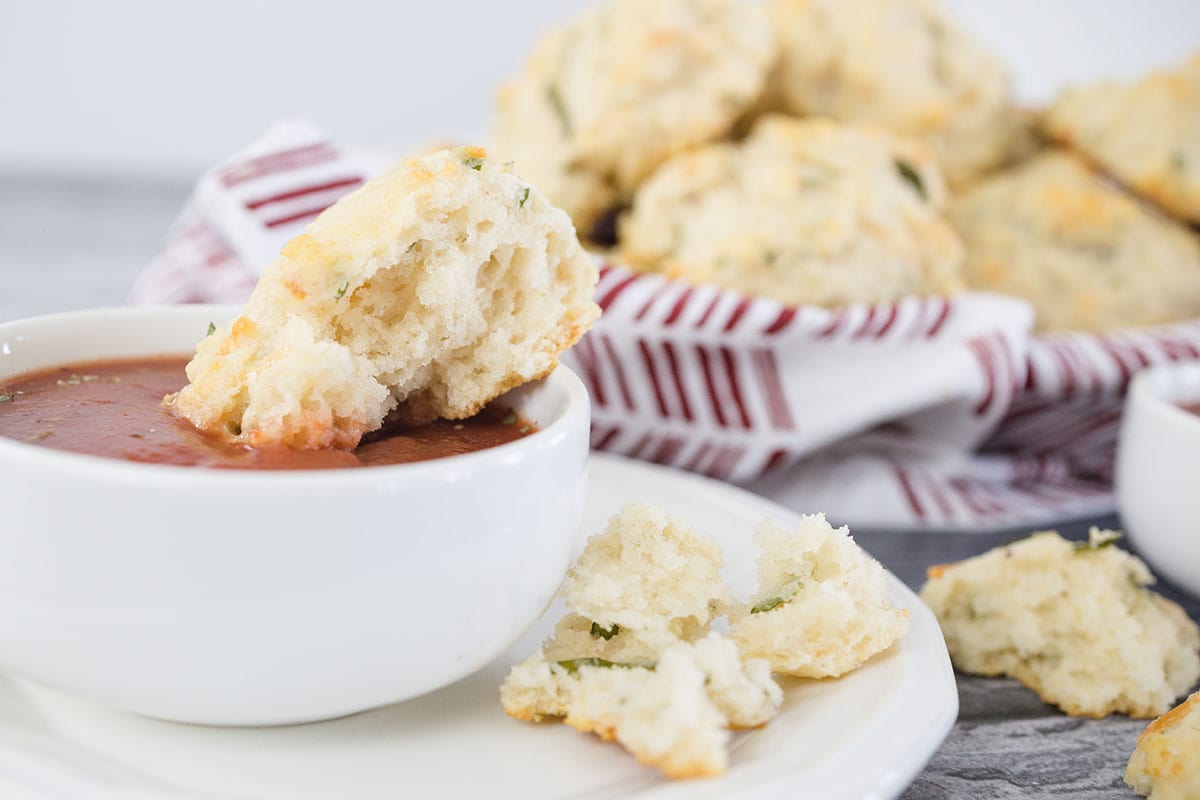 PRO TIP: Don't throw away the stems of herbs if you use the leaves. Instead, incorporate them into salad dressing, salads, fun variations on pesto or bread, like these herb biscuits. They can also be used to infuse olive oil.
How to Make Drop Biscuits
Preheat the oven and place parchment paper on a baking sheet, this prevents sticking. I've found using spray with these biscuits will burn on the bottoms since the oven temperature is over the smoke point for most cooking sprays. A silicone baking sheet will also work.
In a large bowl, whisk together dry ingredients and also herbs and garlic. Fresh garlic will give you the most garlicky flavor, but if you want more of a sweet profile, use the bottled stuff. Powdered garlic will also do, but packs the least amount of punch.
Add the wet ingredients and do not over mix, only until wet. This is one of those situation when old fashioned arm power is way better than replying on an electric mixer.
Evenly drop biscuits onto the lined baking sheet.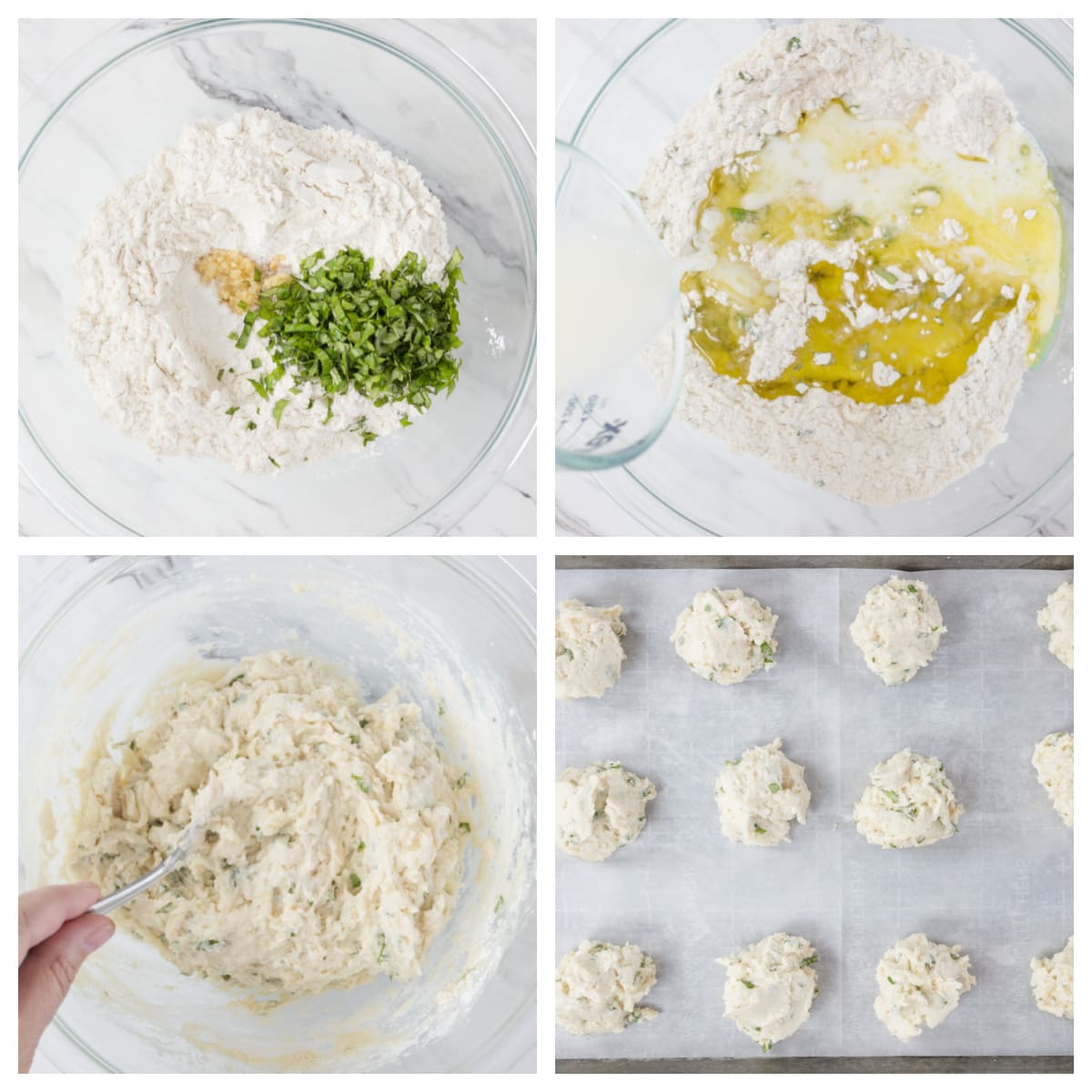 Bake for 15 minutes until until tops are slightly crispy and lightly browned.
Remove and then baste with butter- you are ready to serve!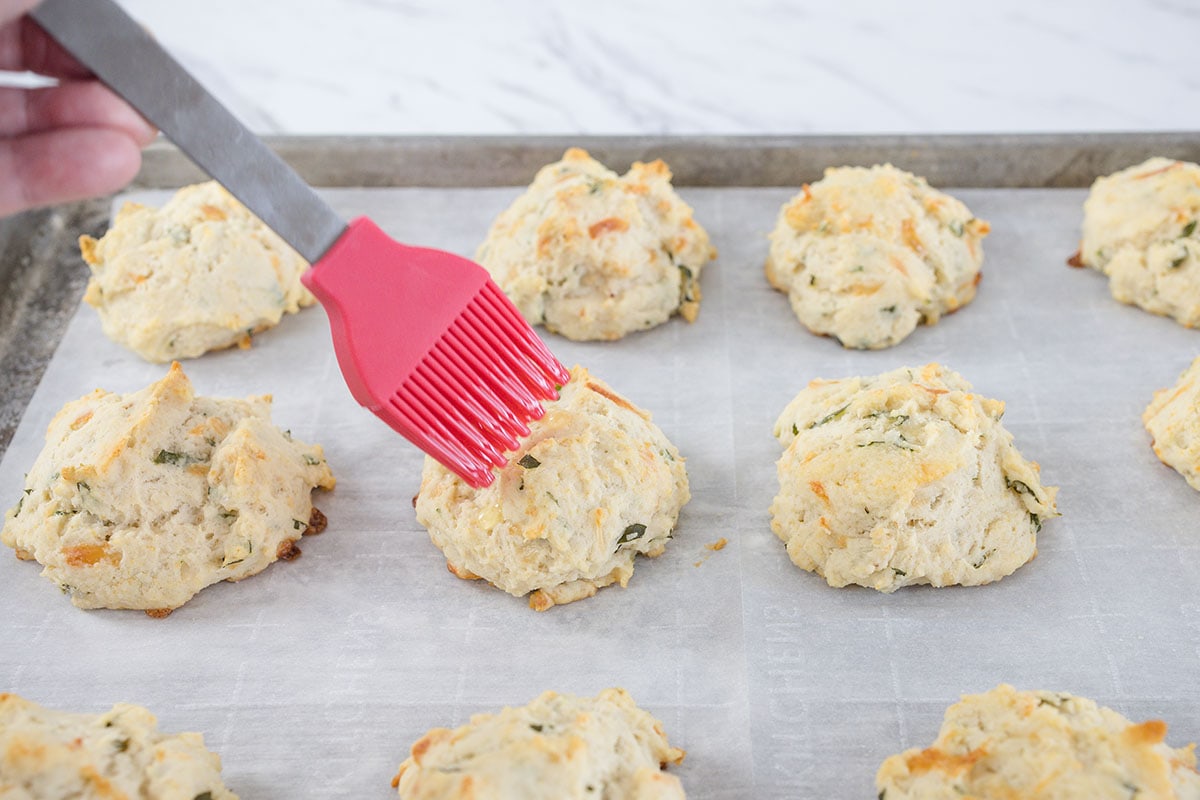 PRO TIP: Don't overmix the biscuit dough! Overmixing leads to dry, crumbly biscuits.
If you are looking for a perfectly circular rolled biscuit, they aren't going to work for you, the dough is too sticky to roll out. You'd need a lot of flour and that would make for dry and brittle biscuits. We do not recommend this.
History
The history of biscuits and how to make them has been long debated. Most folks think of them as Southern, but they have been made through Europe for decades.
One of the biggest benefits is that they are a no yeast bread, require less time and foresight. Instead, baking powder acts as the leavener.
There are many different ways to make the best biscuits and people disagree on the factors that would even qualify them. I'm pretty confident you are going to love these, though!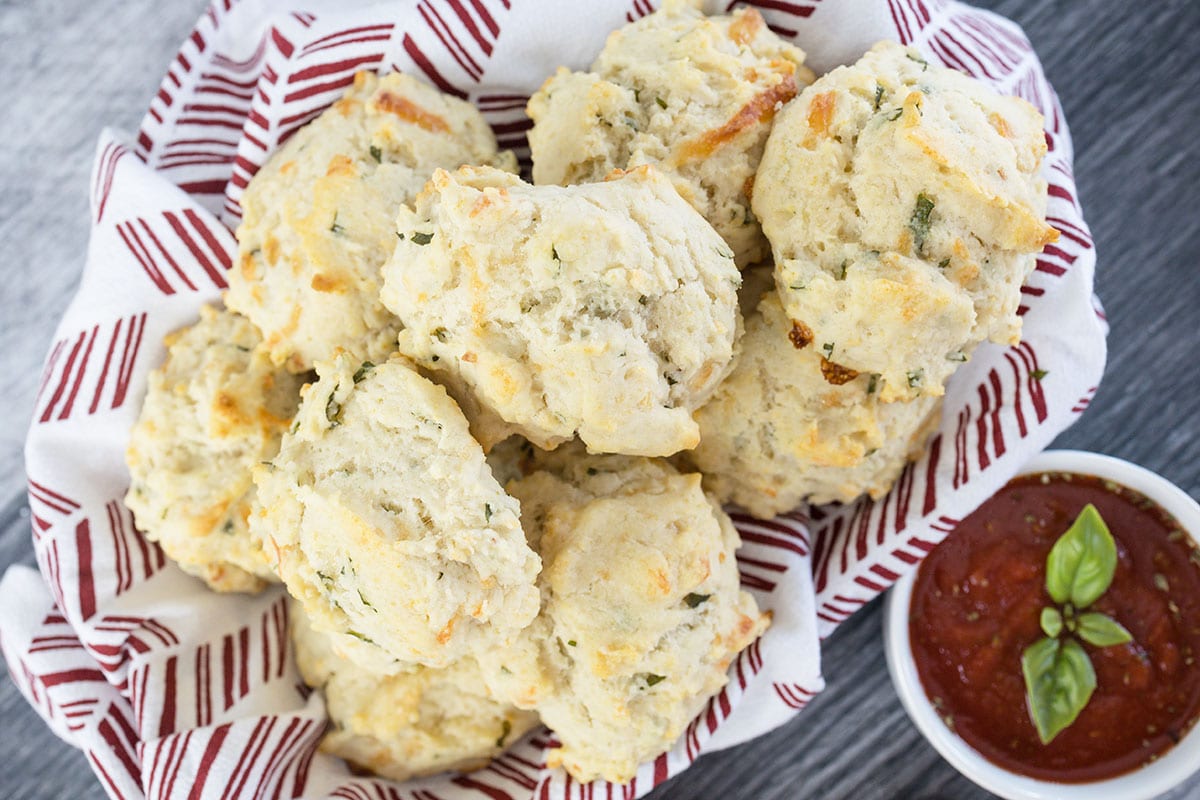 Make Ahead & Freezing
Can I make biscuits ahead of time? You can make biscuits ahead of time, but honestly, like them best right out of the oven. My advice would be to prepare the dough, cover it well and refrigerate until ready to bake. Since the dough will be chilled, it might take a few additional minutes to bake.
Can I freeze biscuits? Biscuits are very freezer friendly. Simply place them in an airtight plastic bag, squeezing out as much air as possible and then freeze for up to 4 months.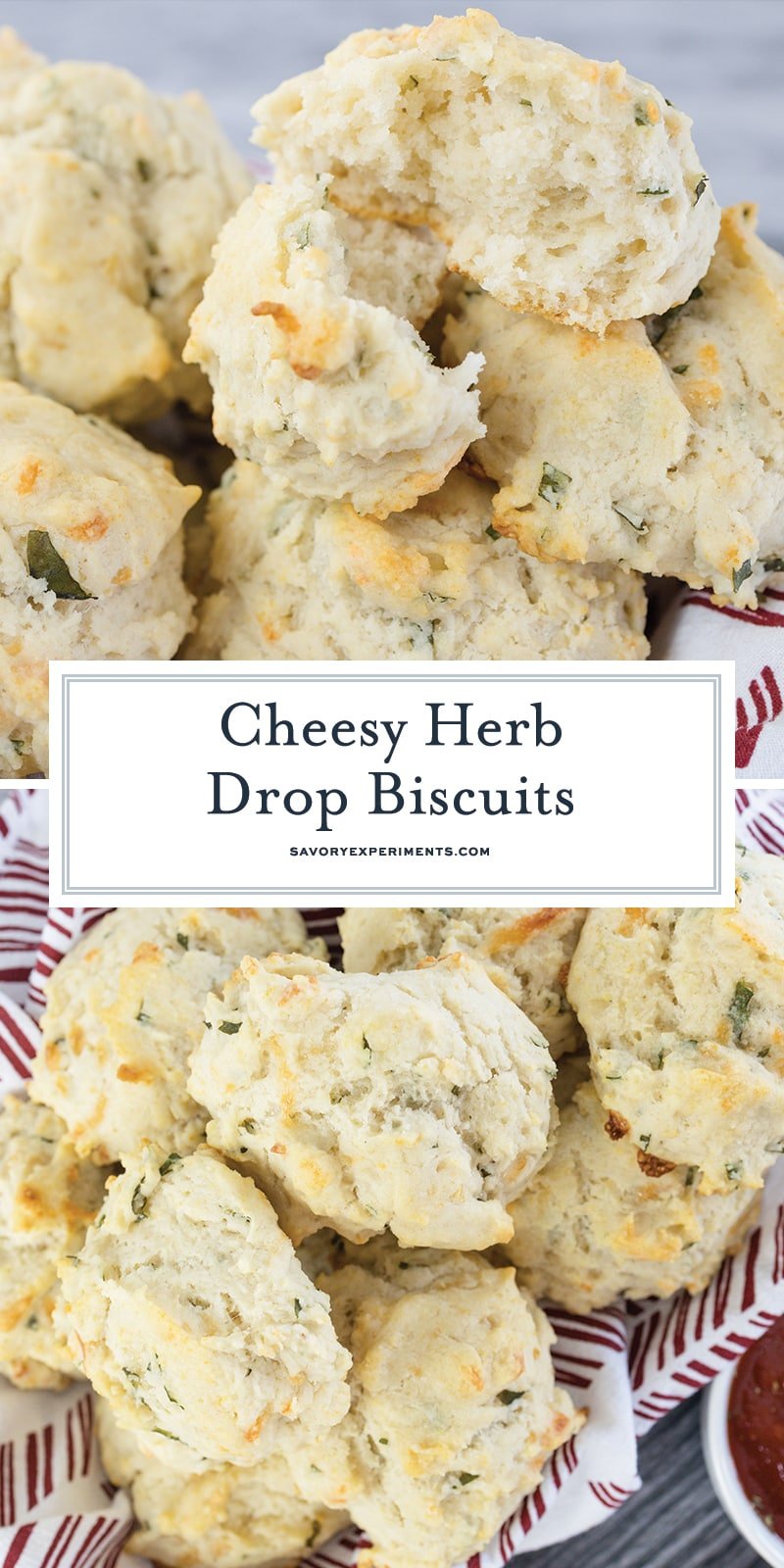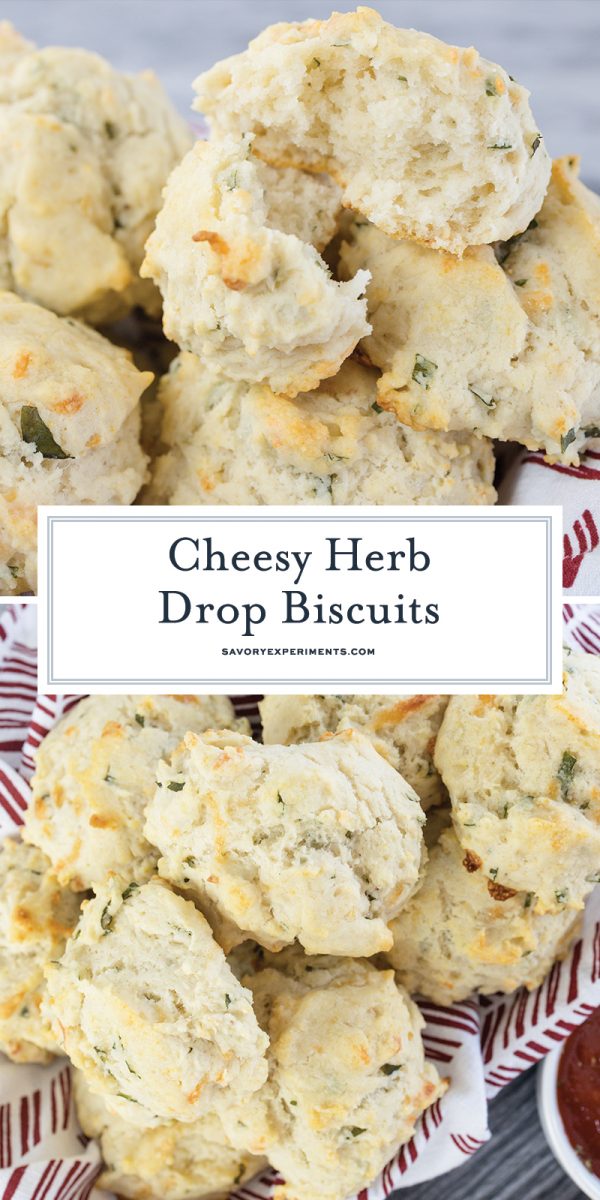 More easy bread recipes: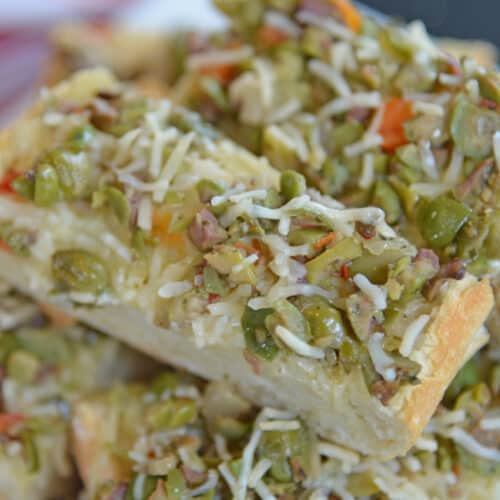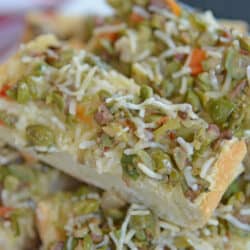 Olive Cheese Bread
Don't have time to make homemade olive bread? Check out my hack for making this easy Olive Cheese Bread recipe. It takes no more than 15 minutes from start to finish!
View this recipe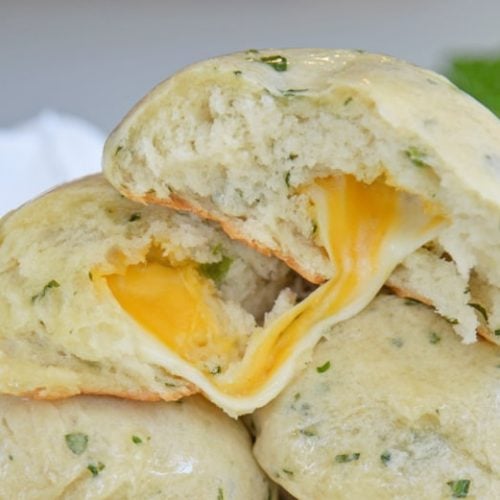 Mexican Cheesy Bread
Upgrade your usual dinner rolls and try these Mexican Cheesy Rolls! It's a great way to add a little spice to your dinner roll recipe.
View this recipe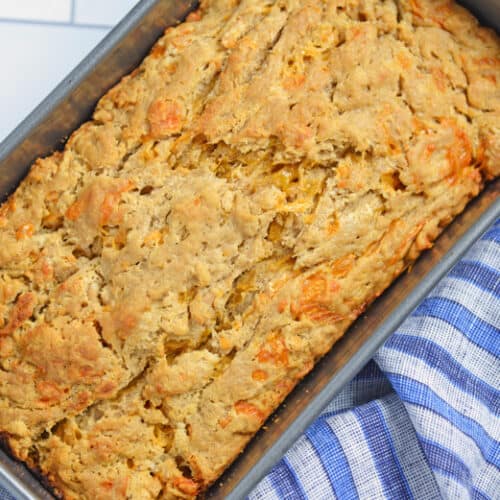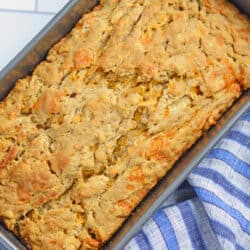 Cheddar Beer Bread
Rich, buttery and cheesy, this easy to make Cheddar Beer Bread only requires 5 ingredients and NO RISING TIME!
View this recipe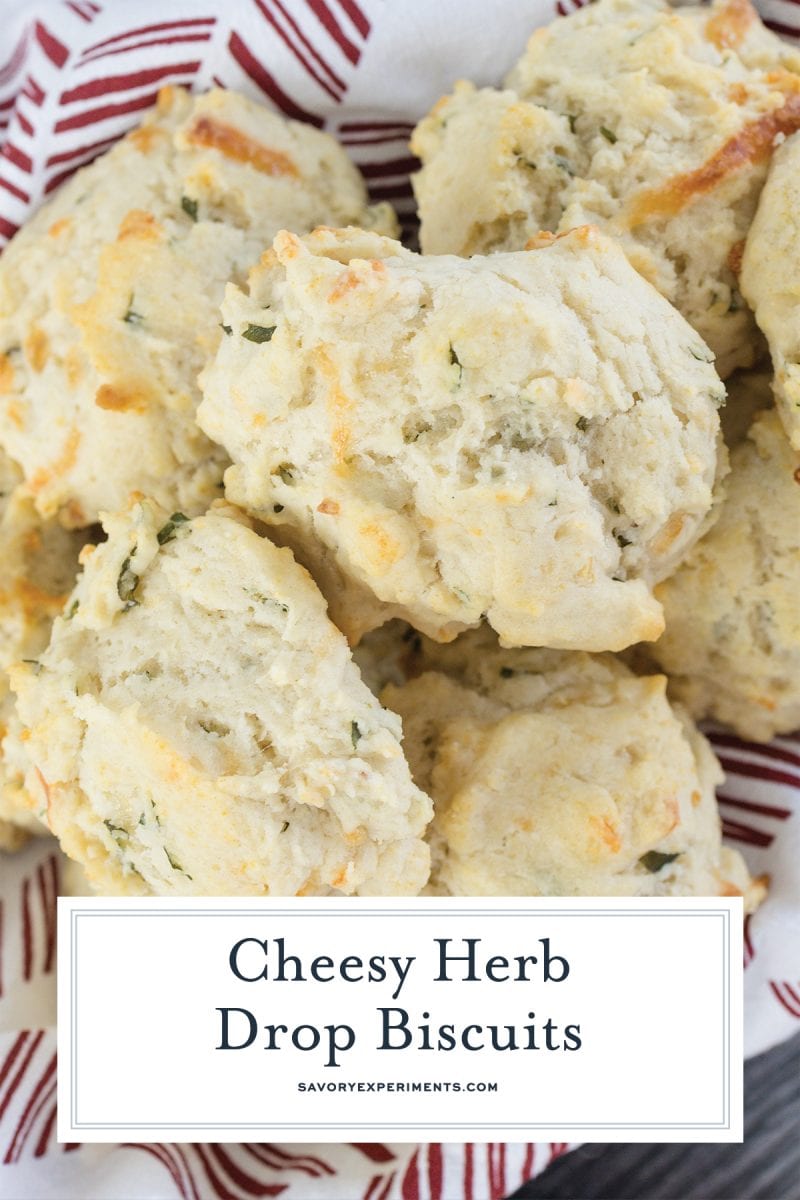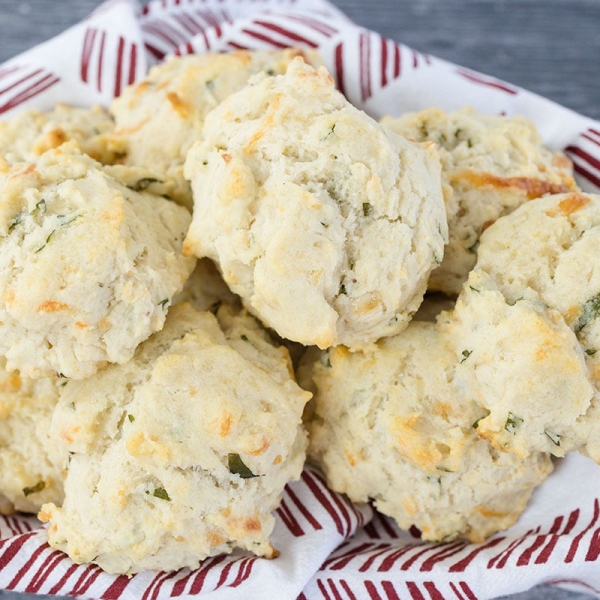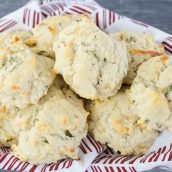 Cheesy Herb Drop Biscuit Recipe
Cheese and Herb Biscuits are a delicious combination of fresh herbs, parmesan and mozzarella cheese! This recipe is perfect to enjoy as a side dish or a snack!
Instructions
Preheat oven to 400°F. Cover an insulated baking sheet with parchment paper or a silicone baking mat.

In a large mixing bowl, whisk together the flour, baking powder, salt, fresh herbs and garlic.

Add the milk, cheeses and vegetable oil. Do not over mix, only until wet.

Drop the biscuit dough into 12 even dollops on the baking sheet

Bake for 15 minutes until until tops are lightly browned. Lightly baste each biscuit top with melted butter using a pastry brush.

If you've made this recipe, come back and let us know how it was in the comments or ratings!
Notes
*If you are feeling particularly lazy, you can use 2 teaspoons of garlic powder instead of fresh garlic.
**To use self-rising flour, omit the baking soda and salt and use 2 cups.
Nutrition
Calories:
300
kcal
,
Carbohydrates:
23
g
,
Protein:
9
g
,
Fat:
20
g
,
Saturated Fat:
10
g
,
Cholesterol:
10
mg
,
Sodium:
464
mg
,
Potassium:
298
mg
,
Fiber:
2
g
,
Sugar:
2
g
,
Vitamin A:
130
IU
,
Vitamin C:
1.7
mg
,
Calcium:
160
mg
,
Iron:
2.9
mg