Have you tried the newest trend of 2-ingredient dough? It is an old weight watchers recipe that uses self-rising flour with the protein powered Greek yogurt to make a wonderfully light and fluffy bread dough with less fat, carbs and calories than other doughs.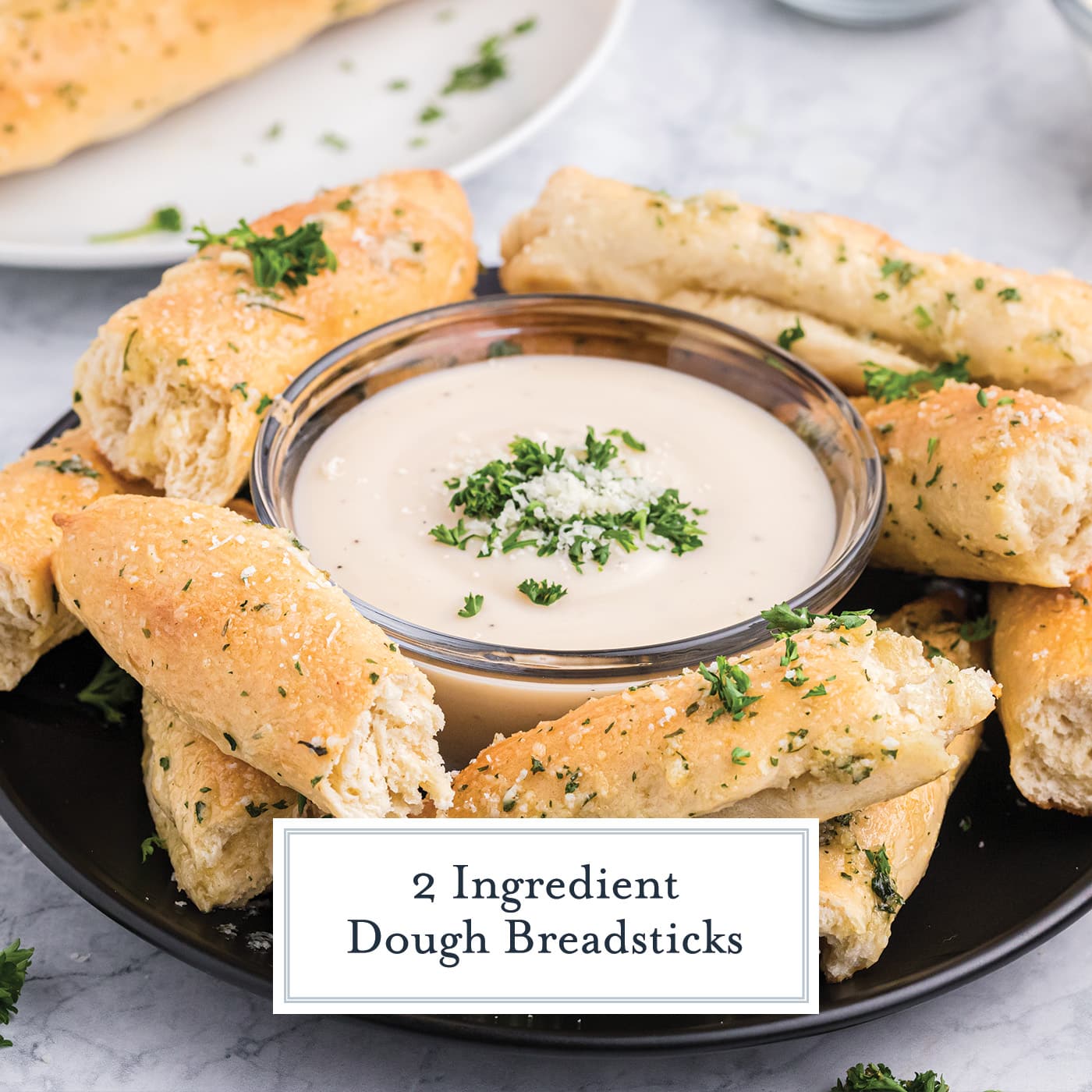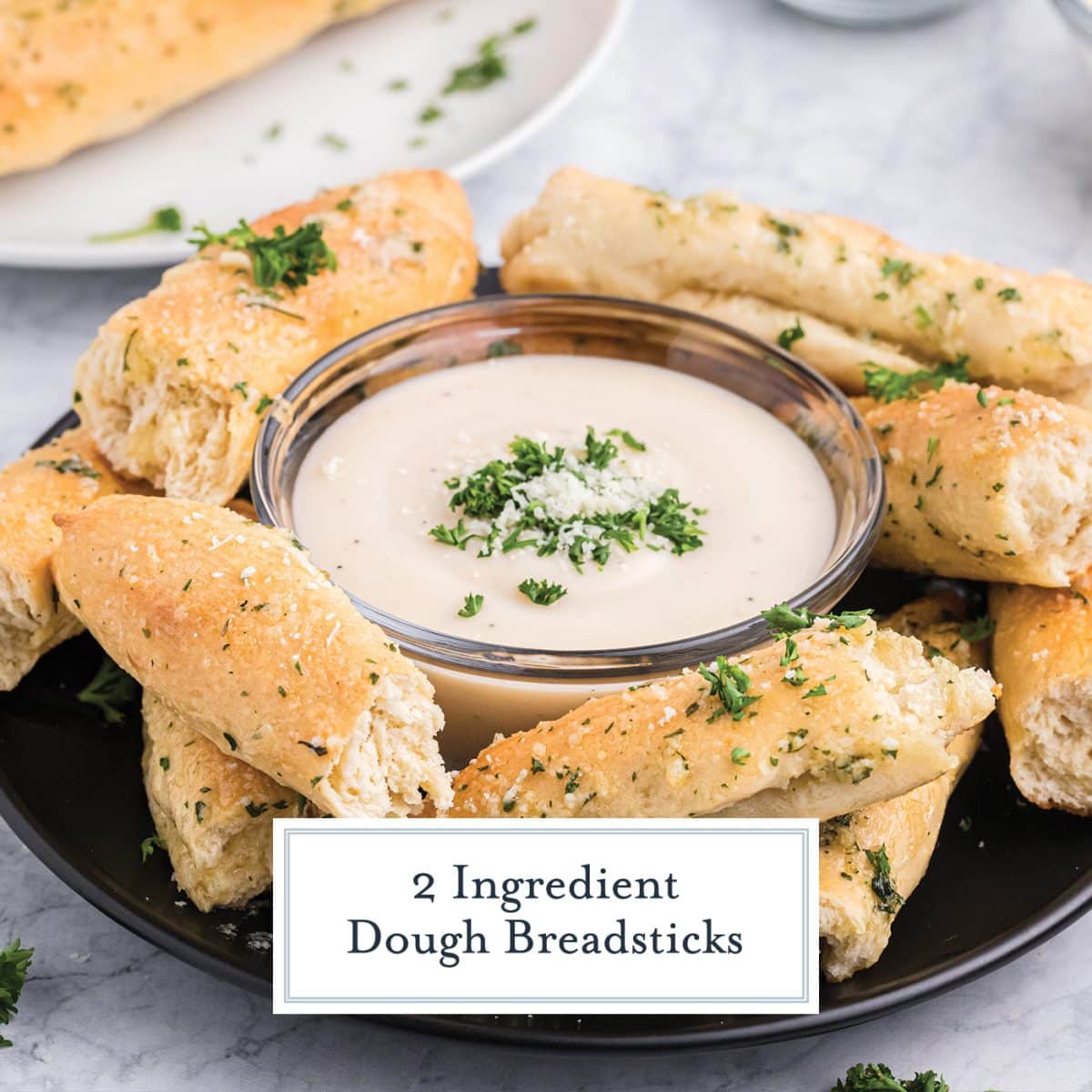 The beauty of it is that the recipe for 2-ingredient dough is so verstile that it can be used for everything from pizza dough to cinnamon rolls and even for butter drenched breadsticks. Clearly, I am not following the weight watchers program.
I use this super easy no-knead (well, a little), no-rise dough because it is simple and tastes great!
What is 2-Ingredient Dough?
This is a simple base dough made from plain Greek yogurt and self-rising flour. Self rising flour also contains salt and baking powder, a leavening agent. Because this dough does not use yeast, it relies on the baking powder to give it a little (albeit not a lot) of loft. Because it doesn't use yeast, it also doesn't require time to rise.
Greek yogurt serves as the moisture, but also has a good dose of protein and friendly to those with an egg allergy. I am not a WW consultant or expert, but apparently this makes it less on the points system instead of using eggs or other types of liquid. Greek yogurt has a tang that gives this dough some flavor.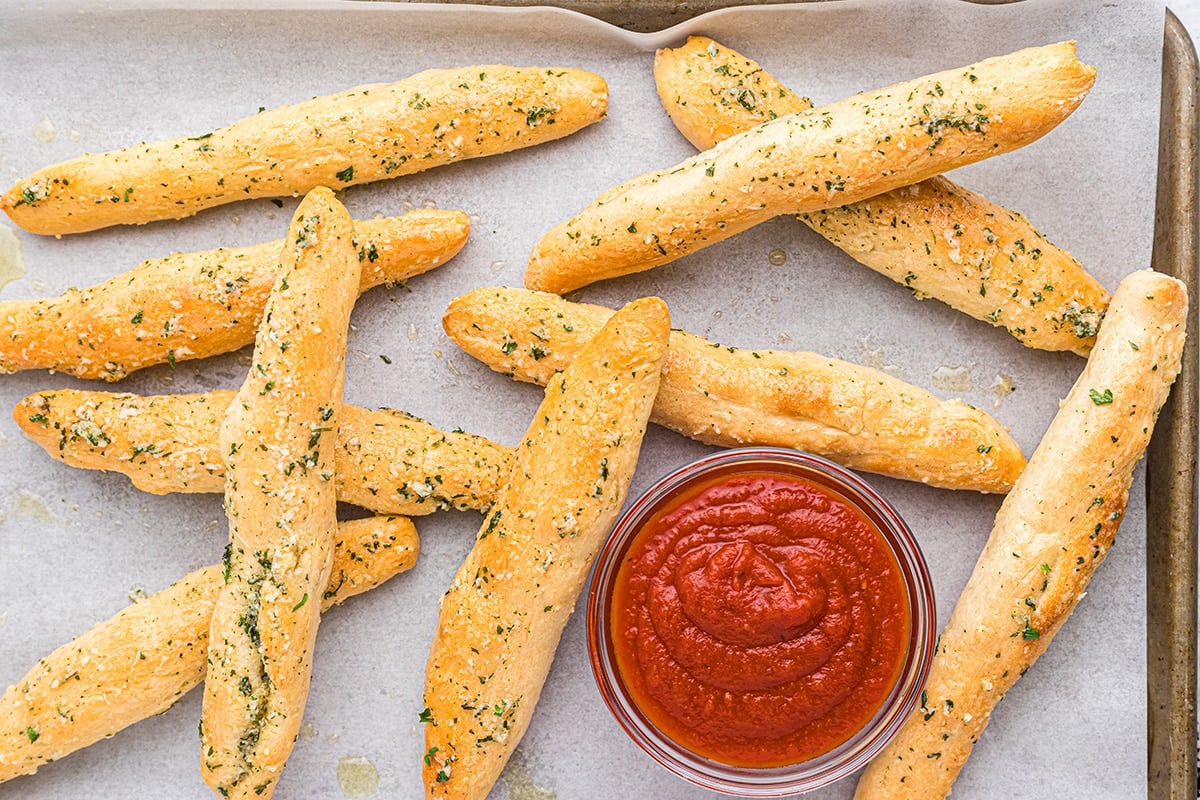 The original two-ingredient dough recipe uses equal parts flour to yogurt, but in nearly all of the comments, this provide to be an issue for several reasons. More on that later. One batch is 12 smart points (according to the WW website).
Ingredients
You can make this easy sauce or make my garlic butter sauce (with a special ingredient), or any other blend you want. Any flavored butter or just plain butter is great too!
Self-Rising Flour- Just a combination of all-purpose flour, fine sea salt and baking powder. You can purchase this premade at the grocery store or make your own in small or large batches.
Greek Yogurt- Greek yogurt is strained for longer than regular yogurt giving it a thicker consistency. Plain Greek yogurt has become a staple in my kitchen and used in place of sour cream and mayo in many recipes. It also works as a dip, marinade and salad dressing. Quite the miracle ingredient!
Salted Butter– Yep, I said SALTED for once! This is just to make it a tad easier and since none of the other ingredients add a tremendous dose of salt, it just saves a small step. Feel free to use unsalted, but add a pinch of salt to the melted butter mixture.
Garlic Powder– Again, for ease, we used powdered garlic. Onion powder can be used, or fresh minced garlic.
Dried Parsley Flakes– If we are being totally honest, dried parsley offers little flavor, but it looks so pretty! Swap this out for Italian seasoning or fresh herbs.
Fresh Parmesan Cheese– I like to use the grated balls instead of flakes/shreds. A hard cheese is best to not totally melt and make the breadsticks soggy. Do not use shaker cheese, it will just be mealy.
Easy Variations
There are endless ways to customize this recipe. Tell us in the comments what you've tried!
Gluten-Free Option– Make your own by following our recipe, but using a GF flour, or using Bob's Self Rising Gluten Free flour.
Substitutes for Greek Yogurt– As mentioned, Greek will be the thickest. You can use a plain regular yogurt, but it might contain more water, resulting in your needing more flour. Sour cream or diary-free yogurts can also be used.
Low Carb Flours- Also feel free to make a self-rising flour using low carb options, but know that this can also alter the amount of yogurt required. Almond flour, Carb Quick, Keto Wheat Flour, Coconut Flour, Chickpea Flour or Paleo Baking Flour are all options.
Low-Fat– Nonfat Greek yogurt can be used, but will need more flour because it isn't as thick. But then you'll also need a different type of butter.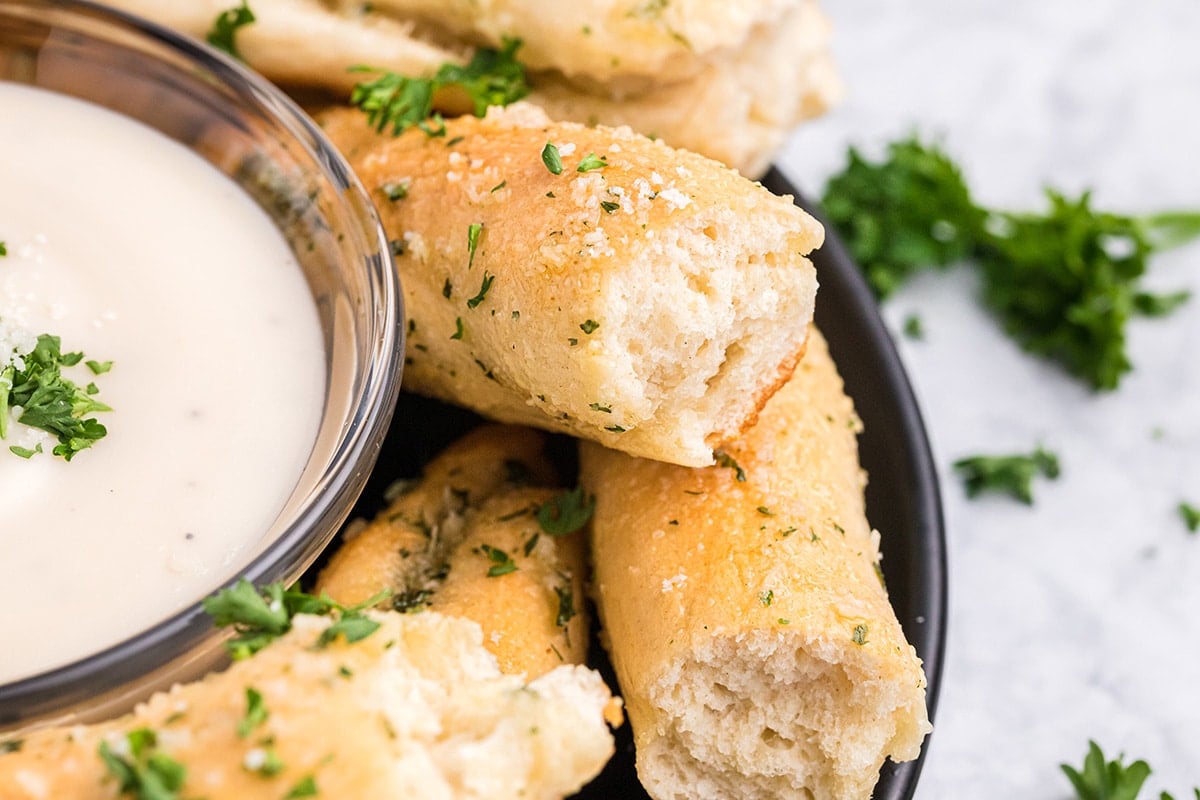 Recipe for Self Rising Flour
Use any flour alternative and this recipe.
1 1/2 cups flour
1 1/2 teaspoons baking powder
1/2 teaspoon fine sea salt
Whisk or soft together to distribute all ingredients evenly.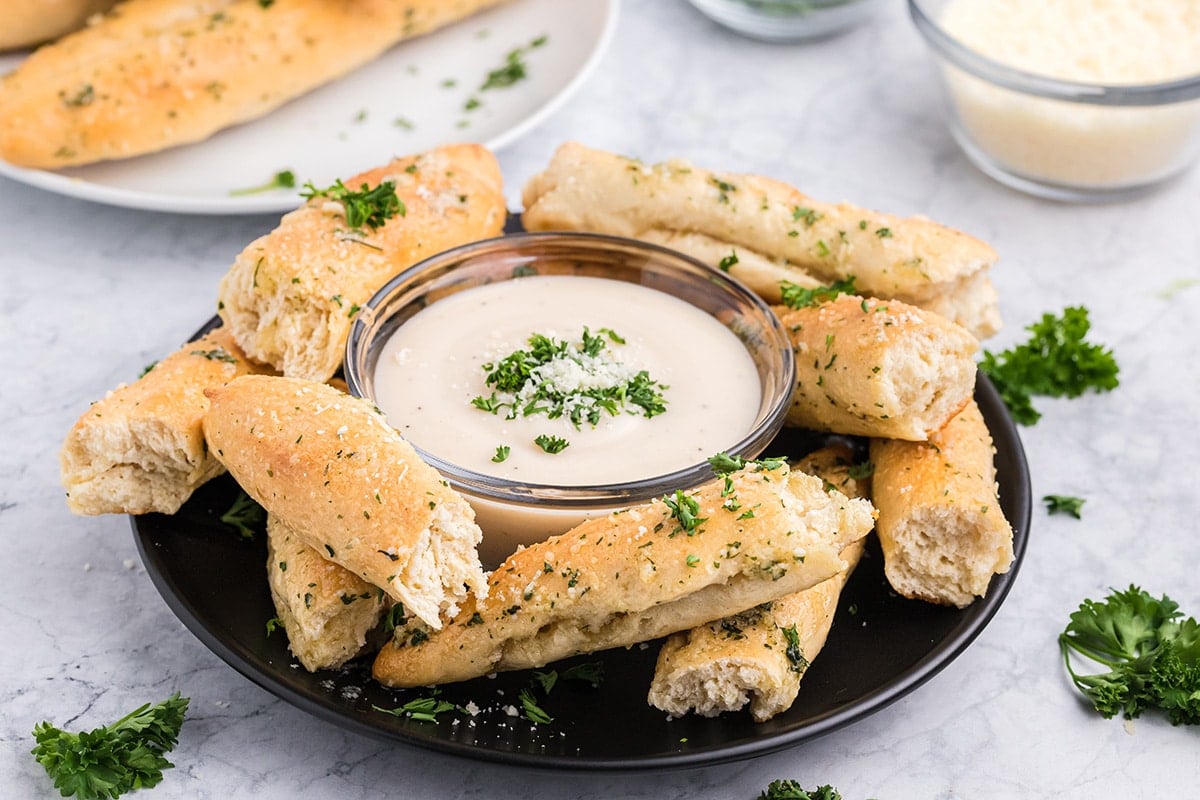 How to Make Breadsticks
This is a simple recipe, but it is a tempermental dough and many factors can impact the consistency including humidity, brand of yogurt and type or brand of flour. You may need to play with the ratios to achieve perfection and perfection might differ literally based on the weather.
Make Dough. Mix together the flour and yogurt in a large bowl until no dry spots remain. If it is a humid day, reduce the yogurt down to 3/4 cup and adjust flour from there. If you are working in a low humidity area, reduce the flour to 1 1/2 cups.
Chill. For best results, cover with plastic wrap or turn onto a piece of plastic wrap and refrigerate for 30 minutes. Work with the dough on a well-floured surface. Do not overwork the dough ball, as this can cause it to activate more gluten and dry it out, making it crumbly. The dough will be sticky while you work with it, use just enough flour to prevent sticking.
Form breadsticks. Roll the dough into a disc and then divide into 4 even sections, rolling those into 8″ logs or make smaller sticks into 4″ logs.
Bake. Place the dough onto a baking sheet lined with parchment paper to prevent sticking. Bake for 15-16 minutes or until the tops are golden brown.
Butter Baste. In a small bowl, whisk together the melted butter, garlic powder, parsley and parmesan cheese and baste over the bread. Bake for a few more minutes just to warm them a bit and let the garlic butter sink in.

Can I make this dough in my stand mixer? You sure can! Use the dough hook, but don't let it knead to long or it will dry out. The dough isn't too dense, that you can also use the paddle attachment.
Why is My Dough So Sticky?
The number one complaint of this easy dough recipe is that it is sticky, which is why we increased our base recipe to include more flour and not follow the 1:1 ratios in the original. Nearly every brand of flour tested required more flour with the same amount of yogurt.
The brand of yogurt will also make a difference since they carry different moisture levels.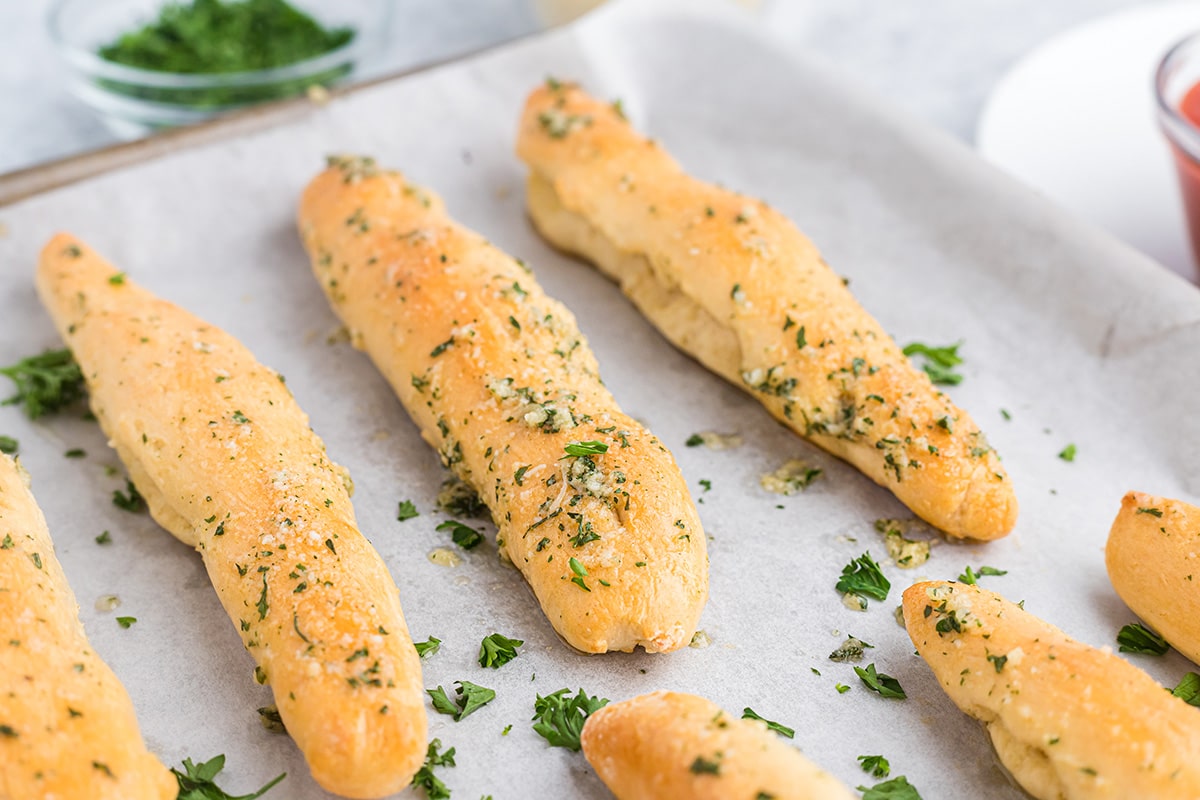 If your dough is too sticky– chilling will help it be more manageable. Use a well-floured work surface and rolling pin or hands (well-floured too!) But be mindful to not add too much or you run the risk if it being dry and crumbly.
If your dough is too dry- When it starts to crumble and you can't get it to stick, you might need a little more moisture. Spritz lightly with a spray bottle filled with water or add 1 tablespoon Greek yogurt. This can be challenging to evenly work into the dough after it has initially been combined.
Dipping Sauce Ideas
Of course, you can go with the basics, a hearty marinara sauce , easy alfredo sauce or pomodoro sauce but you can also go rogue and have a little fun! Or even offer a trio of dipping sauces for guests.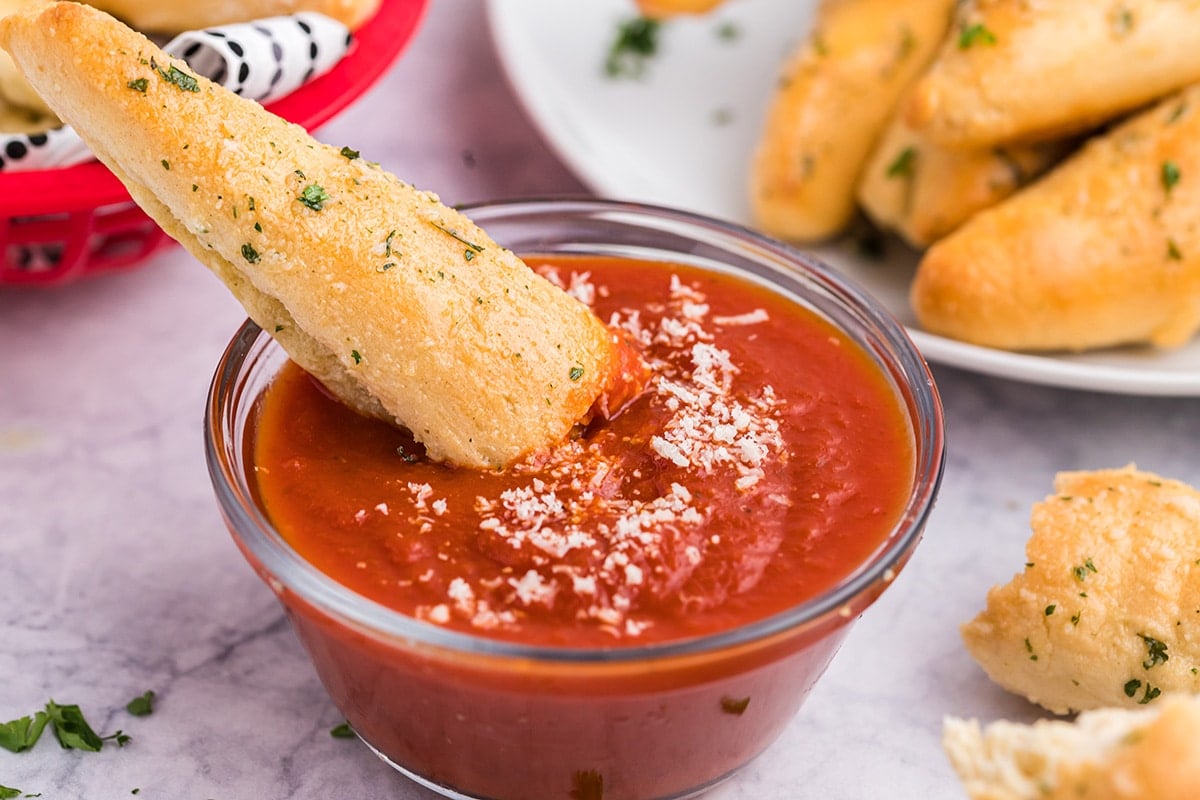 Make Ahead, Storage & Freezing
This two ingredient dough recipe can be made ahead and stored. Wrap well in plastic wrap and refrigerate for up to 3 days. At this point, the dough might start to dry out from the chill.
It can also be frozen in plastic wrap for up to 3 months. If freezing multiple batches, separate the dough balls with parchment paper. Allow to thaw at room temperature.
Whole baked breadsticks can also be frozen in an airtight freezer bag. Thaw while still frozen in a 350°F oven for about 5 minutes. They might need a fresh basting of butter too.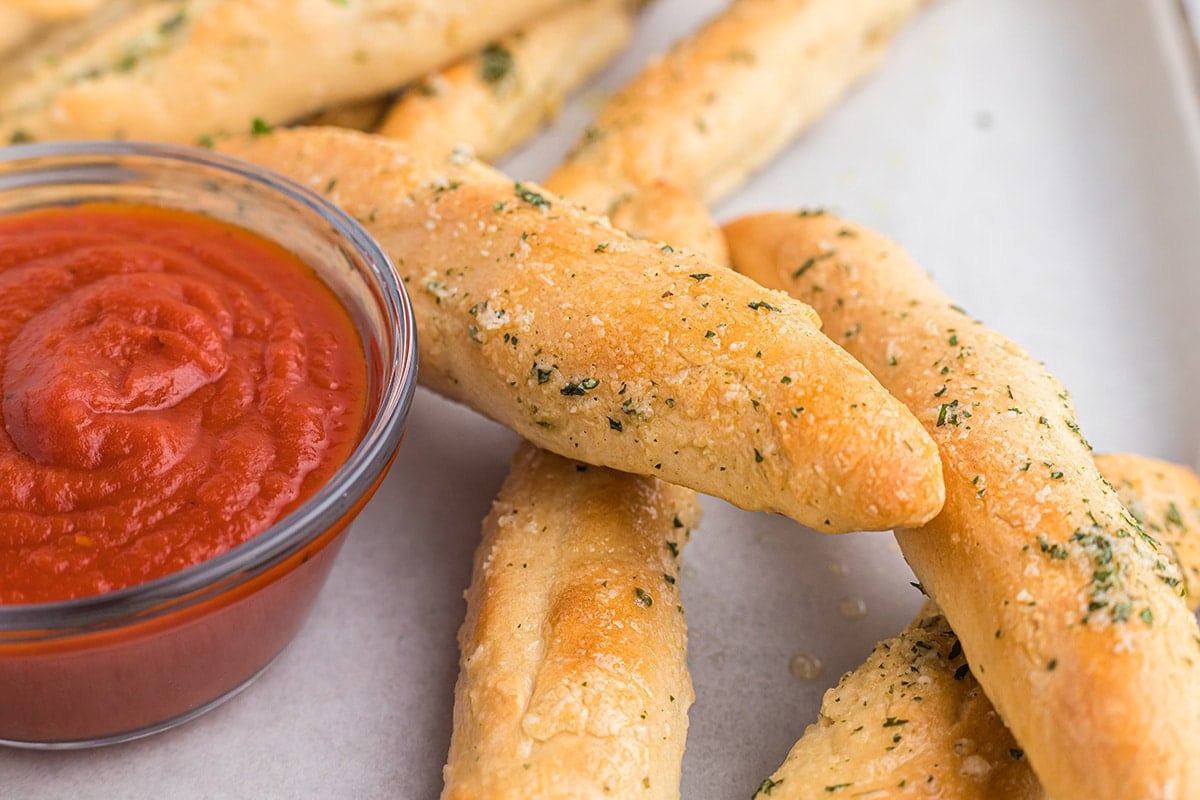 What to Serve with Breadsticks
Is there anything that doesn't go with breadsticks? I love serving them with a leafy green salad or bowl of soup, but they are also ideal for classic Italian dishes. Here are our family favorites.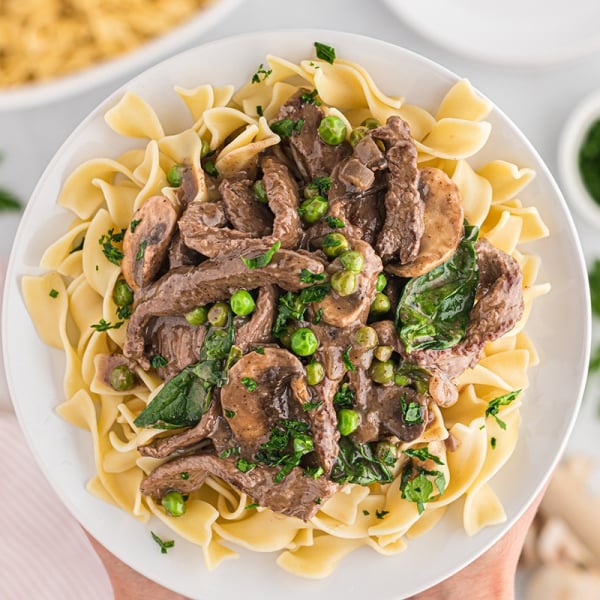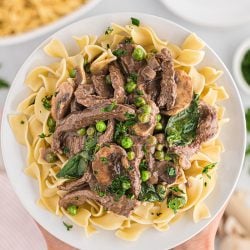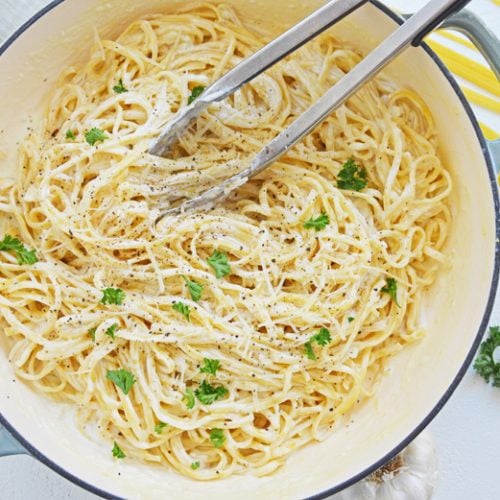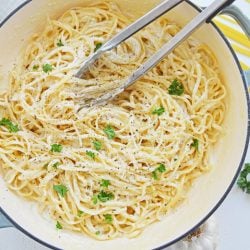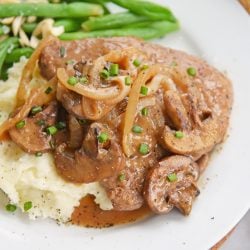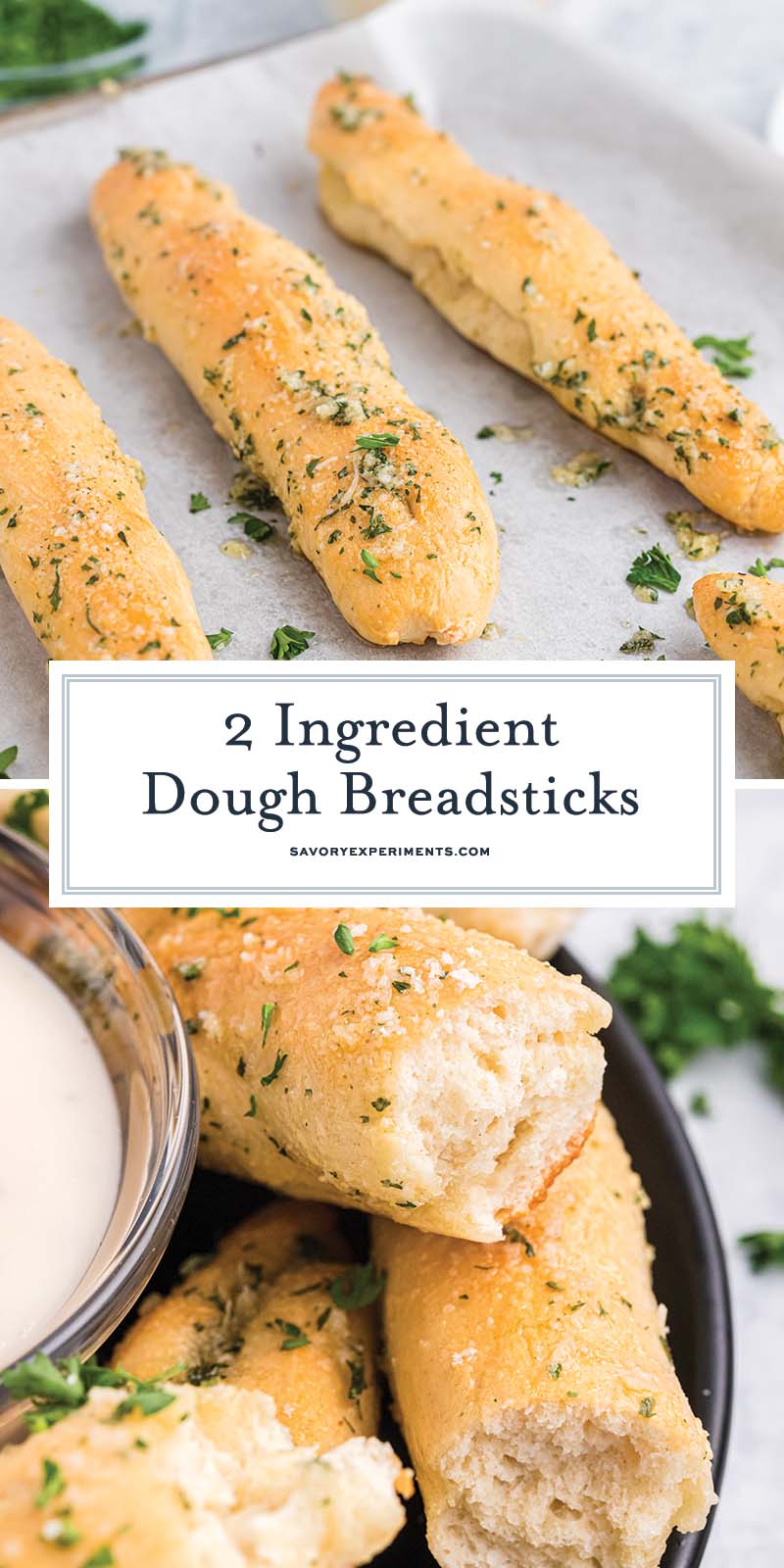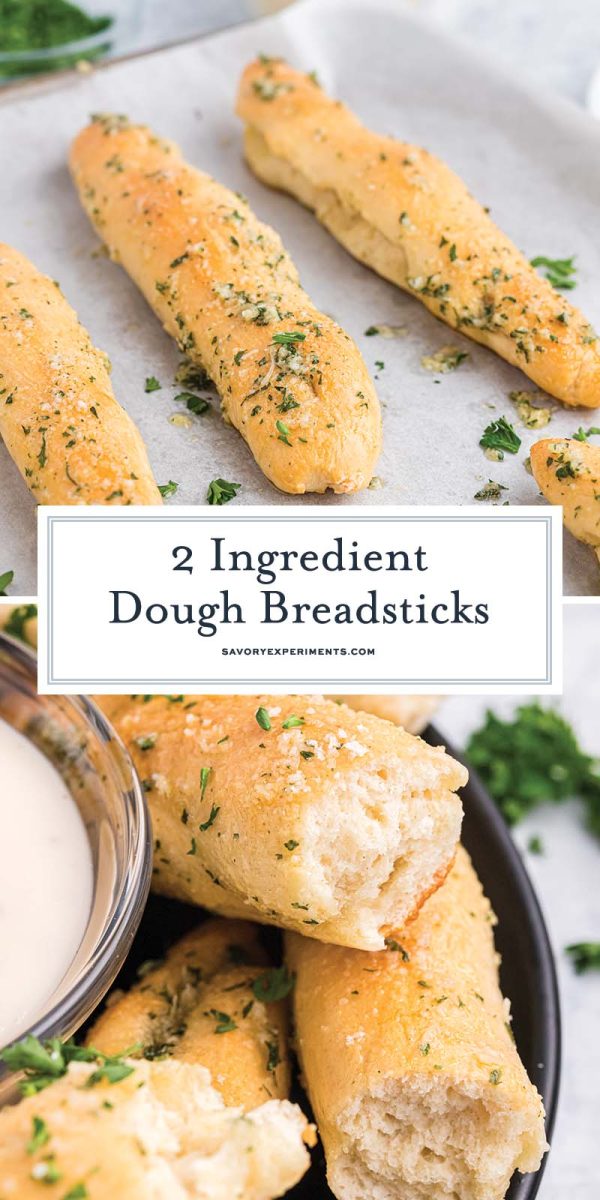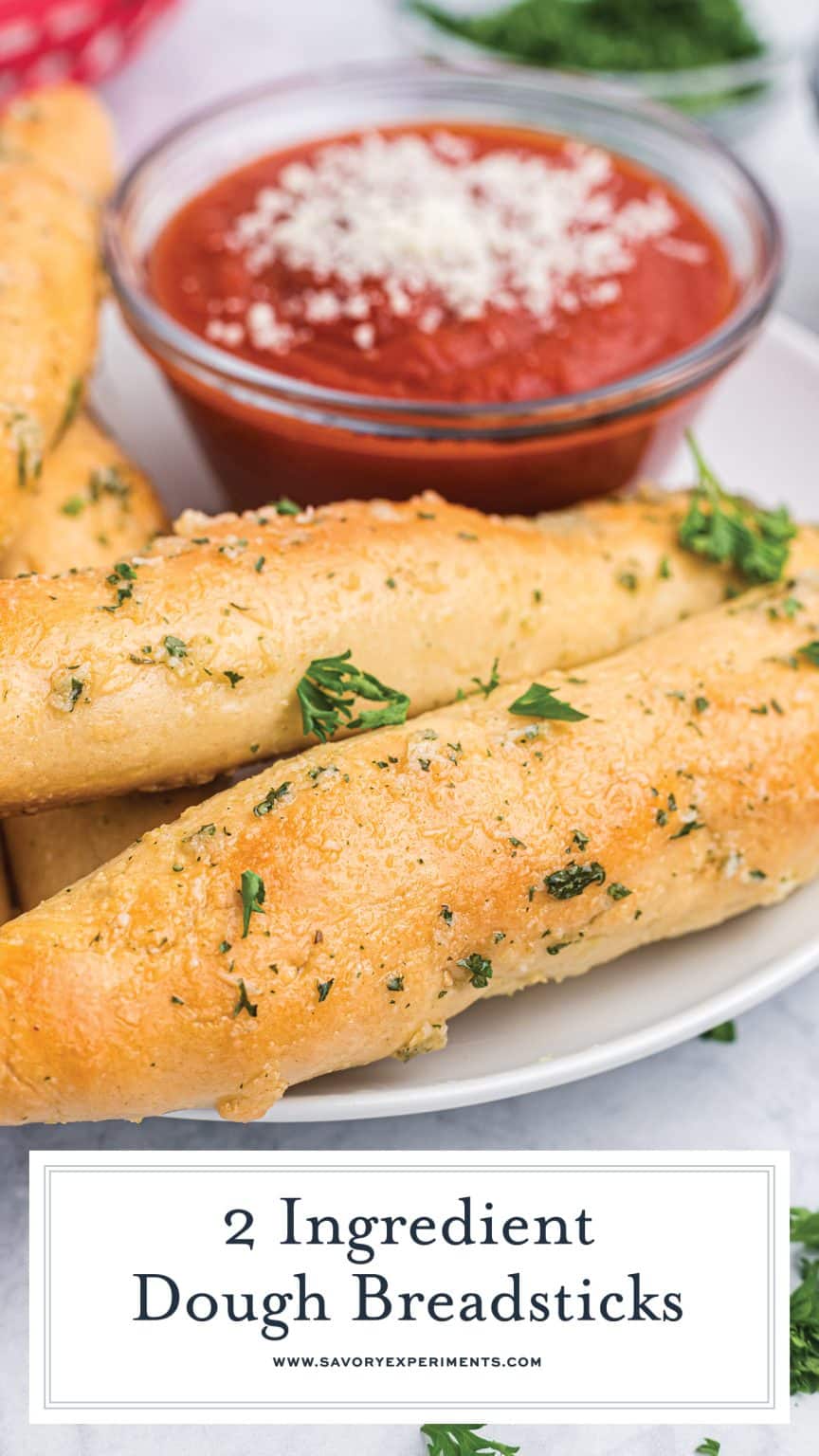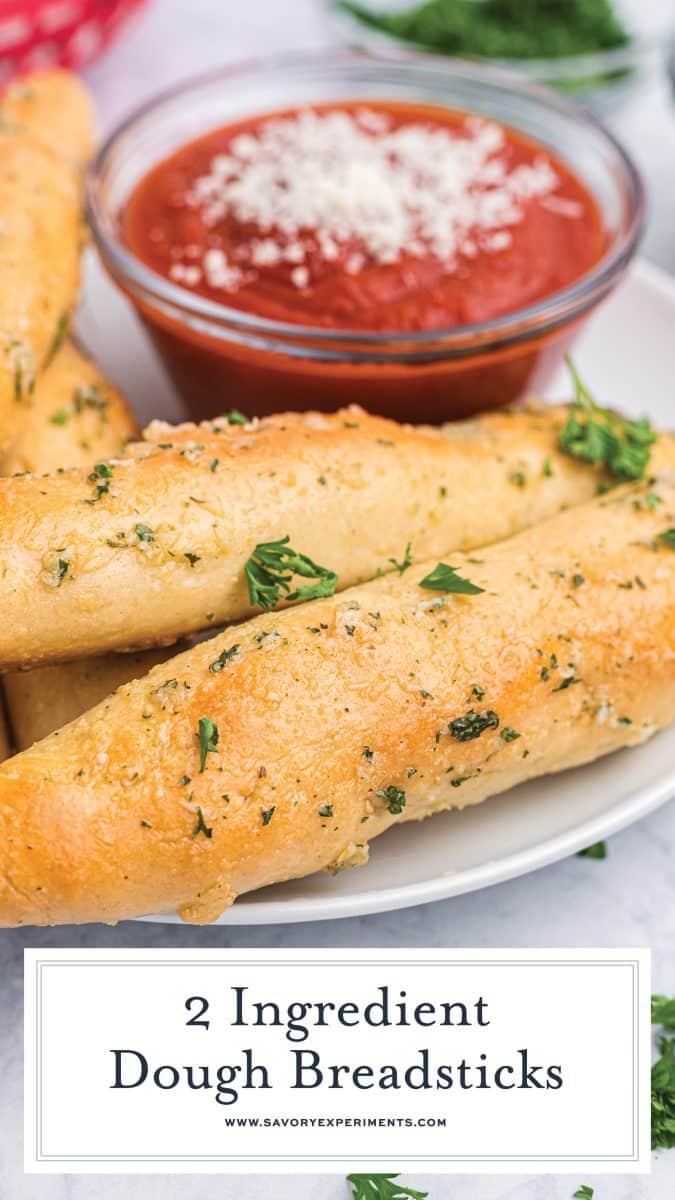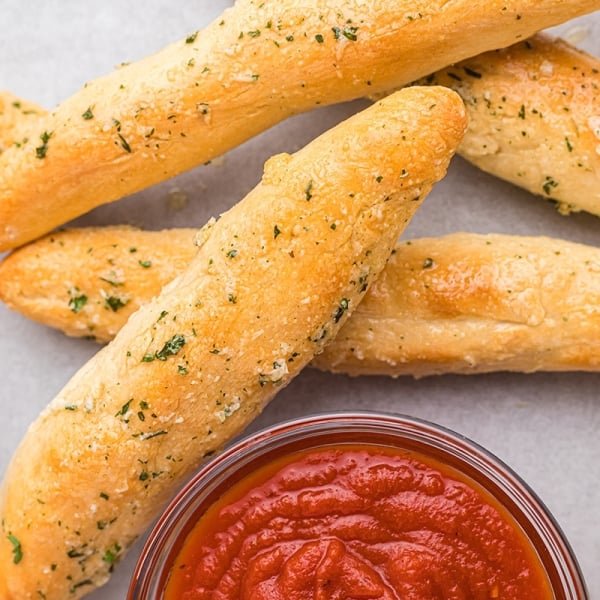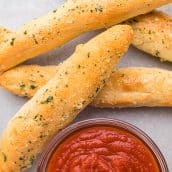 2-Ingredient Dough Garlic Breadsticks
Make these easy breadsticks without yeast with self-rising flour and Greek yogurt. Topped with a garlic butter sauce, they are the perfect side for any meal.
Servings:
8-inch breadsticks
Instructions
In a medium mixing bowl, mix together the flour and Greek yogurt. Cover and allow to sit in the refrigerator for 30 minutes.

When ready to make, preheat the oven to 350°F and line a baking sheet with parchment paper.

Transfer to a clean work surface coated with flour. Knead the dough. If it still feels sticky, add a small amount of flour. Roll the dough into a disc and then divide into 4 even sections, rolling those into 8" logs.

Place the dough onto the prepared baking sheet.

Bake for 15-16 minutes or until the tops start to brown.

In a small bowl, whisk together the butter, garlic powder, parsley and parmesan cheese.

Remove the breadsticks and baste the butter over the tops.

Bake for an additional 2-3 minutes. Remove and serve hot.

If you've tried this recipe, come back and let us know how it was in the comments or star ratings.
Notes
This recipe only makes 4 large breadsticks, but can easily be doubled or tripled if your family really enjoys them like ours does!
Cooked breadsticks are also freezer friendly and can be thawed from frozen in a 350°F oven for 5 minutes.
Nutrition
Calories:
261
kcal
,
Carbohydrates:
44
g
,
Protein:
11
g
,
Fat:
4
g
,
Saturated Fat:
2
g
,
Polyunsaturated Fat:
0.3
g
,
Monounsaturated Fat:
1
g
,
Trans Fat:
0.1
g
,
Cholesterol:
11
mg
,
Sodium:
62
mg
,
Potassium:
136
mg
,
Fiber:
2
g
,
Sugar:
2
g
,
Vitamin A:
99
IU
,
Vitamin C:
0.02
mg
,
Calcium:
80
mg
,
Iron:
3
mg