You know what I dream about? Biscuits. Delicious cheesy garlicky biscuits. Cheddar Bay Biscuits from Red Lobster to be exact.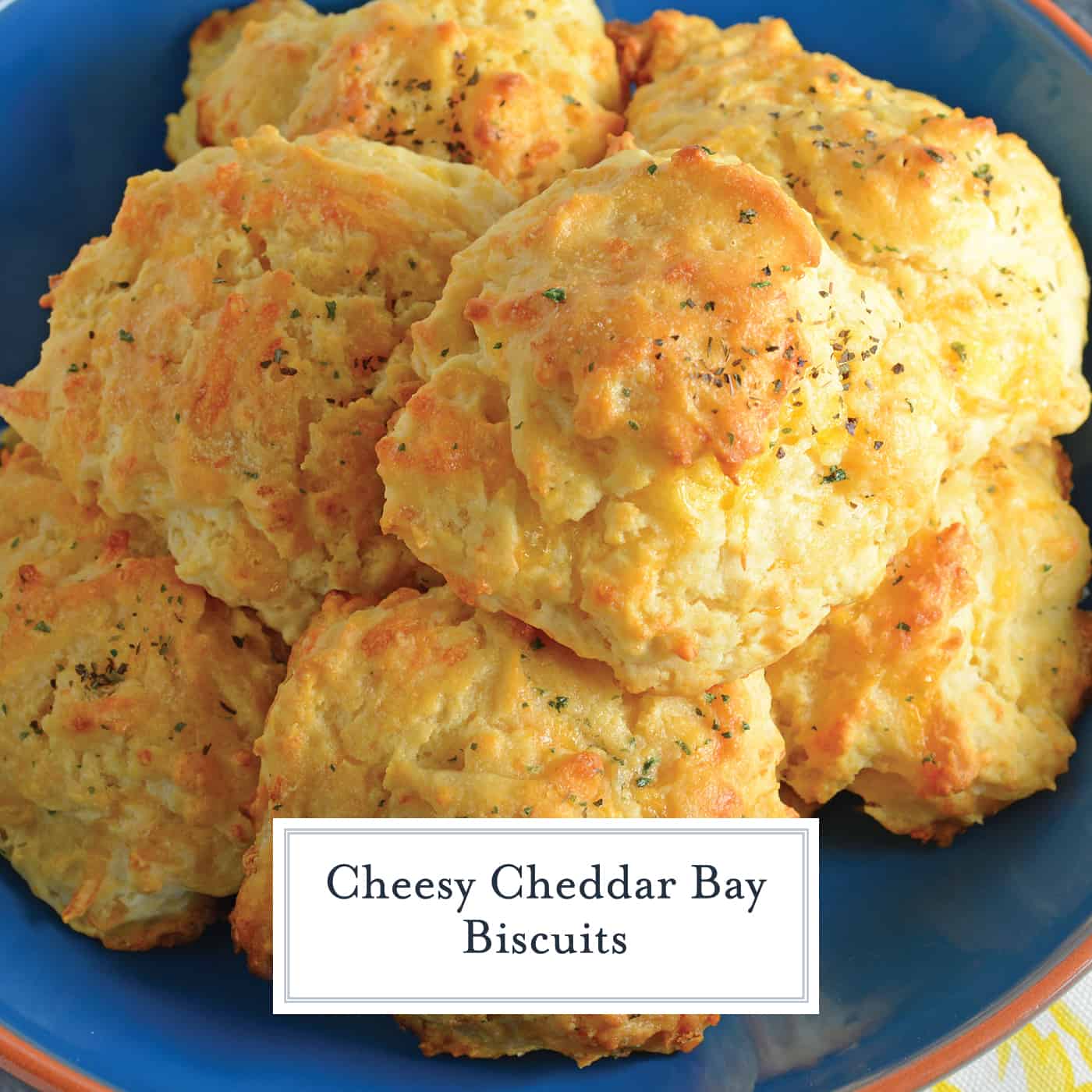 These copycat Red Lobster Cheddar Bay Biscuits are so easy to make you will make them for dinner every night if given the chance! They are cheesy, garlicky, and super soft.
Man alive Red Lobster got it right when they made Cheddar Bay Biscuits. Something about the spices, the cheese, and all of the herbs thrown in was one heck of a glorious combination.
There was a time when I would go to Red Lobster just to get some biscuits. True story. Ok, and maybe the Lobster Crab Alfredo.
That all changed when I made this recipe. Delicious Copycat Cheddar Bay Red Lobster Biscuits are so easy to make you will be making them for dinner more often than you would think. I won't lie, I've totally made them several nights in a row.
They are also the same as Ruby Tuesday cheddar biscuits. Did you know that? I guess you can't go wrong with a good thing.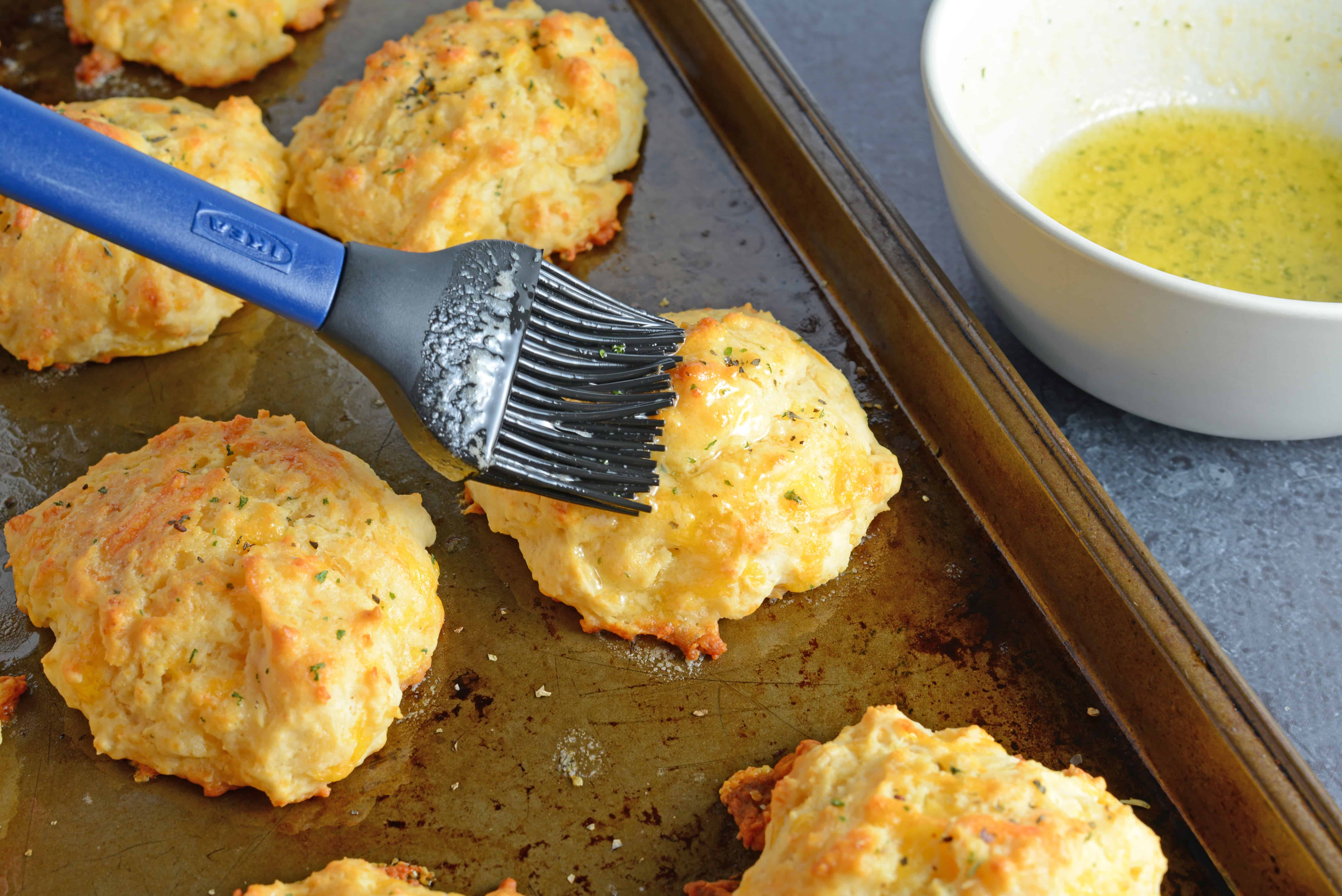 Realistically, Hubby and I only make it to Red Lobster once a year. He loves the all-you-can-eat-shrimp fest, but the only things I crave are Ceasar salad and Cheddar Bay Biscuits. Oh, buttery, warm, delicious biscuits.
I always ask for a second basket and then squirrel them away to take home. It sounds crazy, but they are perfect for breakfast sandwiches.
They taste pretty amazing with a fried egg, slice of honey ham and a little more cheese. And don't even get me started with pairing them with fried chicken – WOWZERS!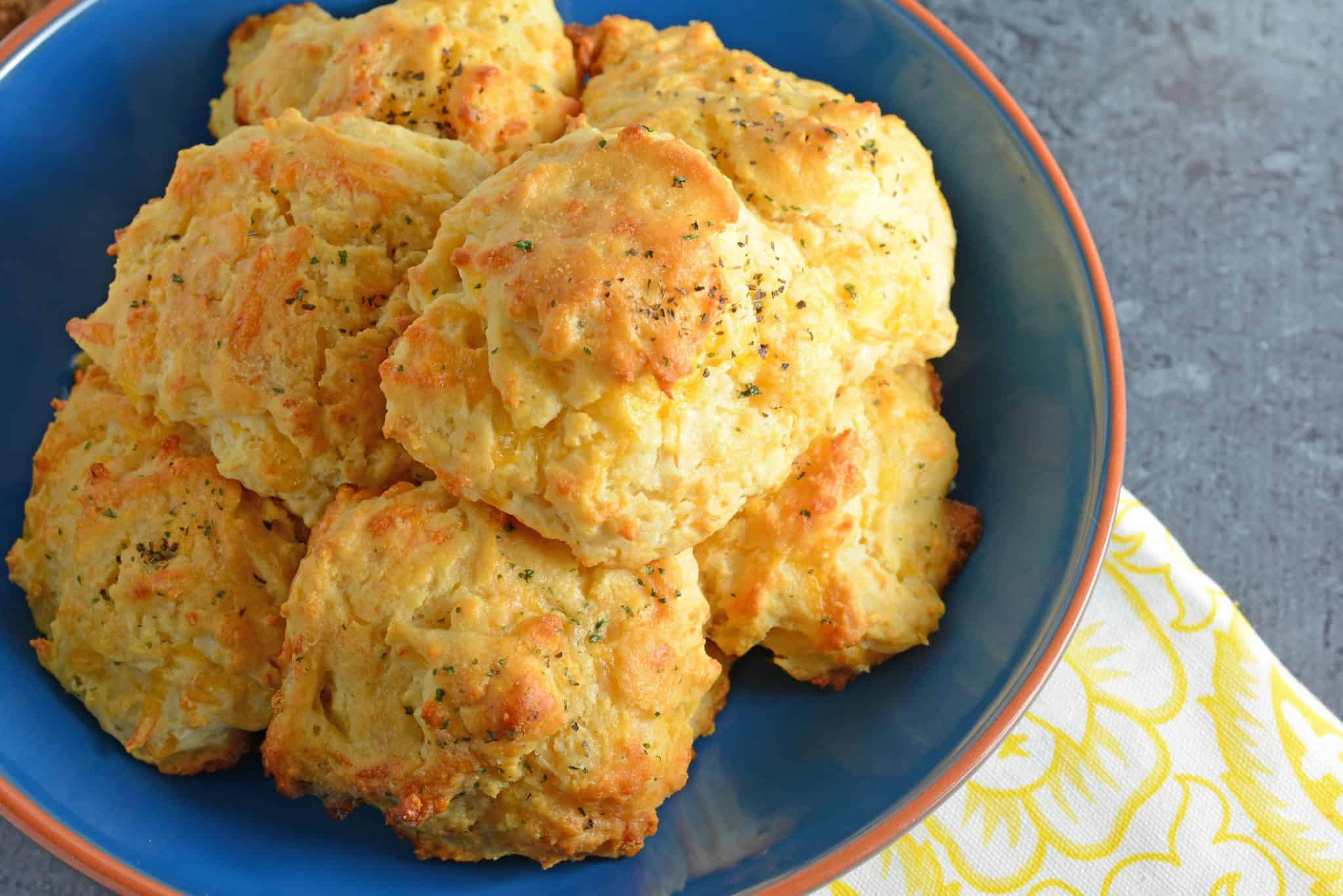 So why can't I make these at home? I can! I can!
This recipe is similar to my herb and cheese biscuits. All I needed to do was just swap out some of the ingredients. I made them but I wanted to be sure I was close to the real thing.
So I went to the store and bought the official Red Lobster sanctioned Cheddar Bay Biscuit mix at the store. The official taste test was not just me, but hubby and some friends.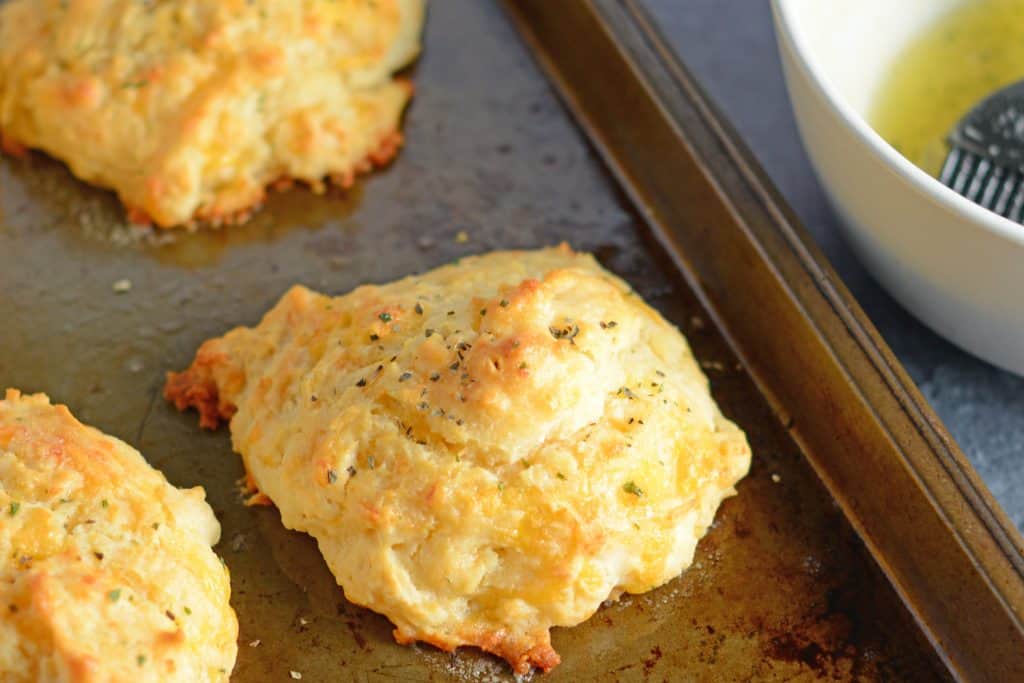 The results? I and our friends, like this recipe better! And I am really and truly not just saying that.
The best part is, I can make them whatever size I want. A little smaller, a little bigger, whatever I need them to be.
Sometimes I want giant, other times I want bite-sized. And sometimes I even add a little extra cheese because who doesn't like more cheese? No one!
Serve these warm alongside your favorite protein, as a side to your favorite soup, or follow in my footsteps and serve them alongside a caesar salad. Any way you do it, you can't go wrong.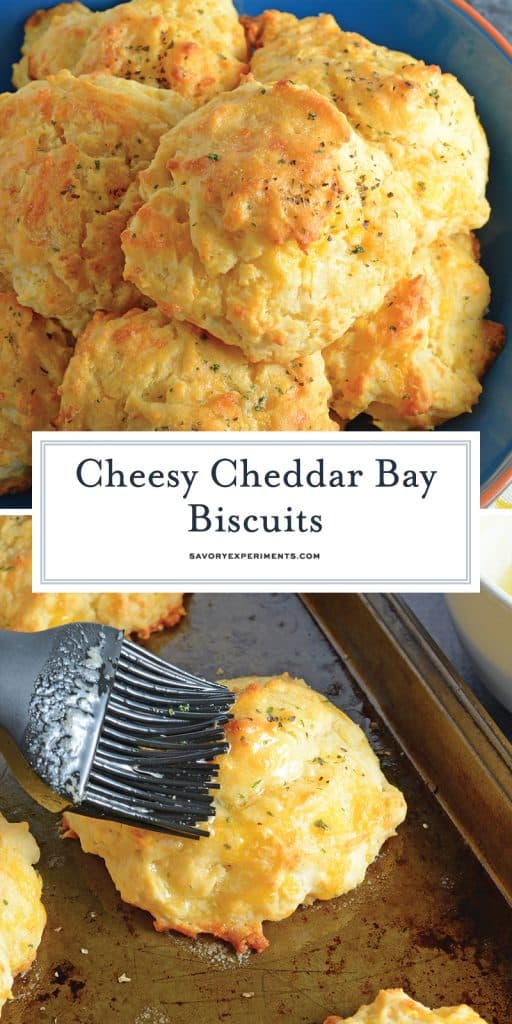 Also, check out my other CopyCat Recipes: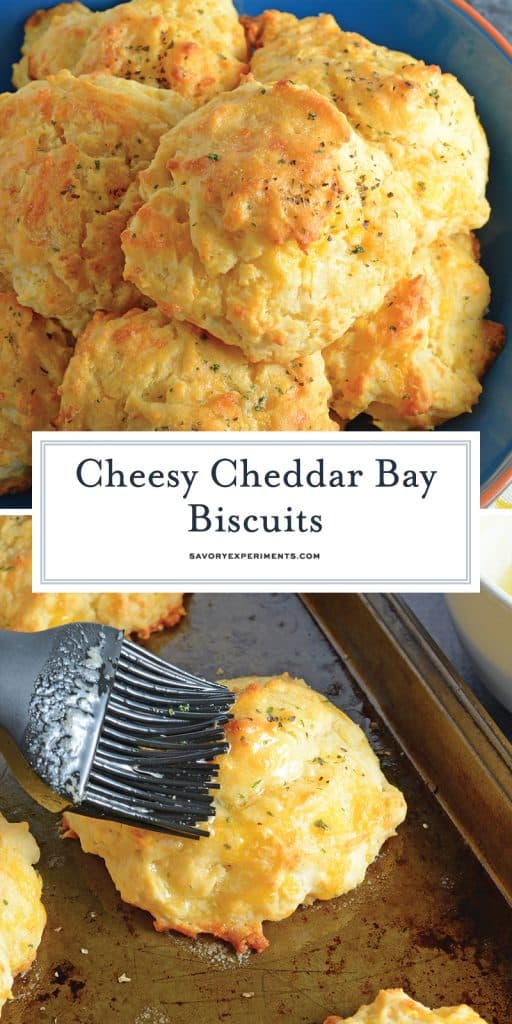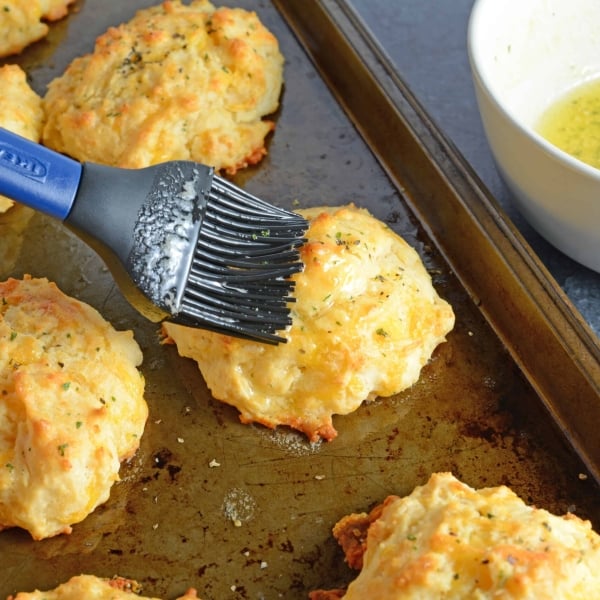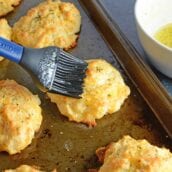 Copycat Cheddar Bay Red Lobster Biscuit Recipe
These copycat Red Lobster Cheddar Bay Biscuits are so easy to make you will make them for dinner every night! And they only take 20 minutes!
Instructions
Heat the oven to 350°F and line a rimmed baking sheet with parchment paper.

Combine the Bisquick, 1 1/2 teaspoons of the garlic powder and salt in a medium mixing bowl, mixing well.

Add the 4 tablespoons of the butter, cold and diced into cubes, and milk to dry mixture. Using a biscuit cutter or a large fork, mash all ingredients together to form a sticky dough. To fully combine the cold butter the mashing (not stirring) is necessary. Fold in the cheese.

Spoon biscuit dough onto cookie sheet making either 6 large or 12 small biscuits.

For large biscuits, bake for 12-16 minutes or until tops are very lightly browned. Remove from the oven.

Melt the remaining 4 tablespoons of butter with 1/2 teaspoon garlic powder and parsley. Baste over the tops of biscuits right after you take them out of the oven.

If you've tried this recipe, come back and let us know how it was in the comments or star ratings.
Nutrition
Calories:
161
kcal
,
Carbohydrates:
12
g
,
Protein:
4
g
,
Fat:
10
g
,
Saturated Fat:
5
g
,
Cholesterol:
22
mg
,
Sodium:
373
mg
,
Potassium:
57
mg
,
Sugar:
2
g
,
Vitamin A:
240
IU
,
Vitamin C:
0.1
mg
,
Calcium:
111
mg
,
Iron:
0.6
mg