Hello, my name is Jessica and I am a butter fanatic. To be honest, I'm not sure what I enjoy more, butter or a perfectly executed bread.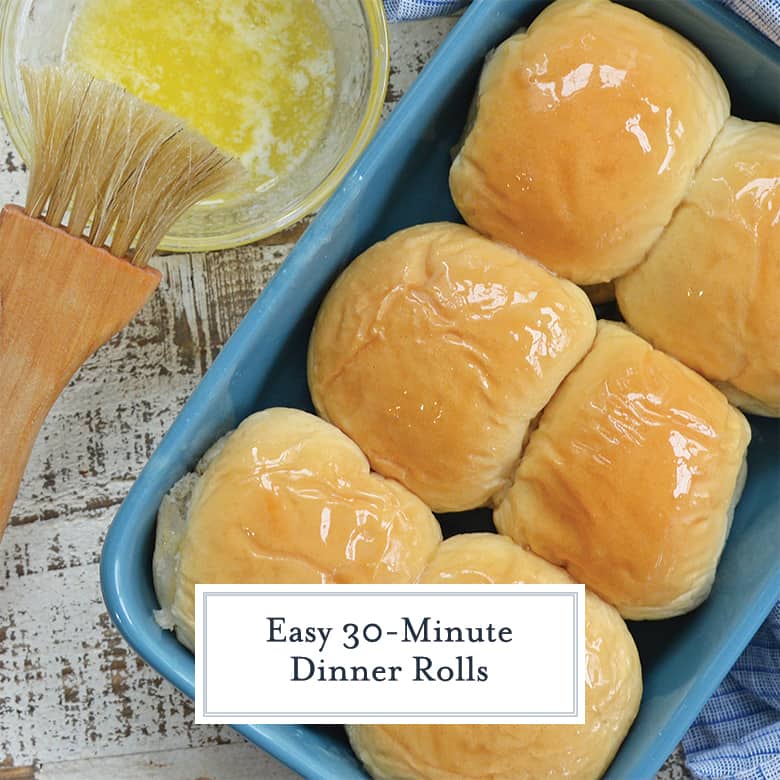 Soft 30 Minute Dinner Rolls are easier to make than you think! Check out my speedy yeast rolls that you can make ahead and freeze.
While I appreciate a crusty sourdough, buttery brioche or soft pumpernickel, one thing remains the same, they all taste better with a slab of rich, golden butter.
Really, bread is a vehicle to get the creamy goodness of butter from point A to point B in a socially acceptable way (although I have been known to lick the butter knife).
Easy dinner rolls are one my ways to accomplish my goals.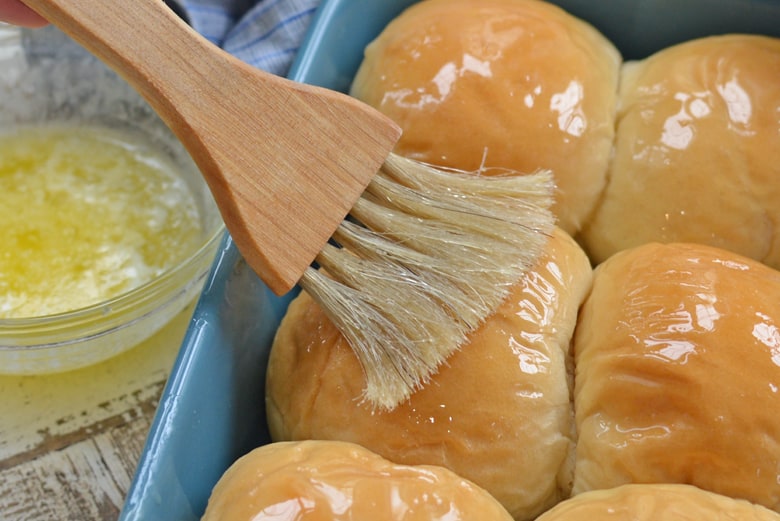 While there are plenty of days that I have several hours to bake artisan breads, there are many more nights that I crave freshly baked bread to serve with dinner, but have limited time.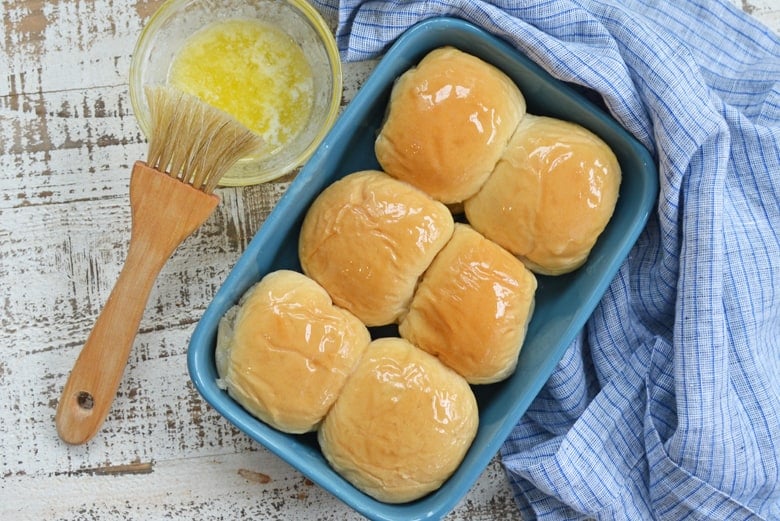 Correction: there are plenty of nights that I crave BUTTER! Easy dinner rolls are my solution. A basic recipe for the best dinner rolls, I also throw in fresh herbs, garlic or sun dried tomatoes, but one thing remains the same: butter.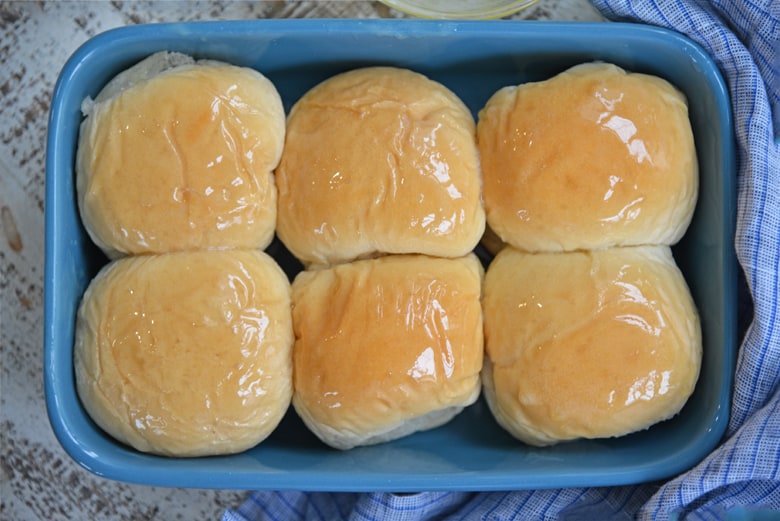 And not all butter is created equal. I prefer either gourmet butter, homemade 5-minute blender butter or one of my 5 favorite compound butters.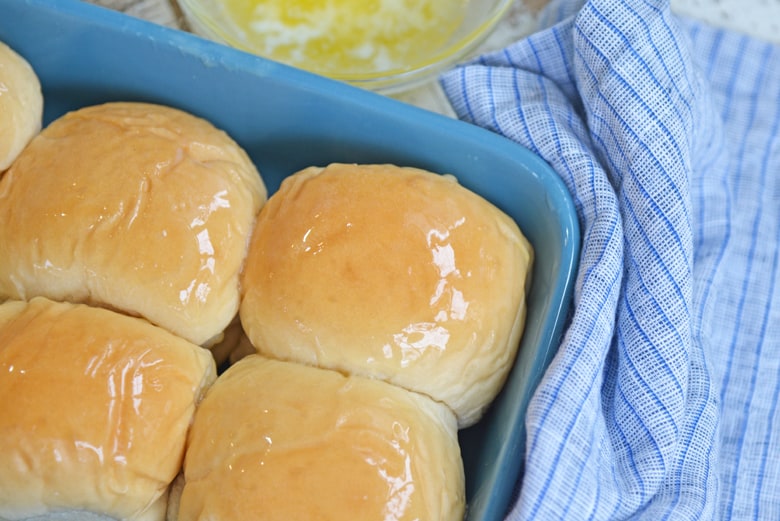 These amazing quick rolls require yeast, but only 10 minutes to rise in a warm place. The bread requires little kneading and then only 15 minutes to bake.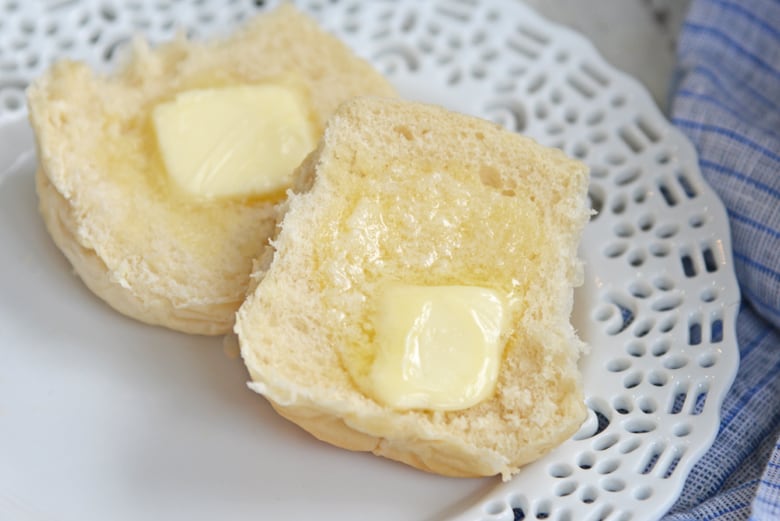 From start to finish, only 30 minutes for light and fluffy dinner rolls. It is a misconception that anything using yeast will require hours of rising time. As long as the bread grows a small amount, you'll still get the airy results you are looking for.
Tips for working with yeast:
Make sure your yeast isn't expired.
Water temperature can't be too hot or cold. 110 degrees is the optimal temperature and is just fairly hot tap water.
Store yeast in the refrigerator for best results.
Yeast doesn't have to have sugar, but it can be helpful.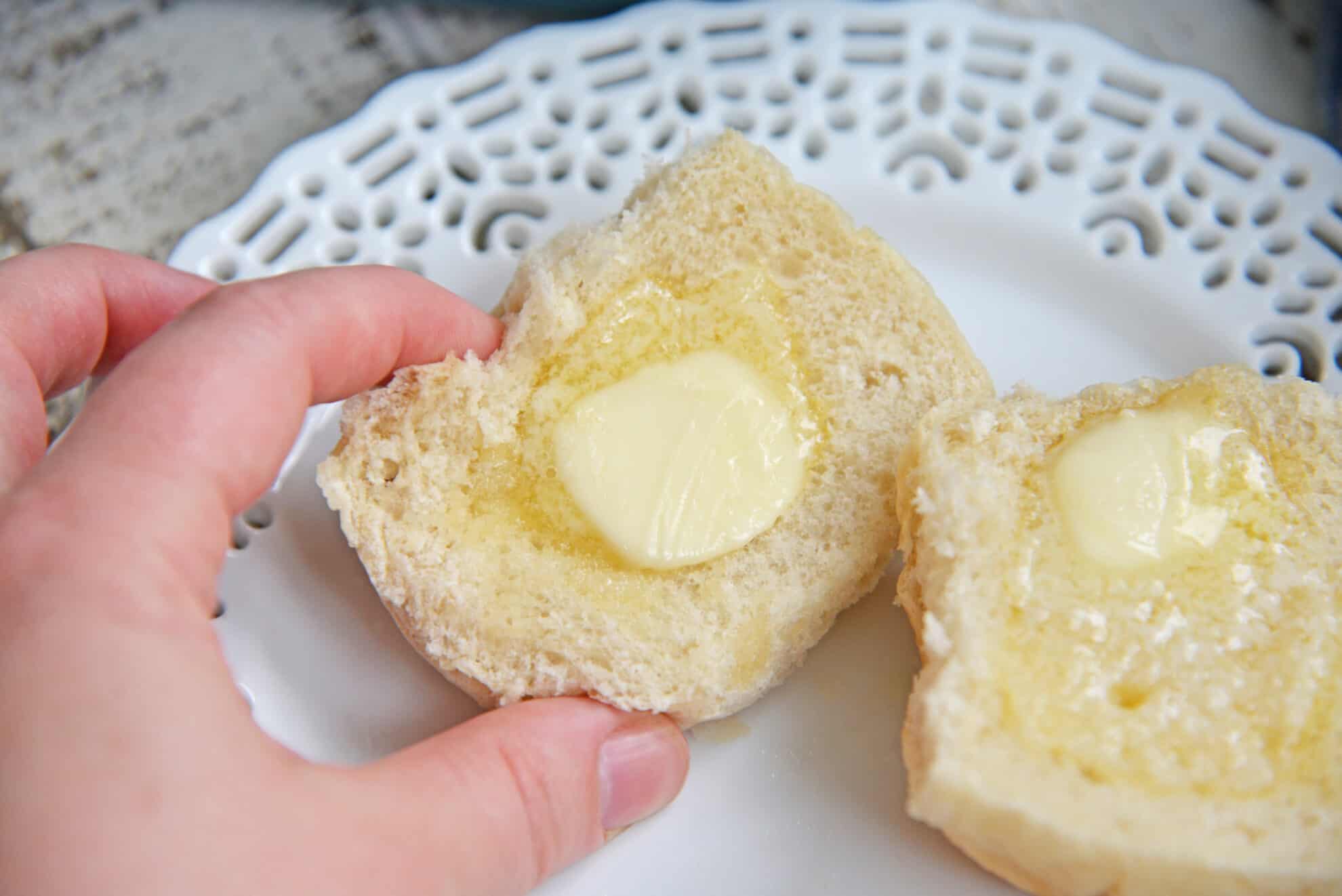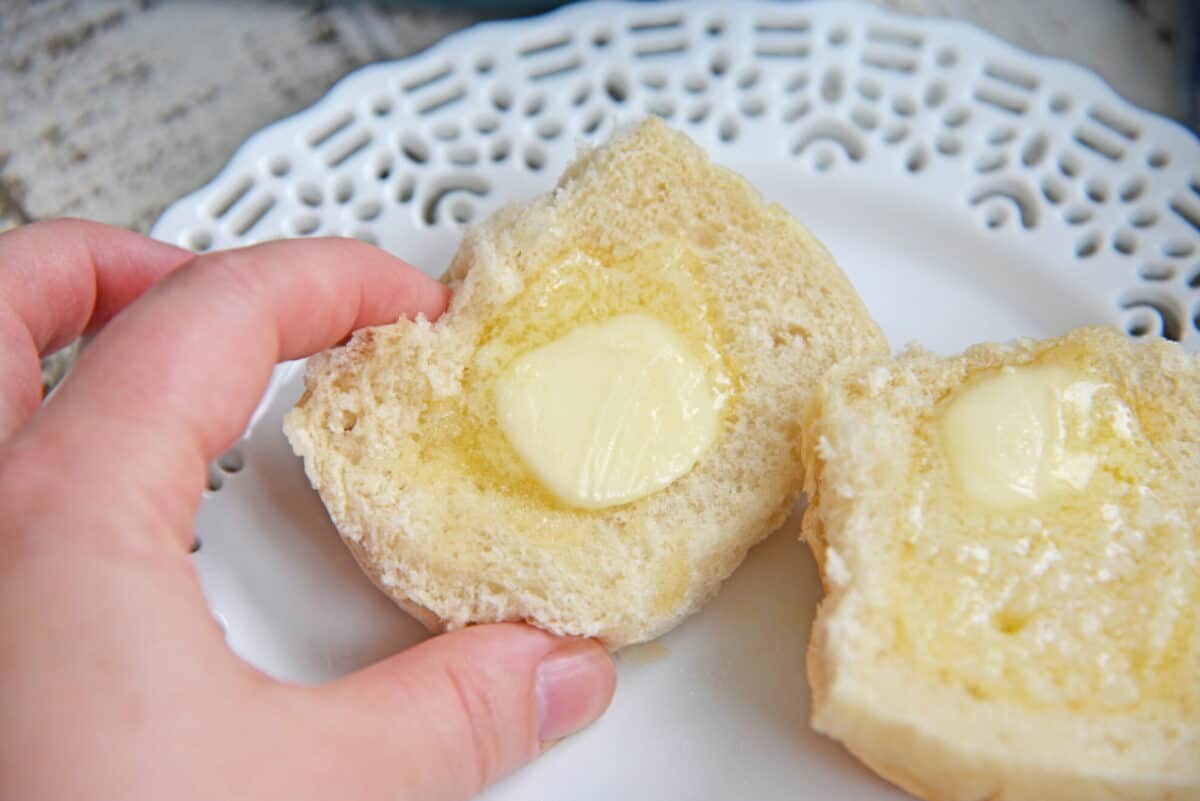 Can I make dinner rolls ahead of time?
Sure! Bake them whenever you have time and eat them at room temperature or warm slightly before serving. Just like the ones from the store.
They are best within 1-2 days of baking. Homemade dinner rolls are also freezer friendly. Allow to thaw at room temperature. Do not defrost in the microwave, this makes bread rubbery.
You can also half the recipe and just make 6 dinner rolls. Use a heaping teaspoon of yeast instead of the whole packet.
Good butter and a dinner roll recipe need to be paired with amazing dishes, give these a whirl!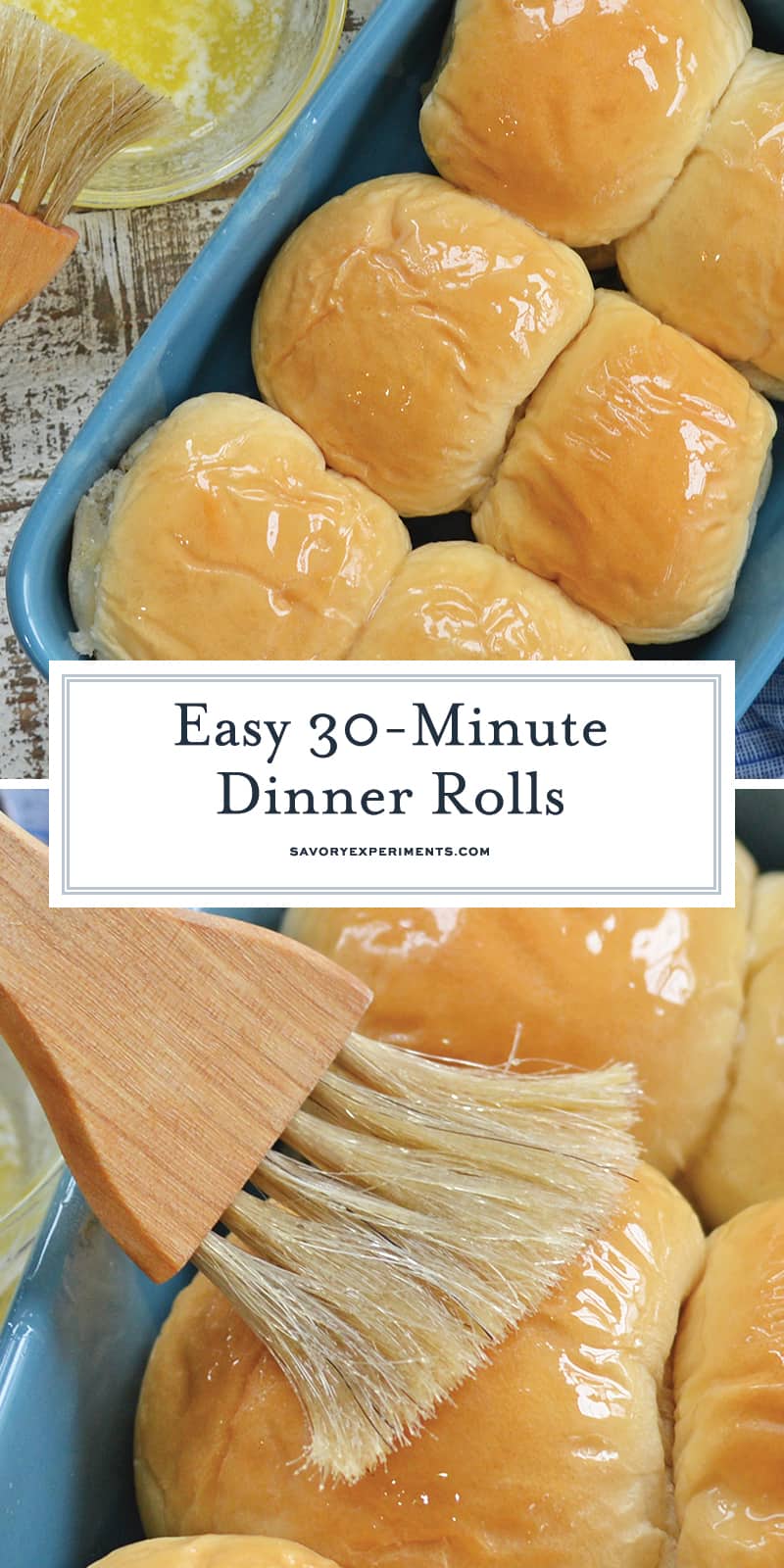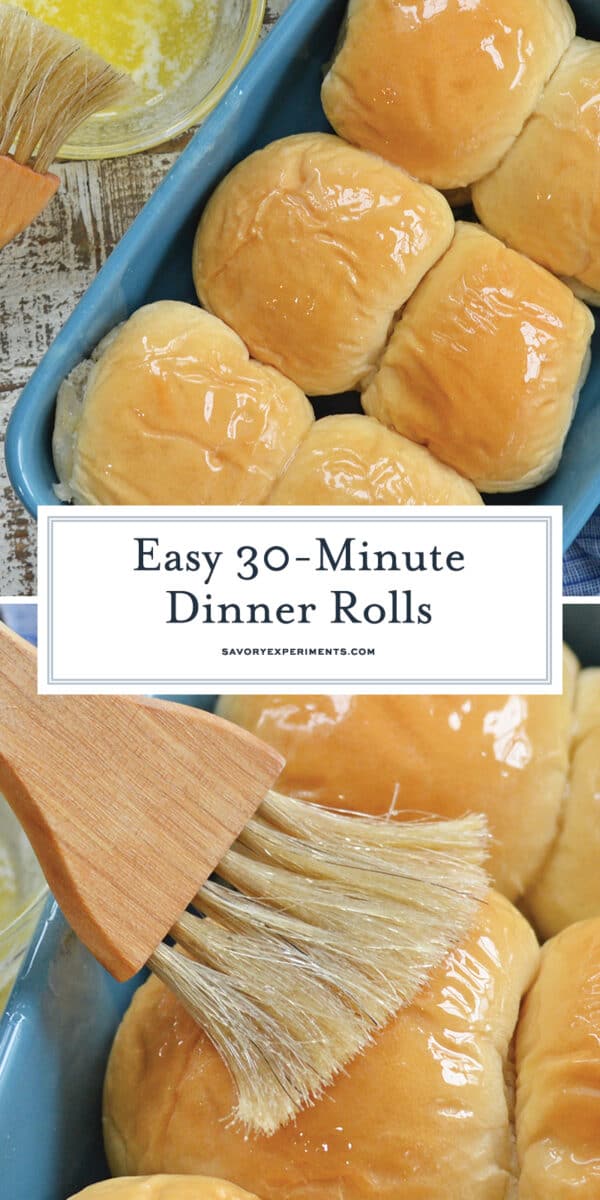 Tools for making Easy Dinner Rolls:
Stand Mixer– I lived for years without one and I can tell you with 100% confidence that life with one is easier and it is worth the investment.
9 x 13 Glass Baking Dish– an absolute essential for any kitchen! Use it for baking, marinating or storing. Get one with a lid, you'll thank me later.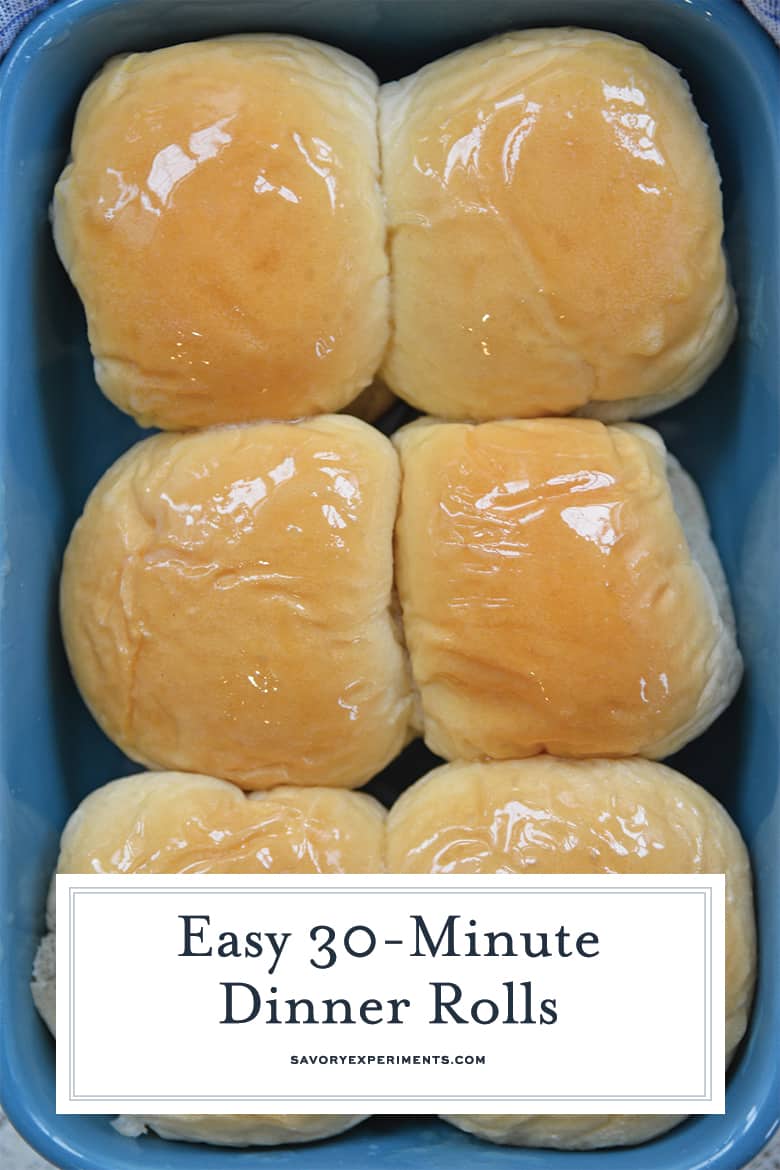 CONNECT WITH SAVORY EXPERIMENTS!

Be sure to follow me on social media, so you never miss a post!

Facebook | Twitter | Youtube
Pinterest | Instagram

Get our FREE 8 Day E-Course on How to Be a Better Home Cook. Sign up HERE!