I'm not a huge bread baker. I don't have time for several rises, kneading for days and patience. I don't have the patience, gosh darn it.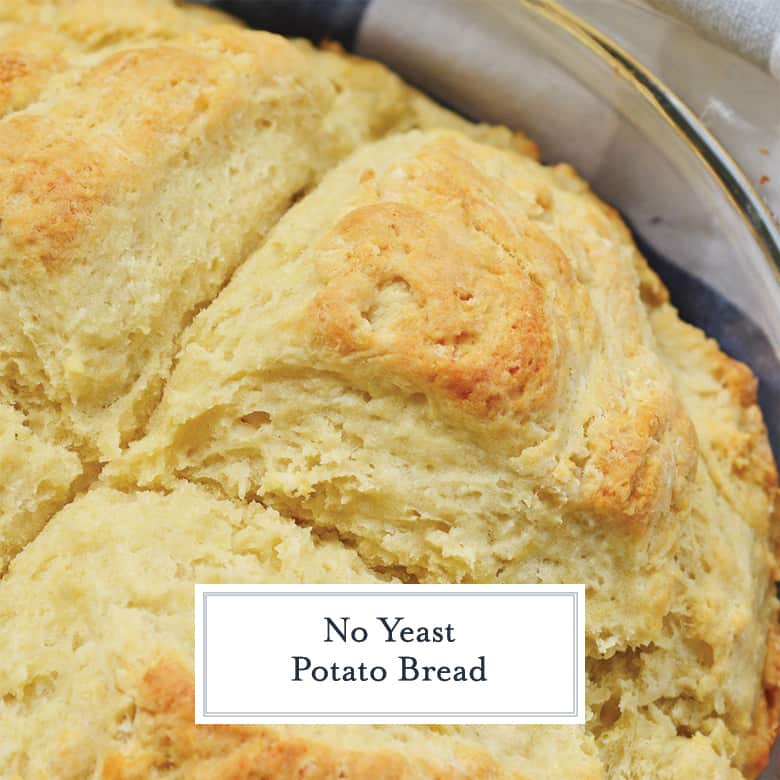 Thick and chewy No Yeast Potato Bread is an easy and quick homemade bread recipe perfect for deli sandwiches and more!
But I do like bread. Total lovers of carbs. And is seems I am not alone. I would also venture to say that many of my carb lovers generally purchase their bread instead of bake it themselves.
I am usually in that boat, but like the rest of the country (world, really) I am now stuck at home to flatten the curve and I find myself with A. Time B. No Yeast C. No Bread at the store.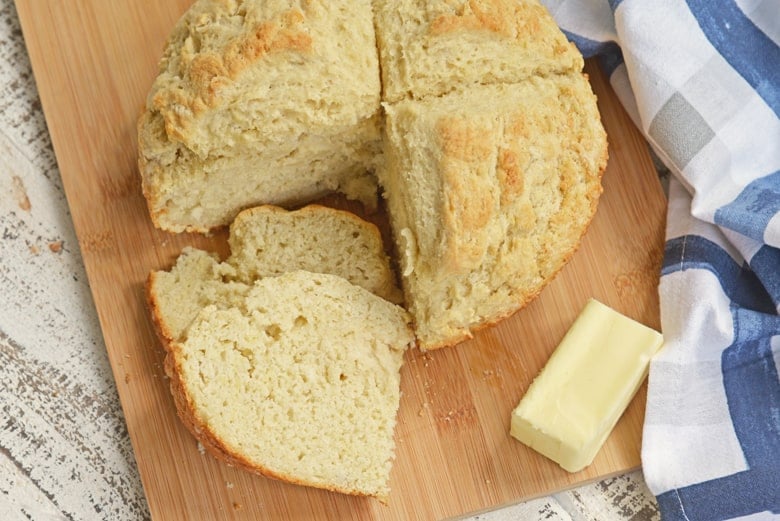 Seems I am not alone because since I published my famous 2-ingredient bread after making it on Facebook LIVE with my daughter, it has gone bonkers and people are requesting more no yeast bread recipes.
Now I've been up since 4am baking bread and will soon run out of flour so it is a good thing that I managed to develop several solid recipes in that time. And was able to freeze all this bread!
One that I wanted to play with, and have before with yeast, is potato bread. I love potato bread for hamburgers buns and even dinner rolls, but both of those get their light and airy texture from yeast.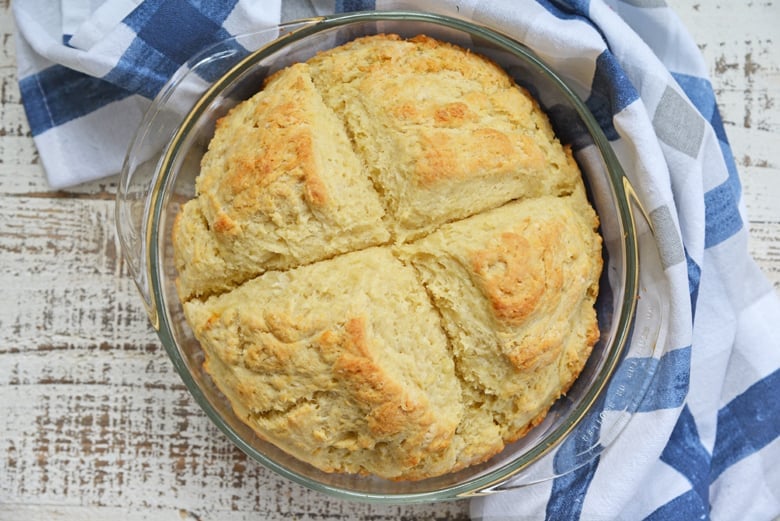 No yeast bread will be moist, but heartier and dense. A rustic loaf is what I call it. Perfect for sandwiches, bread dipping oil, paninis and just for a snack. But it is a thick and chewy crumb.
What type of potatoes are in potato bread?
This potato bread uses mashed potatoes. Now I made mashed potatoes specifically to use in the bread, but generally speaking it is a great way to use up leftover mashed potatoes.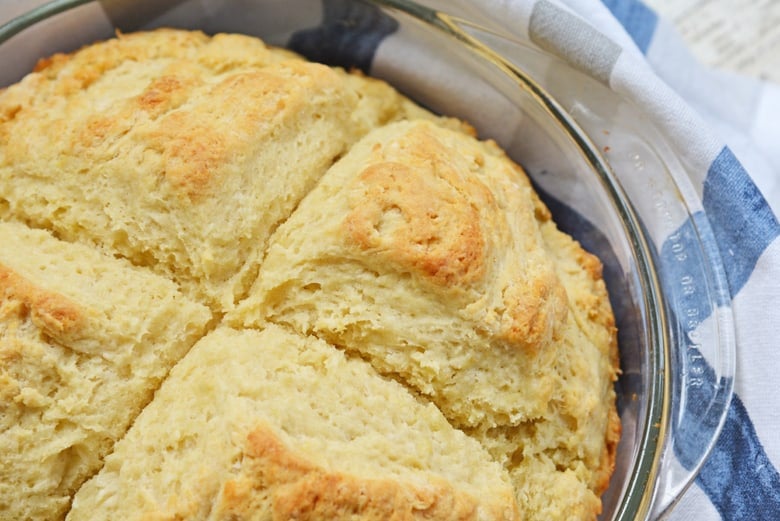 I would suggest using smooth mashed potatoes instead of chunky (otherwise you'll have chunks in your bread). In fact, instant mashed potatoes are great for this type of recipe. They are also awesome for crusting baked chicken wings and mashed potato cups.
The flavor of bread you end up with come from the type of mashed potato you use.
If you just want plain, a blank slate, if you will, then opt for the basic recipe on the back of an instant mashed potato box.
You can always add other flavors too. Here are my favorites:
Powdered garlic
Fresh herbs
Caraway seeds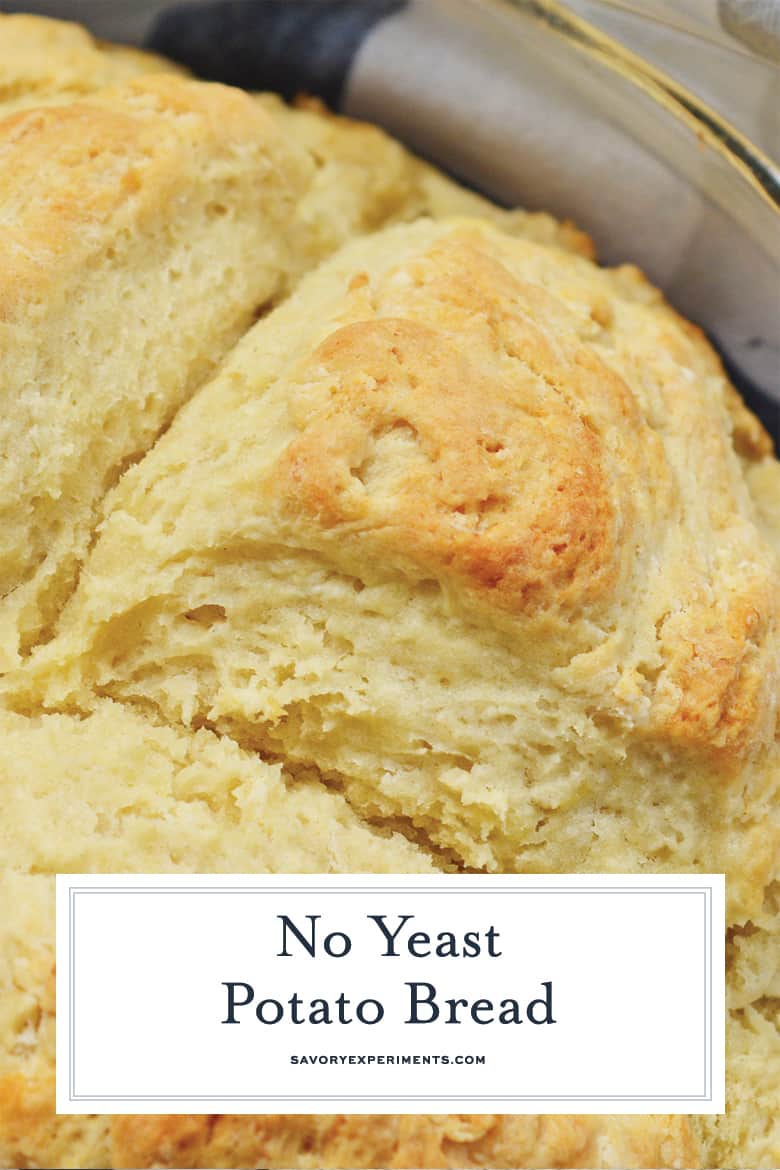 How to make Homemade Potato Bread
It is fairly simple. You'll need a couple of basic ingredients.
Mashed Potatoes
Whole Milk
Vegetable or Canola Oil
Flour
Baking Powder
Salt
Sugar
Eggs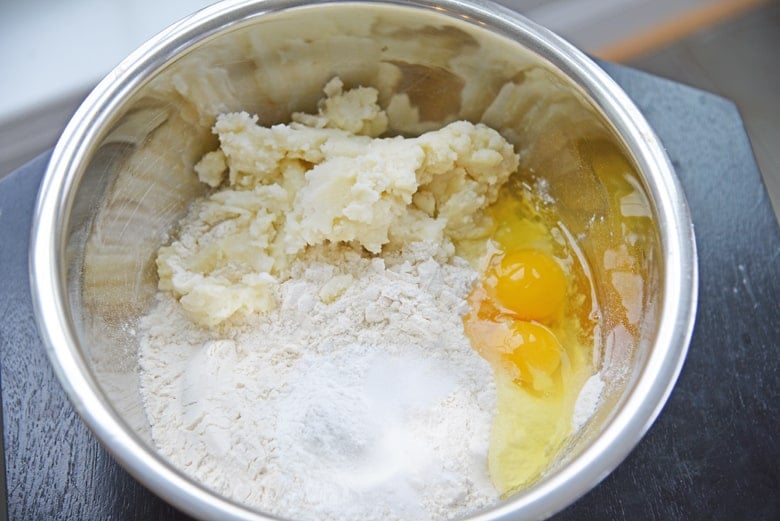 While many breads don't use eggs, some, like brioche, do to help the bread rise. This particular recipe also uses quite a bit of baking powder, so I don't recommend subbing self-rising flour for this one.
I do suggest whole milk to have some fat in the mix. If you use skim or lowfat milk, add 1 tablespoons of melted butter or a splash of heavy cream or buttermilk.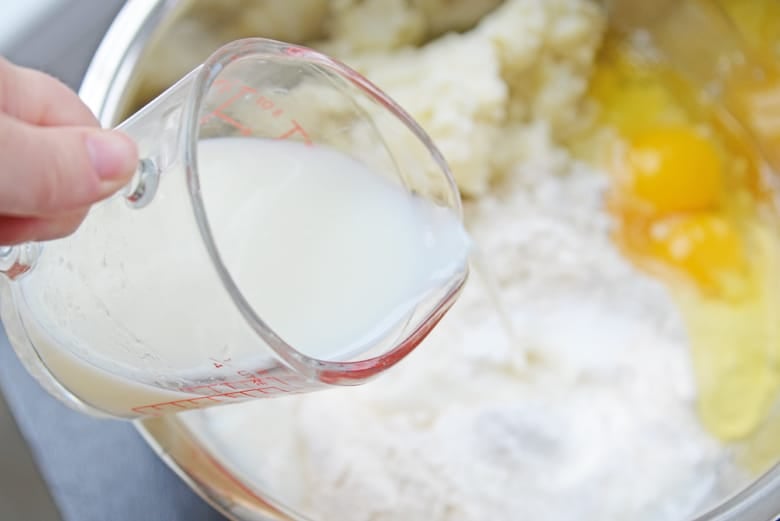 Simply mix the bread by hand in a large mixing bowl or the bowl of a stand mixer fitted with the bread hook.
Knead for an additional minute after dough has come together and turn into a round baking dish. You can use cast iron or glass, but this dough has the tendency to spread out and having it in a baking dish helps it go up. The dough will be fairly sticky.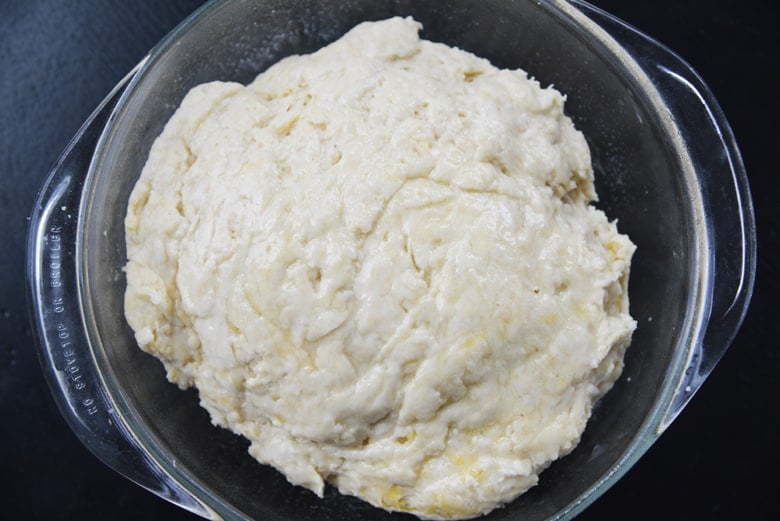 Next, you'll score it deeply. Forgetting to score the bread is the best to ensure it won't back all the way through. Use a sharp knife, razor or serrated knife to do this.
Bake it until the top is lightly browned. I do recommend waiting for it to cool before slicing. Hot bread has the tendency to fall apart easily.
After it is cooled, store it at room temperature wrapped in plastic wrap or aluminum foil. It is best within the first 3 days of baking.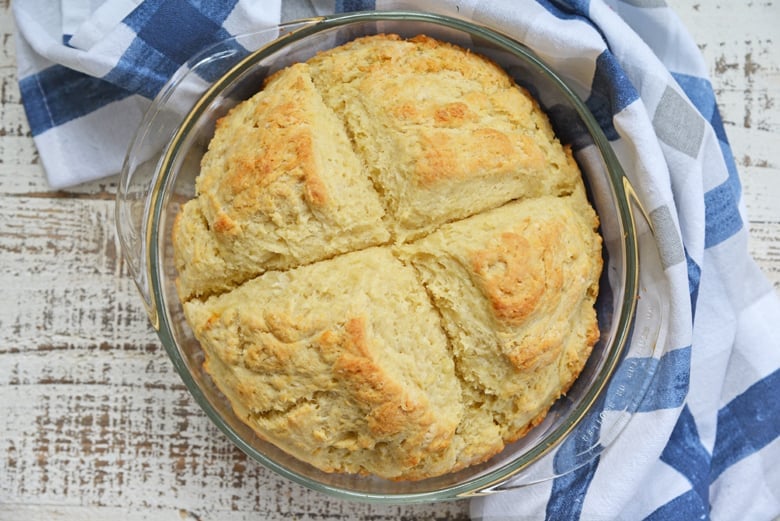 Other quick bread recipes you might enjoy: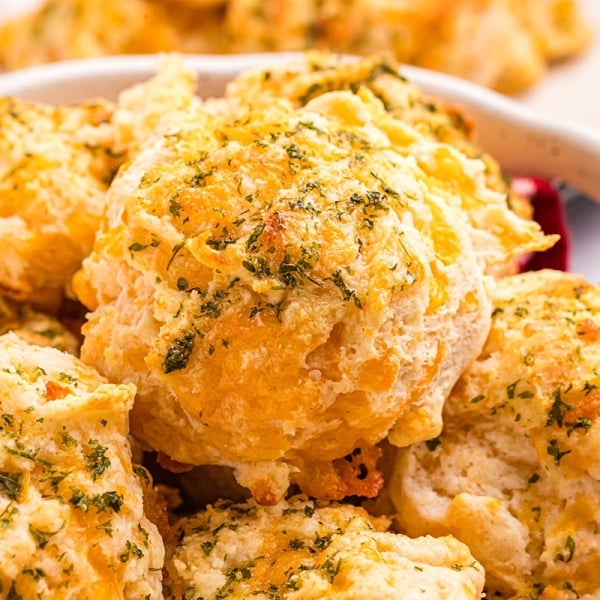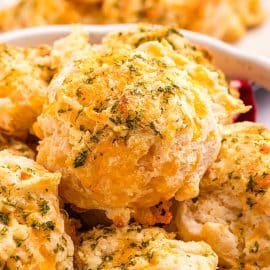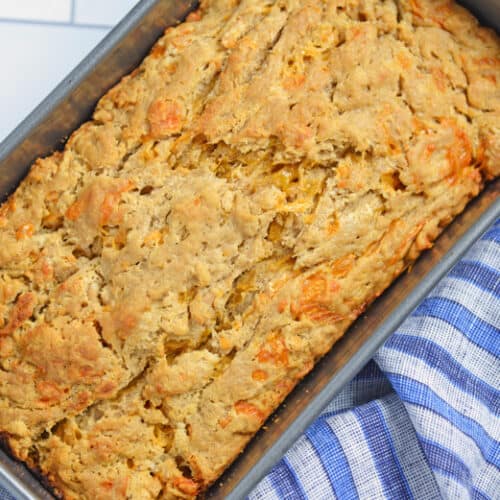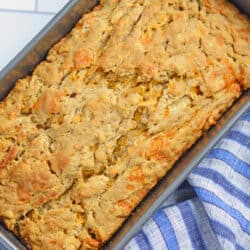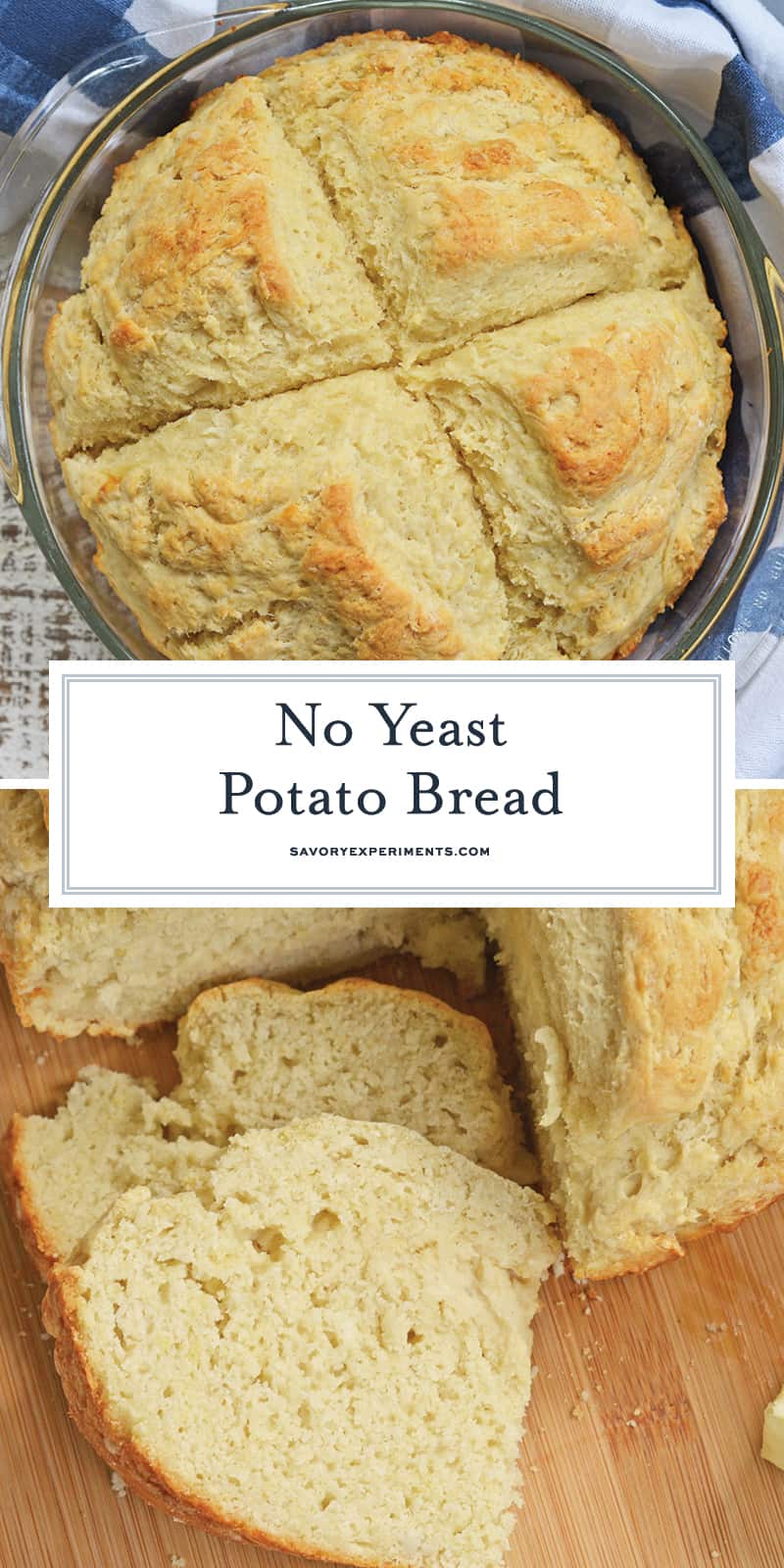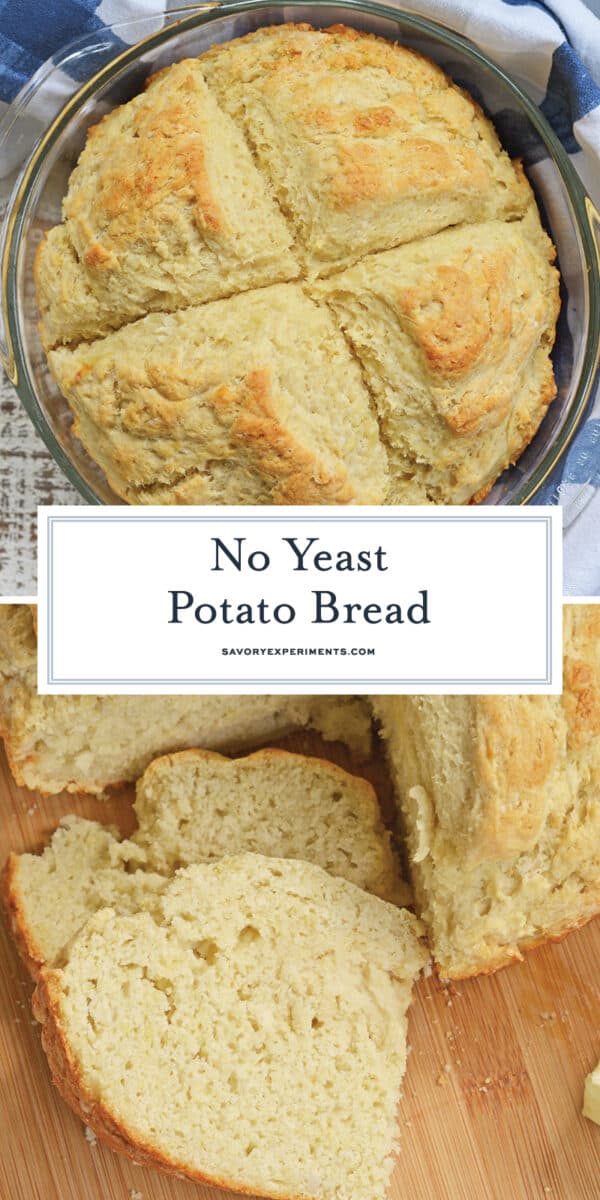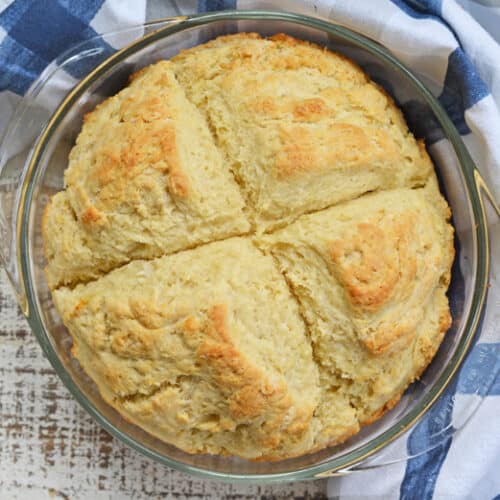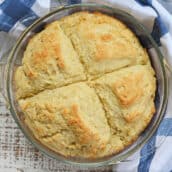 No Yeast Potato Bread
Thick and chewy No Yeast Potato Bread is an easy and quick homemade bread recipe perfect for deli sandwiches and more!
Instructions
Preheat oven to 375 degrees. Coat an 8 or 9 inch cast iron pan, glass casserole dish or round cake pan with cooking spray. Set aside.

In a large mixing bowl or the bowl of a stand mixer fitted with the bread hook, combine mashed potatoes and eggs until combined.

Add milk and vegetable oil, blending until just combined.

Sift together flour, baking powder, fine sea salt and sugar. Add to wet mixture.

After dough has come together, blend or mix for an additional 1 minute.

Turn dough into greased cooking vessel. Don't push too hard, but make sure the dough is flat, not rounded on the top. Score a large "X" in the top. Give a light dusting of cooking spray to the top of the bread.

Bake for 45-50 minutes. If the top starts to brown too much, loosely cover with a leaf of aluminum foil.

Remove and allow to cool before turning out of the baking dish. Wait for bread to nearly cool fully before slicing.

Store wrapped well at room temperature. Bread is best enjoyed within 3 days of baking.

If you've tried this recipe, come back and let us know how it was!
Notes
Bread can be well wrapped and frozen for up to 6 months.
If you using skim or lowfat milk, add 1 tablespoon melted butter to account for additional fat.
Nutrition
Calories:
279
kcal
,
Carbohydrates:
46
g
,
Protein:
7
g
,
Fat:
7
g
,
Saturated Fat:
5
g
,
Cholesterol:
35
mg
,
Sodium:
268
mg
,
Potassium:
397
mg
,
Fiber:
2
g
,
Sugar:
3
g
,
Vitamin A:
77
IU
,
Vitamin C:
10
mg
,
Calcium:
113
mg
,
Iron:
2
mg