This recipe originally appeared on Real Housemoms, where I am contributor.
Creamy Sausage Gravy is a way of life in the south. Freshly baked buttermilk biscuits smothered in thick, dedadent gravy dotted with large chunks of sausage. Traditionally made for breakfast, you can serve it anytime of the day or for brinner (breakfast for dinner).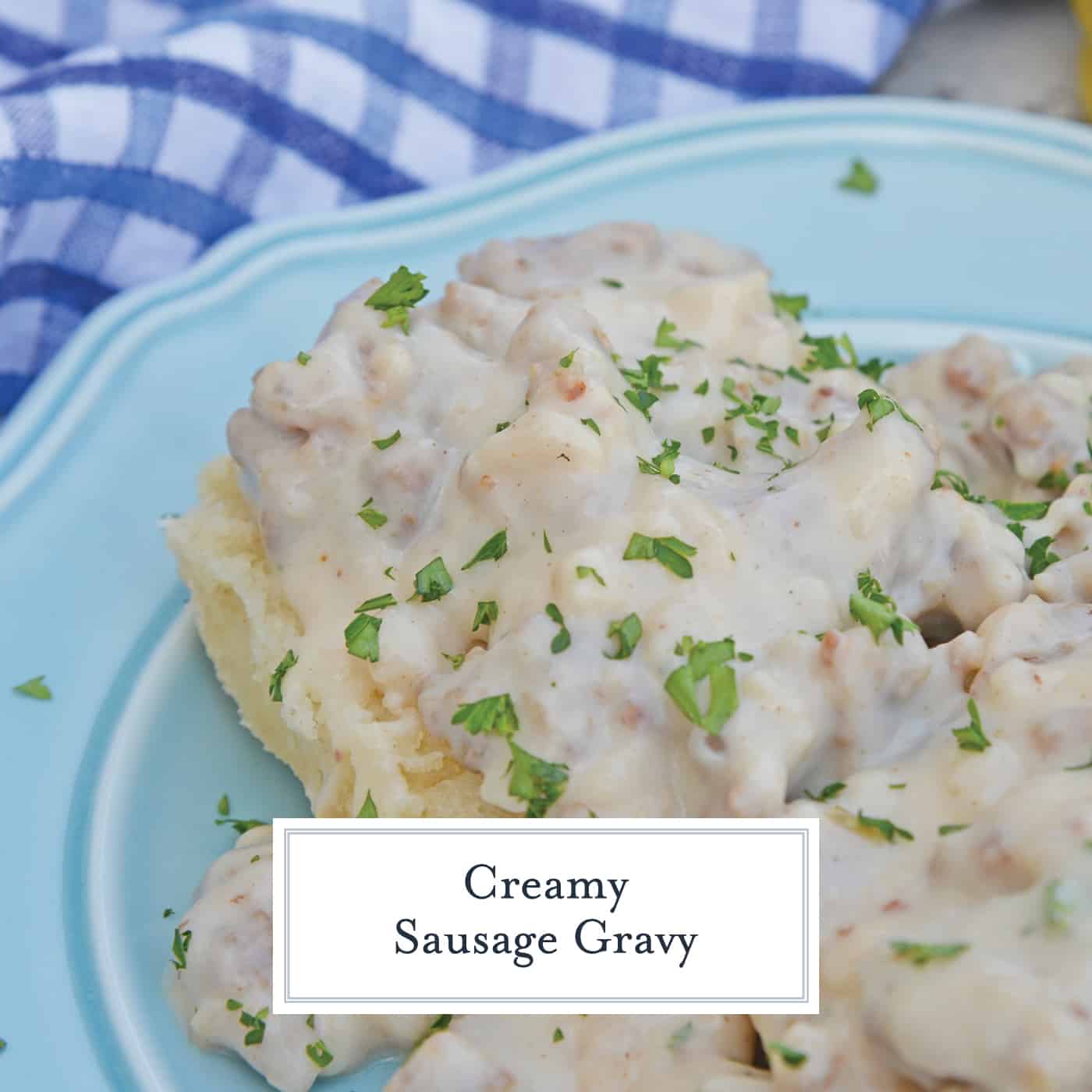 Creamy Sausage Gravy, a simple recipe made from pork sausage and cream and a few other ingredients, is a Southern staple. Serve over warm biscuits, fried chicken or chicken fried bacon.
It is almost a rite of passage in the south. You attend cotillion, have a coming out party and then learn to prepare sausage gravy. Sausage Gravy is a cooking basic.
Make sure you PIN Creamy Sausage Gravy HERE!
There are the 5 French mother sauces… and then sausage gravy. Entire restaurants are judged based on their gravy alone. I'm being serious here. Sausage gravy and biscuits, of course.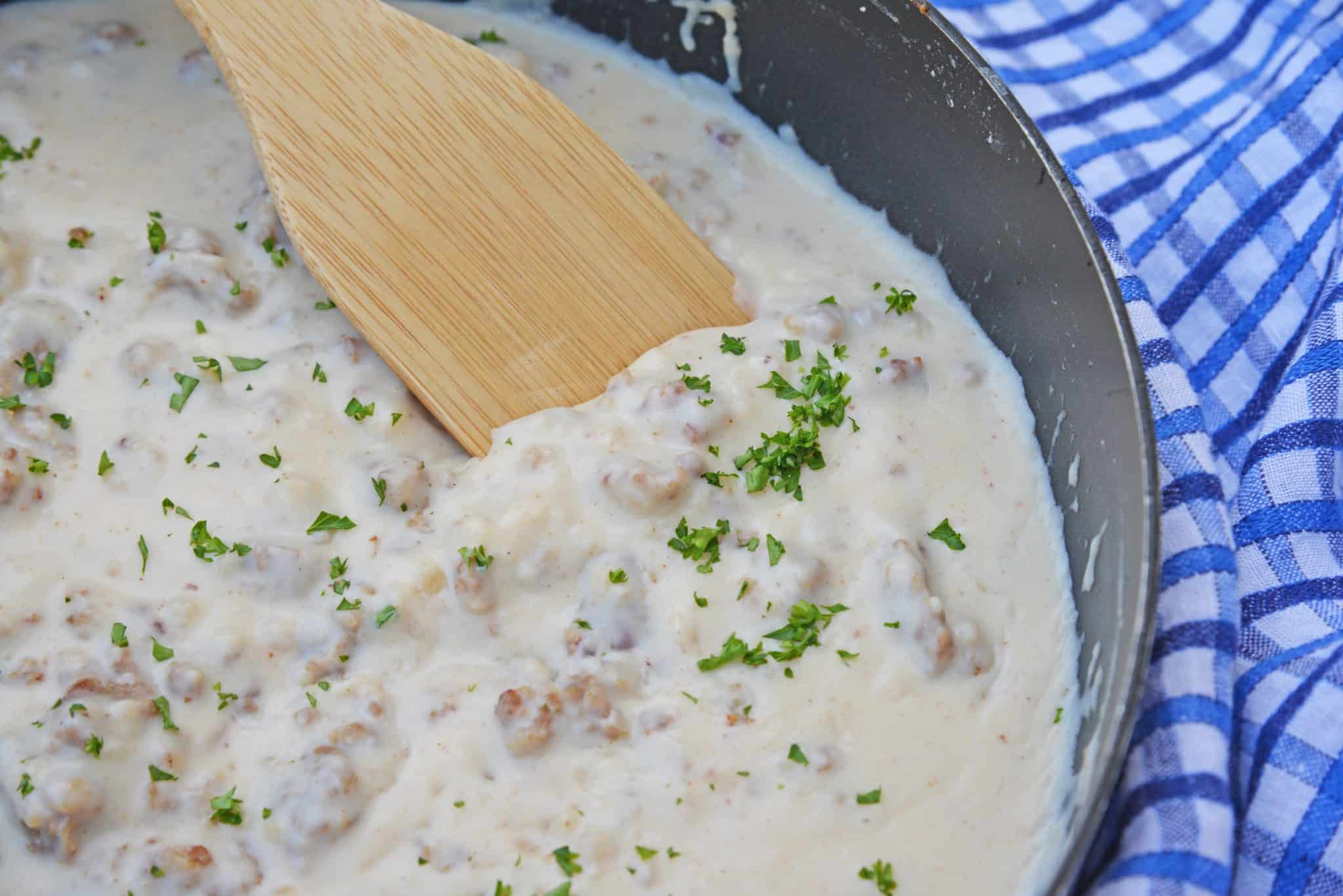 The basic recipe for Sausage Gravy is simple: sausage, flour, milk, salt and pepper. If the recipe is so easy, what makes them all so different? Or sausage gravy so challenging to make?
There are a couple of answers and the most basic is the type and quality of sausage you use. This is pure preference. Sweet, spicy, smoky, whatever you please! The rendered fat from your sausage will serve as the base for a roux.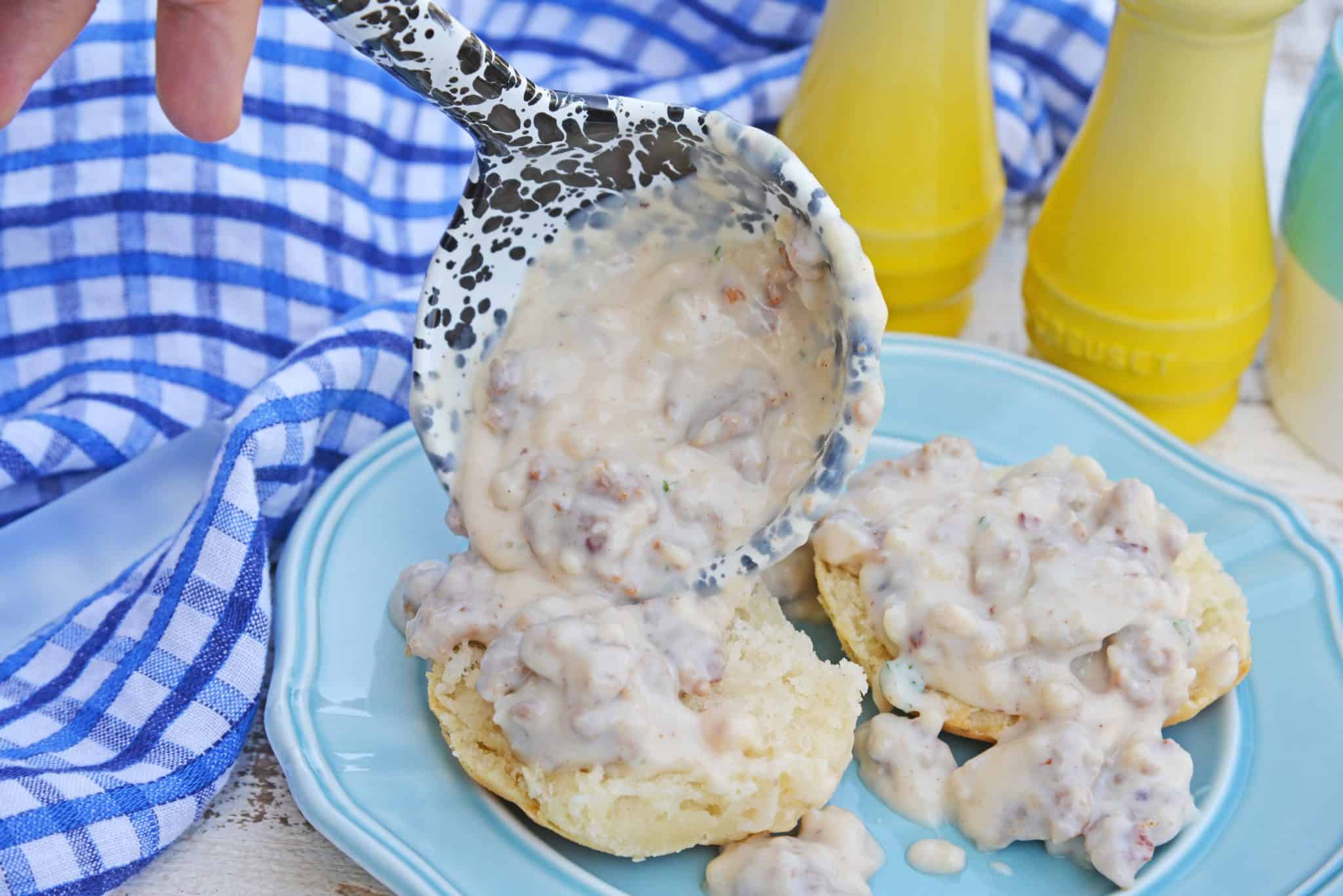 Roux, traditionally made with butter, is nothing but a mix of flour and rendered fat. If you purchase pre-cooked sausage, you can use reserved bacon fat, but also butter.
The roux will deepen in flavor depending on how long you allow it to brown. A "white roux" is basically just mixed butter and flour. A "blonde roux" is cooked slightly longer resulting in a blonder hue.
And lastly, the mother of all roux with maximum amount of flavor is the brown roux, which smells nutty and is packed with flavor.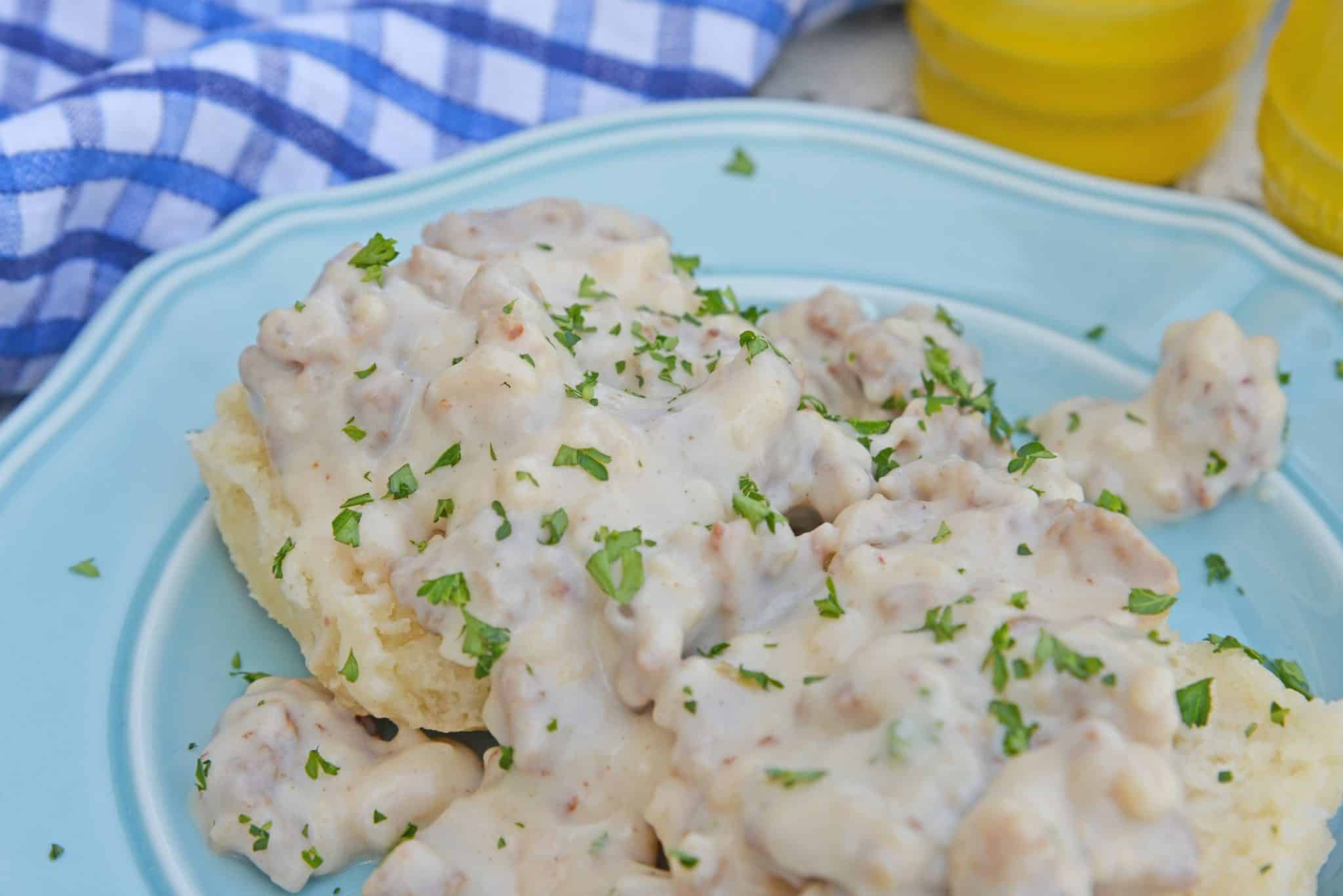 A creamy sausage gravy uses a white-blond roux. The next step is easy, but overlooked by so many. Add the milk slowly and whisk like your life depends on it.
Just like combing cornstarch or flour with any sauce, you want to add a small amount and allow it to become fully incorporated and creamy. This prevents lumps from forming in your gravy. No one wants lumpy gravy.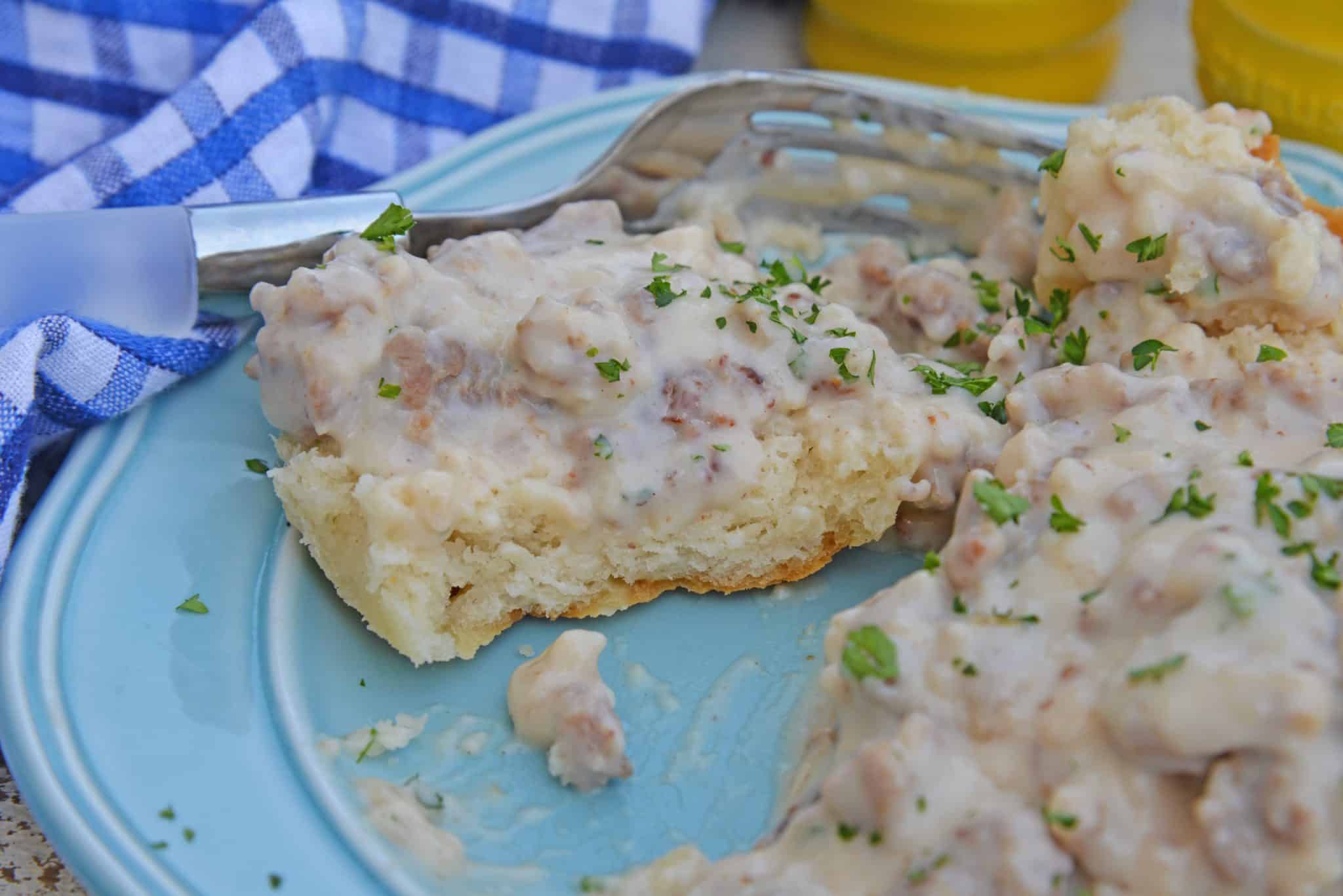 Lastly, you can make some small changes to your basic Sausage gravy by adding fresh herbs or spices. Some of the more popular include rosemary, thyme, sage or smoked paprika.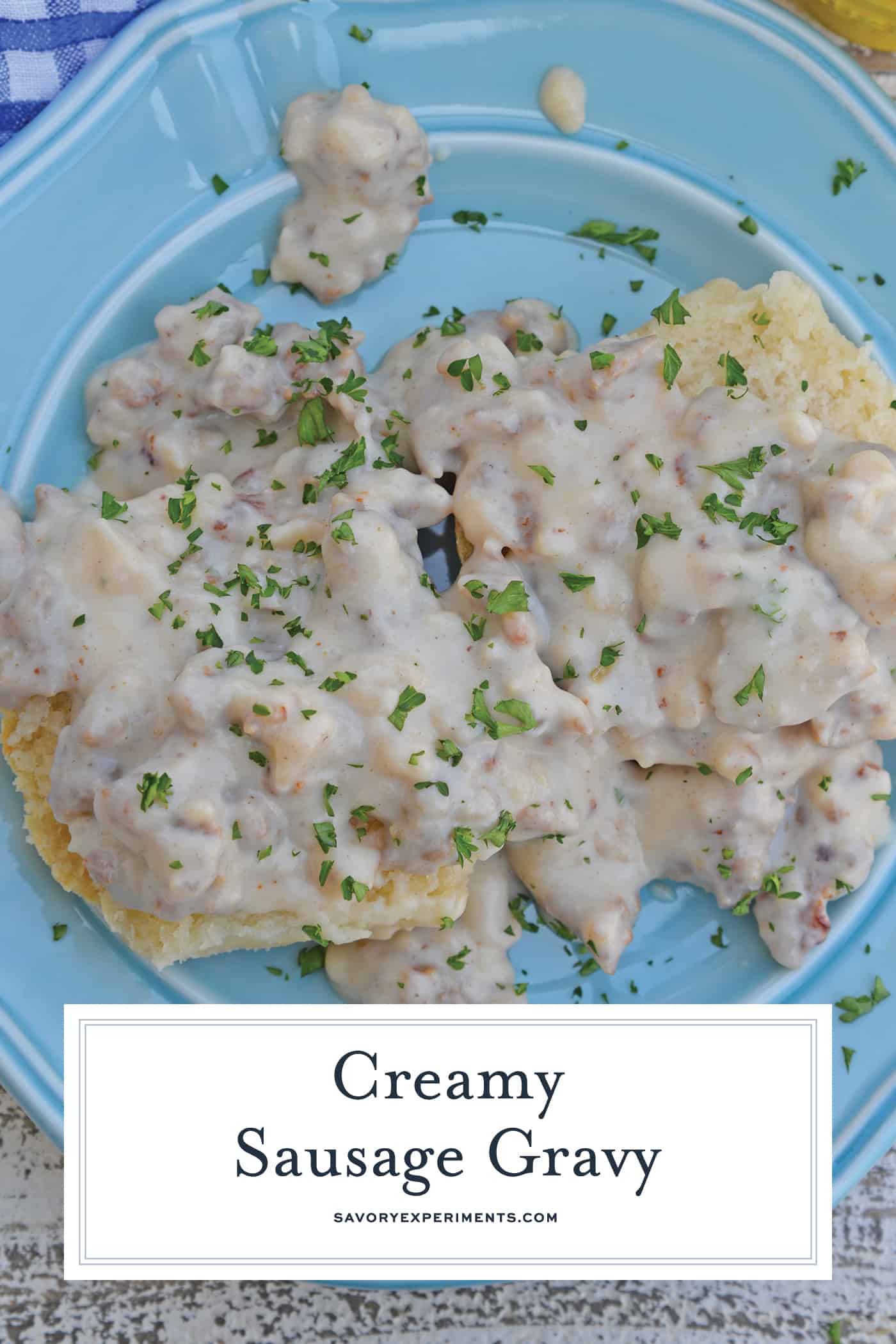 Let's review my tips for making perfect sausage gravy:
Pick flavorful sausage.
Don't be afraid to make a dark blond roux, it adds flavor.
Add a small amount of milk and whisk, whisk, whisk until there are no more lumps. Then add the remaining liquid.
Customise your gravy with fresh herbs and spices.
Other recipes you might like if you like your foods submerged in gravy: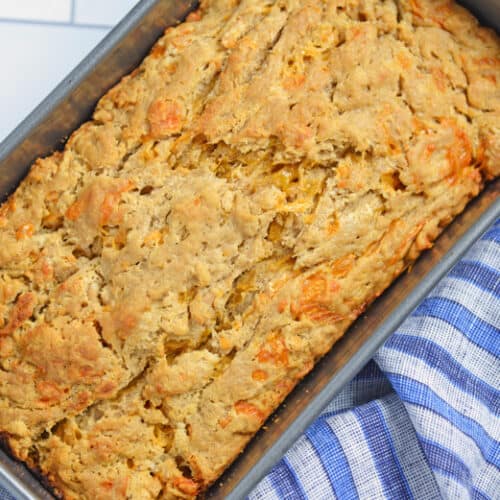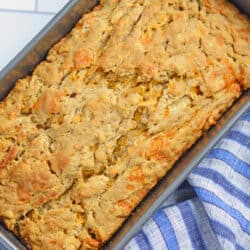 Cheddar Beer Bread
Rich, buttery and cheesy, this easy to make Cheddar Beer Bread only requires 5 ingredients and NO RISING TIME!
View this recipe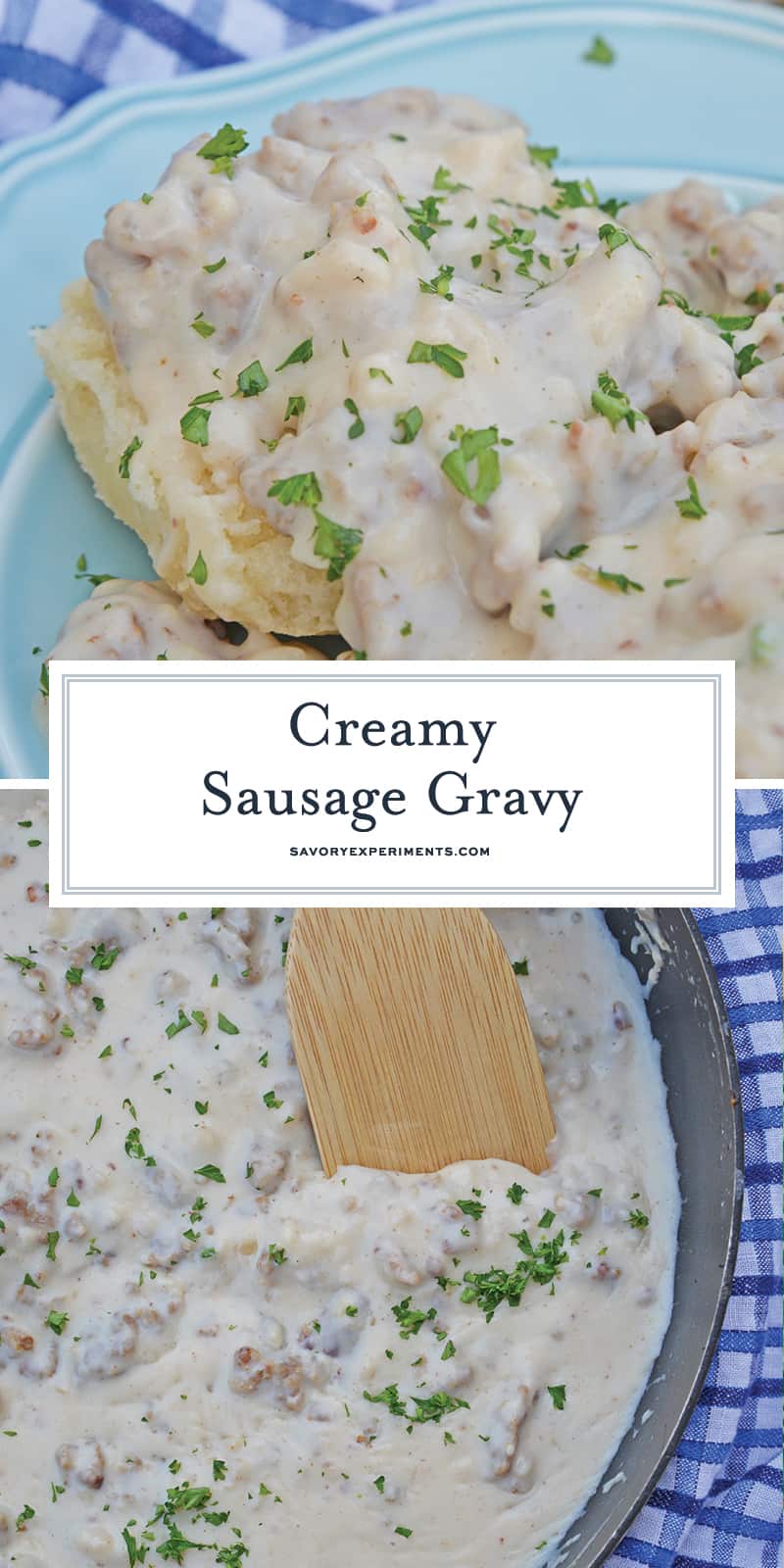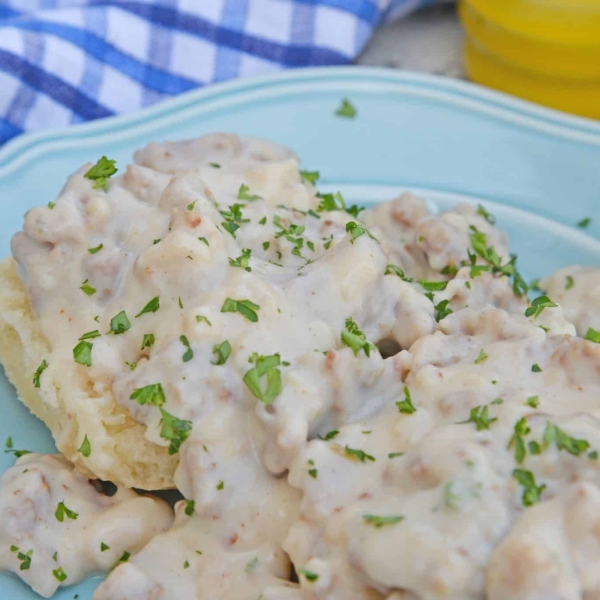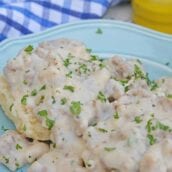 Sausage Gravy
Sausage Gravy, a simple recipe made from pork sausage and cream and a few other ingredients, is a Southern staple. Serve over warm biscuits, fried chicken or chicken fried bacon.
Instructions
In a large frying pan or skillet, cook breakfast sausage over medium heat, breaking apart into crumbles as it cooks.

When cooked, approximately 10 minutes, remove meat using a slotted spoon. Remove to a paper towel lined plate. Reserve rendered pork fat.

Reduce heat to low and stir in flour. Continue to stir until it makes a paste and turns a light brown.

Add 1/4 cup milk, whisking or stirring well using the back of a spoon to break apart the flour clumps. Whisk until smooth. Add remaining milk in 3 stages, whisking after each to prevent lumps.

Add reserved sausage back to the pan, tossing to combine. Taste the gravy to determine how much seasoned salt is necessary and then add slowly, tasting along to way to determine the correct amount. Follow the same guidelines with black pepper.

Spoon over dish of your choice. Or eat with a spoon. I won't judge.

If you tried this recipe, swing back through and let us know how you liked it and if you made any variations!
Notes
Add rosemary, thyme, sage or smoked paprika for simple variation.
Nutrition
Calories:
520
kcal
,
Carbohydrates:
36
g
,
Protein:
19
g
,
Fat:
32
g
,
Saturated Fat:
10
g
,
Cholesterol:
67
mg
,
Sodium:
1042
mg
,
Potassium:
469
mg
,
Sugar:
8
g
,
Vitamin A:
255
IU
,
Vitamin C:
0.5
mg
,
Calcium:
171
mg
,
Iron:
2.9
mg