Have you ever made beer bread? It is famous for making delicious, buttery bread with just 3-4 ingredients. How? Self-rising flour and the ingredients in beer!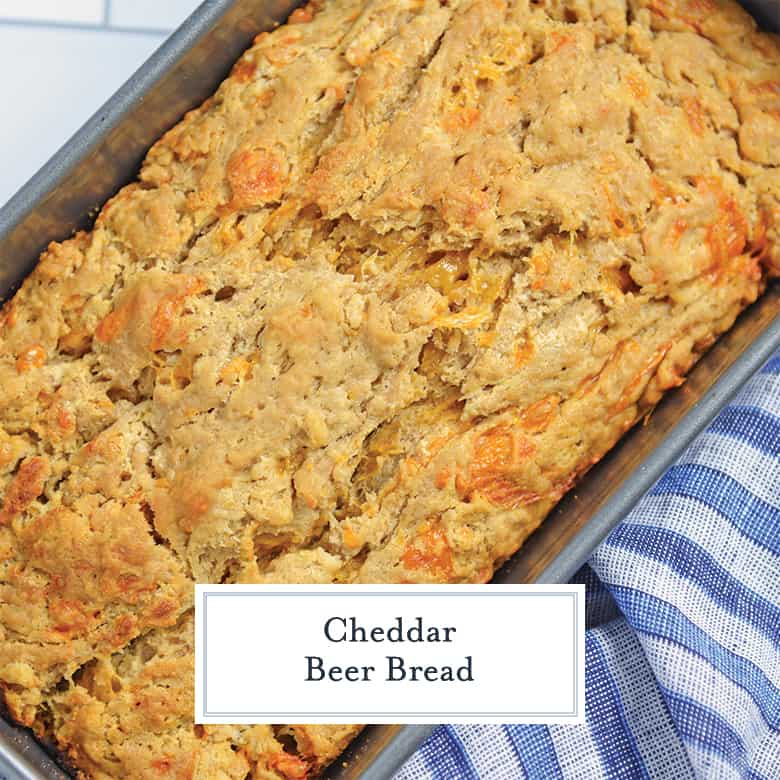 Rich, buttery and cheesy, this easy to make Cheddar Beer Bread only requires 5 ingredients and NO RISING TIME!
I don't want to be misleading, so I'll warn you up front, beer bread isn't a light and fluffy bread. Instead it is a hearty loaf with a texture more like banana bread or zucchini bread. This recipe uses a butter bath which makes the edges crunchy and crispy, which is my favorite part.
Now, I am about to get all scientific on you for a minute, if you don't care how your bread gets to be delicious and you just want the recipe, scroll on down.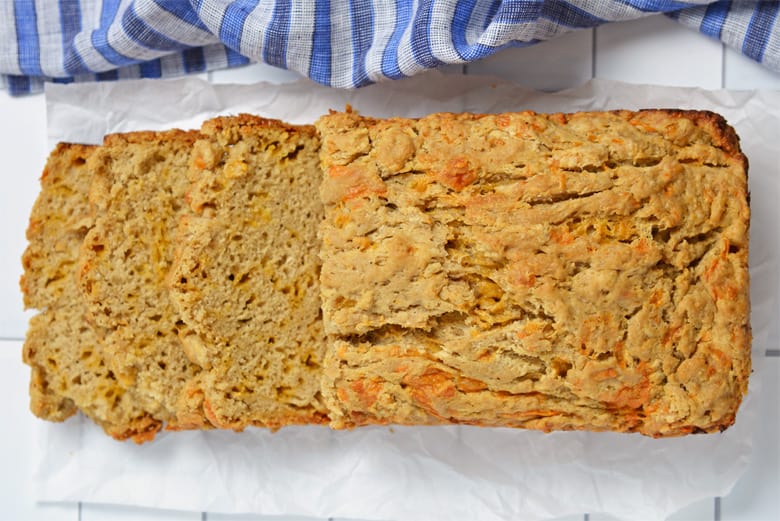 How does beer bread work?
Beer bread is one of those magical, mystical things, like Ice Cream Bread. You mix it together thinking "this will never work" and then take it from the oven with a "WOW" an hour later. But when you break it down, the reason why it works is totally logical.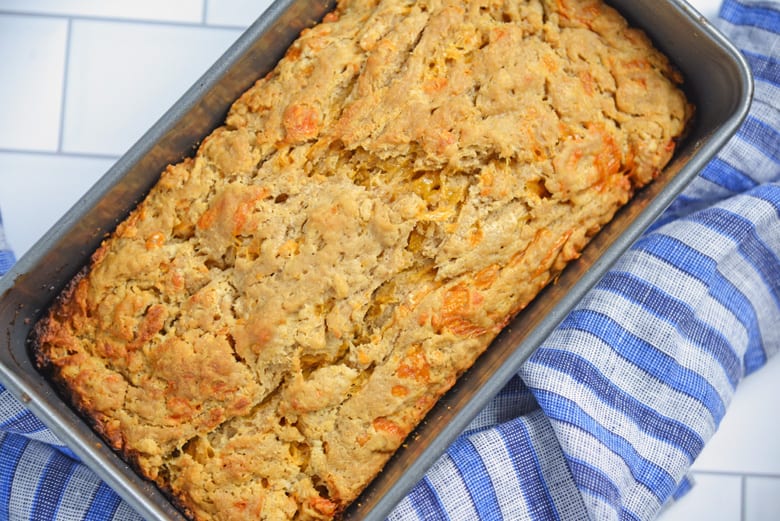 There are a couple of elements to making bread. Flour, yeast and water. Beer bread uses self-rising flour, which is essentially all-purpose flour, baking powder and salt. All the leaveners you need are all in one.
The next two elements are present in the beer you choose to use, yeast and water.
The yeast in the beer interacts with the sugar to help the bread to rise along with baking powder, which also helps prevent it from becoming a brick of density.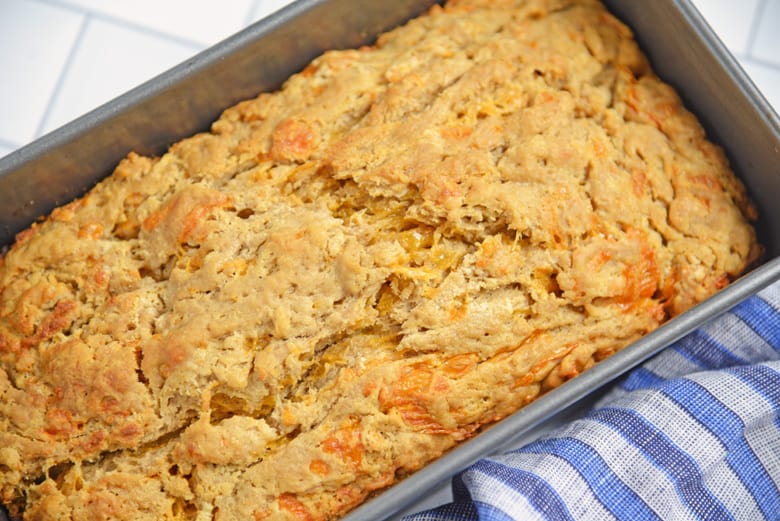 Even though this actual recipe is SO super easy, there are a few mistakes commonly made when making beer bread.
Tips for making Cheddar Beer Bread:
Do not over mix the bread dough. Combine until ingredients are just wet and then transfer to the bread pan. The longer you mix any flour and water mixture, the longer the gluten strands get which can result in a chewy and unfavorable texture.
Sift your flour. I was the biggest offender of this for a long time. If you don't sift the flour, you will end up with too much and a dense log of bread. No one wants that.
If you don't sift, lightly spoon into your measuring cup, without packing it down, and then level off with the back of a butter knife.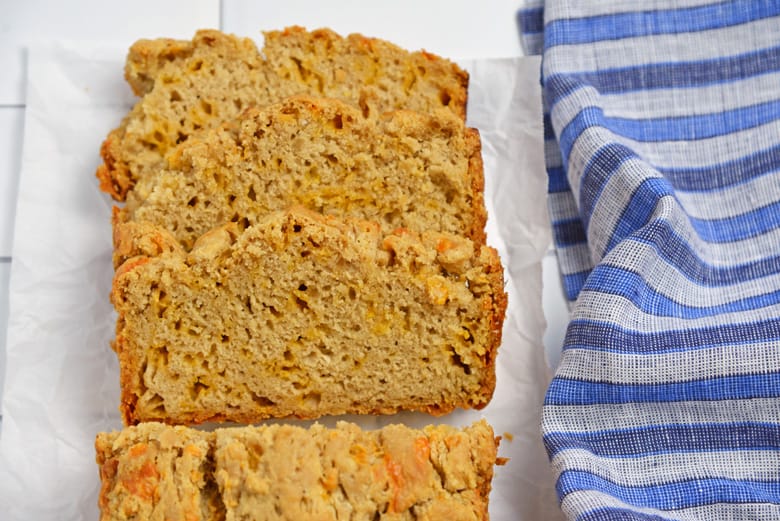 Substituting non-alcoholic beverages. You can totally do this, BUT you will need to add a packet of dry active yeast and activate it first. See recipe notes.
Do not overcook your bread. The easiest way to end up with a hard biscuit of bread is to overcook it. The top should be lightly browned and pass the toothpick test. If it starts to brown too fast, loosely cover the top with a leaf of aluminum foil.
Wait for the bread to fully cool before slicing. If you try to remove it too soon, it will fall apart. Lining the bottom of your loaf pan with parchment will help with removing it.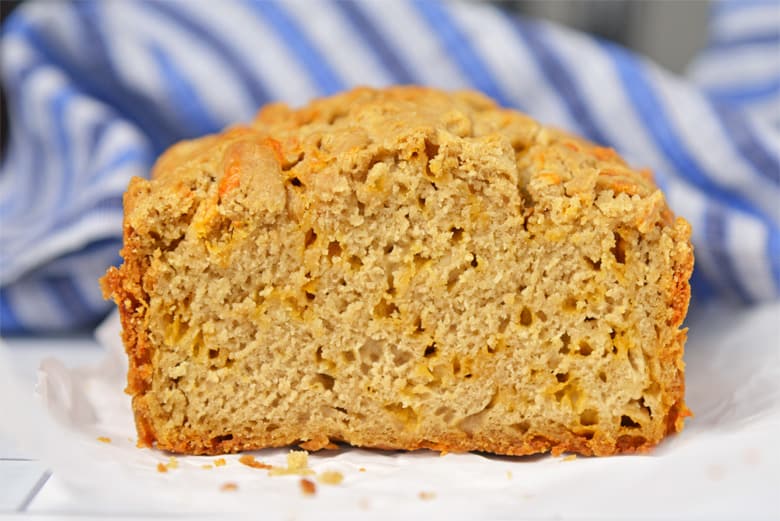 Can you get drunk eating beer bread?
No, just like other recipes that call for beer or wine that is heated. Cooking with alcohol evaporates the alcohol leaving behind the flavor. It is safe for children and pregnant woman to eat.
What beer should I use for beer bread?
You can use any beer in beer bread, but aim for something that has flavor. Lite beers aren't ideal, but fun seasonal flavors and full-bodied blends work great. I personally like Guinness in this recipe.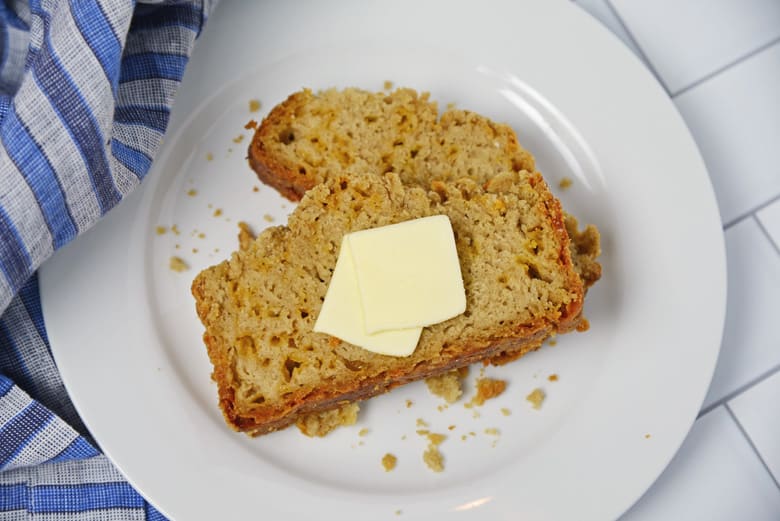 Here are more beers to use in beer bread:
Pale Ale
Brown Ale
Belgian
Chocolate Stout
Fruity beers
Full bodied IPAs
What other flavors can I put in my beer bread?
The possibilities are endless! You can easily swap out the flavor of cheese without changing anything else. Other seasonings like garlic powder, onion powder or fresh and dried herbs are also good additions. Scallions, chives, crumbled bacon, green chiles and jalapenos are also popular.
I've even seen some folks take out the cheese and make this into a breakfast or dessert bread with cinnamon and raisins.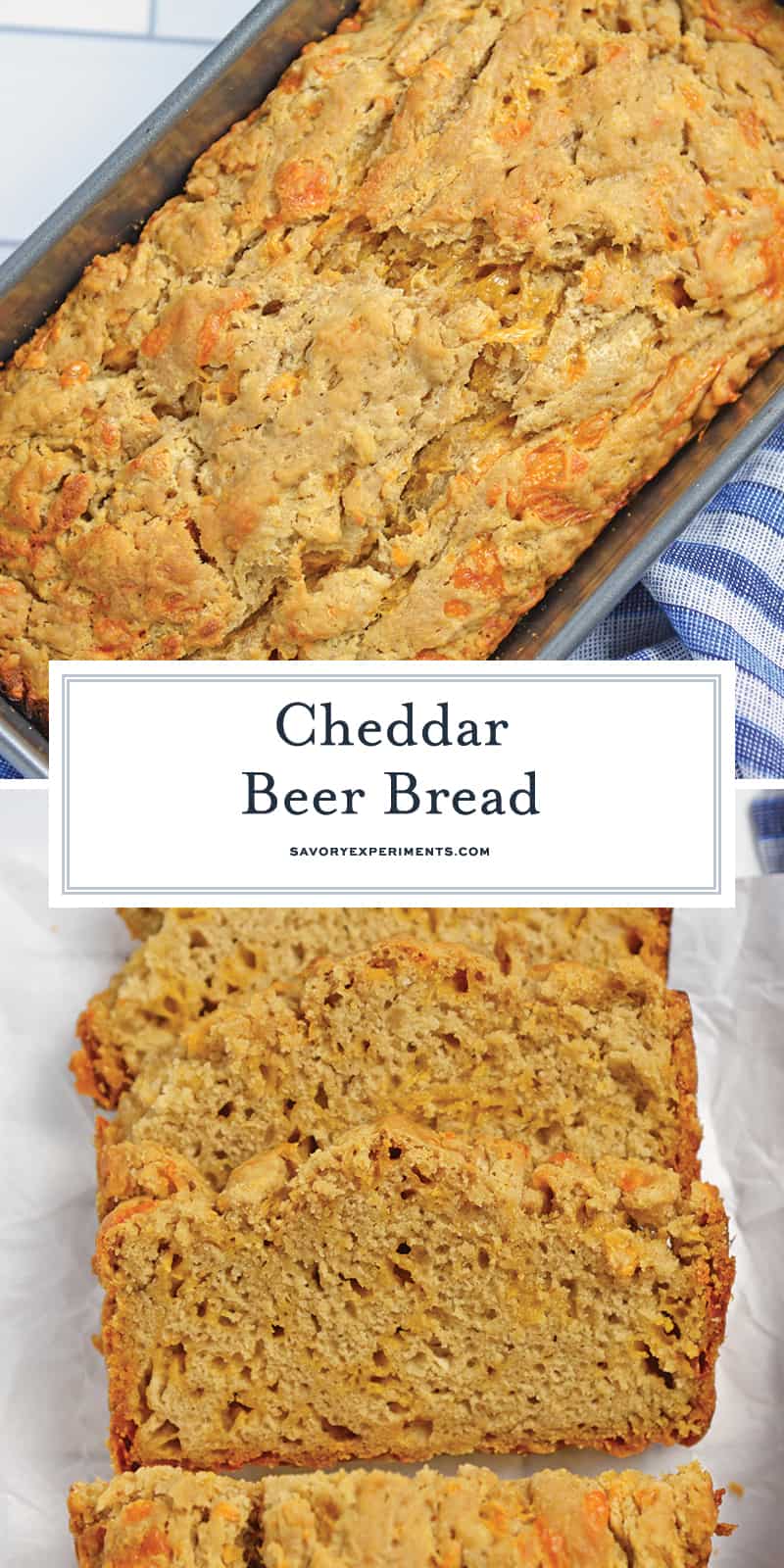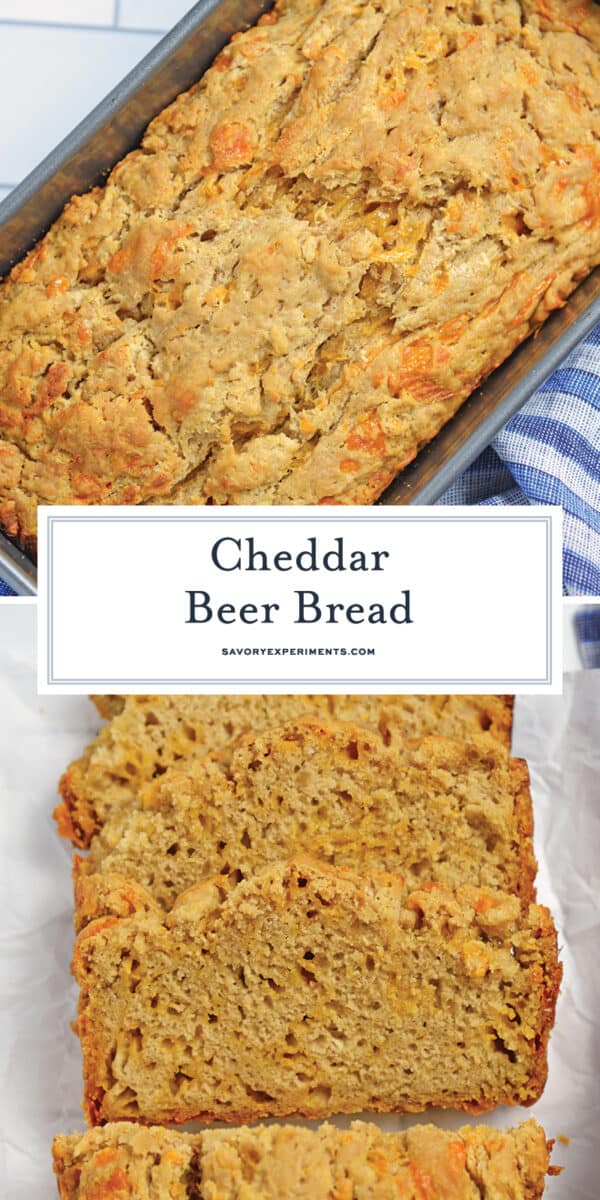 What should I eat with this?
I like a warm slice with a slather of molasses butter, but it is also great to serve instead of cornbread with chili or soup.
Because of its hardiness, you can even use it as sandwich bread or cut it into 1-inch cubes and bake it until crunchy for croutons in a salad or on French Onion Soup.
Check out some of our other easy bread recipes!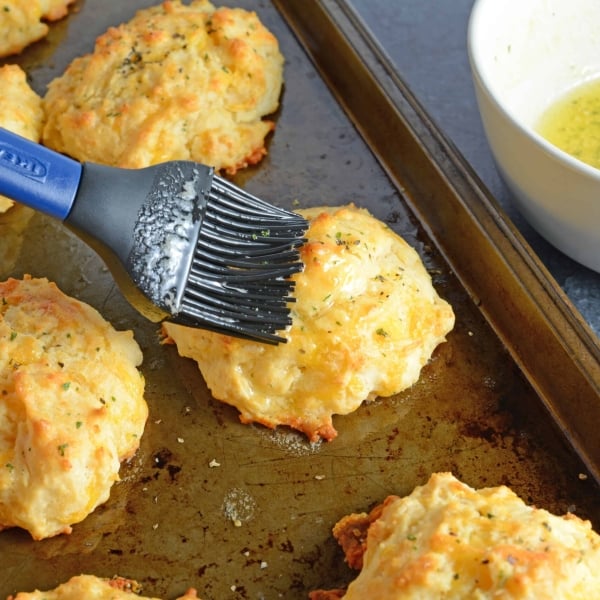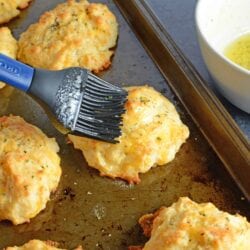 Copycat Cheddar Bay Red Lobster Biscuit Recipe
These copycat Red Lobster Cheddar Bay Biscuits are so easy to make you will make them for dinner every night! And they only take 20 minutes!
View this recipe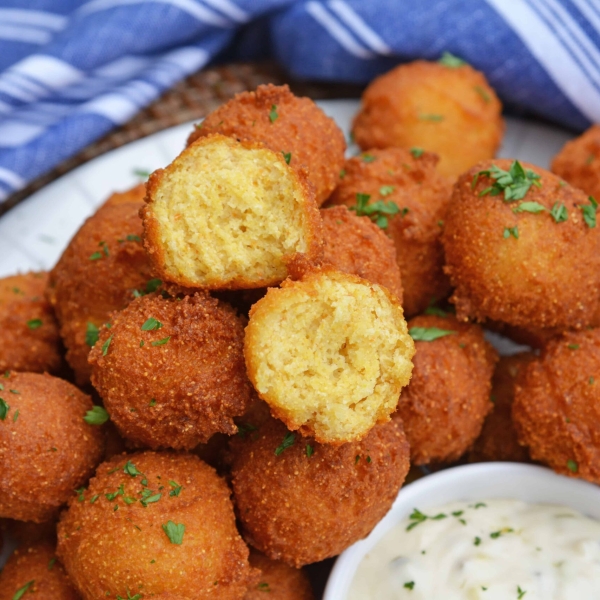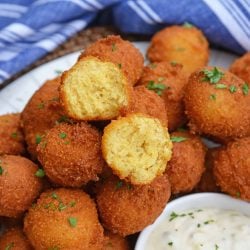 Best Hush Puppy Recipe
Hush Puppies are gently fried cornbread with a crunchy outside and soft, doughy inside. Serve with fish fry, fried shrimp or any BBQ!
View this recipe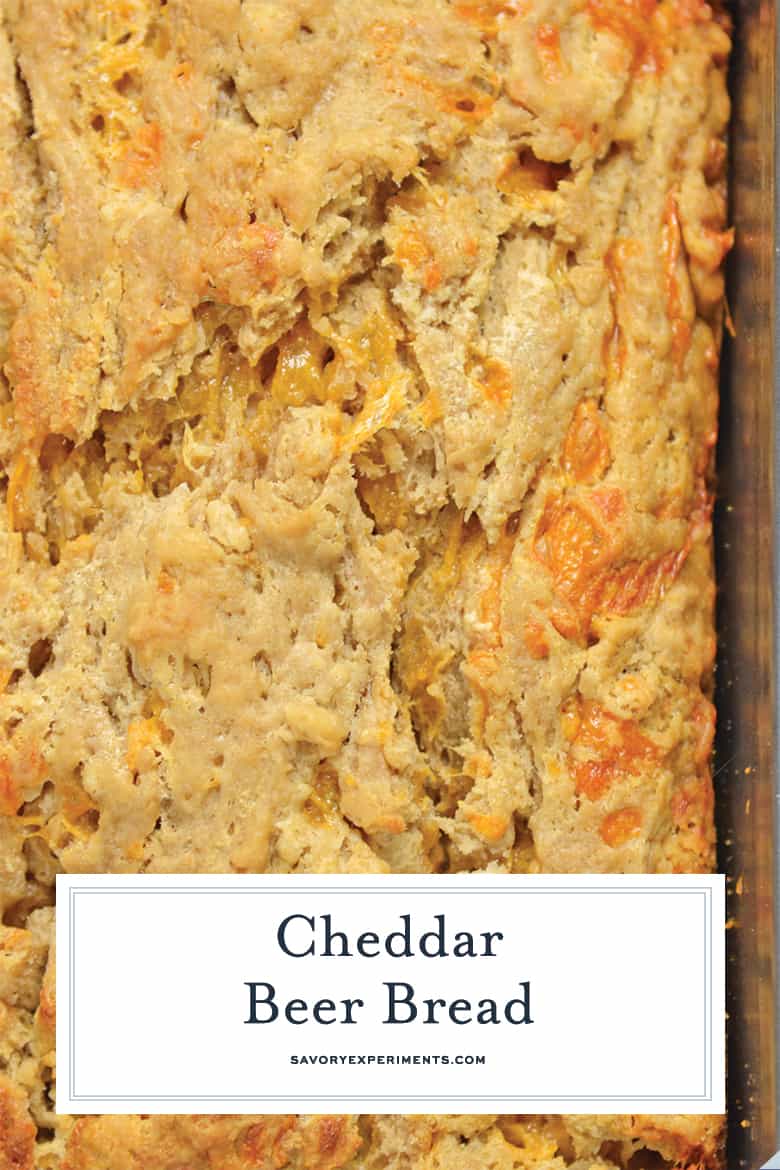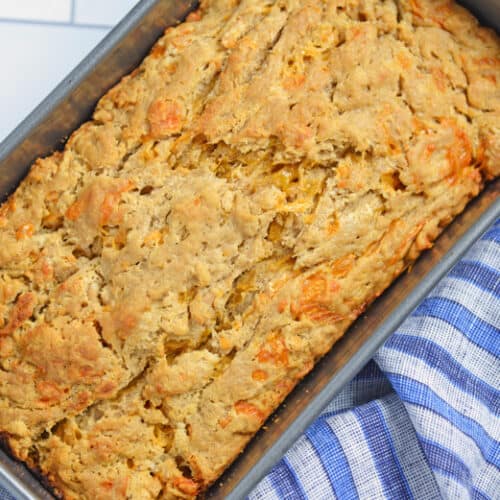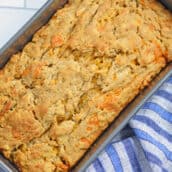 Cheddar Beer Bread
Rich, buttery and cheesy, this easy to make Cheddar Beer Bread only requires 5 ingredients and NO RISING TIME!
Instructions
Preheat oven to 375 degrees. Coat standard loaf pan with cooking spray and line the bottom with parchment paper. Set aside.

In a large mixing bowl, fold together 1/4 cup melted butter, self rising flour, brown sugar, cheddar cheese and beer of choice.

Fold until all ingredients are wet, but do not overwork.

Transfer into load pan, patting down into the pan.

Pour remaining 1/4 cup melted butter over the top of your bread batter.

Bake for 55 -60 minutes, testing with the toothpick test. If it starts to brown on the tops, loosely over with a sheet of aluminum foil.

Remove and allow to cool before removing from pan. Slice and serve.

If you've tried this recipe, come back and let us know how it was!
Notes
Store bread wrapped in aluminum foil or plastic wrap at room temperature.
Nutrition
Calories:
282
kcal
,
Carbohydrates:
32
g
,
Protein:
7
g
,
Fat:
13
g
,
Saturated Fat:
8
g
,
Cholesterol:
36
mg
,
Sodium:
74
mg
,
Potassium:
58
mg
,
Fiber:
1
g
,
Sugar:
3
g
,
Vitamin A:
397
IU
,
Calcium:
93
mg
,
Iron:
2
mg