Have you ever had real gumbo? I'm not talking about some chain restaurants claiming to have gumbo, I'm talking real, authentic New Orleans Gumbo?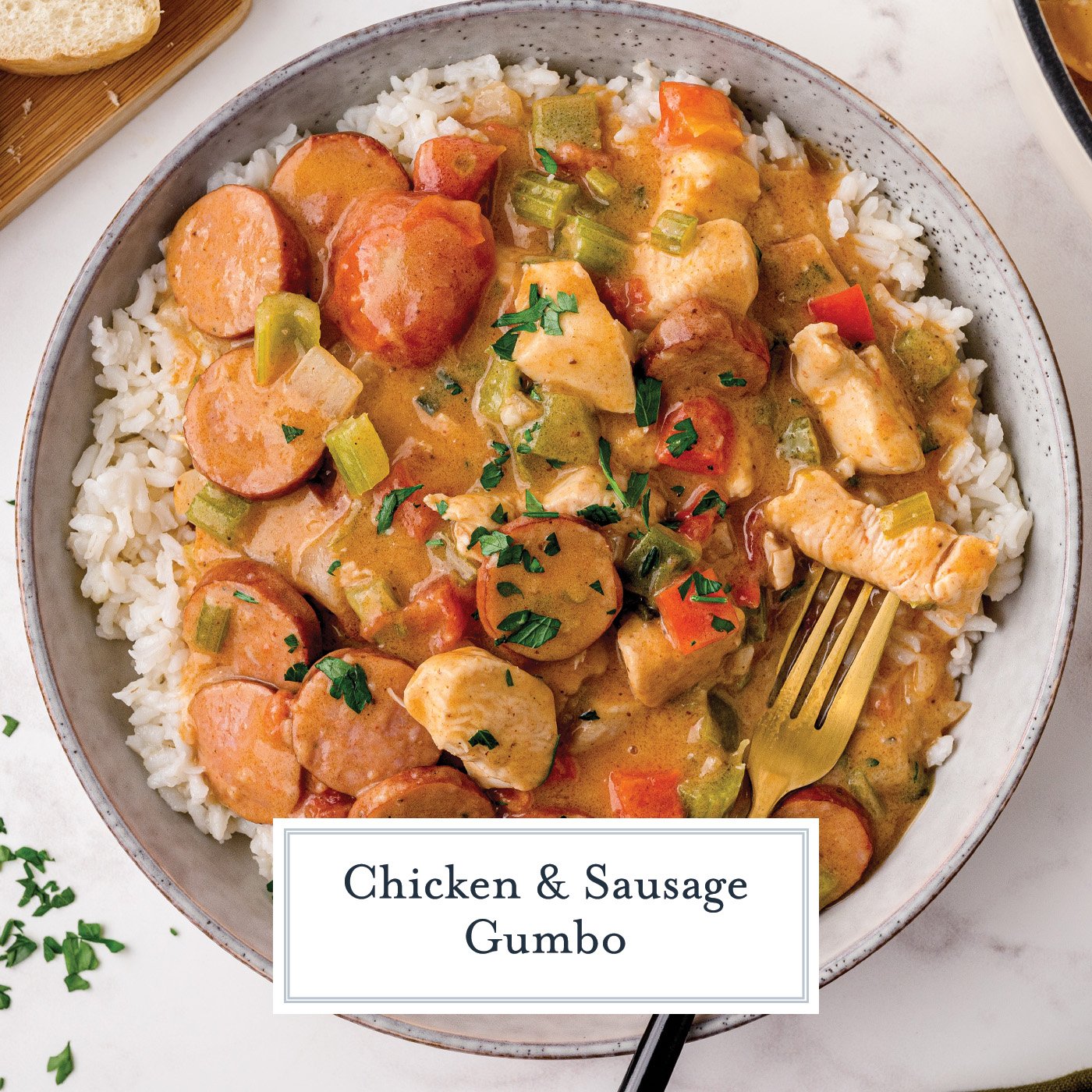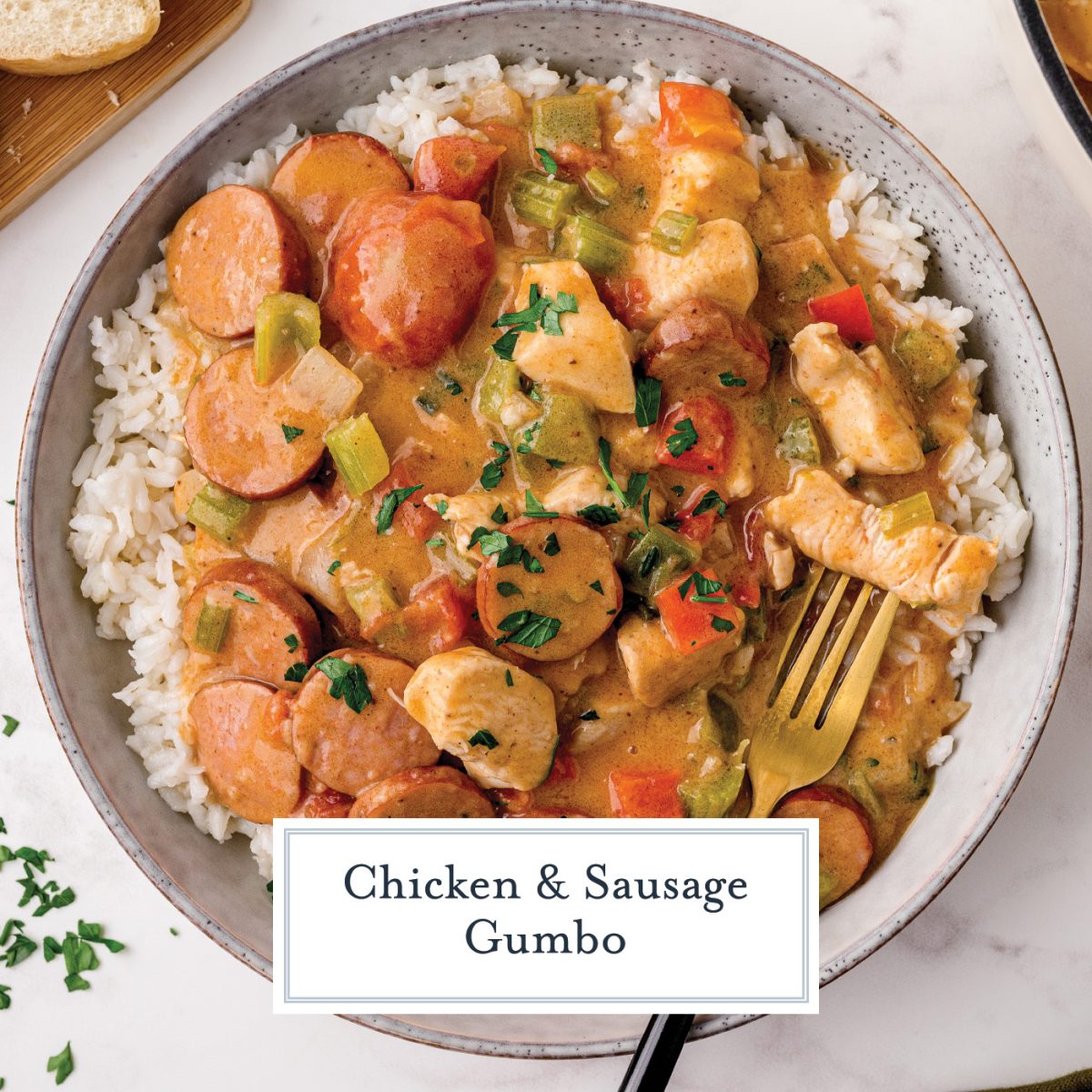 It is life changing and you'll regret all those previous encounters with an imposter. But the thing is- real gumbo is a little like an Italian red sauce– everyone makes it differently and they are all equally authentic.
Every family has their secret for "the best" gumbo. It could be a technique or an ingredient, something that makes their version extra special and nostalgic. Many times they are referred to as Yaya's Gumbo or Gumbo Ya Ya, which just means "grandma's version".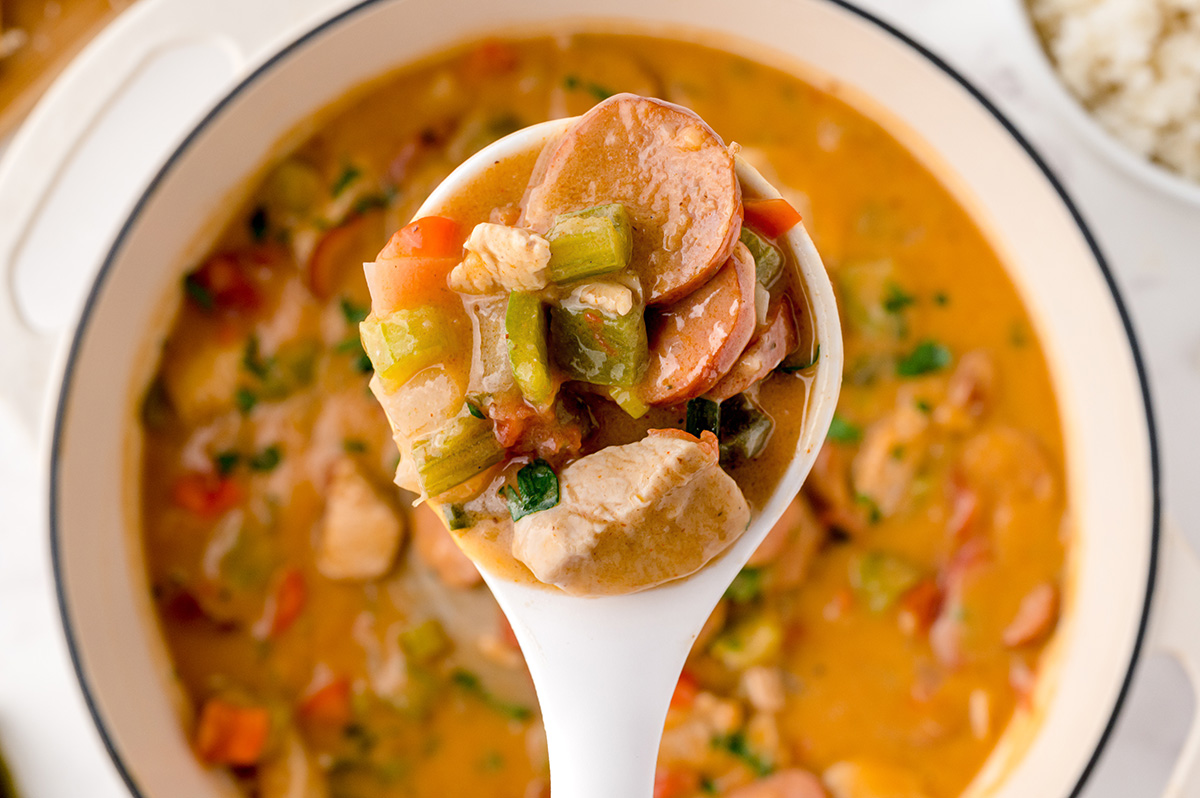 The Roux
But there is one thing they all have in common. A rich roux. Roux is merely a mix of fat (butter or clarified butter) and flour, but depending on the color, the depth and flavor change immensely.
A blond roux, light in color and formed right after whisking the two together, will thicken any sauce, stew, gravy or soup without adding too much distinct flavor of its own. It is also the base of any quality macaroni and cheese dish, allowing the cheese of choice to flavor the sauce.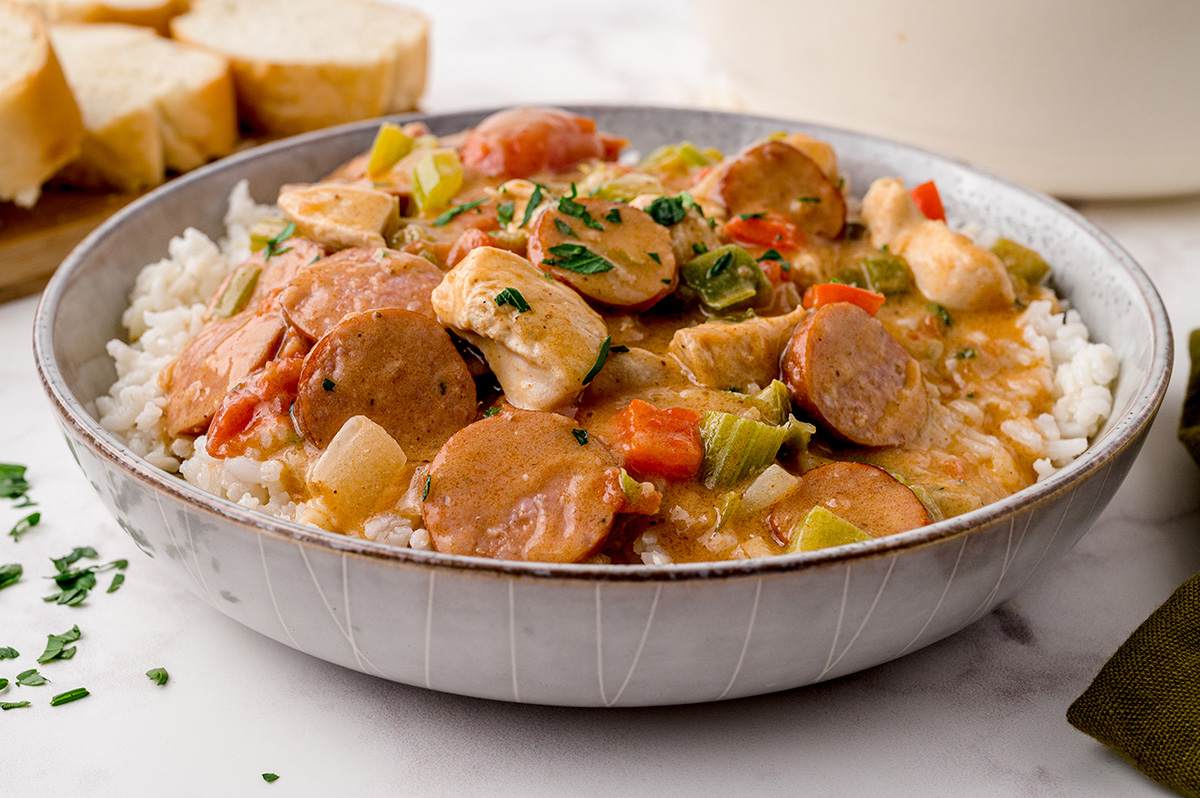 Next is a medium roux, a light brown, it is slightly darker than blond and also slightly more flavorful. You might use a medium roux for the same dishes as a blond, but when you want more depth and flavor. You'll know you hit it when you start to smell popcorn.
The last, a dark roux, has the most flavor, smells nutty and looks like melted chocolate. It is literally on the cusp of being burnt (so watched closely) and will color any dish it is added to. It is the essential case for this gumbo recipe.
When you are in NOLA, there are jokes about "burning the roux" because gumbo requires this dark version and mere seconds can make the difference.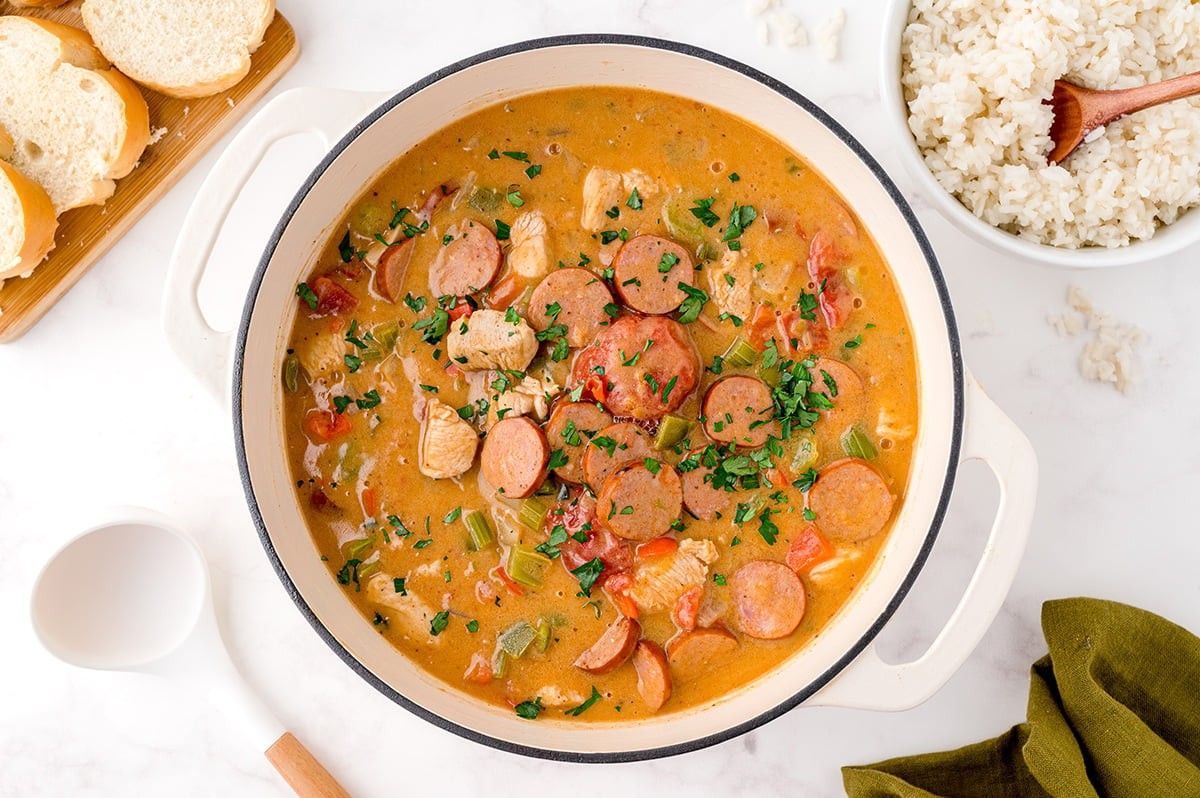 Cajun vs Creole
Did you know there is also a difference between the commonly interchangeable terms Creole and Cajun? My understand, which is oversimplified immensely, is that Cajun is "country" and Creole is "city".
Cajuns are the indigenous people and therefore, locavores, using only the ingredients readily available to them. Therefore their roux doesn't have butter, instead using oil and flour, and you also won't find tomatoes in their jambalaya. Tomatoes don't grow well in that climate.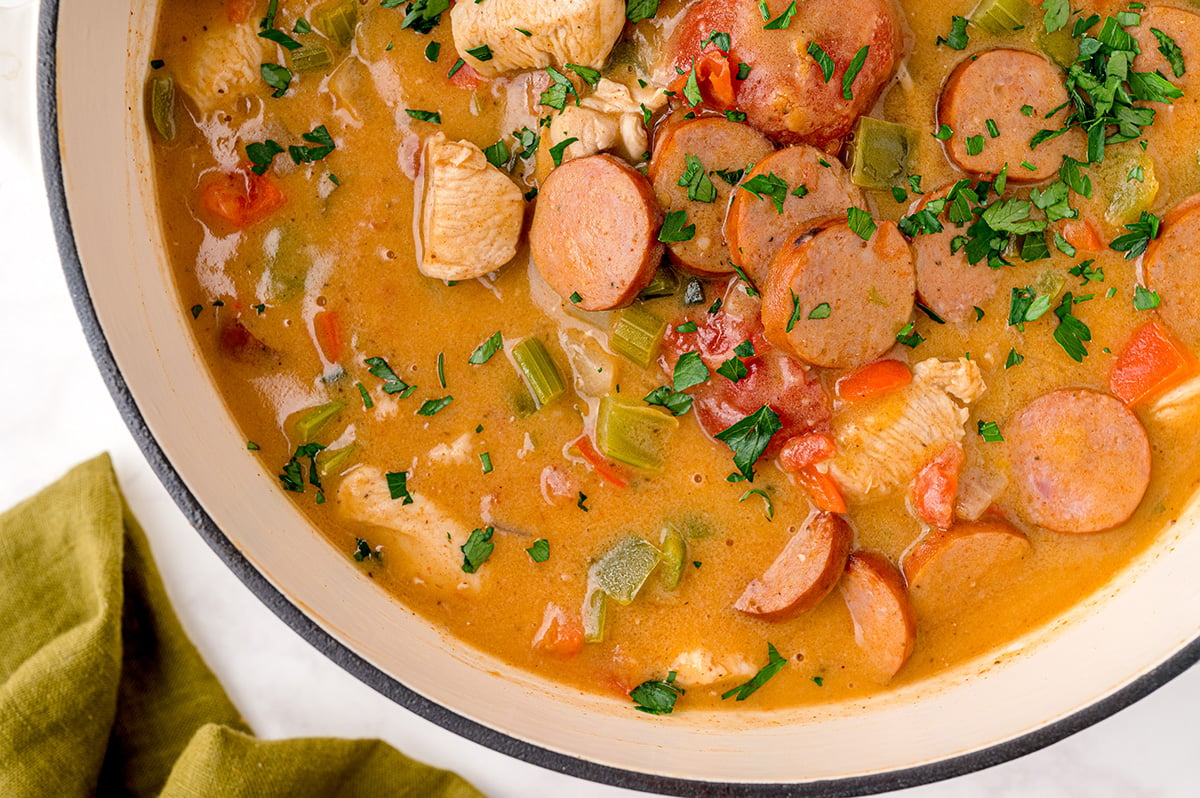 Creole cooking is a mixing pot of cuisines. The city folk also had access to imported items, like tomatoes and butter. It was also more sophisticated with French and Caribbean influences.
And because of all of this, delicious gumbo recipes are also a mixing pot of flavors.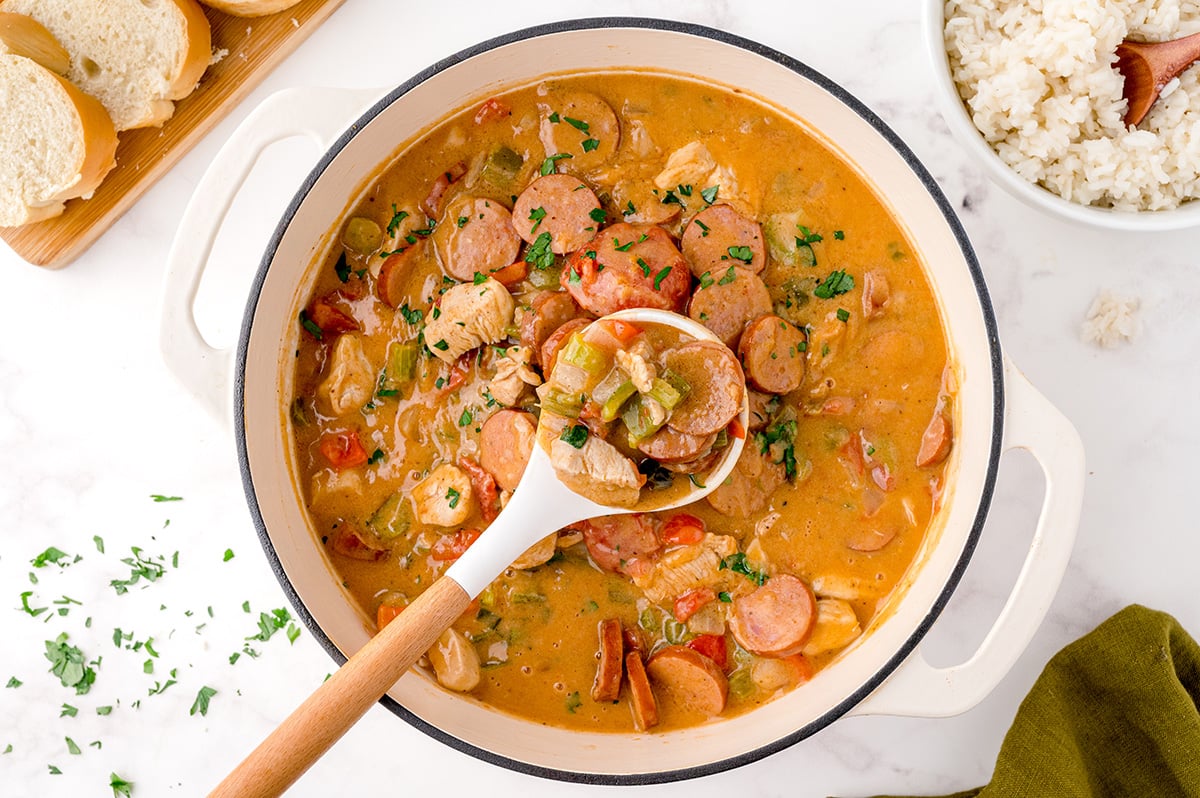 Ingredients
This version was taught to me by a chef who trained in New Orleans and because of the tomatoes, it is considered to be a Creole version.
Vegetable Oil– Or other neutral oil with a high smoke point for sauteing veggies and meats.
Trinity Mix & the Bishop– The trinity mix refers to a blend of celery, onion and bell pepper. For our gumbo we are using two types of onion (green onion and yellow onion). Feel free to use the bell pepper of choice. Green bell pepper is a little more peppery, while red, orange or yellow will be sweet. A blend is also encouraged for more sophisticated flavor. Garlic is known as "the bishop".
Proteins- Smoky andouille sausage, a coarser smoked sausage, and chicken are used in this recipe. While andouille provides the most authentic flavor and texture, any sausage can be used. I made this with boneless skinless chicken breasts, but boneless chicken thighs are a great choice too. Seafood and can be added or swapped (see instructions below). You can also grab a rotisserie chicken at the store and use shredded chicken to skip the step of cooking. Or… make it just a sausage gumbo by omitting the chicken and doubling up on sausage.
Clarified Butter- Clarified butter is melted butter with the milk solids and water content removed. It provides a clean taste for a less greasy dish. There is less likelihood of your roux separating and having an oil slick on the finished product. If clarifying your own butter isn't in the cards, grab a jar of ghee from the Indian foods section at the grocery store.
Flour- Used in the roux base. We have no substituted this for gluten free alternatives, but suspect it would work just fine as long as they also thicken.
White wine- Wine is a great way to add flavor and also deglaze a pan. All those browned bits will easily loosen and release from the steam created by alcohol. The actual alcohol burns off leaving flavor, but not booze. A dry white wine is the best option. Cooking wine also works, but has a large dose of salt to make it shelf stable, therefore other salt might want to be reduced.
Low Sodium Chicken Stock- The rule is to use the same type of broth as protein. In this case, it is nearly impossible to find sausage broth, so chicken it is! Low sodium gives us control over the saltiness. Water is also used to add more liquid during simmering.
Cajun Seasoning– But this dish is creole?! It is, but the seasonings are very similar and Cajun is easier to find. It is made up of paprika, cayenne pepper, garlic powder, onion powder, black pepper, crushed red pepper, thyme and oregano. You can also throw in a bay leaf if you want, just don't forget to take it out!
Hot Sauce– Many gumbos aren't spicy at all, but some are. If you crave mild gumbo, omit this ingredient, and if you love spicy flavors, add more. It can also be served at the end as a condiment.
Stewed tomatoes- Use just one canned of stewed or petite diced tomatoes, drained, otherwise it will have too much tomato flavor.
Cooked Rice– Many gumbos are served with rice already blended into the stew. I generally plop mine right in the middle, allowing guests to mix their own. And get this- Cajuns are known to eat their gumbo with mayo-based potato salad instead.
Flat parsley- Known in New Orleans as "the blessing" anything green on top before serving is a must. I used parsley, but chives or more scallions (green onions) also work.
Gumbo filé– An authentic ingredient made from dried sassafras leaves, it gives flavor and also helps to thicken. But this ingredient is used at the very end on individual bowls and can be omitted. It can be found in many grocery stores in the spice aisle.
How to Make Gumbo
Cajun Gumbo, again like a red sauce, is a lengthy process and therefore a dish served on Sundays, but it is also a great recipe and totally worth the time and effort. Make a double or even triple batch and freeze it.
Start with a large pot, much larger than you think you need because there will be a lot of it by the end. Heat some of the vegetable oil and saute the trinity mix and garlic until soft and fragrant, remove using a slotted spoon and set it aside. It's funny that many creole gumbos specify a wooden spoon, but honestly, it doesn't make a difference.
Add the Andouille sausage to the same pot and brown on both sides. Browning meat creates even more flavor for both the broth and the meat itself. You should start to get fantastic smells from the kitchen at this point. I like to walk outside and then come back in to a get a nice whiff. Remove the sausage, set aside, and repeat the same process with the diced chicken. Remove the chicken and set the whole pot to the side without rinsing.

In a different medium saucepan, heat the clarified butter (or ghee) over medium heat until it starts to brown and smell nutty. Whisk in the flour and then whisk for 10-15 minutes, sometimes longer. Do not heat too fast or it will burn. Making a dark brown roux is a test of patience and arm strength. The color will start to darken at about 3-4 minutes in and will slowly change to a milk chocolate color and consistency and then continue to the popcorn.nutty scent and onward to a thicker and darker color.
As soon as you notice the deep, rich smell, remove immediately from heat. Continue to whisk for an additional minute while it cools so that nothing sticks to the bottom. Do not let it sit on the stove top, it will burn!
Re-heat the enameled pot or Dutch oven and add the white wine to deglaze and loosen all of those little brown bits, they are like little flavor bombs in the broth. Add the stock, water, seasoning and hot sauce (and bay leaves, if you are using them). Continue to simmer until the mixture reduces by 25% and then add back the sliced sausage, chicken and veggies, continuing to simmer until everything is heated. Watch carefully as the gumbo cooks and stir to prevent scorching to the bottom of the pot.
Whisk in half of the roux until no lumps remain. Continue to add a small amount at a time, noting that you might not need it all. Whisk until the mixture is thick and easily coats the back of a spoon. Discard or save any leftover roux. Do a quick taste test and seasoning with coarse Kosher salt, if needed.
Serve over white rice (or potato salad!) and top with something fresh and green and gumbo filé, if desired. I also like crusty bread to mop up the savory sauce.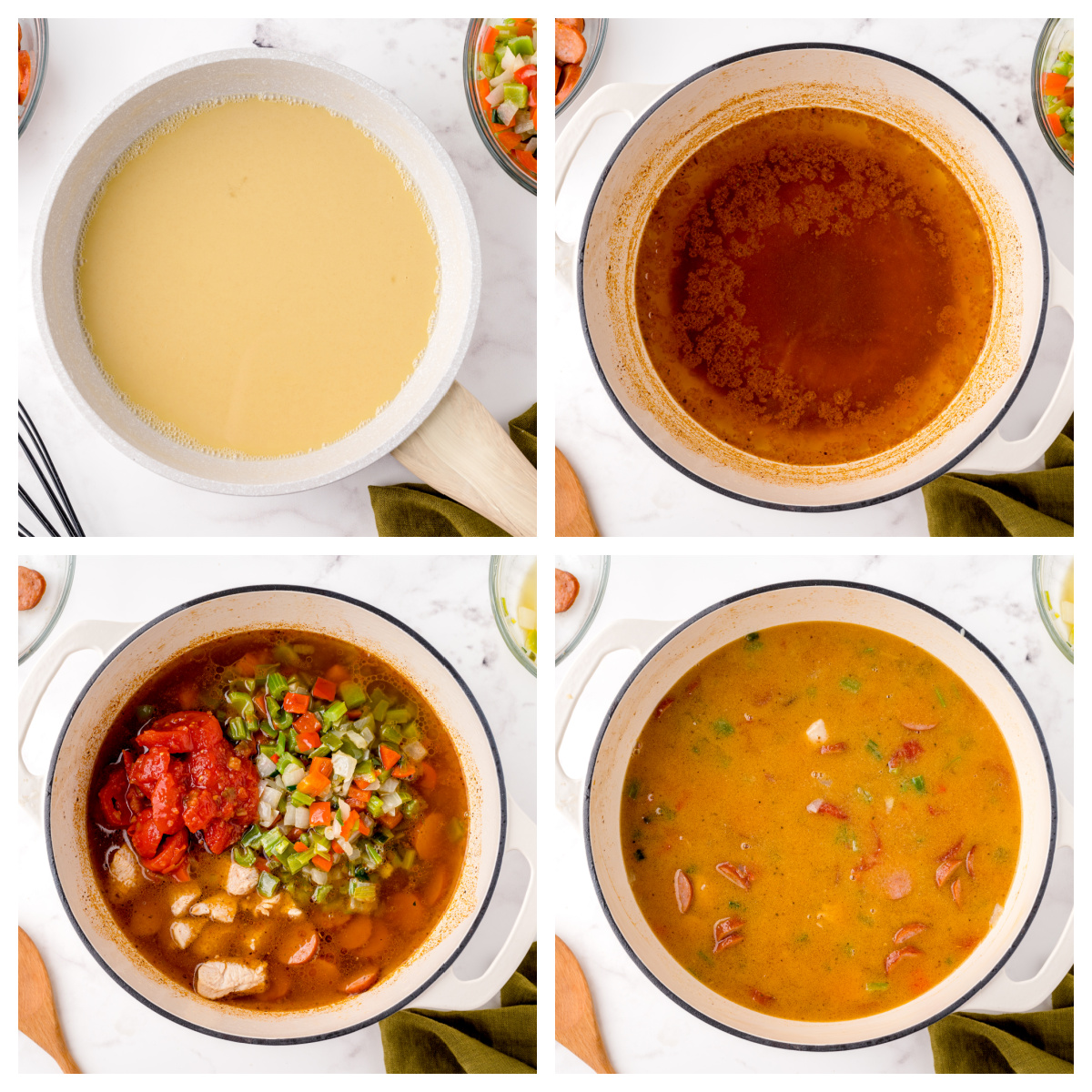 Seafood Gumbo
Seafood gumbo is also delicious and this recipe can easily be transformed. The most popular seafood are shrimp, scallops and crab, but mussels, clams and langostinos can also be used. Sometimes there is even a seafood medley or mix in the frozen foods section of the grocery store.
Here is what you need to do:
Omit the sausage and chicken (and steps 2 &3), add 1 1/2 pounds of cooked seafood during step 7.
Substitute a low sodium seafood broth or stock for chicken broth.
Make it a chicken, sausage and seafood gumbo by just adding an additional 1/2 pound of seafood in step 7.
What is Gumbo File?
Gumbo filé, or filé powder, is an ingredient made from ground sassafras. It is an essential ingredient for authentic flavor regardless of whether you are making Cajun or Creole style gumbo. But it isn't added to the whole pot, it is added when serving.
Why is gumbo filé added at the end? Largely because it starts to get stringy and gross when reheated. Locals will pass the jar around the table and sprinkle and stir a small amount of top of their individual bowl.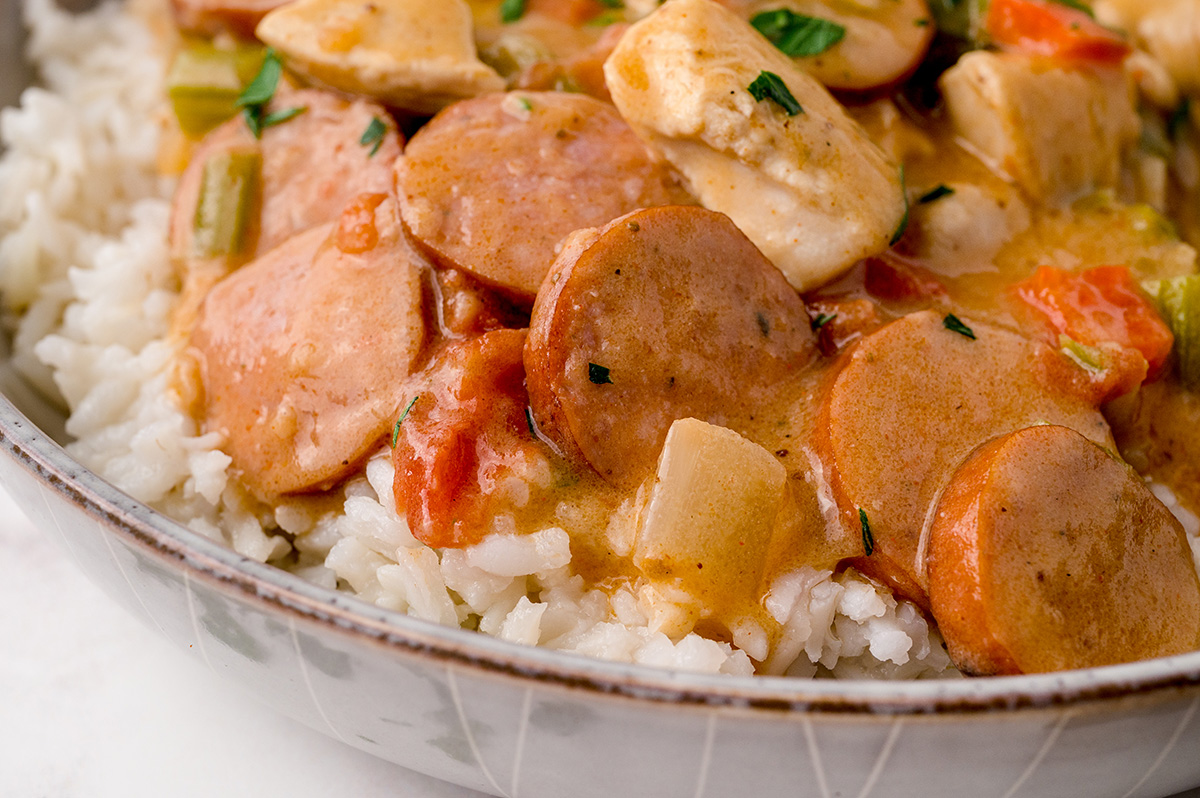 The problem is that is can be hard to find. It not only adds flavor, but helps to thicken the base. In cases where people can't find file, they often use okra, a green but sticky vegetable, that gives texture, flavor and thickens.
In my version, I left out the okra because it can also be tricky to find and most of the times is only frozen which doesn't have the same properties as fresh. If you can't locate gumbo filé, omit it and promise your gumbo will still be delicious.
Storage & Freezing
Gumbo is great for making ahead and even freezing. Store in an airtight container for up to a week in the fridge or 3 months in the freezer.
The sauce generally needs to be loosened using a small amount of water or broth and then re-seasoned with salt or filé since all chilled dishes lose some of their initial flavor.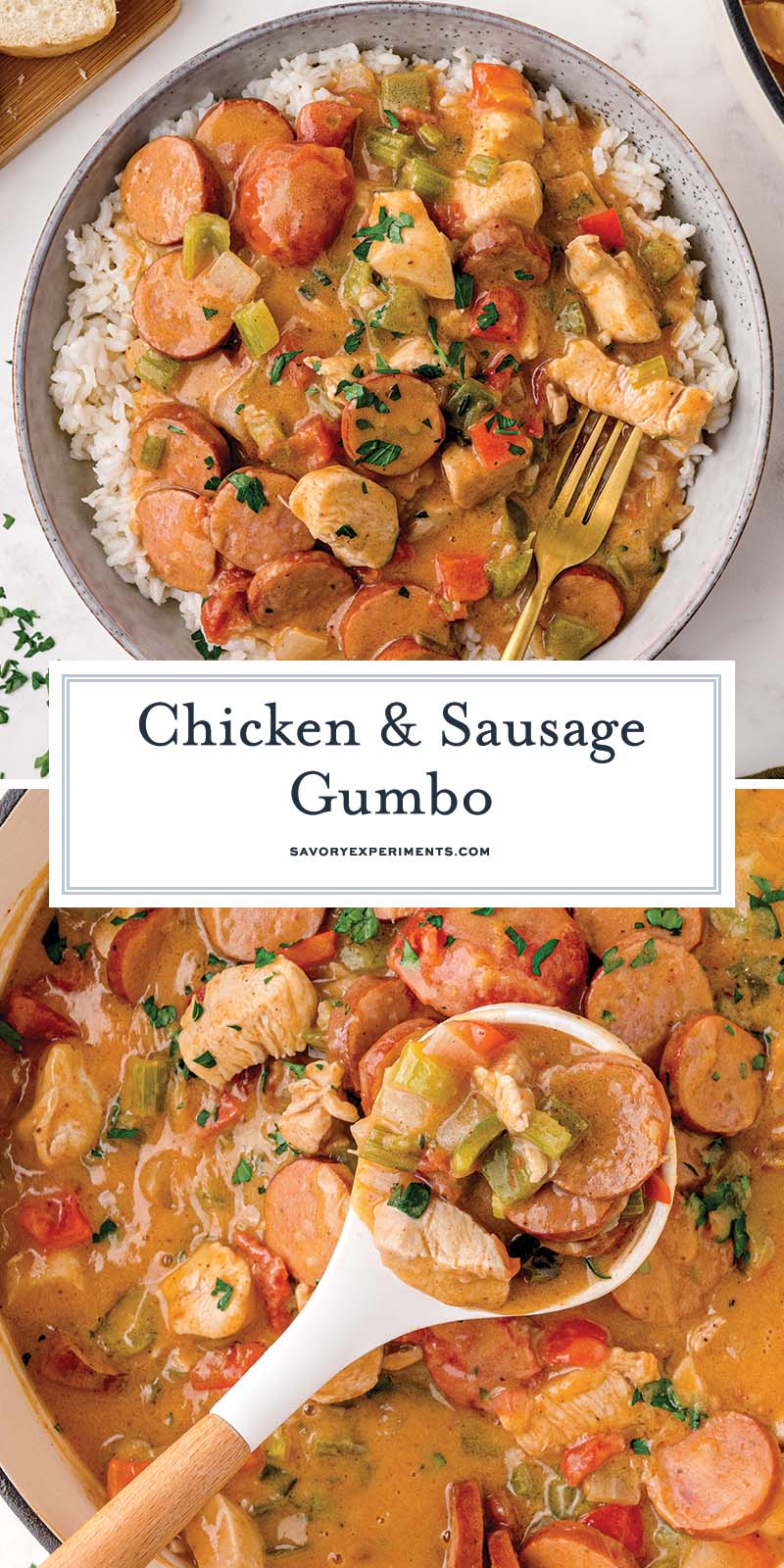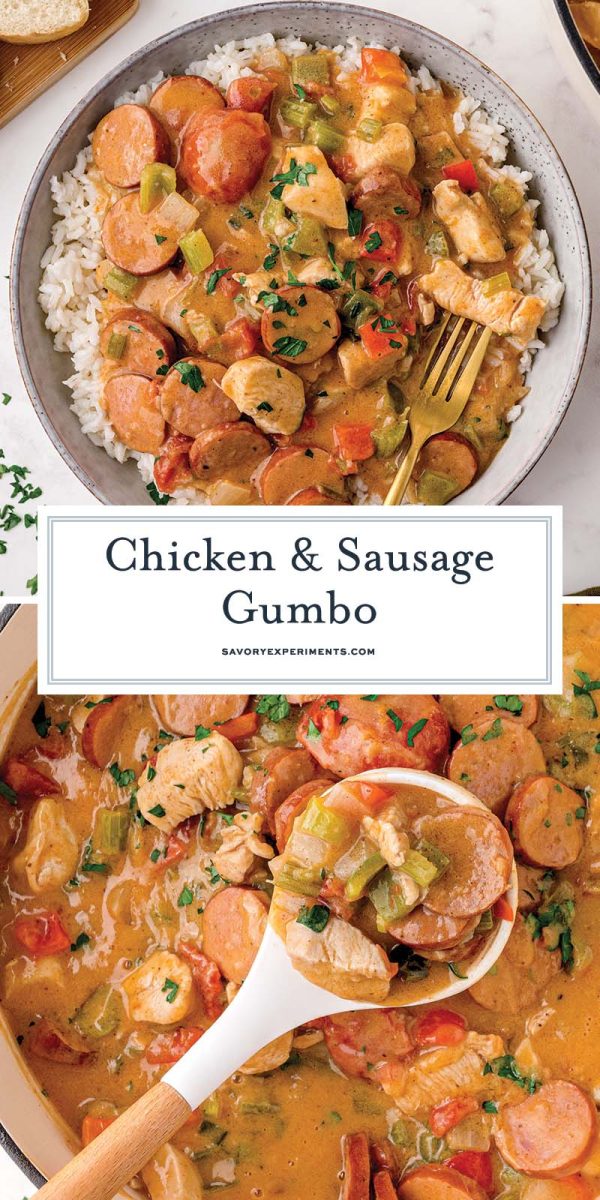 More New Orleans inspired recipes: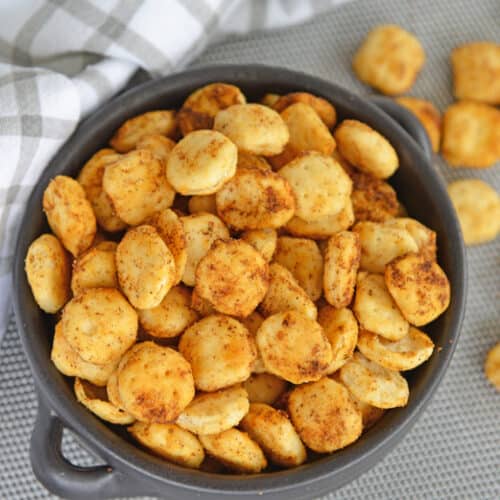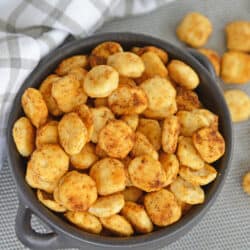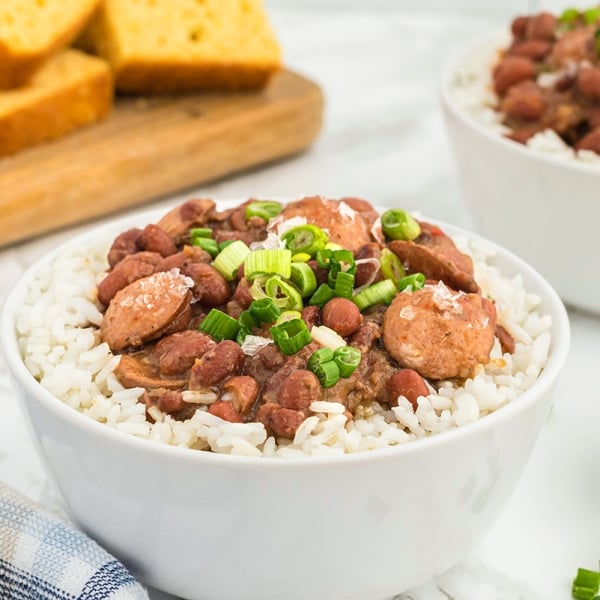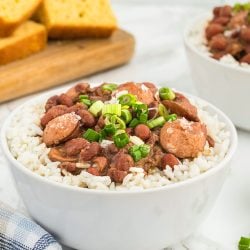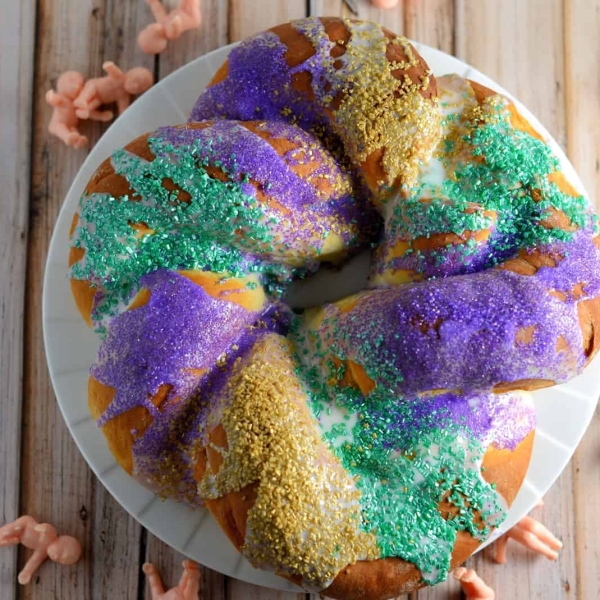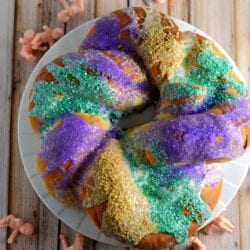 Mardi Gras King Cake Recipe
Mardi Gras King Cake Recipe – A giant sweet roll stuffed with brown sugar, raisins and pecans and decorated with icing and purple, green and gold sparkling sugar. Perfect for breakfast or dessert during carnival or on Fat Tuesday!
See The Recipe!
And other stew recipes you might enjoy: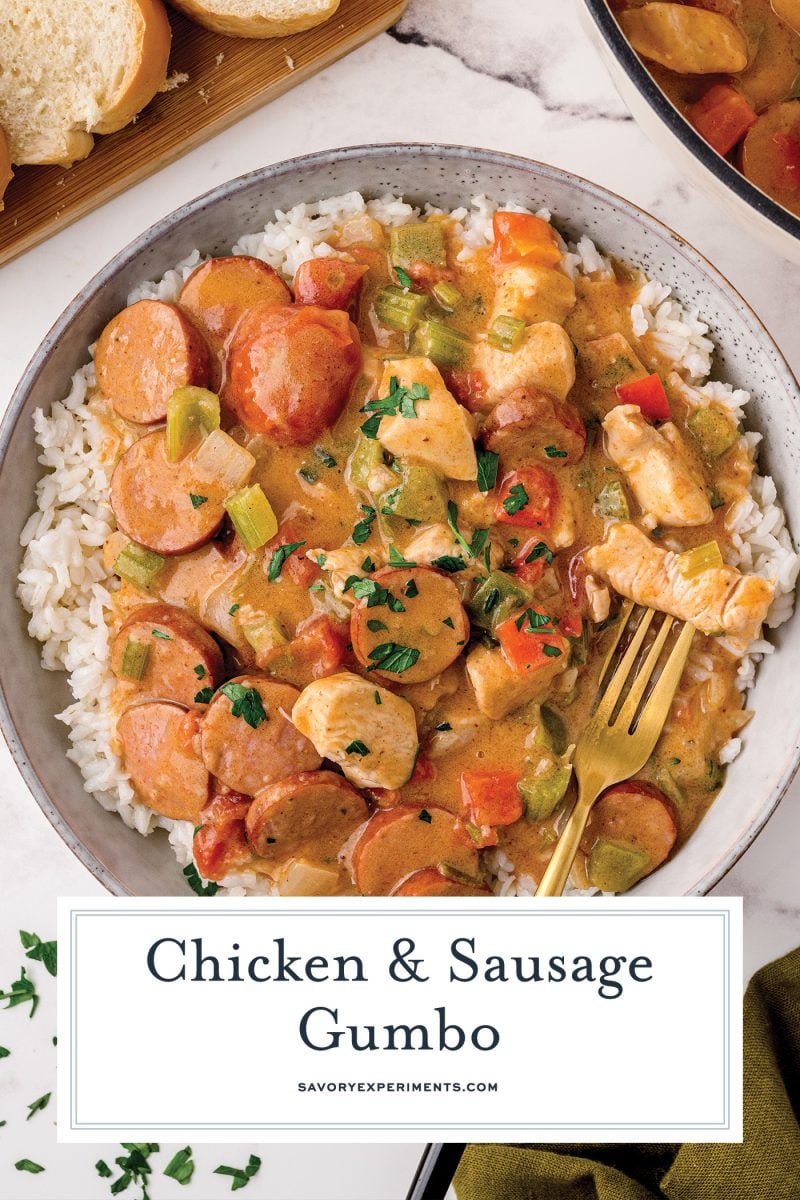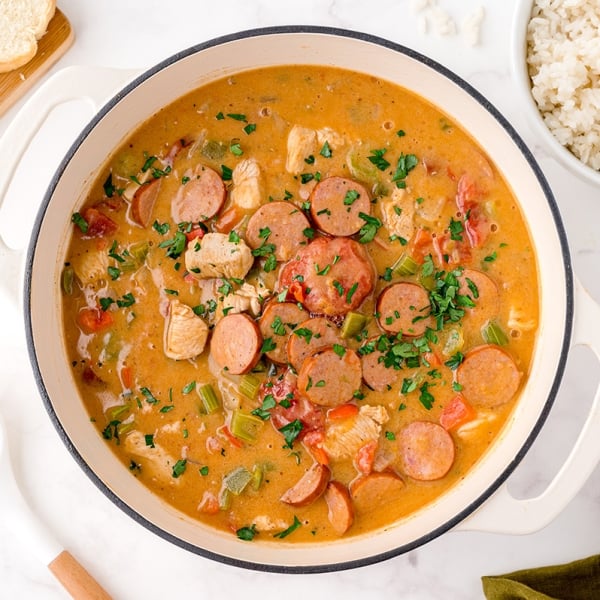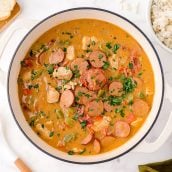 Chicken and Sausage Gumbo Recipe
Chicken and Sausage Gumbo is a rich and hearty sauce mixed with vegetables, Andouille sausage, chicken and sometimes even seafood. Serve over rice for the perfect Creole meal.
Ingredients
3

tablespoons

vegetable oil

, divided

3

celery stalks

, cut into 1 inch pieces

4

scallions

, whites and greens chopped

1/2

cup

yellow onion

, chopped

1

cup

bell peppers

, chopped

2

cloves

garlic

, minced

1

cup

andouille sausage

, thinly sliced

2

boneless skinless chicken breasts

, cut into 1 inch cubes

1

cup

clarified butter

, or ghee

1

cup

flour

1/2

cup

dry white wine

4

cups

low sodium chicken stock

1

cup

water

3

tablespoons

Cajun seasoning

2

tablespoons

hot sauce

14.5

ounces

stewed tomatoes

, drained

5-6

cups

cooked rice

, cook according to package instructions

4

tablespoons

flat parsley

, finely minced

Gumbo file

, sprinkle as desired
Instructions
Using a large enameled pot or Dutch oven, heat 2 tablespoons of the vegetable oil over medium heat. Add the celery, scallions, yellow onion, bell pepper and garlic. Saute for approximately 5 minutes or until vegetables are soft and onions are opaque. Spoon out and set aside.

Add the Andouille sausage to the same pot over high heat and cook until lightly browned on both sides. There should be enough leftover oil from the veggies to prevent sticking. Using a slotted spoon, remove and set aside.

Add the remaining vegetable oil to the same pot and add the chicken. Cook over medium-high heat until chicken is cooked and browned, approximately 5-8 minutes. Remove using a slotted spoon and set aside. Turn off the heat and set pot aside (you will use it again). Do not rinse pot, leave all of the browned bits in the pan (if there are any).

In a different medium saucepan, heat the clarified butter (or ghee) over medium heat until it starts to brown and smell nutty. Whisk in the flour.

Whisking continuously for 10-15 minutes. As soon as it becomes the desired color and you notice the deep, rich smell, remove immediately from heat. Continue to whisk for an additional minute while it cools so that nothing sticks to the bottom.

Re-heat the enameled pot or Dutch oven over medium-high heat. Add the white wine to deglaze and loosen all of those little brown bits. Add the stock, water, seasoning and hot sauce. Continue to simmer until the mixture reduces by 25%.

Reduce the temperature to low and add the chicken and sausage, sauteed veggies and tomatoes back to the broth. Continue to simmer for an additional 5 minutes.

Whisk in half of the roux. Continue to add slowly until sauce becomes the consistency of gravy. You may not need all of your roux. When it reaches the desired consistency, which will coat the back of a spoon, discard the remaining roux. Continue to cook on low heat for 5 minutes. Do a quick taste test and seasoning with coarse Kosher salt, if needed.

Divide the rice into serving bowls and spoon the gumbo over. Garnish with finely chopped parsley, if desired. A piece of crusty bread works well to mop up any New Orleans gumbo left in the dish if you don't care to lick your plate.

If you've tried this recipe, come back and let us know how it was in the comments or star ratings.
Notes
If desired, add a bay leaf during step 7, but don't forget to fish it out before serving!
Nutrition
Calories:
819
kcal
,
Carbohydrates:
66
g
,
Protein:
26
g
,
Fat:
49
g
,
Saturated Fat:
26
g
,
Polyunsaturated Fat:
4
g
,
Monounsaturated Fat:
16
g
,
Trans Fat:
1
g
,
Cholesterol:
150
mg
,
Sodium:
707
mg
,
Potassium:
882
mg
,
Fiber:
4
g
,
Sugar:
6
g
,
Vitamin A:
3223
IU
,
Vitamin C:
48
mg
,
Calcium:
87
mg
,
Iron:
4
mg