When it comes to gravy, everyone has their own opinions and the variations that they are partial to. This Red Wine Gravy will give your favorite a run for its money.
Homemade Red Wine Gravy Recipe is a make-ahead, rich, and velvety gravy recipe without pan drippings. Perfect over turkey, chicken, mashed potatoes, or beef!
Do you like red wine? Do you like gravy? Great, I thought so.
Then you will LOVE my Red Wine Gravy Recipe! So easy to make that even the novice cook will be able to master it in no time. In under an hour, you will have the perfect addition to any table.
A beautiful piece of meat or sides for that matter (did someone say mashed potatoes) are great by themselves, but with a little bit of gravy, you can really make them sing.
This gravy is fantastic because it gives you the rich creamy texture you want from a gravy, but the red wine actually gives it just a little bite; a bit of a kick to help break up the richness undoubtedly on the plate.
Most gravy starts with pan drippings or fat from the meat you are cooking and ultimately serving it with. And while those are wonderful, they can be tricky and time-consuming when you are ready to serve your guests.
For this recipe, you don't have to worry about any of that. I have replaced the fat that you would have used from the meat with butter. Just as delicious and it allows you to make the gravy whenever you like.
I prefer to use chicken stock (homemade or boxed) in most cases, but if you opt to use veggie stock, you have a vegetarian gravy. With so many dietary preferences floating around, it's a great recipe to have in your back pocket.
Now, don't worry about the red wine in this Red Wine Gravy and not being able to serve this to a certain group of folks under 21. The alcohol in the wine in this recipe cooks out as you are making it, meaning it is safe for everyone to enjoy.
The dinner table can get a little staid over the years in terms of the dishes gracing the table. Sometimes it is fun to break out of the mold and switch things up. And if that is too crazy, maybe serve it alongside your other tried and true recipe.
Serve Red Wine Gravy over Orange, Anise and Thyme Turkey, chicken or beef. It is rich and flavorful, making it the ultimate mashed potato topper too. Whichever dish or dishes for that matter you decide to serve, it is sure to be a welcome addition.
Happy Thanksgiving foodie friends!
Butter Cheesecloth Turkey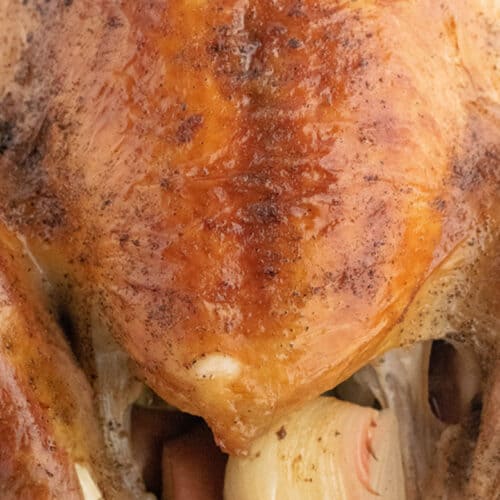 Butter Cheesecloth Turkey is an easy and foolproof way to cook a succulent and flavorful bird. Your guests will be begging you for the recipe. 
Cranberry Mayo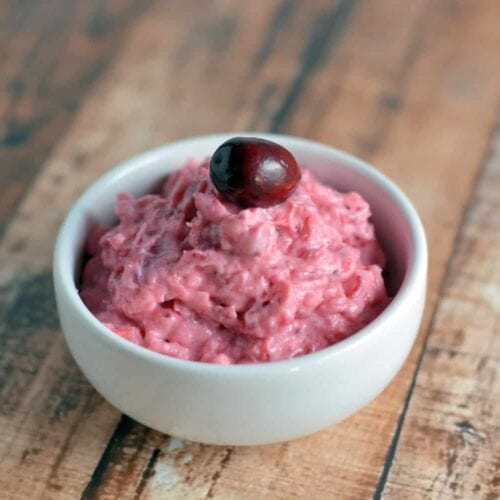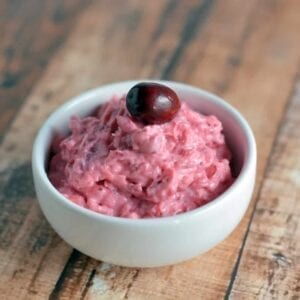 If you like mayonnaise, you will LOVE my Cranberry Mayo. Slightly sweet and just a touch tart, it adds a new dimension to any sandwich.
Honey Herb Brined Turkey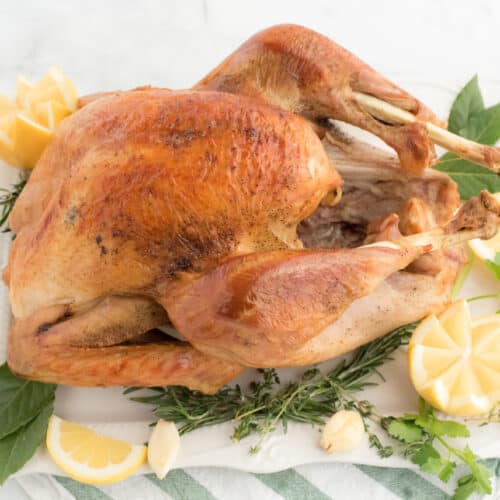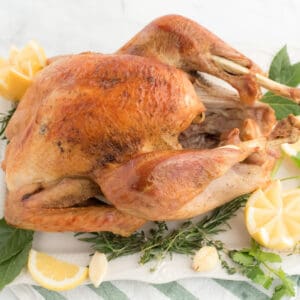 Honey Herb Brined Turkey is a wow-worthy recipe that will give you a tender turkey have your guests asking you what your secret is. 
Questions you might have about how to make red wine gravy:
What is my gravy gets too salty? This generally happens with gravy that uses drippings and you won't have those in this gravy recipe.
However, sometimes gravy can get too salty from the stock you use or accidentally adding too much yourself. If this does happen, hop on over to my Turkey Gravy recipe where I go in depth about how to reduce saltiness.
What is a roux? Many gravies are thickened using a roux which is equal parts fat to flour or sometimes equal parts liquid to flour.
There are 3 types of roux: white, blond and brown, depending on how long they have been browning. A brown roux has intense flavor and smells like popcorn.

Roux is the base for many sauces in different types of cuisine, but best known in French and Creole.
Roux fats for gravy are typically drippings, butter or oil. I prefer using unsalted butter. The drippings and stock will have a good amount of salt, so I try to reduce it in other areas and then correct seasoning at the end of cooking.
Can you freeze gravy? Sure! It might defrost a little thick, but thin it out with water, stock or wine and it'll be just fine.
What is the best way to reheat gravy? In a saucepan over medium-low heat. Gravy will most likely thicken, so add a small amount of water, stock or wine to thin it out.
What if I don't want to use flour? If you want to make gravy without using a roux, you'd melt the butter, you'll still want it for flavor, add broth, drippings and seasonings.
Then whisk 1 tablespoon cornstarch or arrowroot with a small amount of water or milk. Whisk until smooth, then add into the gravy to thicken.
It might take a few minutes and will continue to thicken as it cools. Add more if needed, but go slow.
What can I substitute for red wine? Honestly, the base of this recipe is red wine and I suggest finding another gravy to pair your dish with. You'd basically just be making a plain gravy.
Check out my easy chicken gravy or creamy sausage gravy for some options.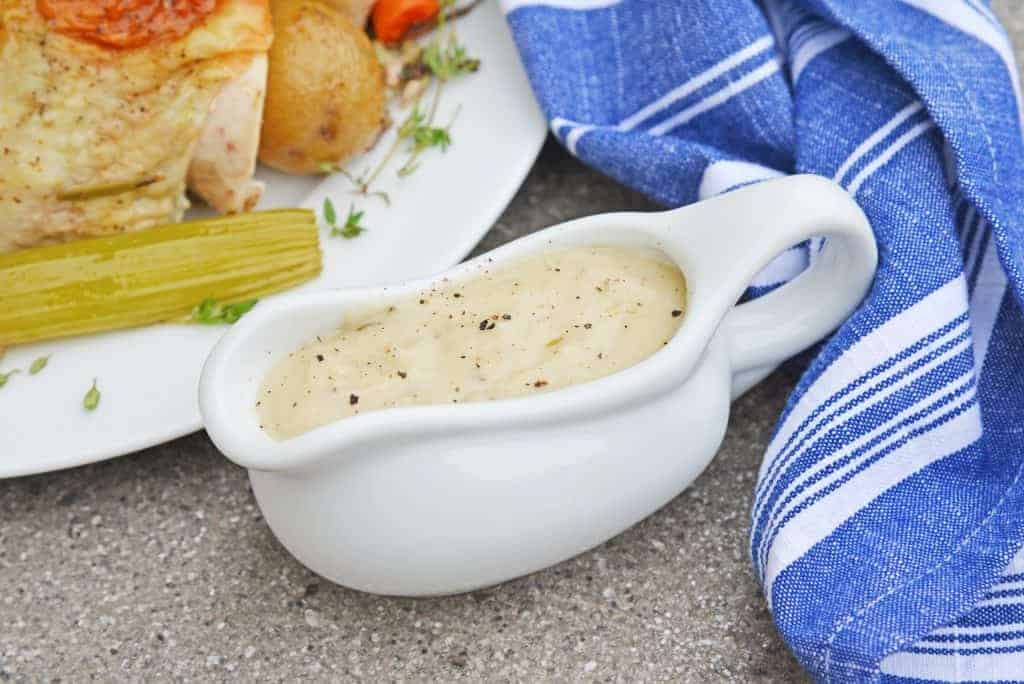 CONNECT WITH SAVORY EXPERIMENTS!

Be sure to follow me on social media, so you never miss a post!

Facebook | Twitter | Youtube
Pinterest | Instagram
Get our FREE 8 Day E-Course on How to Be a Better Home Cook. Sign up HERE!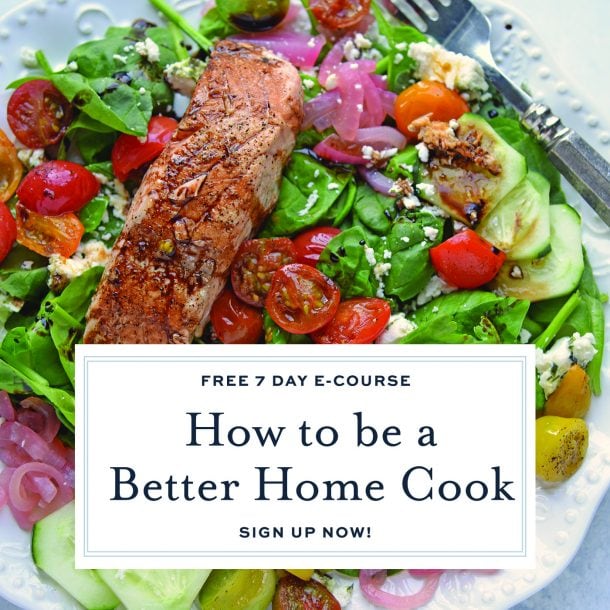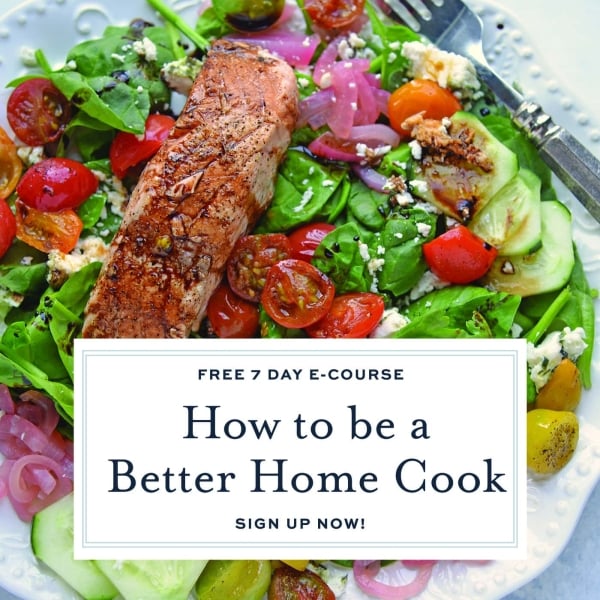 Red Wine Gravy
Homemade Red Wine Gravy Recipe is a make-ahead, rich and velvety gravy recipe without pan drippings. Perfect over turkey, chicken, mashed potatoes, or beef!
Instructions
In a medium saucepan, melt butter and add minced shallots. Saute until soft.

Add flour and stir into a paste (roux). Brown, stirring for 5 minutes.

Whisk in red wine until smooth. Add remaining ingredients, stir and bring to a low boil.

When boiling, reduce to a light simmer for 15 minutes.

Run through a fine mesh sieve and return to saucepan. If needed, spoon out a small amount of gravy and mix with 1-2 tablespoons cornstarch. Whisk back into the saucepan and whisk until desired thickness. Correct seasoning, if needed and serve!

If you've tried this recipe, come back and let us know how it was!
Notes
Use can use chicken, vegetable or turkey stock. If you are making this in addition to a roast turkey or chicken, use the drippings and then supplement with stock. The flavors from however you seasoning your meat will complement the gravy.
Nutrition
Calories:
253
kcal
|
Carbohydrates:
15
g
|
Protein:
1
g
|
Fat:
11
g
|
Saturated Fat:
7
g
|
Cholesterol:
30
mg
|
Sodium:
1442
mg
|
Potassium:
11
mg
|
Sugar:
1
g
|
Vitamin A:
625
IU
|
Vitamin C:
0.8
mg
|
Calcium:
3
mg
|
Iron:
0.6
mg