These little two-bite Mini Pecan Pies are the things dreams are made of. Light, slightly sweet and a little salty, they would make Paula Deen herself proud!
And an added bonus- they are ready in just 20 minutes. Yep, start to finish, 20 minutes using just one bowl and one baking sheet. So easy!
Mini Pecan Pie Tarts
Technically speaking, most pies are kinda tarts. The definition is an open pastry with filling showing. Therefore these little gems are both a mini pie and a tart.
Pecan pie was something I didn't enjoy until I was an adult. I don't know, as a kid I thought all desserts should be spongy or chocolatey. I probably didn't even try a bite until I was in my 20's.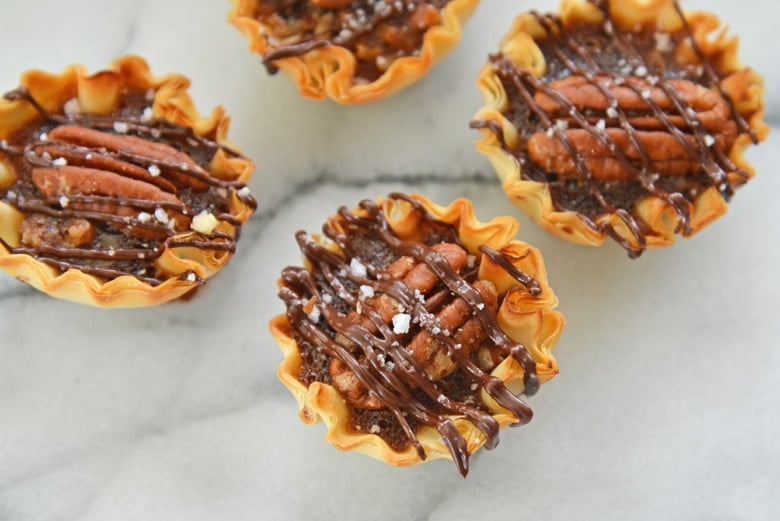 And then I realized I loved them. The not-too-sweet dessert is a little chewy, only slightly sweet and sometimes even a little boozy, if you choose to add bourbon.
Mini Pie Shells
For this mini pecan pies recipe, I used frozen phyllo cups. These are about 1 1/2 inches in diameter and fully cooked, so I literally didn't have to do anything.
You can also press pre-made pie crust or homemade pie crust into mini-muffin tins and pre-bake them OR use my recipe for mini sugar cookie cups.
Both of those options are great, but take a little longer. I like the flakiness of the phyllo dough and also that it is lighter. Perfect for a holiday dessert or even snacking on in the dead of summer.
Pecan Pie Filling
This is one of those age-old southern debates… and every Mima will claim to be right. I will say there are many right ways to make pecan pie filling. Some use corn syrup, others straight sugar and some others molasses and maple syrup. They are all good, just different…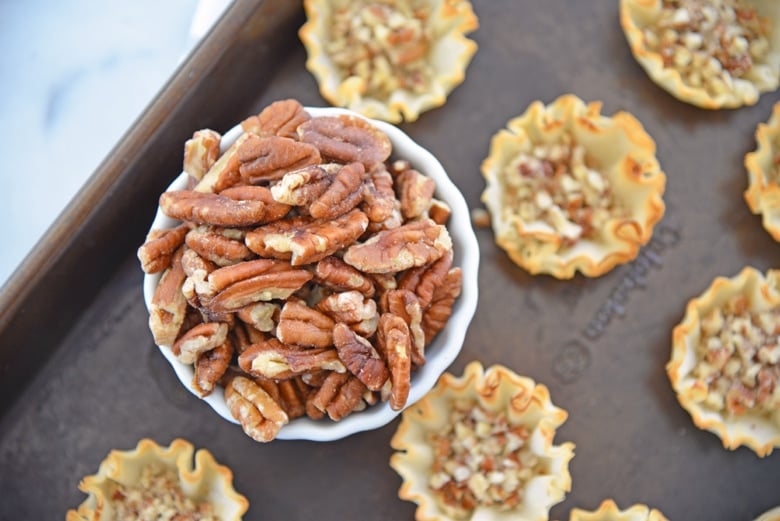 For mini pecan pies, the process is even easier because you just microwave the ingredients instead of using a saucepan or even mixer.
I like to put the pecans in the shell and then pour in the rest of the mix so I can guarantee there is a good amount of chopped pecan. Otherwise, heavy pecans tend to fall to the bottom and some shells are left with more custard and less pecan.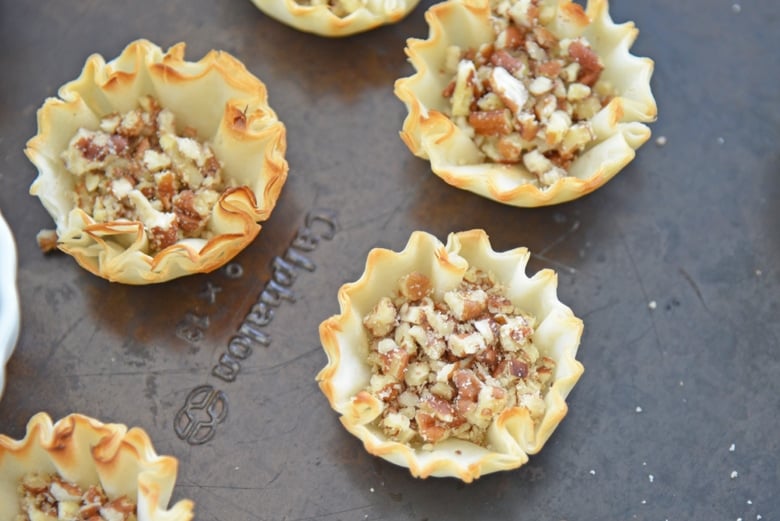 This dessert uses finely chopped pecans because the shells are so small. I like to put a half a pecan on the top of each just so people know what it is. Otherwise it looks a little like a chocolate cheese pie (also known as a chocolate crack pie).
Mini Pecan Pies Ingredients
Vanilla
Light corn syrup
Brown sugar
Semi-sweet chocolate chips
Egg yolk
Pecans
Phyllo tarts cups
Bourbon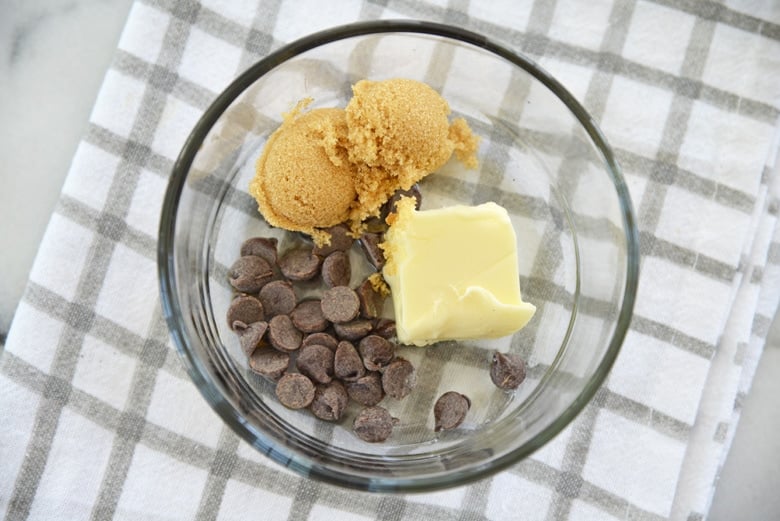 Bourbon is optional. I like chocolate and it helps holds it together, so please don't omit that. Molasses in the brown sugar gives it a little southern flare, but if you can also use equal amounts of white sugar and dark corn syrup if you'd like.
If you are a fan of turtles (the dessert, not the animal), you can drizzle chocolate, caramel and dab of flaky sea salt on top of your mini pecan pies. It also looks pretty. I just used dark chocolate and salt on mine.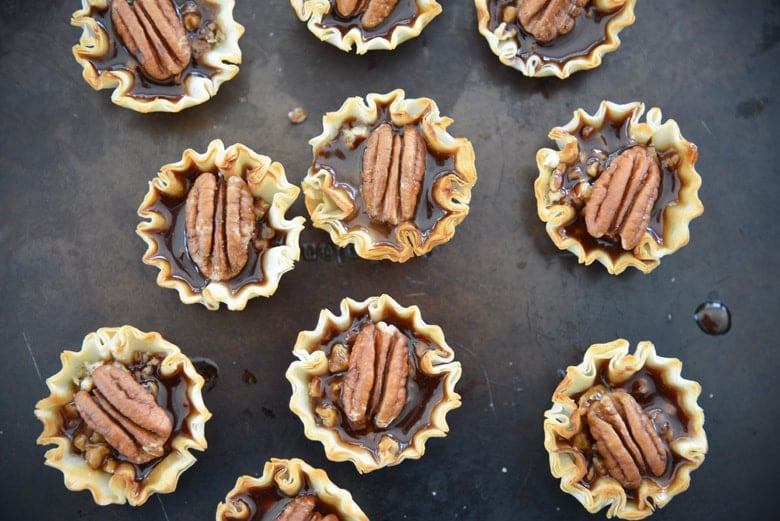 How Do You Say Pecan?
So now onto the question you all want to know the answer to: how do you pronounce PECAN?
Why are people asking me this? I am certianly no English expert, but my understanding is that both ways are correct, just depends on what part of the US are in.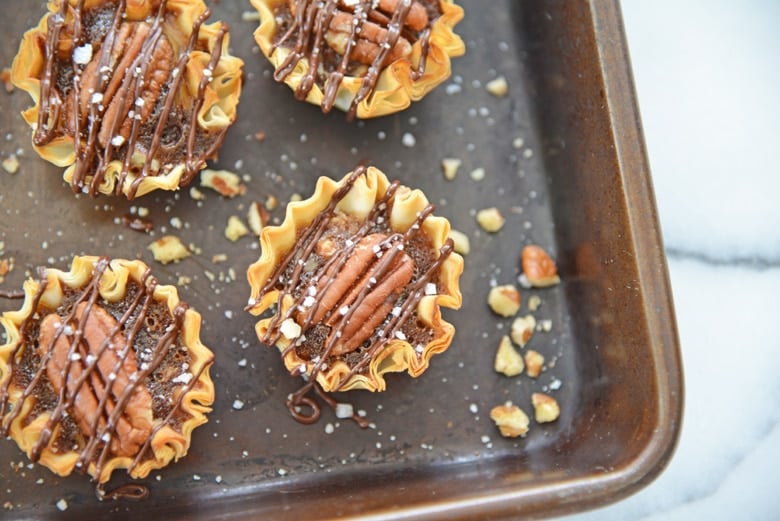 Northerners say "puh-KAHN" while Southerners say "PEE-can". Take your pick.
Pecan Pie History
When did pecan pie originate? No one knows…
Pecans are indigenous to Northern American, so most folks tend to think it was in the south where they grow wild. Some people claim Louisiana (also that the French swapped out pecans for a traditionally French pie after settling), others Mississippi and there are a few Texans that claim it to be from the native Americans.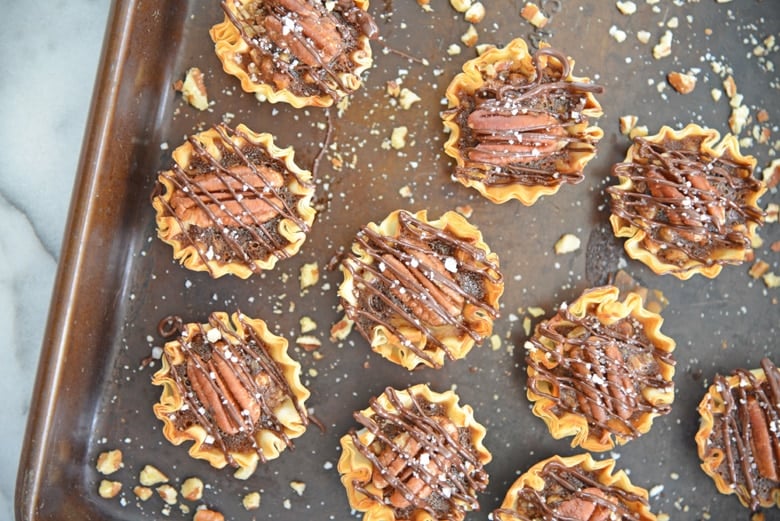 What we do know is the trees grew wild along the Mississippi river and in Georgia. We know that pecan pie is amazingly delicious. And other than bragging rights, who really cares?
Make Ahead, Storage & Freezing of Mini Pecan Pies
You can certainly make these ahead, as they are best served at room temperature. I don't suggest storing them in the refrigerator, as the filling will harden and not be chewy and soft. Store in an airtight container for up to 3 days.
These also freeze and defrost well. I like to freeze them in an airtight bag and then just take out one when I need it. Allow 15-20 minutes at room temperature to defrost.