This is the best foolproof pumpkin pie recipe with NO cracks and a delicious, creamy custard center made from REAL PUMPKIN!
Real Pumpkin vs Canned Pumpkin
If you haven't heard my spiel about how canned pumpkin isn't actually pumpkin, keep scrolling…
Pumpkin Pie is probably the second most iconic dish served on Thanksgiving. Second only to the Thanksgiving turkey, of course. And since it is a PUMPKIN pie, it only makes sense to make sure you have the best and most pumpkiny filling ever.
The tradition of pumpkin came about simply because it was the crop being harvested at the time of the first Thanksgiving celebration. While many squash dishes are savory, pumpkin was sweet.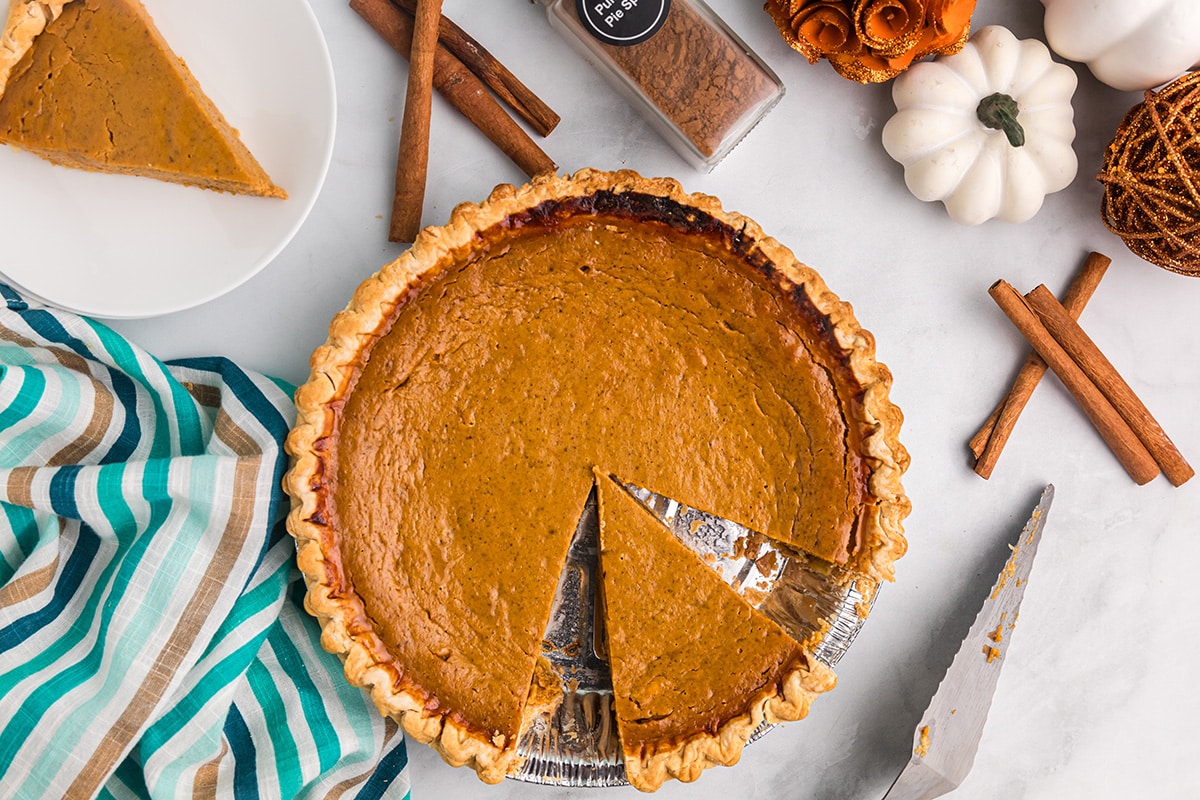 Easy Pumpkin Pie Recipe
Pumpkin pie is actually considered to be a custard. It's egg based and doesn't contain flour. It can be made in or out of a crust (if you are looking to cut some carbs and calories).
PRO TIP: You can use any type of crust you'd like. Gingersnap crust. Traditional butter crust. Graham cracker crust. No crust.
Custard pies are delicious, but most people have one main issue: they CRACK. Eggs coagulate (turn from liquid to gel) when heated. This creates a pucker and thus, cracks.
I have written an entire article on why pumpkin pies crack, how to prevent them from cracking and how to fix cracks when they do happen.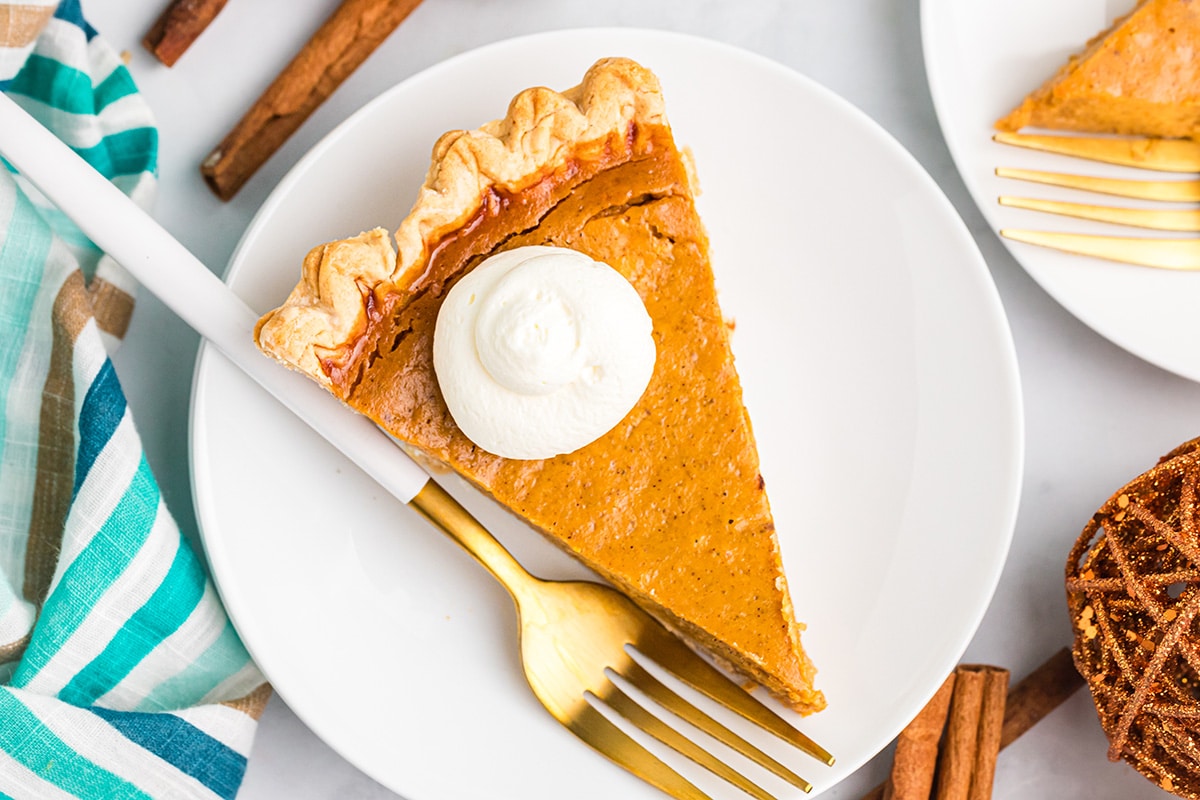 Pie Crust
There are only two things I don't like to make from scratch and one of them is homemade pie crust. So I buy mine frozen. Don't be ashamed, we all have something. I do, however, have a recipe for homemade pie crust that one of my contributors so kindly provided.
I use suggest a deep dish pie crust instead of a standard size, which is shallow and results in more crust than pie. Let's face it, we are all here for the pie!
For this recipe, it should just fill right up to the top of a deep dish crust. You can use a traditional shortbread crust, graham cracker or even gingersnap. If using standard, you might even get a scant two out of it, but the cooking time will be reduced.
Or, as we have discussed, make it a crustless pumpkin pie. Be mindful that you'll be scooping out the filling. Chances are (since it is custard) that it won't nicely cut and lift out like a traditional pie if it doesn't have a crust to contain it.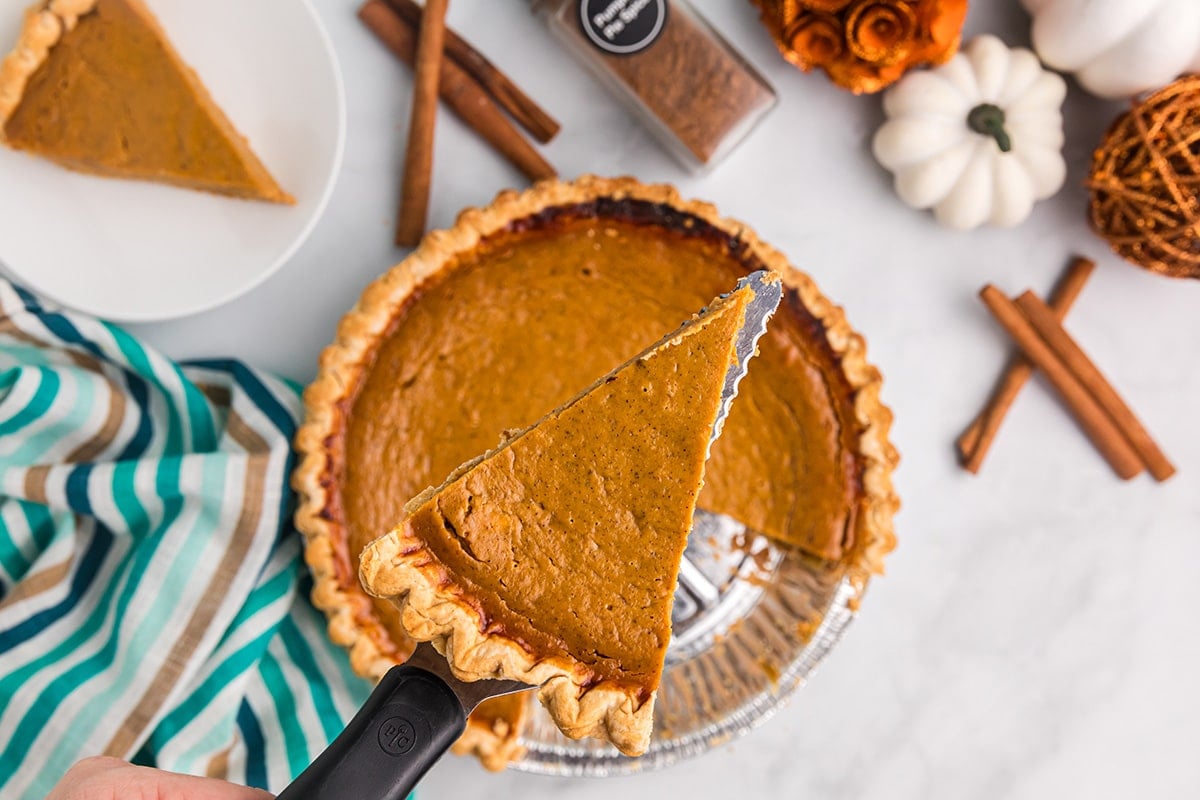 Pumpkin Pie Filling
NOPE. The cans that say 100% PUMPKIN ARE LYING TO YOU!!!!!
One thing you shouldn't skimp on, though, is making your own pumpkin puree. Did you know that most canned pumpkin filling isn't actually pumpkin at all?
The FDA has very loose criteria for pumpkin and actually allows most squash to be considered pumpkin. Because it is more expensive and sometimes lacks color and flavor, companies use a blend of squash and sometimes ZERO pumpkin.
PRO TIP: Use a small pie pumpkin for pumpkin puree- it has more flavor and is sweeter than larger, pumpkins meant for carving.
Use my easy homemade pumpkin pie puree recipe to avoid this issue. Be mindful that real pumpkin also varies in color. Some will be a bright orange and others might be paler. Regardless of color, it will surely taste better.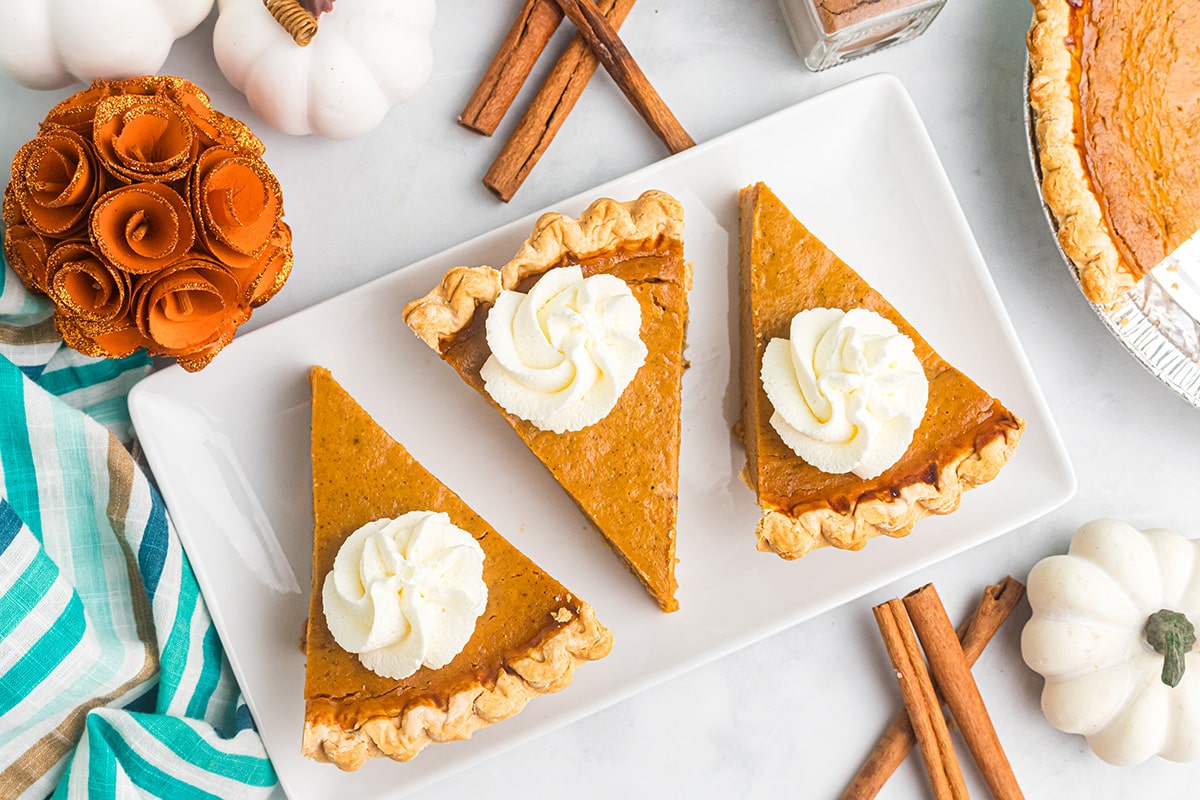 Pumpkin Pie Spices
Like most squash, pumpkin itself doesn't have a tremendous amount of flavor. Instead the flavor comes from sugar and pumpkin pie spice, a traditional blend of warm, fall aromatics.
I do encourage you to make your own pumpkin pie spice mix. It is a forgiving blend, but gives you the power to amplify the flavors you love and scale back on those you don't.
PRO TIP: Place your pie on a baking sheet. It makes it easier to transport your pie pans from in and out the oven and also catches any pumpkin pie filling that might bubble over.
For me, I love ginger and cloves. Their fragrance lights up my kitchen with the scent of the holidays, so I add a little extra to my spice blend. It can go into everything from your coffee to pumpkin fluff.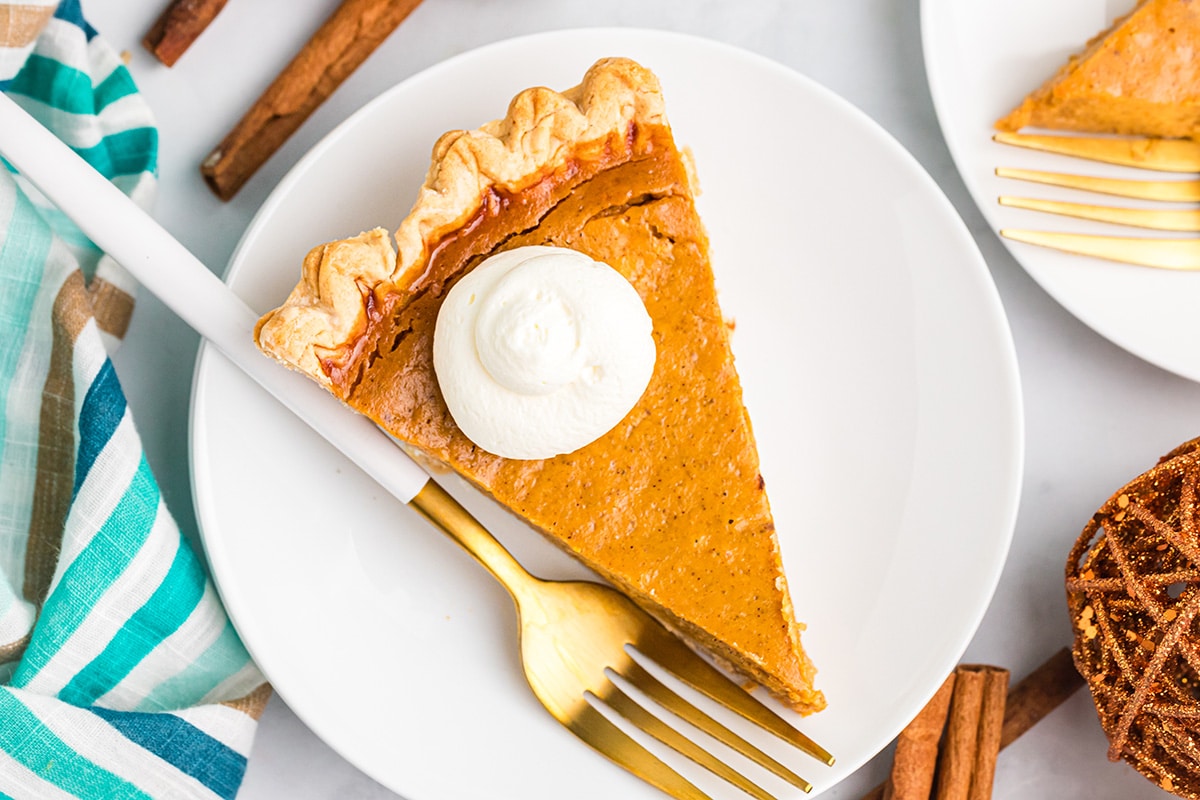 Why You'll Love This Easy Pumpkin Pie
A creamy, spiced filling in a flaky pie crust that is full of fall flavor- what's not to love!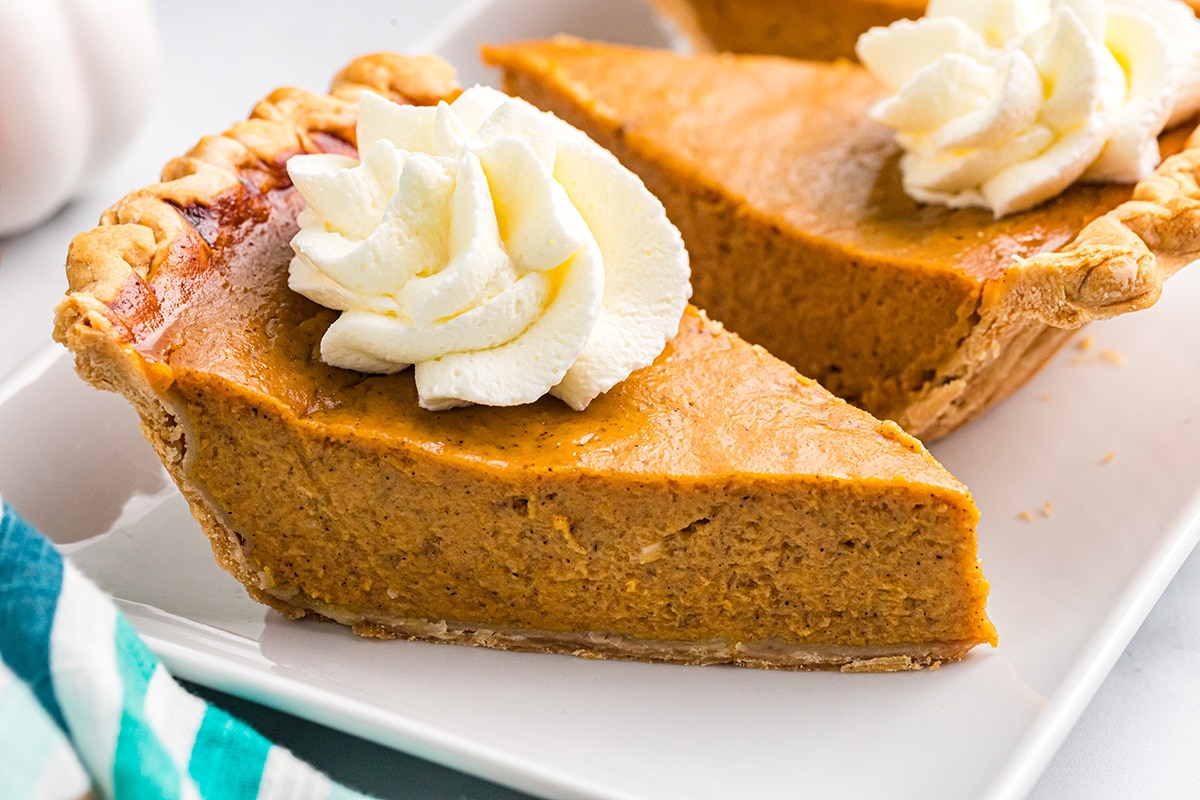 Pumpkin Pie Ingredients
Now onto this pie. My easy pie recipe is pretty standard with simple ingredients, but with one secret ingredient!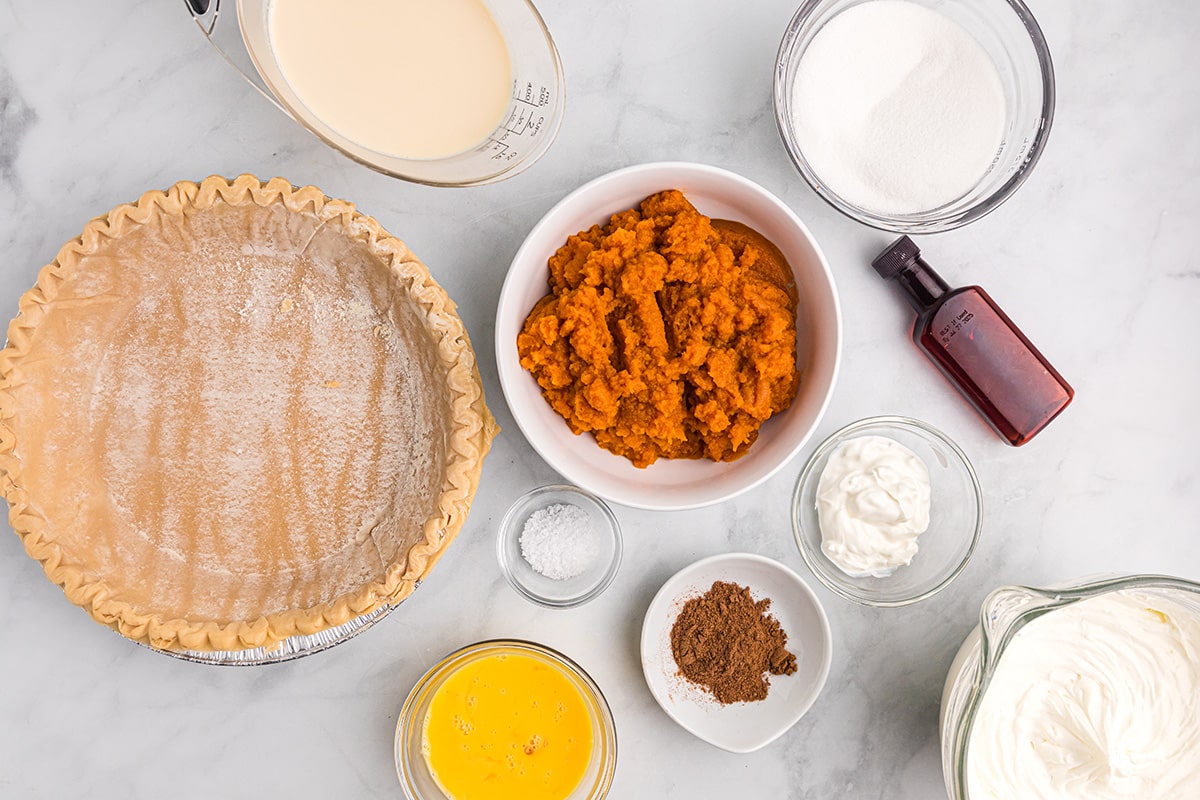 How to Make Easy Pumpkin Pie
You are going to love how easy it is to make this homemade pumpkin pie recipe for the upcoming holiday season.
Make pie filling. To start, you will combine sugar, pumpkin pie spice, salt and pumpkin puree in a large bowl. Add evaporated milk, eggs, vanilla and sour cream. Mix until just combined. It will be liquidy.
Pour into crust and bake. Pour into pie crust, but be careful not to overfill. Place the pie on a baking sheet and bake. After that, reduce the oven temperature and bake again.
Cool. Allow the pie to cool in the oven with the door cracked. After it's completely cooled, cover the pie and refrigerate for at least a couple hours.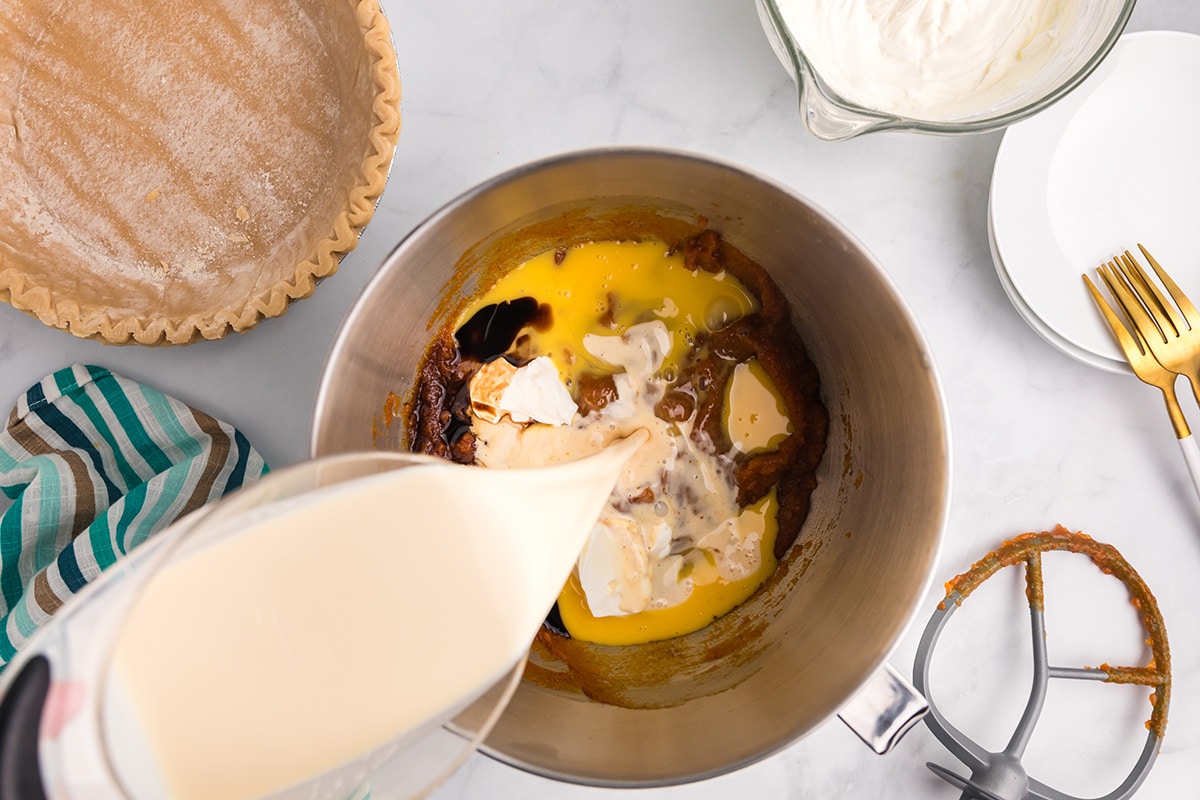 How to Serve this Classic Pumpkin Pie
You could serve this pie with anything you'd like, but whipped cream is probably the most standard adornment of a slice of pie.
You could also feel free to make it a la mode and add a heaping scoop of vanilla bean ice cream!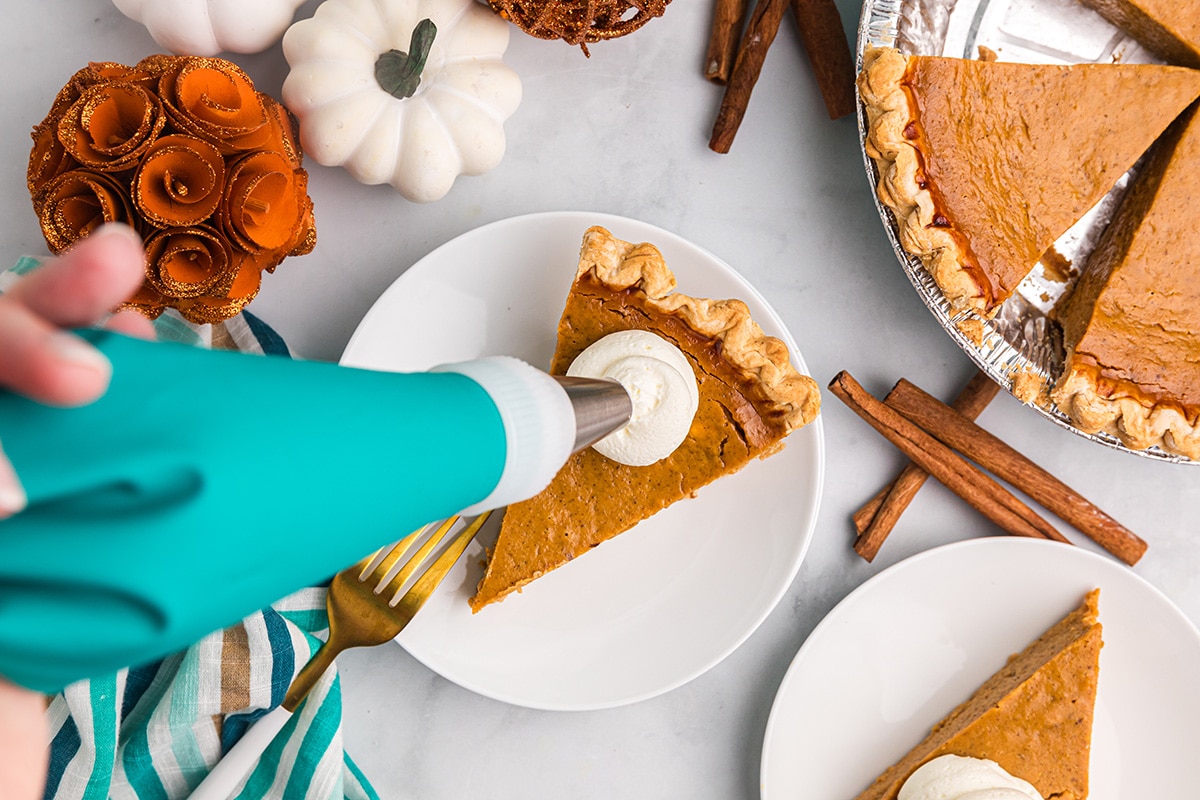 Variations
It's hard to change a recipe up too much when baking, but here are a few ways to make this easy pumpkin pie your own.
Pumpkin Pie Tips
While this recipe is super easy to follow, here are some tips to ensure you make the best pumpkin pie recipe every time.
Pumpkin purée. Most recipes call for a 15 ounce can of pumpkin puree. This is technically 1.8 cups in case you are making your own or measuring it out of a larger can.
Pumpkin spice. If you are one of those pumpkin pie spice obsessed folks (those of you smiling at your computer screen right now know who you are….) then add an additional 1 teaspoon of spice to your mix. Apple pie spices also work but won't be as heavy on the cloves.
Pie shells. Use a deep dish pie crust, however even if they are all technically a 9-inch deep dish pie crust, they might not all have the same volume. Don't fill your pie shell to the very brim. It will inevitably bubble over and the sugar will burn. Place your pie on a baking sheet to prevent burning if it does boil over and also to make it easy to get it in and out of the oven.
Pumpkin pie filling. This recipe calls for pumpkin puree, NOT pumpkin pie filling. Pumpkin pie filling already has sugar and spices. If you are using a pumpkin pie filling, then you just need to pop open the can, fill the crust and bake. There should be instructions on the can.
Crust savers. Crust savers don't work so well on custard pies because they can mar the delicate filling. Same with a loose piece of aluminum foil tented over the top. If you care more about taste and less about aesthetics, then go ahead use either of these and then frost it to cover up any blemishes.
Prevent cracking. The most common issue with baking a pumpkin pie is how to prevent the filling from cracking. The main ways to prevent this are to cook at a lower temperature and on the lower half of the oven. The lower portion of the oven is hotter and also has the most consistent temperature.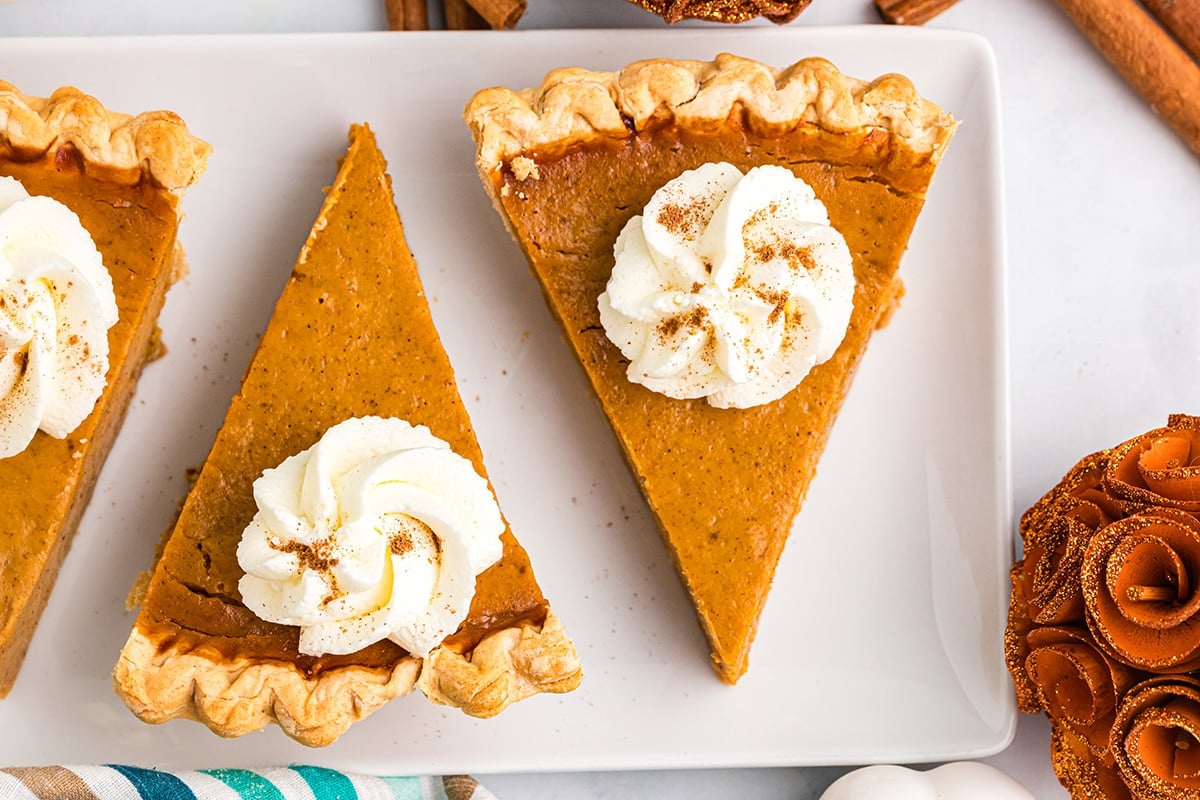 Storage and Freezing
Storage: Since this pie is a custard, it must be refrigerated after baking. It will stay for up to five days covered in plastic wrap or in an airtight container.
Freezing: You can freeze your pumpkin pie! Freeze it by the slice so you can just pull one out when the mood strikes.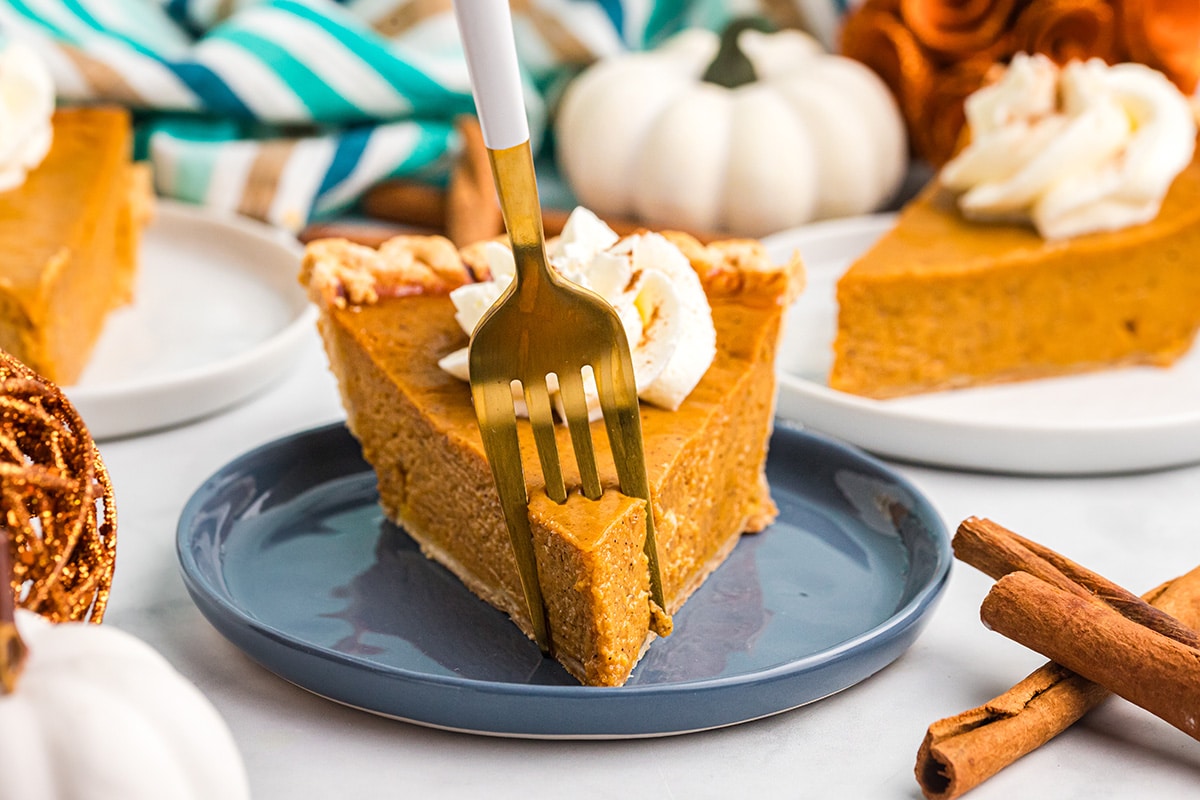 Frequently Asked Questions
Why did the center of my pumpkin pie fall?
Chances are that it cooled too quickly. To prevent this from happening, cool your pie in the oven so the temperature change isn't as drastic. Crack the oven door and cool for 1 hour.

If it has already happened, you can frost your pie with a spiced whipped cream frosting to hide the issue. Hop over to my post on how to fix cracks for the recipe (scroll to the bottom).
My filling is pretty liquidy, is that right?
Custard pie filling start pretty liquidy. As the eggs coagulate, it will set and solidify.
How long does pumpkin pie last?
I would say it is best eaten within 24 hours, but will stay good in the fridge for up to 5 days.
Can I eat pumpkin pie hot?
That is up to you! Most custard pies are eaten room temperature or chilled, but if you prefer it hot, give it a quick zap in the microwave.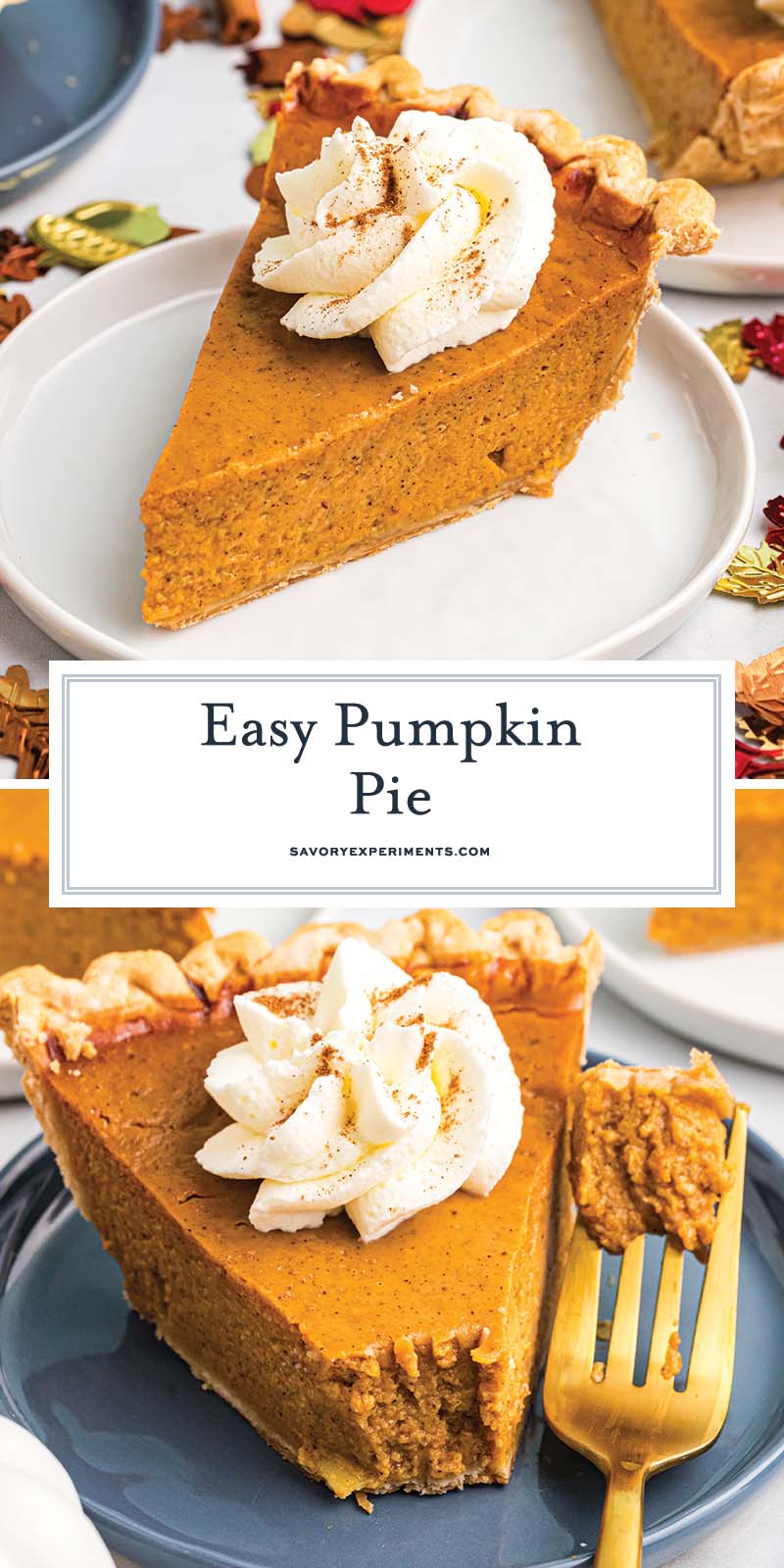 More Thanksgiving Pies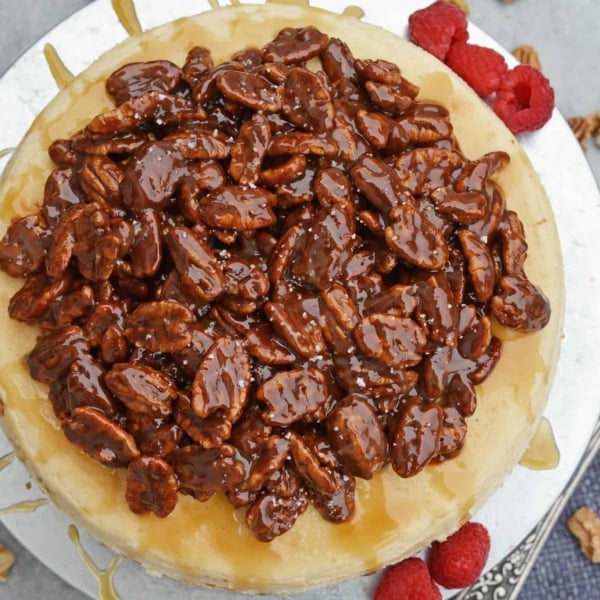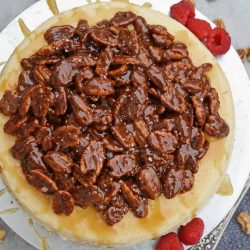 Pecan Pie Cheesecake
This Pecan Pie Cheesecake is the perfect combination of two delicious desserts – chocolate pecan pie and cheesecake. It's so good it'll quickly replace your best pecan pie recipe.
See The Recipe!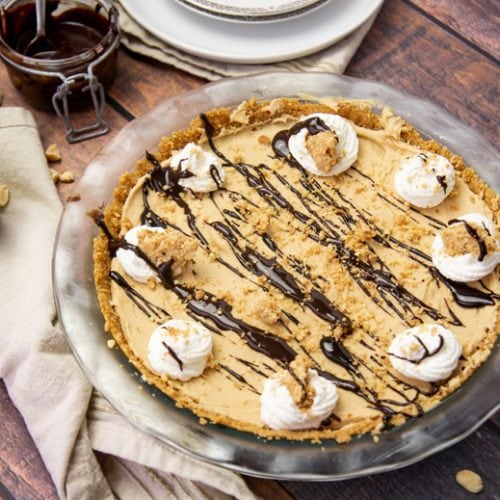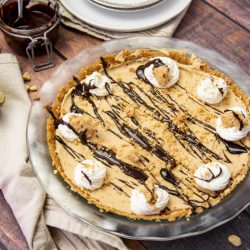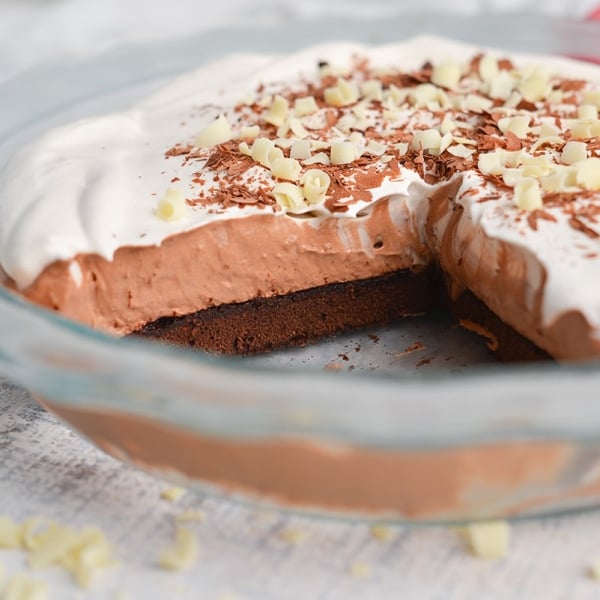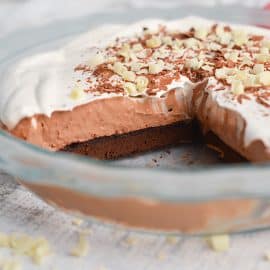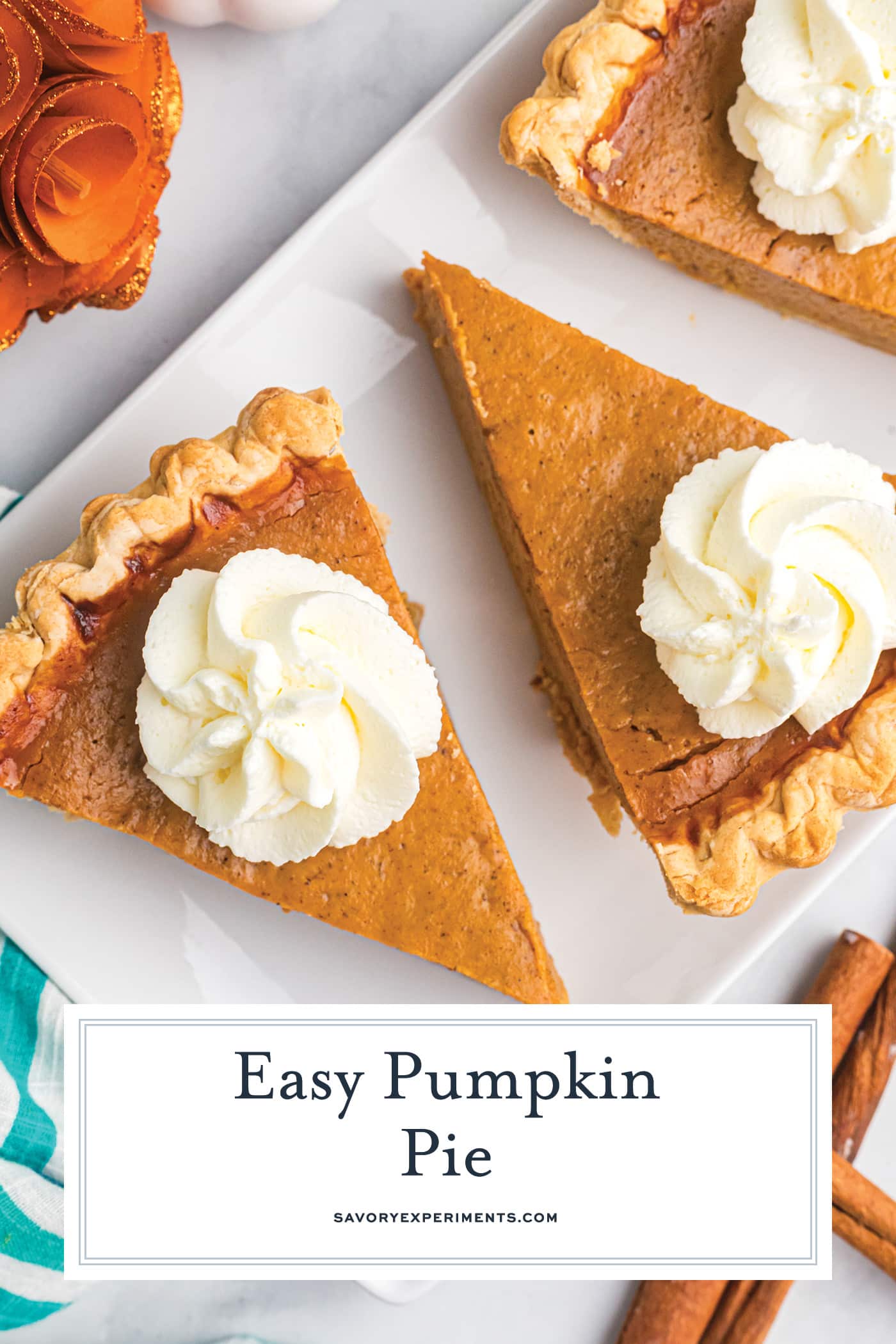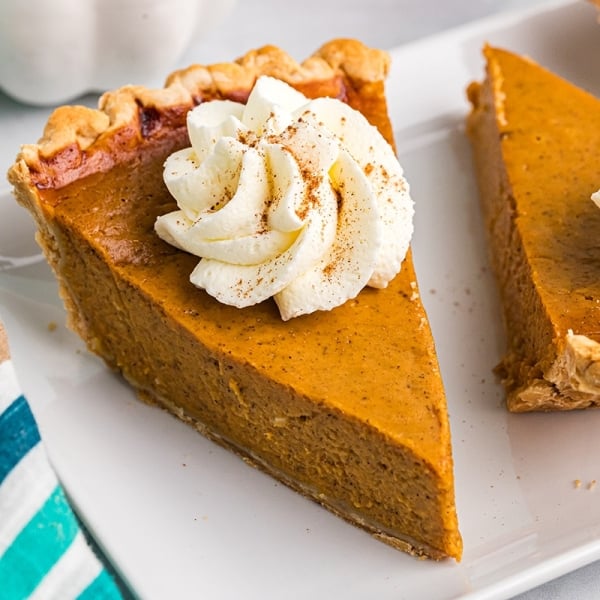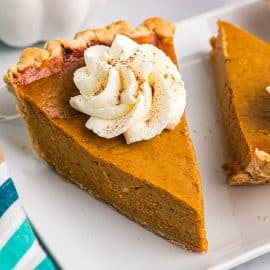 Easy Pumpkin Pie
This Easy Pumpkin Pie is just perfect for Thanksgiving! Perfectly creamy and delicious, this pumpkin pie recipe is perfection!
Instructions
Preheat the oven to 425°F. Arrange the racks in the lower third of the oven.

In a large bowl or the bowl of a stand mixer fitted with the paddle attachment, combine the sugar, pumpkin pie spice, salt and pumpkin puree. Mix until just combined.

Add the evaporated milk, eggs, vanilla and sour cream. Mixture will be blended, but soupy. This is normal.

Pour the filling into the pie crust, being careful to not overfill. You might not use all of the pie filling. Discard the rest.

Place the pie on a rimmed baking sheet. Bake for 15 minutes.

Lower oven temperature to 350°F, cook for another 40-50 minutes or until the center no longer jiggles, but before it starts to crack. Cracks will start to appear around the edges next to the crust, when this happens, immediately stop cooking and crack the door.

Leave the pie in the oven, turn off the heat and crack the door. Cool for 1-2 hours.

Cover and refrigerate for at least 2 hours before slicing and serving.

Top slice with fresh whipped cream and serve.

If you've tried this recipe, come back and let us know how it was in the comments or star ratings.
Notes
15 ounces pumpkin equals 1.85 cups
Nutrition
Calories:
306
kcal
,
Carbohydrates:
18
g
,
Protein:
13
g
,
Fat:
22
g
,
Saturated Fat:
11
g
,
Cholesterol:
36
mg
,
Sodium:
348
mg
,
Potassium:
318
mg
,
Fiber:
3
g
,
Sugar:
16
g
,
Vitamin A:
5631
IU
,
Vitamin C:
2
mg
,
Calcium:
121
mg
,
Iron:
5
mg