You only need three simple ingredients and 15 minutes to make this easy green bean recipe. The perfect side dish for nearly any meal. Quick, flavorful and also healthy.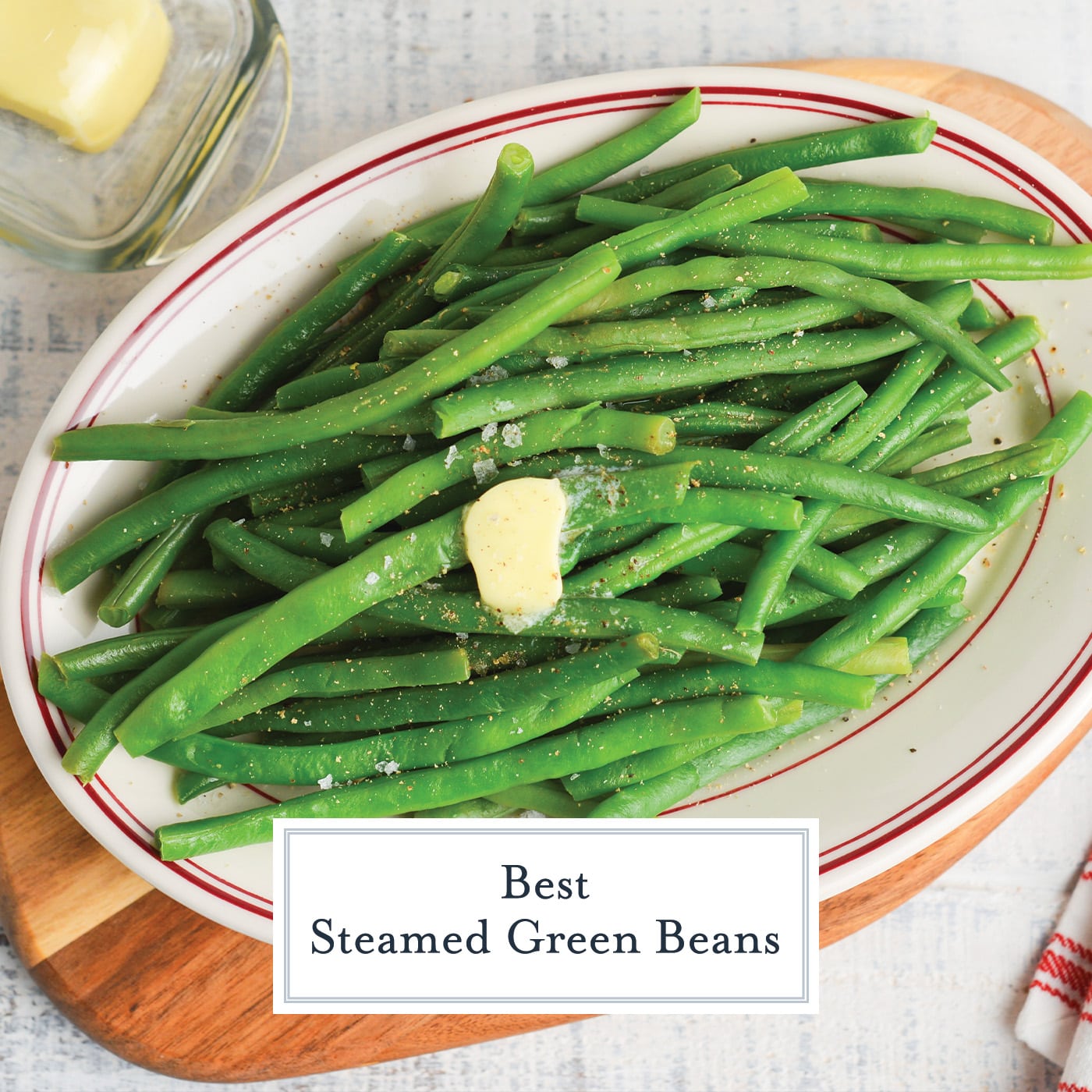 About This Easy Recipe
If you are like me, you are always on the hunt for simple side dish recipes. Especially ones with loads of flavor, but also that hit a healthy note.
My steamed green bean recipe came about one day when I realized I needed a quick green. I steamed up fresh green beans and tossed them with the closest flavor I could find, sherry, garlic, butter, salt and pepper. The sherry, is of course, optional.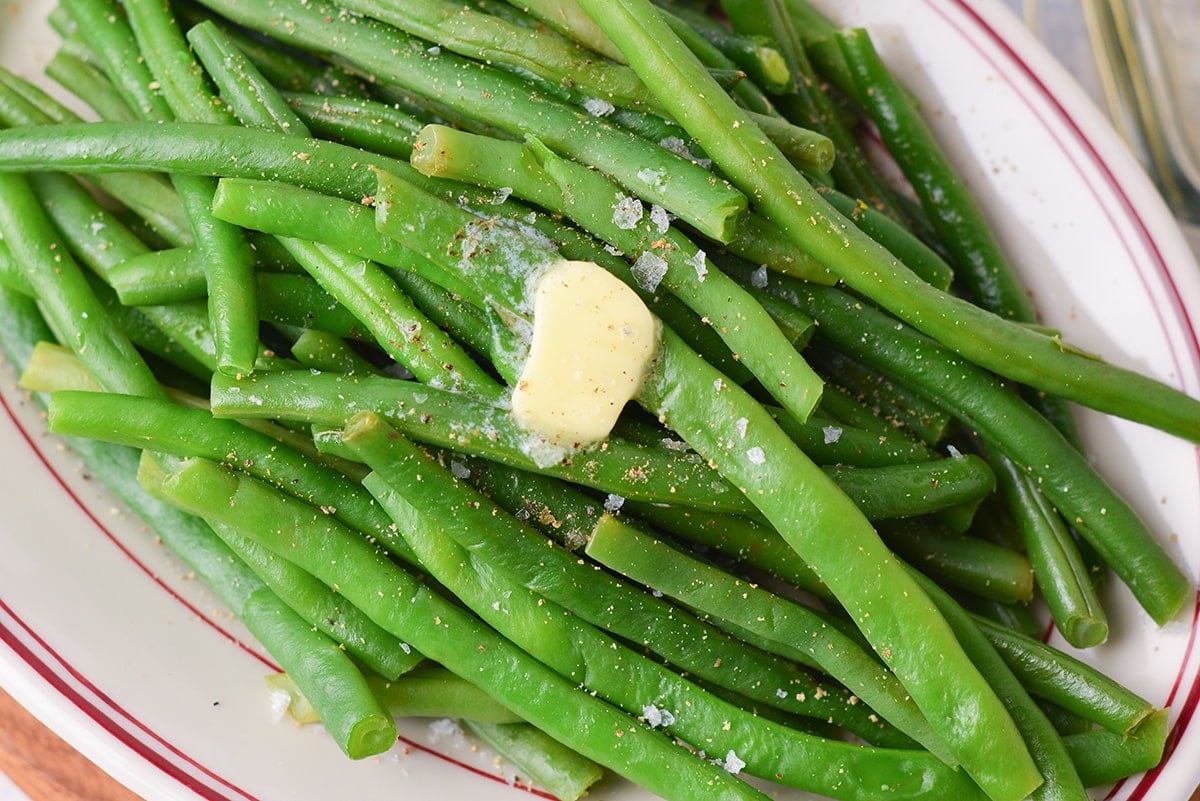 How to Store Green Beans
Fresh green beans, sometimes called string beans or haricot verts if you are fancy, can be stored unwashed in a plastic bag and kept in the refrigerator crisper. Whole beans stored this way should keep for about seven days as long as they aren't washed. After washing, any residual water will accelerate the deterioration process.
Can I freeze fresh green beans? Green beans are definitely a vegetable that can be frozen. The best way is to store in an airtight freezer bag, pushing out as much air as possible and then store for up to 3 months. Thaw in the refrigerator overnight.
While green beans are widely available during the summer months, you can usually find them year round.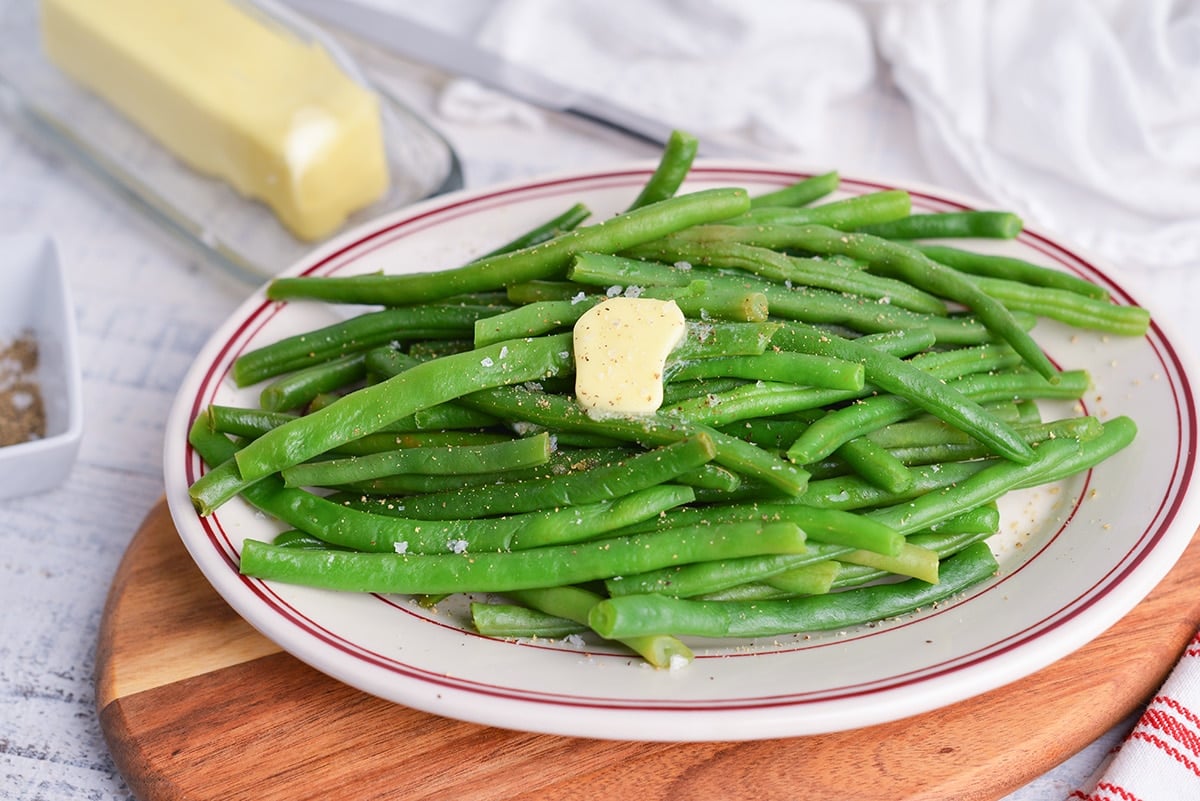 Secret Ingredient- Sherry
They have since become a family favorite. So good, in fact, I serve them on holidays and guests usually "can't put their finger" on the secret ingredient.
PRO TIP: Sherry is a fabulous ingredient added to any sauce. A little bit goes a long way and can make the difference in elevating your dish from every day to restaurant quality.
Which is just sherry. Not all that secret at all. You can grab a real bottle at the liquid store or pick up cooking sherry at the grocery store, although this also has a lot of salt to keep it shelf stable.
Sherry, as used in this recipe, is sweet and is golden in hue. It has a mild, dry flavor with hints of nuts and caramel. It adds to your green beans in a matter of a few minutes.
Cooking sherry purchased at the grocery store still has alcohol content, so make sure you toss and continue to heat to burn anything residual off. You can also bring a small amount to a boil before tossing. Just a few seconds in the microwave will do the trick.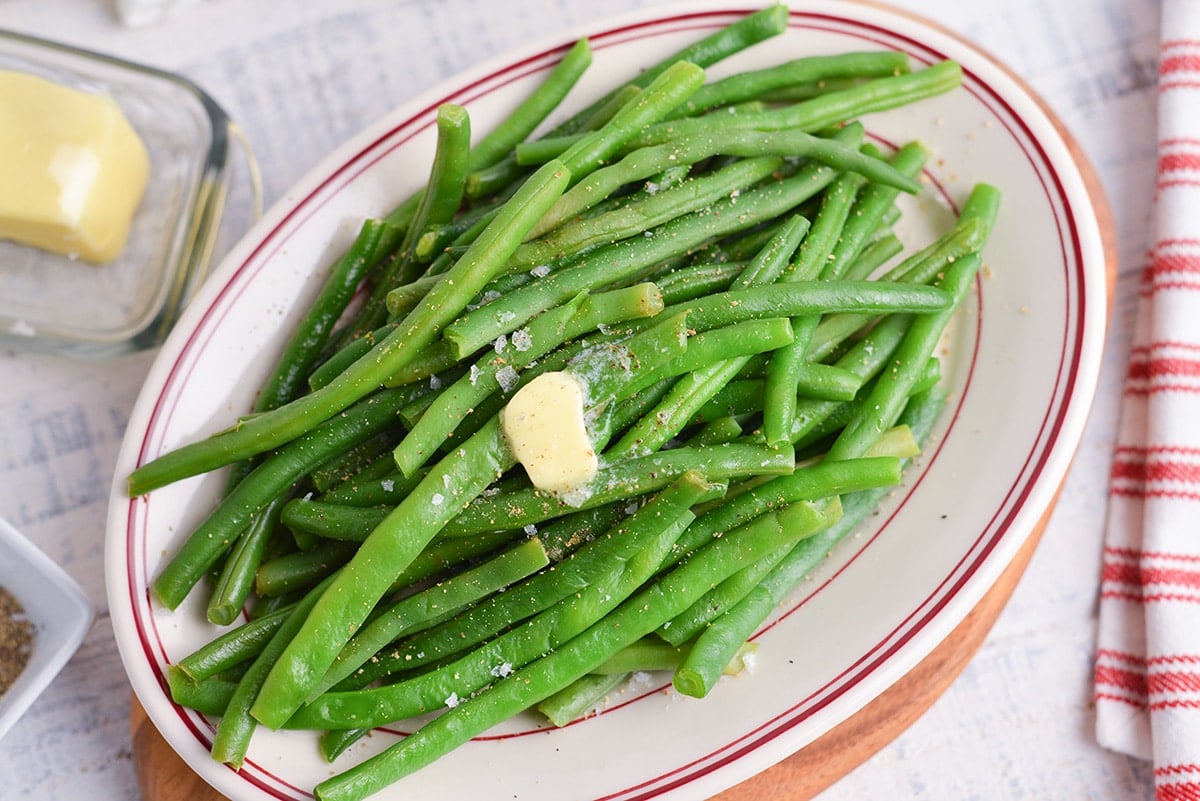 How to Prep Green Beans
Technically speaking, they don't need to be deshelled or destringed, but most people do like to remove the ends of the pods because they can be chewy and unpleasant. This is personal preference.
Knife Trimming
The easiest way to knife trim is to take 4-5 pods, all similar length and old them together, slicing off one end and then the other all at the same time.
Snapping
Another simple way is to snap off the tips. It will naturally snap a few millimeters up from the end of the green bean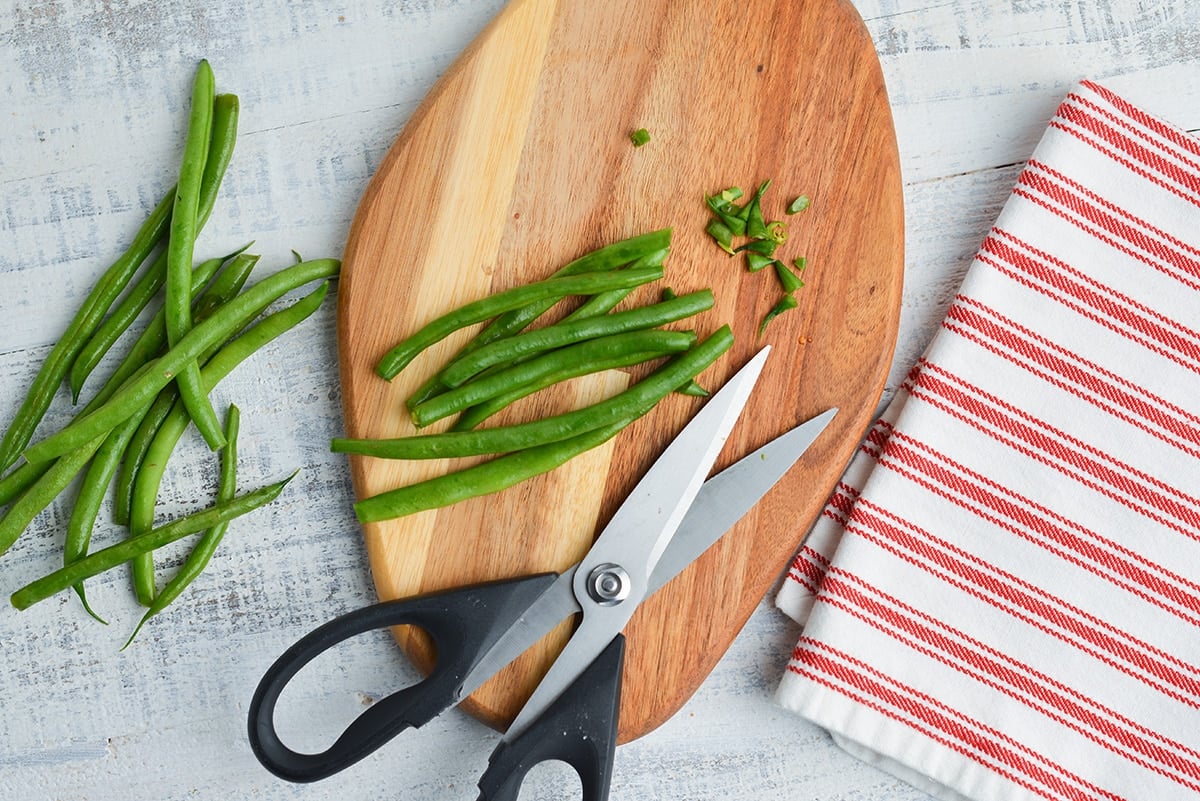 How to Steam Green Beans
Skillet Method
Place 1-inch of water in the bottom of a large, wide skillet. The exact amount will depend on the size of your pan.
Heat over high heat until you have boiling water. Place a steamer basket into the skillet.
Add the raw beans in an even layer, ideally a single layer. Cover tightly and steam for 4-5 minutes. If they are in more than a single layer, but if they are piled, rotate halfway through using tongs. Cooking time will vary depending on how many you have. Beans should turn a bright green when ready.
Saucepan Method
If you are making then in a standard saucepan, this will take longer than a larger or flat bottom pan.
Place 1-2 inches of water in the bottom of a large saucepan.
Heat over high heat until bubbling at a low simmer. Place a steamer basket into the saucepan.
Add the green beans, cover tightly and steam for 4-5 minutes. Rotate halfway through using tongs.
For both recipes, drain the water, add the sherry and toss. Finish with slivered almonds and flaky sea salt.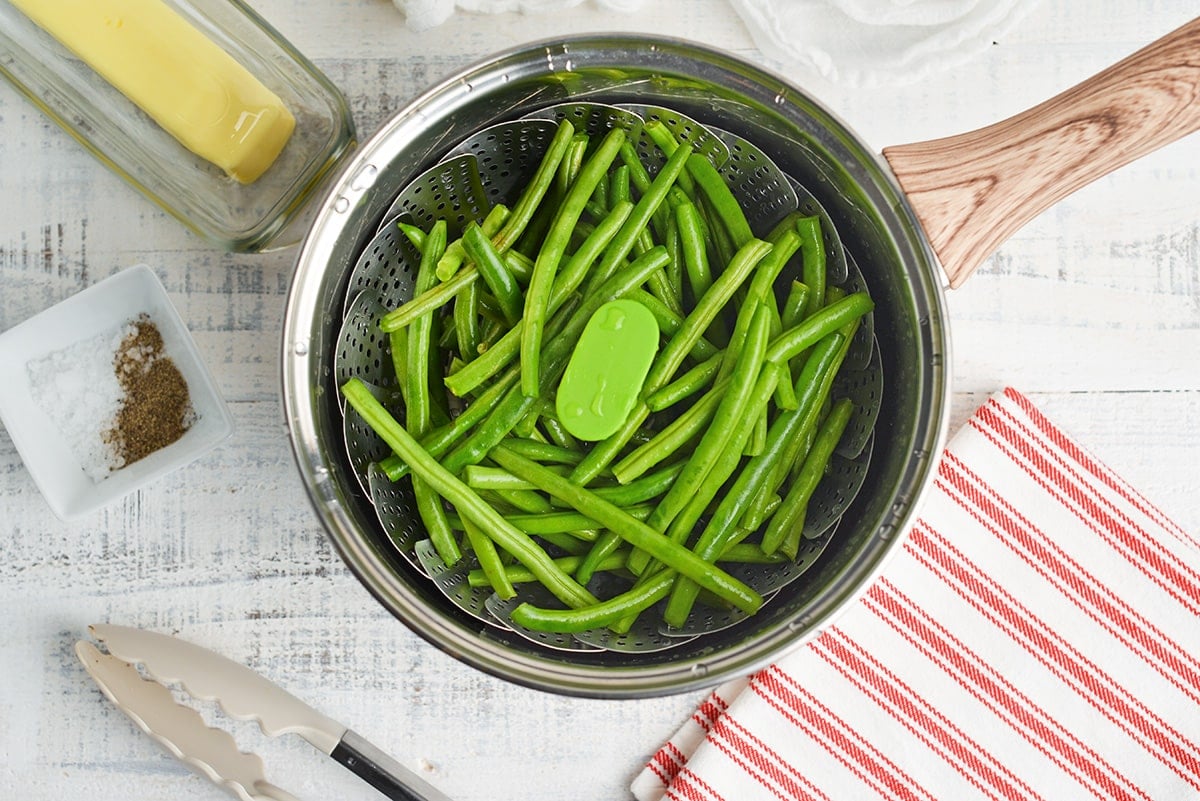 How Long To Steam Green Beans?
The answer to this comes in two parts. First, the amount of green beans you are steaming and second the size of the pot and steamer basket.
If you are steaming a lot, then it will take a little longer and I suggest tossing with tongs half way through cooking so the beans on the bottom don't over cook since they are closer to the heat source.
In general, about a 1/2 pound of green beans in a medium saucepan will take approximately 5 minutes.
Blanch vs Steam
What does it mean "to blanch" green beans? This Sherry Green Beans recipe does not use the technique of blanching, but you can if you wish. Both are a healthy side dish recipe.
Basically you'll be cooking your green beans and then placing them in a bowl of ice water to cool them down and stop the cooking process.
It is only a brief dunk, so they shouldn't lose all of their heat, but they certainly won't be as warm as they were, so you will still place them back in the hot pan to warm slightly before serving.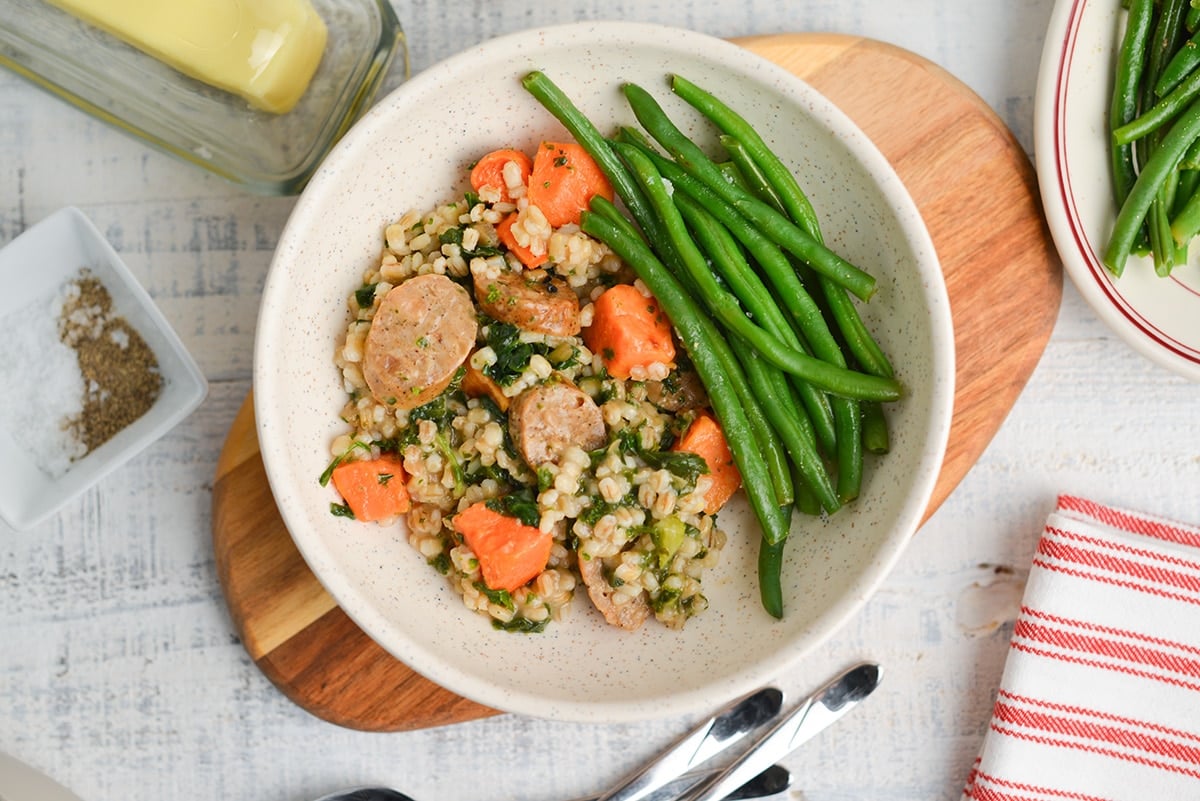 Variations
If sherry isn't your jam, there are so many other things you can use to customize this delicious side dish.
Toss them in 1 tablespoon of a good quality olive oil.
Season with ground black pepper and coarse kosher salt for a simple dish.
Toss in equal amounts of fresh red peppers while steaming.
Spritz steamed beans with fresh lemon juice and top with fresh lemon zest.
Toss with 1 tablespoon of good quality European butter or compound butter after steaming.
Add a few shakes of crushed red pepper flakes.
Storage
Storage: The best way to store leftovers in an airtight container or covered in plastic wrap for up to one week. Reheat on the stovetop or in the microwave .
Freezing: We do not recommend freezing this recipe after it has been cooked.