You only need three simple ingredients and 15 minutes to make this easy green bean recipe. The perfect side dish for nearly any meal. Quick, flavorful and also healthy!
Steamed Green Beans
If you are like me, you are always on the hunt for simple side dish recipes. Especially ones with loads of flavor, but also that hit a healthy note.
My sherry green beans came about one day when I realized I needed a quick green. I steamed them up and tossed them with the closest flavor I could find, sherry.
Secret Ingredient- Sherry
They have since become a family favorite. So good, in fact, I serve them on holidays and guests usually "can't put their finger" on the secret ingredient.
PRO TIP: Sherry is a fabulous ingredient added to any sauce. A little bit goes a long way and can make the difference in elevating your dish from every day to restaurant quality.
Which is just sherry. Not all that secret at all. And I generally use a cooking sherry, not even a super fancy or expensive one.
Sherry, as used in this Sherry Green Beans recipe, is sweet and is golden in hue. It has a mild, dry flavor with hints of nuts and caramel. It adds to your green beans in a matter of a few minutes.
Cooking sherry purchased at the grocery store still has alcohol content, so make sure you toss and continue to heat to burn anything residual off. You can also bring a small amount to a boil before tossing.
The benefit of cooking sherry is that it is shelf stable for long periods of time. It doesn't need to be refrigerated and also lasts for up to a year in your cupboard. Versus a fresh bottle of sherry that could go bad within days of opening.
I am not condoning the use of alcohol. If serving to pregnant women or children, please pretreat the sherry.
Also keep in mind that you are only using 2 tablespoons for the whole batch of green beans. Each person will only get a trace amount of alcohol.
How to Steam Green Beans
How long does it take to steam green beans? The answer to this comes in two parts. First, the amount of green beans you are steaming and second the size of the pot and steamer basket.
If you are steaming a lot, then it will take a little longer and I suggest tossing with tongs half way through cooking so the beans on the bottom don't over cook since they are closer to the heat source.
If you are making then in a stand saucepan, this will take longer than a larger or flat bottom pan with the beans in more of a single layer.
In general, about a 1/2 pound of green beans in a medium saucepan will take approximately 5 minutes.
Blanch vs Steam
What does it mean "to blanch" green beans? This Sherry Green Beans recipe does not use the technique of blanching, but you can if you wish.
Basically you'll be cooking your green beans and then placing them in a bowl of ice water to cool them down and stop the cooking process.
It is only a brief dunk, so they shouldn't lose all of their heat, but they certainly won't be as warm as they were, so you will still place them back in the hot pan to warm slightly before serving.
Use sherry in these ways to elevate any dish or recipe:
Use in dessert recipes and sauces.
Splash in soups and sauces right before serving.
Soak fresh ginger and garlic in sherry before using in sauces, salads or stir-fry.
Create easy salad dressings with olive oil and fresh herbs.
Toss 1 tablespoon with cooked rice, pasta and quinoa.
Use in cold pasta or potato salads.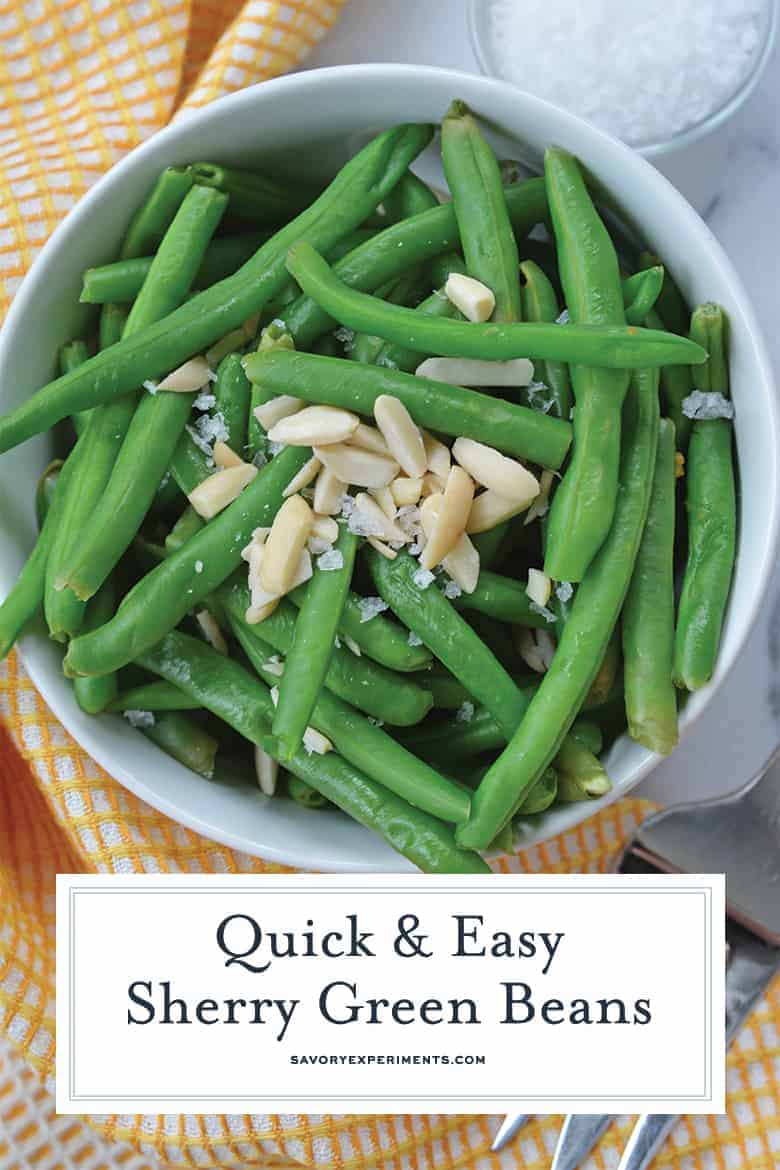 Three Bean Salad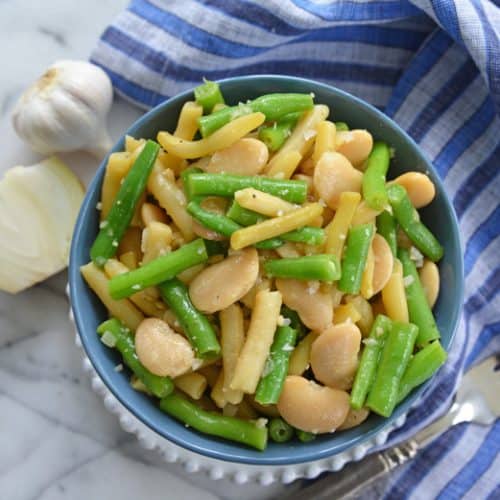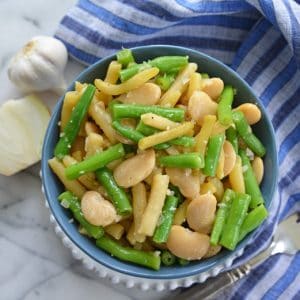 Classic Three Bean Salad is the perfect BBQ side dish. This easy, make-ahead dish is always a hit and perfect for potlucks too!
Green Beans with Bacon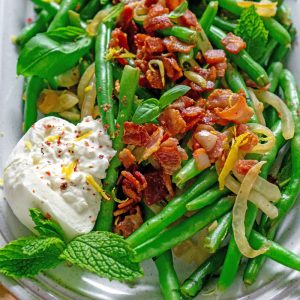 EASY Green Beans with Bacon make the perfect side dish for any meal! Using fresh green beans and crispy bacon, you can't go wrong!
Creamed Spinach Shells and Cheese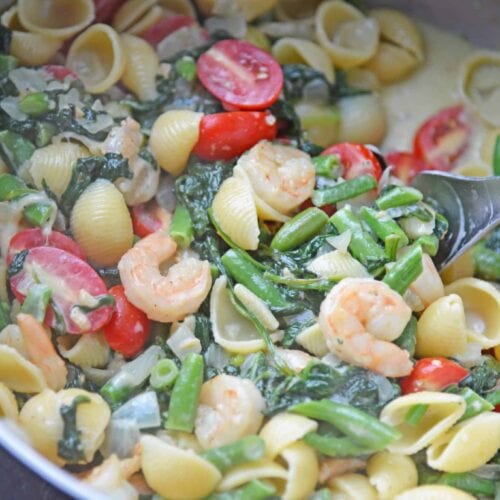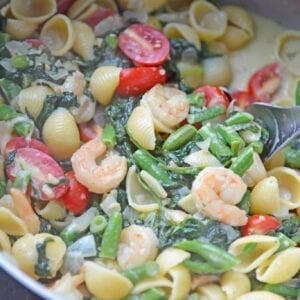 Creamed Spinach Shells and Cheese uses creamed spinach as a sauce for an amazingly quick pasta dish, that you won't be able to get enough of!
Hanger Steak Salad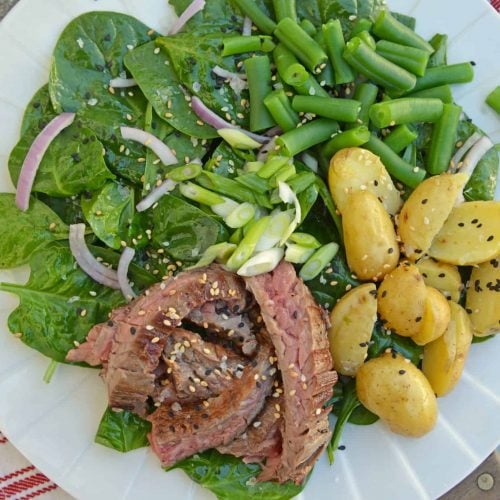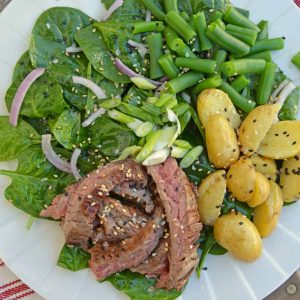 Hanger Steak Salad is an easy and healthy dinner solution using only 6 ingredients and a simple homemade miso ginger dressing.
Tools for making Sherry Green Beans:
Heavy Bottom Sauce Pan– this will be one of your most used kitchen tools. Having something that is heavy bottom will distribute heat better and prevent burning whether you are using an electric or gas range.
Colander – Another kitchen staple that every home should have. Make sure you rinse your beans before cooking!
CONNECT WITH SAVORY EXPERIMENTS!

Be sure to follow me on social media, so you never miss a post!

Facebook | Twitter | Youtube
Pinterest | Instagram
Get our FREE 8 Day E-Course on How to Be a Better Home Cook. Sign up HERE!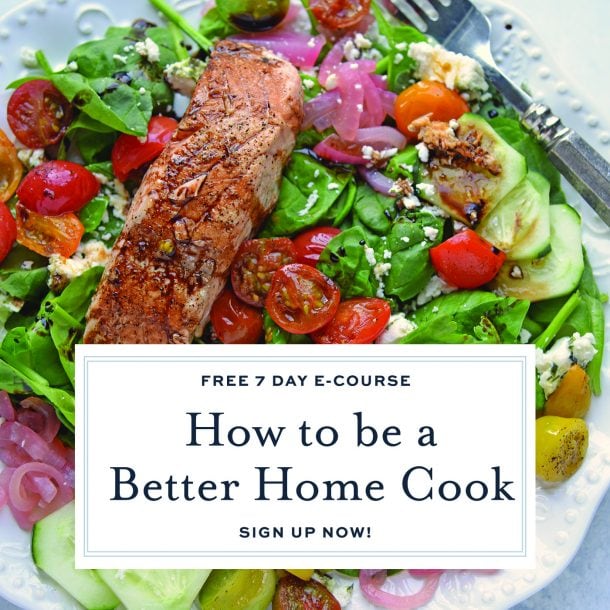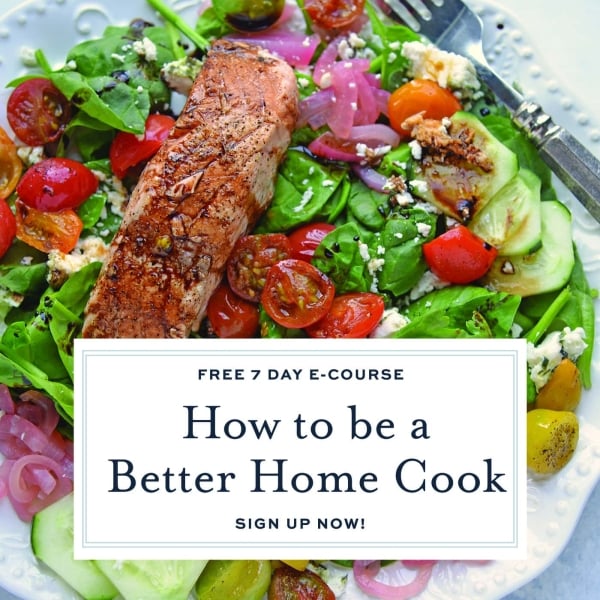 Sherry Green Beans
If you're in need of an easy green bean recipe, look no further than these Sherry Green Beans! Steamed green beans have never been so good!
Instructions
Heat a small amount of water in a saucepan with a steamer basket.

When boiling, place green beans into the steamer basket and cover for 4-5 minutes. Green beans should be a brilliant green color, but still have a little snap.

Remove from steamer basket. Add sherry to the saucepan and heat for 1 minute over medium heat.

Add green beans back to the saucepan and toss.

Place on a serving platter and top with flaky sea salt and slivered almonds before serving.

If you've tried this recipe, come back and let us know how it was!
Nutrition
Calories:
52
kcal
|
Carbohydrates:
5
g
|
Protein:
2
g
|
Fat:
3
g
|
Saturated Fat:
1
g
|
Sodium:
4
mg
|
Potassium:
155
mg
|
Fiber:
2
g
|
Sugar:
2
g
|
Vitamin A:
391
IU
|
Vitamin C:
7
mg
|
Calcium:
34
mg
|
Iron:
1
mg