You know the packets of dry gravy mix? The ones at the store? You can make your own Homemade Gravy Mix in just a few steps!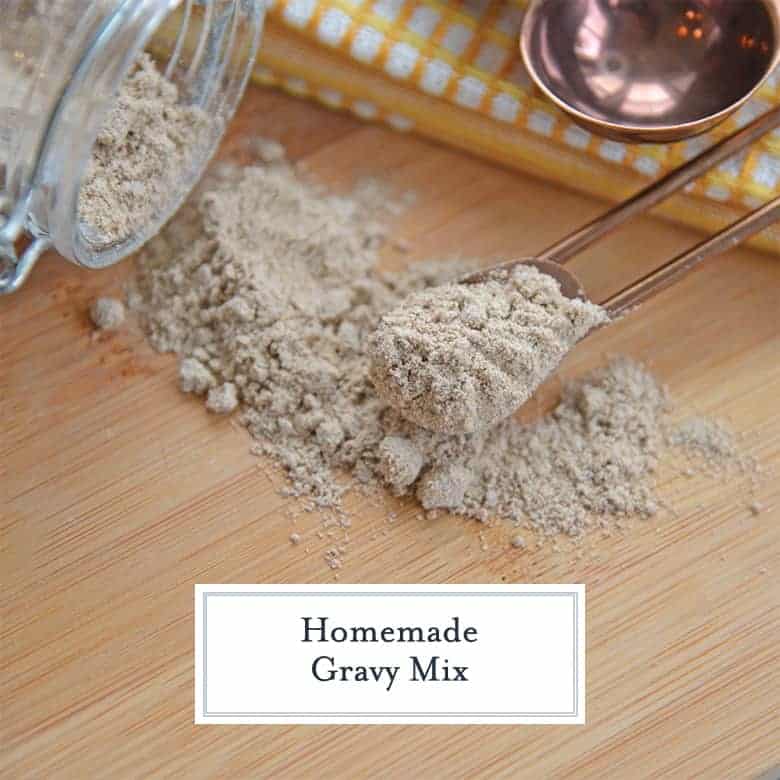 Brown Gravy Mix
I know folks hate perosnal stories from bloggers, but I want to share with you that I just realized many of my posts that use the word bouillon autocorrected to bullion.
So my beefy recipes are pure GOLD! LOL.
What is Brown Gravy?
Au Jus vs Brown Gravy
Au jus is generally just seasoned pan juices while gravy is a thickened mixture using a roux, cream or cornstarch slurry to thicken.
What is in Gravy?
Now onto the informational stuff. Most of what gravy mix is made out of is flour. Yep, a thickener. What you need for brown gravy mix:
Thickening agent
Seasoning
Liquid
These three items can be customized to your preference and liking, but are the 3 essential things you'll need to make a delicious homemade gravy mix.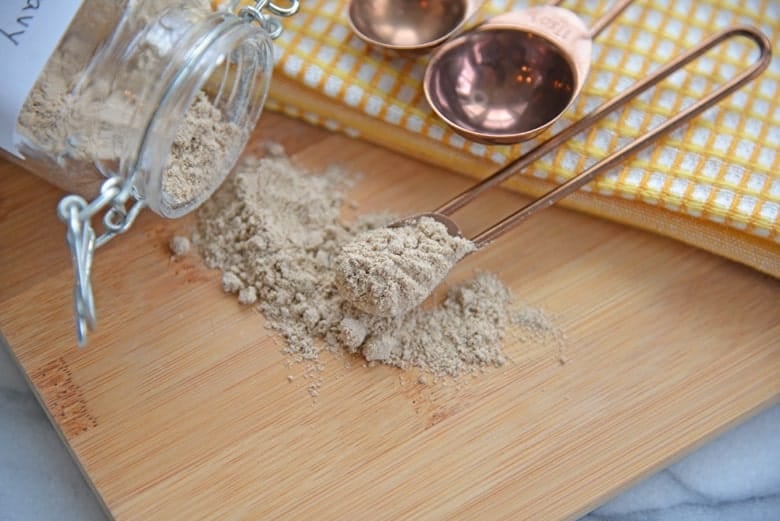 Generally the thickening agent is flour, cornstarch or arrowroot. Since flour is the cheapest, most store bought gravy mixes use it. But you can certainly use one of the alternatives.
The second is seasoning. Beef bouillon (not to be confused with gold bars LOL) is the most common of the seasonings with the second being salt, of course.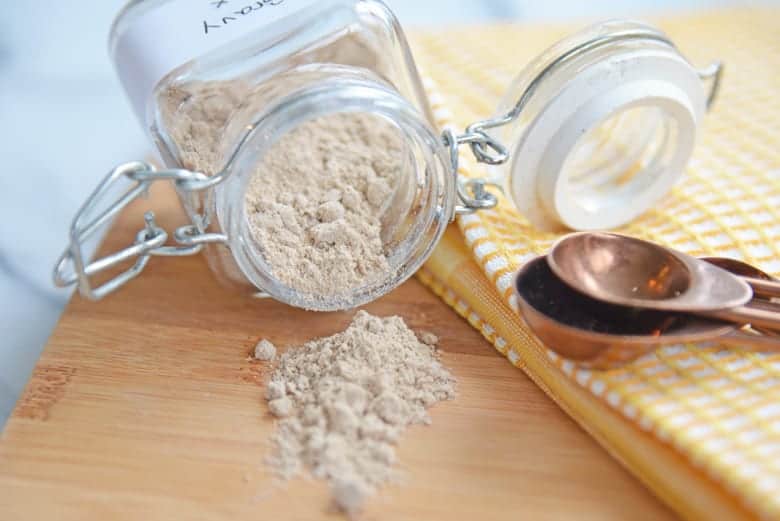 What is beef bouillon?
It just dehydrated beef stock so you get all the flavor of the stock without any liquid. This makes it shelf stable with no refrigeration needed.
It comes in the form of a packed cube or also granular and is commonly mixed with vegetable stock, salt and a few other seasonings.
Some of the seasoning might also come from drippings from whatever dish you are making. That is fine too.
Additional Ingredients to add when making Brown Gravy
The last element is liquid. Since gravy mix already uses beef bouillon, you can also use beef broth or stock and add even more beefy flavor or just water.
Fat is the last piece of homemade gravy mix and totally optional. If you are using drippings, then you'll get a little bit of this from that ingredient. Otherwise it takes the form of rendered bacon grease, butter and sometimes cream. All are totally acceptable.
Regardless of what type of gravy you are making, I strongly suggest waiting until the very end to season with SALT. Nearly all of the ingredients for making gravy have the potential to be salty and you don't want to over salt the sauce!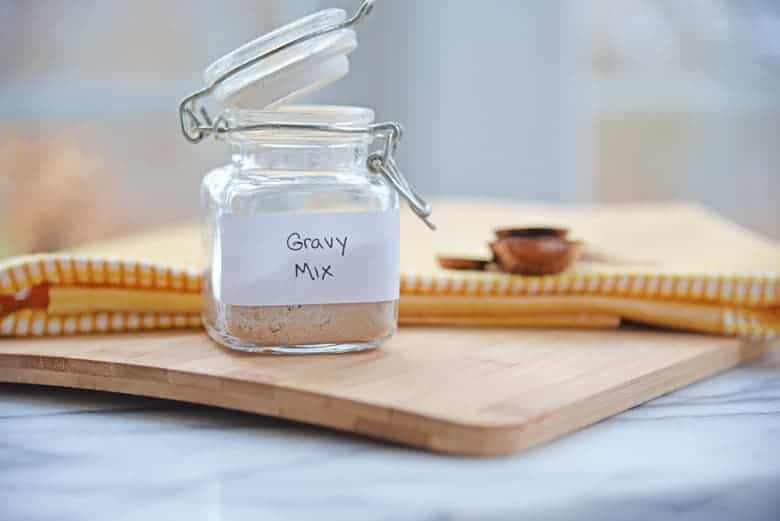 How do you make Gravy from Scratch?
To prepare gravy, in a small saucepan melt butter or meat drippings and add in one cup of water. Next, add in two tablespoons of the homemade brown gravy mix and whisk until smooth. You can add salt and pepper to taste if needed.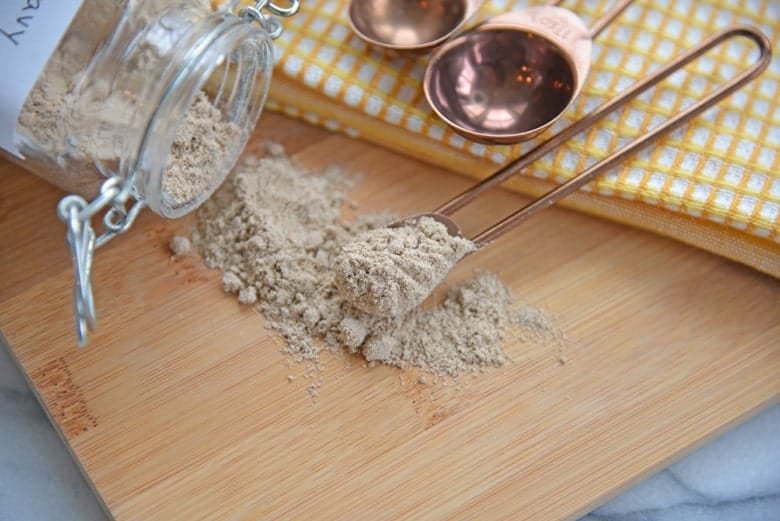 Homemade Brown Gravy Recipe Substitutions & Variations
Use seasoned salt
Dry Ranch Seasoning
Grated garlic
Grated onion
Garlic powder
Onion powder
Minced giblets
Pan drippings
Fresh or dried herbs
How to serve Homemade Brown Gravy
From there, here are some items to serve your brown gravy on meatloaf, salisbury steak, cube steak, any type of beef, mashed potatoes, corn or anything else you want smothered in deliciousness!
How to fix salty Homemade Gravy
Add potato chunks to absorb salt. Cook for 15 minutes, then remove potato.
Counterbalance with sugar and/or ground black pepper.
Dilute your mixture with additional turkey stock, water and unsalted butter.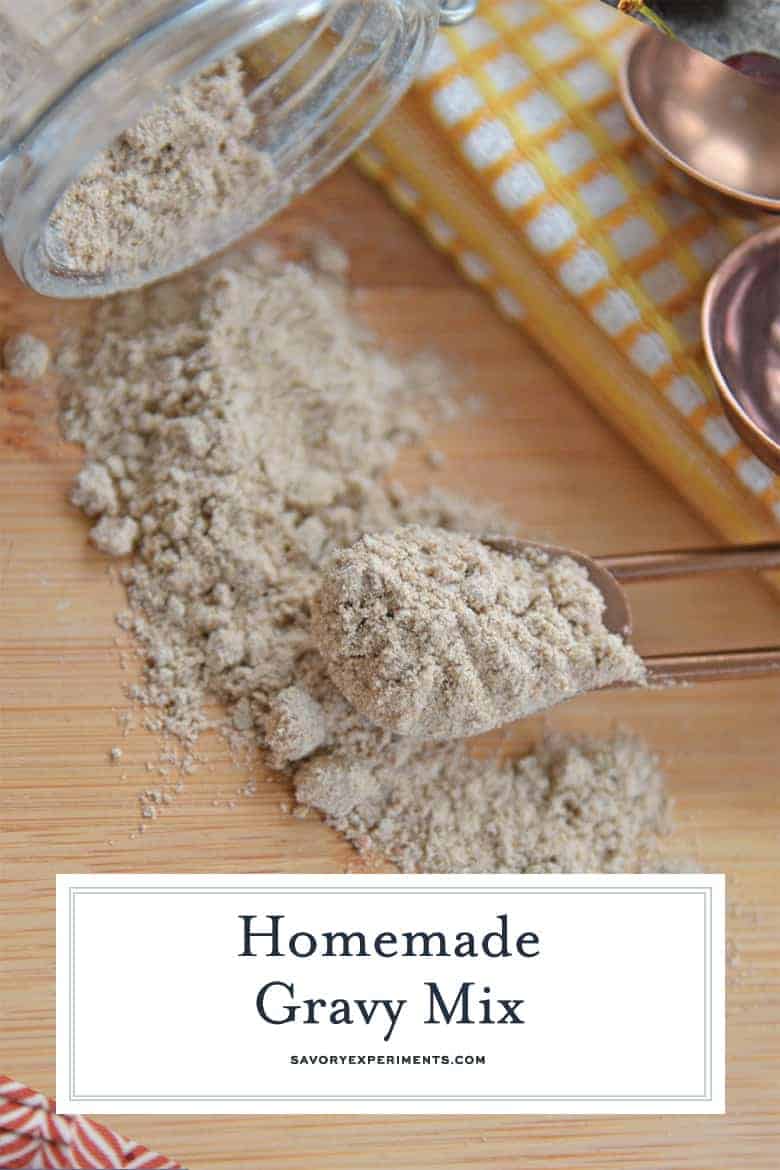 More homemade gravy recipes:
Brown Gravy Recipe FAQs
Can I make this into a chicken gravy?
Sure thing! Just substitute out the beef bouillon for chicken or even vegetable bouillon.
What are pan drippings?
Sometimes I forget to start with the basics. Drippings is the collective term for what is left in the roasting pan after cooking your turkey, what has "dripped" off.
This is usually a combination of fats, juices and seasoning. As you can imagine, this is like a flavor bomb! A little goes a long way.
Can you freeze gravy?
Sure! Just make sure to store in an airtight container. It might defrost a little thick, but thin it out with water, stock or wine and it'll be just fine.
What is in dry gravy mix?
Only a few ingredients and probably most you already have on hand.
– Beef bouillon
– Salt
– Pepper
– Flour
But there are a ton of ways to customize your homemade gravy. Scroll up for my easy ideas!
What is the best way to reheat gravy?
In a saucepan over medium-low heat. Gravy will most likely thicken, so just whisk in water until smooth. You could also use stock or wine to thin it out.
How do I use arrowroot or cornstarch?
Simply use 2-3 tablespoons in replace of the flour. Note that using either of these will change the color and texture of your gravy slightly. Not in a bad way, just a little different.
What is the secret to good gravy?
While there are many ways to make good gravy, the biggest secrets are seasoning, not over salting and making sure it is not lumpy gravy.
Is gravy better with flour or cornstarch?
We prefer to use flour for gravy, but cornstarch can also used. It will have a slightly different texture and appearance, more velvety and shiny.
Why do you put sugar in gravy?
We do not use sugar in our gravy, but you can to help balance seasonings like pepper, heat or salt if you happen to accidentally over season in one way or another.
Why won't my gravy thicken?
You might need more of a thickening agent or to let it cool a bit. Grvy will continue to thicken as it cools.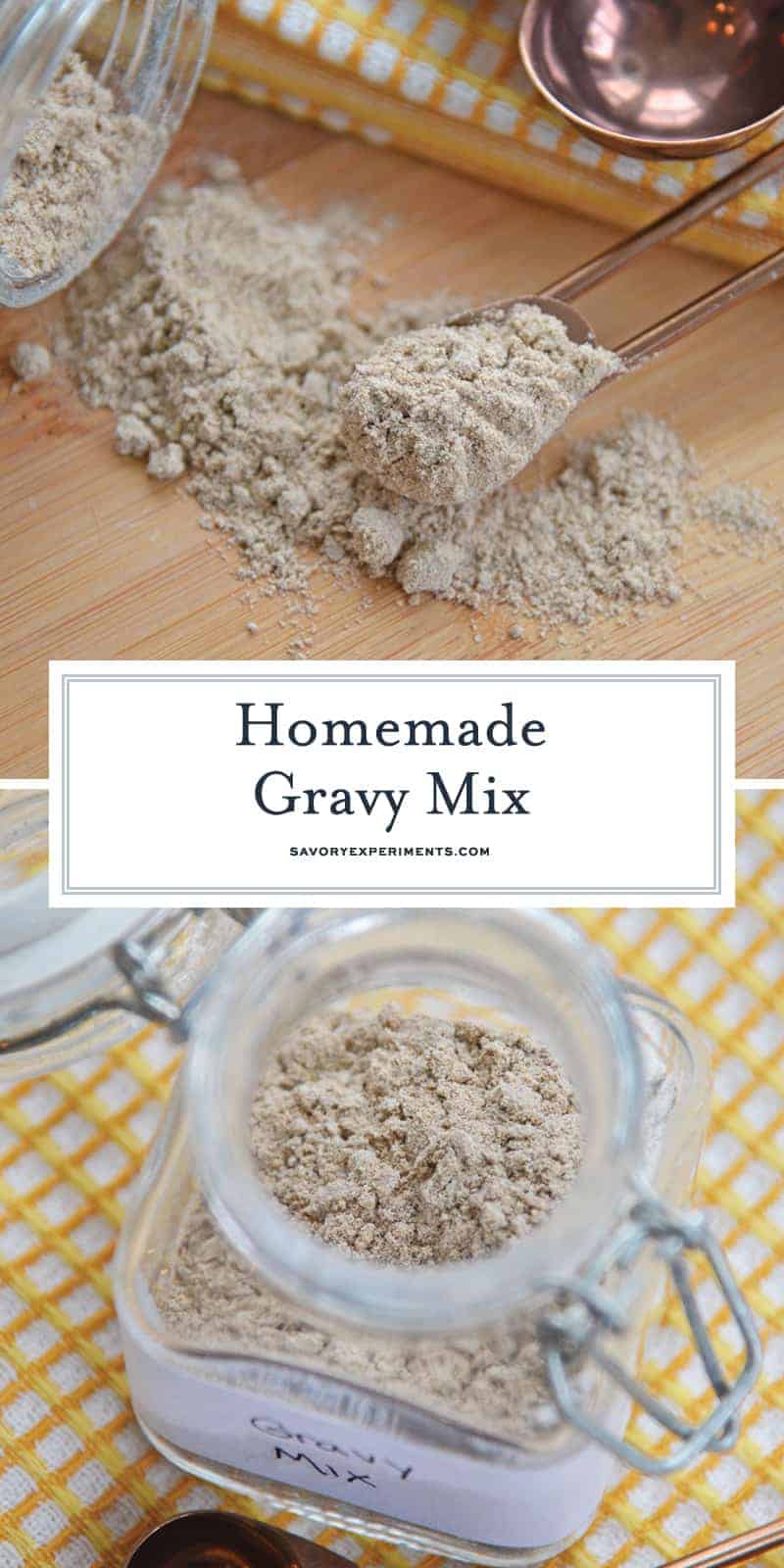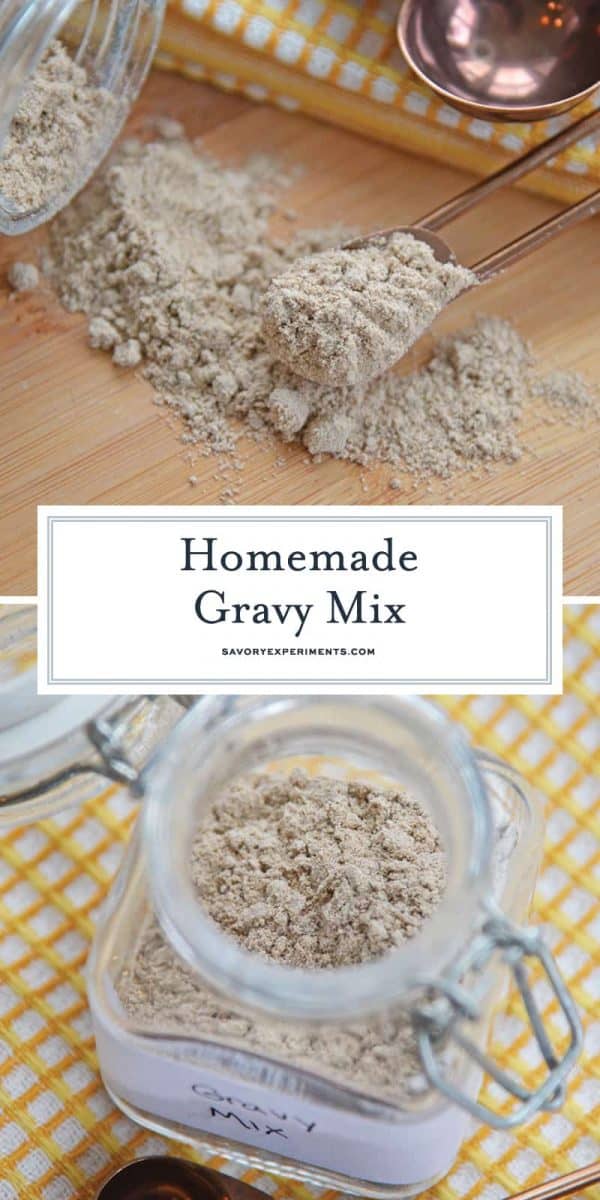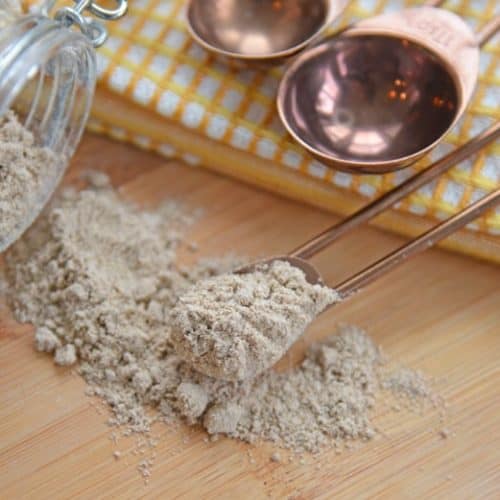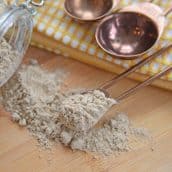 Homemade Brown Gravy from Scratch (Mix)
Forget the ready gravy mix, make your own Homemade Gravy Mix with just a few ingredients and no time at all!
Ingredients
3

tablespoons

beef bouillon granules*

3/4

cup

flour

1/2

teaspoon

ground black or white pepper
Instructions
Dry Mix:
Mix all three ingredients in an airtight container and keep in a dry place for up to 6 months.
To prepare gravy:
In a small saucepan, melt 2 tablespoon unsalted butter OR 2 tablespoons meat drippings with 1 cup water, add 2 tablespoons of gravy mix, whisking until smooth. Season with fine sea salt and freshly ground pepper to taste.

If you've tried this recipe, come back and let us know how it was!
Notes
If you are using a cubed beef bouillon, use the back of a spoon to break it apart.
How do I use arrowroot or cornstarch? Simply use 2-3 tablespoons in replace of the flour. Note that using either of these will change the color and texture of your gravy slightly. Not in a bad way, just a little different.
Nutrition
Calories:
86
kcal
,
Carbohydrates:
18
g
,
Protein:
3
g
,
Fat:
1
g
,
Saturated Fat:
1
g
,
Sodium:
42
mg
,
Potassium:
25
mg
,
Fiber:
1
g
,
Sugar:
1
g
,
Calcium:
4
mg
,
Iron:
1
mg